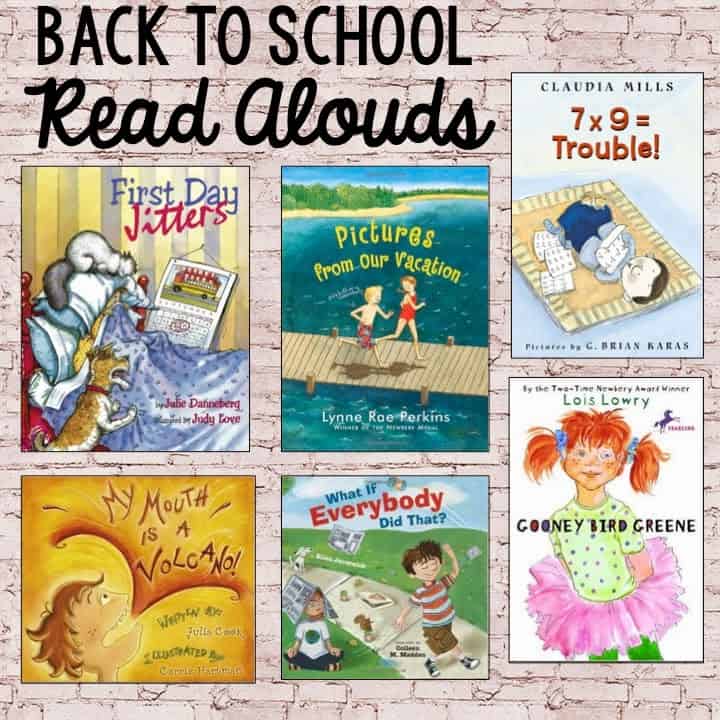 A recent question (thanks Brittany

got me to to start really thinking about my favorite read alouds for the beginning of the year. I have to admit that I don't do a lot of beginning of the year activities, because of time constraints. However, I do feel that it is important to give students some time to get to know one another and to develop a sense of community. My very favorite book for the beginning of the year is First Day Jitters. I'm always surprised that almost none of my third graders have ever heard the story before, and the ones who have still love it. I also like to read Have You Filled a Bucket? on the first day of school and continue with bucket filler activities. I almost always use picture books for my writing mini lessons, and at the very beginning of the year I like reading Pictures From My Vacation. I usually send my upcoming students a post card during the summer that introduces myself, and in the post card I ask students to be sure to take a picture of themselves doing something interesting that they can bring to school. We later use the book and their pictures for a writing activity and bulletin board display.
My favorite chapter book for the beginning of the year is definitely Gooney Bird Greene. It is perfect, because it has such an engaging character and is fairly simple for students to comprehend. It also works perfectly with starting writer's workshop, because Gooney Bird ALWAYS has a story to tell. This year I also plan on reading 7×9 Equals Trouble as soon as I finish Gooney Bird Greene to introduce multiplication. After those two books I usually start reading the first book in different series to get my students hooked on new series. I have to get to know my class before I choose the series though. I also try to introduce my students to several well-known authors such as Kate Dicamillo or Louis Sachar.
Here is a little freebie that you may enjoy.
First Day Jitters Worksheet