I recently added what may be my new favorite product to my TpT store.  It's the 12 Activities of Christmas, and it is different from my usual items which are very specific to certain standards.  This product is geared more toward critical thinking and divergent thinking skills with a few really challenging activities.  I'm planning to use one activity each day in my class for a total of 12 days of Christmas activities. You can click here for a preview of the 12 Activities of Christmas.
I love logic puzzles, so I had to include a Christmas logic puzzle in the packet, and students will help Mrs. Claus triple a cookie recipe in a different activity incorporating fractions.  I was also thrilled to finally think of a way to practice longitude and latitude in a fun way where students can track Santa's route, because it's hard to make longitude and latitude fun.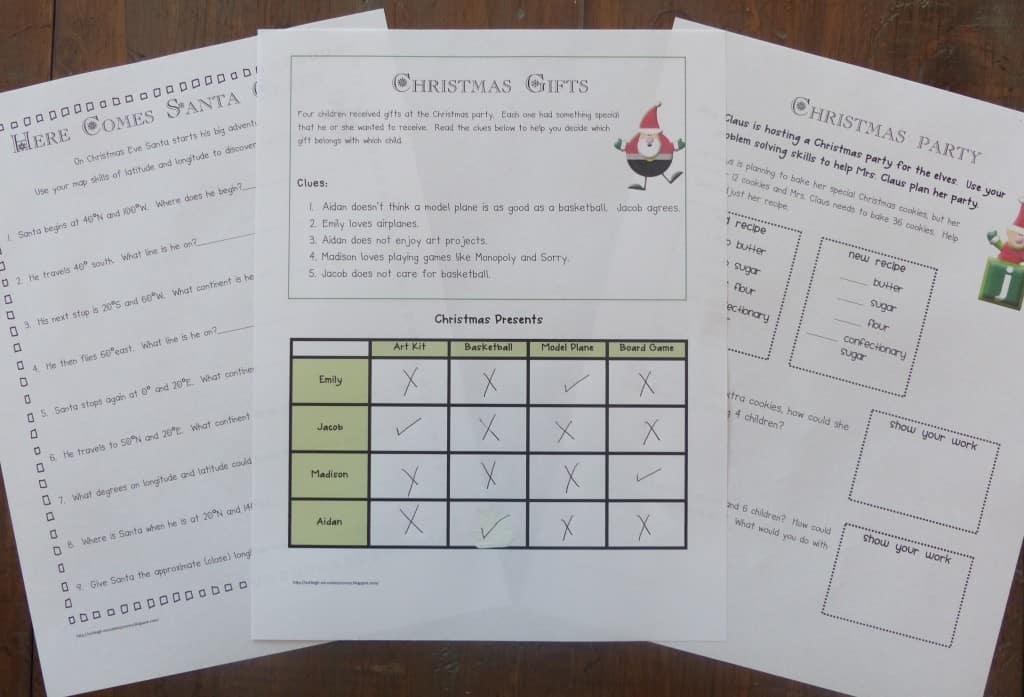 The Christmas graphing questions are pretty challenging. Students will need to apply addition, subtraction, multiplication, and division to answer the questions.
I've included a couple brain teasers and a Christmas word ladders activity.
There is an algebra activity where students have to find the weights of packages using balance scales. Students will measure the length of candy canes, but the candy canes don't start at zero, which makes it quite a bit more challenging.
My absolute FAVORITE activity is the Carol Synonyms. We complete this during our Christmas party every year. I let students and parents work in groups to solve the riddles. In the Carol Synonyms, students have to find the titles of popular Christmas carols by using synonyms for the carols.  For example, Quiet Dark may be Silent Night.
I also wanted to share my December Creative Writing Freebie! It's fun of fun, creative prompts that your students will love! There are 15 different writing prompts that require students to think and write creatively! You can download it here!