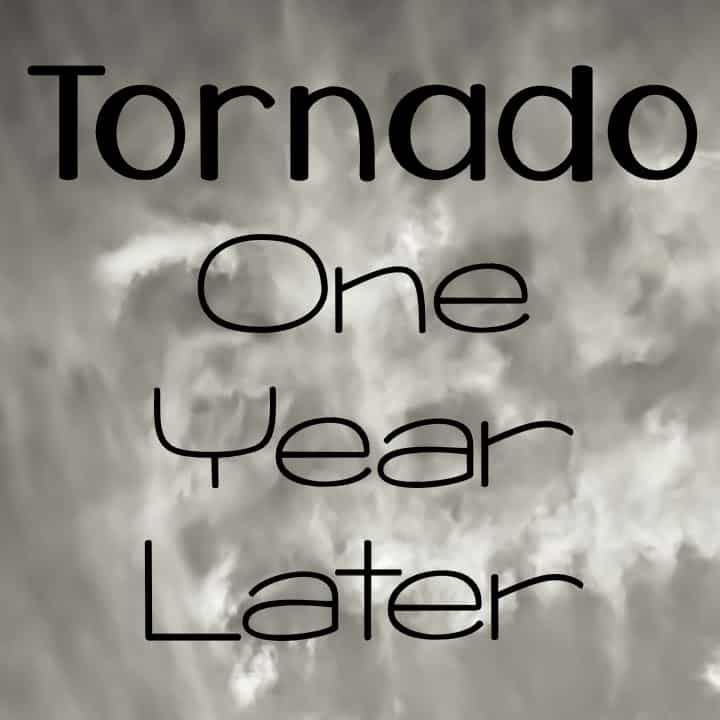 Exactly one year ago tomorrow, my husband, who was working out of town, called me on my way to school and told me that he'd heard there may be bad weather that day. I still remember rolling my eyes and laughing at him. Little did I know that would end up being the one of the scariest days I can remember.
At about 9:00 that morning we were called into the hallway for a tornado warning, and at first it really wasn't that big of a deal. When the lights went off and emergency doors slammed shut, I started feeling a little nervous. Then, there was this change in the entire atmosphere of the school that I really can't describe, but we all knew that something was really wrong. You could hear the storm blowing in, and I was absolutely terrified. All I could think about was my daughter at her babysitter's house with gigantic trees all around her. I tried to text her babysitter to make sure they were in the closet, but my hands were shaking so bad I couldn't type anything. I secretly felt about ready to panic myself when I saw 20 pairs of eyes looking at me with this complete faith that I would take care of them. It was a humbling experience to say the least, and I have to say those sweet faces are what helped me keep it together. Somehow I was able to smile and act like we had it all under control, and thank the good Lord it was all over without any major incidences.
School was dismissed and students starting signing out almost immediately, but it took awhile for most people to get to the school, because so many of the roads were closed due to trees and power lines that had fallen. After all of my students had dismissed, I was shocked to see for myself what had actually happened all around us.
My daughter, who was almost two at the time, and I pretty much spent the entire afternoon and night in our guest bathroom. She had no clue what was going on and thought eating her peanut butter and jelly sandwich in the bathtub was great, and loved the little bed I made her in the tub.
We were hit with a larger storm later that evening that completely demolished several homes in our community, one of subdivisions hit hard was less than a mile from our school. We were very blessed though that no one was badly hurt during any of the bad weather that day, because there were other tornadoes in nearby communities that took the lives of several people.
A year later, I still see physical effects of the storms, but the thing that I notice most is the fear in my students' eyes every time it rains. Just as soon as it gets even a little bit overcast, the first thing they ask me, is if there's supposed to be a tornado watch, and if a storm comes they're terrified. I hope to see this fear ease over time, and I'd really love to know what all I can do as their teacher to help ease these fears.
My heart and prayers still goes out to those who lost loved ones during all of the events of the past year.