I think an extremely important part of students' reading instruction comes through content area reading.  As students reach third grade, they make the transition of learning to read to reading to learn, and there is a large emphasis on nonfiction reading in the common core standards.  I've seen several of my own students excel during my language arts block but have trouble when it came to content area reading.  I've improved my own nonfiction reading instruction by teaching my students how to read nonfiction texts (see past blog post here).  I've also tried to build a substantial content area library for my students to give them greater access to nonfiction texts that relate to our social studies and science standards.  I frequently use these books as part of my social studies and science lessons, and my students often use the books for research projects, group activities, and independent reading.
This is my content area bookshelf, and my baskets are organized by unit (math, earth science, physical science, life science, American heroes, Ancient Greece, and social studies).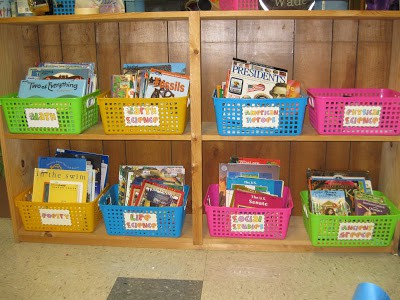 It's funny to me that at the beginning of the year, my students act as if they have no interest in these books, but by the end of the year they're always my students' favorites.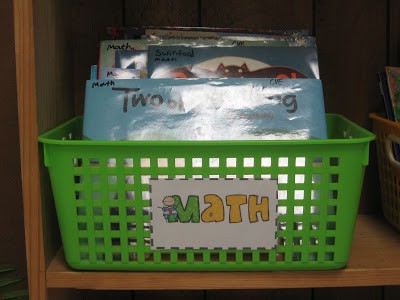 Here is a very small list of some of my favorites:
Math
Times Tables the Fun Way
Grandfather Tang's Journey
Spaghetti and Meatballs for all
How Big is a Foot?
Full House
Social Studies
Any Magic Tree House
The Mythology Handbook (my students' number 1 favorite EVERY year)
Any Eyewitness Book
We the People
Any Time for Kids
Rookie Biographies are great for struggling readers
Science
 Eye Wonder Books
National Geographic Books
Basher Science Books
Magic School Bus Books
Anything by Seymour Simon