I'm thrilled to say that I  only have 1 more day!!!!  I cannot be more excited and ready to start my summer vacation!  However, knowing that I'll be out for about 8 weeks next year, I've felt the need to get everything as organized as possible.  I've spent the past few days cleaning up my work station notebooks.  I've used these notebooks all year, and they've really helped me stay organized, but like everything else, at the end of the school year they needed a few touch-ups.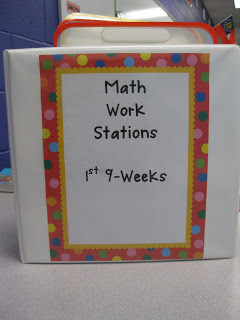 I originally organized my work station activities into two different binders, but as I added more and more activities, I've reorganized everything by 9-weeks.  I've also added spine inserts to all of my binders, which has already made locating the correct binder so much easier.  I would normally look through five or six different binders until I found the one I needed.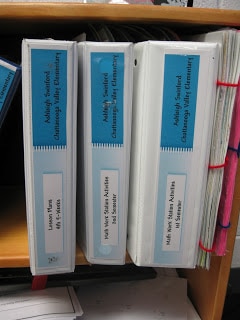 I keep everything in the pockets of heavy duty page dividers.   I make sure to include the station's directions, task cards or other supplies, and the student recording sheet in each divider.  I've double checked all of the activities and made sure there weren't any missing forms or pieces.
My next step is to realign the order and sequencing of my work station activities to follow our new curriculum map.  We're following a new curriculum map, so I want to adjust my plans accordingly.  I'm also going to have 5 more students next year than in previous years (budget cuts), so I'll need to add two new activities for each week as well.  I'll share as soon as I get it ready!