I have to admit I've slacked a little this summer when it comes to preparing for next year.  I've worked on plenty of the things that I wanted to do and have been able to accomplish some of the big projects that I had twirling around in my head, but I haven't exactly broken out my lesson plans to start my official prep work.  You know, the nitty gritty work that has to be done.  I also haven't been able to get inside my classroom this entire summer, so I haven't been able to start any of the fun stuff like organizing and decorating.  All that changed though with one of the most important emails I'll receive all year.  It's the one that may very well have the most impact on my classroom for the entire year.  My roster.  I was totally not expecting that this early in the summer, but I'm definitely not complaining!  It was almost an instant change in my mindset.  I went from rarely thinking about the upcoming school year, to getting really excited about it.  (Now, I'm NOT saying that I'm ready to go back yet!)  Naturally, I put everything on hold to grab my yearbook and pour over the list to memorize names and faces.  It's funny how just seeing a name and picture allows you to start developing an attachment to these students who are going to be your responsibility for an entire year.  That was just the push I needed to get out the lesson plans and to start really thinking about my plans for next year.  I finally broke out the curriculum maps and lesson plan binders and got to work.  The curriculum maps below are what I use as a guide for my plans.
Now keep in mind these curriculum maps are my version of the big, official maps that we have to follow.  I just like my maps small and condensed.  If you'd like a copy to of these maps, you can click on any of the pictures for a free Word version.  Just remember, they're not fancy, but they do give me a good starting place.
This year, I'm going to try out something that I've never done with my class before, and I'm so stinkin' excited about it!  We're going to do a really fun activity for the third day in third grade! I've made task cards that are all centered around the number 3.  There are some academic questions, as well as some questions just for fun.  I'm going to use these cards to teach my students HOW to use task cards, so this will be a procedural tool for me, as well as a fun way to get my students excited about third grade, and hopefully squeeze in little learning too!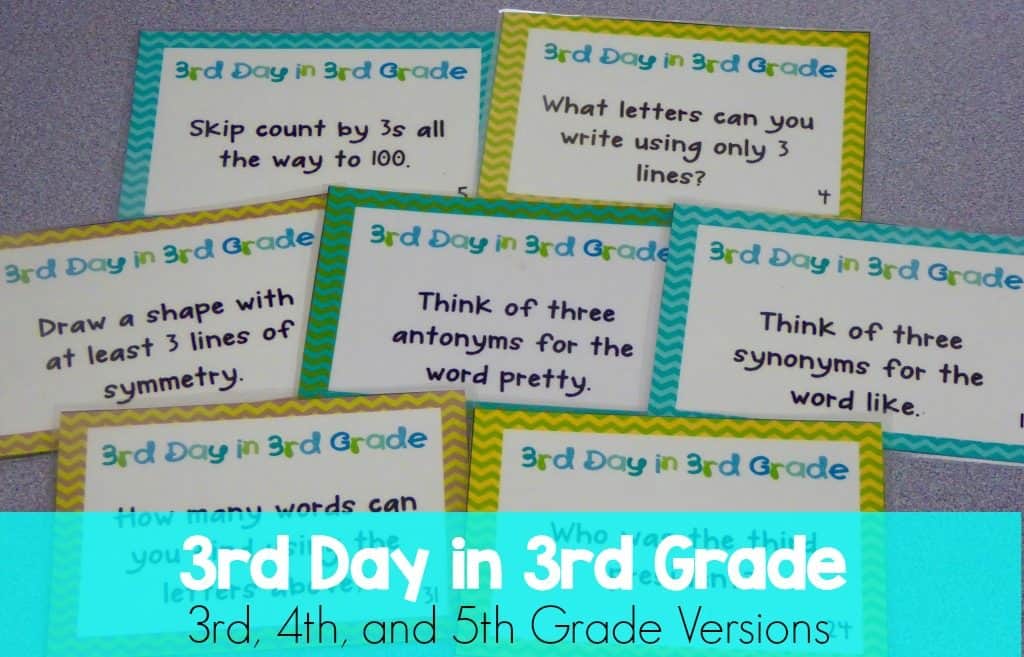 I couldn't leave my 4th and 5th grade friends out, so I made a 4th Day in 4th Grade for you!
These are all in my TpT store, so if you're interested just click on the links below!
3rd Day in 3rd Grade
4th Day in 4th Grade
5th Day in 5th Grade