Living in the south, there are few things that spark more passion and excitement than college football.  My husband has a countdown going for the first kickoff, and I know what we'll be doing most Saturdays from then through December.  We always try to make it to at least one Alabama game (his team) and one Florida State game (my team) each fall. However, I just don't think sitting in bleachers in 100 degree heat for a few hours sounds all that fun at nine months pregnant, so we're skipping our games this year.
This passion is definitely carried over to the classroom as well.  In the fall, football is the one of the main topics of my students' conversations and thoughts.  Even if they know nothing about football, everyone has a favorite team, and a team that they just cannot stand.  I've always had the philosophy of instead of trying to teach around this type of passion, find a way to use it to my advantage. Why not combine what they enjoy with what they need to learn?  This thought lead to the creation of one of my newest products-College Football Math Task Cards.
I've created 24 addition and subtraction task cards and 24 multiplication and division task cards for a total of 48 task cards that all have a football theme.  The word problems also represent 24 different college football teams, so hopefully your favorite team is included!  I have also search high and low for color combinations to reflect each of the teams, so each team has it's own unique look.  The first 24 cards are only addition and subtraction, because I'm sure I'll have students who won't be able to multiply and divide when I start using these cards. The second half of the cards are all multiplication and division word problems.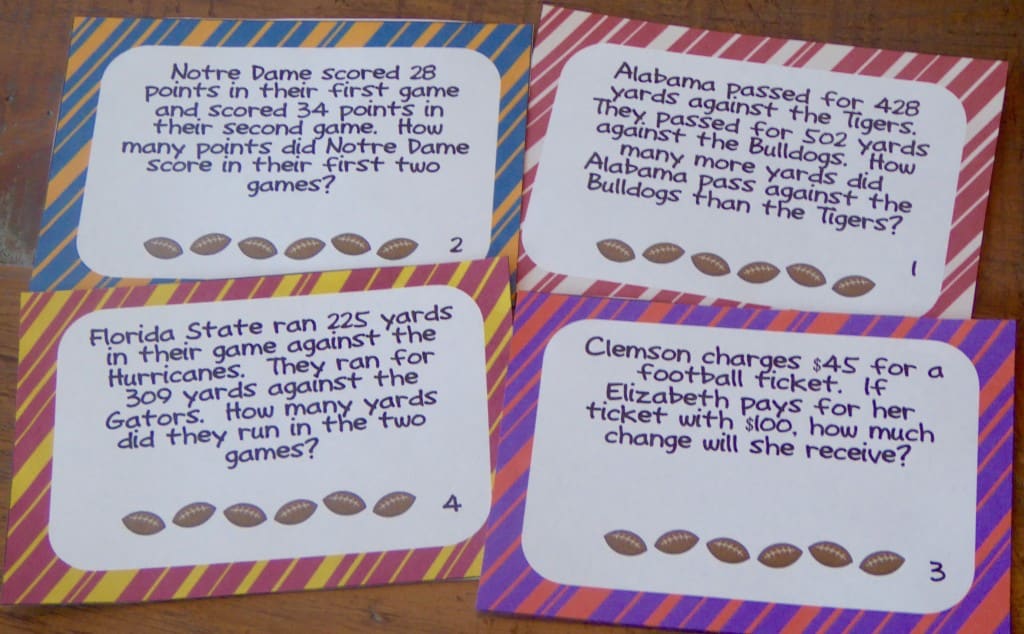 If you want to check them out, just click on any of the pictures.
I've also noticed that I'm becoming more and more forgetful each day!  Which is more than a little scary, because I tend to be scatterbrained in the first place!  I noticed that on a recent blog post, I has intended on sharing a Place Value freebie, but I never added it to the entry.  I am so sorry!  It is an I Have, Who Has…. game for practicing place value and forms of numbers.  My students always love playing this game, and hopefully yours will too!  Just click and picture and download!