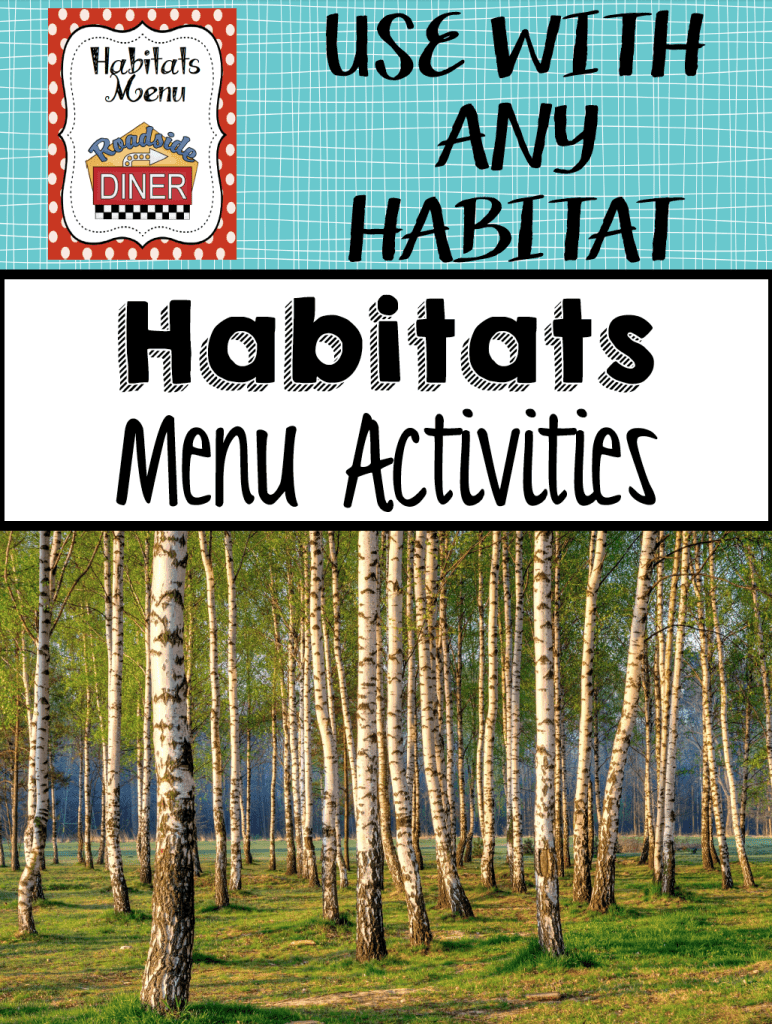 One of my largest science units of the year is on Georgia habitats, and I've always had a really hard time with this unit, because I had absolutely no resources for teaching these specific habitats.  I wanted to find a way to teach the habitats that involved multiple learning styles and gave students choices in the activities they completed.  To accomplish this, I created a Habitats Menu that students use to create a habitats book that I have used for the past several years, and my students and I absolutely love it!  I use the menus specifically for Georgia habitats, but I created an additional version that can be used for ANY habitat.
To make the books, I use 6 pieces of 12×18 construction paper for each student  (5 pages are for the habitats we study and 1 page is for the cover).  For the 5 habitats pages I hold the paper vertically and fold the bottom 1/4 up to make a pocket, and then I staple the sides of the pocket.  The height of the folded construction paper should be about the same height as a piece of notebook paper.
Each page in the book is for each of the different habitats we learn about, and I have students keep all of their notes, research, and menu activities in the pocket of the specific habitat.
The menus are designed so that there are 3 appetizer activities, 3 main course activities, and 3 dessert activities that students can choose from.  I spend a week on each habitat and students have to complete 1 activity from each category.
The activities range from creating a collage, drawing a detailed picture, designing a cartoon, writing a report, writing a letter, to writing a song, and more.
This student wrote a report about the Piedmont habitat. This was a great way to integrate language arts!
Collages are always the class favorite. I preprint a lot of pictures of specific animals that live in each of Georgia's habitats. I got the background paper from AIMS.
I liked this student's cartoon. It shows birds of prey having an argument over what they are eating.
The menu is on TpT, and if you'd like to see it click here. The actual menu consists of directions, a cover page, and two student pages.
If you're a Georgia teacher, you may find this assessment useful for assessing Georgia habitats. The assessment includes matching, fill in the blank, listing plants and animals, and drawing a picture of the Piedmont habitat. You can download it FREE here!