I've apparently been out of the loop for the past couple of years, because I had never heard of Homeworkopoly until this summer.  I saw a post about it on the Ladybug's Teacher Files blog and knew right away this was something I wanted to implement.
Basically, it is a reward system for students and can be managed in any way to best fit your classroom.  I'm going to let any student who has turned in all of their classwork and homework for the week participate on Friday mornings (I'm not worrying about absences).  I'm not big on homework, so this shouldn't be a challenge for anyone (we'll see).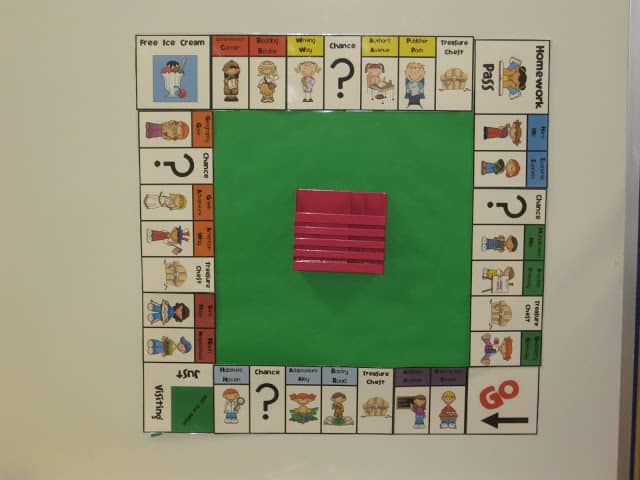 I've hung my Homeworkopoly board on my dry erase board, and my partner will be hanging her board on a bulletin board.  To play, students will roll their dice and move however many spaces.  If they land on a 'treasure chest' card they get to go to the treasure chest, and if they land on a chance card they'll take a card from the pink card holder.  I'm making my Chance cards on Vista Print, and I'll write different prizes on the back (use a pen for the day, sit by a friend, chew a piece of gum, etc.).  All of the other spaces are labeled with different content area phrases, and to win a prize at any of those stops, the student must correctly answer a question from the content area first (I'll probably give a lot of hints and prompting at first so they can get their prize).  I'm planning on using Stinky Stickers for the rewards for answering the questions.  I think this will be a really fun way to motivate students to turn in their work.
If you want a copy of my game board just click on the picture:)
I know it's pretty specific, so I'll try to make adjustments for you if you need them.  However, I won't be able to make it any bigger.