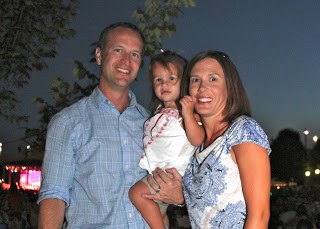 Hi everyone!  I'm so excited to start Blog Hoppin' and learning about my new blogger friends!
Tell us a little something about you…
I'm Ashleigh, and I really just got into blogging this spring, so I feel like I still have a lot to learn.  I've been married to my very best friend for 8 years now and have an amazing 2 year old daughter.  She is an absolute joy to be around, and I've had the best summer playing with her everyday.  I got my undergraduate from FSU ——–>Go Noles——–>, and I have since gone back to school for my Master's Degree in Curriculum and Instruction and Specialist Degree in Brain Research, and I just finished my gifted endorsement last year.  I'm now taking a nice break from going to school for a while!
How long have you been teaching?
This will be my 10th year teaching, and I still feel like a first year teacher.  I still get goose bumps walking down the back to school aisles at Wal-Mart!  I honestly have a hard time believing that I've been teaching that long.  This year my first group of students will be graduating high school, so that's kind of exciting to me.  My first year teaching I taught 3rd grade, and then I was moved to 4th grade for 3 years, and now I'm back in 3rd.  I absolutely love 3rd grade and could stay there for a long, long time.
You might not know…
I'm from the part of Florida that no one knows exists-the part that is nothing but orange trees and cows.  I mean nothing-we used to have to drive almost an hour just to go to the movies!  I live just outside of Chattanooga now, but I think I'll always feel like a FL girl!
What are you looking most forward to this school year?
My new purple walls-just kidding (even though I am super excited about not teaching in a classroom that was last painted in the 80s).  At this point, I'm really excited about meeting my new students and getting to know them.  I love how everyone comes to me with a clean slate, and we all have a fresh start.
I've also worked on a lot of new projects this summer, and I can't wait to see how they go.  I've made enrichment units for all of my social studies concepts, and I've worked and worked on math work stations.  I've always used math workshop, but I've never done work stations, so I'm ready to get it going!
What do you need to improve?
I always feel like I need to improve on EVERYTHING, but if I had to pick out a few specifics I'd have to say documenting formative assessment and individual conferencing.  I feel like I do lots of formative assessment, but I'm really bad about not writing anything down.  This turns into a problem for me when I'm supposed to turn in documentation for RTI and things like that.  I've tried so many systems, but I always forget about it once I get going.  I'd like to do a better job at scheduling individual conferences with students, and then finding a way to go deeper into the curriculum during those conferences.  Sometimes I feel like our conversations are too trite and without any depth.
I also want to be a little more laid back and to be able to just go with the flow.  I like everything to be just right, so it's hard for me to not get uptight about little things, but I'm trying.
What teaching supplies can you *not* live without?
I absolutely LOVE my new Smartboard, but it's my Elmo and digital projector that I couldn't live without.  I love being able to show quick clips from United Streaming or Brain Pop and allowing students to share their work without having to run make a copy on a transparency.
It may be silly, but I really don't know if I could teach without sticky notes.  If I didn't have them everywhere I wouldn't remember anything!
My new laminator is quickly falling into this category too.  I've laminated task cards all summer, and it's awesome being able to do school work on my living room floor while watching t.v.
I also need my daily coke, even though every year I try so hard to give them up, but it never lasts more than a day or two.
*******************************************************************************
Now it's your turn to share!  Click on the image below to take you there!  You can use the questions above or write anything else you would like as long as it pertains to the topic of the day : YOU!