I'm thrilled that so many people were able to find my morning work useful!  I've had several wonderful questions asked about the management of my morning work activities, so I thought I'd use this blog post to answer some of those questions.  If you have any additional questions, leave a comment or send me an email, and I'll add it to this post.
Is the work Common Core aligned?
Yes, I used the Common Core Standards to design all of the questions.

Do you offer the Weekly Word Problems in  a bundle?
Yes, you can find them here.

Does this work for self-contained only?
I believe this system will work for self-contained and departmentalized classes.  Students can take their notebooks with them from class to class, or the homeroom teacher can be responsible for going over all of the morning work each day.

What do you do about students who get there last?
I usually give them about 15 minutes to get their work complete before we officially start.  They work through announcements, and don't have to do house keeping things like sharpen pencils and other little morning routine activities we have (I let the students who get their first do that type of thing).   I've found that once students get into the routine, it doesn't take them long at all to complete all of the work.
How is the binder organized?
I have three page dividers separating the three assignments.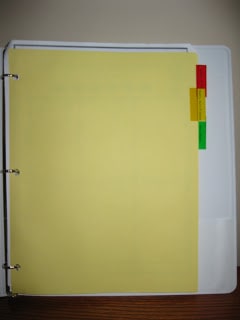 Then, I just add the work for the each section behind the divider.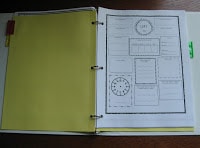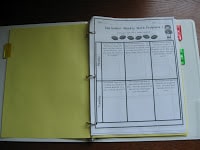 How many days do you place in the binder at a time?
I don't know about you, but my students (as much as I love them) are not always the most responsible little ones.  I'm hesitant to place a whole year's work or even semester's work in the notebooks, because I can almost guarantee at least one or two students will lose theirs.  However, I feel that adding to the notebooks each week could be a big pain.  This year I'm going to start with refilling notebooks each month.  I'll take all of the previous month's work out to send home add a month worth of Weekly Word Problems and Number of the Day, and Weekly Word Wizard.   I'm REALLY hoping to find a parent volunteer to take over this job:)
Will I make a 2nd or 5th grade Number of the Day?
It is on my to-do list!

How much of the activities do students complete in a day?
I'll have my students complete all three activities each day.  They do the three Weekly Word Problem questions and Word Wizard questions each day.  I didn't start the Number of the Day activity until later in the year last year, so I'm going to have to play around with it a little to decide how I want to start the year.  My plan is to have my students complete the top half on one day and the bottom half on the following day to help save on time.  Last year, my students were fairly fast workers and could complete the entire sheet in about 10 minutes, but I know it will take my students a loooong time to complete at the beginning of the year (even the easy version), and I don't want to give up my math workshop time.
What about grading?
That's completely optional.  I did not record a grade for the Weekly Word Problems, because we went over them together each day, and I allowed my students to make corrections.  I occasionally (approximately once a week) took a grade on The Number of the Day, but I didn't take grades until I felt like my students had the opportunity to practice each skill at length.
If you have any other questions, PLEASE let me know, and I'll do my best to answer them!