High-stake testing evokes a passionate response in almost all teachers.  I have my own strong feelings, but that is for a whole other blog post.  For now, I'm just accepting that as long as I teach third grade, standardized tests are going to be part of my life.  Regardless of my feelings, my students will have to take a high-stakes test this spring, and my value as a teacher will be judged on my students' scores.  No pressure.
I've known people who believe that teachers should not do any test prep whatsoever, and I've heard of others who more or less stop teaching to prepare for state tests.  Personally, I think you have to find a good balance of preparation, and I try to avoid either extreme.
I usually don't think too much about testing until January, and then I start feeling the pressure.  It's almost like I wake up one day and realize just how much I still have to teach and how little time I have left to do it! Fortunately, I feel pretty good about my students' basic math skills, because we do our Number of the Day and Weekly Word Problems every single day.  In addition to our current work, I also begin adding short doses of test prep into my instruction.  My students typically have very little experience with multiple choice questions, so they are easily tricked by wrong answers and often try to choose the first answer that could possibly work, rather than the best answer.  I've looked high and low for standardized test practice for the new math Common Core Standards and haven't been able to find exactly what I was looking for, which led to my newest creation.
I've made a new version of math Common Core Math Assessment that is in a multiple choice format.  I really like the original version, but I feel that my students could really use the extra practice in a multiple choice format.  I've created one multiple choice assessment for each of the math Common Core Standards. All of the questions are different from the ones in my original Common Core Math Assessment packet. When I created the questions and answer choices, I tried to concentrate on the style of problems that give my students the most trouble common error patterns when creating my answer choices.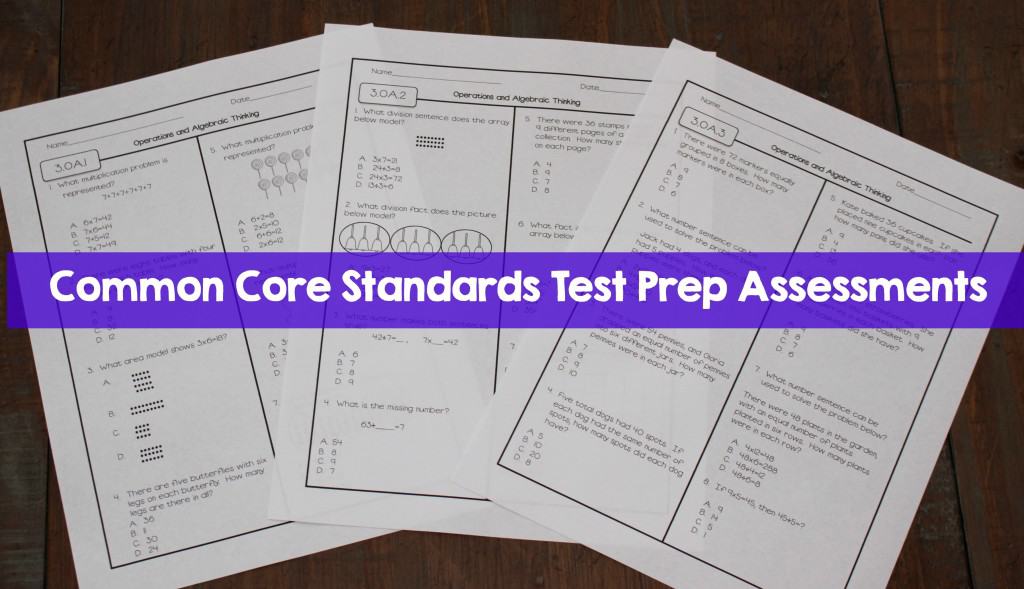 I've already started using these with my students, and it has definitely alerted me to some areas we need to go back review.  (This is especially nice since I was out for ten weeks this year.)  I have been recording my students' scores in the table below.
Click on the picture for an editable copy of the table.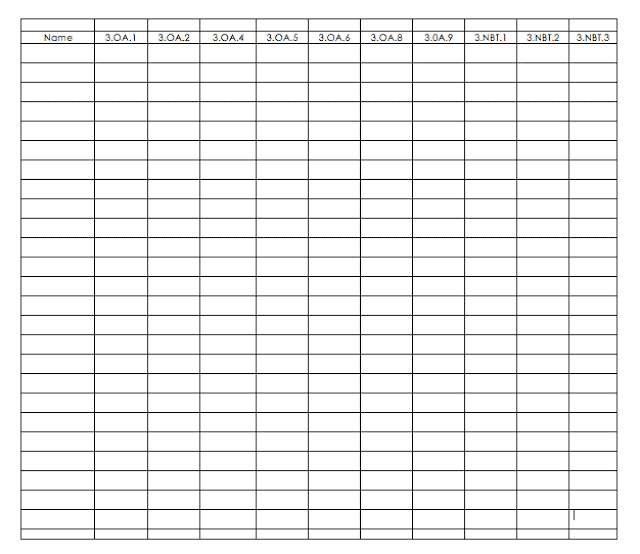 I give an assessment right before we begin our math work stations. They are super quick and easy to grade, so I quickly grade them and use the information to determine which students to meet with that day.  I group students according to what they need to work on.  For instance, I always have a handful of students that just need to slow down and think about their answers, so I'll pull those students back and meet with them for a few minutes.  I may have another group who did well but got confused on one or two questions, so I'll meet with those students to discuss the wording of the question and how and why they were confused on that question, which usually doesn't take too long.  I'll spend a great deal of time with my students who truly did not understand the concept.  While I am meeting with groups and individuals, my other students are working in stations as usual.
Here's a look at the new test prep assessments.
Be sure to check out the preview for a couple of FREE pages.  You can try it out first and see if you like it!