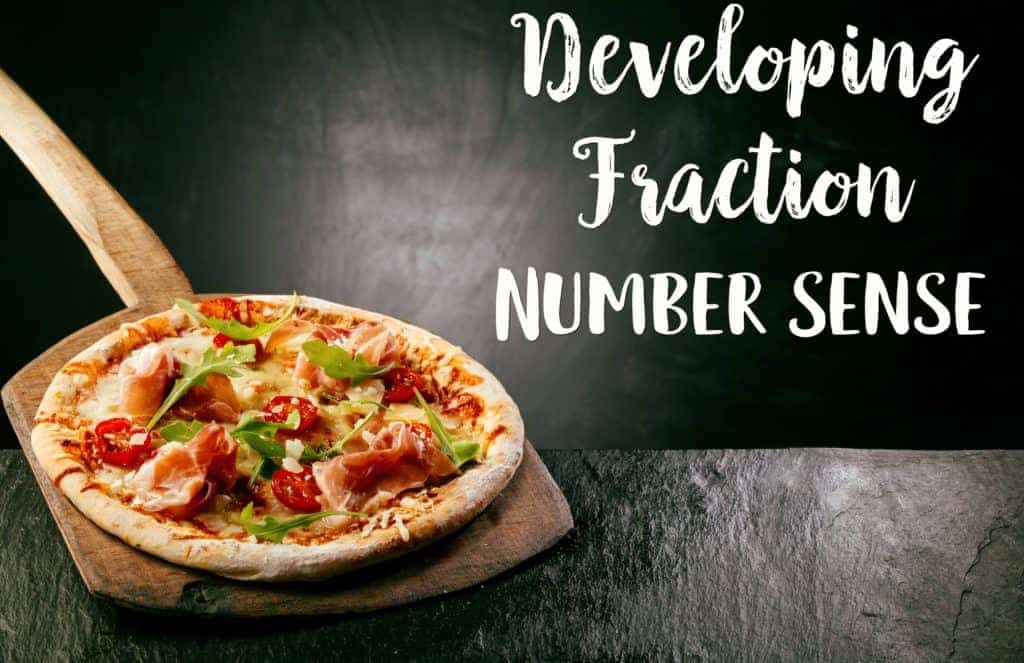 Many teachers and students see fractions as one of the more challenging concepts of the year, but with sound lessons that develop fraction number sense, students can have a solid conceptual understanding of fractions. When I first started teaching, I taught fractions with a considerable amount of rules and procedures, which I'm sure caused my students to have a lack of understanding. Don't we all want to go back and apologize to some of our former students. I now try to teach with a focus on the conceptual understanding of fractions. My biggest challenge is stepping back and allowing my students to take cover their learning, as well as finding the time needed for this important concept.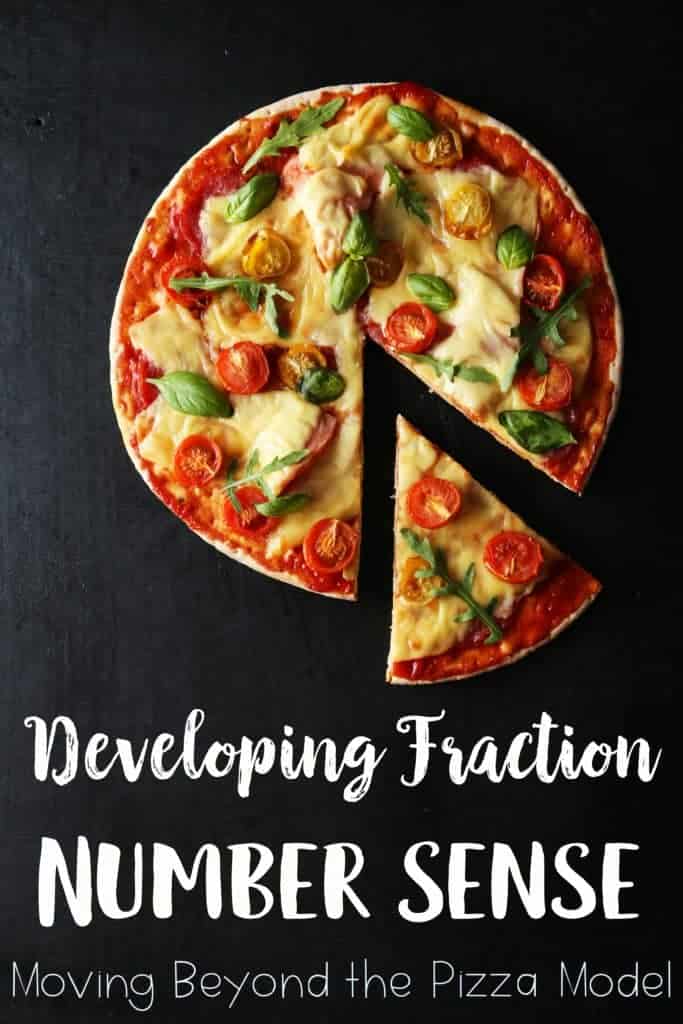 Even though there technically isn't a develop an understanding of fractions standards in fourth grade, I do devote a significant amount of time to teaching general fraction ideas. I think this in-depth instruction is an important start to any fraction unit, and I don't want to jump right in to comparing fractions or equivalent fractions. When I teach fractions, my first goal is to help students understand the idea of fractional parts of the whole and equal groups. I always begin with a lesson where students partition various shapes into different numbers of equal parts. This always allows me to see misconceptions, and I address those with my students.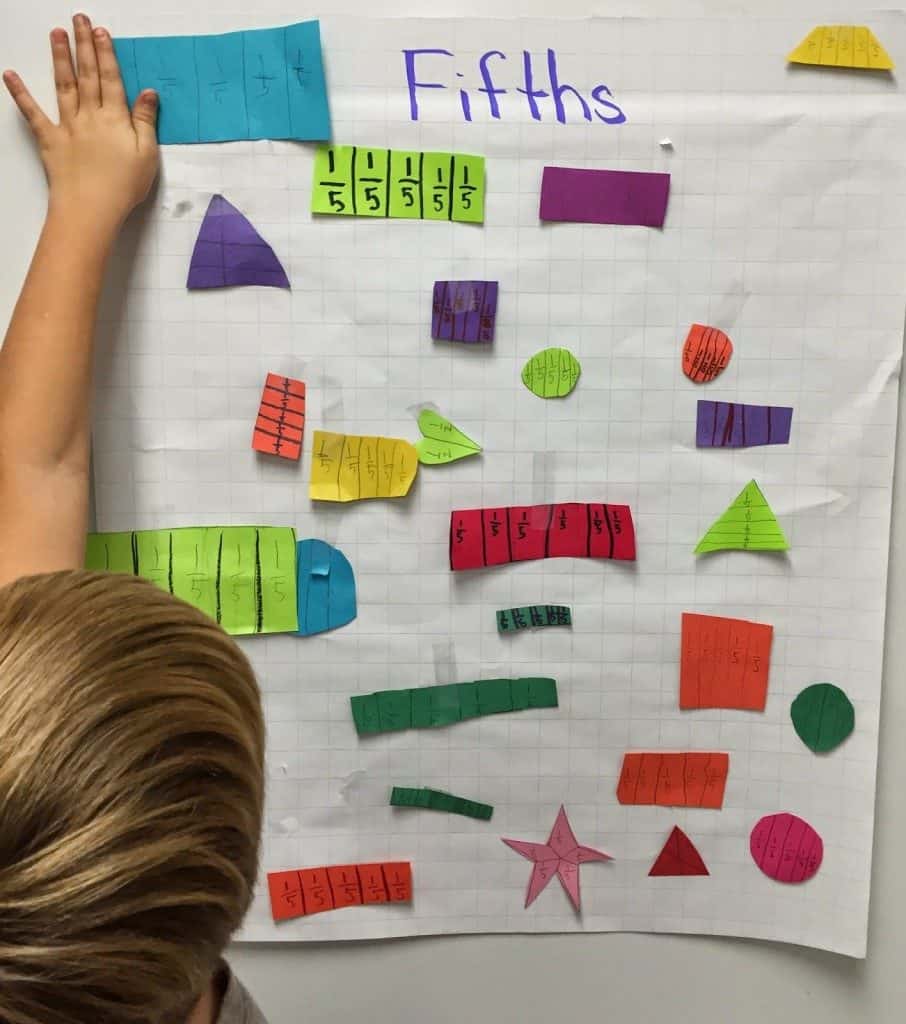 I then use word problems to introduce sharing tasks. In the task below, students typically use division to share the pizza by distributing the pizza one at a time. However after the whole pizzas have been distributed, there is a left over. This requires students to subdivide the pizzas into fractional parts. I intentionally include problems where there would be whole pizzas shared, as well as only fractional parts shared, because I don't want to isolate mixed numbers into a unit of their own. I also designed situations where students would not be able to solely rely on halving but are required to find fourths and thirds.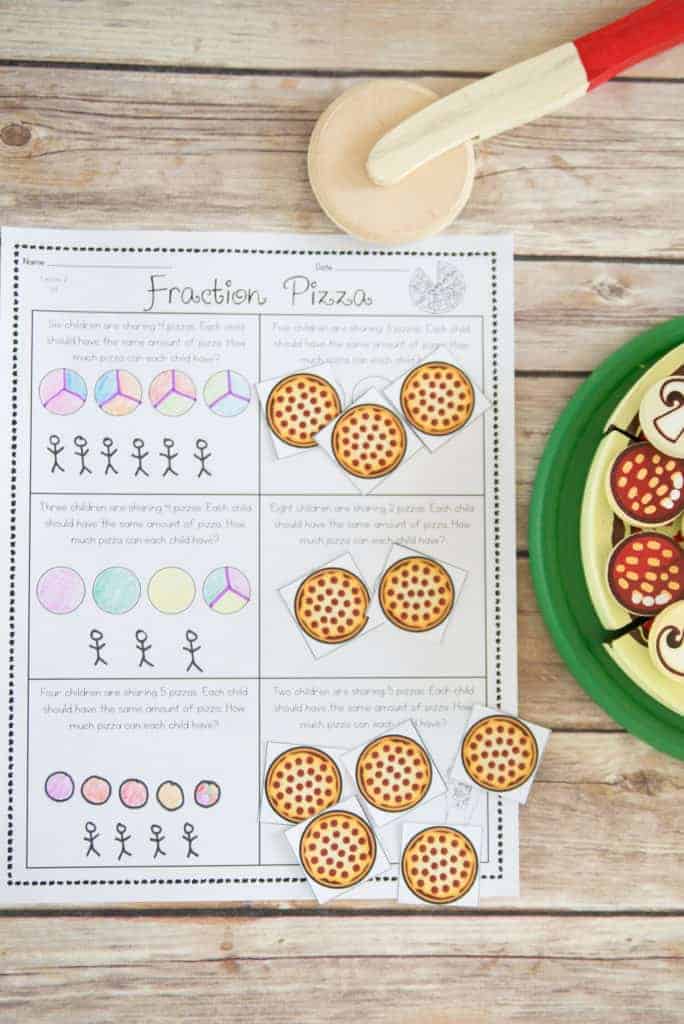 I also try to give students multiple opportunities to work with different fraction models. For teaching region or area models, I prefer fraction strips/fraction tiles, but I also try to incorporate some circular pieces, as well as pattern blocks. For teaching the length model, I prefer fraction strips and number lines. I also introduce set models with two-color counters. I also use this time to emphasize key vocabulary of fractional parts.
Numerator-the counting number that tells how many shares or parts we have.
Denominator-what is being counted and/or how many parts it takes to have a whole.
The number of equal parts that make up a whole determines the name of the fractional part. This allows students to realize that when the know the type of part they are counting, they know when they get to one whole. Students should learn to think of counting fractional parts the same way they would any other time one-sixths, two-sixths, three-sixths, etc. As students learn to conceptualize fractions, they do not need to arrange pieces into one whole to determine if their fractional part is more or less than a whole. The activity below shows how I taught that lesson, and it was such a hit for my class. I did have to spend an extra day with my class on the lesson, and a few students required even more time in a small group. The time spent on the concept was definitely worth it, though.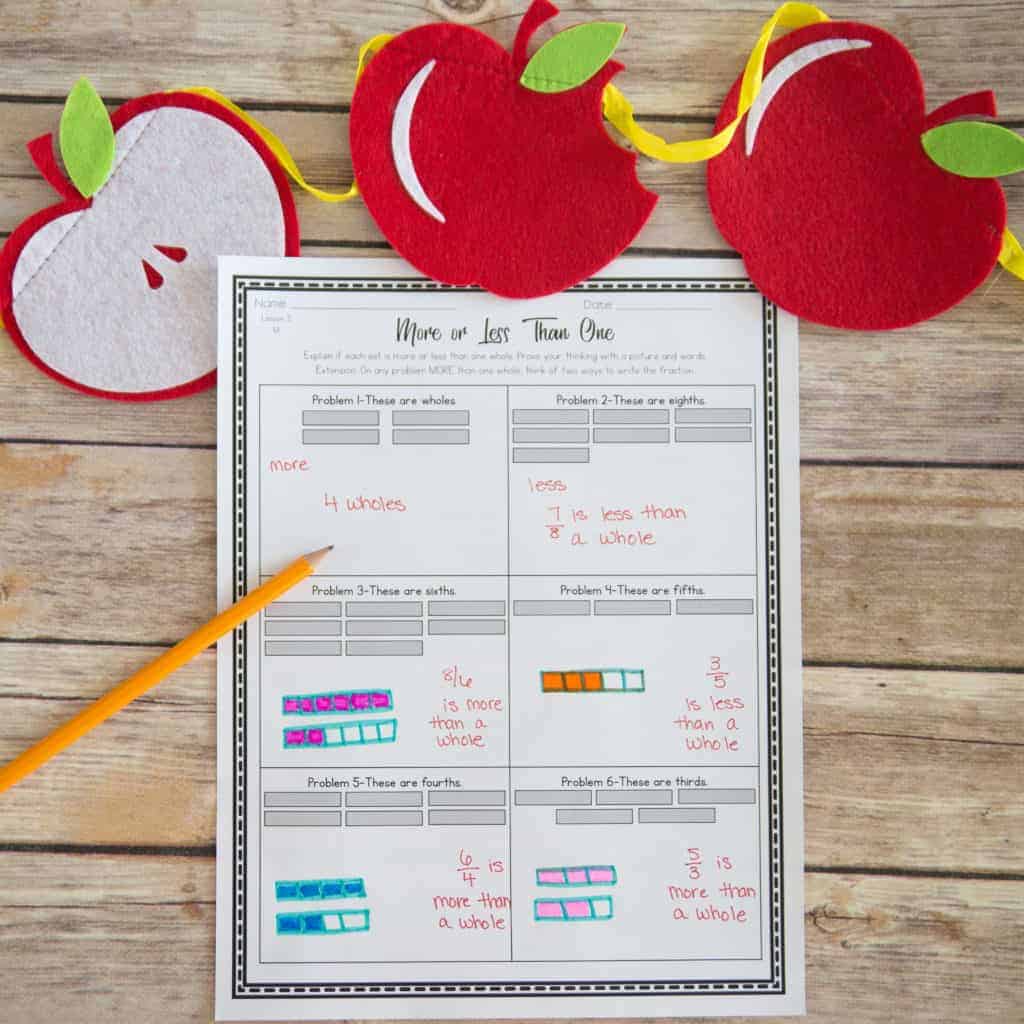 The great thing about this lesson is that it shows improper fractions  in natural situations that is embedded into the fraction lessons. I made a point of NOT telling students that if the numerator was larger than the denominator the fraction was larger than a whole, because I wanted students to discover that on their own to make it meaningful, rather than a rule. This also gives a natural progression to mixed numbers. I do teach students how to write a mixed number, but I don't teach students the rule for converting mixed numbers to fractions. To allow students to discover this on their own, I had students complete the task below. In the task, students were given a mixed number of an improper fraction and students have to write the fraction in a different form and explain their answer with pictures and words.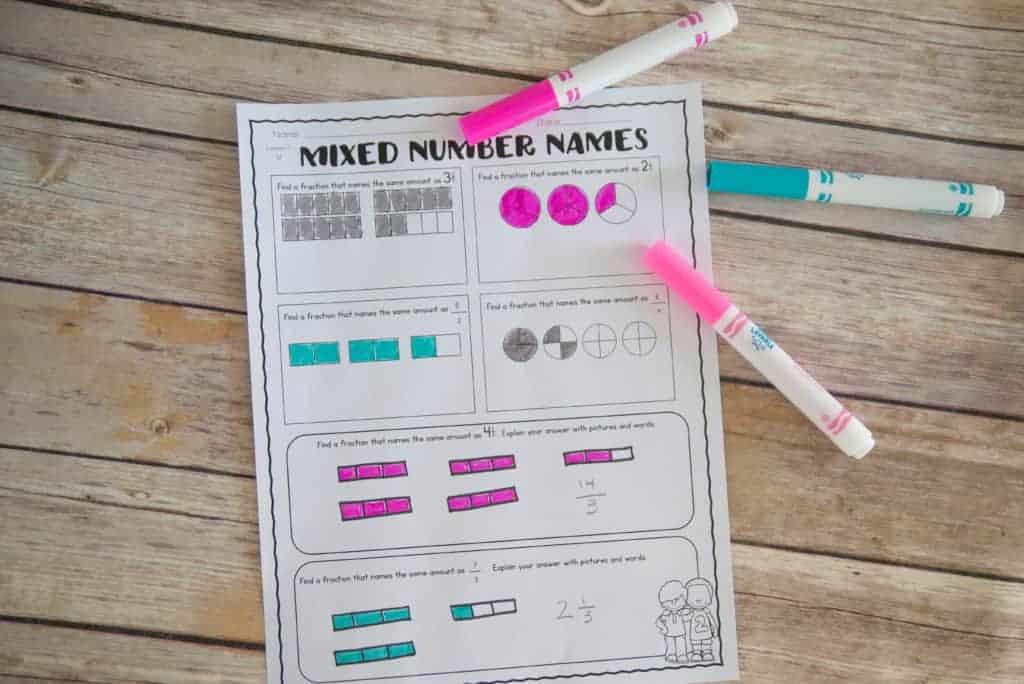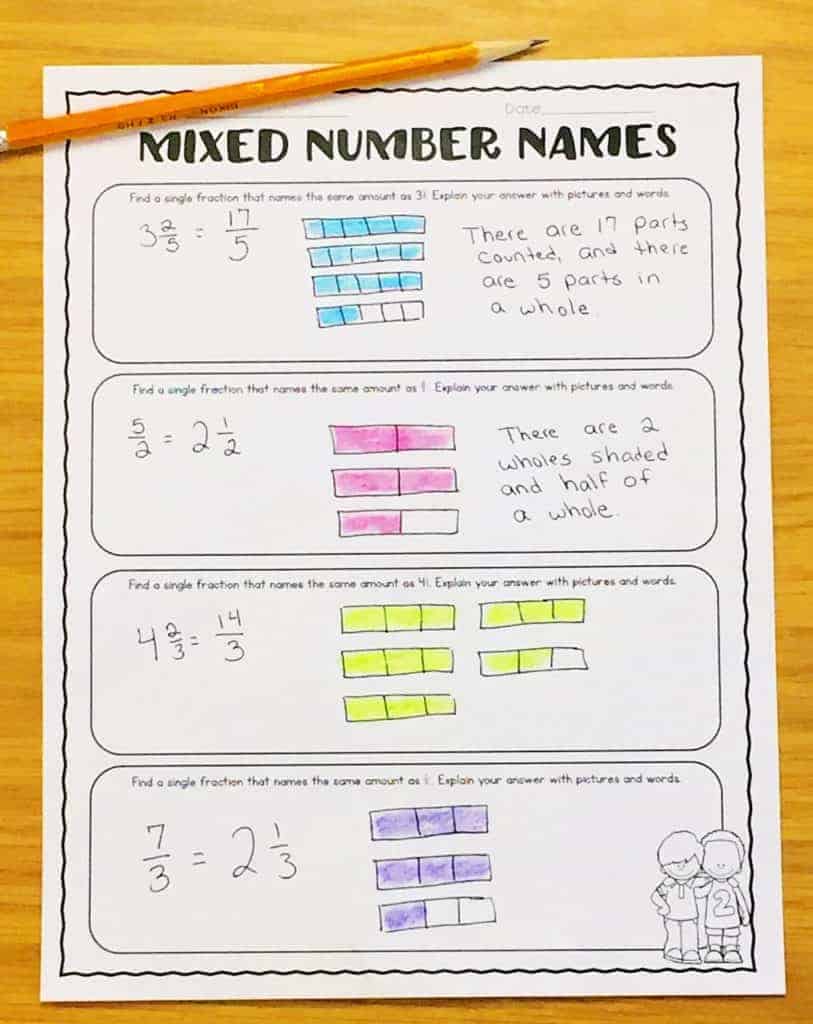 The simplicity of this task is one of the things I love about teaching math. The problem solving nature of the task grabbed my students' curiosity, and they worked and worked on these problems. A handful of students saw the relationship immediately, but many of my students had to work their way through the problems, and eventually they were able to construct their own understanding on how to convert improper fractions to mixed numbers and mixed numbers to improper fractions. Disclaimer–While I do like for students to construct their own understanding, I did eventually teach the trick to a couple students. I'd rather not, but I am teaching on a time table, so we had to keep moving. Once I felt like students had a general fraction number sense, we started to dig deeper so that students could have a feel for the size of fractions. I like to start this by teaching about benchmark fractions, primarily zero, one-half, and one whole. Students are able to use these reference points throughout the entirety of a fraction unit. In the activity below, students choose a fraction and write three numbers that are increasingly closer to one whole. Then, students repeat the process with fractions that are closer to zero and repeat it again for fractions closer to one-half.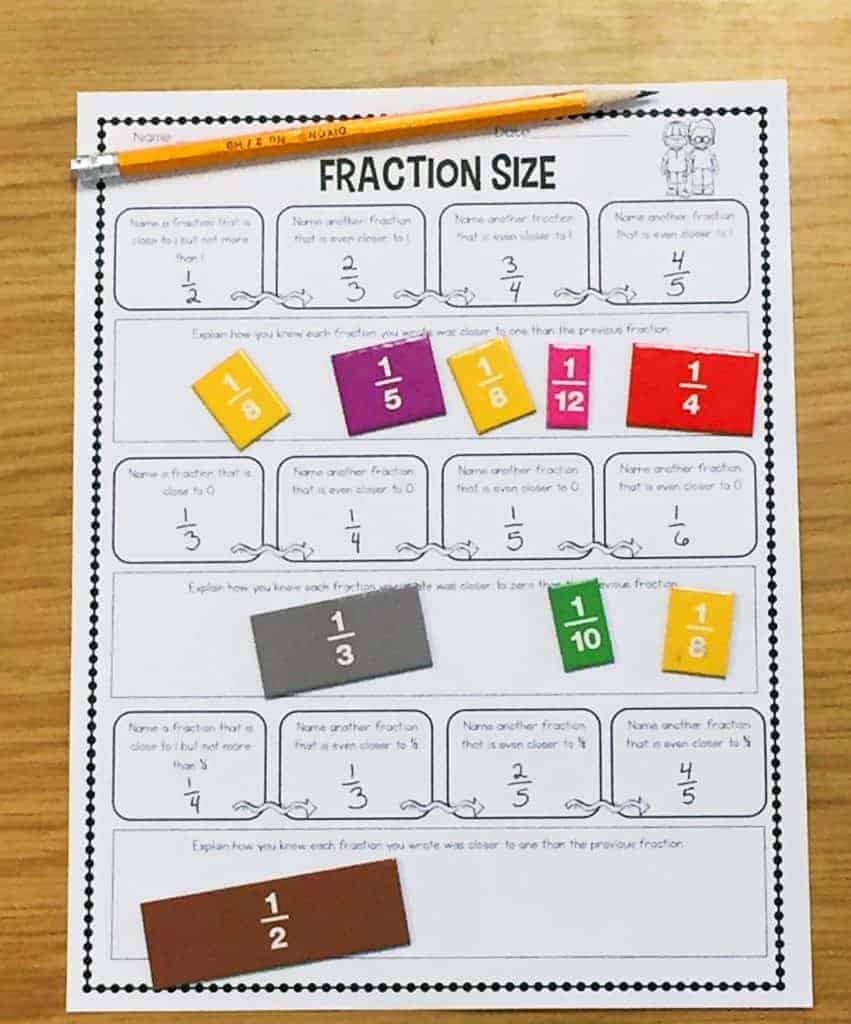 I had students complete this activity WITHOUT using manipulatives. Then, as a group, they checked their working using their fraction manipulatives. I ended up spending a week teaching/introducing the concept of fractions before moving into my actual fourth grade standards, but this development was essential. In a perfect world, I would have probably sent another full week developing fraction number sense, but I too feel the pressure to keep moving forward. All of the pages above are in my Fourth Grade Fraction Unit in TpT.