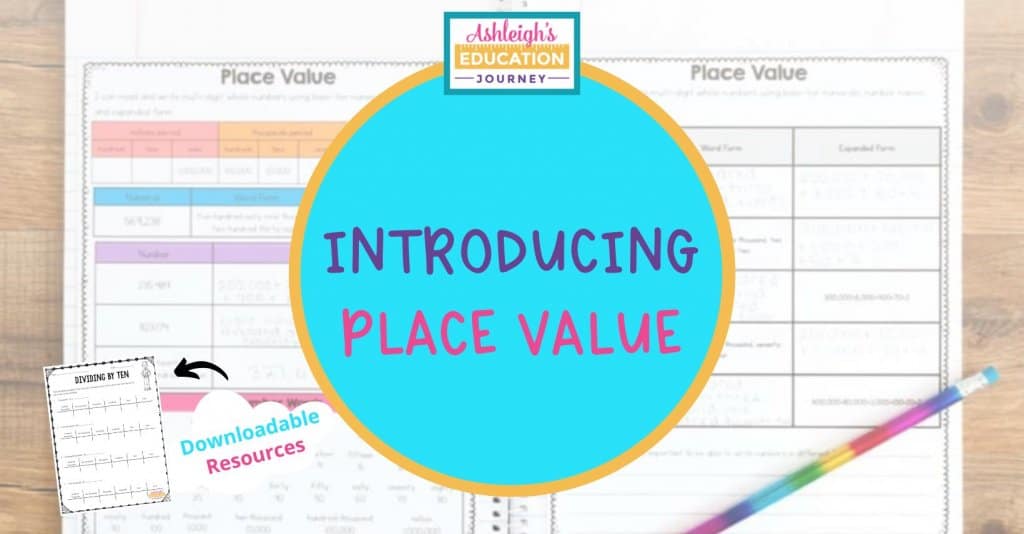 Most upper elementary teachers begin the year with place value, because it's the foundation of everything we teach all year. I'm no different, and my students have hit the ground running with our place unit. I typically enjoy teaching place value because it lends itself to hands-on activities that help students develop a conceptual understanding. We begin with an anchor chart that covers place value and forms of numbers. While I don't technically have to teach expanded notation, I like to introduce it to my students. I use sticky notes on my anchor chart to make it interactive, and so that I don't not have to constantly redraw the value lines.
In this post: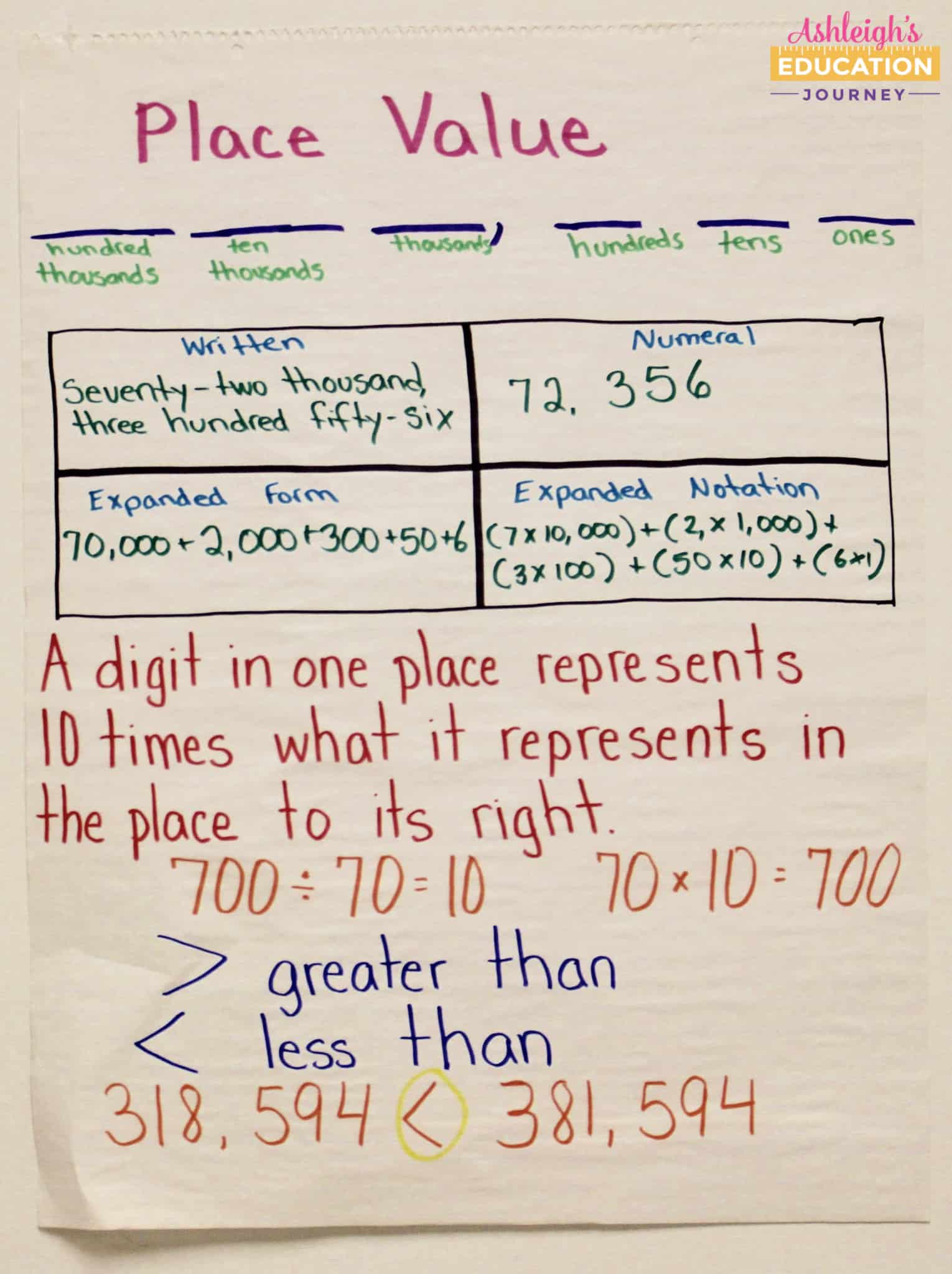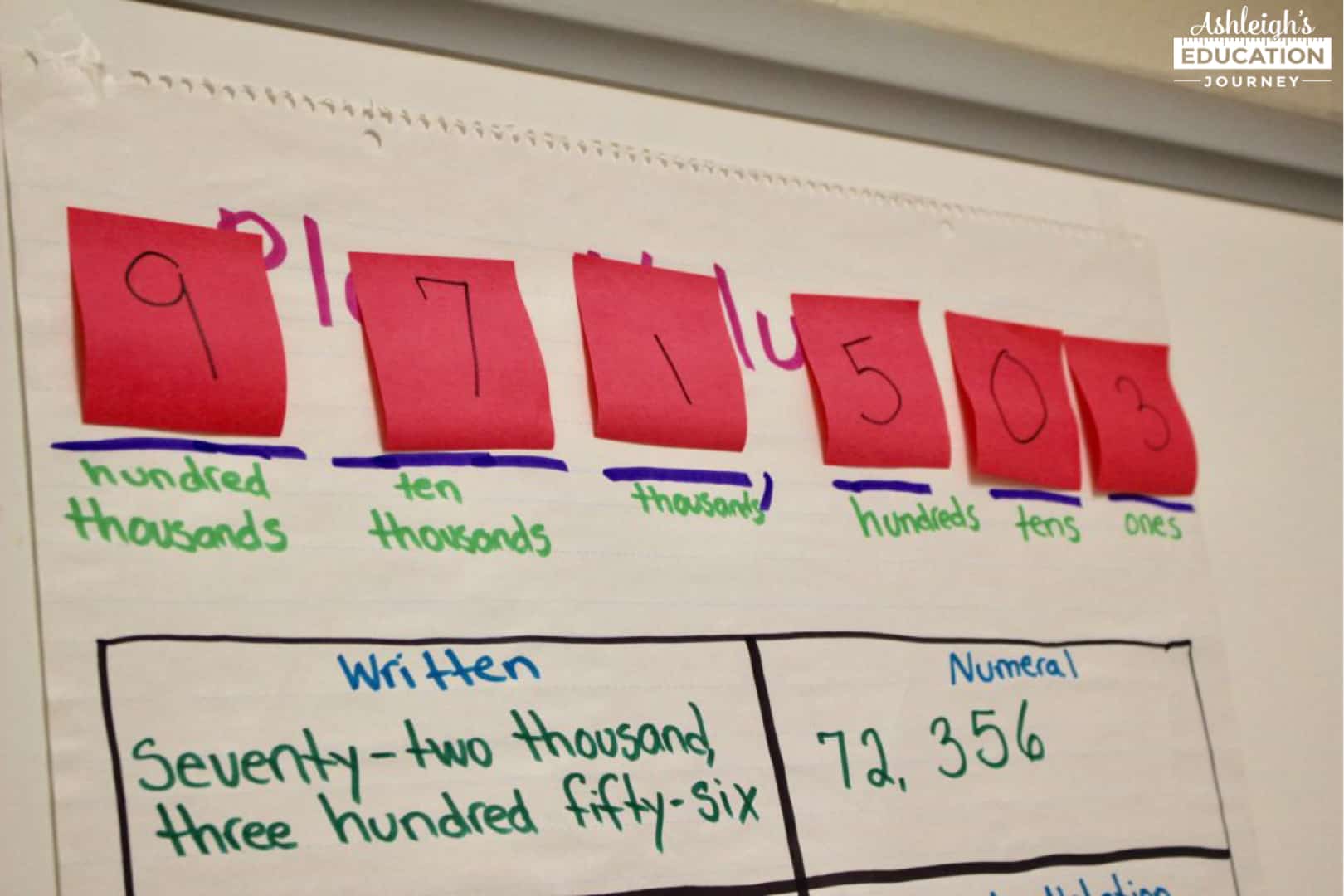 After introducing place value with our large anchor chart, students add to the place value page in their Math Notes, and I do have them for 3rd grade too.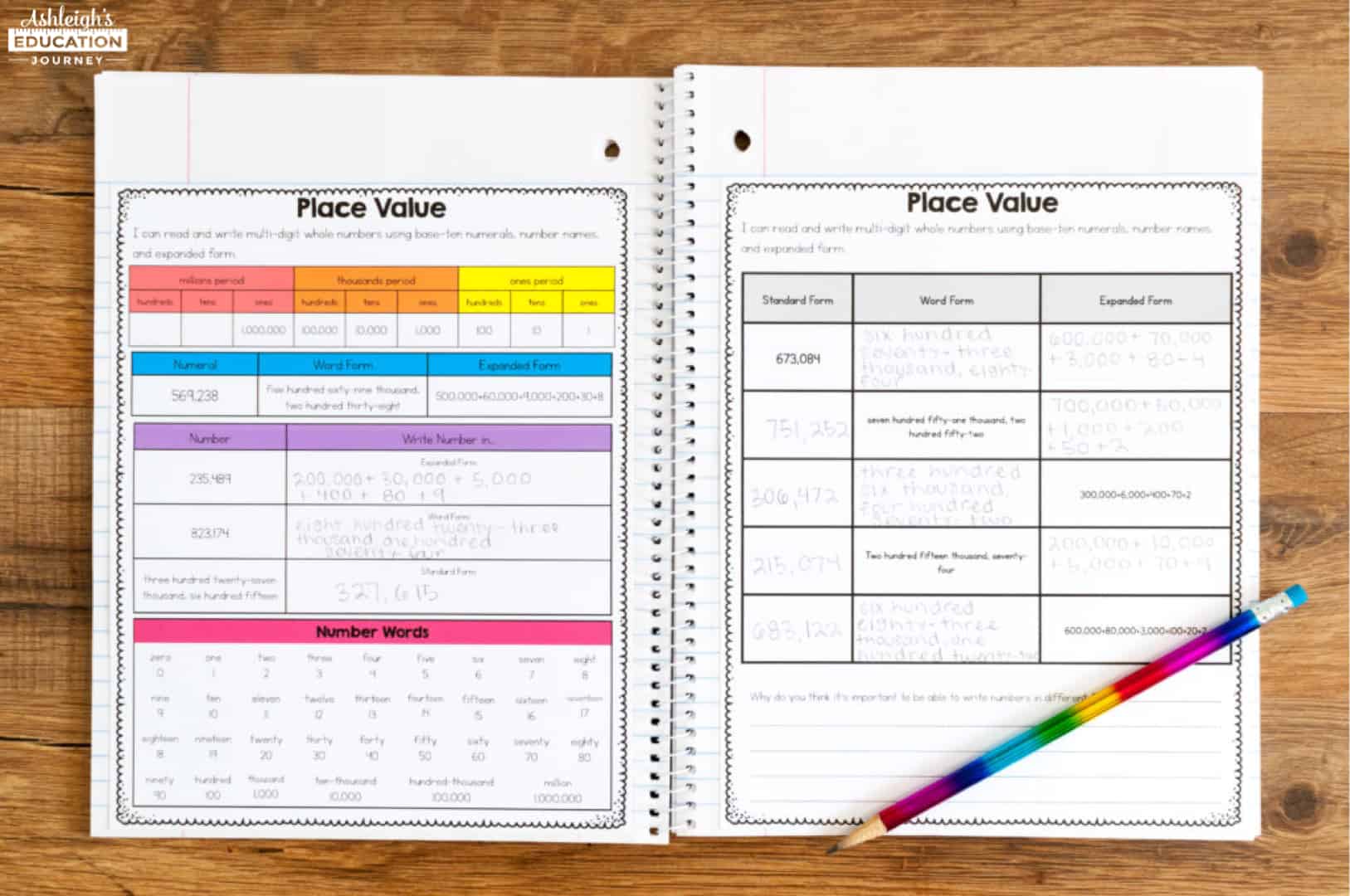 Place Value Chips
I introduce place value chips. I'm not sure if that's the official name for them, but that's what we've started calling them. I used these rather than base-ten blocks, because it's next to impossible to build six digit numbers using base-ten blocks. These are much smaller, convenient to store, and they're quiet! I wrote a five and six-digit number on my dry erase board and students use their chips to build the number. After students became comfortable building numbers from numbers written in standard form, I wrote numbers in written and expanded form, and students built those numbers. We then switched roles, and students built numbers using their place value chips and a partner determined what number was represented.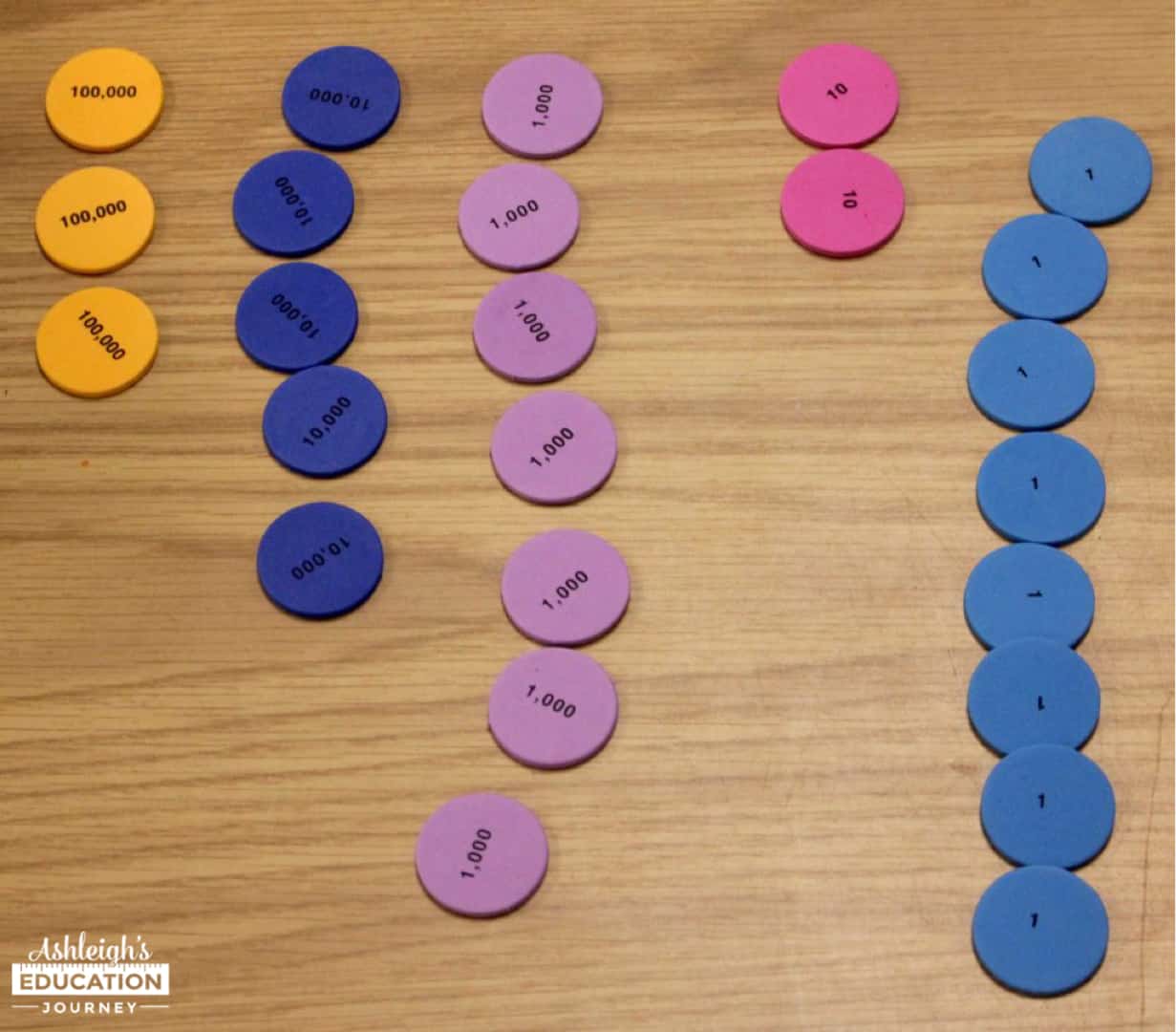 Once I felt like my students were comfortable building and identifying six-digit numbers, I began teaching how to write numbers in standard, written, and expanded form. I found that learning to read and say the numbers was a bit of a challenge for some students, so we started there and moved forward. Students used their dry erase boards and place value chips to practice writing different forms of numbers. During this time, I found that zeroes really confused my students, so we spent a little extra time working on numbers with zeroes. It's important for students to understand that there has to be a place holder for zeroes, and they can't just omit that digit.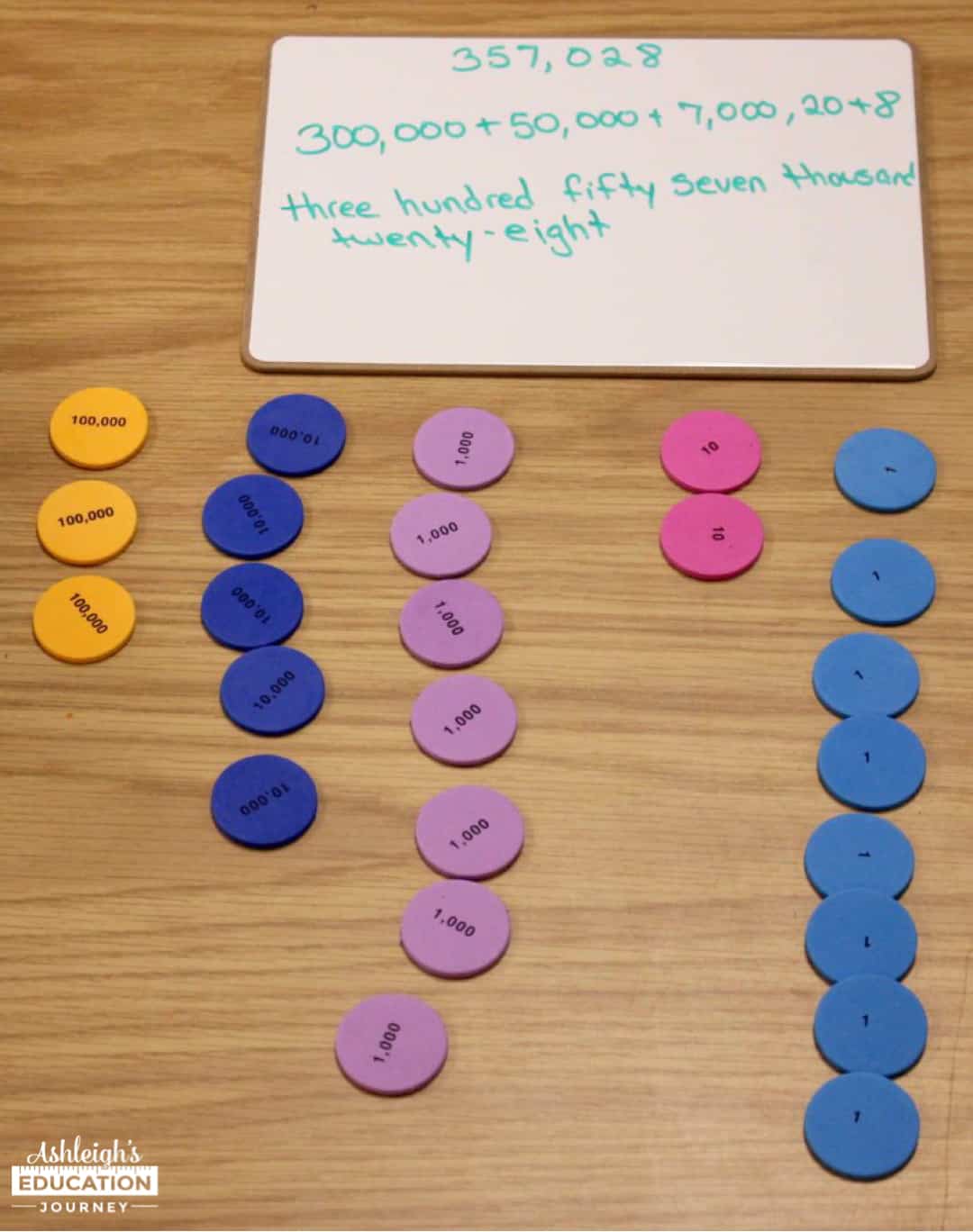 I wanted to see what my students could do independently, so I had everyone complete this quick practice sheet. In this assessment, students wrote numbers in expanded form and written form, as well as identifying the value and place value of underlined digits. You can download this freebie here.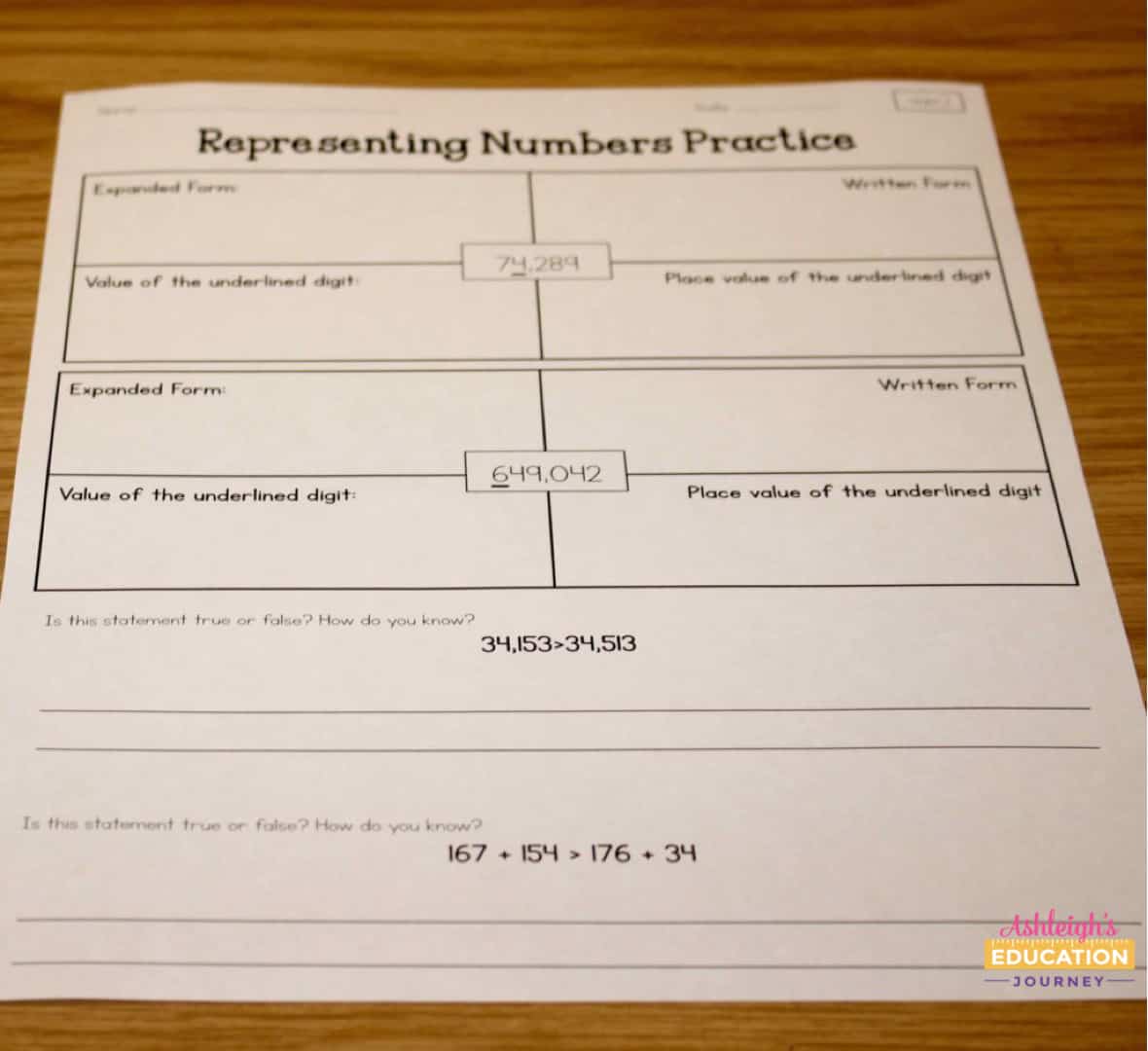 Emoji Place Value
One of my new absolute favorite place value activities is my Emoji Place Value.  This is an absolute BLAST for students! In the activity, each student receives a different cell phone with a text conversation on the screen. The conversation is full of different emojis. Students use a table where each emoji is assigned a different value to determine the total value of their text conversation. Once students find the value of the conversation, they solve 9 different problems solving questions. Since every grade level has different needs, I created four versions of this activity: version 1-place value through the thousands place, version 2-place value through the ten-thousands place, version 3-place value through the hundred thousands place, version 4-decimals (numbers range from thousands place to hundredth place).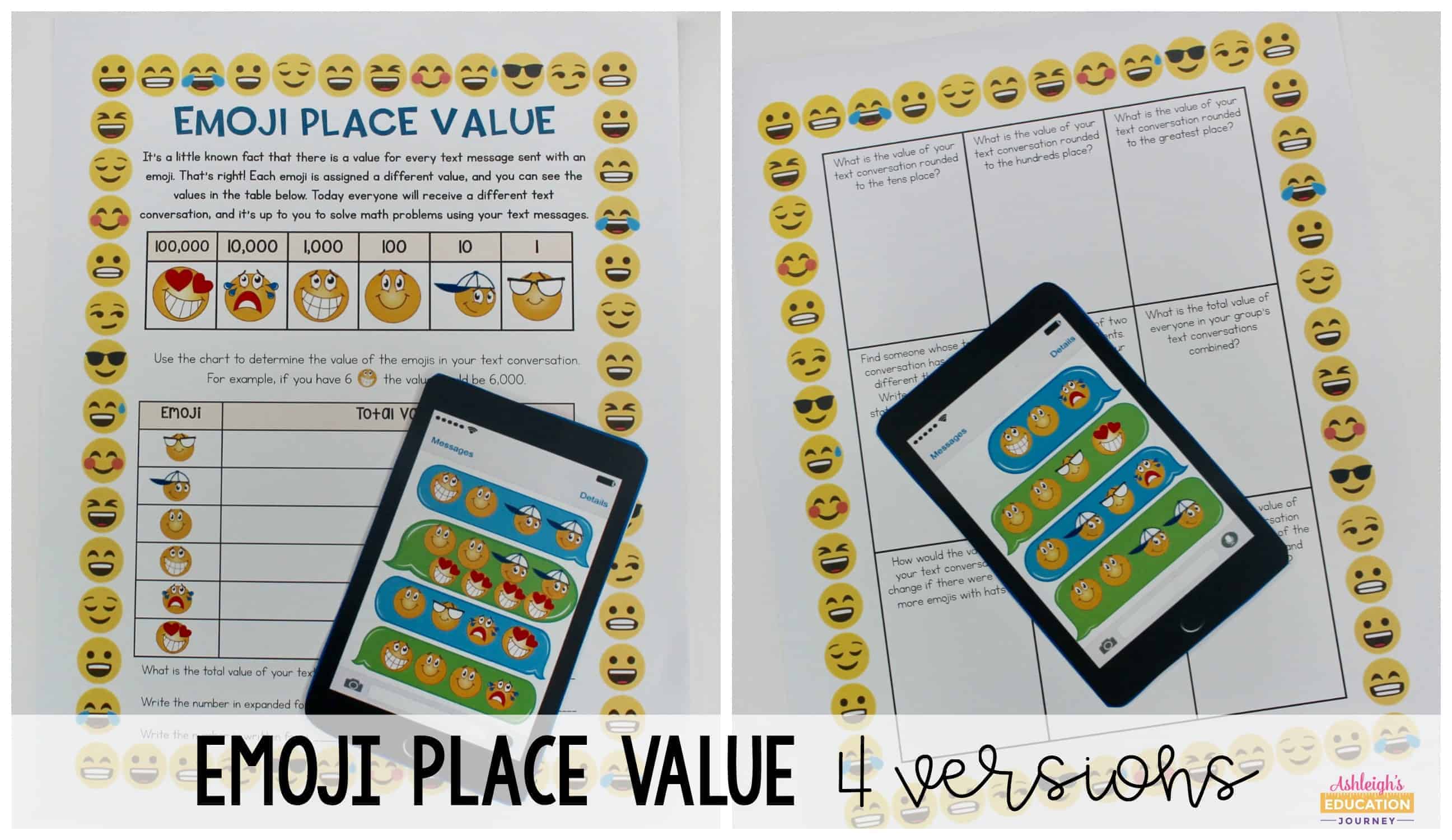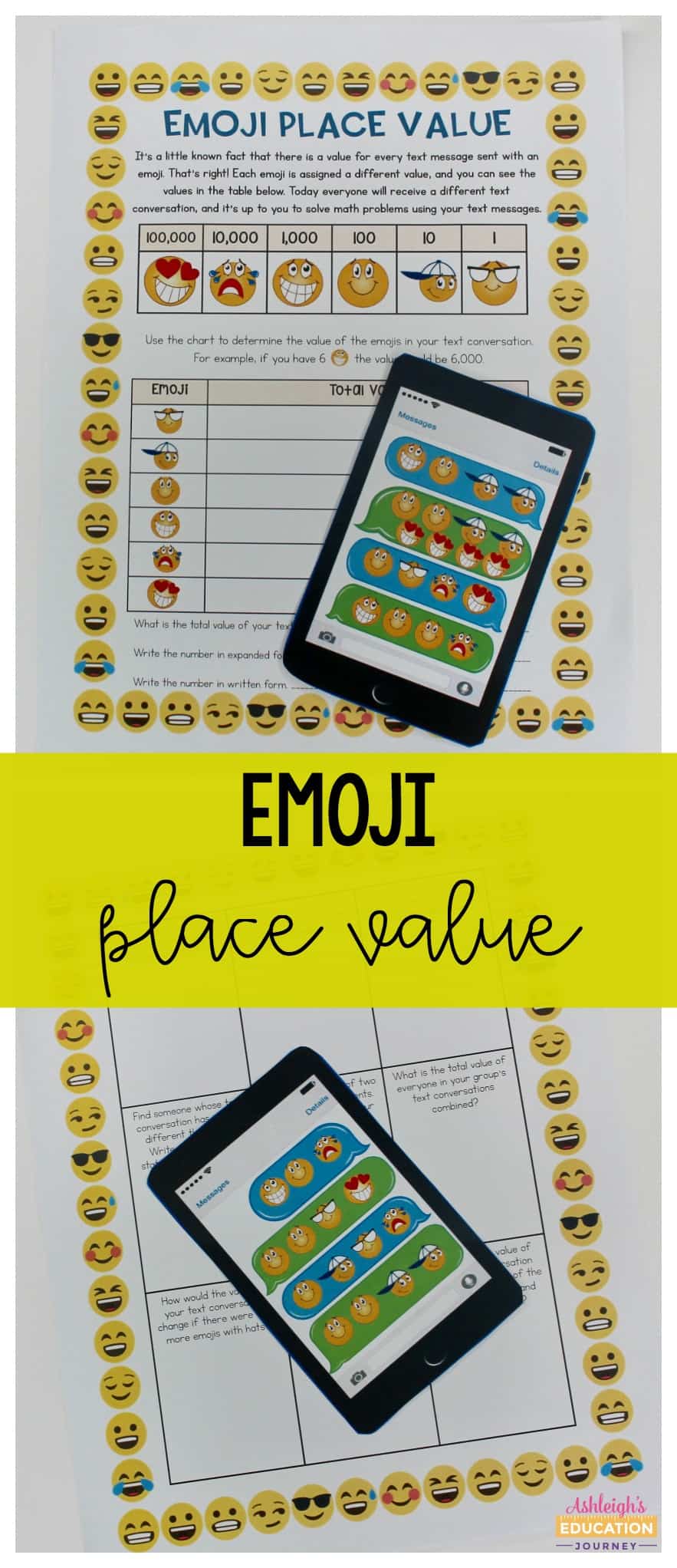 Making Tables
After spending a few days teaching about forms of numbers and place value, we then shifted gears and started working on 4.NBT.1: Recognize that in a multi-digit whole number, a digit in one place represents ten times what it represents in the place to its right. For example, recognize that 700 ÷ 70 = 10 by applying concepts of place value and division. multiplying and dividing numbers by ten.
To teach this standard, I created a place value table to help students develop an understanding further than adding and taking away a zero when they multiply and divide by ten. I printed the table on card stock for each student (ideally I would have laminated them, but I ran out of time). Students first used counters to build numbers to ensure that everyone understood how to use the table. We then practiced multiplying numbers by ten by shifting the numbers/counters to the left and then dividing by ten by shifting the numbers to the right. With a little practice, students felt very confident in this concept. You can download the place value table here.
The page below is from one of the lessons in my 4th Grade Place Value Unit, which includes daily step-by-step lessons. I found that when using the place value table, students could easily multiply and divide by ten. However, when I took the table away, students found it MUCH more difficult. This helped me to see that several students still needed the visual, if not concrete model. I taught students how to draw their own table in the event of encountering a similar problem where they needed a little extra help. Sometimes I forget that students have to be taught that it's okay to create a model if needed and how to create the model.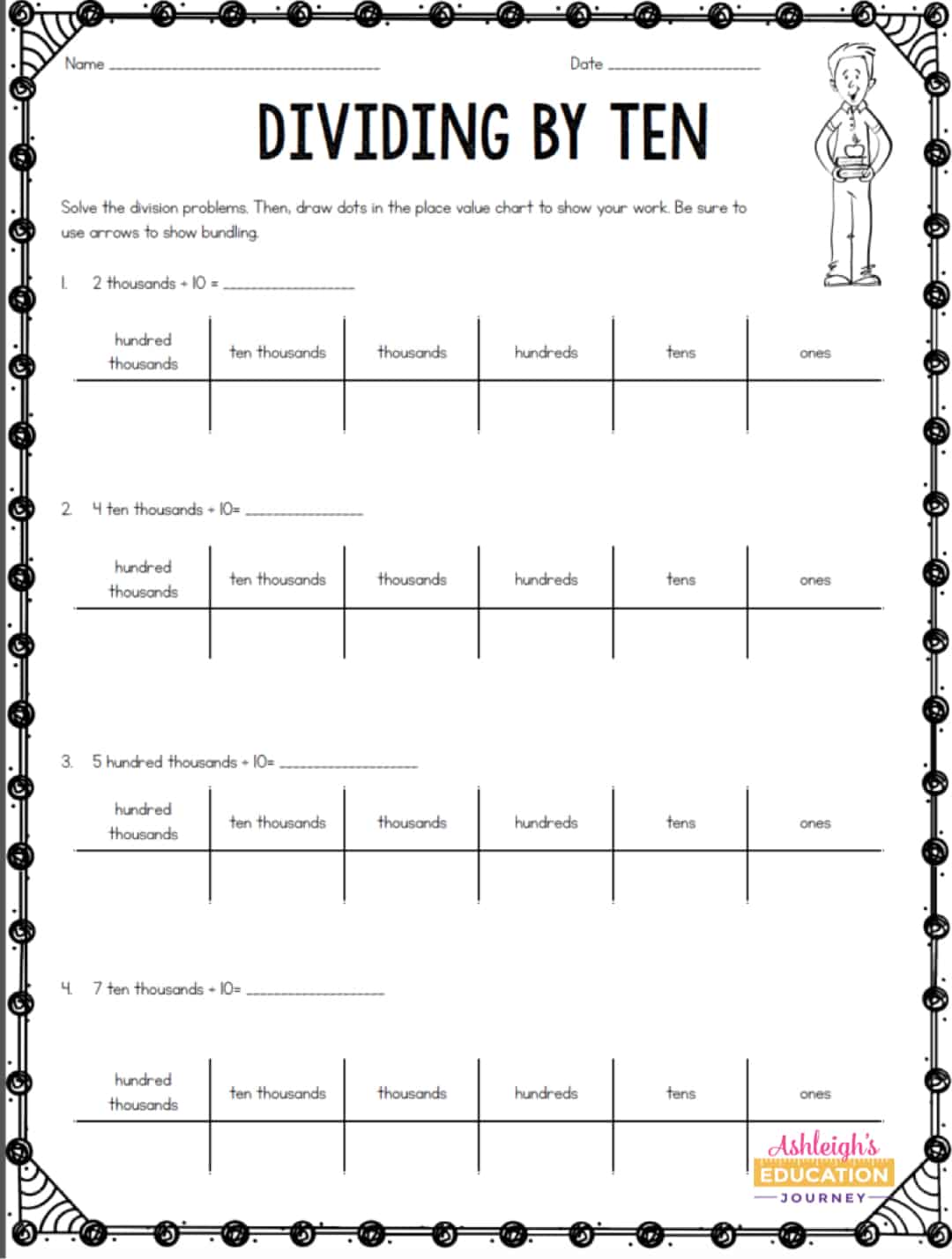 Below are the problems that gave students trouble. The problems would have be simple with a table, but some students weren't ready to transition to this level of thinking. I used this assessment to add an extra place value lesson to help bridge the gap between concrete and abstract. This also allowed me to make a little place value game that students can play while I work with small groups. I made a fourth grade version of the game and a third grade version of the game, which you can download here!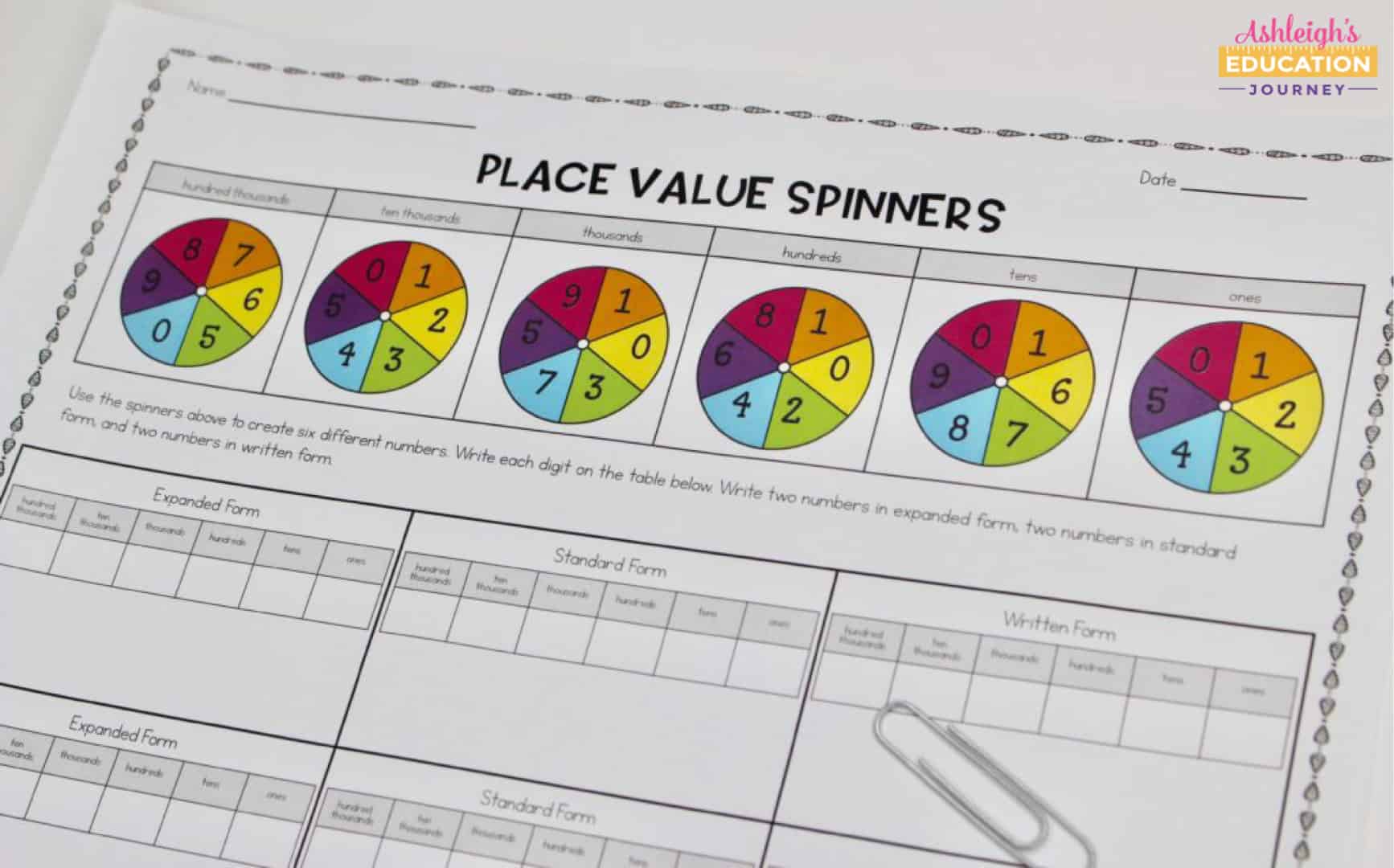 In addition, I squeezed my a couple comparing numbers lessons in this unit. Thankfully, that was a breeze, so we zipped through those lessons. I was careful to make sure my students could tell me the place value of the digit that was used to compare the numbers.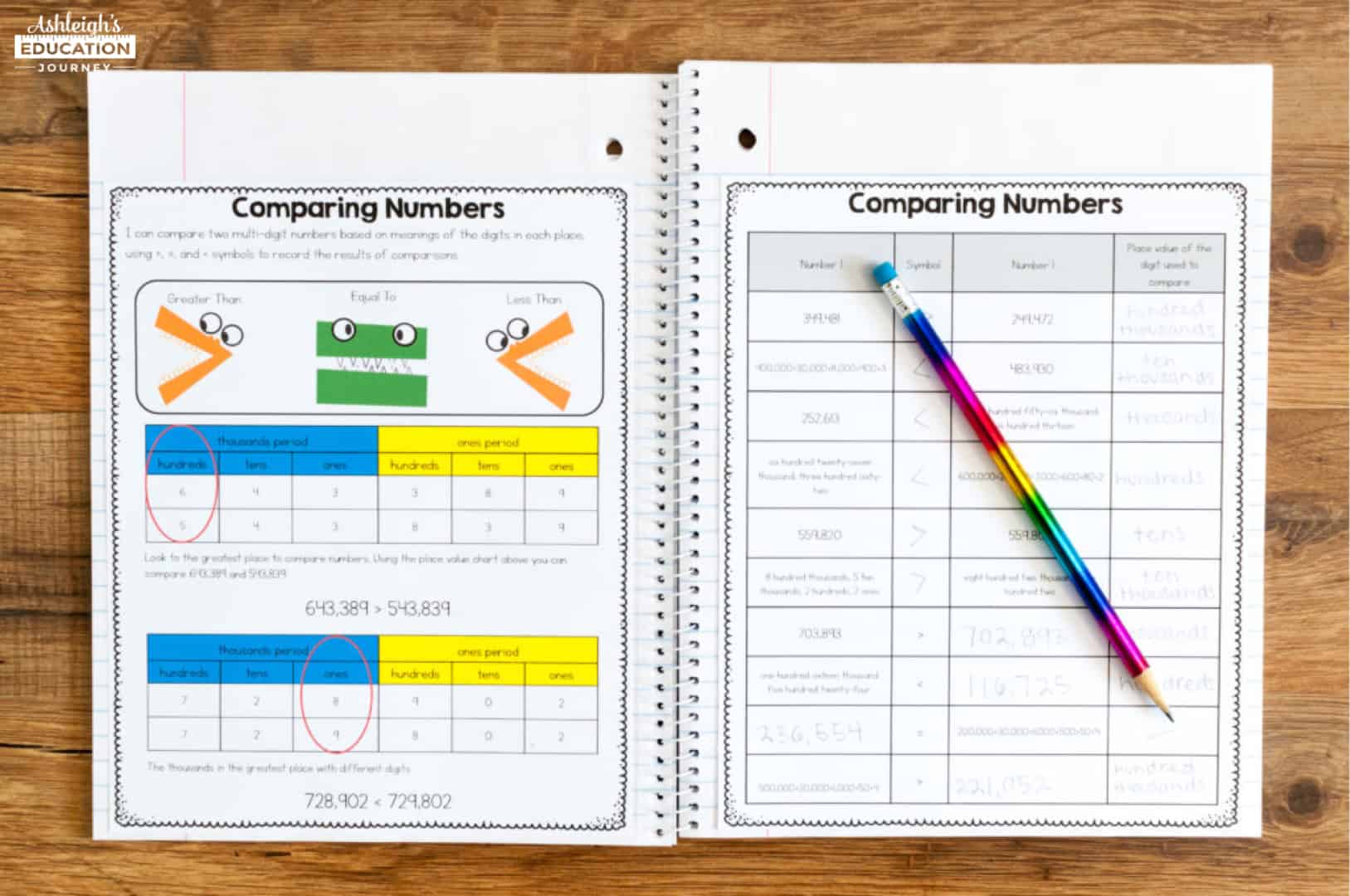 Math Anchor Charts
After finishing the unit, I hang up my Math Anchor Charts that are a bit smaller than my anchor charts. No matter how hard I try, trace, measure, outline…you name it….I cannot make a nice looking anchor chart, so I hang these up for my students to reference throughout the year. I also have a third grade version of the anchor charts.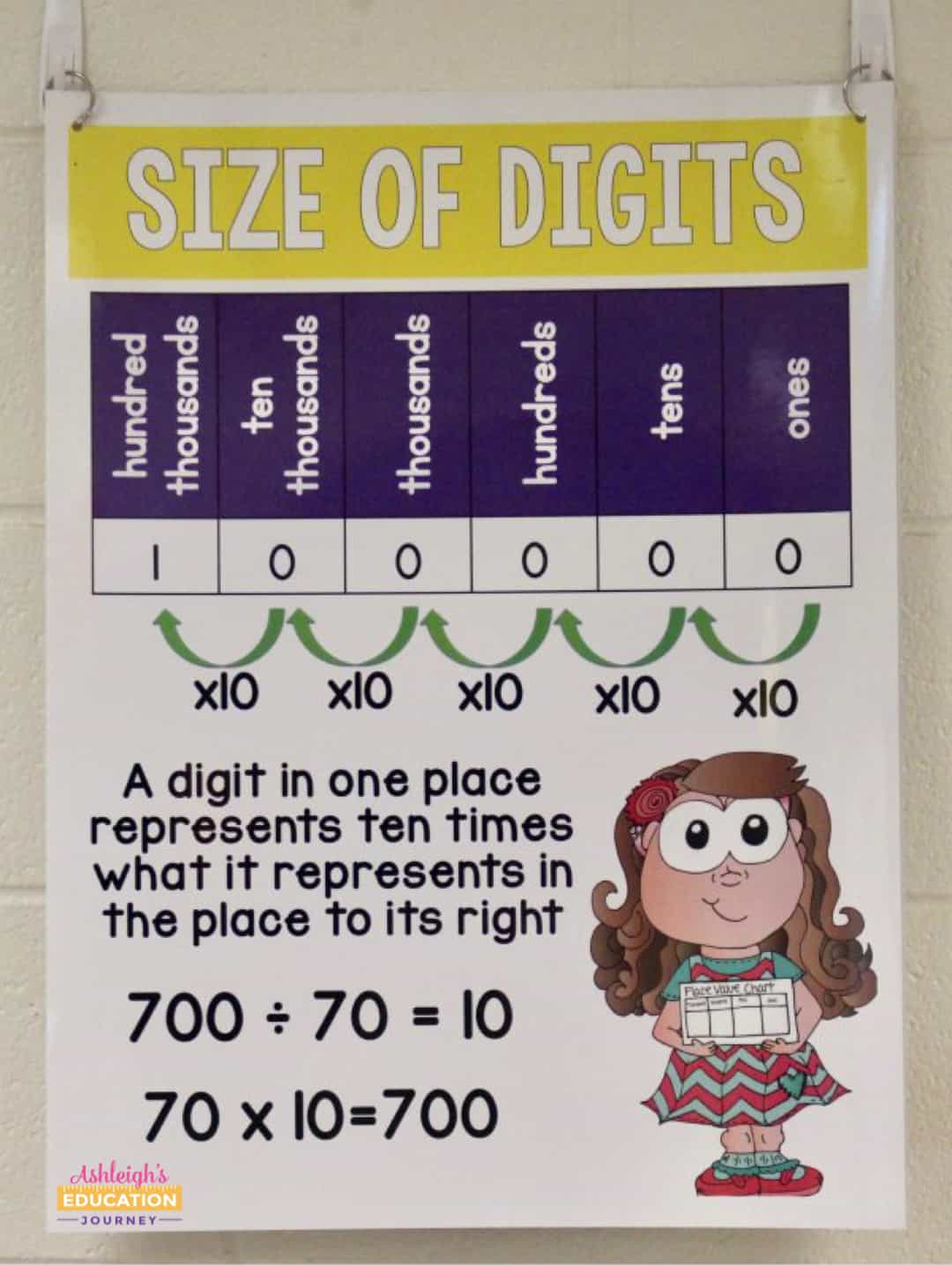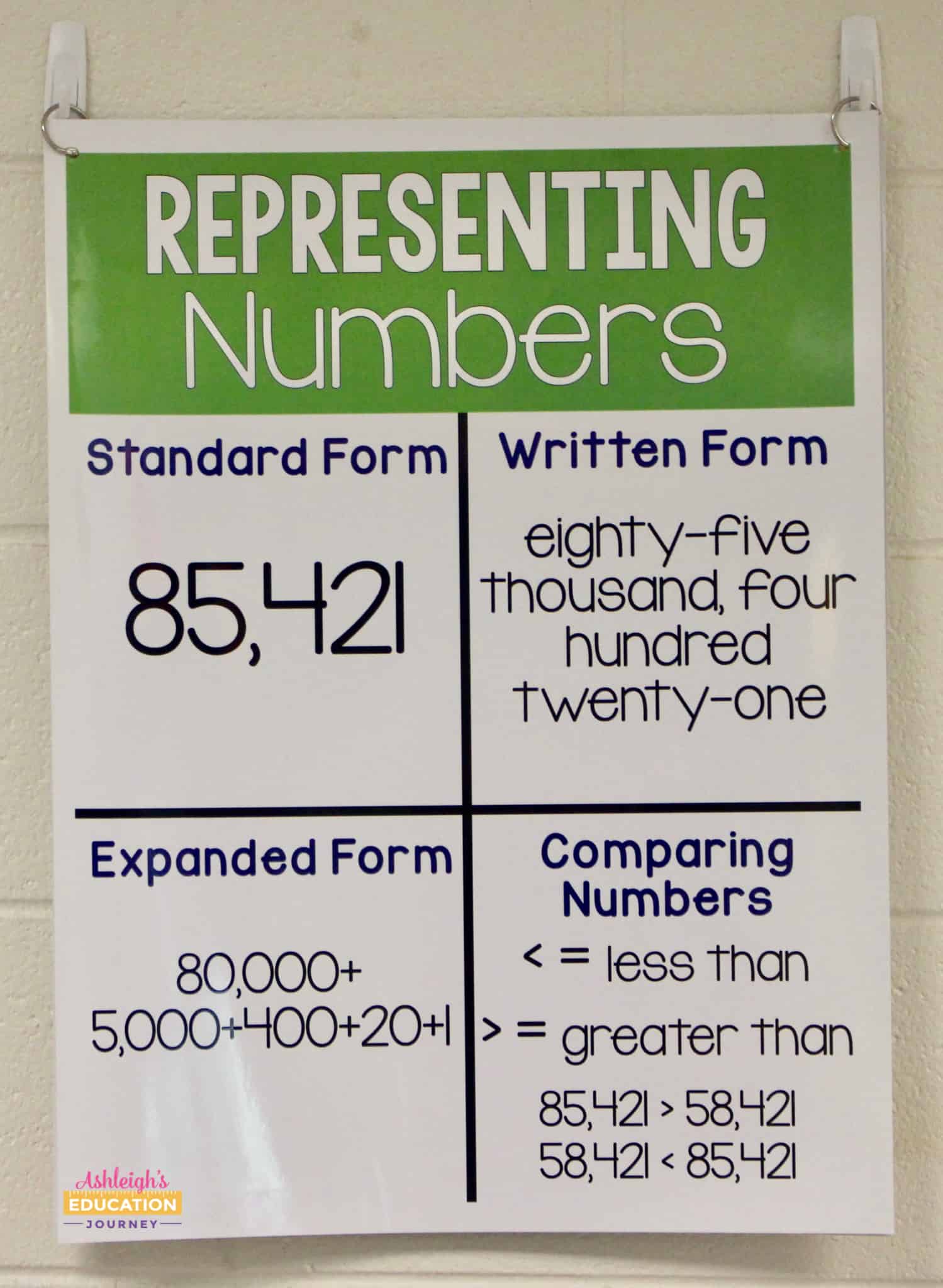 What are your favorite ways to teach place value and representing numbers?