As I become more familiar with distance and digital learning, I find myself missing the way I would normally teach. In the classroom, I try to plan interactive and problem based lessons and not focus solely on rote practice or an abundance of time on a computer program.
Even though I might not be there in person, I want this week's intrusion to feel a little more like "normal" to my students. And for us, "normal" does not involve sitting still and answering questions.
In this post, I've shared four ways I plan to liven up my distance and digital learning instruction. If you teach reading only, you'll want to scroll down.
Math
Performance Tasks/Problem Based Learning
For the next two weeks, my math instruction will be centered around performance tasks and problem based digital learning. Even though I REALLY don't want to, I'm omitting lessons that need particular materials that can't easily be replaced digitally.
This week, I'm teaching four lessons from my third grade unit, and next week I'll move in to my fourth grade unit. I plan to go over each lesson through a Zoom call, and I'll share a tutorial for those who are not on the call.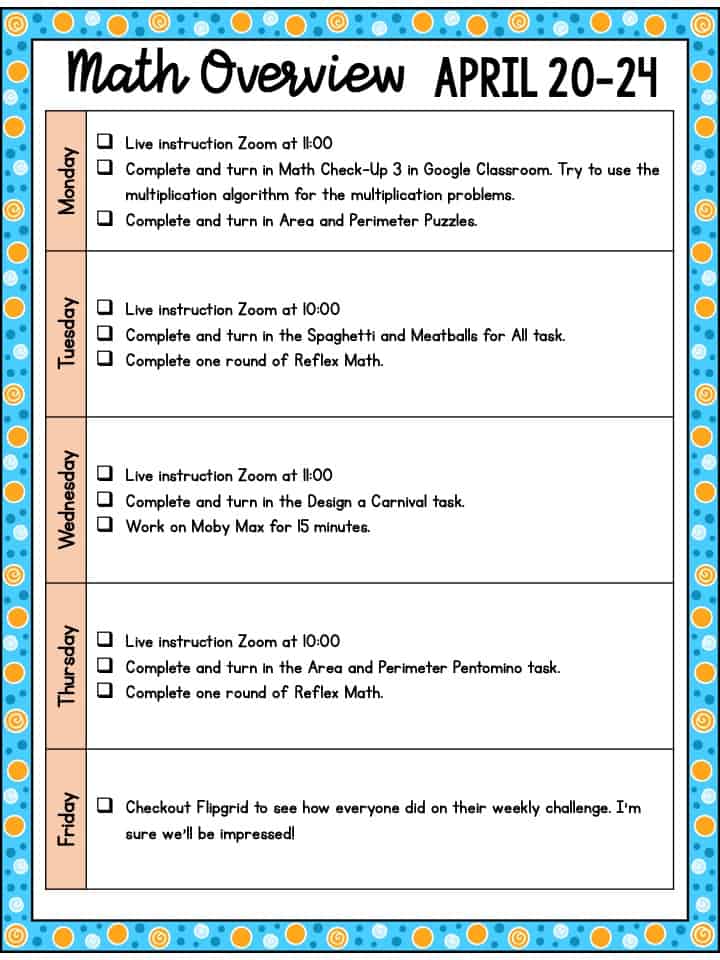 Area and Perimeter Puzzles – On Monday students will match puzzle pieces with a given area to the correct area models. There are a total of 21 puzzles, with three puzzles on each slide. Students are able to drag and drop the bottom sections of the puzzles.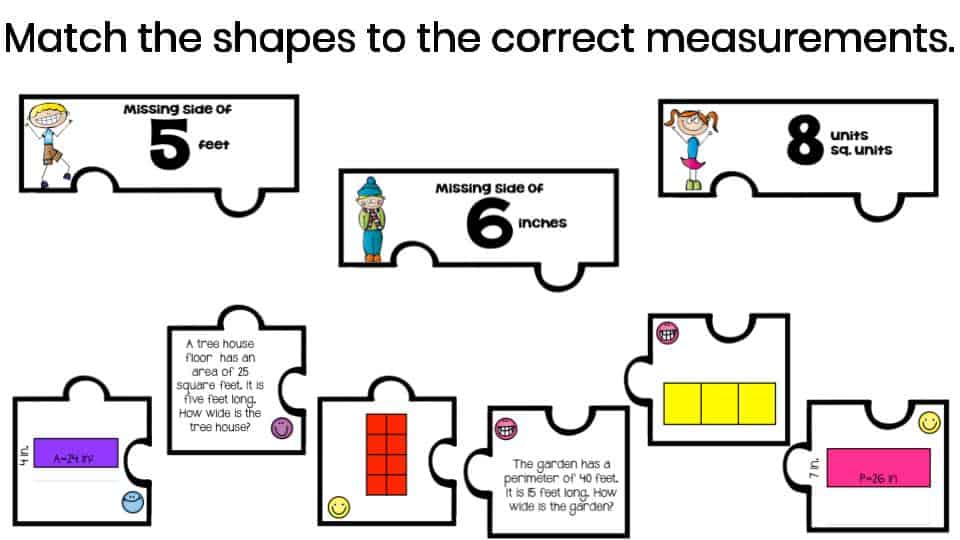 Spaghetti and Meatballs for All – This lesson is based on a popular children's book that ties in math and literature. Since I don't have the book at home to read to students, I'll share this link with them. Students use their understanding of area and perimeter to organize square tables into different seating arrangements to make room for 18 people.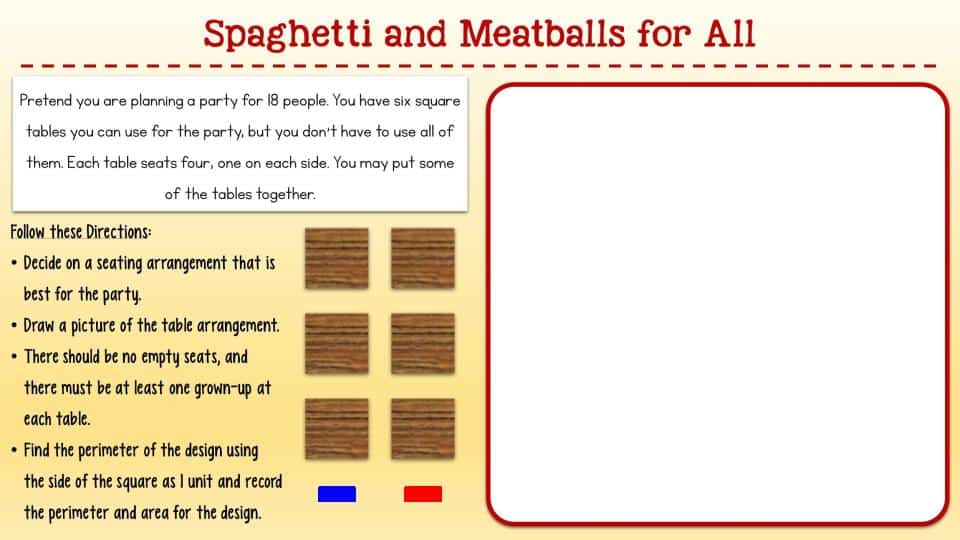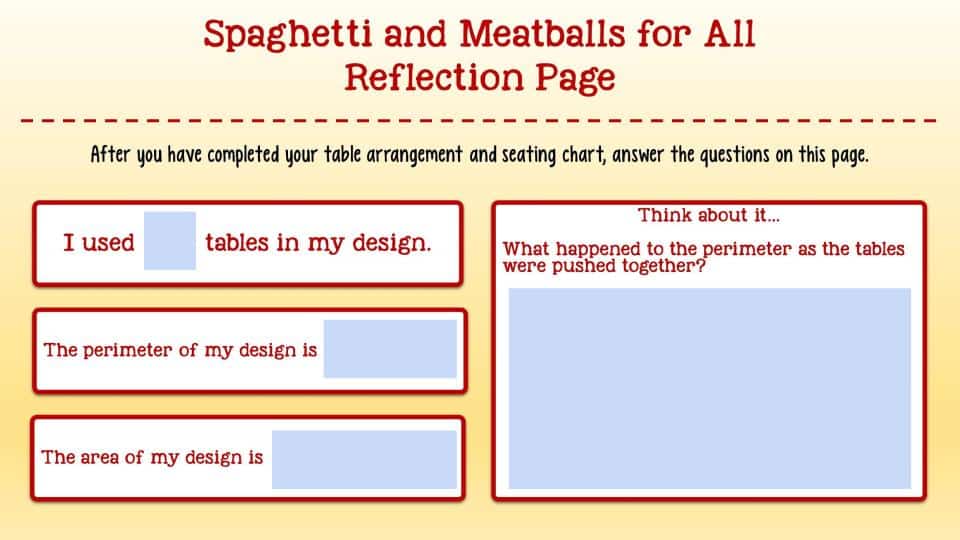 Design a Carnival – In this lesson, students design a carnival. They get to be creative and color code each portion of the carnival. Students are able to drag and drop the squares to the grid paper to design the carnival.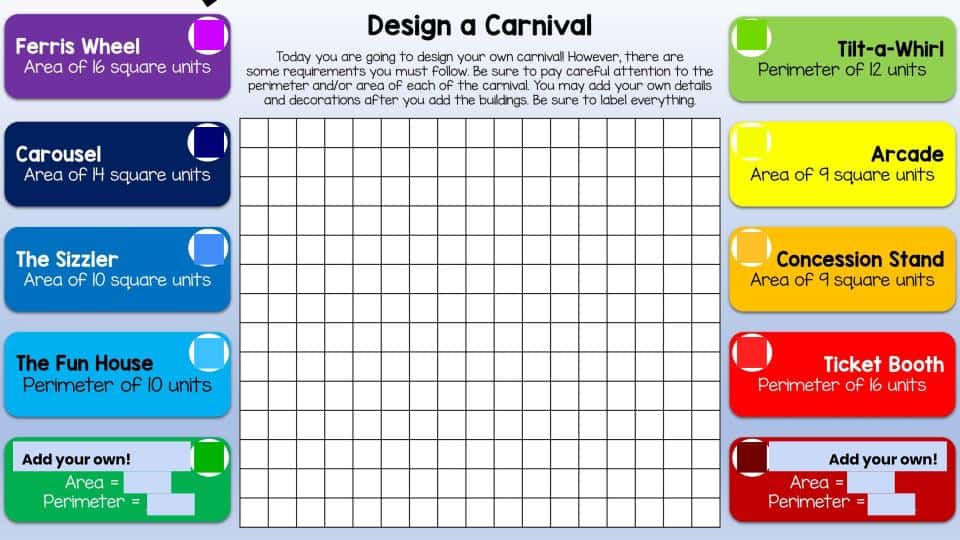 Pentomino Area and Perimeter – Even though this lesson does require a specific manipulative, I did find a way for students to build their polygons digitally. In this lesson, students combine three pentominoes to create a polygon. Then, students determine the perimeter and area of each polygon.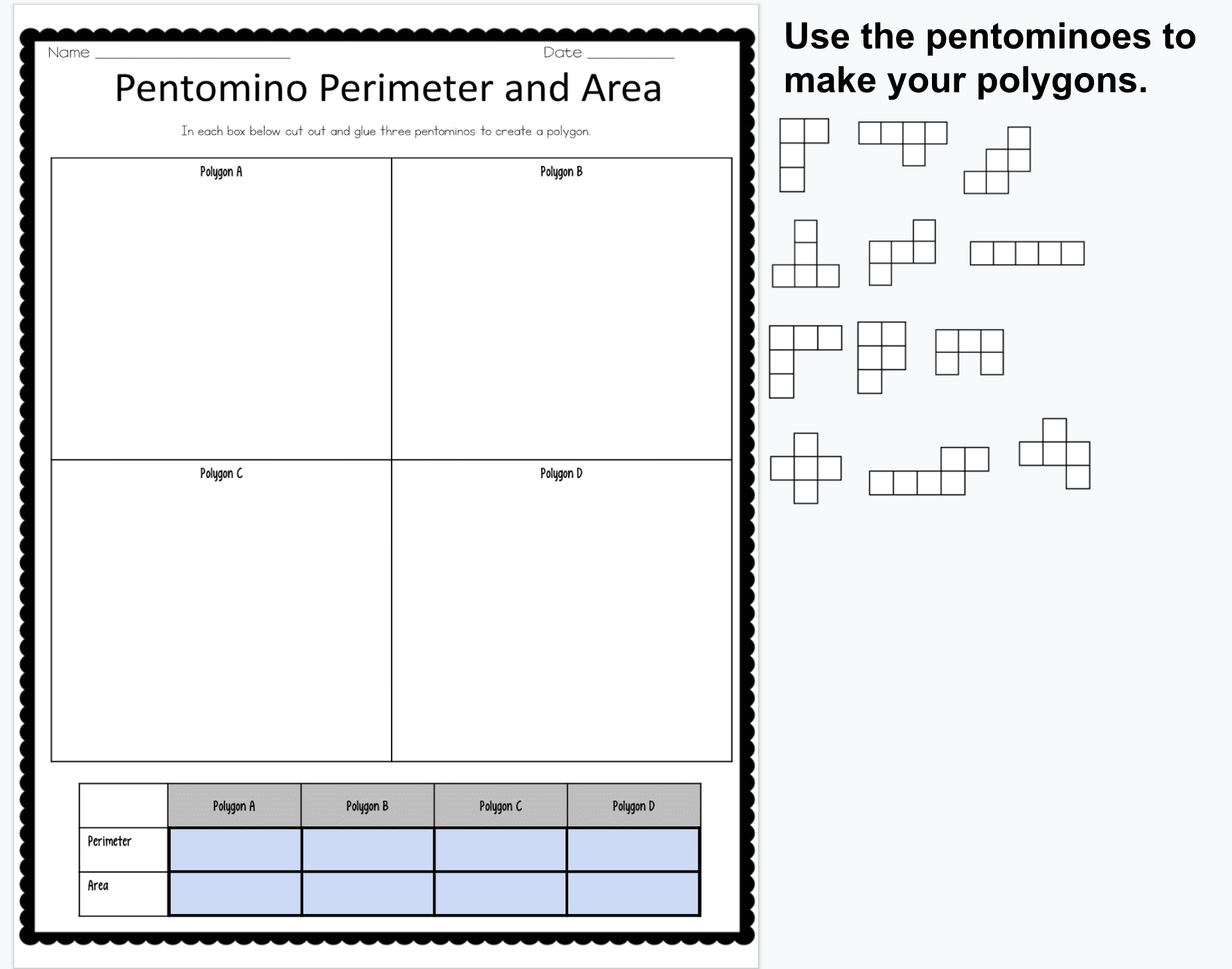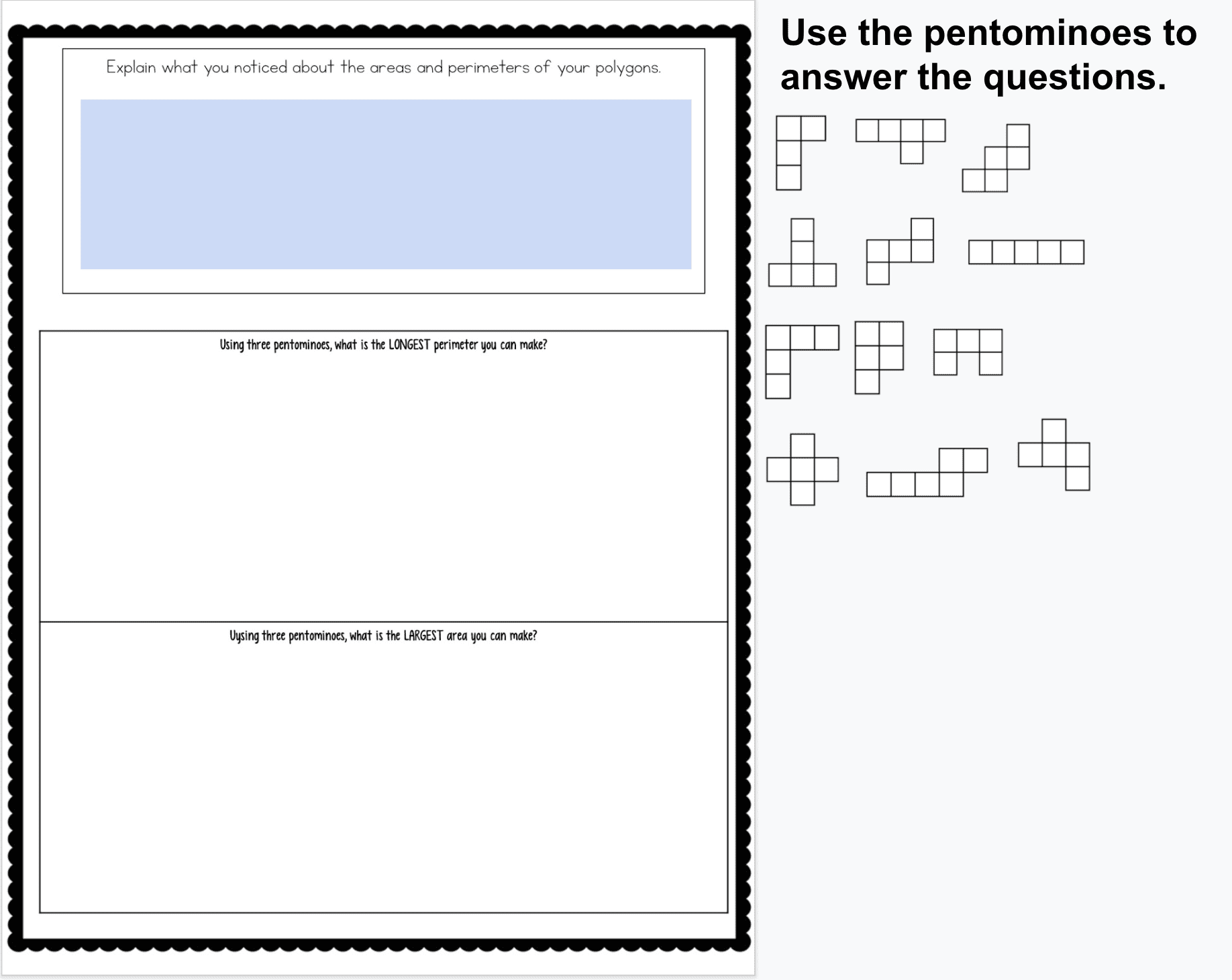 Outdoor Math
This is the time of year that I love to do projects and outdoor lessons, and that doesn't have to stop. I've needed to make some adjustments, but I did find ways to incorporate some of my favorite outdoor math lessons digitally.
When we finish our area and perimeter lessons, students will spend a week on this Math Scavenger Hunt. Students receive a page of directions that they can type on. You can also have students slide a checkmark on the activities they have finished.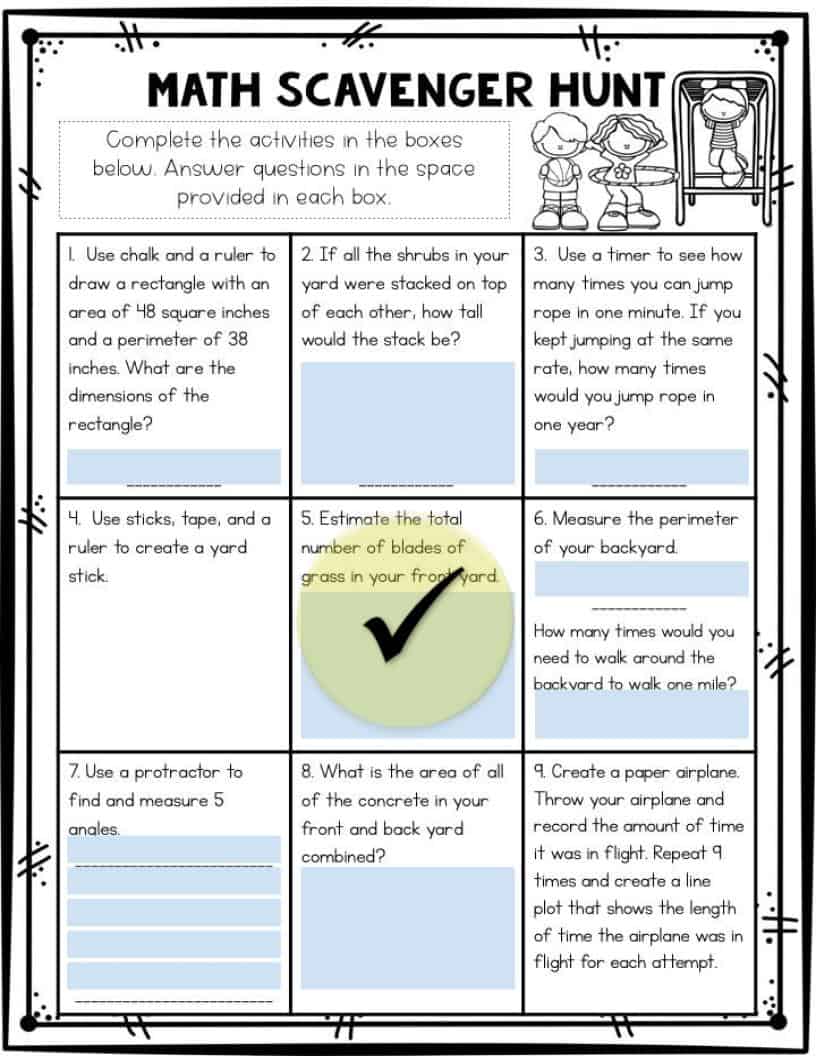 In one station, students use a ruler to draw a shape with a given area and perimeter. Students really have to think, because the obvious dimensions for area won't create the perimeter needed for the figure. This is great for area and perimeter, as well as using a ruler practice!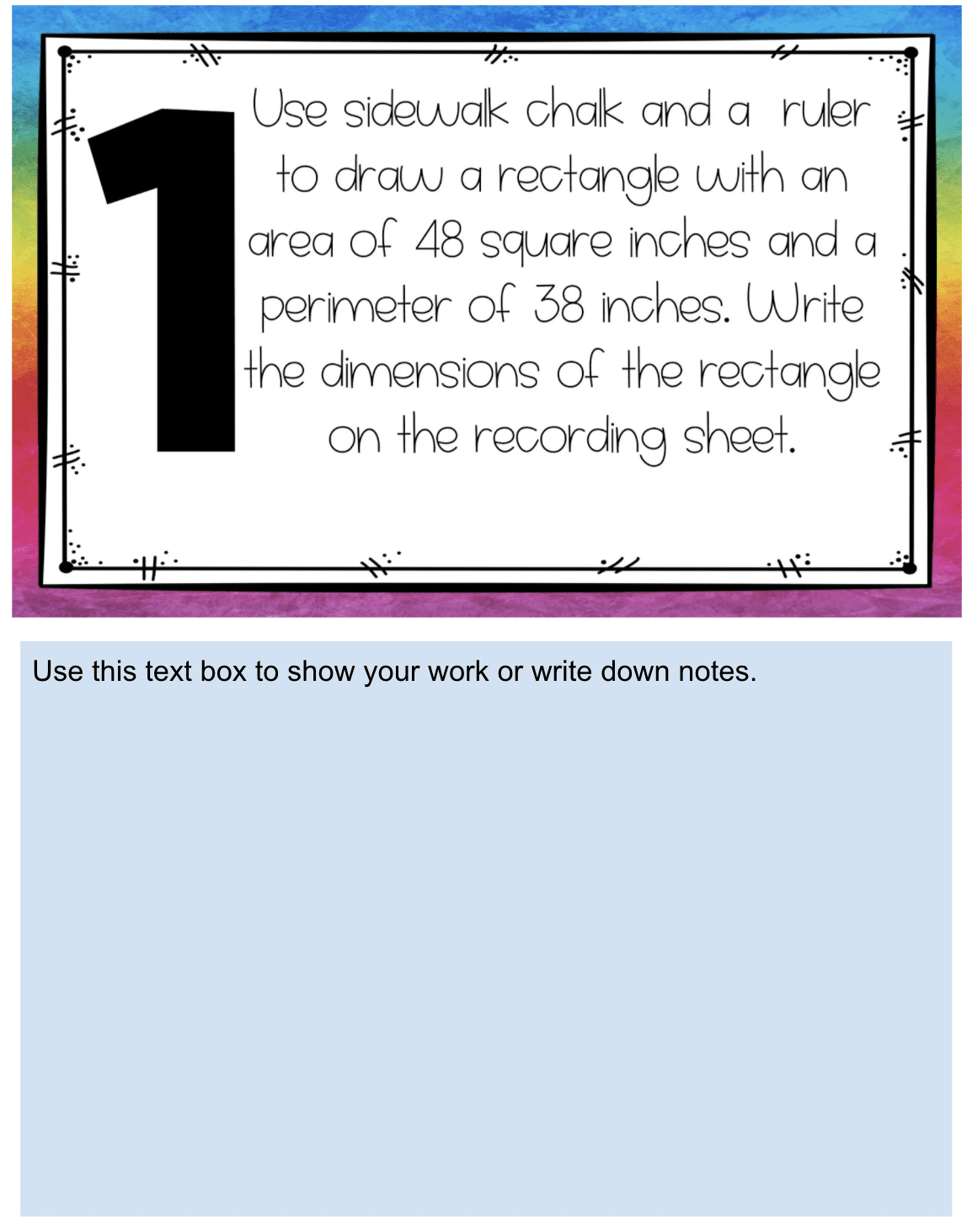 In another activity, students measure the height of all the shrubs in their yard. To give my fourth graders an extra challenge, they have to determine how tall the shrubs would be if it was all stacked on top of each other.
In a different activity, students jump rope for one minute and count how many times they jump the rope in that minute. Students then use that information to find how many times they could jump rope in a day, week, month, or even year. For the sake of simplicity, I let students assume they would keep the same rate all year long.
Once again, I'd adapt this a bit if I was teaching third grade. I don't think my students could solve that difficult of a math problem, so I'd either allow students to use a calculator or I'd have them estimate to the nearest ten, so they were multiplying by multiples of ten.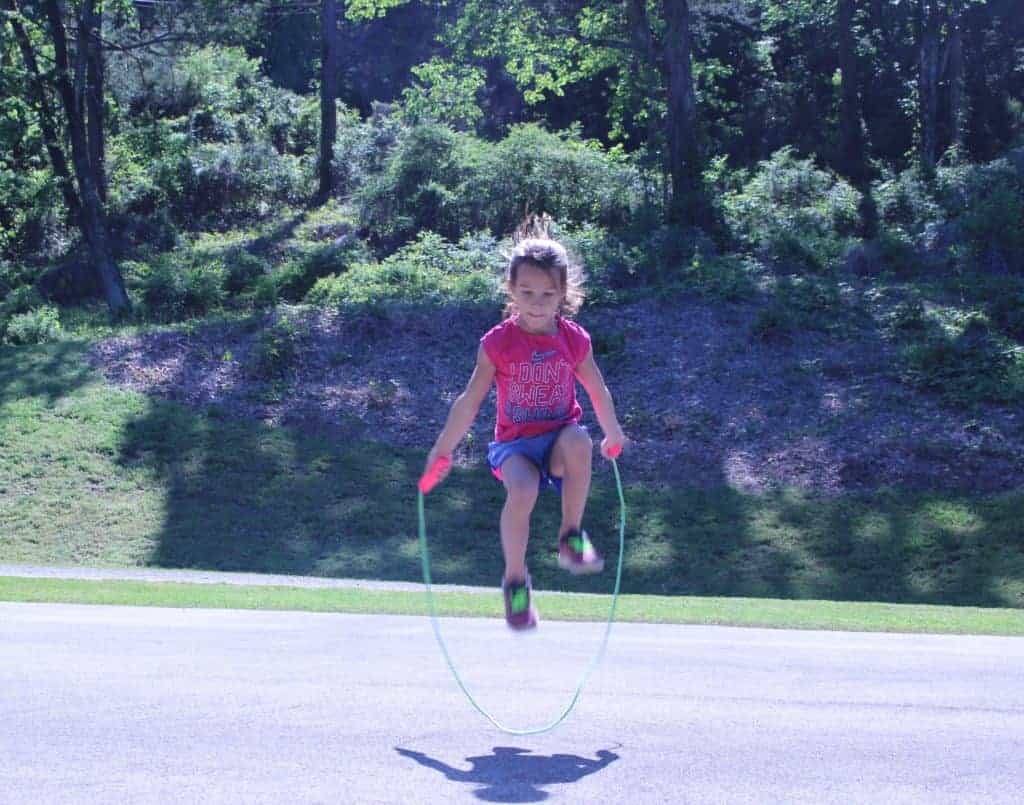 The forth part of the scavenger hunt has students use rulers, tape, and sticks to create their own yardstick.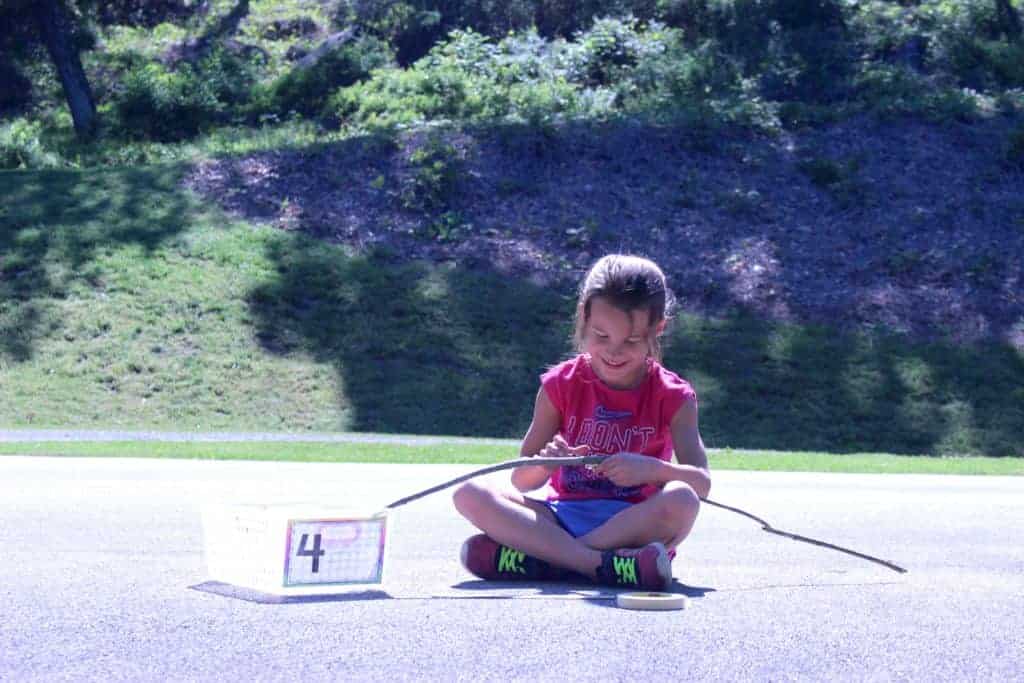 I got the idea for the next activity from Because of Mr. Terupt. In the book, Mr. Terupt had his students try to count the blades of grass on the soccer field. Obviously, that's not realistic, but students began to problem solve and think of estimation strategies to estimate the blades of grass. The overall goal is for students to strategize and problem solve. Ideally, students will count the blades of grass in one square inch or maybe even one square foot. Then, students can measure the field and then use multiplication to estimate. If I was teaching third grade, I'd definitely make sure students estimated to the greatest place, rather than using exact numbers.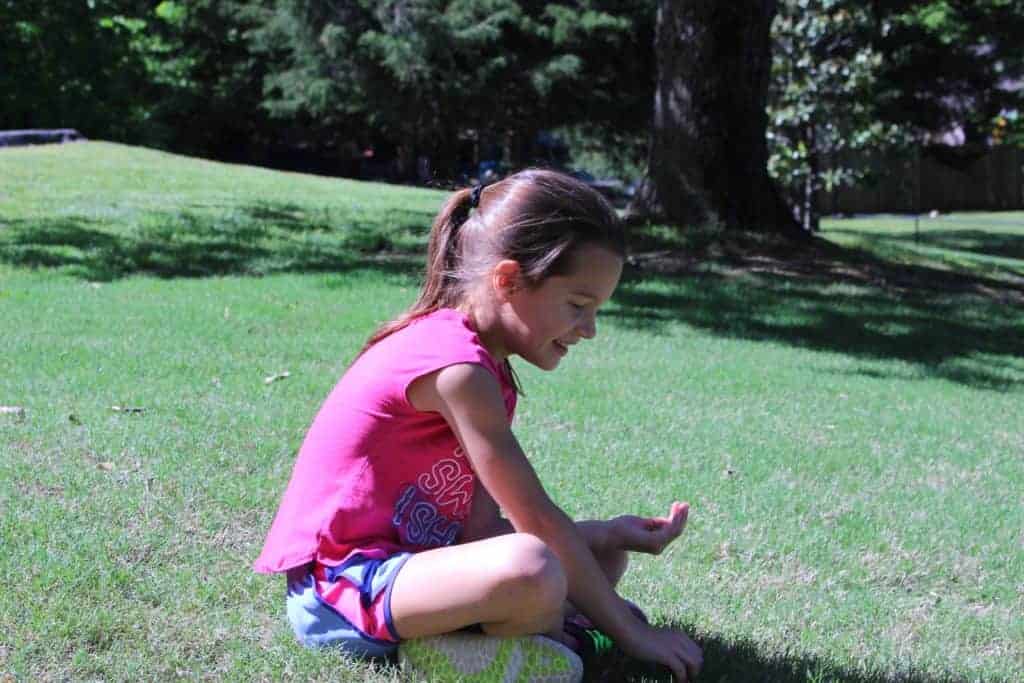 Another activity students will measure the perimeter of their backyard. Then, they have to determine how many times they would need to walk around their backyard to walk a mile.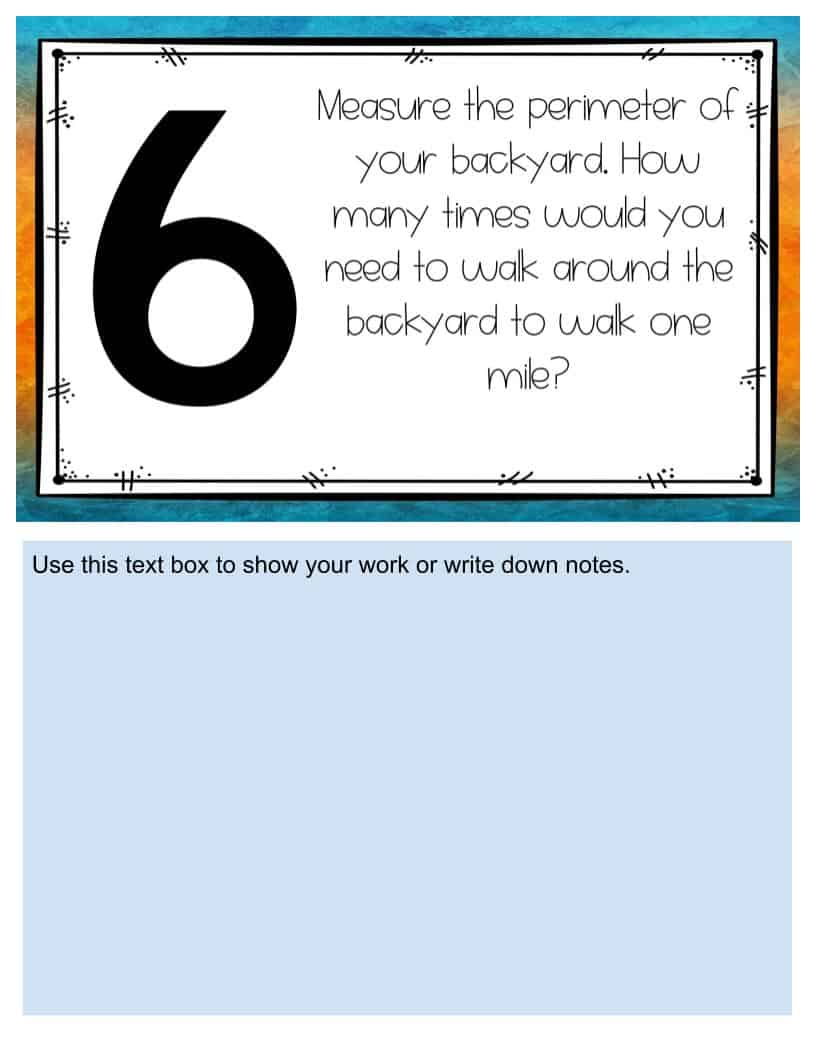 Another activity I've differentiated for third and fourth grade is the measurement of angles activity. In the fourth grade version, students locate and use a protractor to measure five different angles. In the third grade version, students locate five angles and label them as acute, obtuse, or right angles. Students also find the total area of all of the concrete in their front and back yard. Of course, students' favorite activity is always the last activity where they make paper airplanes. They throw the airplane ten times and create a line plot using the data collected from the flights.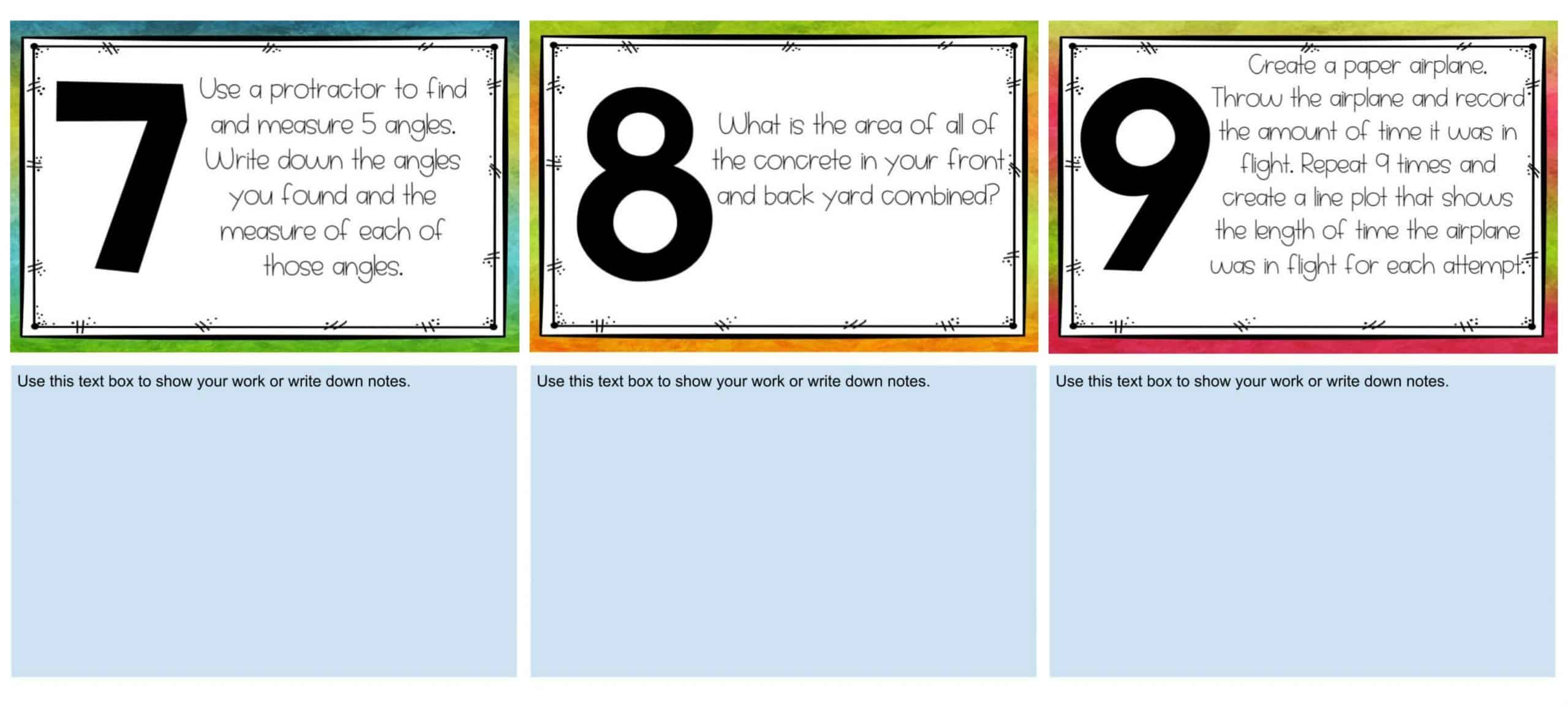 Choice Boards
I know that many teachers are only allowed to review during this time, and one really fun option for that are this choice boards from my Culminating Math Activities. At this time, I only have a third grade version of this resource, but I'm toying with the idea of a fourth grade version.
Each math domain includes a performance task that requires extensive application and problem solving. As with my other resources, I've included a print or digital option.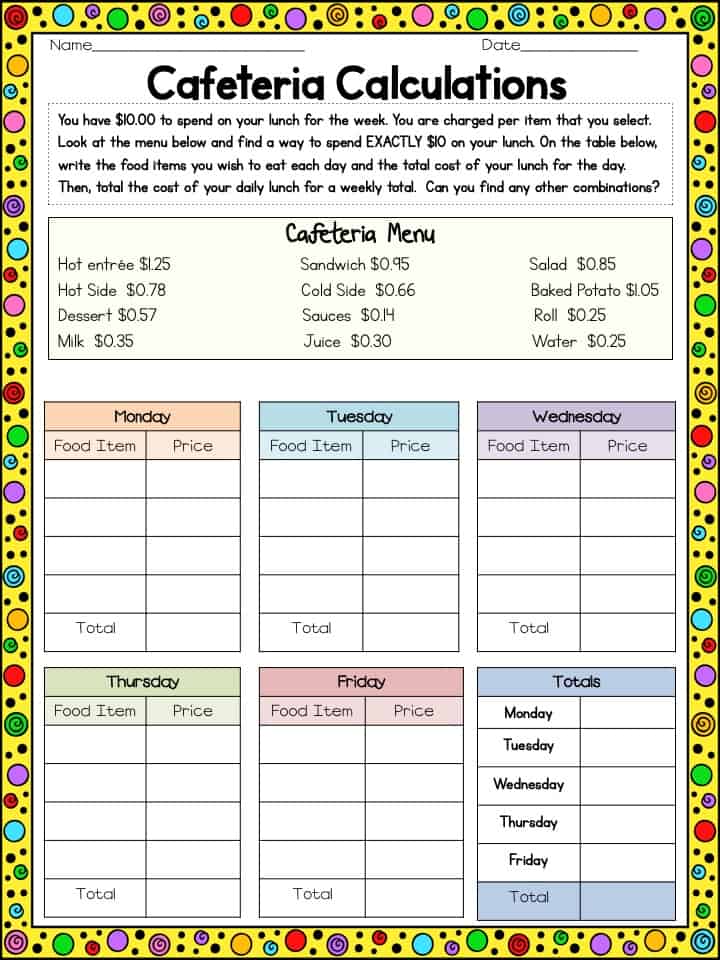 Each domain also includes a choice board with nine unique activities. Each of the activities can be completed on paper or digitally. I've included everything students will need for the choice board activities.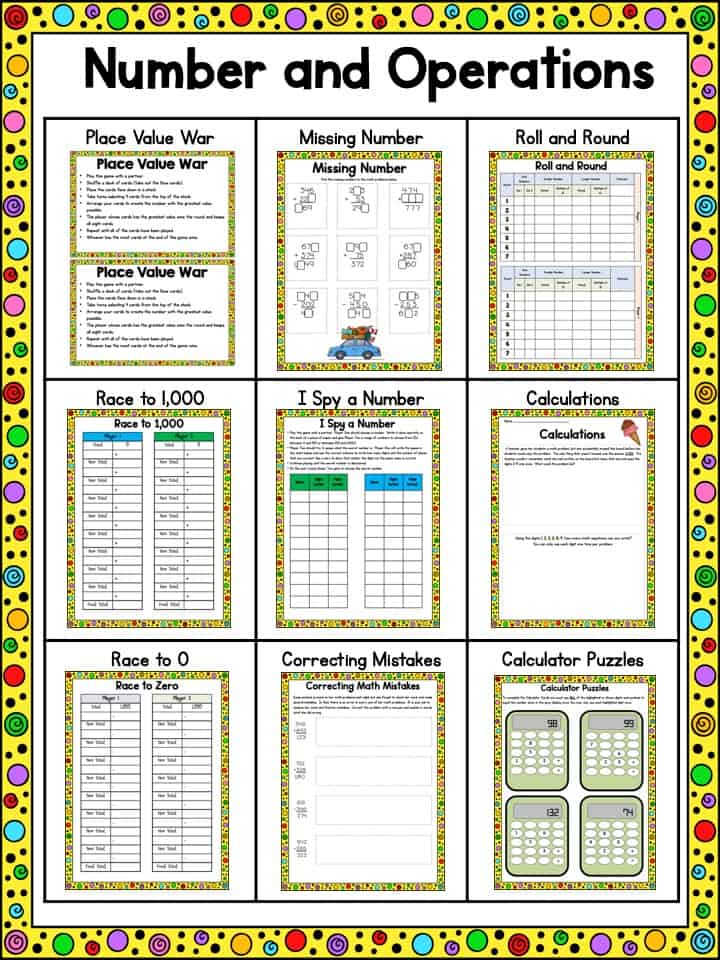 Some of the lessons, especially the fraction activities, are quite interactive. In several of the activities, students drag and drop images to create pizzas, cupcakes, classrooms, and more!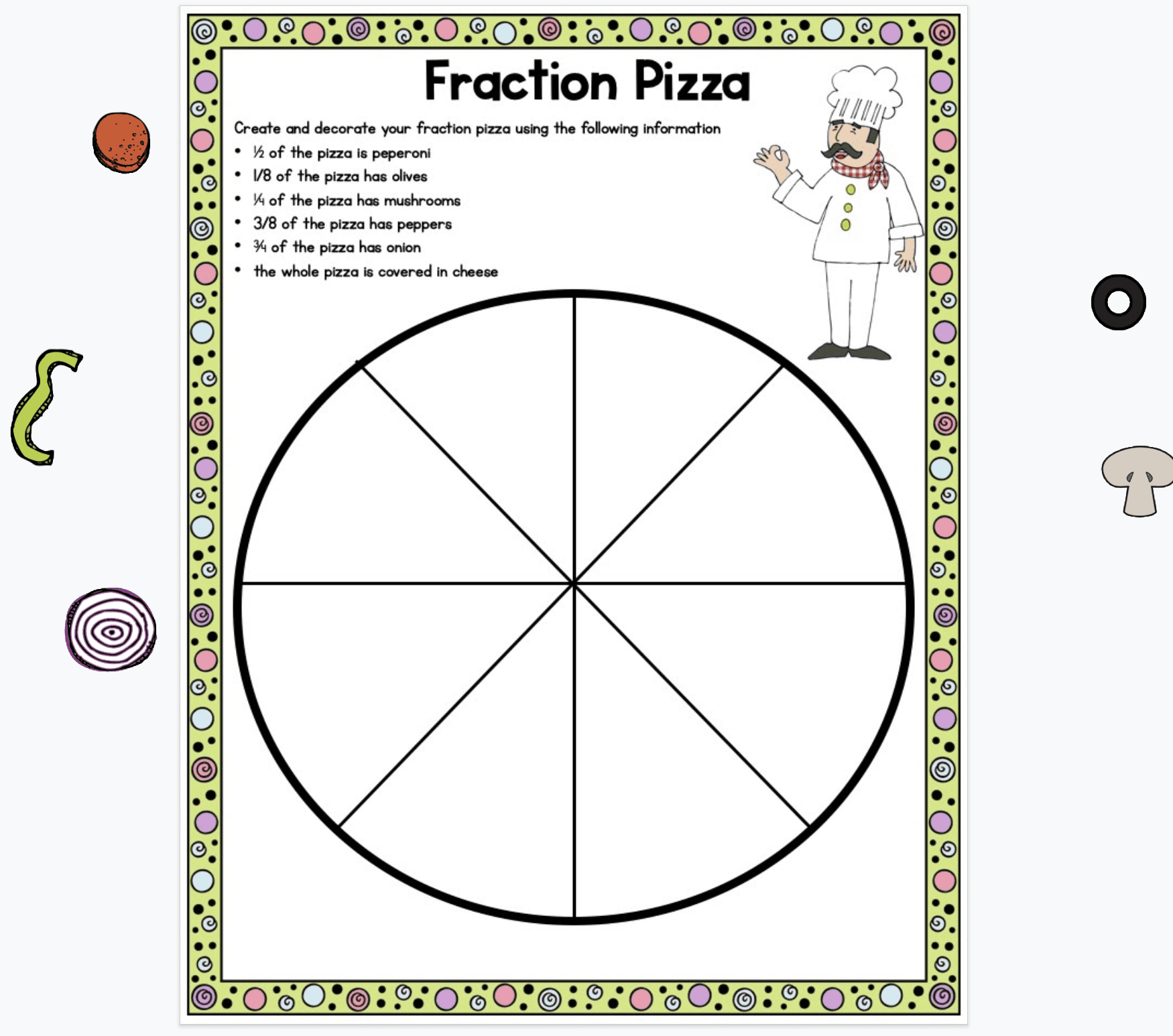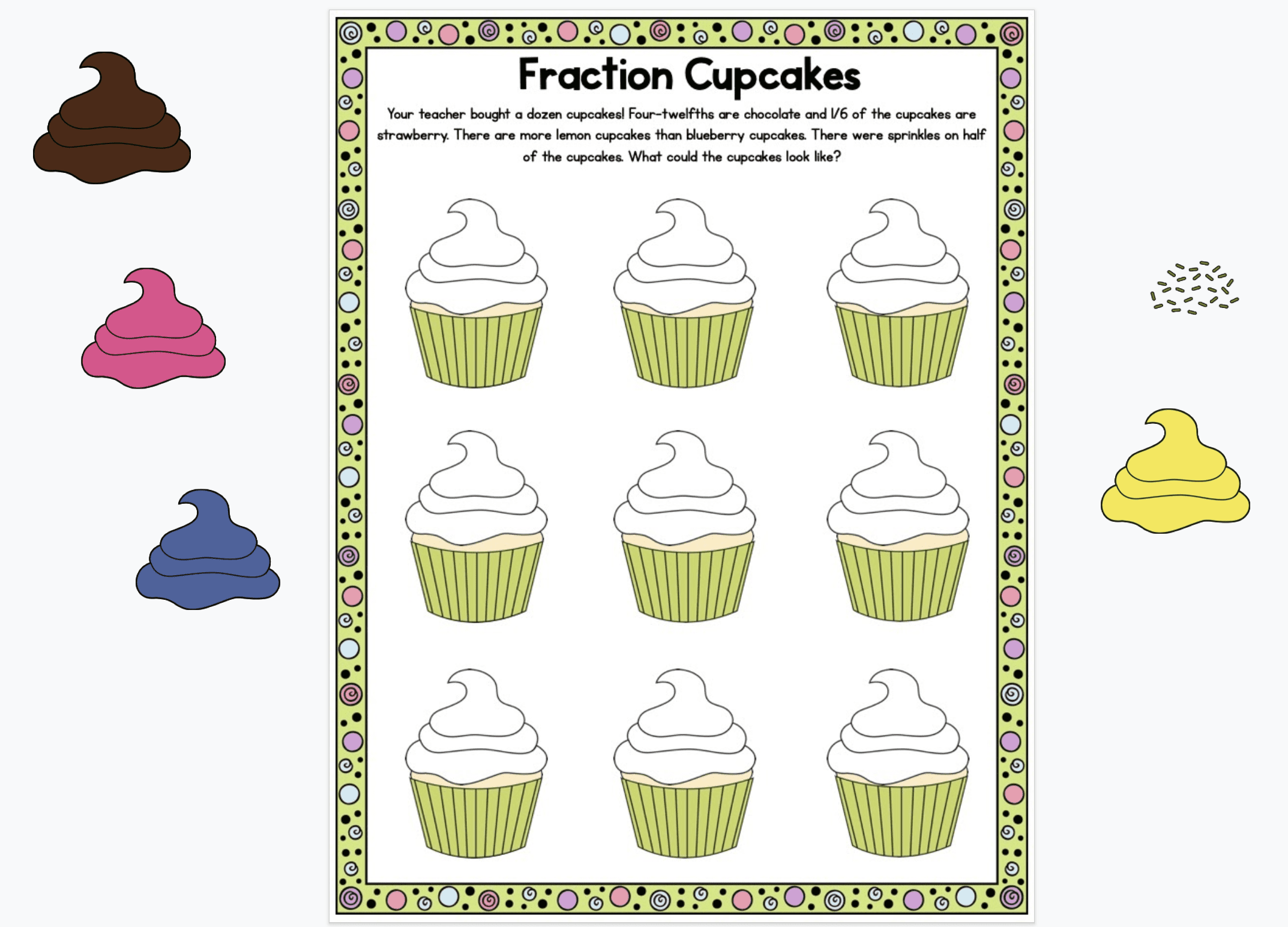 Of course, you don't have to use the choice board. You can easily assign any of the activities as a stand alone lesson.
Reading and Digital Learning
In reading, I feel the need to shake things up a little. I'm getting the vibe that students are going through the motions, and I want more than that. I still want engaged students-not just for the purpose of learning but for their own happiness and satisfaction.
Author Study
The next two weeks, we are going to complete a Patricia Polacco author study. I haven't used this resource in years, so I had to update the resource before I could create a version for digital learning. The final outcome was definitely worth the time. This week will be fairly simple, but it's going to be really fun the following week.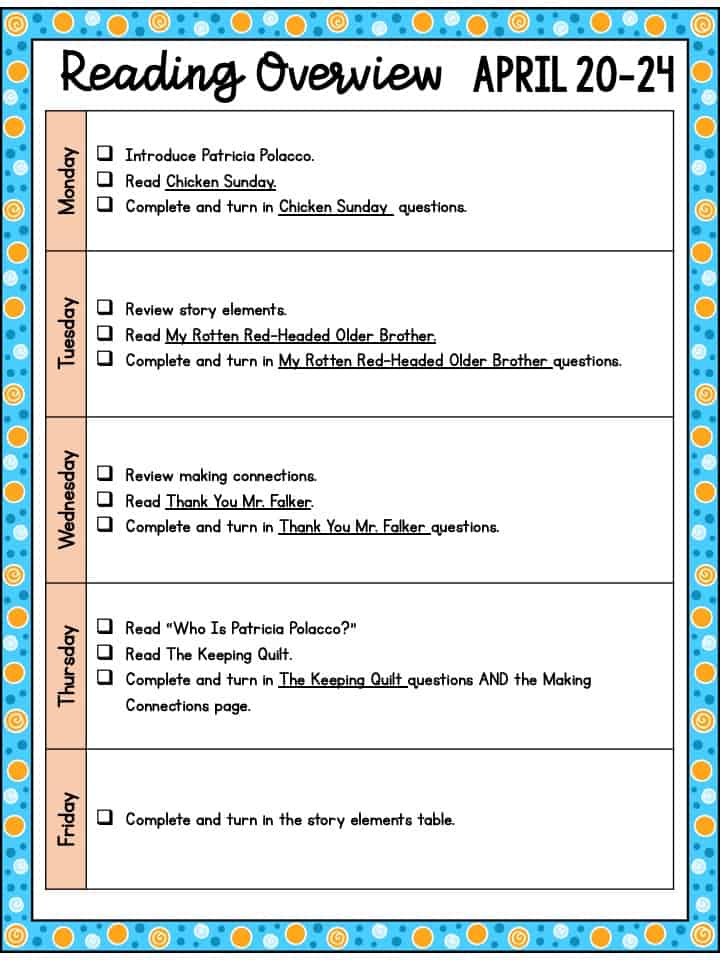 Each day my students watch a movie of a Patricia Polacco book being read aloud. I included links for you to access. Then, students will also complete comprehension questions based on that particular book.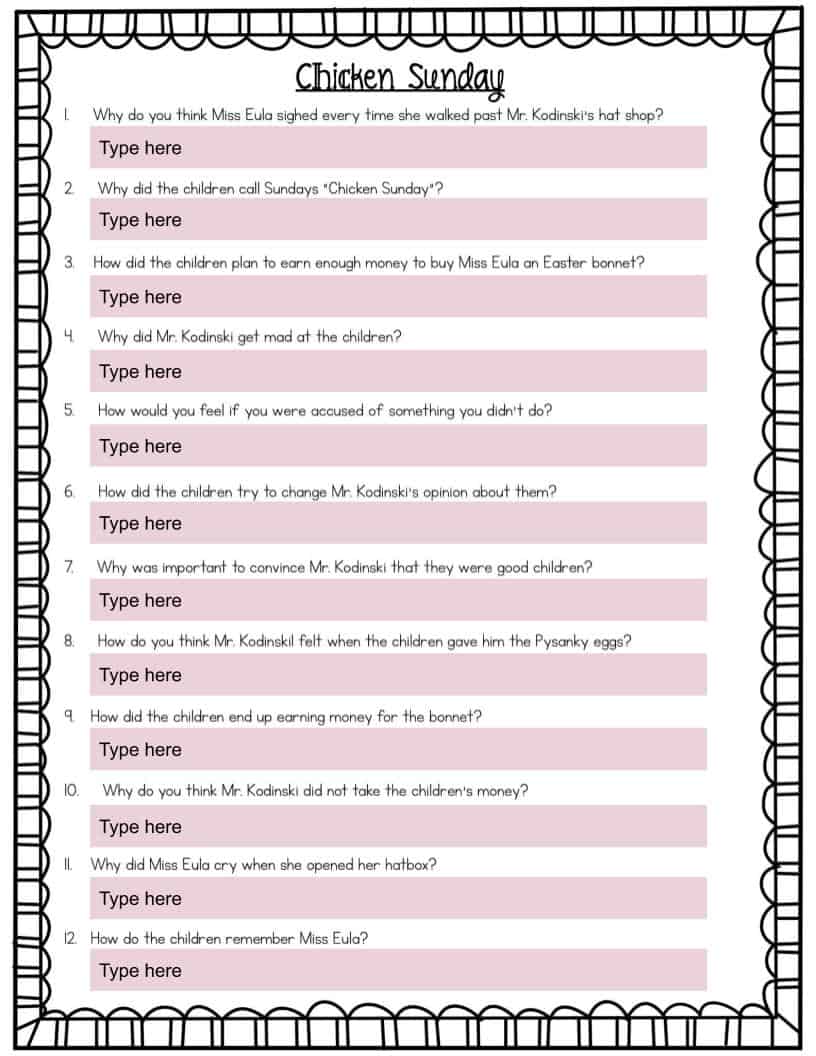 On Thursday, students will also complete this making connections from that combines all of the books read to students at this point in the author study.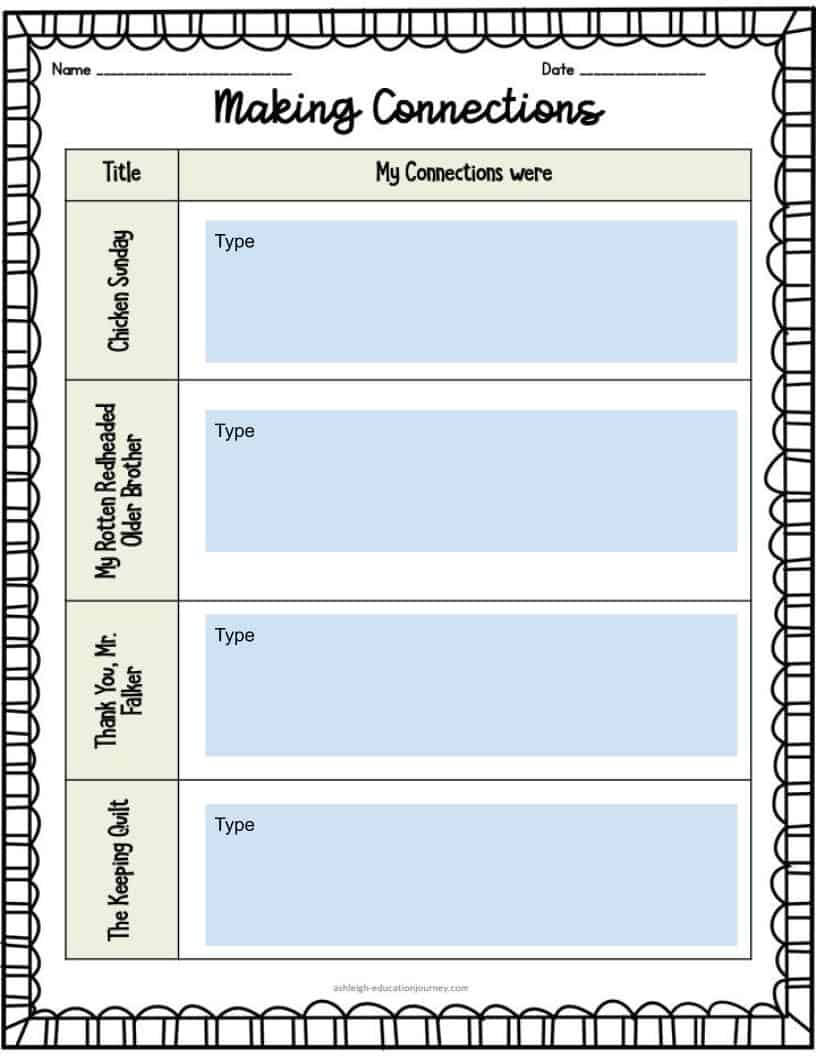 Finally on Friday, students will complete a story elements table that outlines the story elements from each of the books read during the week.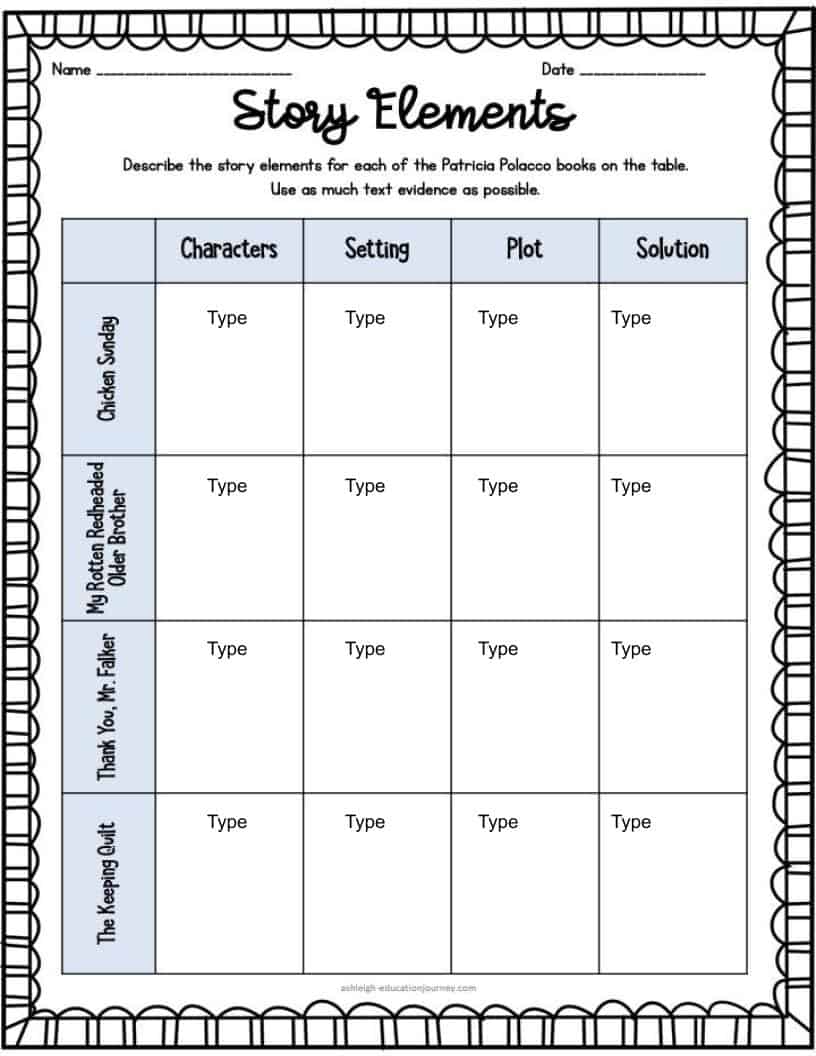 Choice Board
Then, we get to the fun stuff the next week. Students will complete a Patricia Polacco choice board, which is included in the author study. There are nine books included in the choice board and a different activity for each book. Once again, I included links to the books being read aloud to students.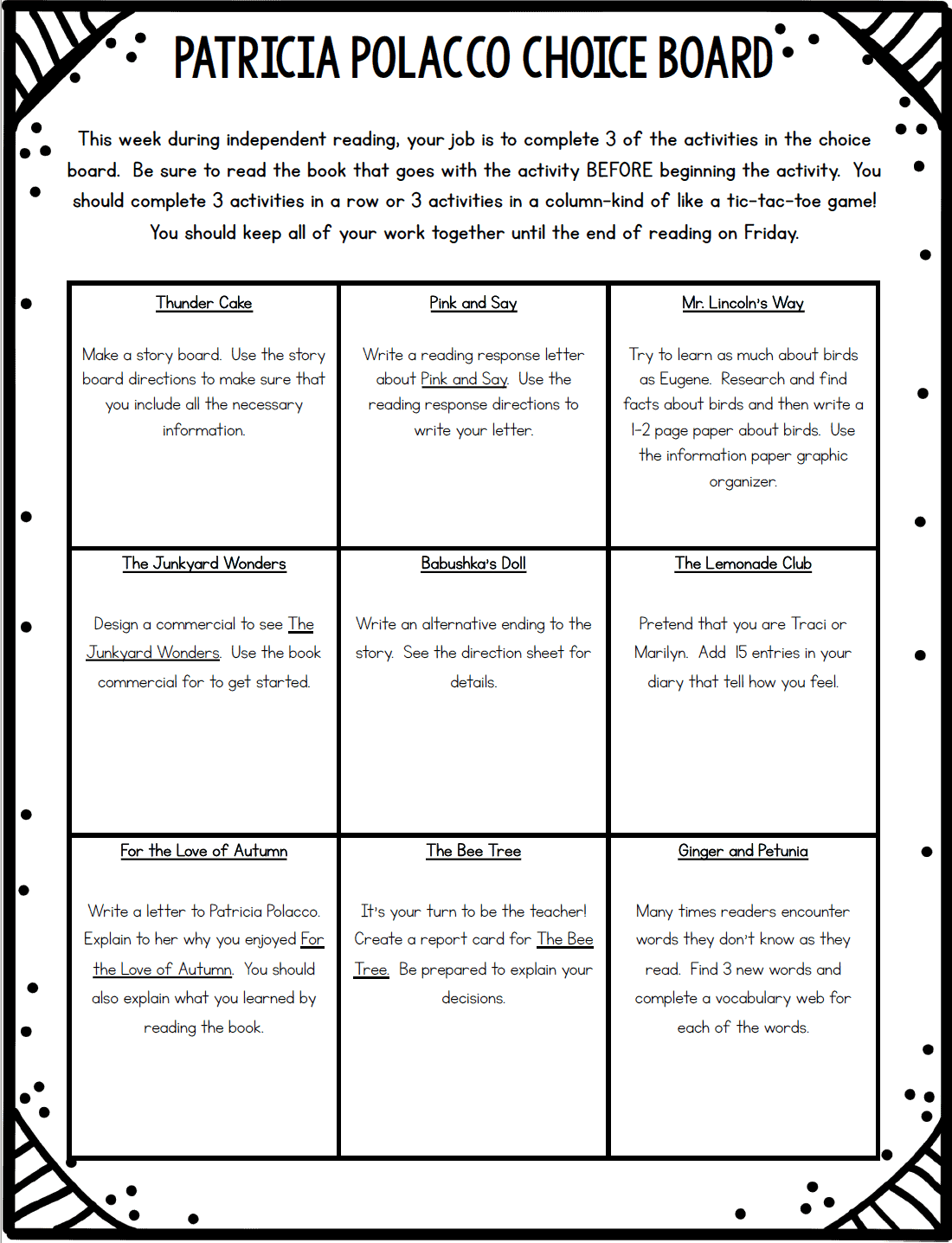 There is a huge variety of activities, so students can pick and choose what appeals to them! This flexibility and choice is always motivating to students.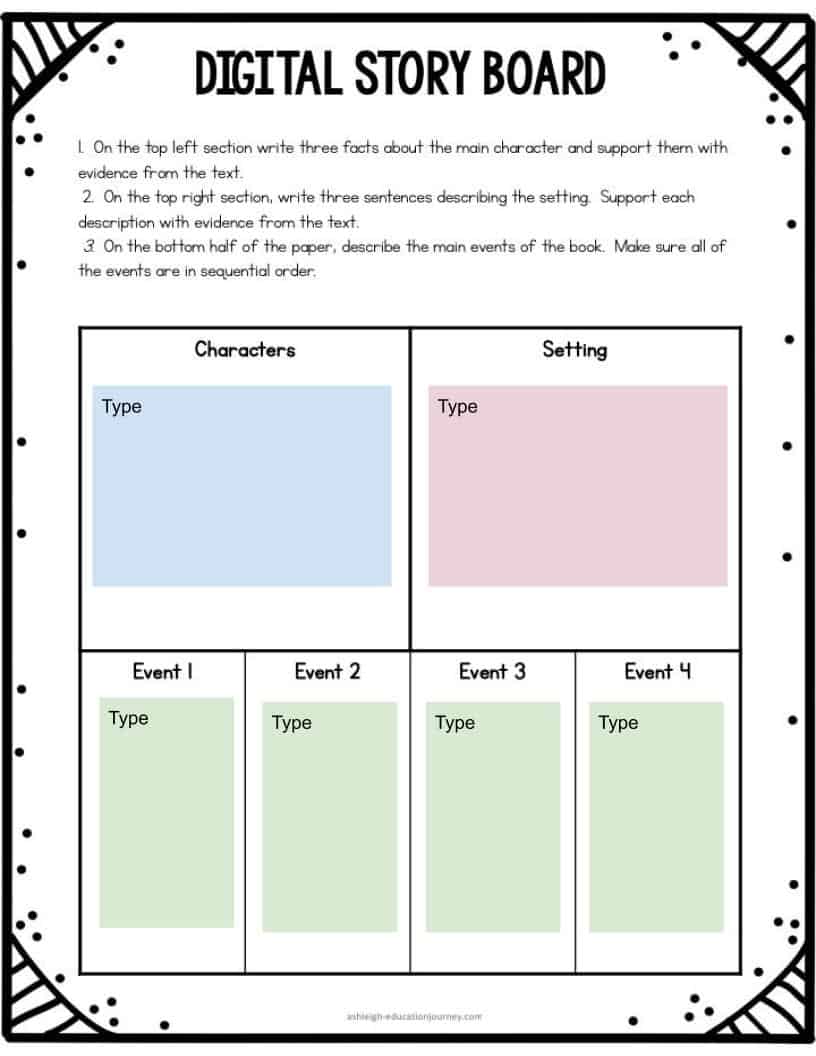 I think the report card is my personal favorite. Students evaluate each section of the book, AND they have to give an explanation for their evaluation.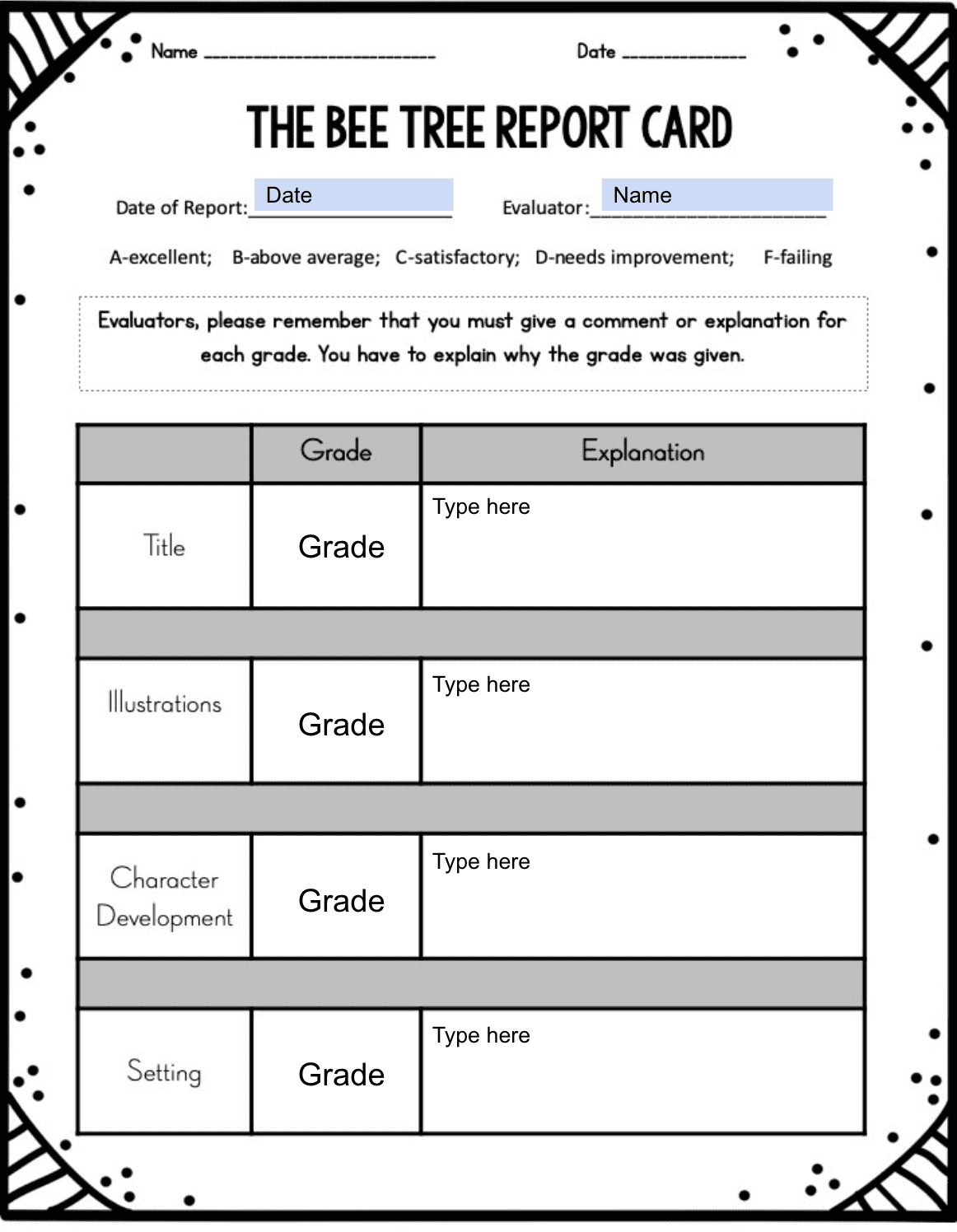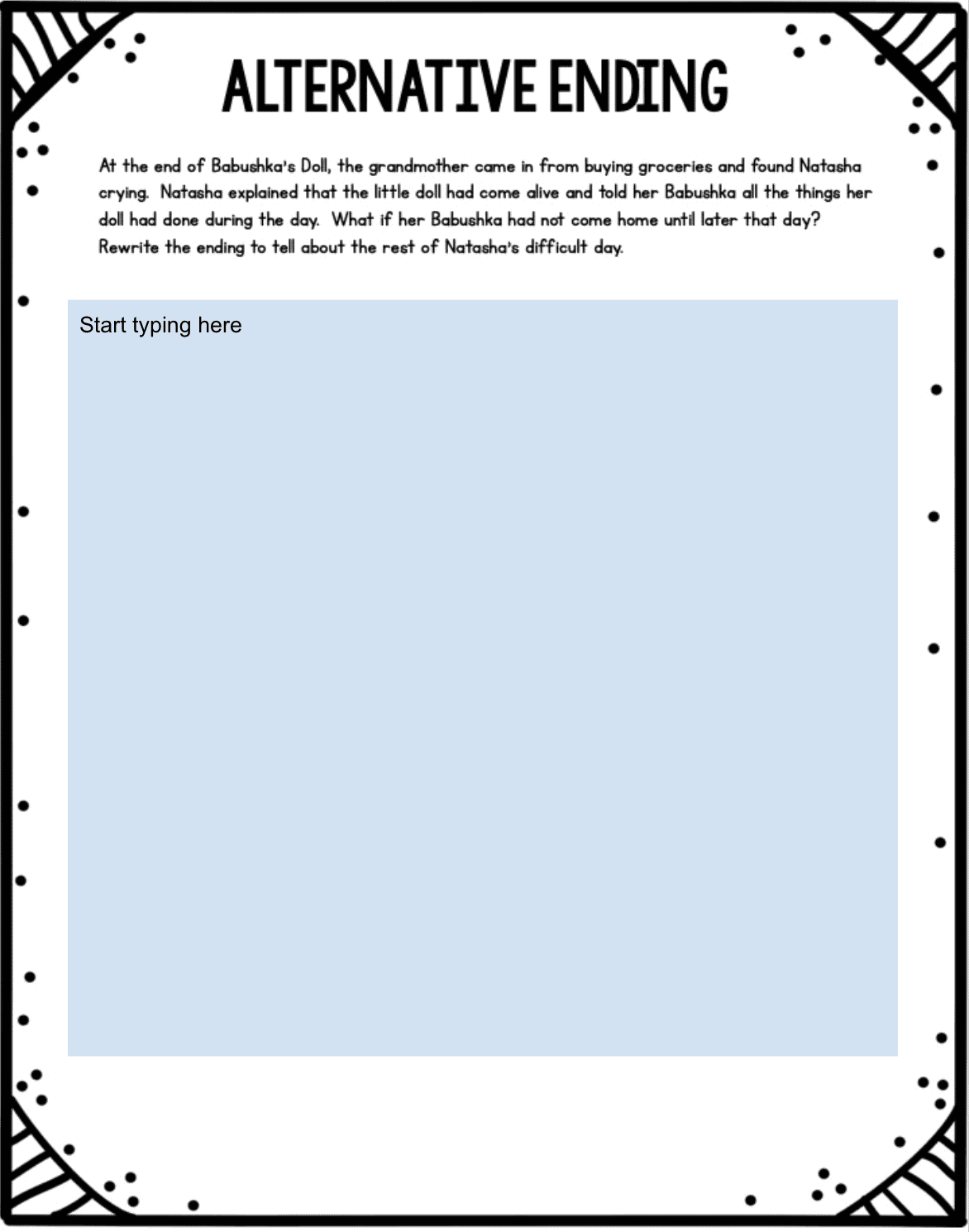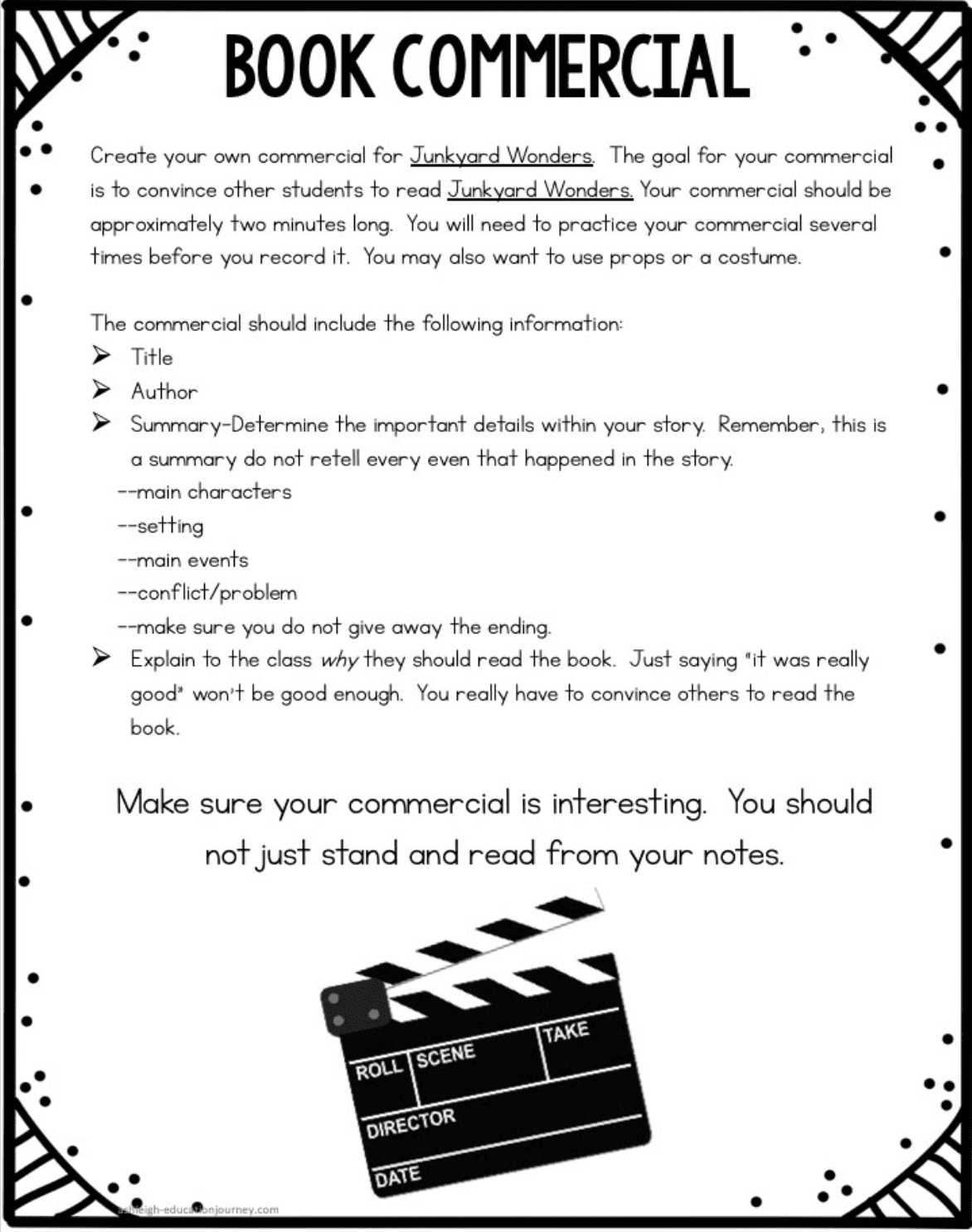 Stay tuned for digital learning ideas for social studies and science! Check out that post now!