Every year, one of our biggest obstacles is multiplication facts. I am 100% on board with teaching the concept of multiplication first, which you can read more about here and teaching strategies for memorizing and learning multiplication facts. I never teach multiplication facts in isolation, because there needs to be understanding for the memorization to be effective.
To help my students understand and learn multiplication facts, I'm sending home my multiplication facts booklets with some of my students, and I think those are helping a lot. This is a great way to help students develop a conceptual understanding of multiplication as students learn their math facts.
I've added several multiplication games to my math centers. I bought a couple of games from Lakeshore Learning, and I'm using those games for a few of my work station activities. My favorite multiplication game from Lakeshore is definitely Flip It. It's SO fun, and it's not messy and doesn't include complicated directions or lots of pieces, which is huge for me!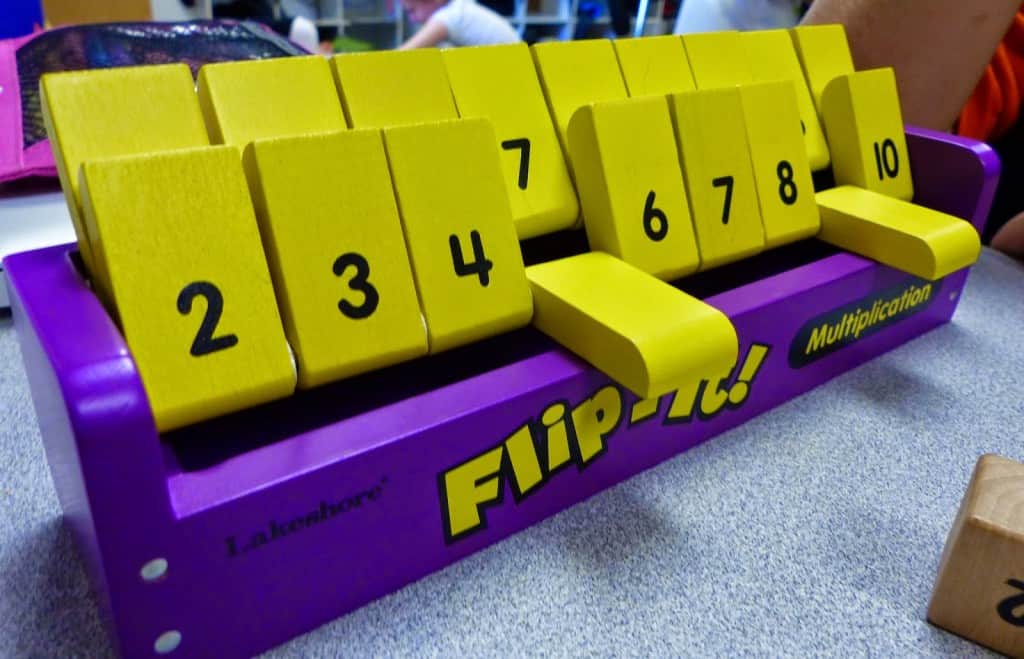 Students roll four dice and group the digits to create two 2-digit numbers. Then, they flip down two factors that can be multiplied together to reach the product of the 2-digit number rolled. If there aren't any factors that can be flipped, the student's turn is over. I'm allowing my students to use a multiplication table as needed, because I still have several who need a little more time on multiplication facts.
My students LOVE, and I LIKE Multiplication Jenga. It's certainly fun, but geeze those blocks are loud when they fall. I nearly jump out of my skin every time it crashes to the floor. If I could find/make this out of foam pieces, I'd be so happy!
I've also started using my College Football Math Task Cards, and it cracks me up to watch my students sort through the cards to find their favorite teams. Even my most reluctant students enjoy the football task cards.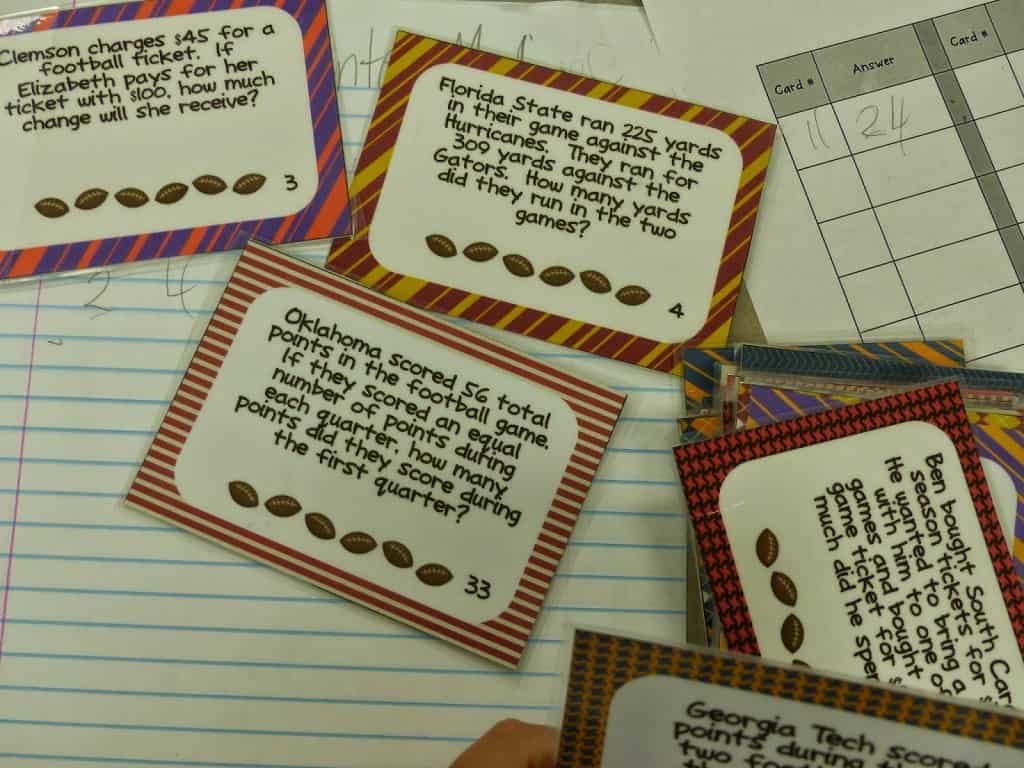 I also recently made a new No Prep Multiplication Printables pack, and I've been using the other activities as needed. I absolutely love this pack, because it's so teacher friendly. The only preparation needed is printing, and that's it!
The pages start with general understanding of multiplication. There are worksheets for reading grouping models and writing grouping models, as well as repeated addition, arrays, and number lines.
Some activities are more basic. In this activity, students had to color an array to show a multiplication facts. While this sounds easy, it's great practice, because as students get older it's essential for them to have a solid understanding of arrays. In fourth and fifth grade, students will use arrays to multiply and divide large numbers.
Some of the games can be played with a partner. In this game, students roll a die and multiply the number rolled by three. Then, they color the product of the two numbers. Students take turns rolling the die and coloring the numbers, and the first person who colors three in a row wins. I have this available for multiples of any number for extra differentiation.
The multiplication table was quite a challenge for some students, but I do think that they now truly understand how to read a multiplication table.
I gave this comparing numbers sheet to some of my students who needed a little challenge.
In this Roll and Color game, students roll two dice and multiply the two numbers rolled together. Students will color the product with one color. Then, their partner will follow the same steps with a different color, and whoever is the first to color in 3 in a row wins the game.
This spin and color activity is a ton of fun! I just have students use a paper clip and pencil for a spinner. They spin two times and multiply the two numbers together, and then they color in the product of the two numbers. I've made several versions, so students just beginning multiplication can work with factors and products they're familiar with and other students can work with larger, more challenging problems.
Without a doubt, my students' favorite activity was Color by Number. You would have thought that I gave them an extra hour of recess when you saw how excited they were about this activity.
I also love this multiplication booklet that can be used for interactive notes and/or guided practice. It's short and sweet, but it packs in a lot of content.
I've organized the activities so that there are some easy versions with small numbers and more challenging versions with larger numbers. There are MANY more activities in the packet, so if you'd like to see a large preview, just click here!