For me, summer is always a time of organization. It's when I regroup and reflect, and I try to make changes that will keep me organized for the school year. I recently shared how I organize my lesson plans here, and in this post I will share how I keep my classroom organized. Hopefully you will find ideas you can for organizing your classroom as well.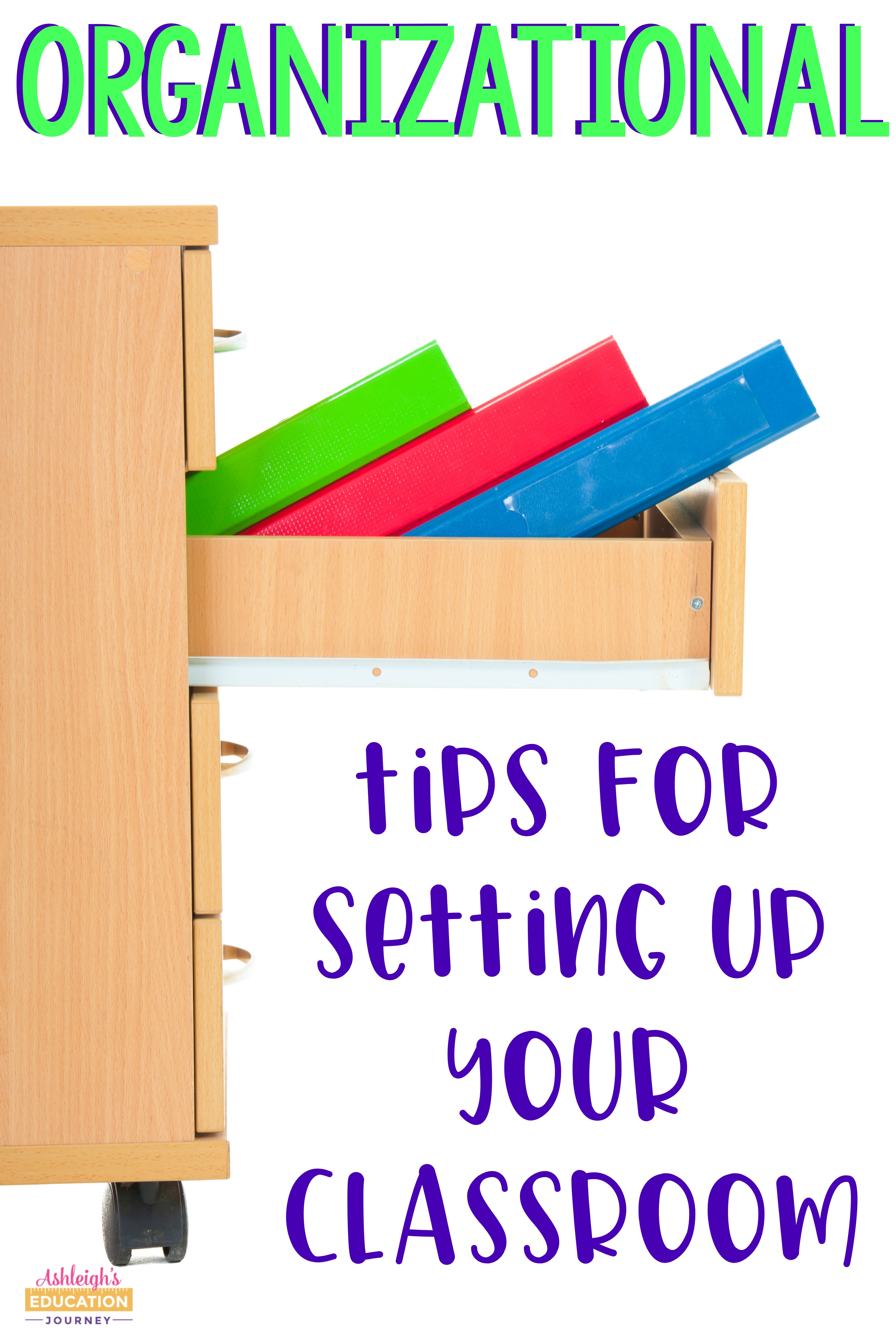 Don't Be Afraid To Purge When Organizing your Classroom
The first and probably most important thing I do when organizing your classroom is to eliminate clutter. I am a firm believer that less is more. Almost all teachers inherit a classroom that is full of ….stuff. I've moved into classrooms where every shelf in every cabinet was crammed full of another person's treasures. Many teachers, myself included, purchase materials with their own money, and it's hard to let those resources go. We don't know if and when we'll need them again. I get it. But, when we have too much it becomes overwhelming, and it prevents us from finding what we need and from having space to be truly organized.
Before I set up my classroom, I declutter all of my closets (if I had any) and cabinets. If I'm at a new school or new classroom, this is a HUGE project. I first ask my administration what they would like me to do with the materials I don't need. Almost always, the answer is to set it in the hallway. I empty every single thing from the cabinets and start from scratch. When doing this, I recommend having a large area to place things, since it's surprising to see just how much can be in a cabinet.
Sometimes throwing things away is a bit sad. For example, I don't keep all of the keepsakes my students give me. I do try to take a picture of them, but I don't have space for every momento. If I have materials that belong to the school that I can't throw away or give to another teacher, I try to find a different place to store those materials, rather than my classroom. For example, I may box up the textbooks or manipulatives I won't use and place them in the storage closet. This gives me valuable extra space.
As much as we may not want to do it, sometimes we have to throw away or recycle things. Whenever my husband organizes the garage, he hates to get rid of anything, so we really just reshuffle and straighten our clutter. It is never really organized in a way that will allow it to stay organized. The same thing goes with our classrooms. Here are some of my guidelines when I decide what to eliminate:
Have I used it in the past two years? If I don't use something in two years, it's gone. The odds are that I won't use it again.
Does it work? If something is broken or missing parts, I let it go.
Do I know what it is? I have inherited so many things that I had NO CLUE what it was. I parted ways with those things too.
Can I store it digitally? I do not have ANY filing cabinets. I store everything digitally. The picture below shows every piece of paper I have that I feel the need to keep. That's my contracts, test scores, and things that I can't have a digital copy of.
Whenever I begin this process, I start in ONE area of my classroom and stay in that area. It gets SO tempting to move from place to place, but that uses up too much time. I stay focused on that one spot until it's finished. I may only be able to tackle one area in a day, but that's okay.
When it's time to place things back in my cabinets, I try to prioritize what I will use most frequently. I keep all of my art supplies together, task cards together, book together, etc. I like to place as much as I can in clear, stackable containers to make the most of my space. Surprisingly, I didn't have any pictures of my cabinets other than this one that my daughter accidentally took. This is a middle of the year glimpse of my cabinets, so I've got a little natural build up of things I haven't dealt with yet. I have one other cabinet about the same size, which contains books.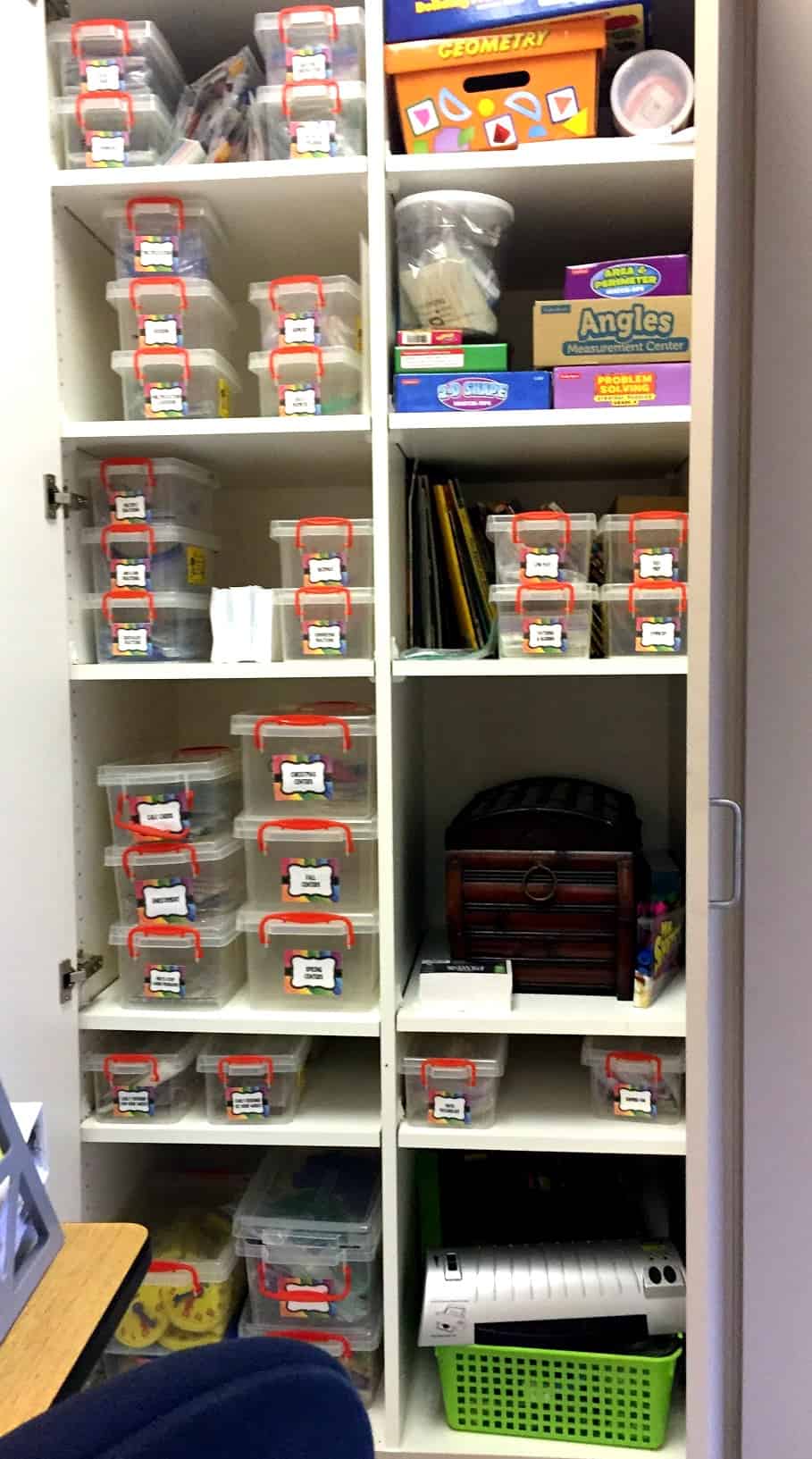 I try to keep everything in my classroom accessible to students, so the things that are in my cabinets are resources for ME, not my students. For example, I keep my reading mentor texts in a cabinet, so I can easily find the books I need for each lesson.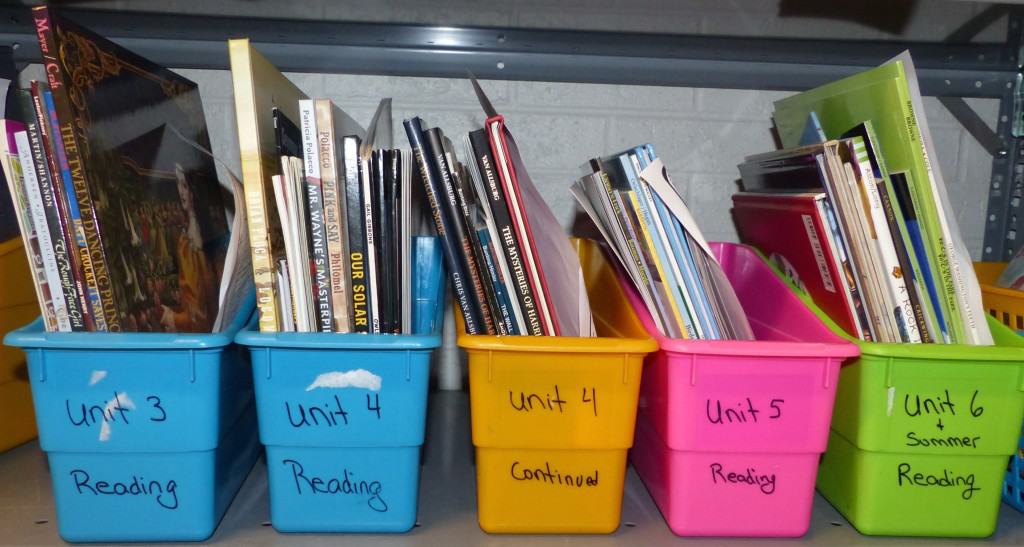 I also keep the task cards, games, and escape activities that are not currently in rotation in my cabinets. I store each set in a baggie, and I group the baggies together by topic or season. For storing these, I prefer clear, stackable boxes for my organizational purposes.
Arranging Furniture
Once my things are organized, I can focus on the set-up of my classroom. This is SO MUCH easier to do when your classroom isn't crammed full of things. Before I begin to move furniture around, I think about key components to the flow of my day. This will be very different for each teacher, which is what makes our classrooms unique to us. It's important to note your current classroom inventory, because many times we have to make do with what we have. When I first started teaching, I had the most rickety metal bookshelves, and that was it. They wobbled every time someone walked past them. Over the years, I've slowly added new shelving systems to my classroom, but it took time.
Side note: My husband built all of my bookshelves for me. The first few years I taught, we couldn't afford "real lumber", so he built all of my bookshelves from scrap wood that we found. 15 years later, I'm still using them!
Flexible seating has become the next big thing in education. While I see its benefits and have nothing against it, my personality and teaching style doesn't let me jump all the way in. I like a hybrid approach. My students still have a "home spot", but there is a ton of flexibility with seating arrangements built in throughout the day. As with anything related to organizing your classroom, you have to find what works for you.
Since my new school was closed to teachers over the summer, I wasn't able to get in and move around furniture until a couple days before school started. I was panicked, because I like to pitter in my classroom all summer. Since I knew I would be pressed for time, when the school opened, I took measurements that allowed me to map out and plan my classroom layout.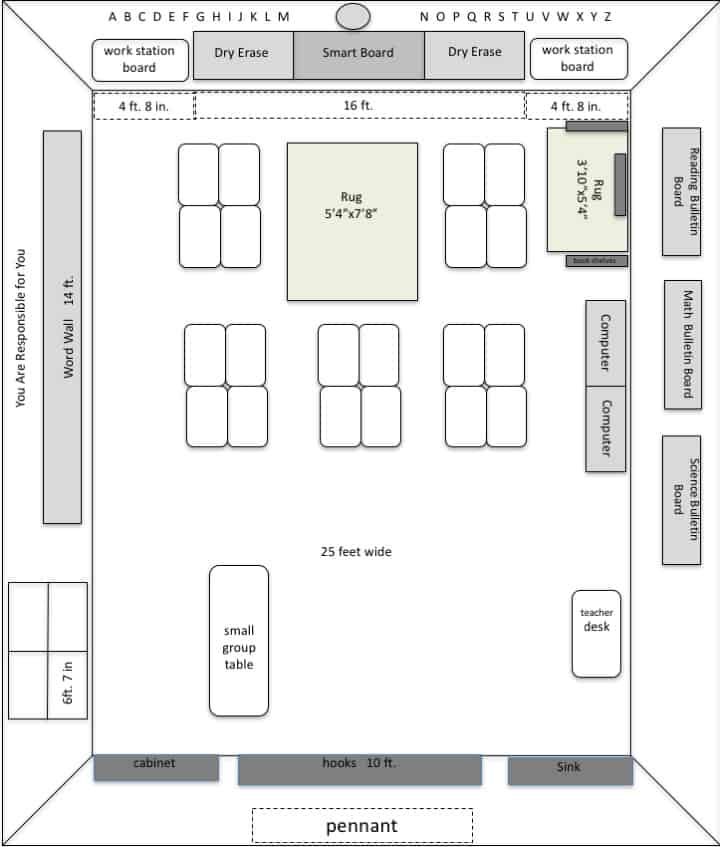 As you plan your layout for organizing your classroom, some things to consider are:
Do you have a digital projector? How will its placement effect your setup. I use mine all of the time, so I wanted to be sure that students would sit in a position to be able to easily see the projector.
Are there any fire codes you should be aware of? I know I have to keep the area in front of my window clear from tables, chairs, etc.
Do you have anything that will cause distractions for students?
What technology is available? Where will your store it?
Even if you're not moving to a new room, there's a good chance you'll walk into your room to be greeted by something like this.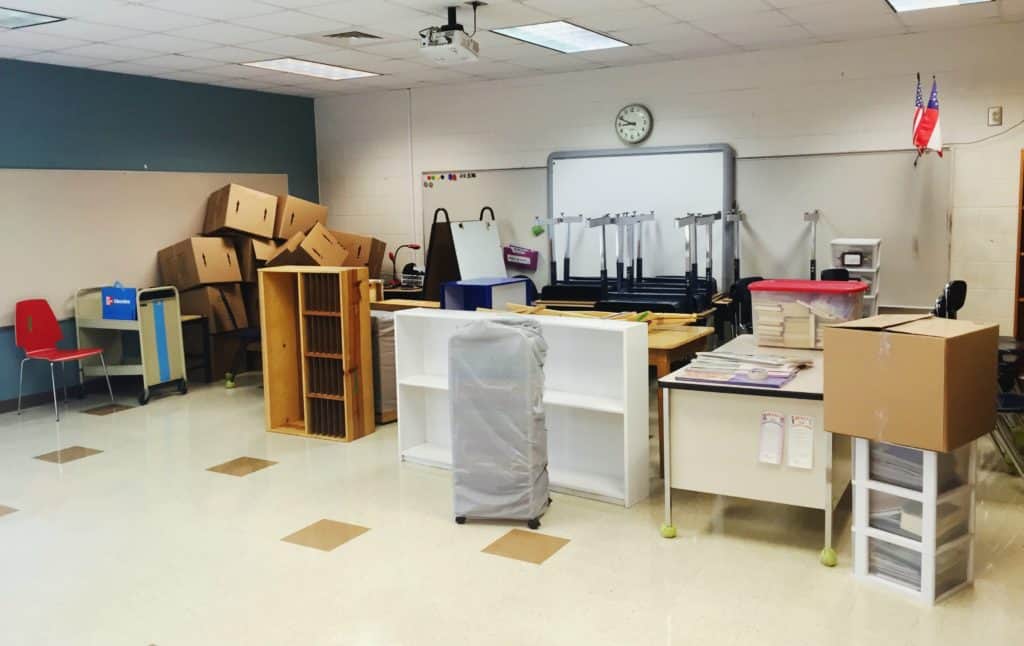 The first thing I lay out is where my students' desks will be located. If you have tables, this is where you would decide where to place your tables. I'm a huge fan of having students sit in clusters of four, because it lends itself well to partner work and group work. As I set up my students' desks, I try to make sure there is plenty of room between tables (clusters). I want students to be able to move freely between tables. This also helps minimize unnecessary talking.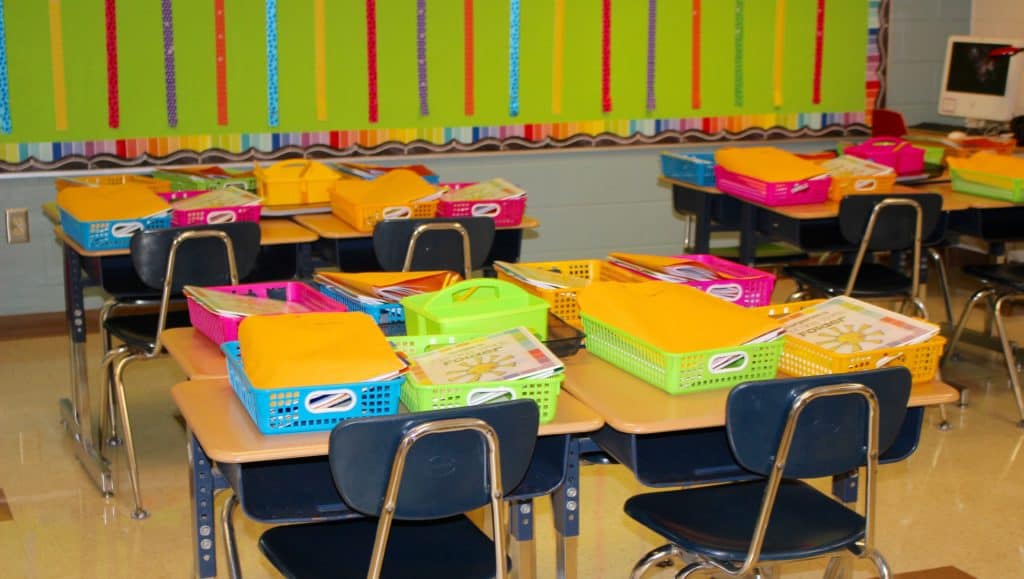 After I arrange desks, I then focus on a meeting place for my students. I will be the first to acknowledge that I haven't always had a meeting space. My former classroom was TINY, and as my class size increased, the only thing I had room for was desks…literally. However, I do try to make a meeting place a priority for my classroom set up. In my meeting space, I like to include a rug and a director's chair for me.
I then set up my small group meeting area. In this area, I like to have a table and chairs to work with my students in a small group. I love the idea of a kidney shaped table, but a rectangular table is what's available for me, and it works just fine. Since I'm frequently work on math in a small group, a dry erase board is essential for me. In my previous classroom, I screwed a small dry erase board in the wall behind my small group meeting area. This isn't an option for me now, so I use my dry erase easel. I  also make sure that I can see the entire classroom from where I will be sitting in the small group area. I've invested in a few wobble stools for this area, but I'm not going to have ONLY wobble stools, because some students prefer chairs.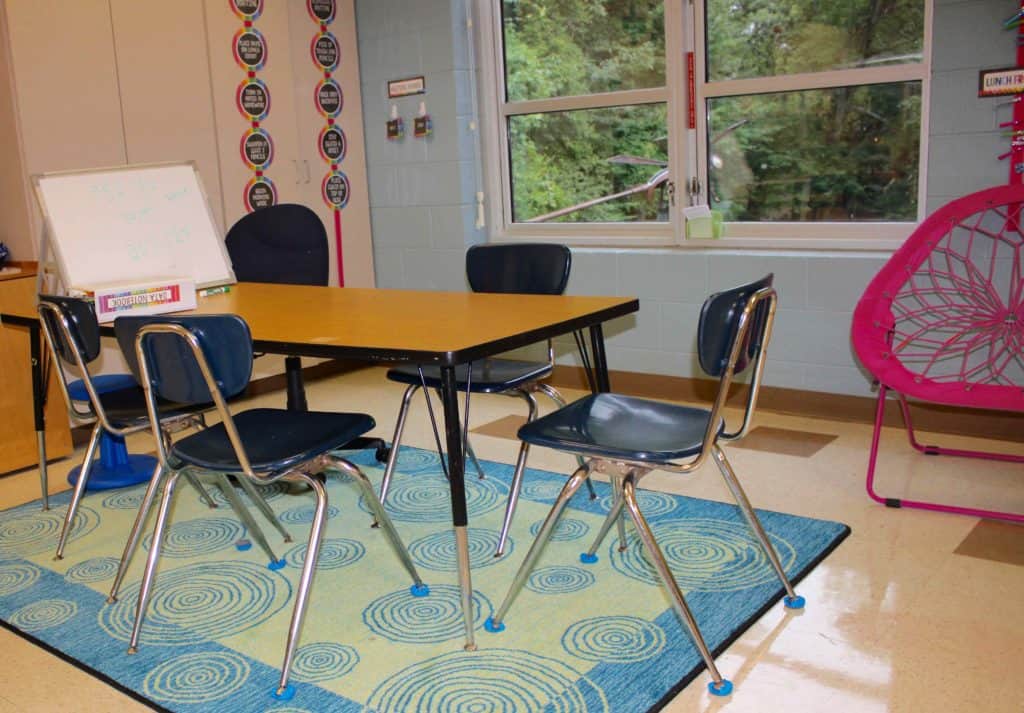 Once my student desks, meeting area, and small group area are set-up. I work on my personal space. Apparently I NEVER take pictures of my desk, because this is the best I could find. I love a clean desk. I keep my absolute favorite hand sanitizer, sticky notes, tape, and a stapler on my desk. The only other things are my lesson plan binder and laptop. Of course, as the day goes on, the clutter builds, but I always clean it at the end of the day. I have a small bookshelf pressed against the wall where I keep all of my essential binders.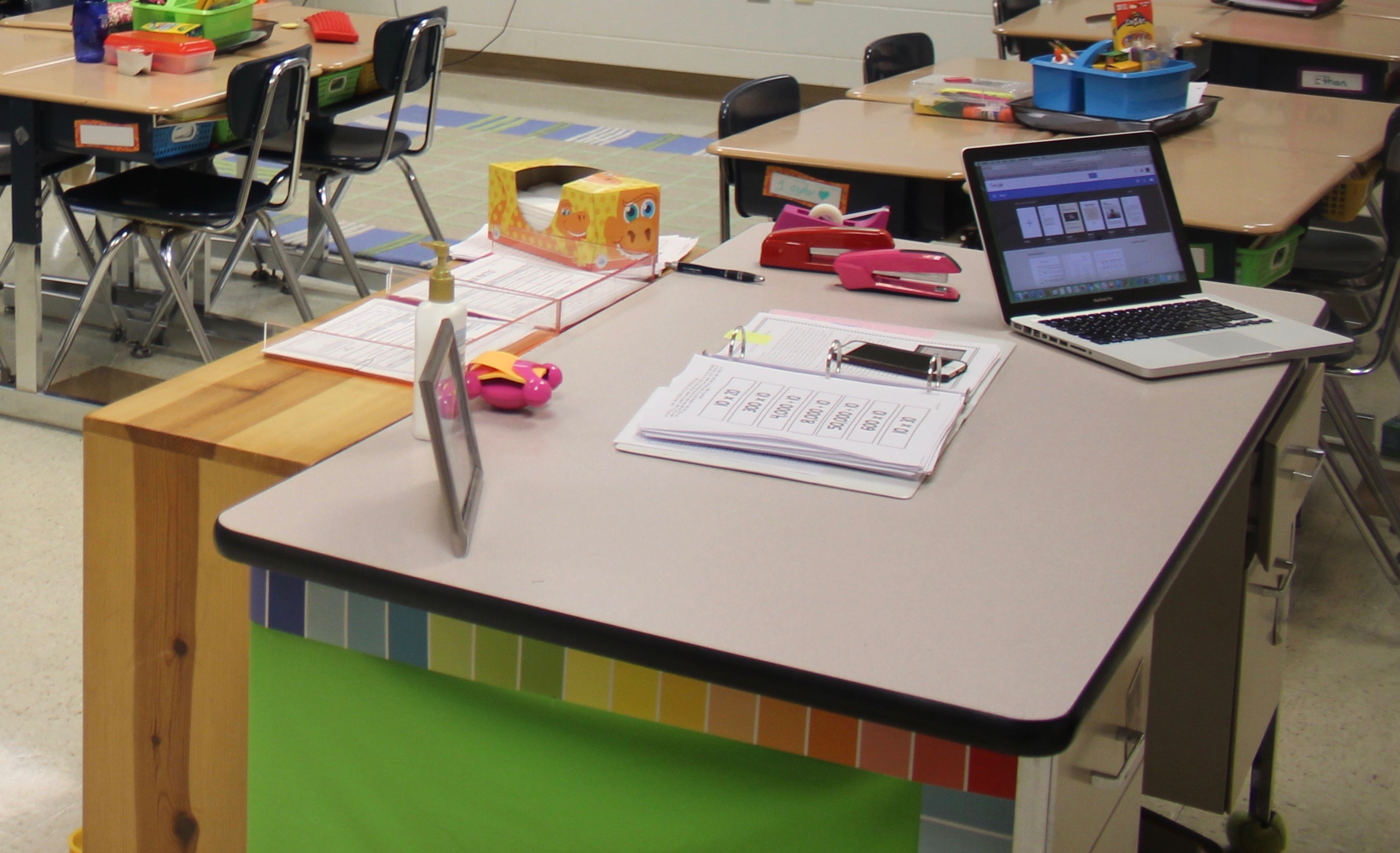 I do a lot of my grading and note taking at my small group table, and I would love, love, love to have a little bookshelf behind me, but we're not allowed.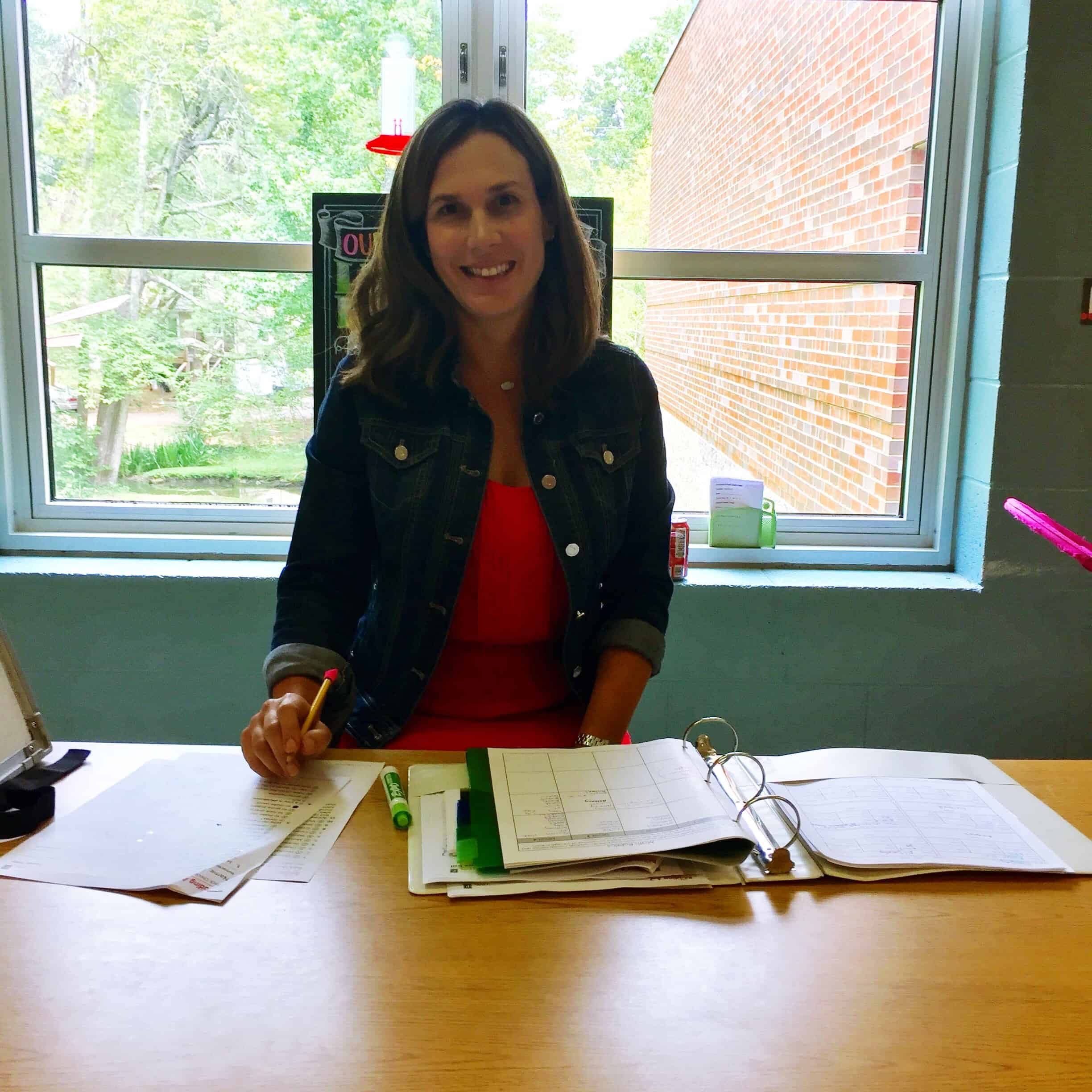 That said, I am so thankful to be in a classroom that has enough space for a classroom library. Compared to many teachers, mine isn't big, but I'm just happy to have it. The only reason my rug is under the shelves is because there isn't enough space for the rug without doing that. Things are rarely perfect in the real world. I primarily organize my books by author, genre, and series. I like storing my books in baskets, rather than with spines facing out, because I find that students are more likely to read a book when the cover is facing out. My book baskets are one of the few storage containers I have that don't have a lid. I purchased pretty colored baskets a few years ago, but when I changed the overall look of my classroom, the baskets didn't work anymore. From here on, I'll use clear baskets and make my labels match my room. That way I don't have to pay for any more baskets.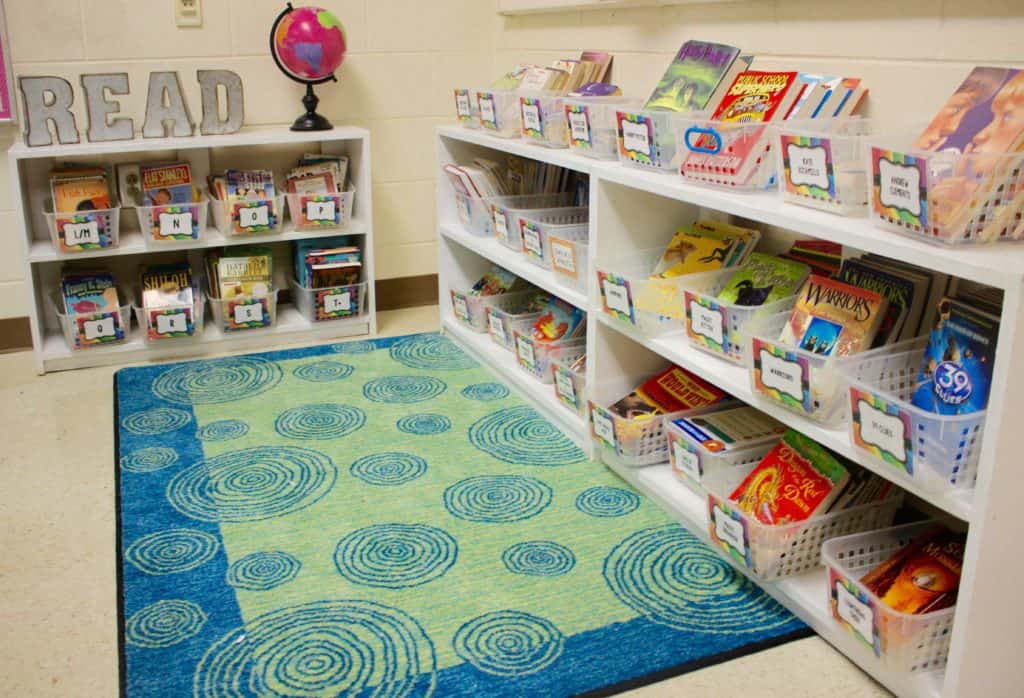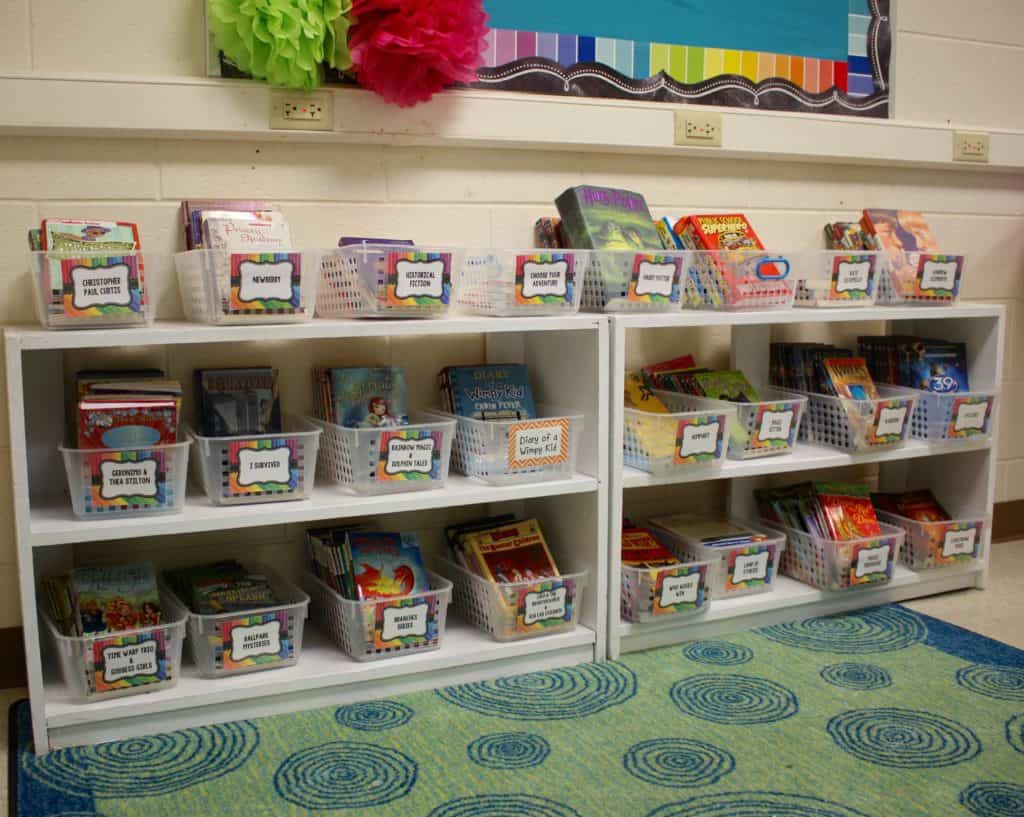 I don't have a great checkout system for my books. At the beginning of the year, I explicitly teach how to put books back correctly, and that we should not hold multiple books in our desks. Every now and then I check the bookshelves, and we fix anything out of place during our recess time. It doesn't take long for students to learn that we have to put our books back correctly.
I know I'm in the minority on this, but I do think there is such a thing as too many books. I used to have a HUGE student library, but I found that it was almost overwhelming for my students. Instead, I now try to focus on quality over quantity, and I reduced the number of books I have significantly. I sent the books that no one was reading to a used book store, and I used those credits for books for my literature circles.
I use the rest of my wall space space for shelves, and I try to create additional student work areas. In the back of the room is a tall table, and students work on our meeting area rug and library area frequently.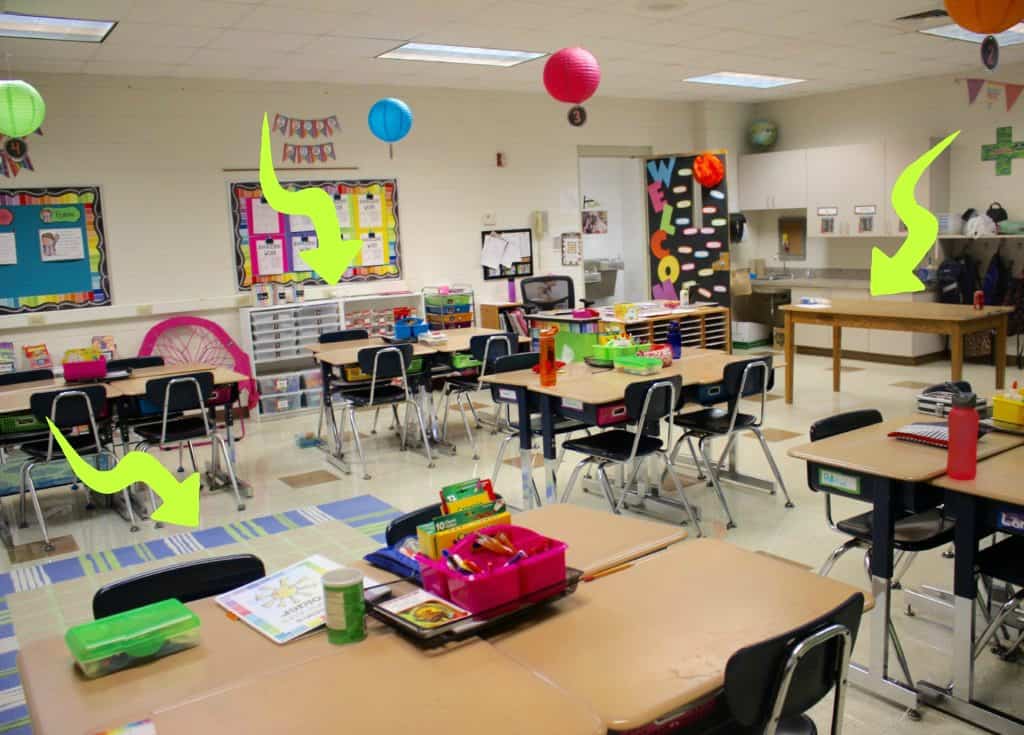 Keep in mind that at this point, I'm only working on decluttering and furniture. I'm still not worrying about supplies, accessories, and decorations. My pictures only include those things, because they were taken during the school year. Stayed tuned for more tips on those areas to continue organizing your classroom!