It's hard to believe that we're on year three of teaching during a pandemic. In just three years, I've been face-to-face, virtual, in a hybrid model, and in an alternating schedule.
This year we started 100% face-to-face, but our numbers quickly rose, so we switched to an alternating schedule. Since this isn't something my students' parents had planned for and is only for three weeks, I don't feel comfortable requiring synchronous learning.
While I always feel like high expectations are incredibly important, I also think it's important to maintain realistic expectations. If I set my expectations out of the realm of possibility, then I'm setting my students up to fail. The last thing I want to do is create a negative learning experience, so I've tried to tailor my plans to ensure success while still learning.
Of course, each person's situation will be completely different. If you were 100% virtual last year and are back to it this year, you'll likely be in a totally different situation. As with all that we do, there are many factors to take into account when planning for our students.
At-Home Learning-Math
My goals for At-Home Learning were to keep it engaging and to make sure I assigned something students could complete independently. I give students this checklist to help them stay organized. This is also posted in Google Classroom each day.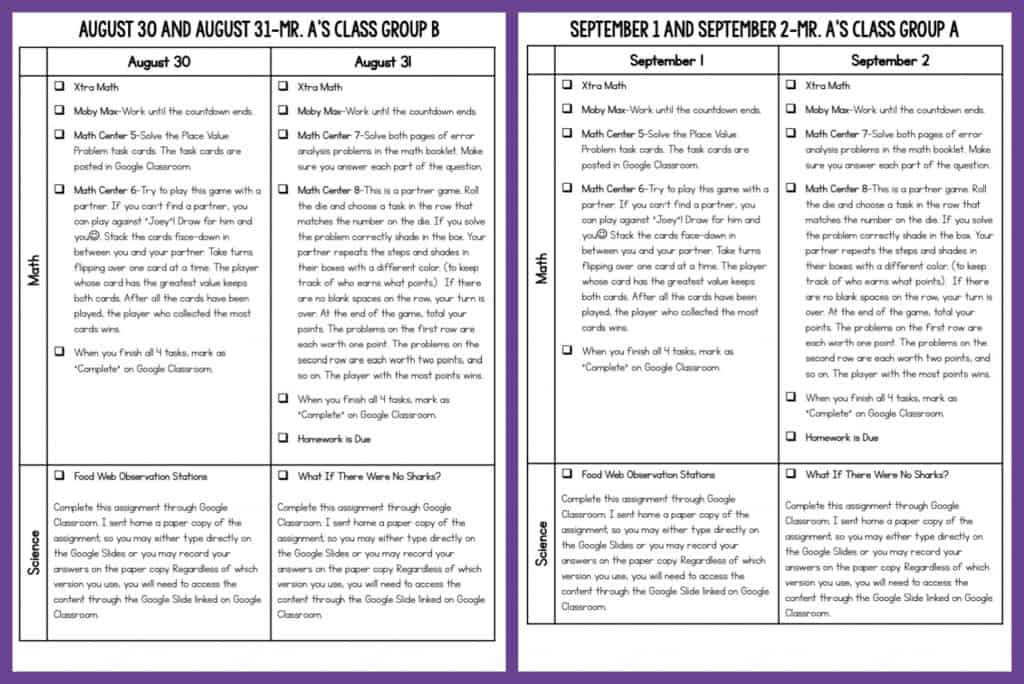 Each day in math begins with a round of Xtra Math and 15 minutes on Moby Max. I love that I'm able to see if they've completed Xtra Math and how much time they worked on Moby Max each day while they're at home. Then, they move to their math centers.
During a "normal year" students participate in math centers on Tuesdays and Thursdays. They complete two activities on Tuesday and two on Thursday. This is typically done with a partner with a rotation schedule. You can read more about that here. For ease of planning and prepping, I decided to rearrange my plans so that students complete their center activities on their home learning days.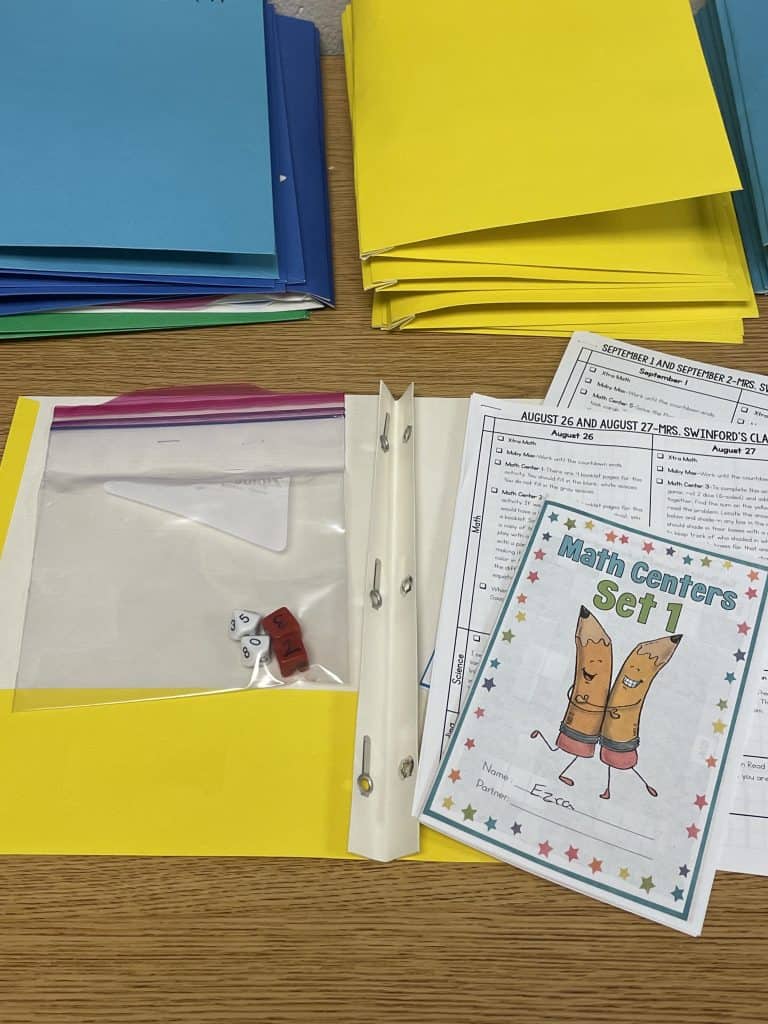 I sent home their Math Centers Booklet and the dice needed for the activities. My concern was that some of the activities are partner games, and I recognize that many students won't be able to find someone to play with. We brainstormed together and decided that if needed, they can play against "Joey".
Joey started out as a fictional student that I used to teach students how to log-in to sites and used for examples of several other things. Being typical 9-year olds they've created an entire persona for Joey, and it feels like he's a member of our class! To the point, I showed students how they can play the games against themself.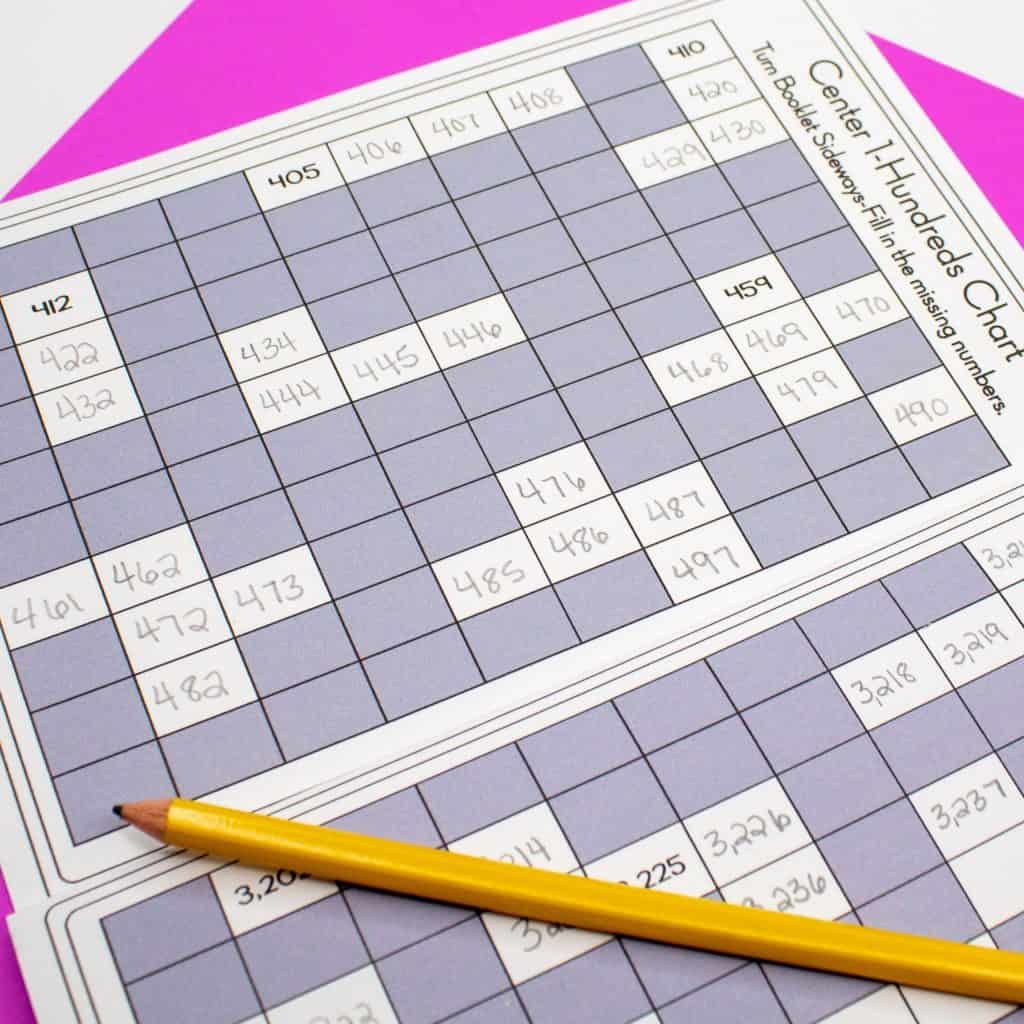 I'll have students return their booklet to school on their In-School Learning Days, so I can check their work for completion. The following weeks students will complete centers 5, 6, 7, and 8. The next week students will finish centers 9 and 10. You can download free third grade centers here and free fourth grade centers here.
At-Home Learning-Science
For science, I'm utilizing a lot of The Science Penguin's digital assignments for students' at-home learning. My students overwhelmingly prefer answering on paper, rather than digitally, so I printed a copy of the recording sheet for students. However, they still use the digital component for the content needed for the activities.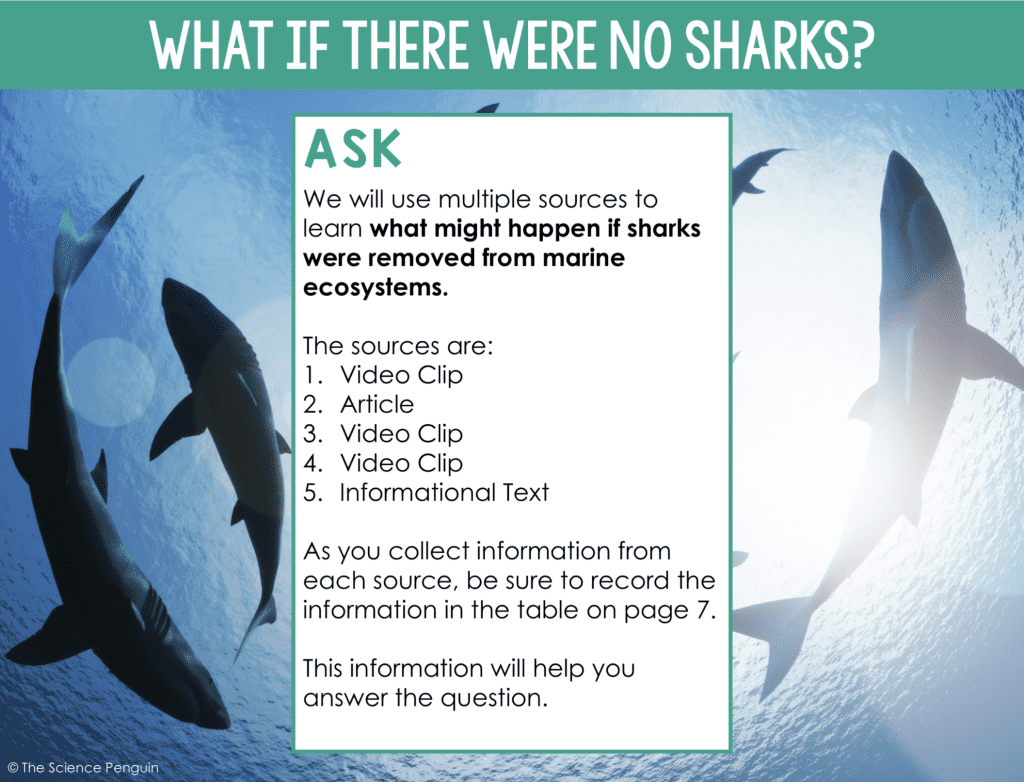 I will also occasionally assign Generation Genius videos for students' At-Home Learning. One lesson I learned the hard way is that Quizizz game-codes expire after 5 days, so don't generate those too far in advance!
At-Home Learning Reading
The At-Home Learning Plans for reading are where it got complicated. I have three reading groups, and I really don't want to get my groups off track. I'm going to give two of my three reading groups the option to log-in for synchronous learning for their guided reading group time. In reading, I am staying on track with my plans, so Group A and Group B will have a different set of plans.
I didn't give the option to my Fish In A Tree group, because that group has the greatest number of students in it, and I'm trying to avoid over-complicated things.
The group that is working on Fish In A Tree will continue their lessons as planned. That group was fairly easy to plan for, because everything is already laid out in a booklet format.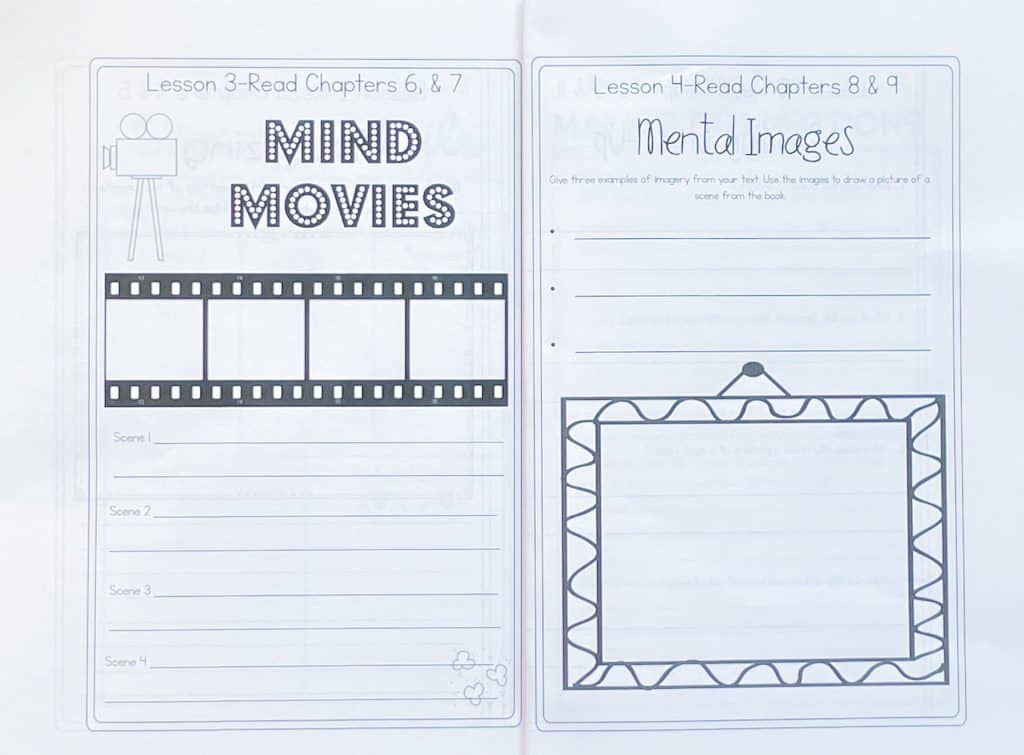 My reading group that is working with Reading A-Z Books is a bit harder to plan for, as it's not a perfect solution. But, we've all learned that sometimes we just have to do the best we can. I will give this group the opportunity to log-in to the guided reading group lesson, because our group conversations are one of the most important parts of this particular group. Plus, the group sizes for very imbalanced, and two days a week I will only have one student in this group present.


My reading group that focuses on phonics, was definitely the hardest for me to plan. Each day students are expected to practice their fluency passage. Then, I have a phonics assignment for them to complete on Google Classroom. It's a very short assignment that should only take a couple minutes to complete. For example, on Monday students will sort pictures into either short a sounds or long a sounds. I purchased this from Shae Hare-TeacherMood.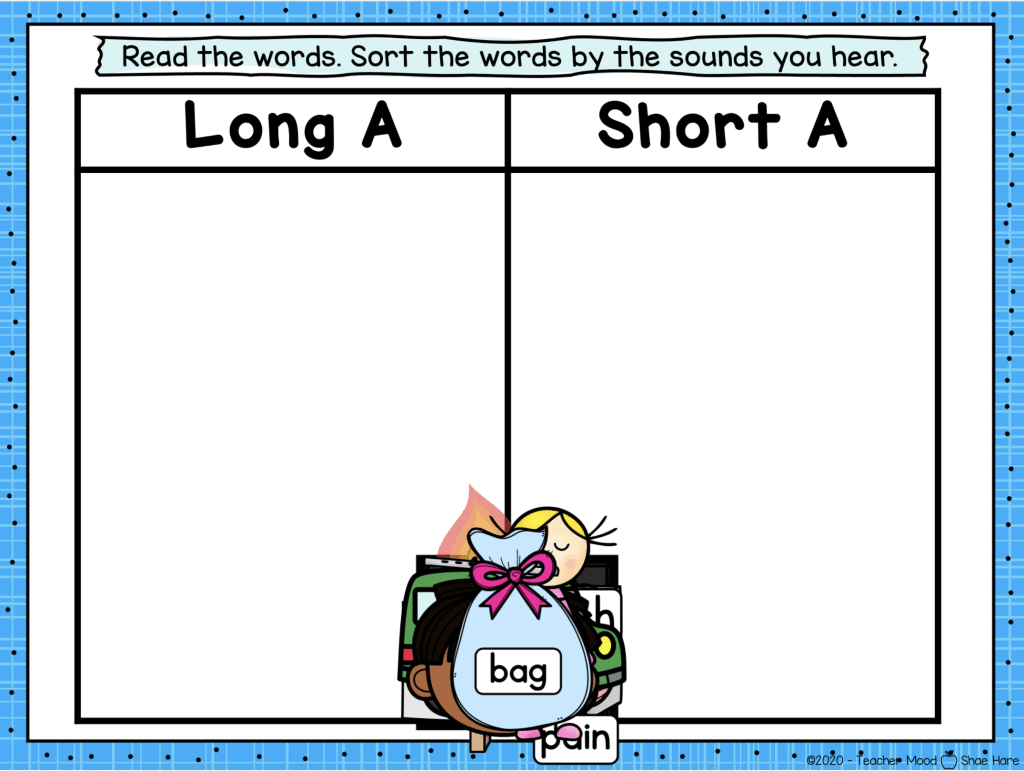 The remaining tasks are from my High Noon phonics workbook. I purchased a group set last year and fell in love with the resource! I'll try to get some pictures and share!
At-Home Learning Extras
As you know students love using the "I don't know how to…" or "It won't let me log-in…" phrases during At-Home Learning, so  we clearly communicated that students were fully prepared to be self-sufficient, and students should be able to complete all their assignments independently. We even taught students how to appropriately contact us if they needed help on their At-Home Learning Days.
To keep me organized, I've color coded student folders, so it's not too terrible to prep everything that needs to go home with students.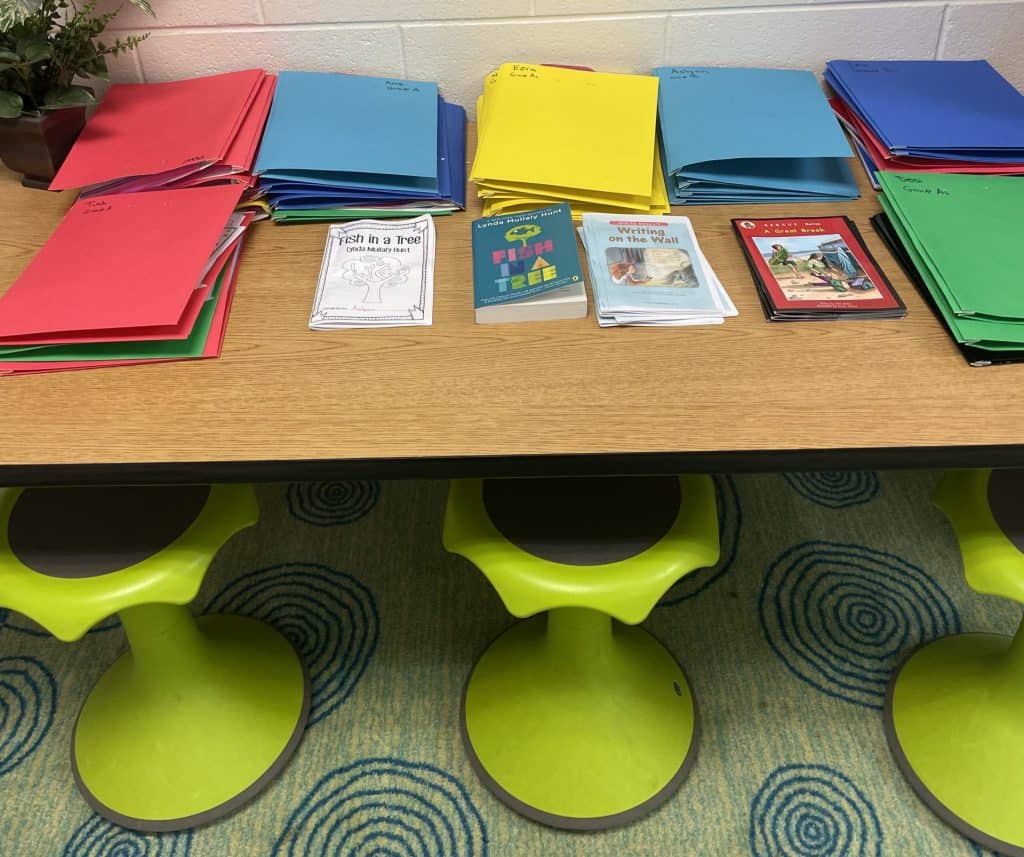 In-School Learning
After a lot of reflection and internal debate I came to the conclusion that I had to push what I originally intended to teach back a few weeks. Of course, I'm not saying that everyone should do that! It's just what my students needed.
After just 11 days with them, I can see that we need some intensive work on number sense and more reteaching of place value concepts. I have to practice what I preach and slow down. Without foundational concepts, the rest of the year will be beyond difficult. The plans on the left are my original plans, and the plans on the right are my new plans.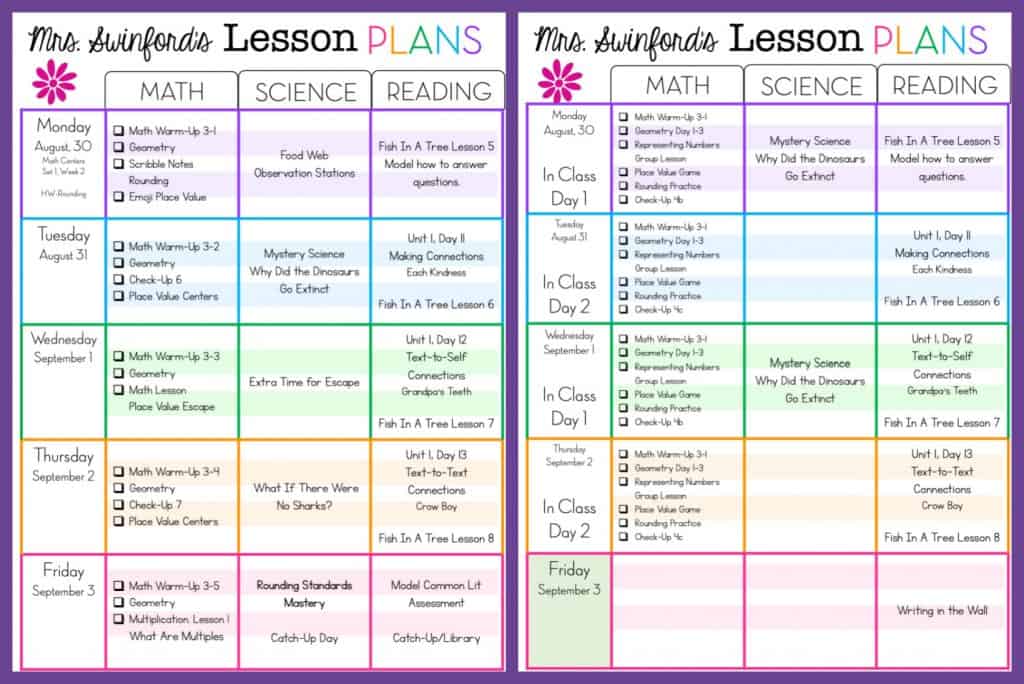 After our warm-up and geometry (where I squeeze five days into two days), I'll meet with a small group on representing numbers. (Students who don't need time in that small group will work on a biome project.) Then, we'll play a place value game. Students who need extra support will play in close proximity to me, so I can monitor and guide their game.
After the game, we'll spend a brief amount of time reviewing rounding. I've already taught this using the lessons found here. But, I can see a need for additional instruction. My observations have shown that students who have more developed number sense have a firm grasp rounding. However, my students who lack in number sense are struggling. the problem appears to be that students don't understand benchmark numbers and counting by multiples of 10, 100, 1000, etc.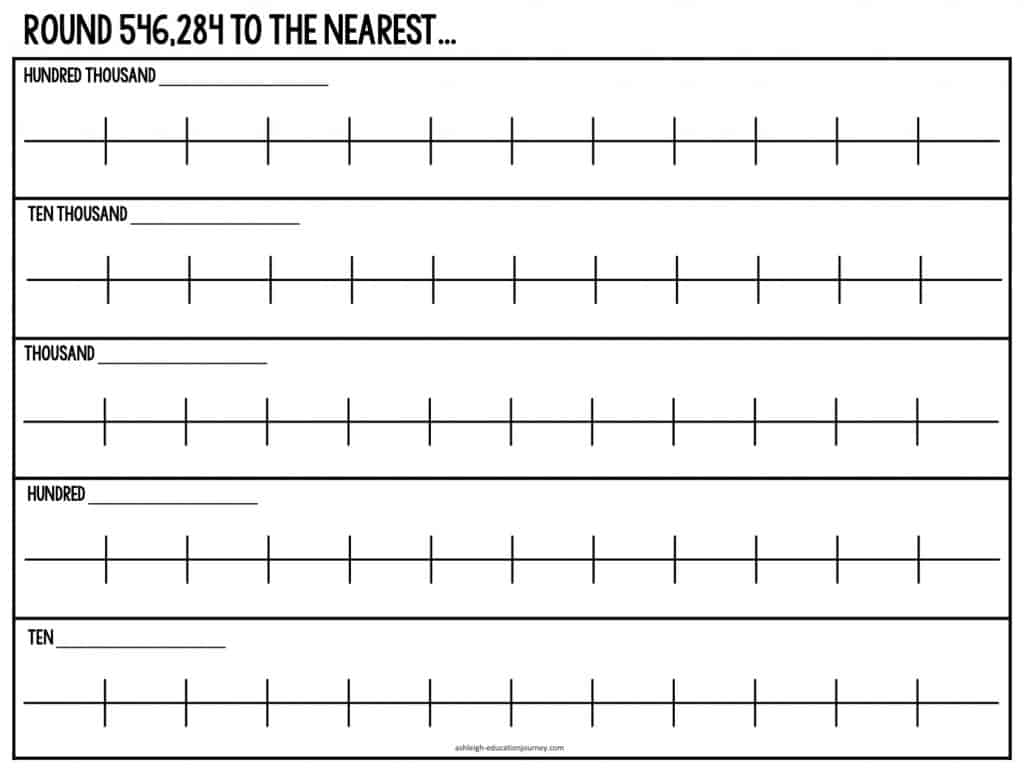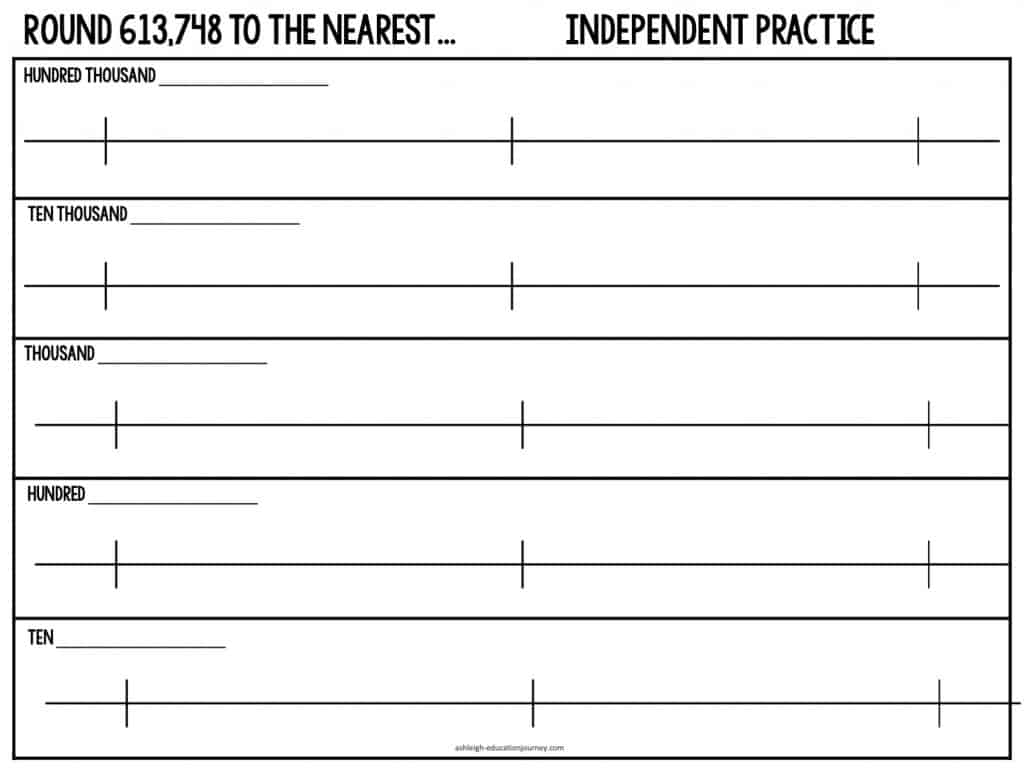 I have several rounding practice pages in this same format, and you can download them for free here.
After the rounding practice, students will complete a Math Check-Up. You may already have my Math-Check Ups, which can be found here. When I made these updates, I recognized that I will need additional check-ups at this
level, so I made a few extras. You can download those for free here. There is a 4a, 4b, 4c, 4d, and 4e. Hopefully after that, I'll be able to get back on track!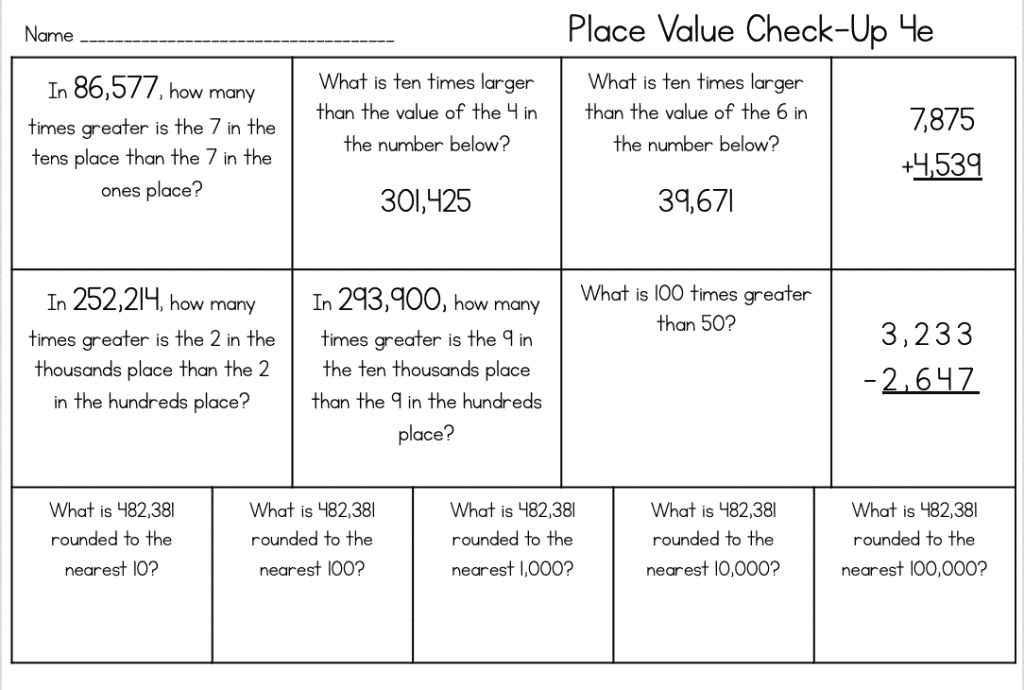 I'll spend the remainder of my time in small groups going over anything missed on the check-up.
In-Class Learning Science
I've saved my favorite science lessons for our In-Class Learning days, and those lessons are Mystery Science Lessons. It's my absolute favorite science resource, but I definitely prefer it for face-to-face instruction.
Hopefully, this helps you out a bit!