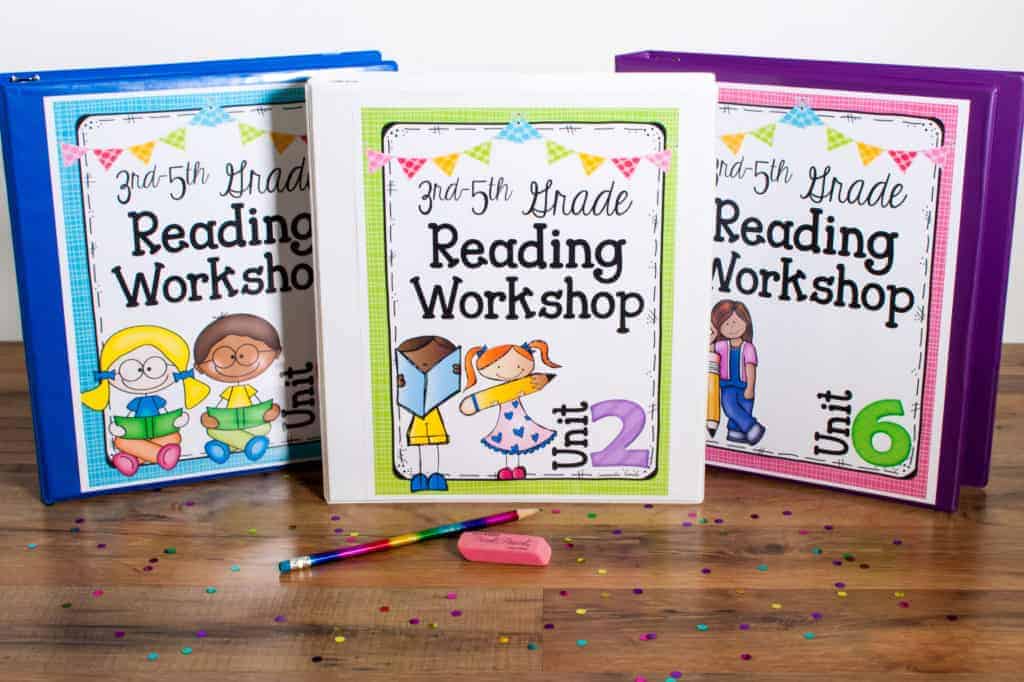 Over the years, I've made countless things for my classroom, and few (if any) resources have made a greater impact on my planning and instruction than my Reading Workshop units. These units have been a game changer for me, and from the feedback I've received from other teachers, they've been valuable to other teachers as well! Over the past two years I've had several questions and requests about the units that I thought I'd compile into one blog post. I have a few additional resources I'll offer that will hopefully make planning your reading instruction a little easier! I'll first quickly recap what's included in the units in order to make sure I address everyone's questions.
There is a 30 day unit at a glance for each of the six units. I always like to see the "big picture", so this is a tremendous help for me.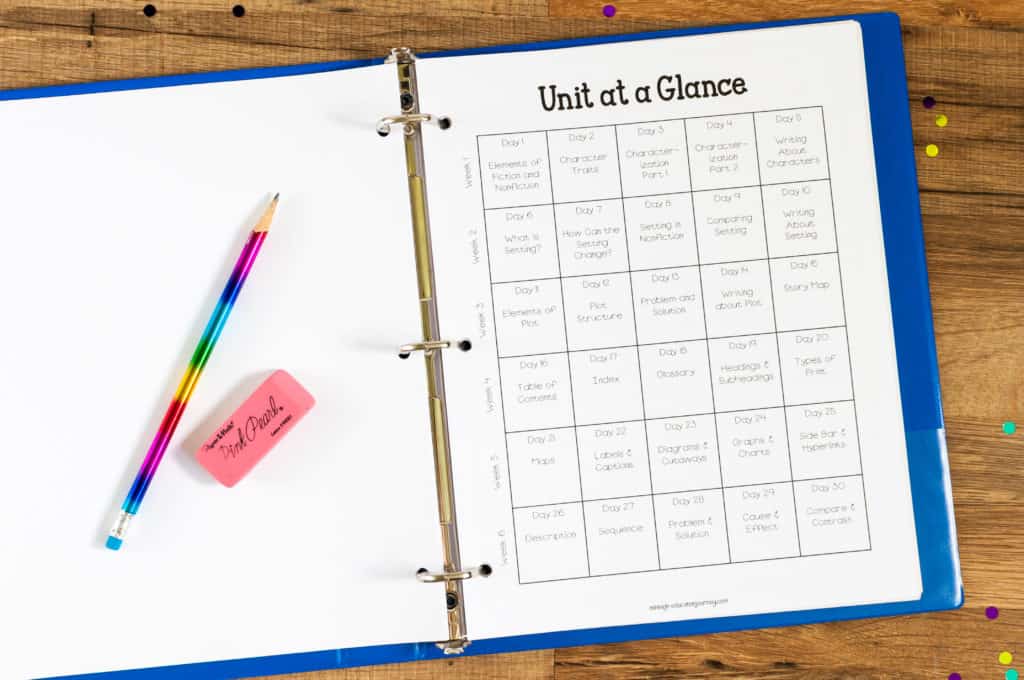 For each unit, I've included a list of mentor texts to be used with each lesson. Any of the mentor texts can be substituted with a book of your choice. I've given several alternate mentor text ideas in this blog post.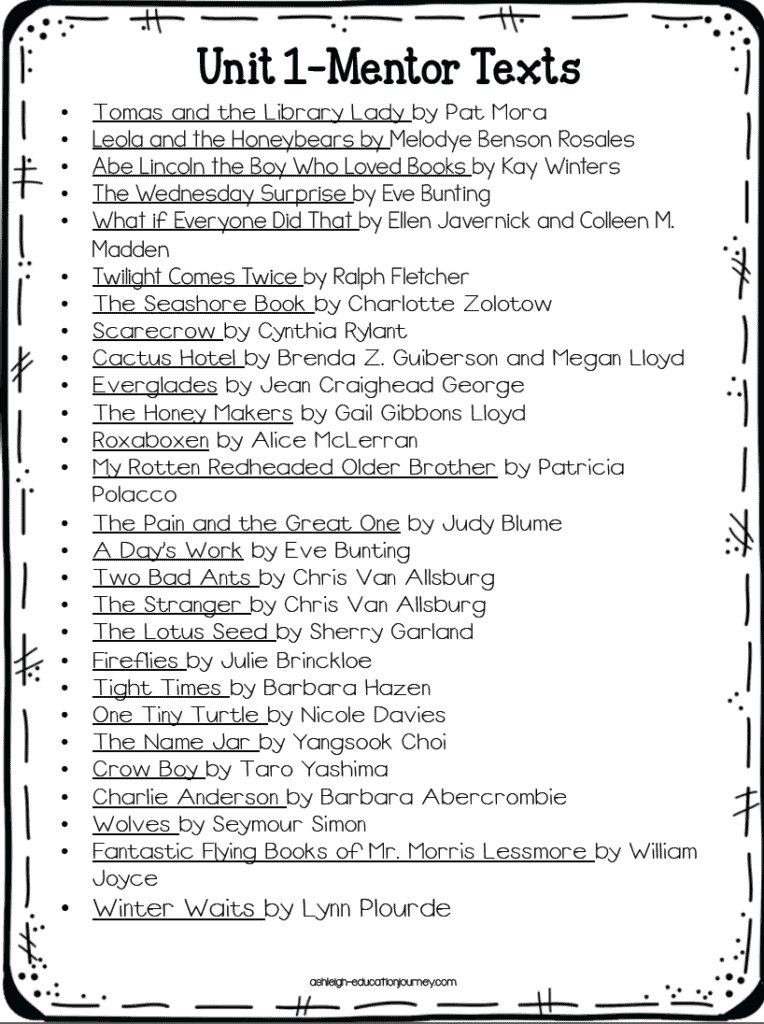 There is a fluency passage for each week of the school year. The fluency passages alternate between fiction and nonfiction passages.
There are weekly vocabulary words pulled from one of the week's mentor text. I included a vocabulary list and a weekly vocabulary quiz.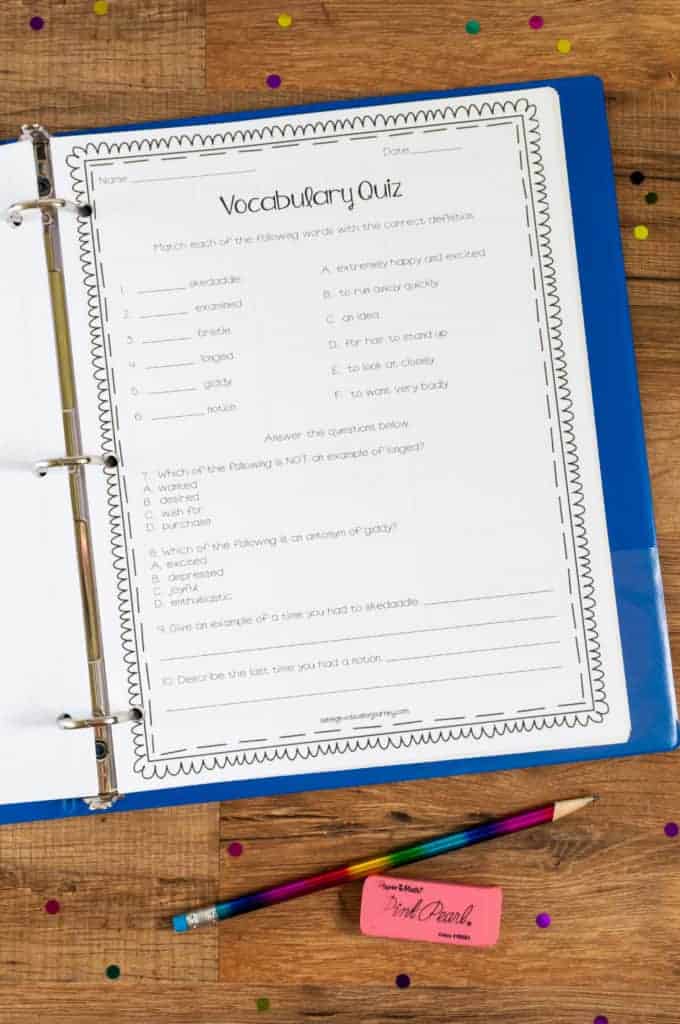 There is also a weekly homework choice board. Of course, like all of the components of the unit, this is entirely optional. The choice board could also be used for early finishers or as a morning work assignment.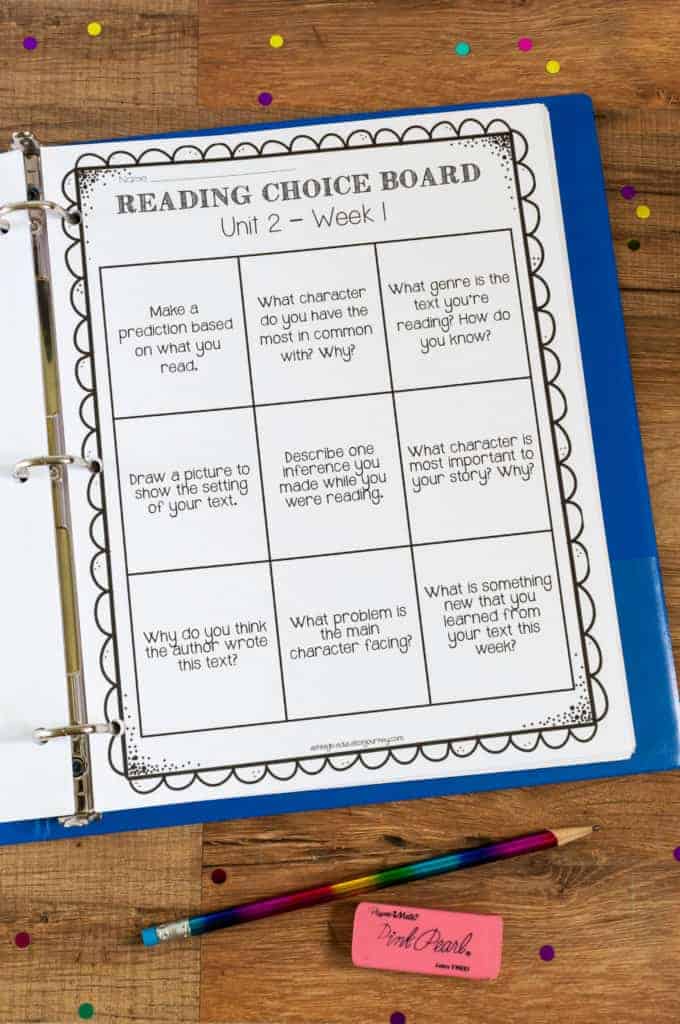 I've written a detailed lesson plan for each of the lessons. The lesson plans include: standard, materials, mini lesson, independent reading, closing, and essential question. There is also an image of any printable that correlates with the lesson. I've found that is incredible helpful for sub plans!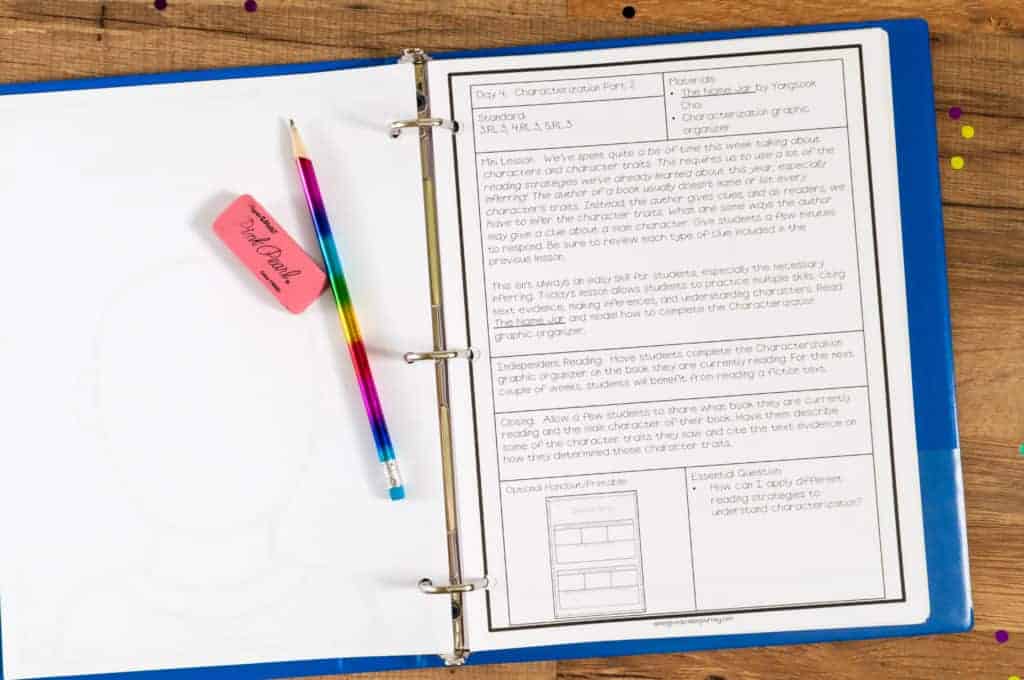 There is a printable that can be used with each of the lessons. These printables and graphic organizers can be used with a whole group or with your guided reading groups. They were written to encourage critical thinking and responding to text with written expression. Each of the printables are also available on Google Docs, so that you can use all of the printables in Google Classroom!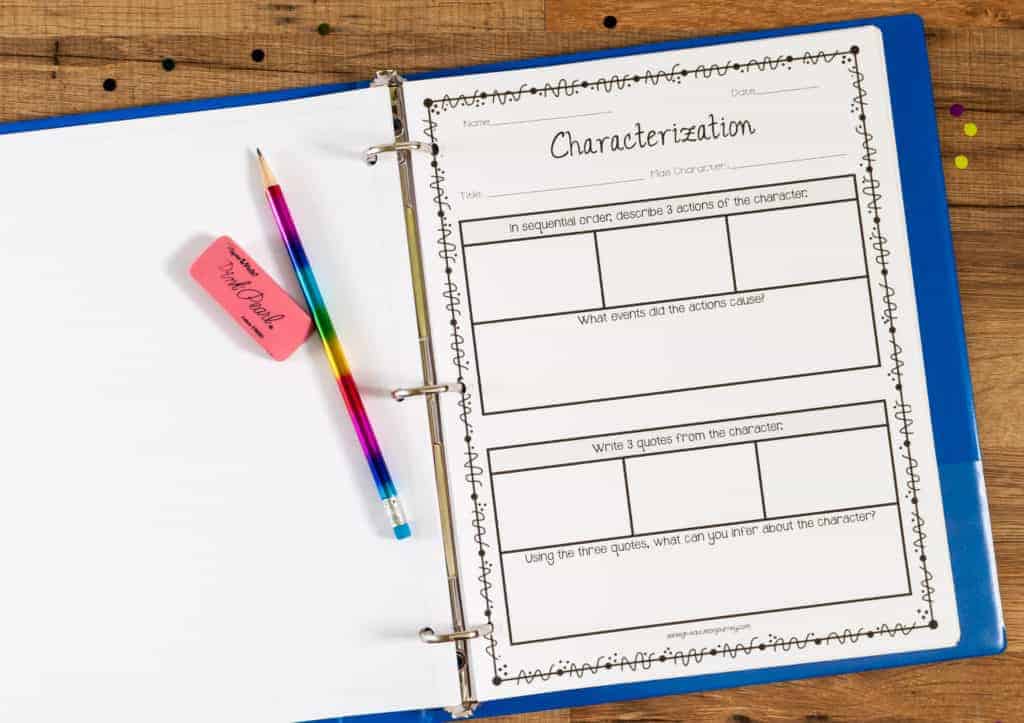 That's an ultra quick recap of the unit. I'd now like to answer some of the questions about the unit that may make implementation a little easier!
What do you use for assessments?-I teach in a system with a fairly strict standards based grading policy, so I make sure I follow that policy. I use all of the graphic organizers and printables as formative assessments (along with DIBELS and DRA). I use my language arts assessments as summative assessments. We are only allowed to have one summative assessment for each standard, so I don't need a ton of summative assessments.
Do you have a list of the mentor texts for all of the units? I've created two different lists. One list has everything on one sheet of paper. Since there are SO MANY texts, I had to remove the author's name, because I couldn't make everything fit without using a teeny tiny font. I also made a six page version of a mentor text list that includes the authors. You can download that here!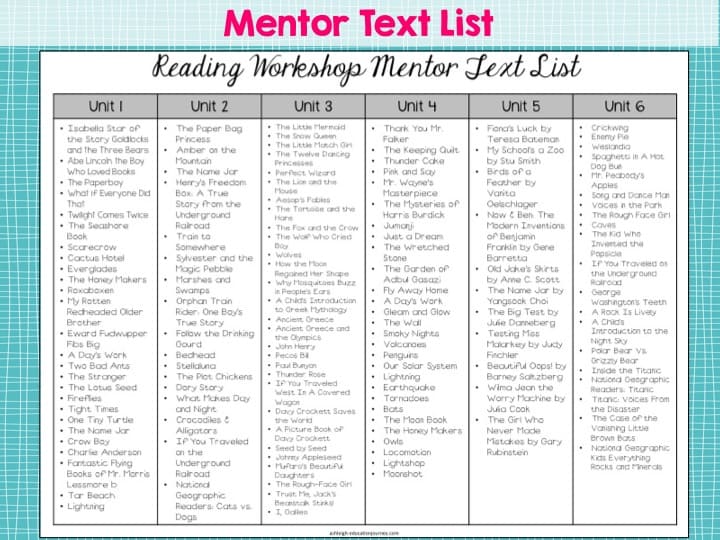 Can I see a yearlong plan? I recently mapped out each of the units, so you can easily what standards are taught each week of the school year. This will be a huge help to me as I plan assessments and morning work. You can download a link for the standards and one page mentor text list here.
How do you incorporate this into your daily schedule? Last year, my reading block was one hour and 20 minutes. I had 28 students and needed to meet with several students on a daily basis, so I broke me reading time into four 20 minute segments. The first segment was our mini lesson, which is when I taught the lesson from the bundle. If I ran out of time, I simply carried the lesson over to the next day, or I skipped parts of the lesson. Then, I had three 20 minute small group segments, where I met with a different group during each segment. My other students were either independent reading or completing a literacy station activity. At the beginning of the year, when my students' independent reading stamina was low, most students read about 20 minutes a day. By the end of the year, most students chose independent reading for ALL segments, which was fine with me. You can read more about reading workshop and find some organizational documents in this blog post.
Can I replace the mentor texts? Yes! I substitute almost all of the nonfiction mentor texts with a book that integrates what I'm teaching in either social studies or science. All of the printables are open ended enough to be used with any text!
Can I skip around or teach the units in a different order? Sure! One of my coworkers changed the order of some of the lessons around to match her writing units, and it worked great! I will be using these in fourth grade next year, and I'll probably skip a few lessons in order to spend a little more time on more challenging skills.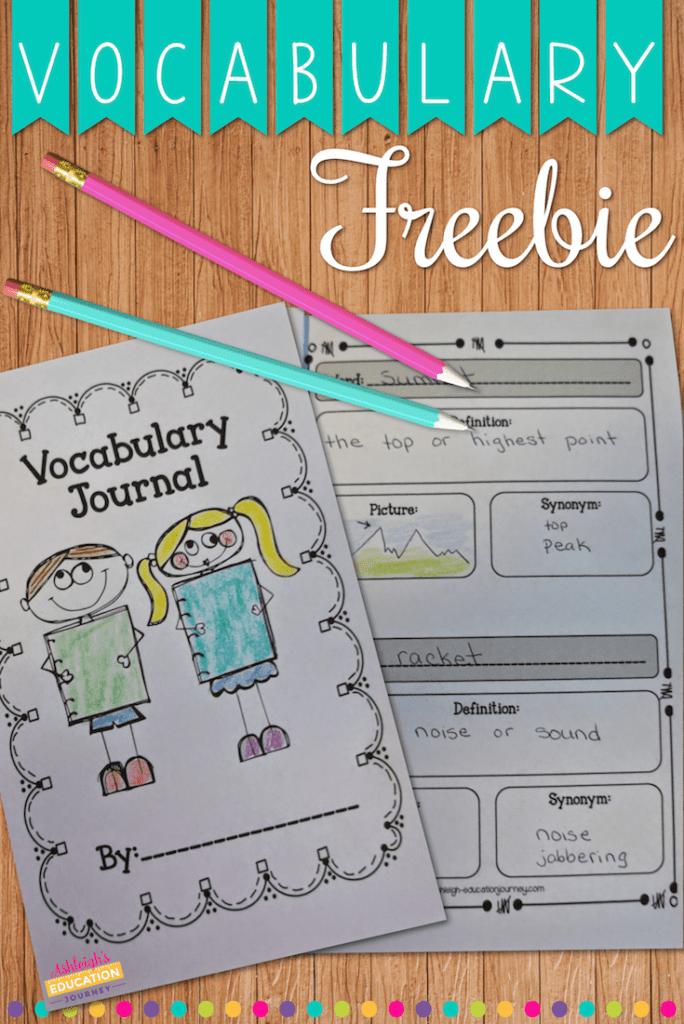 In my 3rd-5th Grade Guided Reading Unit, I have students add words to a vocabulary notebook on a weekly basis. I've used a variety of vocabulary notebooks in the past with too many different formats to count! Since I want the unit to truly include everything you need, I thought I'd make this vocabulary notebook a freebie! Once again, I'm keeping it simple! With each word, students will add a definition (in their own words), picture, and synonym.
It's on the basic side, but I've learned that if I want to use something all year, I have to be realistic with my goals. I do plan to make front-to-back copies of these notebooks, but I still may have to make two sets for the entire year, because with the units, students will learn about 200 new words. That's a good problem though! That means my students are learning all kinds of new words!  You can click here for a copy!
I also have a nonfiction text features booklet that I made to use for my 3rd-5th Grade Guided Reading Unit 2. Throughout the unit, students will add new text features to their booklets to explain and give examples of the text feature. At the end of the unit, students will have a large collection of nonfiction text feature references. You can get it for free here!
If I haven't answered your questions, please let me know and I'll do my best to add them to this post!