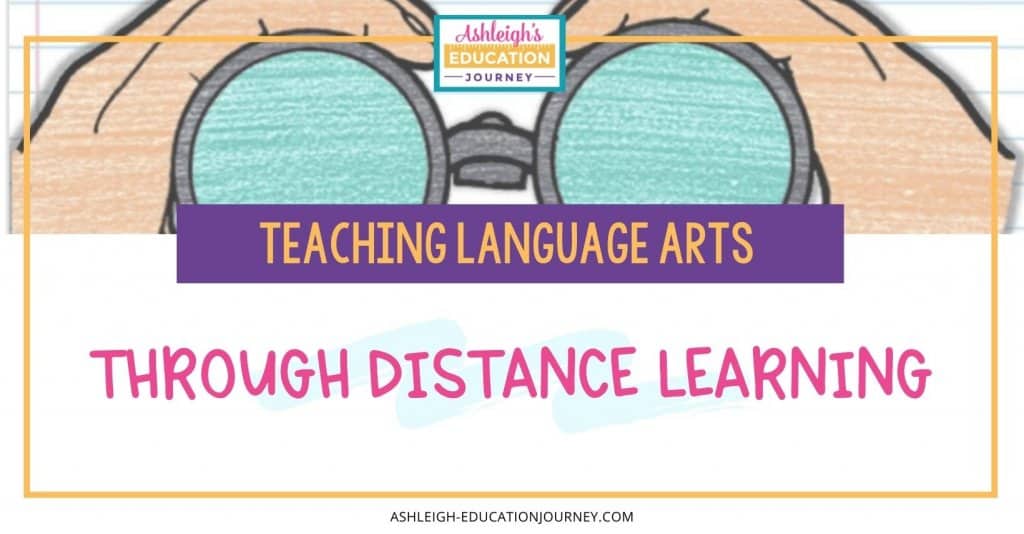 I feel very fortunate that I had already taught all of my essential language arts standards before we were sent home for distance learning. This allows me to expand on what students have already learned, which is much easier than presenting new content. Even in distance learning, I absolutely do not want my students bored, staring at a computer screen for hours, or completing mindless busy work. Even though it's distance learning, I want to assign work that is purposeful and provides value. In this post, I've shared my reading and writing plans for the week. Hopefully, some of these ideas will help you with teaching language arts via distance learning.
In this post: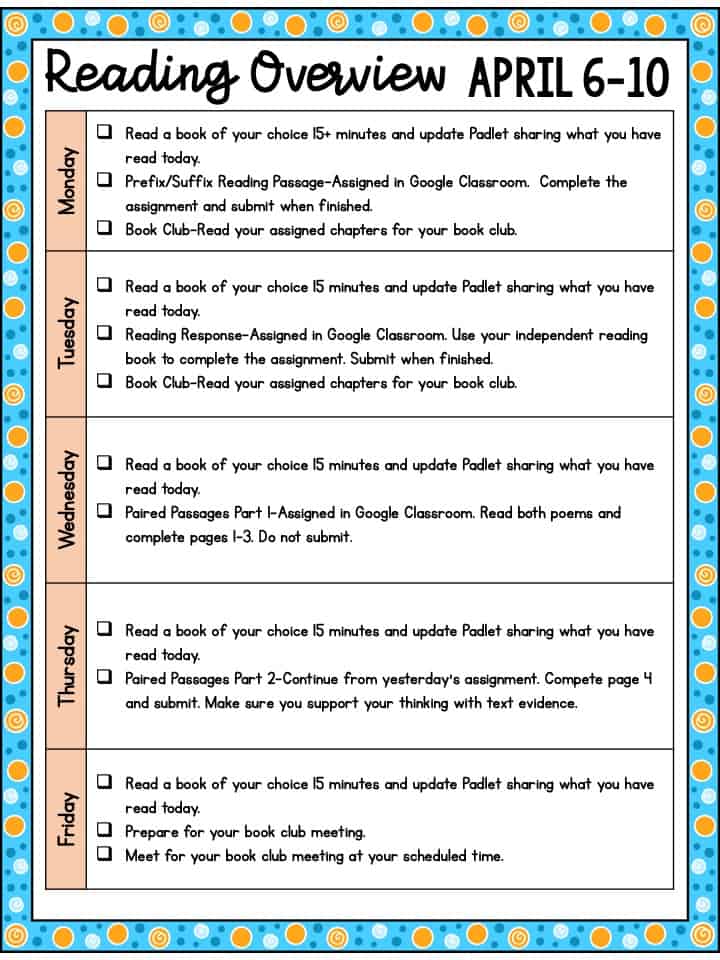 Independent Reading
As you can see, each day I've encouraged my students to read a book of their choice for 15 minutes. After students read, they record the pages they read on Padlet. This is what I use instead of a reading log. In class, I have a system for "status of the class", but that method doesn't work well for teaching language arts through distance learning. You can read more about Padlet here. Each day students write a new entry under their name and record what page numbers of the book they read. When students finish a book, they write a brief book review. When students begin a new book, they post a picture of the book.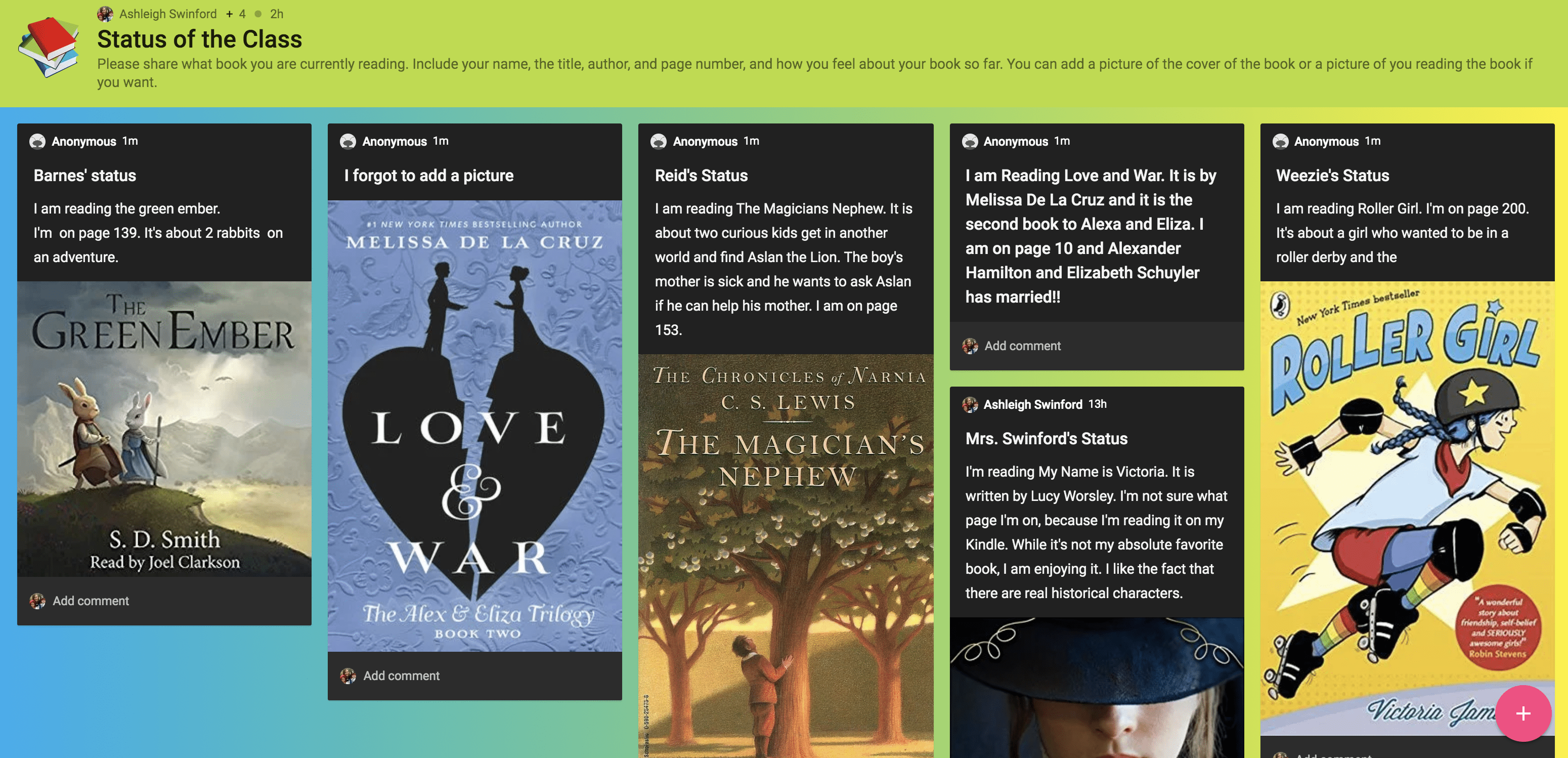 Teaching Language Arts with Book Clubs
Another daily language arts task will be my students' book club, which is all completed digitally. Each student will have a literature circle planning guide, which are organized by book. The planning guide lets students know which chapters to read each day. The guide also shares who has what role in the book club for the week.
I plan to have students read a set number of pages or chapters each day. That number will be the total number of chapters divided by 24, because I want to have our books finished in six weeks, and I will require students to read Monday through Thursday. On Friday, students will prepare for their virtual meeting.
My class won't start our book clubs until next week because I still need to work out the logistics of getting books or copies of books to students. There are many digital options such as PDF versions, Epic, and audiobooks. I'm also looking into the possibility of Kindle versions for my students. 
I created six different roles for students within their book clubs. If a group has fewer than six members, I'll eliminate a role from that group's directions.
Discussion Director
The first role is the Discussion Director. The Discussion Director is the group's leader for the week and writes six questions the group can talk about. They must write questions that allow discussion instead of questions that simply require a right or wrong answer.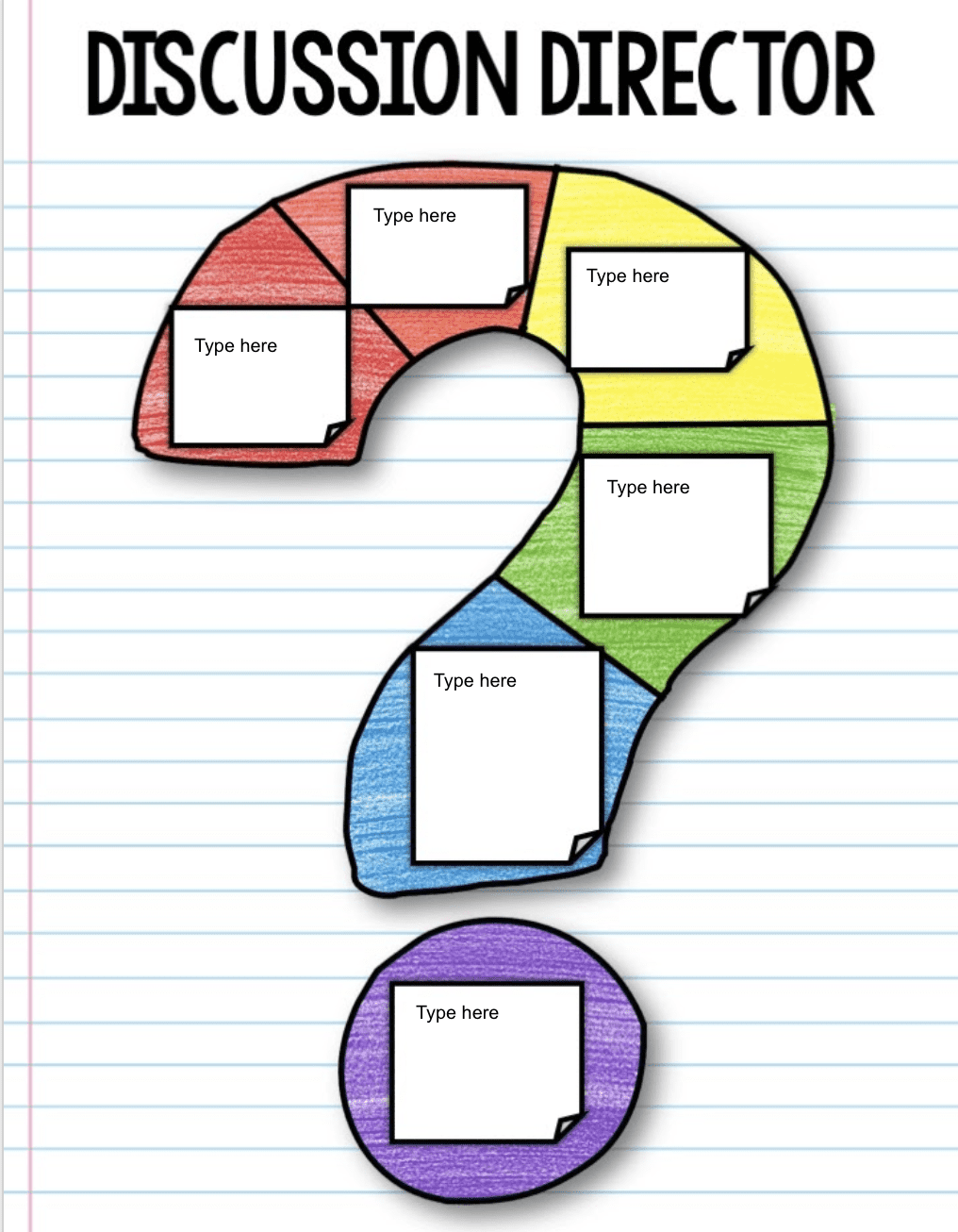 Word Wizard
The Word Wizard's job is to find six words that they are unfamiliar with or that they find interesting from the selection that they read this week. As students read this week's chapters, they use sticky notes to mark possible words. After reading all sections, they should choose your three words. Students write one one on each green text bubble. Underneath the word they write the page number and sentence from the book in which the word appears. In the blue text bubble, they write the definition and an original sentence using the word. At the weekly meeting, the student will share the words, as well as the sentence where they found them in the text.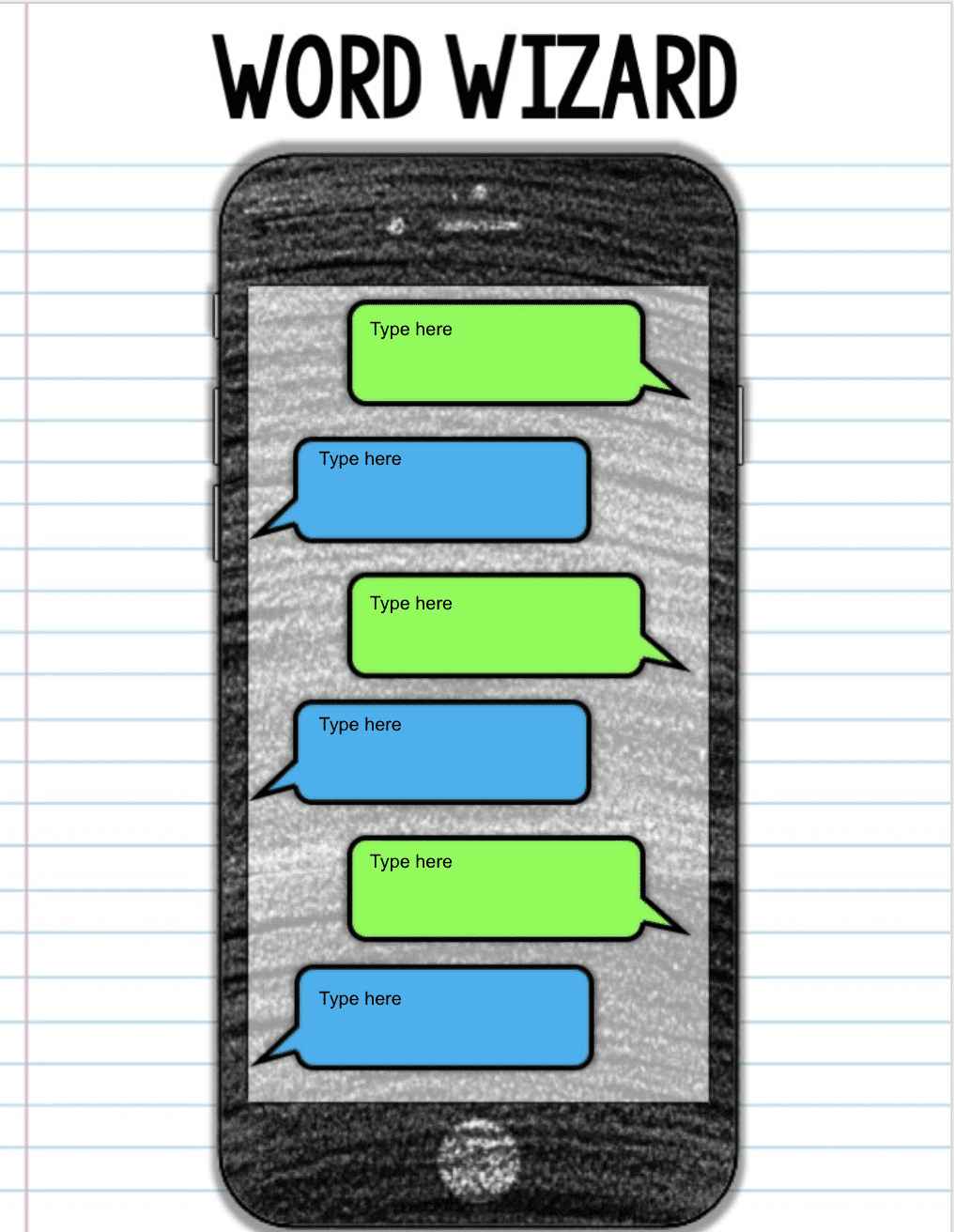 Passage Picker
The Passage Picker picks passages from the chapters they read this week that they would like the group to talk about. They should choose passages that carry some important meaning to the story. As the student reads this week's section, they should use a sticky note to mark possible passages that they would like to share. After they finish the chapters for the week, they select their two favorite passages. Students type the passage and page number on the left side of the book. On the right side of the book, the student writes the reason(s) they chose this passage AND why they think the author included the passage.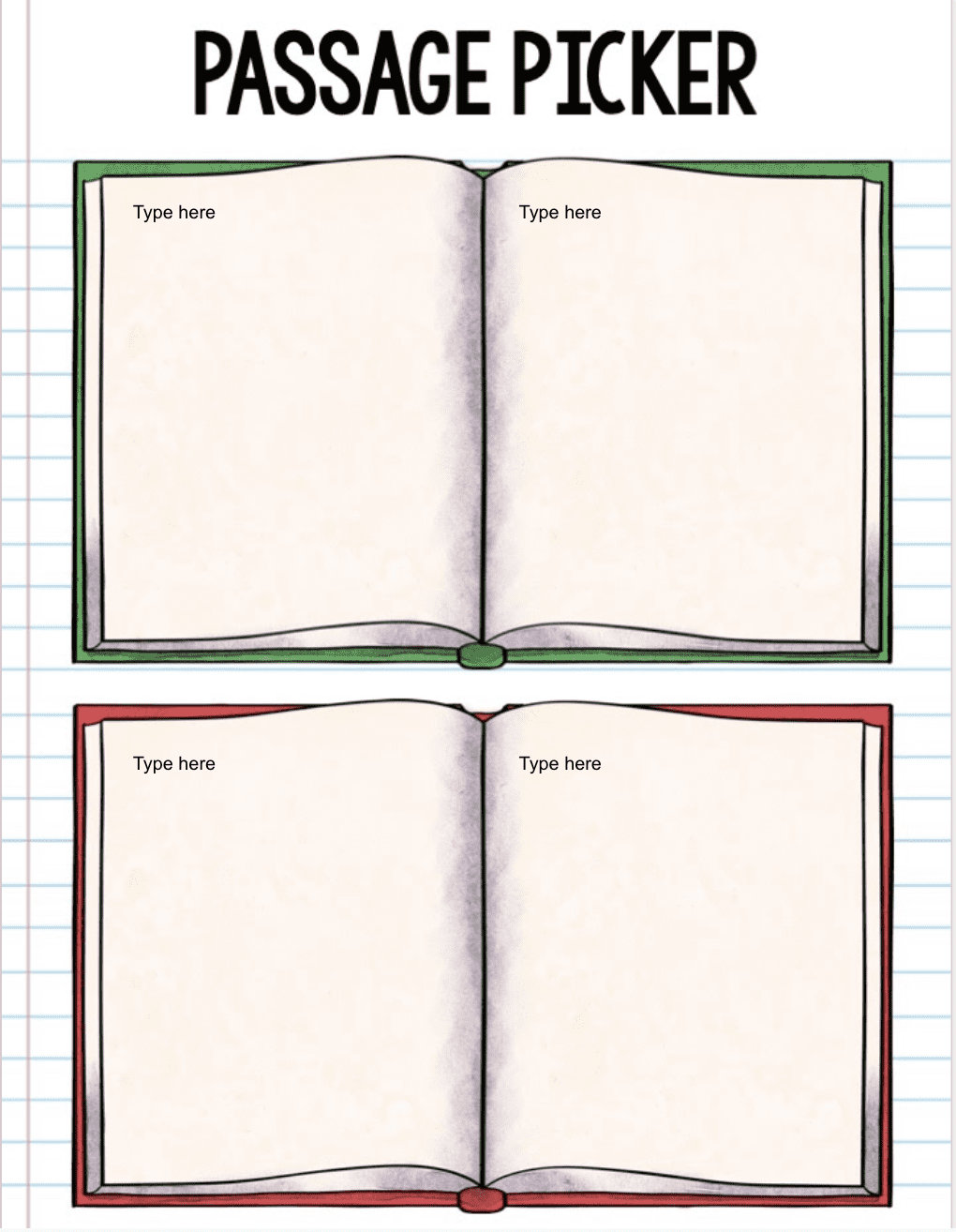 Character Analyzer
The Character Analyzer's job is to find an interesting character from the chapters they read this week. The student should find four character traits to describe the character they chose. For each character trait, the student should provide proof, or an example, from the book.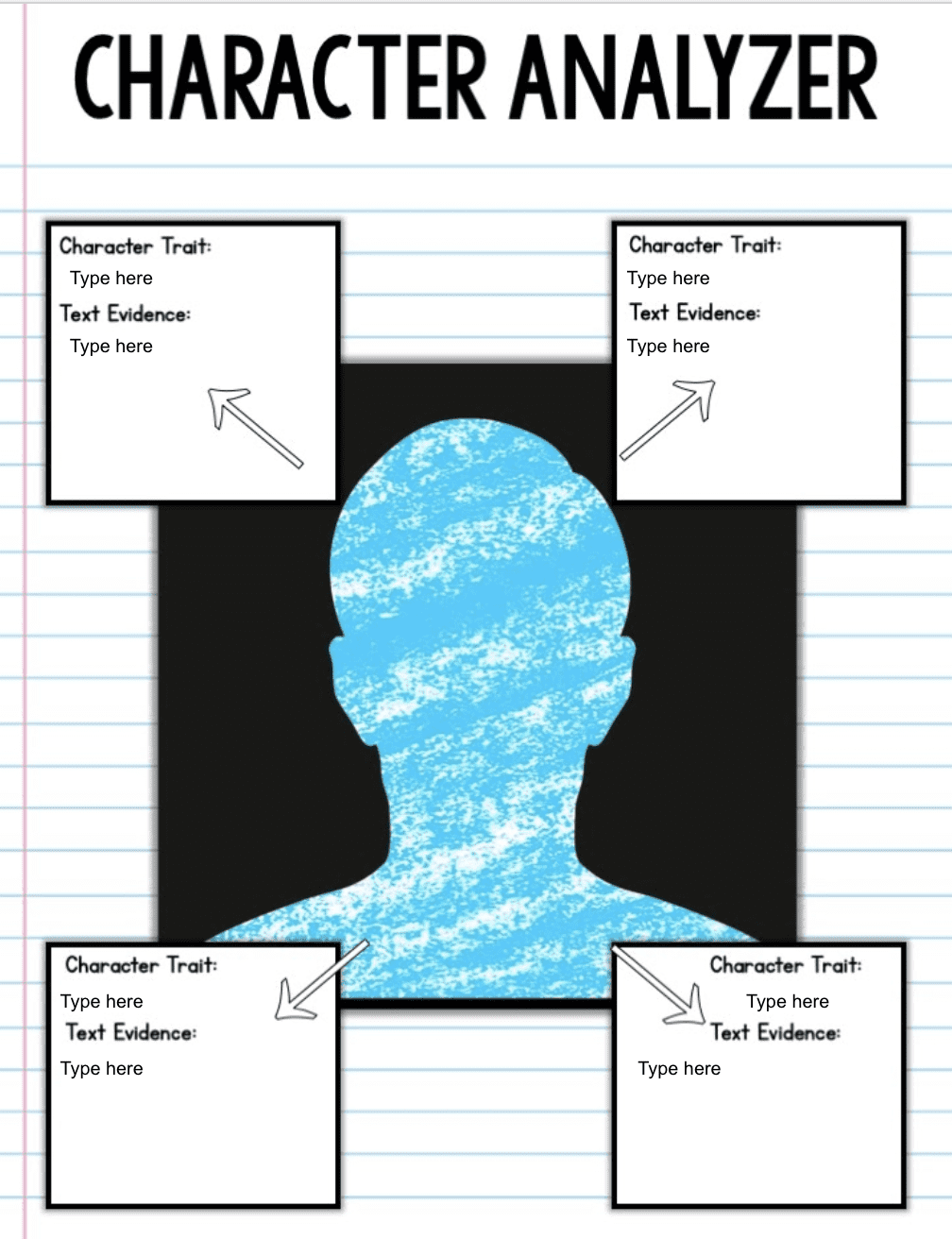 Figurative Language Finder
The Figurative Language Finder's job is to find three examples of figurative language in this week's chapters. As students are reading, they use sticky notes to mark examples of figurative language. Students leave the sticky notes in the book for the group meeting so you can easily find the examples. The Figurative Language Finder will write each of their examples in one of the columns and explain which form of figurative language each example is.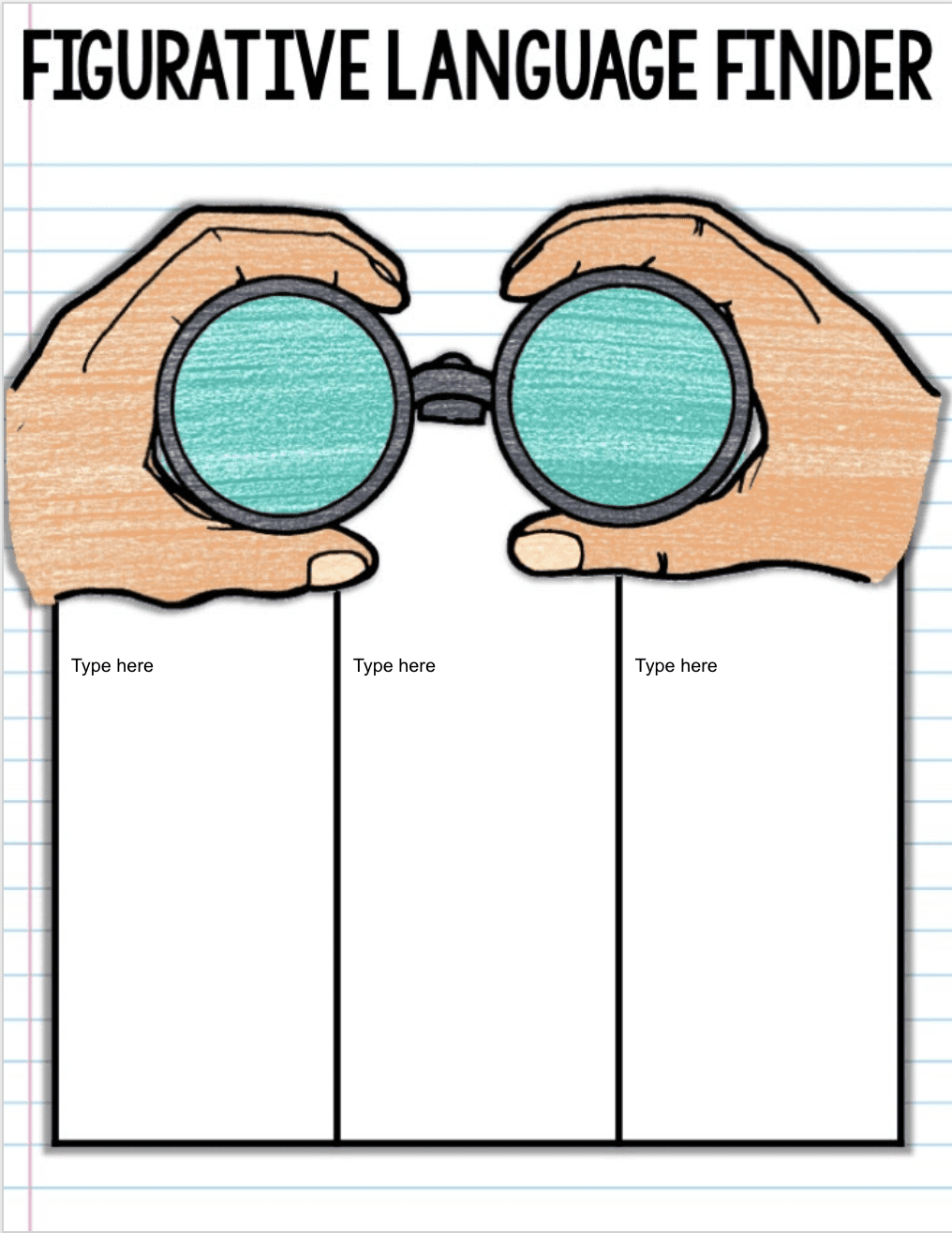 Movie Maker
The Movie Maker helps turn the book into five movie scenes. The student will identify five major events from that week's reading and share how those events could be conveyed through a movie scene.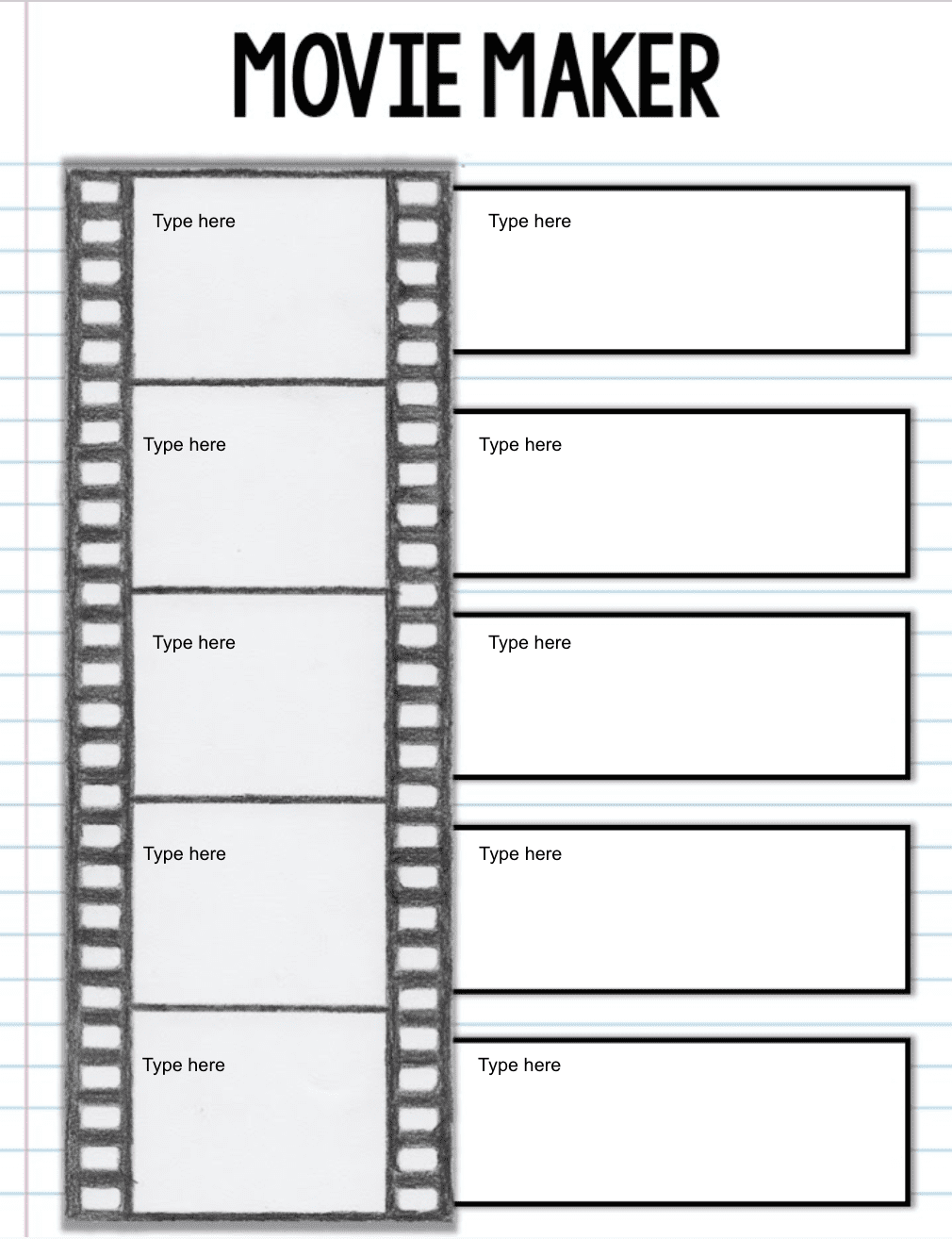 All of the digital pages include a detailed direction page for students to reference. Remember, students will only complete ONE form a week. That will be students' biggest hurdle (I've learned that from experience.) Students ONLY complete the page/role they are assigned for the week.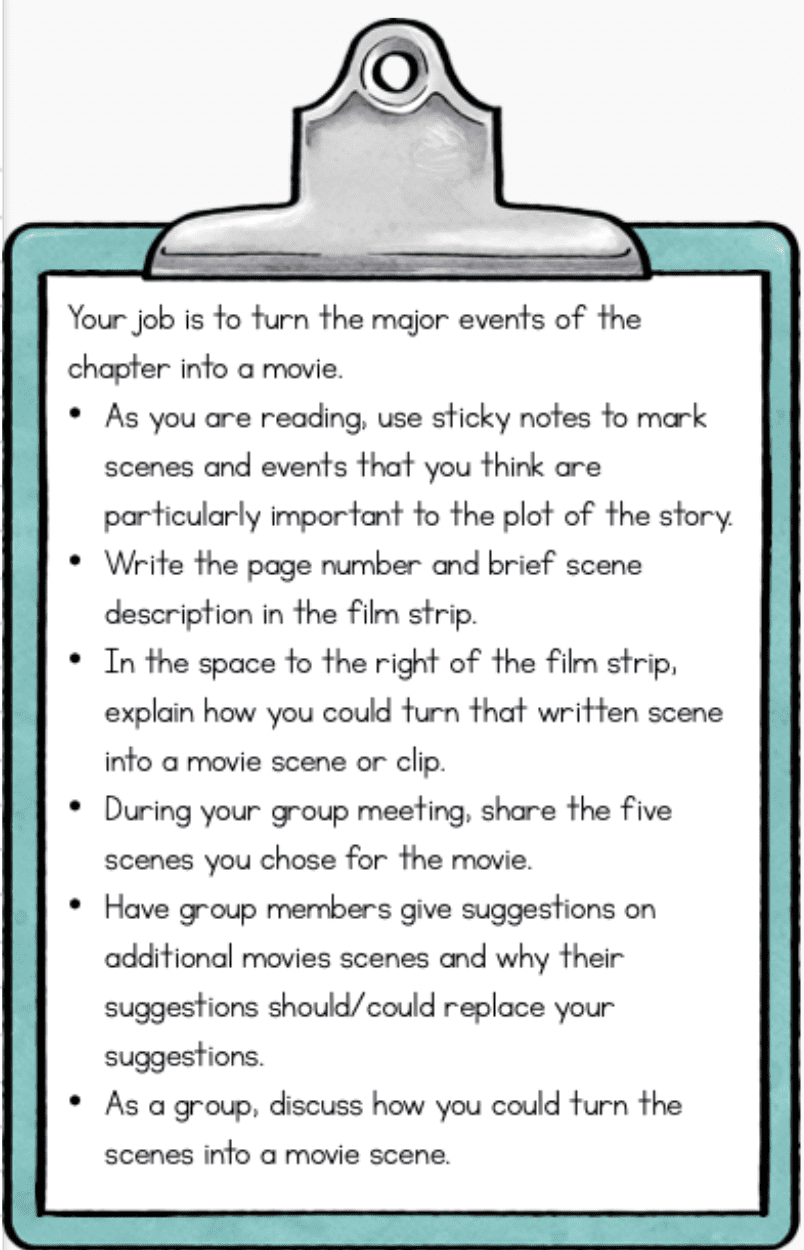 You can access the digital book club forms here!
Language Arts Reading Assignments
In addition students' independent reading and book club assignments, they will also complete a reading assignment on Monday through Thursday. These assignments are the same assignments students have completed in class all year, so this is not a tricky transition for students.
Monday
Starting next Monday, students will complete a Spelling Patterns practice page. We are finishing up long vowel combinations, and getting ready to focus on prefixes and suffixes.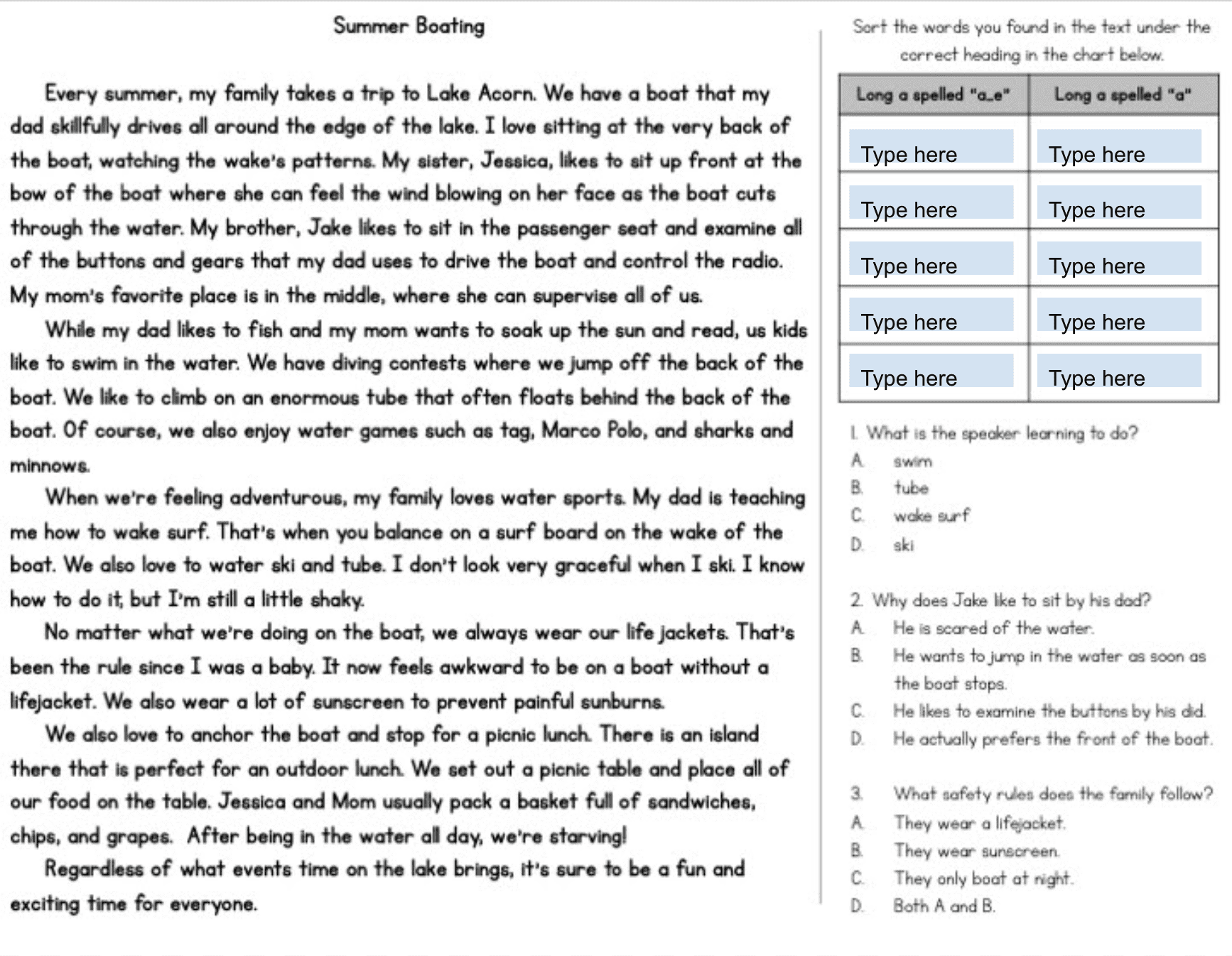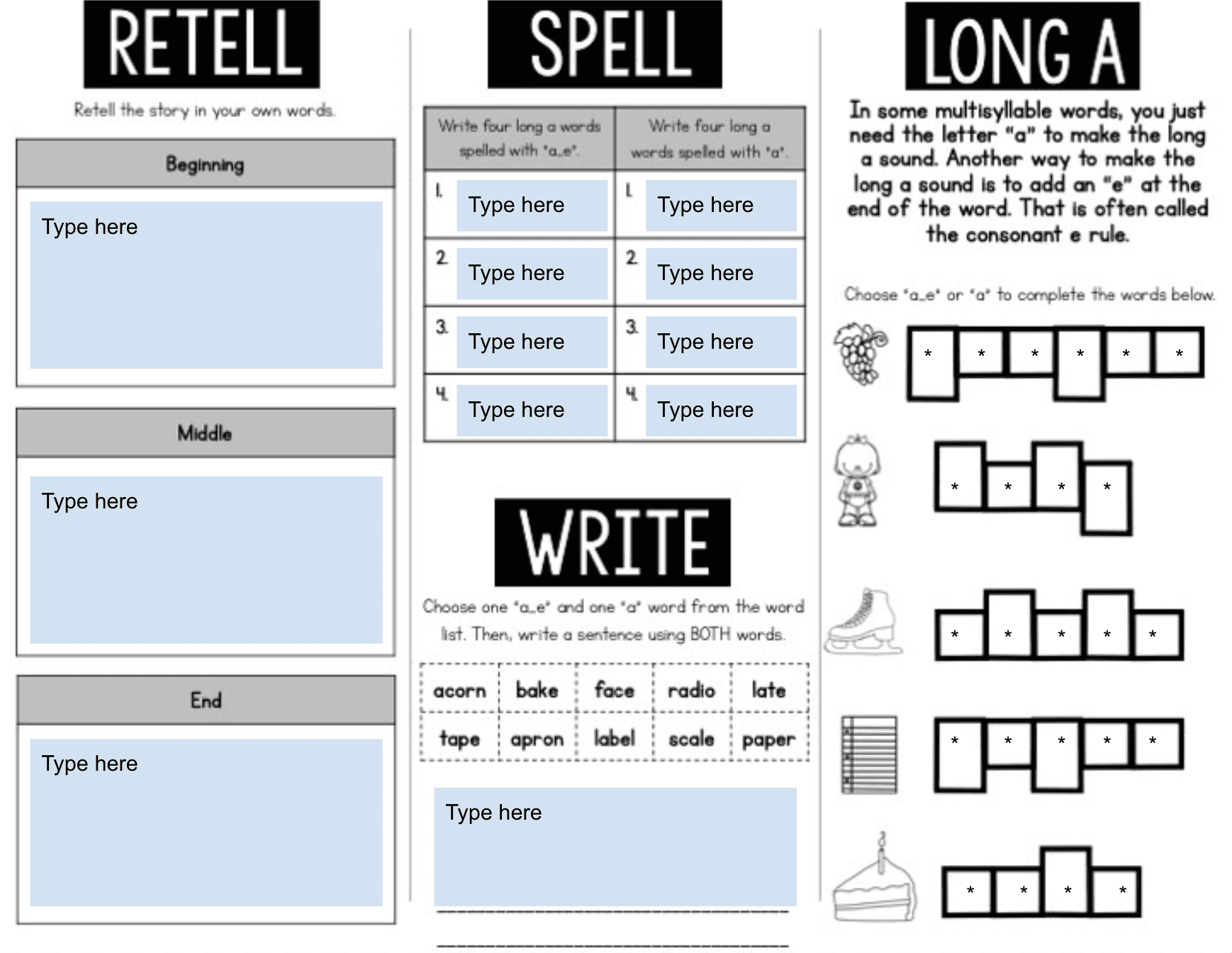 Tuesday
On Tuesday, students will complete a reading response activity. This can be used as a print or digital resource. Students select ONE of the reading response prompt to respond to. We've been working on these all year, so students know that I have pretty high expectations for this. At the beginning of the year, they tried to turn these in with one or two sentences….nice try :). You can find the Reading Response resource on my TpT store.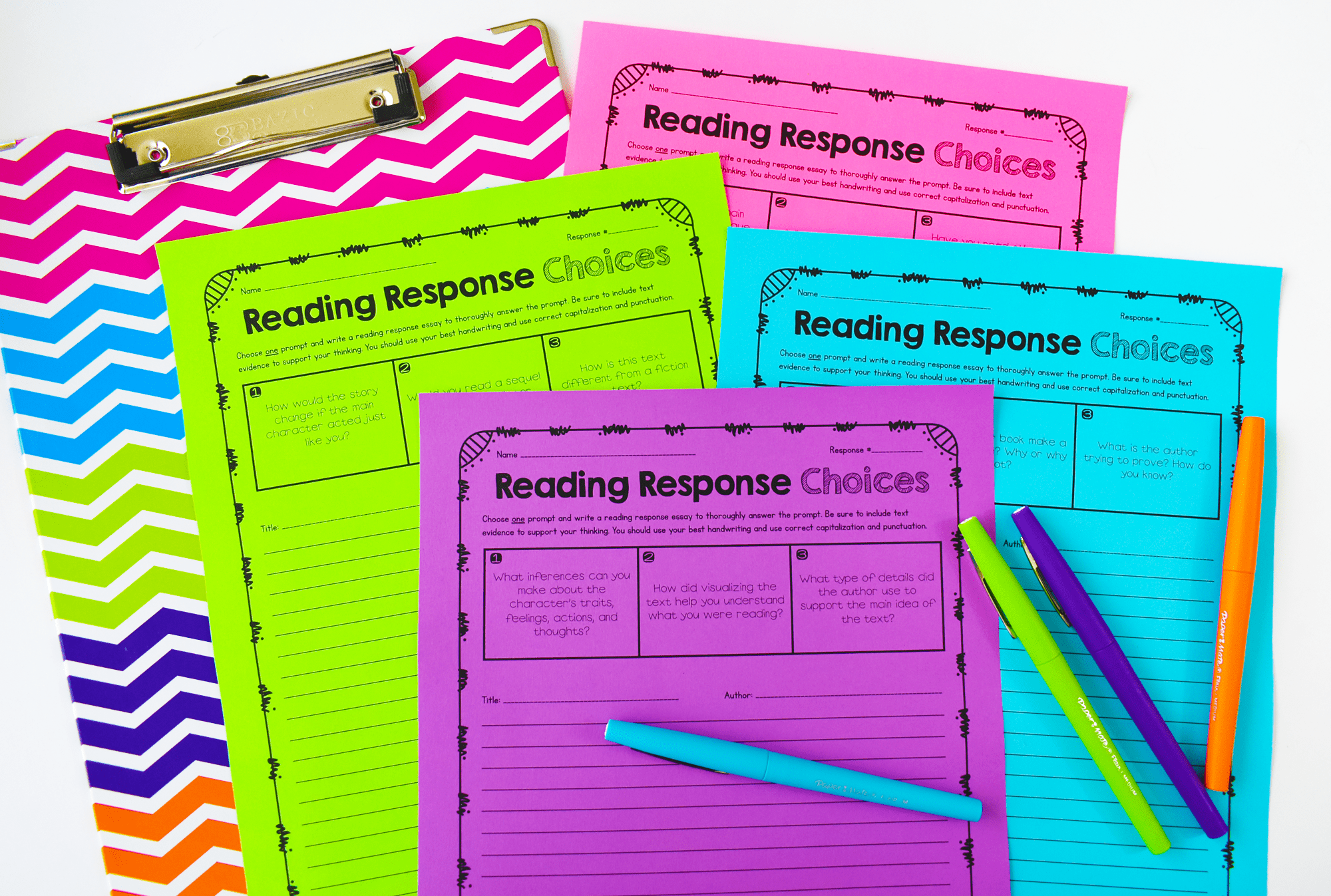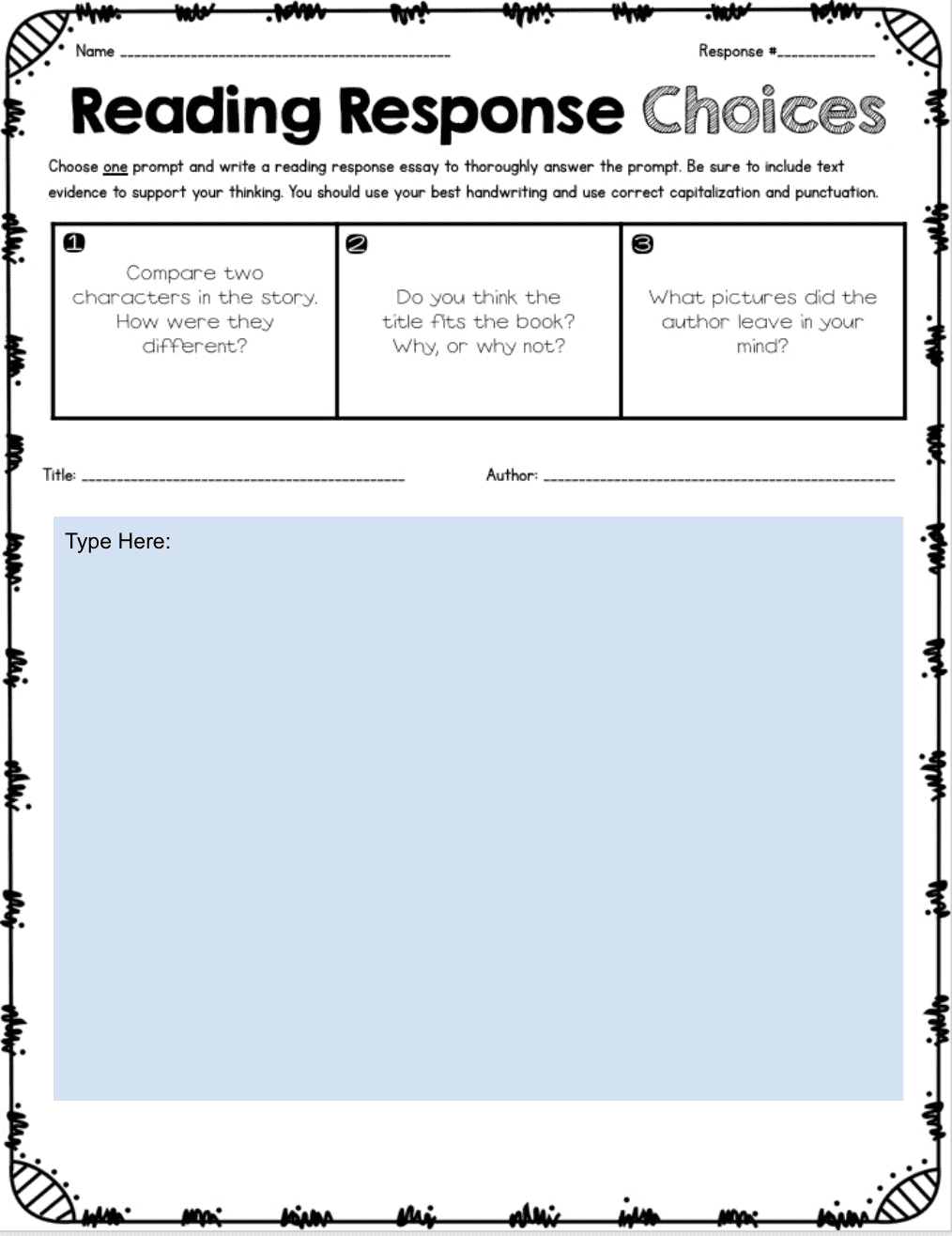 Wednesday & Thursday
On Wednesday and Thursday students work on a paired passage assignment. Since this is a writing heavy language arts activity, I like to give students at least two days to complete each portion of the assignment.
Students first read two poems and explain the meaning of one word from each poem. I also have students annotate the poem (if possible).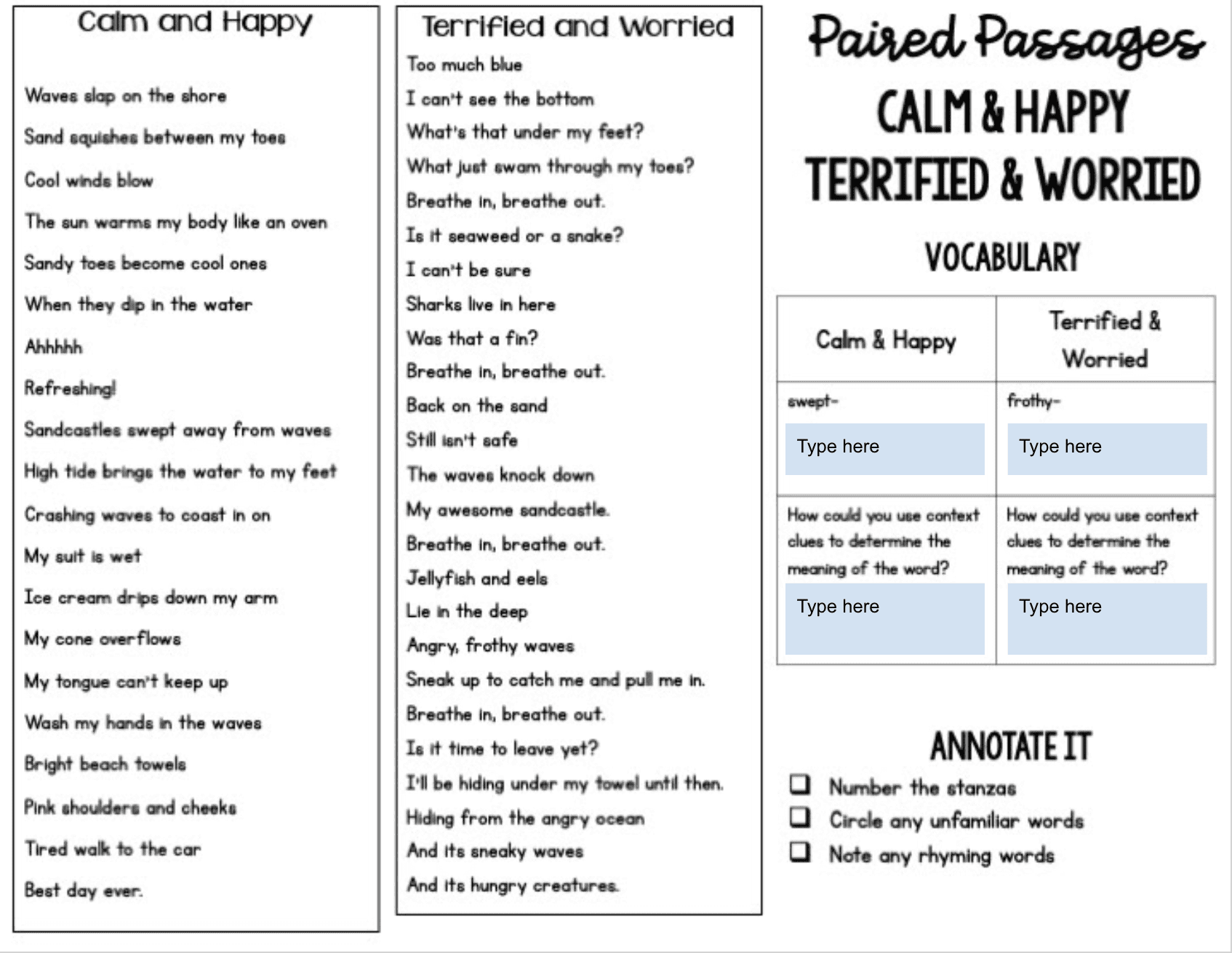 Then students answer four text dependent questions from each poem. I like to have students highlight the exact line in the poem that answers each question.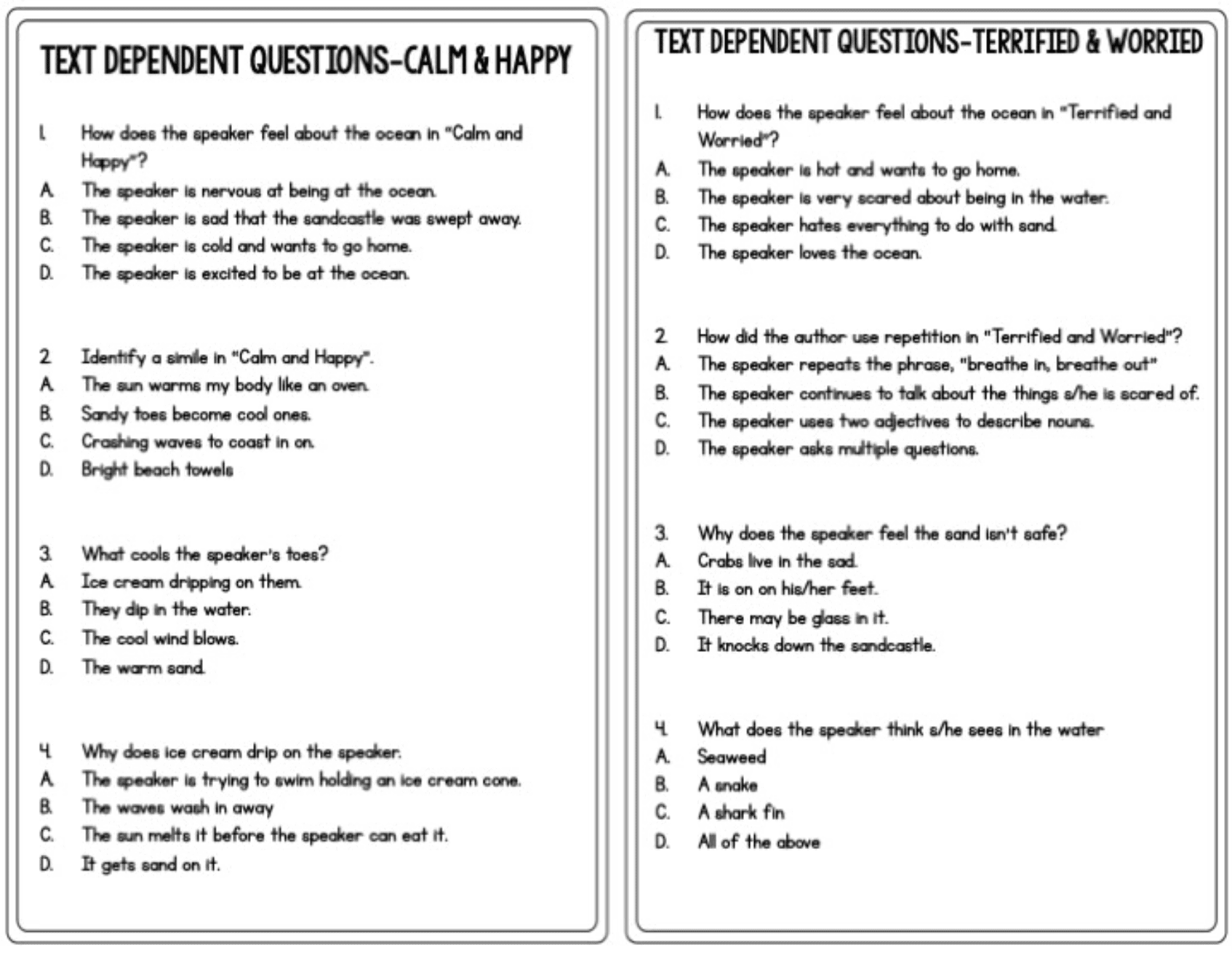 Students then look for examples from figurative language from each poem, as well as write examples of figurative language that could be added to the poem. Students also make inferences based on both of the poems.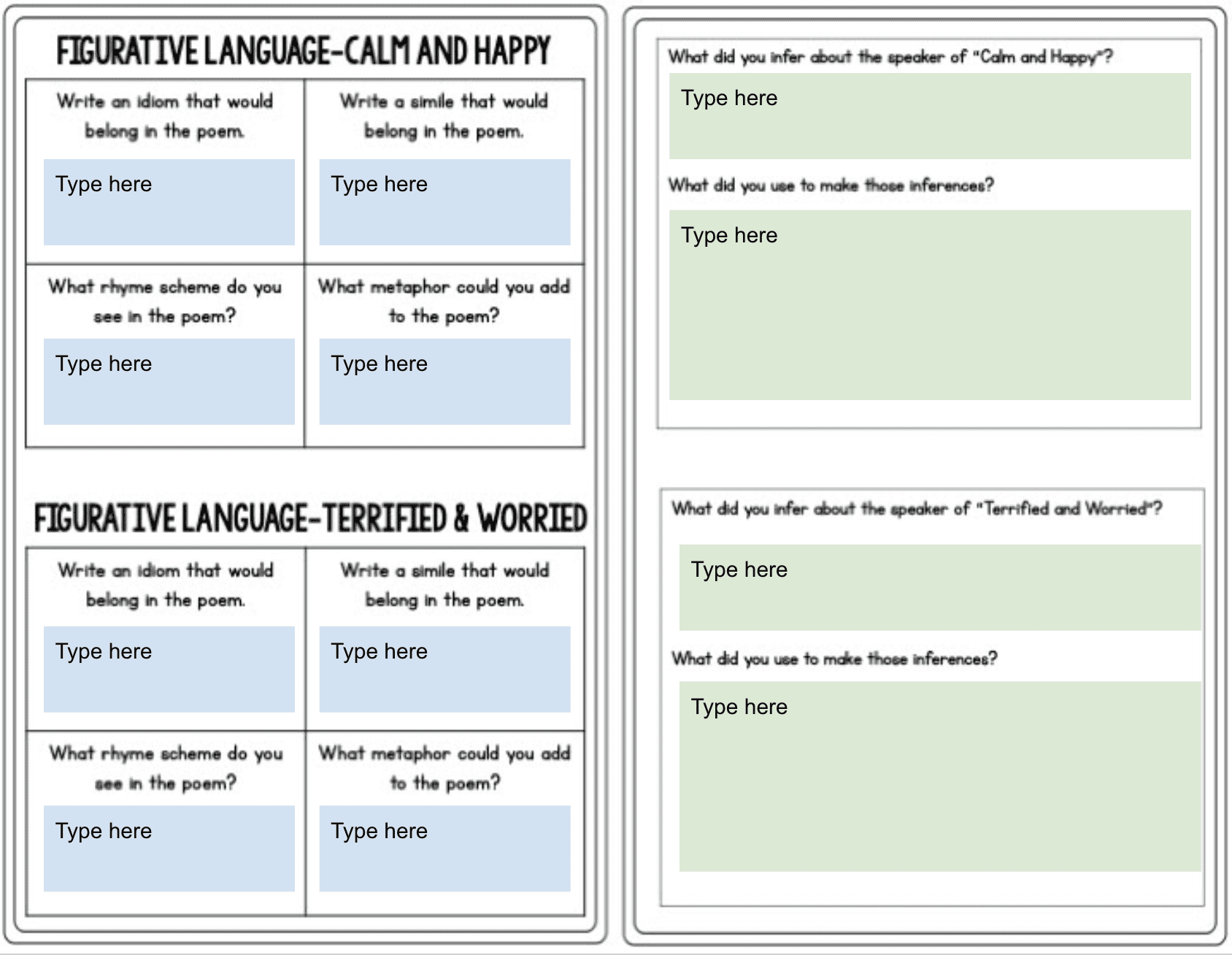 In the final activity, students answer two paired comprehension questions that require students combine their understanding from both of the passages.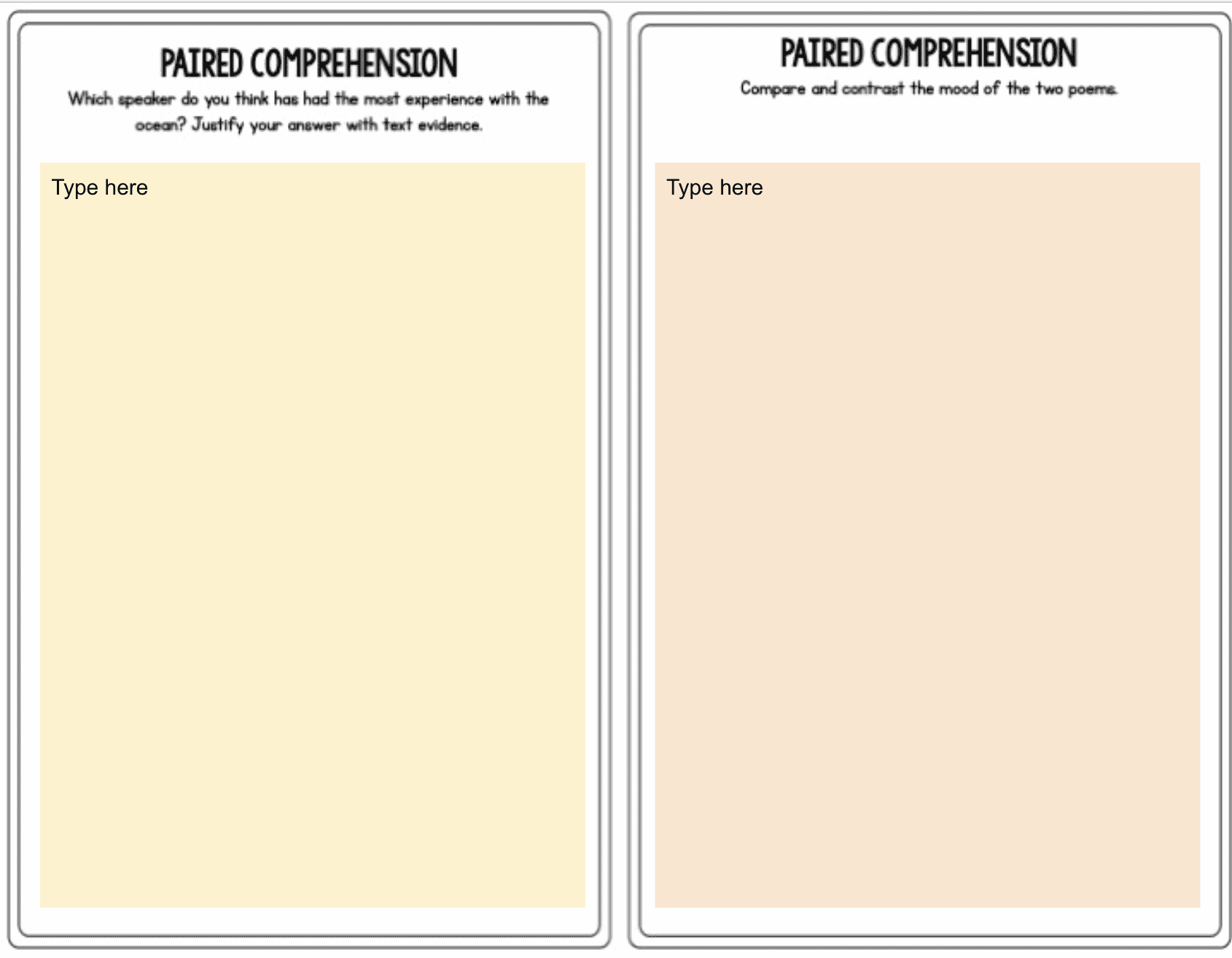 There are five sets of poems in this paired passage resource, so I plan to follow this same procedure for the following four weeks. You can find the paired poems/passages on my TpT store.
Writing
My writing instruction will be quite different from what my students are used to. In fact, I think this (other than science and social studies) will be the biggest academic change. I don't want to tackle fictional narratives remotely. It's just too much for my students, their parents, and me! Instead, we're going to review the basics.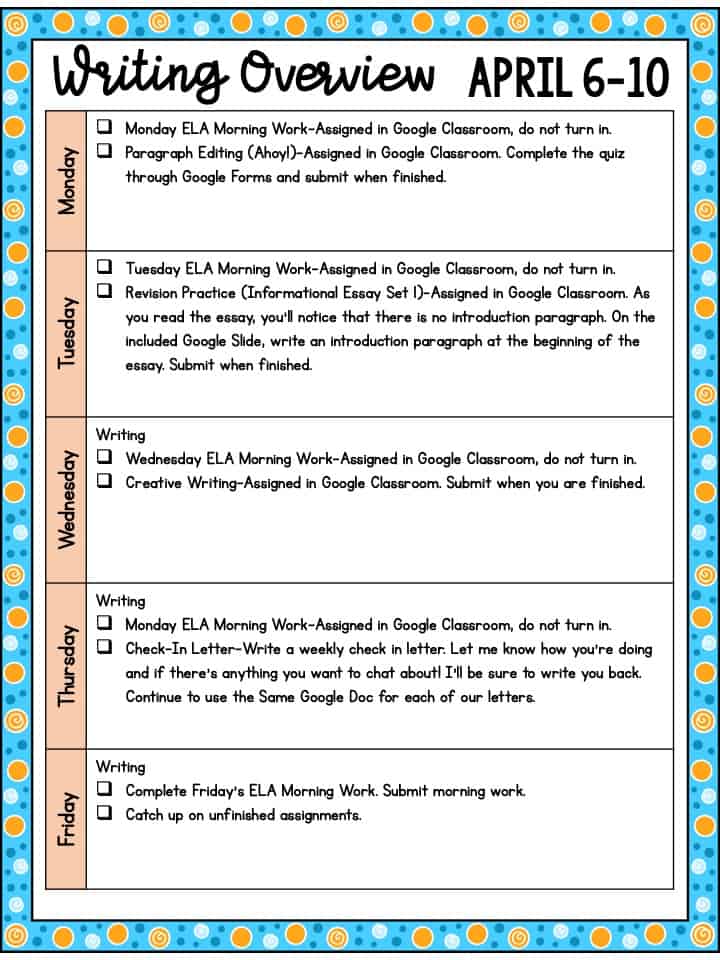 Grammar Review
Each day will begin with a VERY short grammar review. This is what we used as our morning work during the school year. You can find this resource for teaching language arts/grammar on my TpT store.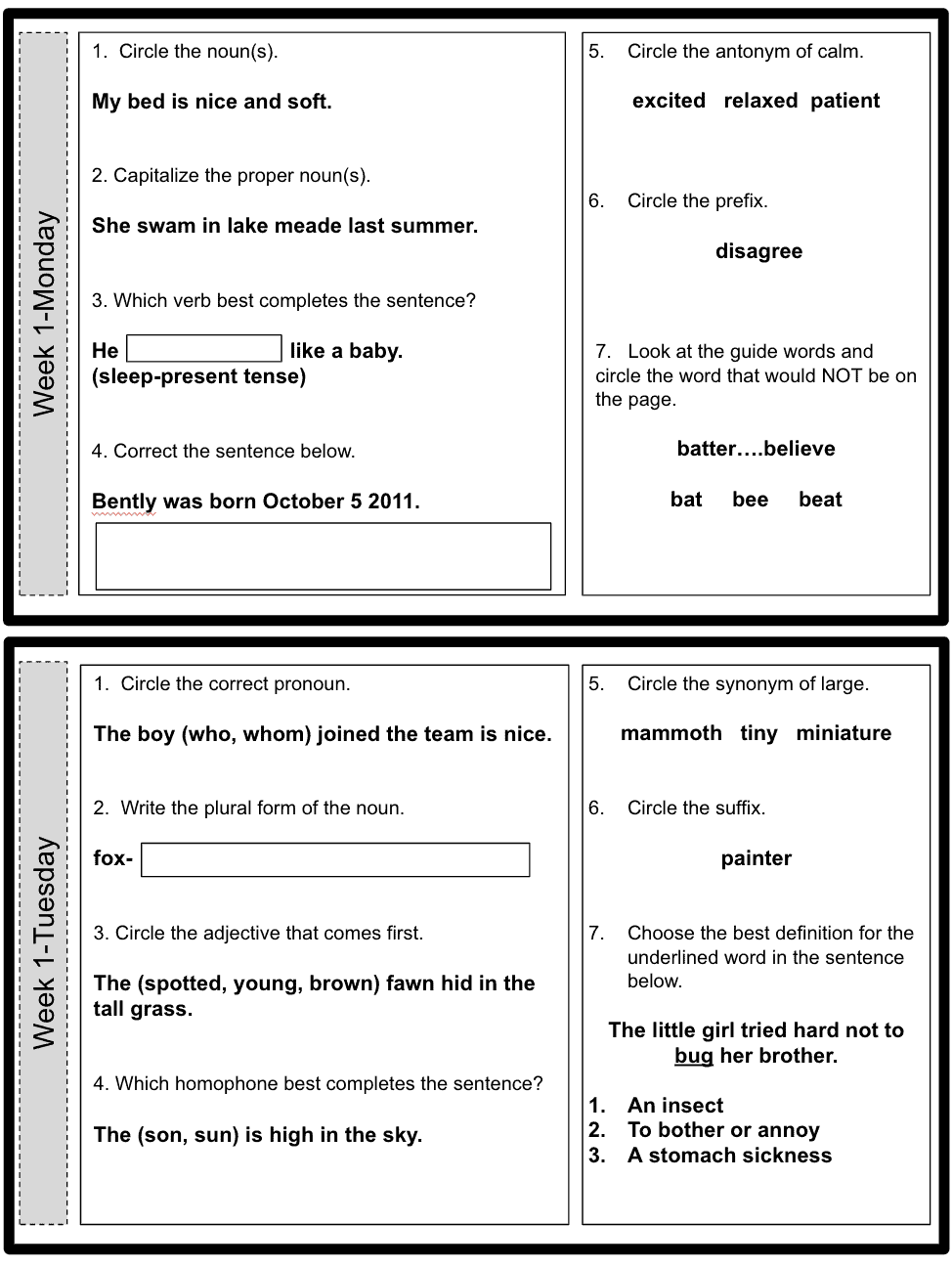 Paragraph Editing
On Mondays students will practice editing. This is one of my favorite editing resources, so as soon as we went to digital learning, I updated it. In the print version, students use color coding to identify and correct common errors. I found that was a bit complicated for a digital slide, so I have students complete the task through a Google Form. Plus, there is the added benefit of self grading! You can find the Paragraph Editing resource on my TpT store.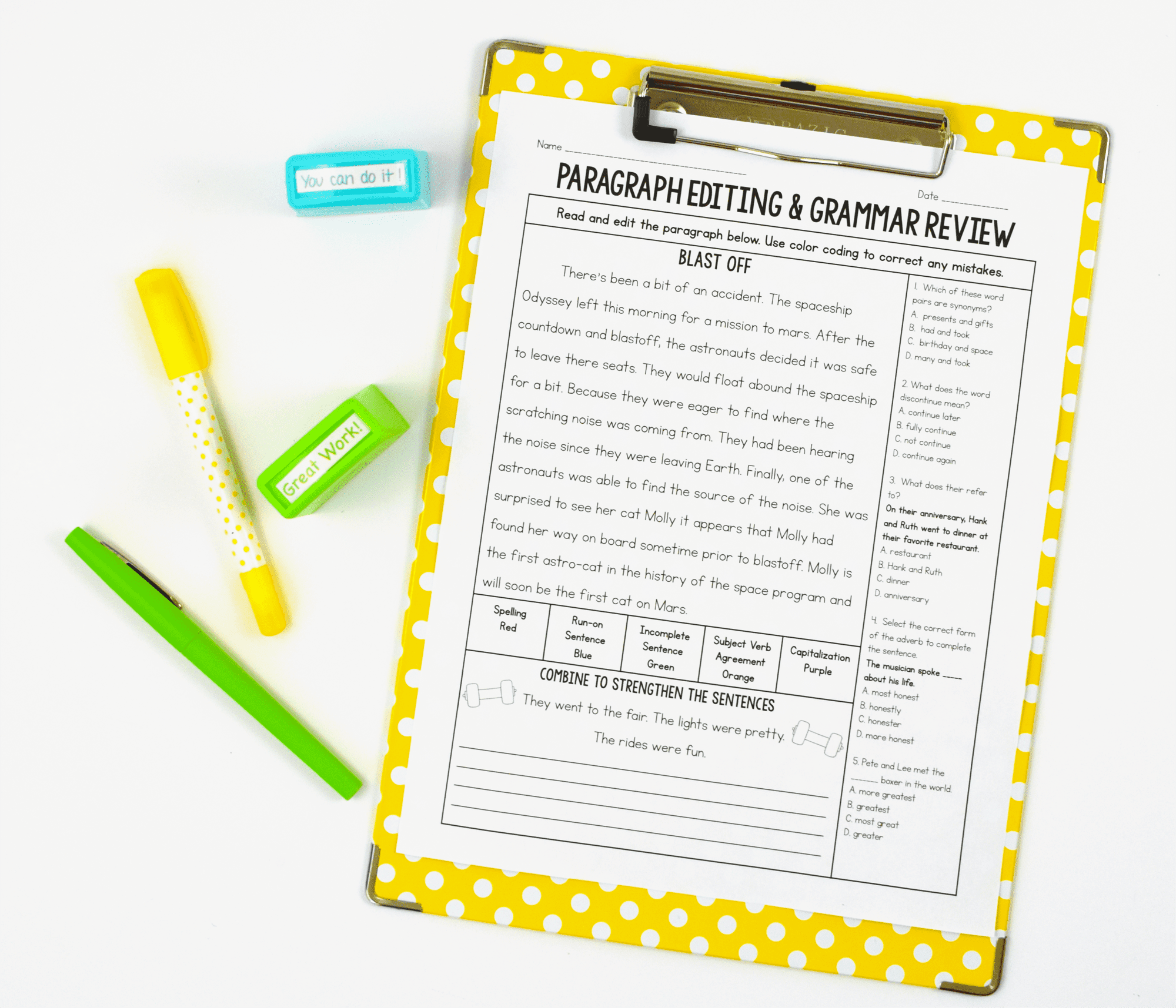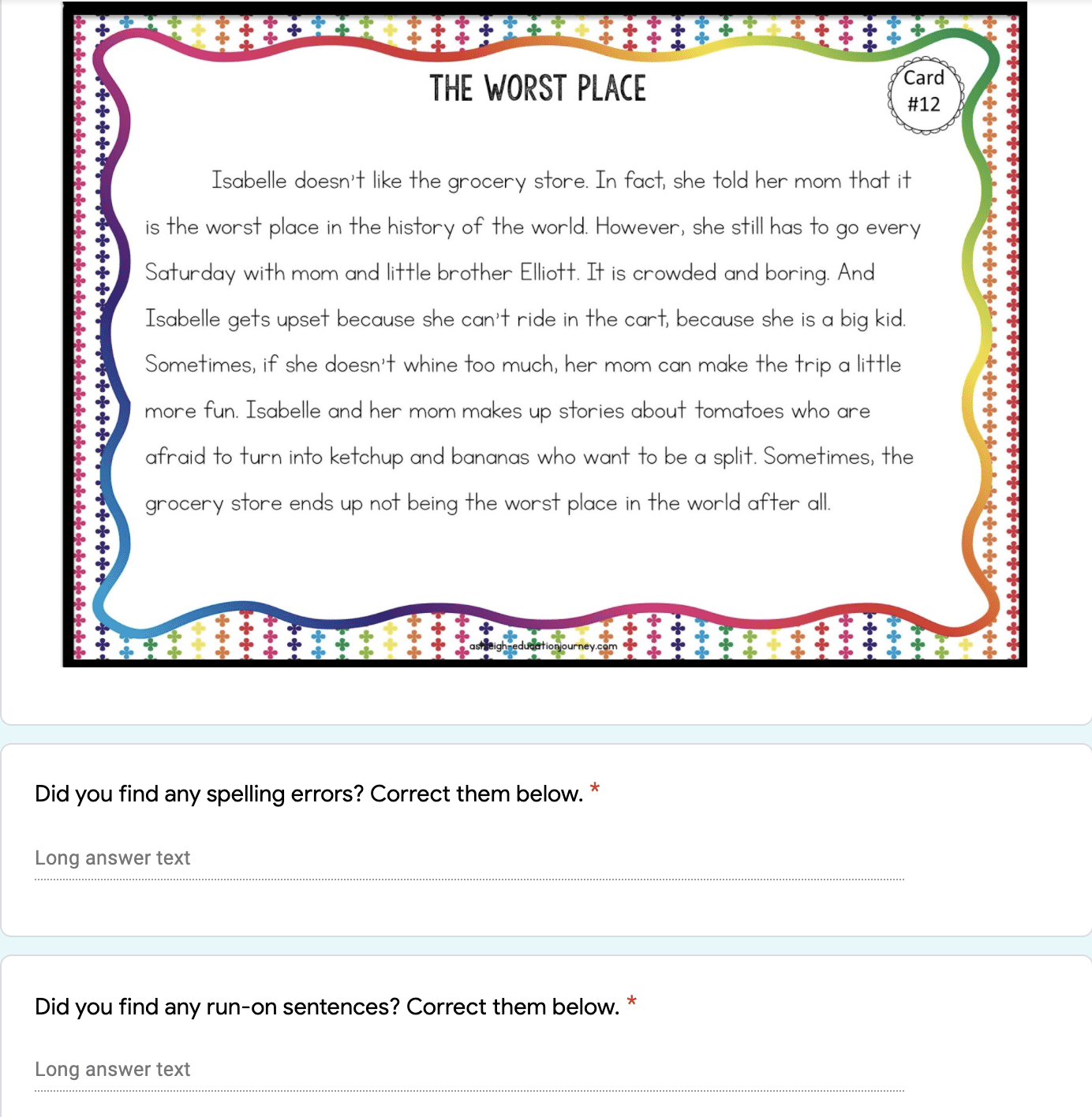 Revision Practice
We had just started using the print version of this revision resource before we started distance learning. In this resource, as students revise they will focus on one particular element of writing. For instance, in this assignment, students write an introduction to the essay on rocks. You can find this language arts resource on my TpT store.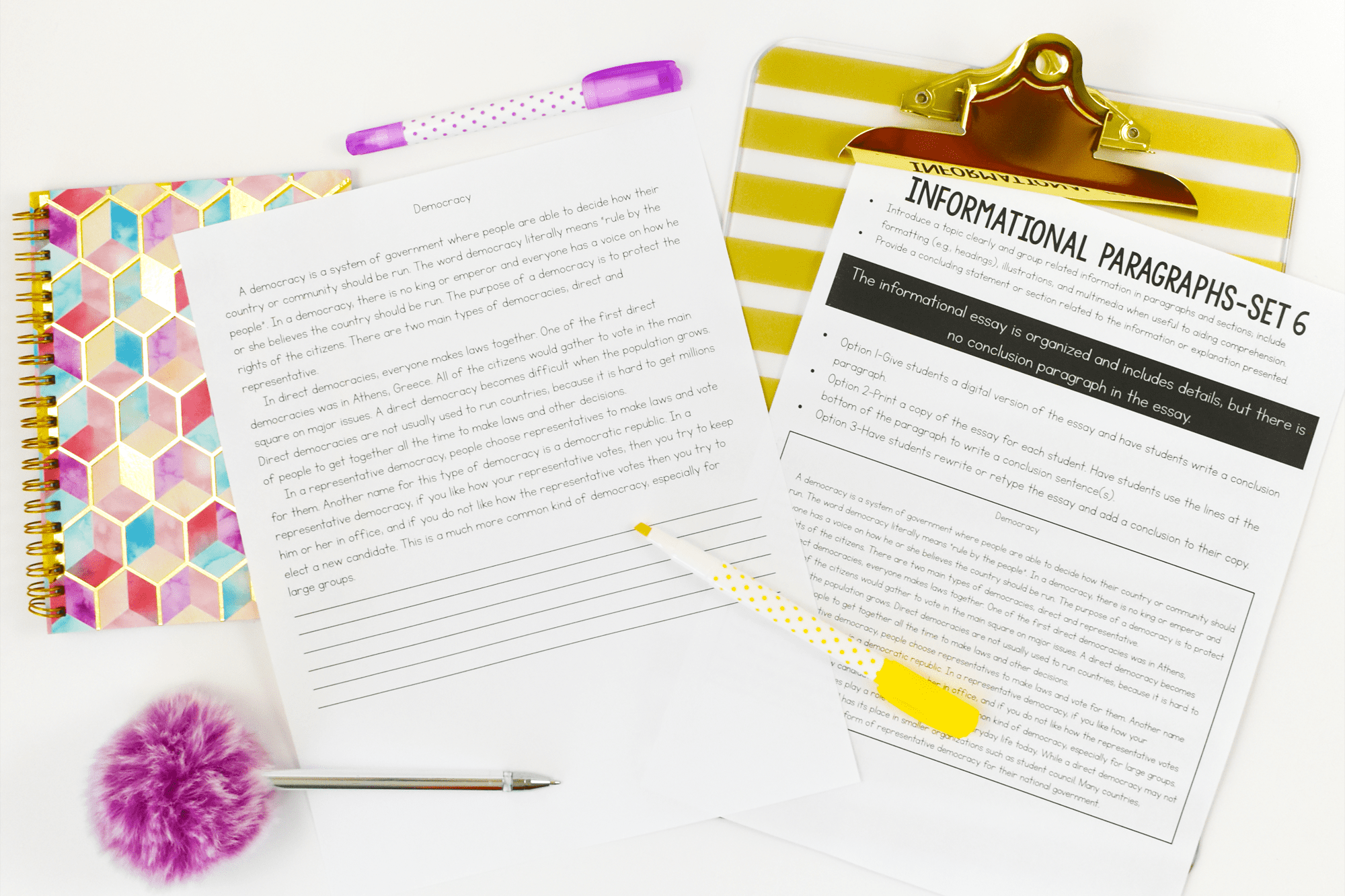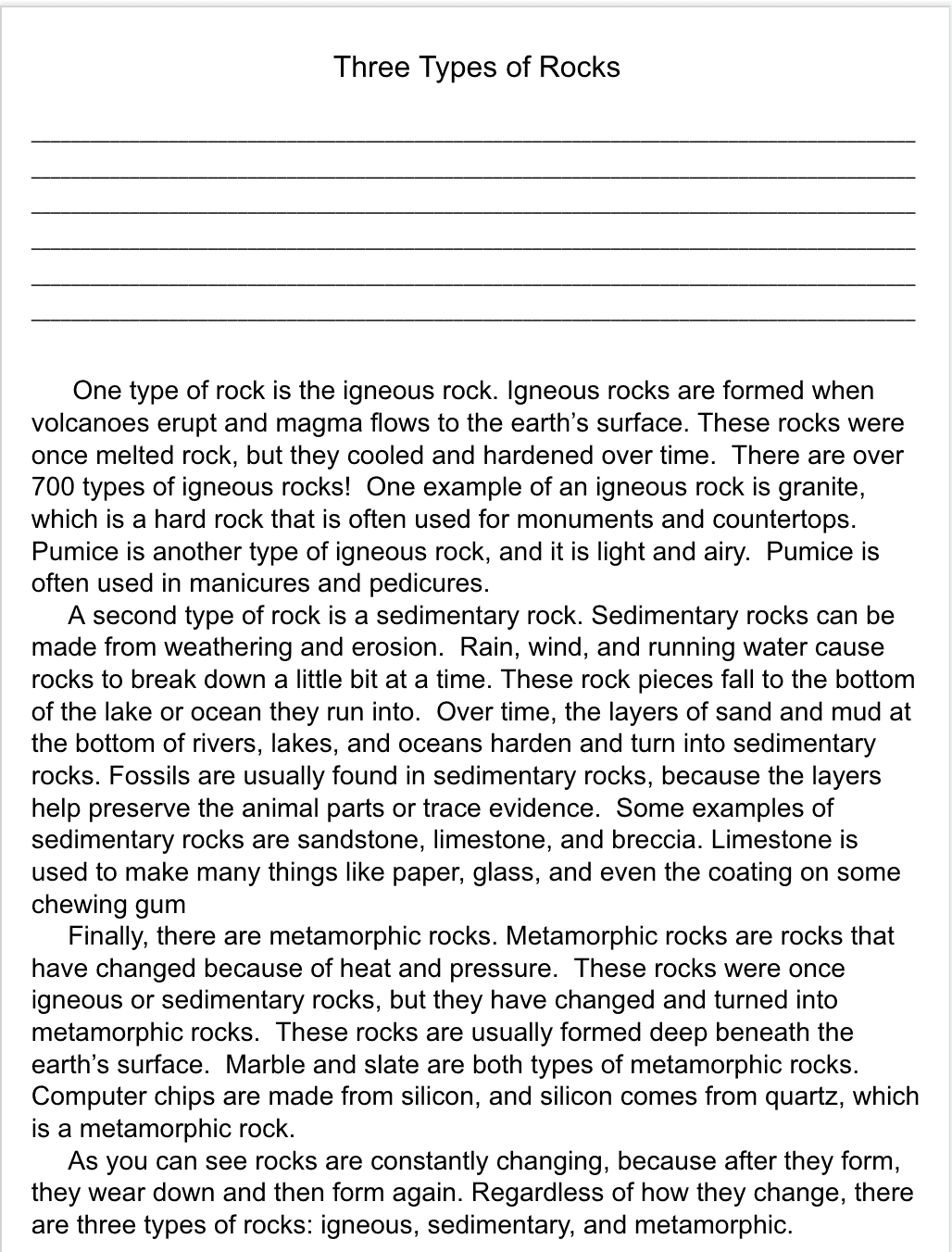 Creative Writing
We rarely get a chance to have fun with creative writing in class, so I'm assigning one creative writing prompt each week. I want to let me students have fun with it and really get creative. You can download an entire collection of language arts digital prompts here.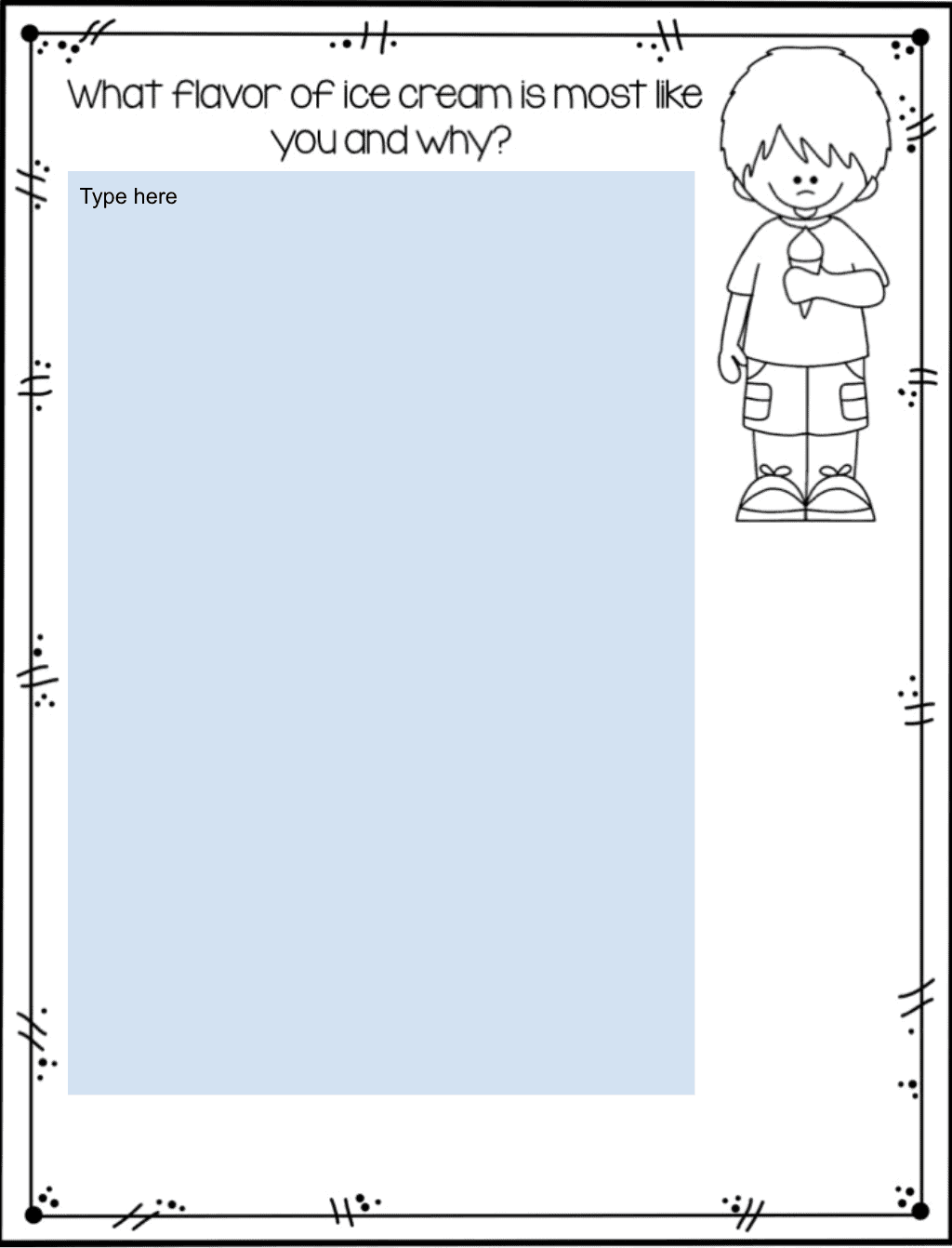 Weekly Letter
On Thursdays, students write me a check-in letter. This is incredibly informal. I want to give students the opportunity to really be honest and open with me, so I can continue to establish positive relationships with my students. Then, I write each student back over the weekend. This can be done without any special resource. Students simply started a new Google doc that was shared with me.
Language Arts Wrap-Up
There you have it! My comprehensive look at the tools and systems I'm using to continue teaching language arts with distance learning.