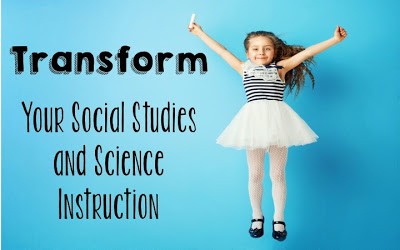 Sometimes I feel as if social studies and science are forgotten subjects. I know almost all of my professional development has been centered around language arts and math. I don't think I've ever sat in a meeting where we analyzed science data or developed hands-on social studies lessons. State and federal mandates and high stakes testing have created a battle for time in the classroom. This battle has resulted in minimizing social studies and science instruction to focus on tested areas.
I believe that social studies and science should be taught at every school and in every grade level. I agree that the content area topics should be reinforced and integrated into students' language arts curriculum, but I don't think that it's enough on its own. There should also be intentional social studies and science instruction.
I wish I could teach both subjects everyday, but I just don't have enough time to do it all, so I alternate between social studies and science. I typically teach by units, so I'll teach a social studies unit and then switch to a science unit.
The past couple of years I've been searching for a systematic approach to teaching these subjects that allows my students to actually enjoy the content, while at the same time prepares them for their state test. It's seems as if my number one enemy is time. Let's do the math. There are 36 weeks in a school year, but we test after 30 weeks. This means I have 30 weeks to teach all of our standards. If I'm alternating between social studies and science, then I have approximately 15 weeks to teach all of my standards for each content area. In social studies alone I'm teaching units on geography, ancient Greece, government, economics, and nine different famous Americans. That's on average three weeks per topic. That's a lot!
I promise, I'm getting to the point!
The past couple years, I've placed a great deal of time and energy into learning what works for social studies and science instruction. Now, I'm no expert or anything special, just a classroom teacher who loves teaching. I've made it my goal to transfer hearing groans when it was time for social studies or science to groans when we have to skip them.
I've written a series of blog posts that break down how I teach social studies and science in a systematic and scaffolded approach. This system can apply to almost any social studies or science standard in second through fifth grade. (I don't pretend to know anything about teaching K & 1 or middle school!)
I first frontload vocabulary by pre-teaching vocabulary terms. Then I actually present the content to my students through a variety of forms. We then explore the topic through learning activities. Our next step is for students to apply what they've learned, and our final step is a summative assessment. I will utilize formative assessments throughout the entire unit, as assessing should be an ongoing process.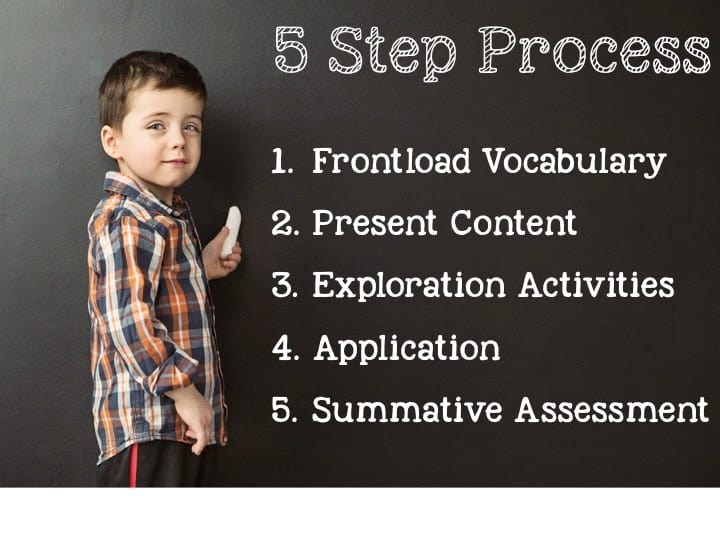 Over the next few weeks, I'll break apart each step of the process to share some of the strategies and tools I use in my social studies and science instruction. I'd love your input and feedback so that we can learn together.