Returning to school for face-to-face instruction after a significant time out of the physical classroom can be a bit daunting. Returning during a pandemic compounds the worries and stress to whole new levels.
Like most of you, my last day present with students was March 13, 2020. After ten weeks of virtual instruction and then summer break, I returned to school as a face-to-face teacher. To be honest, I wasn't sure it was going to work. There were so many unanswered questions and unaddressed fears.
Fortunately, the year has been better than I ever imagined. I'm not saying that it's been without its issues and hiccups, but with the right support, it's definitely manageable-even enjoyable. In this post, I've shared some of the lessons I've learned as I transitioned back to face-to-face instruction.
Pacing is Different with Face-to-Face Instruction
When you compare face-to-face instruction with virtual instruction, it's amazing at how much faster you can get things done in person. It's so much easier to introduce and teach concepts in person. Personally, I grade assignments on paper 100 times faster than assignments on the computer.
However, when you compare the pacing of your day to previous "normal" years, the pacing is so much slower. I found that my students needed time to transition into school mode. Students will likely lack stamina and will need frequent breaks. Just like we had to teach students how to work virtually, they need refreshing on how to work in person. Academics aside, you won't pick up where you left off.
Adaptable
The good news is that students, and teachers, are incredibly adaptable. For the most part, they are all so happy to be back in school that they are more than willing to adjust to new routines. Things that I thought would take too long or be a major inconvenience turned into complete non-issues. They've adapted to new health and safety procedures to the point of you almost forget the procedures are there. In fact, I plan to maintain some of these changes even after things are "normal".
Rows
I absolutely did not want to have my students sit in rows, but that was needed for distancing. I had to remove a lot of extra furniture from my classroom seeing my room set-up for the first day of school was pretty depressing.
However, halfway through the school year, my students are still claiming that they love sitting in rows. That blew my mind. I thought my kids would think I was old-school or boring by having them sit in rows, but they completely disagree with that. They love having their own personal space. I have definitely had much less behavior issues with students sitting in rows too.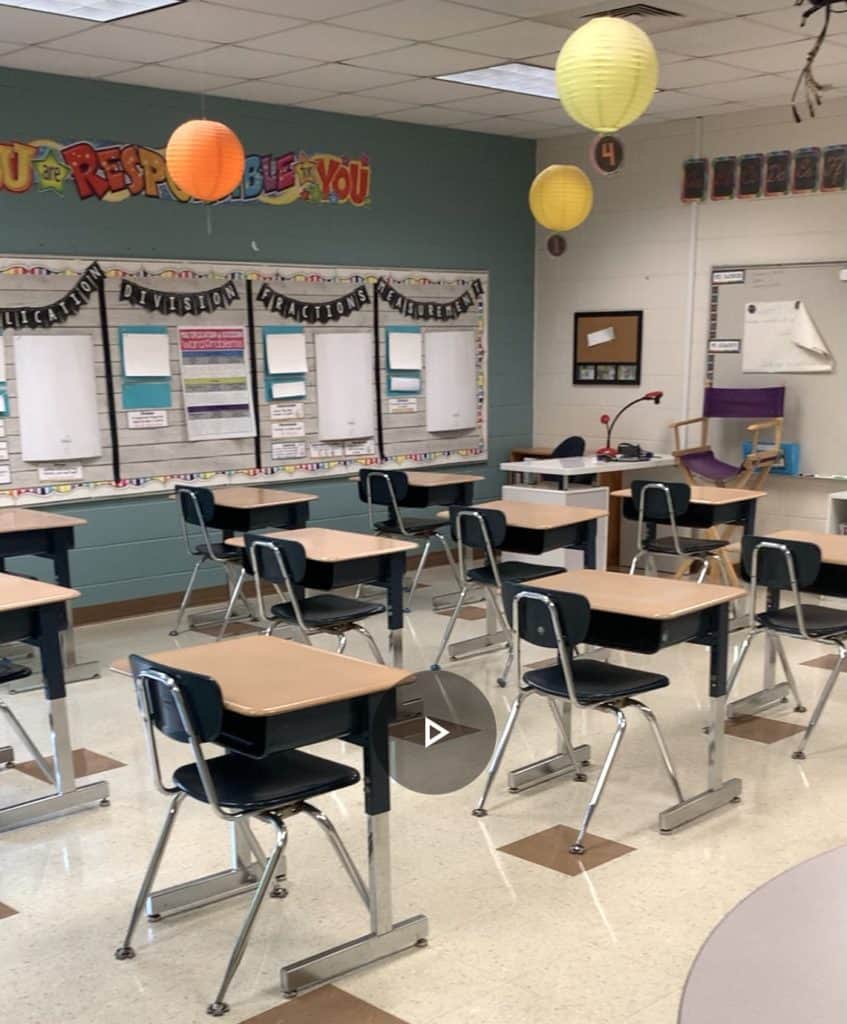 Since I wasn't sure if this was just my class or if this was a common theme with students, I reached out about rows in my Upper Elementary Facebook Group and literally hundreds of teachers had noticed the same thing.
Having students sit in rows definitely takes up more floor space, and I miss some of my tables. But, if I have a small enough class size next year, I may choose to have students sit in rows. It doesn't seem trendy or popular, but I have to take my students into account.
Lunch
I love eating lunch in the classroom. I never, ever thought I'd say those words, but it's true! My class prefers it to eating in the cafeteria too. It's a relaxed and peaceful part of the day. I show a video while students eat, and that keeps the noise down. Right now, we're working our way through Wayside Stories on YouTube.
Plus, after 18 years of teaching, I eat freakishly fast. That means I get about 20-25 minutes of work time in my room that I normally wouldn't have. We've had breakfast in the classroom for years, so the actual logistics of getting our lunches and throwing them away wasn't a big adjustment for us.
Intangibles
There's no doubt about it, the intangibles are what make teaching fun. I always say that teaching virtually is like having to do all of the hard work without the fun. I had no idea just how much I missed being physically present with students until I was back in the classroom.
You can absolutely form relationships virtually and develop classroom communication through distance learning. It's just so much easier when you're doing face-to-face instruction. I think I'm a teacher that really feeds off the vibes and feedback my students give, so I feel much more confident in-person. It's so hard to teach without that easy back and forth dialogue.
Plan for Both
While part of me would like to take a looooonnnnngggg break from Google Classroom and digital lessons, it's not time for that yet. More than likely you'll have students still learning virtually. We have a designated teacher for virtual instruction, but I'm still responsible for teaching my students who are quarantined or who can't be at school for other reasons. The way I present content may be different in-person and virtually, but I do try to make sure there is a digital option for my lessons.
Also, there are a few times when I prefer the digital lesson over the traditional lesson, so it's good to have options. I hope to never be 100% digital again, but I think it will continue to play a role in my instruction.
Teamwork
This transition won't work without teamwork and flexibility. Some of the changes that we have made wouldn't be possible without cooperation from coworkers. For example, my teaching partner and I have a whole cleaning routine that we've gotten down to an art.  But, if we each tried it on our own, it wouldn't be realistic. More than likely, you won't be able to do what you've always done-at least not in every area. Don't feel like you have to do everything on your own, and don't be afraid to reach out.
Group Work
I was so afraid of having to become a skill and drill teacher without any fun. That didn't happen at all. Yes, I've had to skip some lessons, but I didn't have to completely do away with games and group/partner work. There was a need for modifications, but it can still happen. You may need more manipulatives than usual or to give both partners their own die, so they're not sharing but there are things you can do.
Being six feet way from each other shouldn't be an issue either. Students can (and will) absolutely continue to talk to each other 6-feet away.
Face-to-Face Instruction Q&As
What are your questions about transitioning back to face-to-face instruction? I'm happy to share my experiences. If I don't have answers or first-hand experience, I can reach out to the Upper Elementary Facebook community.
How do you handle supplies? Students have their own supplies. I got everyone a pencil pouch, and they keep their things in pouch. I've liked this way better than community supplies, so I will continue this after things go back to normal.
How is your classroom library handled or do you have one? Only one student at a time chooses a book. When a student finishes a book, it goes into the "Quarantine Basket". I've been surprised at how much I like this change too. I have MUCH less trouble with students getting up and down to switch books that never never actually read. Plus, I've never had such a neat classroom library.
How is group work done, or are you doing any group work at all? We have tiled floors and each tile is a 1-foot square, so we're constantly checking to make sure we're 6 tiles apart. Each student has their own recording sheet, and if we're using something like dice, each child has their own dice. This too is working very well. However, I know it would be much more challenging if I had a large class.
How are you doing guided reading groups? This is a hard one, and I'm not confident that I've got this one right…but I'm trying. I don't meet with my higher groups the way I should, but I try to meet with small groups of 3 or less. This lets us literally push back from the table and keep some space between us at my small group table.
How are you keeping your students as separated as possible? Lots of reminders and visuals. We've adapted counting the tiles on the floor as our visual. I'm also careful not to turn it into a power struggle. I team teach, so my students go to my partner for 90 minutes a day. To be allowed to do this, we have the same exact seating arrangement in both classes (as well as their activity class and lunch). This makes contact tracing so much easier. When we switch classes, we spray the desks with Rejuvinal.
How are you mentally handling all the changes, and what advice can you give me to handle all the changes? I'll link a blog post for this one.
How are papers handed out/taken up? Do you still send home daily folders? I sanitize my hands before I hand out their papers. They turn their papers into the tray like they normally world. I return their work into their cubby/mailbox.
Are you using incentives in your classes, and if so what and how is it working? We are a PBIS school so any and all positive interactions with students are encouraged. I don't really use any incentives. However, I haven't needed incentives much this year.