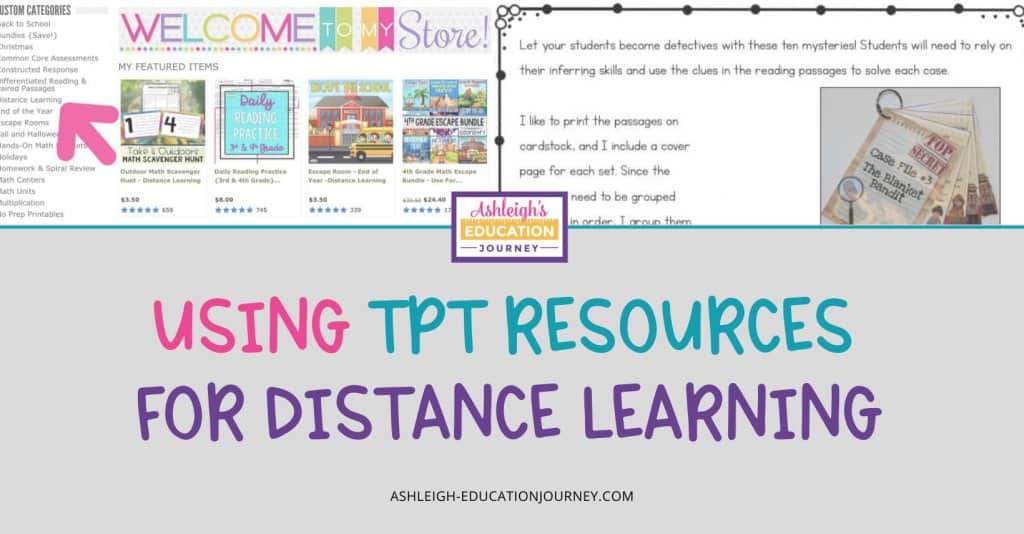 Isn't it frustrating when you spend money on something, only to later realize that you won't be able to use it? Just tonight I made my daughter try on a shirt I ordered for her birthday. I got it on sale, so I can't return it. Naturally, it was too small, so I'll end up having to give it away. I don't want you to have a similar experience when trying to use any of my TpT resources for distance learning. You're already working hard enough as it is. An extra headache is the last thing you need, so I've written a blog post that breaks down how you can use my print resources digitally for distance learning.
Make Sure It's Available for Distance Learning
As of right now, I have 401 resources in my TpT Store. Of those resources, 100 are updated for distance learning. In a perfect world, I'd have everything ready for you, but updating resources is a very time consuming process. On second thought, in a perfect world, you wouldn't need distance learning resources. 
When I update my resources, I include the digital version within the print version. There is no need to make any additional purchases. You'll have access to both the print and digital resource. I understand how overwhelming and emotionally draining these times are, so that's my way to offering you a little extra support.
One way to find a digital resource (or to determine if a resource is available digitally) is to add "distance learning" to your search. I've added that phrase to many of my resources that are available for distance learning. In my personal store all things with distance learning in the title are available digitally. However, keep in my that when searching TpT as a whole, just because "distance learning" is in the title doesn't mean that it is offered as a digital resource. It may be a printable resource that is designed to be printed and sent home.

Another great way to discover digital resources is to select "Distance Learning" in the Custom Categories. That will allow you to see all of my distance learning and digital resources.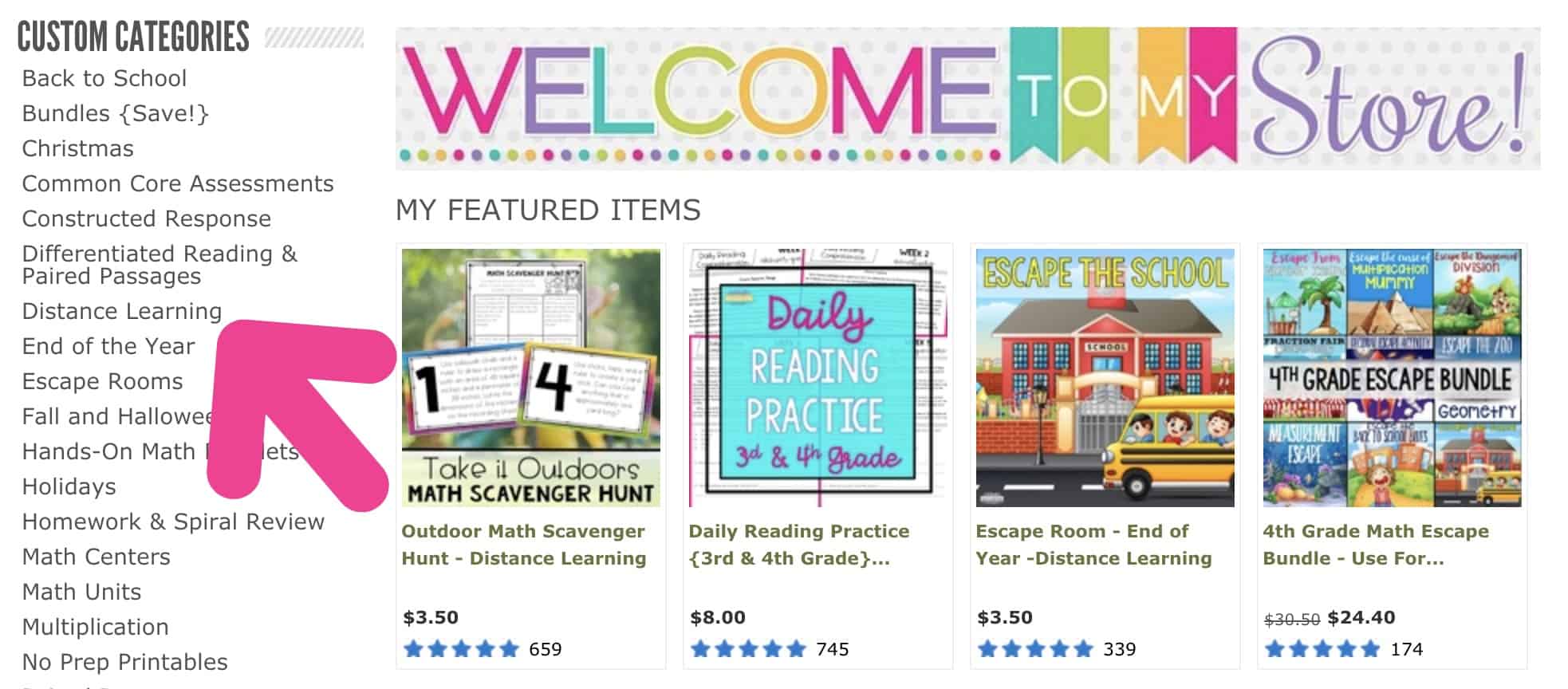 If you searching outside my store (or inside), and you want to be certain that your search results are all available for digital use, search by Resource Type. You may have to expand your options by clicking "See All Resource Types". Then select Google Apps, and yes, you can use these with Microsoft.

All I See Is A PDF
Once you open the resource, you may be surprised to see a "normal" PDF. Don't forget, you're getting the print version AND the digital version. To keep everything in one place, I've included a link that will give you digital access. About 95% of the time, the link is at the bottom of the second page. I'll be the first to admit that I don't love the way the long link looks. I'd much rather shorten it or insert it in the file. But, I want you to have and see the exact link, and I've found that when I try to get cute with the link it's much more likely to mess up later on. I did change the link of the picture a bit.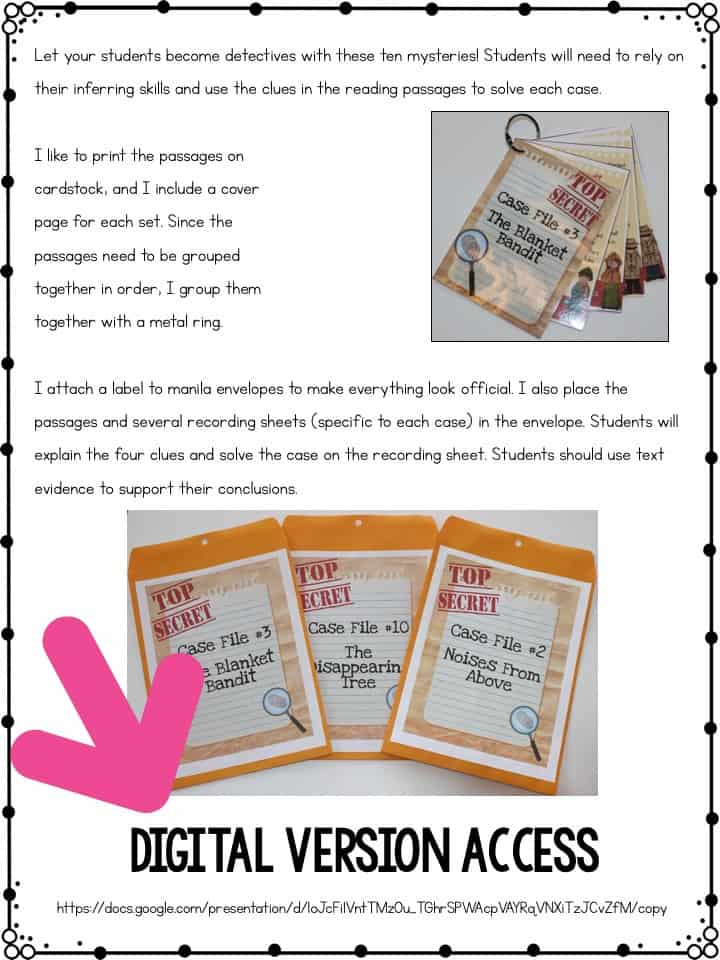 If I included Google Forms, each form is saved as a separate file. Forms are quite different from Slides, so I can't combine each of the forms into one link. However, the advantage to a form is that they can grade a little for you!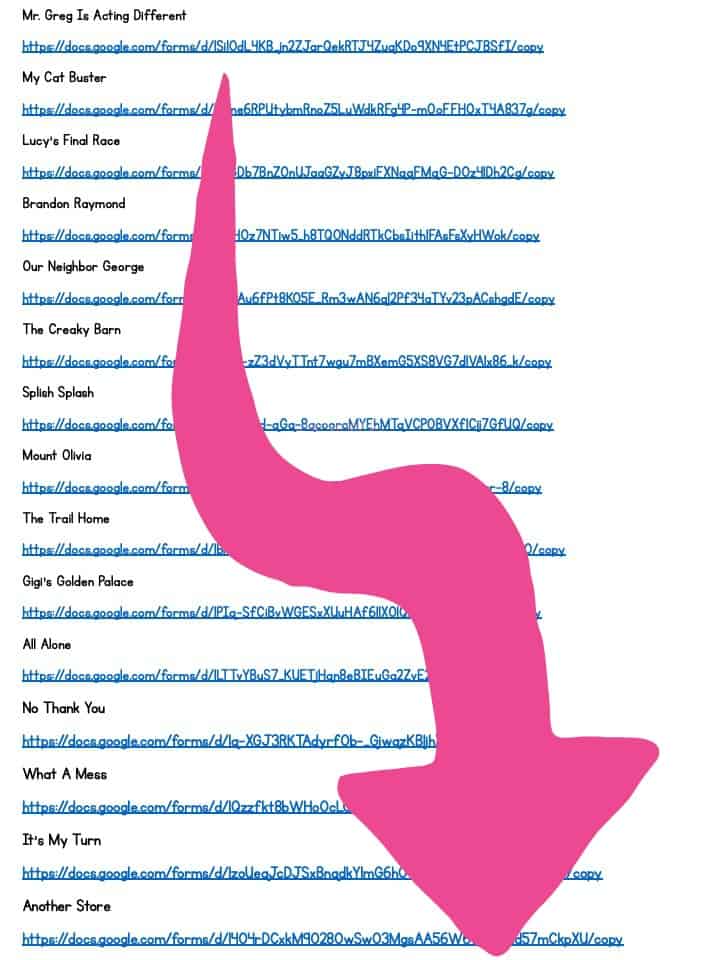 How Do I Get The Resource To My Google Drive?
When you click the link, you'll be asked if you would like to make a copy of the file. The reason you make your own copy is so that the original file isn't modified in any way.

It will automatically make a copy that belongs to you. It will probably rename the file as Copy of Copy of… You can rename the file to whatever you'd like.

To make sure the digital file is in your Google Drive account, click on the triangle with a + symbol. One of my biggest problems is remembering which Google account I'm currently using. I have a personal account, school account, and my daughter uses her school account! Anytime you can't find something, be sure to think about what Google account you saved it to.

Once the file is in your Google Drive, you're all set. From what I've heard, the majority of teachers are using Google Classroom. However, I have talked with many teachers using Microsoft Teams. One of my awesome customers made this YouTube video that walks you through how to use these resources with Microsoft. You can find the video here.
To assign on Google Classroom, you click "Classwork" and then "Create".

You'll name the assignment and give students directions. To include the resource to Google Classroom, click "Add". Then on the drop-down menu, choose "Google Drive".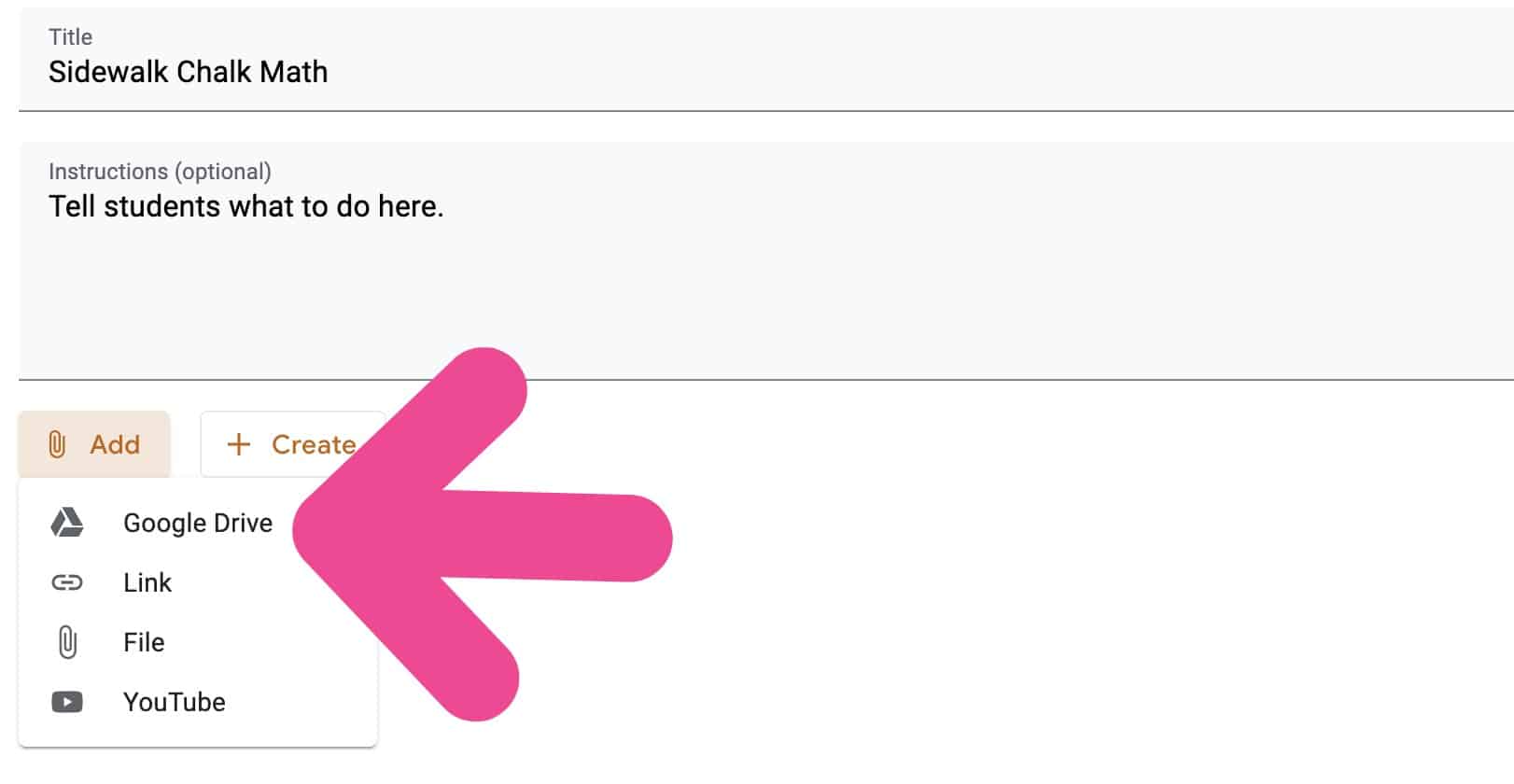 A pop-up will open with your files. My typically defaults to recent, but you can search for files as needed. Select the file you want and select "Add".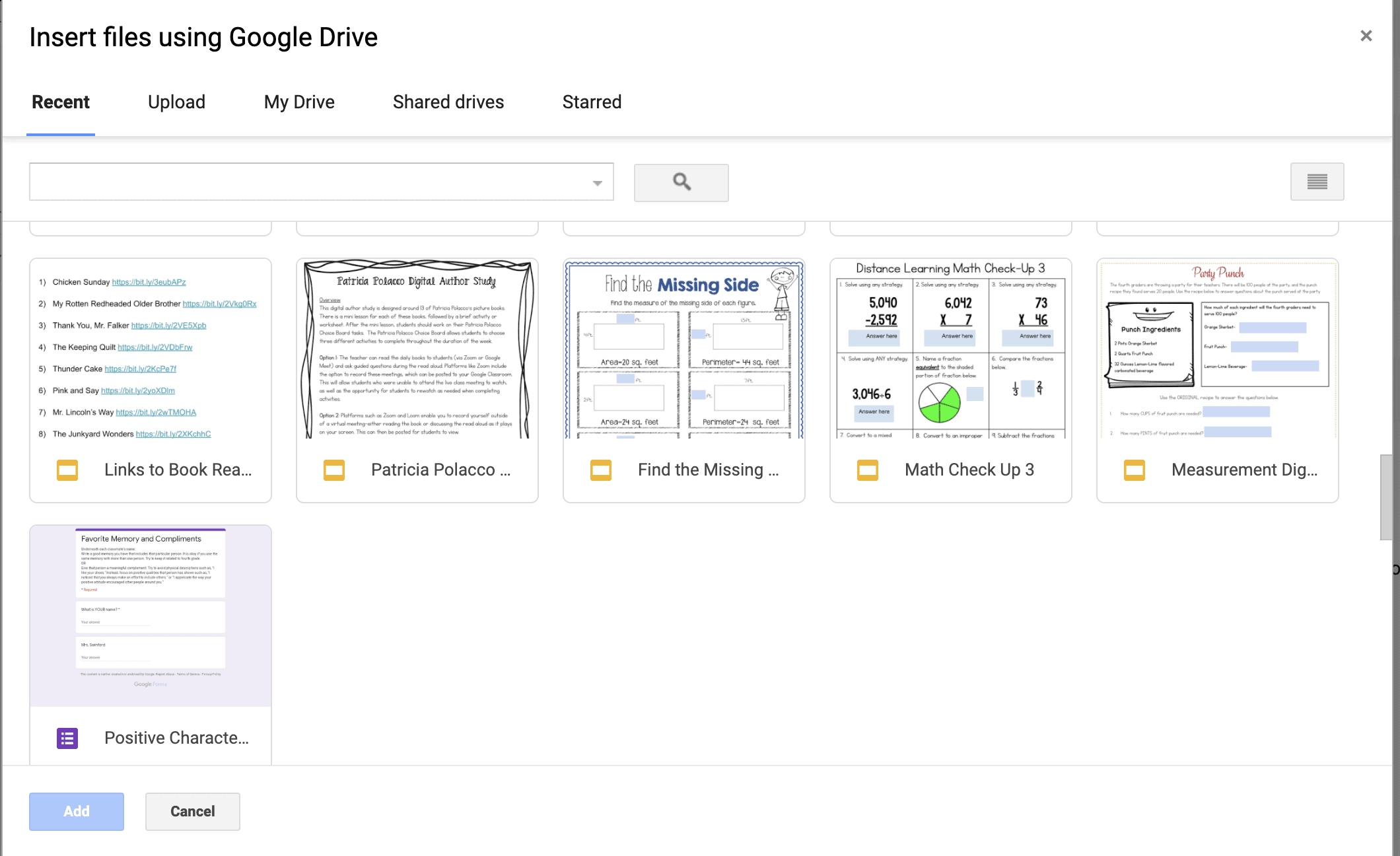 Of course, I rarely want to assign an entire file, but that's a super quick and easy fix. This video shares exactly what to do.
I know that seems like a lot, but you can truly do all of the steps above in less than a minute!
The one last step is SO important, and I've skipped it SO many times! Be sure to choose "Make a copy for each student". Otherwise, it just won't work. You can assign it to every student or select students, determine the number of points (if any), and give a due date.

When you finally press assign, it's ready to go!
What about using Escape Rooms for Distance Learning?
There is an optional extra step in the escape room lessons. You can edit the Google Form. I've walked you through the entire process of using a digital escape room here.
If you have any other questions about digital resources, please let me know! I'm happy to add them to this post.
You can use this post as a starting place or home base for distance learning. I've given an overview of my distance learning posts there.