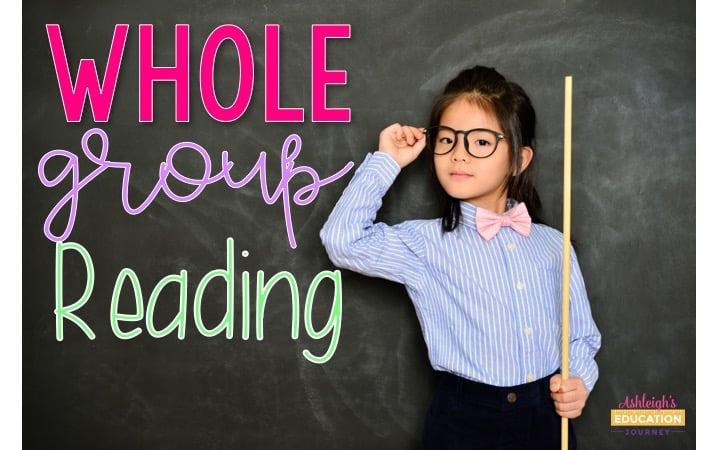 Somehow it seems like anything whole group has gotten a bad reputation, but it doesn't have to be a negative instructional strategy. Do I believe in differentiation? Absolutely! Do I implement guided reading and guided group reading? You bet! However, there is also a time and place in my classroom for whole group reading lessons.
I have very little experience using a basal textbook. The vast majority of my teaching career we didn't have any textbooks for any subject, so I'm used to doing things on my own. When my district did adopt a reading curriculum, I tried to implement the curriculum, but I found that there was far too much whole group instruction. Instead, I preferred teaching guided reading through the reading workshop model. If you're already familiar with reading workshop, you can skip the next couple of paragraphs. If not, keep reading for an extremely brief overview.
Group Reading Workshop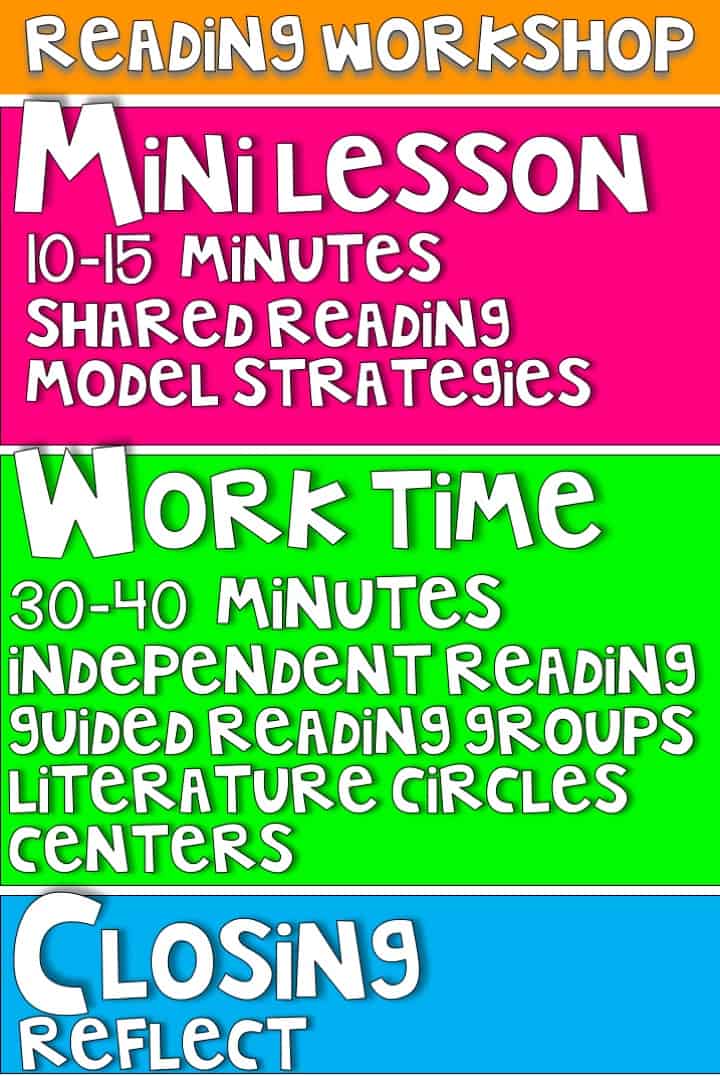 Reading workshop begins with a mini-lesson that lasts approximately 15 minutes. During each mini-lesson, the teacher introduces a specific concept or teaching point. During this time, teacher will explicitly model or demonstrate the skill for the students, and students get a chance to practice the skill or strategy on their own or with a partner. I love using mentor texts when modeling reading strategies or when teaching students to notice literary devices and story elements.
Ideally, I would have already read the mentor text before my mini lesson. However, this doesn't always work with my schedule. In some cases I have our read-aloud right before our mini lesson, so I can read the book in its entirety before introducing our teaching point. I will then reread sections and refer to specific parts of the text during the mini lesson.
Work Time
After the mini lesson is what I refer to as work time, although there are many different names for this part of the lesson. This time is the biggest block of reading workshop, and it is when students are completing a variety of activities. For the most part, my students are reading self-selected texts at their independent level. Students will also participate in guided reading groups, where they meet with the teacher for additional reading instruction based on their specific needs. Some teachers also use this time for literature circles, book clubs, centers, and more. You can read more about my guided reading groups here.
The closing is a 5–10 minute time period in which students gather to reflect on their work as readers.  I reinforce the mini lesson, and I give students a chance to share how they applied the mini lesson to their independent reading.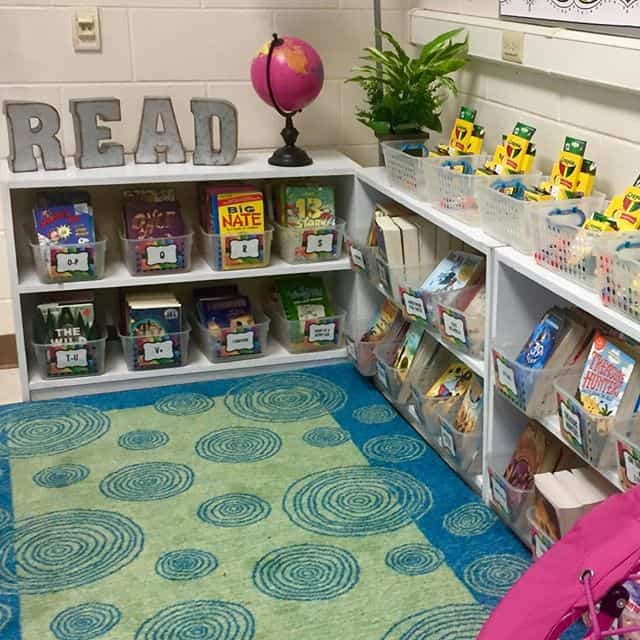 I primarily use whole group reading for my read alouds and mini lesson. Read alouds are
by far
my favorite part of the day. This is the time where I bond and connect with students, and this is also when many reluctant readers fall in love with reading. I use my read alouds to start discussions related to the focus skill or teaching target. For example if I was teaching about setting, I might read Crow Boy, and after reading the text we could discuss what the setting was and how the setting impacted Chichi's actions and motivations. This type of introductory mini lesson can apply to just about every reading standard. You can read more about mentor texts
here
.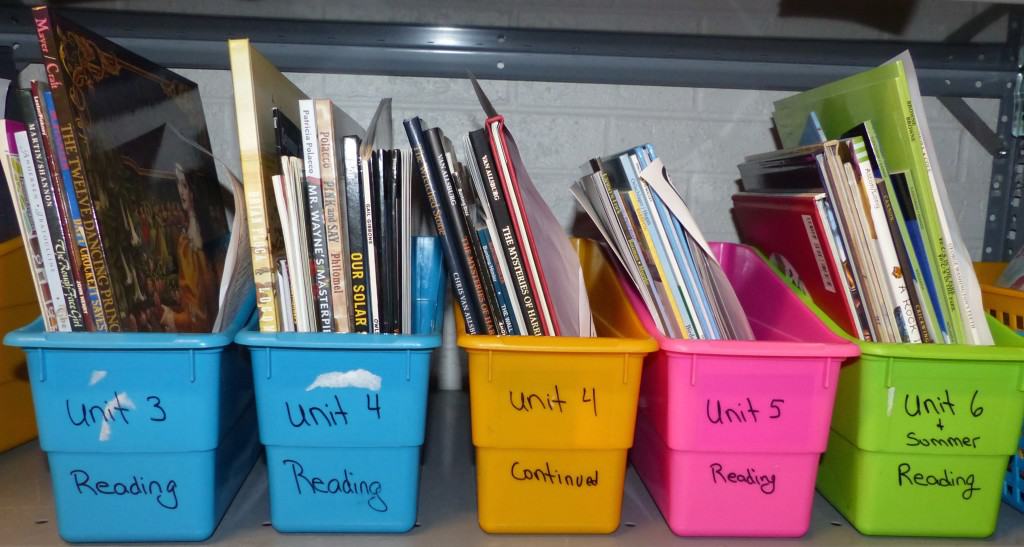 In a traditional read-aloud, the teacher reads to the whole class and introduces different types of literature and new concepts. A read aloud models fluent and expressive reading, develops comprehension and critical thinking strategies, and builds listening skills. A read aloud is typically conducted without interruption. In an interactive read aloud,  teachers model a particular comprehension strategy. While reading, the teacher will pause reading to model "thinking aloud" to demonstrate the thought processes that good readers do when reading text and add time for  students to  record their thinking withs post it notes or through think/pair/share activities.
I incorporate both chapter book read alouds and picture book read alouds into my day. Typically, I read chapter books just for the joy of reading, and I use picture books as read alouds for my mini lessons. I do not focus on the level of the text that I'm reading to students, because I'm the one reading the book. Instead, I focus on the content and quality of literature. I focus more on levels of books during my guided reading groups. While I prefer to use picture books for my mentor texts, you can certainly use chapter books. You can more on how to do that
here
.
When I'm teaching informational standards, I often use text that I've read in my science and social studies instruction. This shortens the time needed for my mini lesson, and it reinforces science and social studies topics. This also gives my students more guided practice time during their mini lesson, which is helpful with informational texts.
Each of my
Reading Workshop units
can easily be taught within this format. In fact, each lesson comes with a suggested mentor text specifically chosen for that particular standard and strategy. Like with any good reading program, the mentor texts are all high quality literature. You can substitute the mentor texts for different texts of your choice. I personally get tired of reading some books (while others I could read 100 times), so I did include an alternative mentor text list to give you even more flexibility.
Happy Reading!