The best way to introduce decimals (likely to 4th graders) is to teach lessons that connect fractions to decimals. That's one of the reasons I like to immediately follow my fraction unit with my decimal unit.
Like fractions, decimals are a topic that needs to be taught for conceptual understanding, as well as application of basic skills. Since we often introduce decimals in the second half of the year,  it can be tempting, to hurry through your decimal unit in order to "finish your curriculum" before state testing. But, students need opportunities to explore decimals with manipulatives, pictorial representations, and time to reason with the size and value of decimals in order to develop a deep understanding.
The lessons below can be found in my decimal unit here. Even if you don't use my unit, you'll find plenty of ideas and strategies for teaching decimals! At the beginning of a decimal unit, it's important to revisit the concept of our base-ten system. Especially focus on how the value of a digit is ten times greater in the place to the left.
You can use this place value pocket to give students interactive and hands-on practice.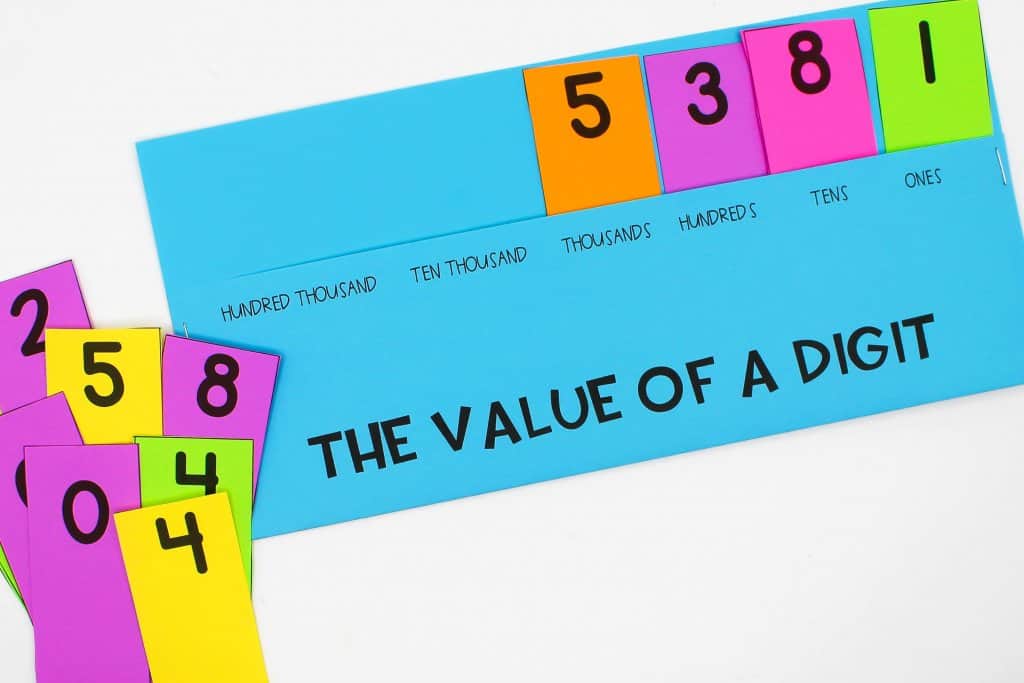 Students also need to learn the role of the decimal point. To illustrate this, I pass out a square and explain that the square represents one whole. I ask students if I can divide one by ten to have a smaller piece, which usually results in a feisty debate. After some student discussion, show students that one whole could be divided into ten smaller pieces by having students divide their square (whole) into ten equal pieces.
Students should think of a way to write that number as a fraction. Then, I ask if it is possible for to divide our tenth by ten to have even smaller pieces. Students should think of a way to write that number as a fraction. Use this opportunity to introduce the decimal point. The role of the decimal point is to designate the ones position. Caution: students often confuse decimals with negative numbers.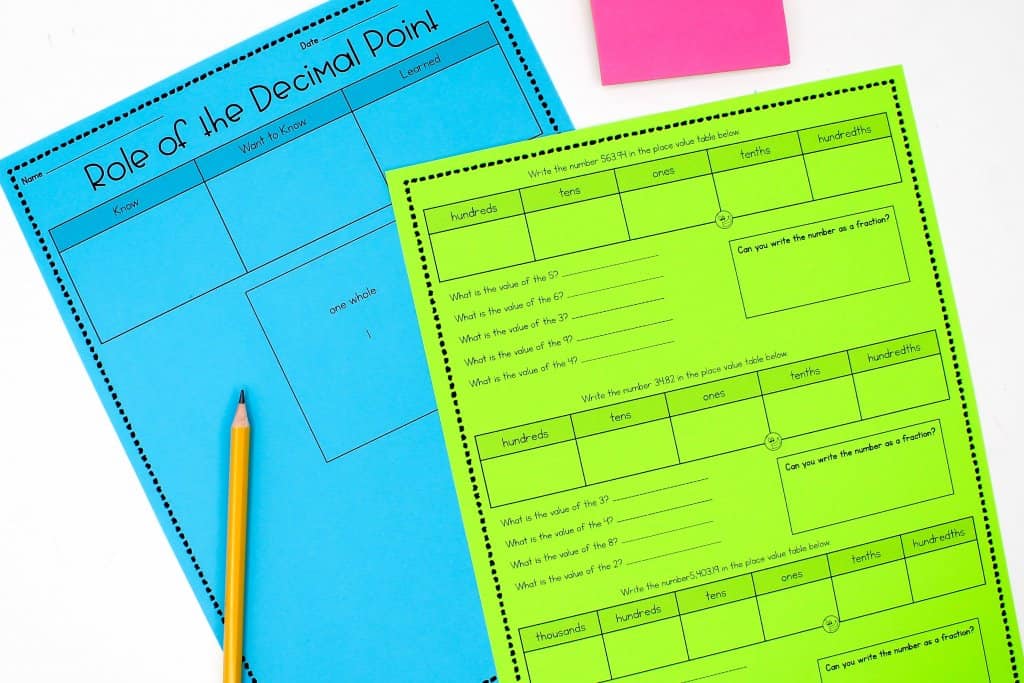 After students understand the role of the decimal point, they should learn how to represent decimals as fractions and fractions as decimals. You may want to start these lessons by using pictorial models, before moving to more abstract activities.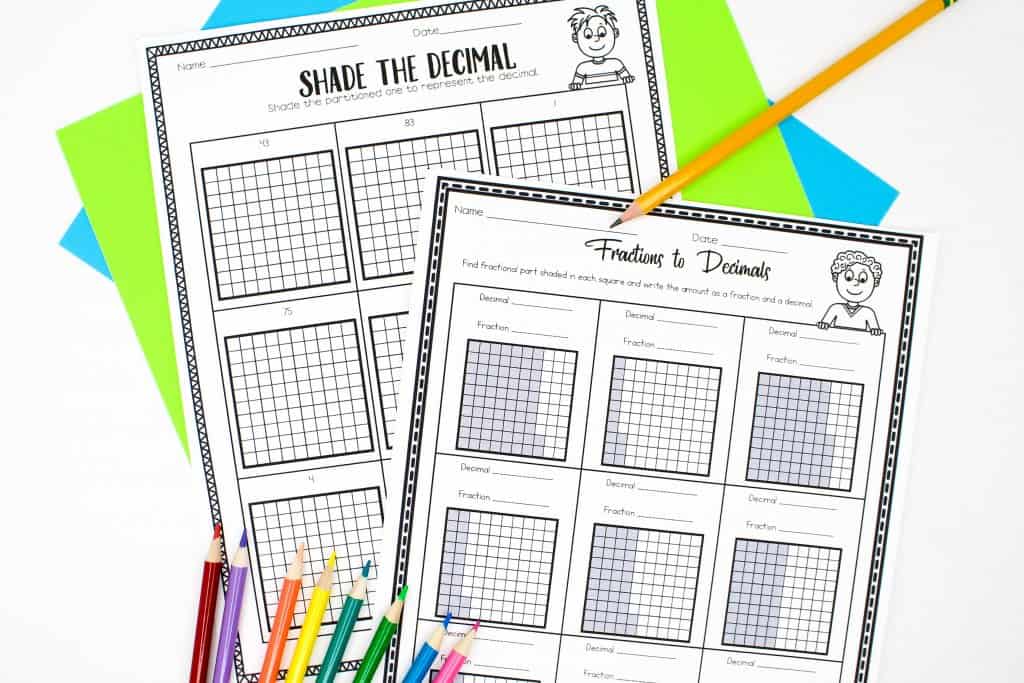 You can reinforce these more basic concepts with games such as Five in a Row. Students spin and find a model that represents the fraction or decimal that the spinner landed on. The student covers that model with a counter. Then, their partner repeats the steps and covers his/her model with a different color counter. Students repeat these steps until there is a winner who has five counters in a row.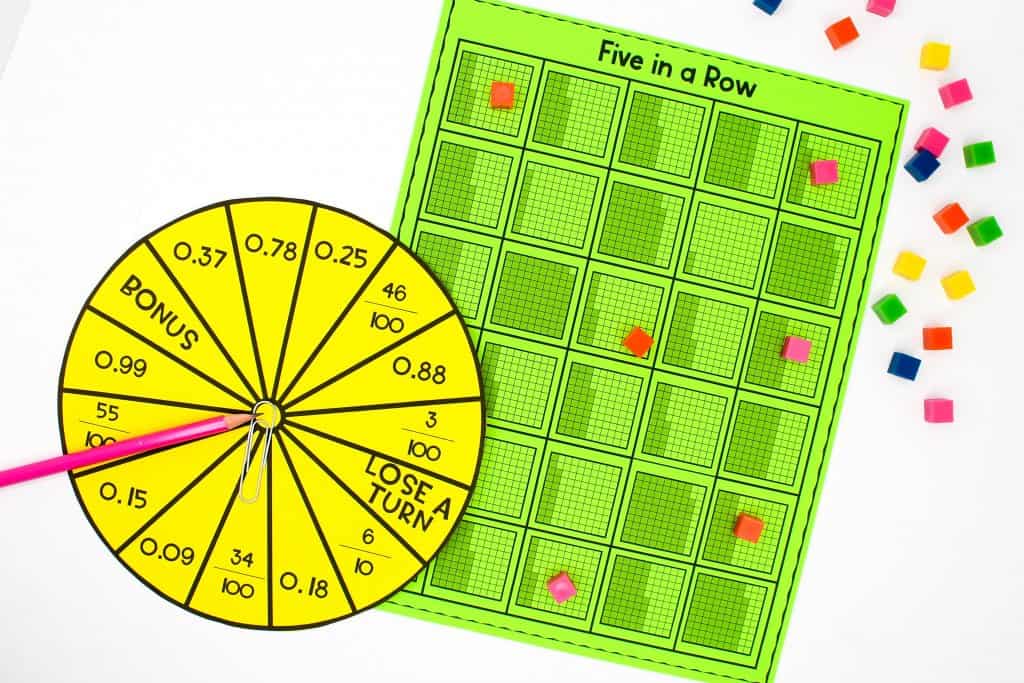 To take these lessons a bit further, rather than giving students a pictorial representation, have students create a pictorial representation for decimals. This shift takes the rigor of the decimal lessons a little higher.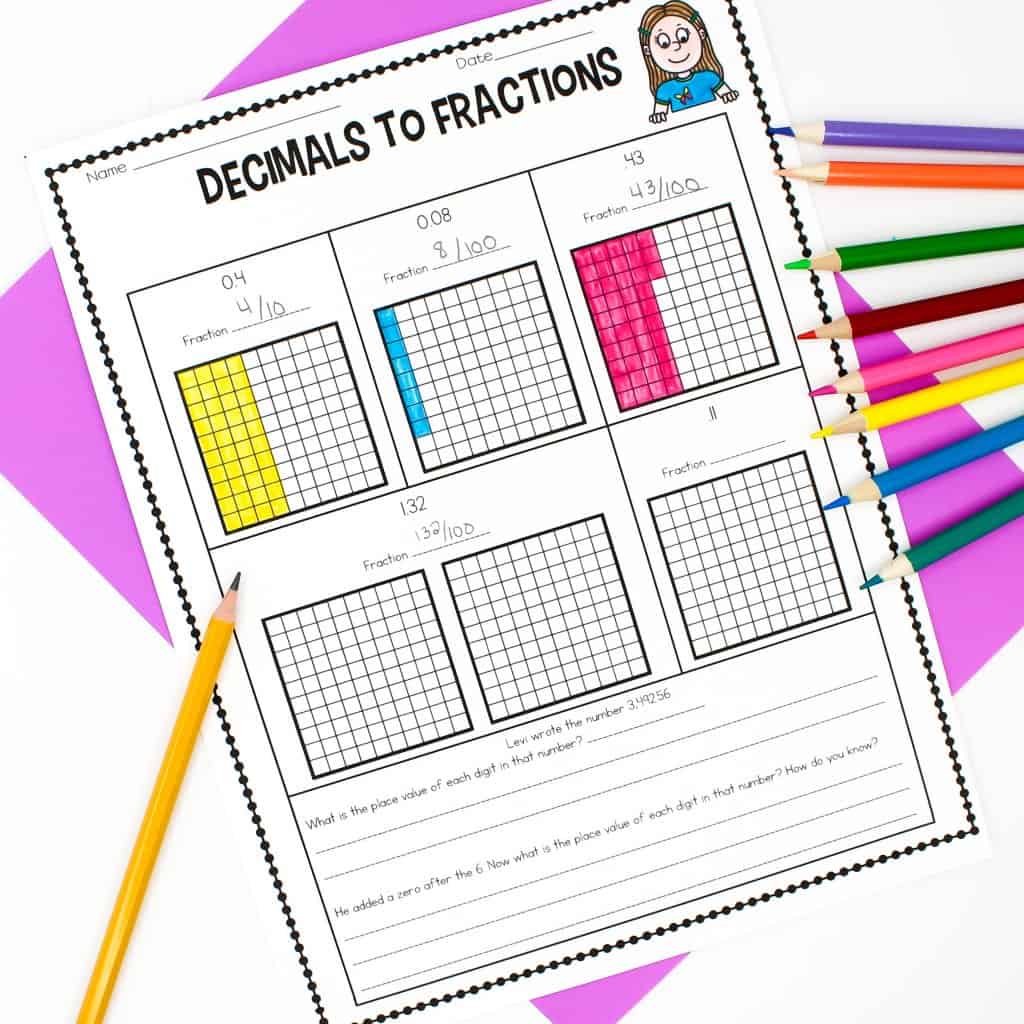 As students develop their understanding, you can begin giving students more challenging problems. For example, this lesson requires students to think deeply about the relationship between decimals and fractions. You can see below how students problem solve to realize that one-fourth is the same as 0.25.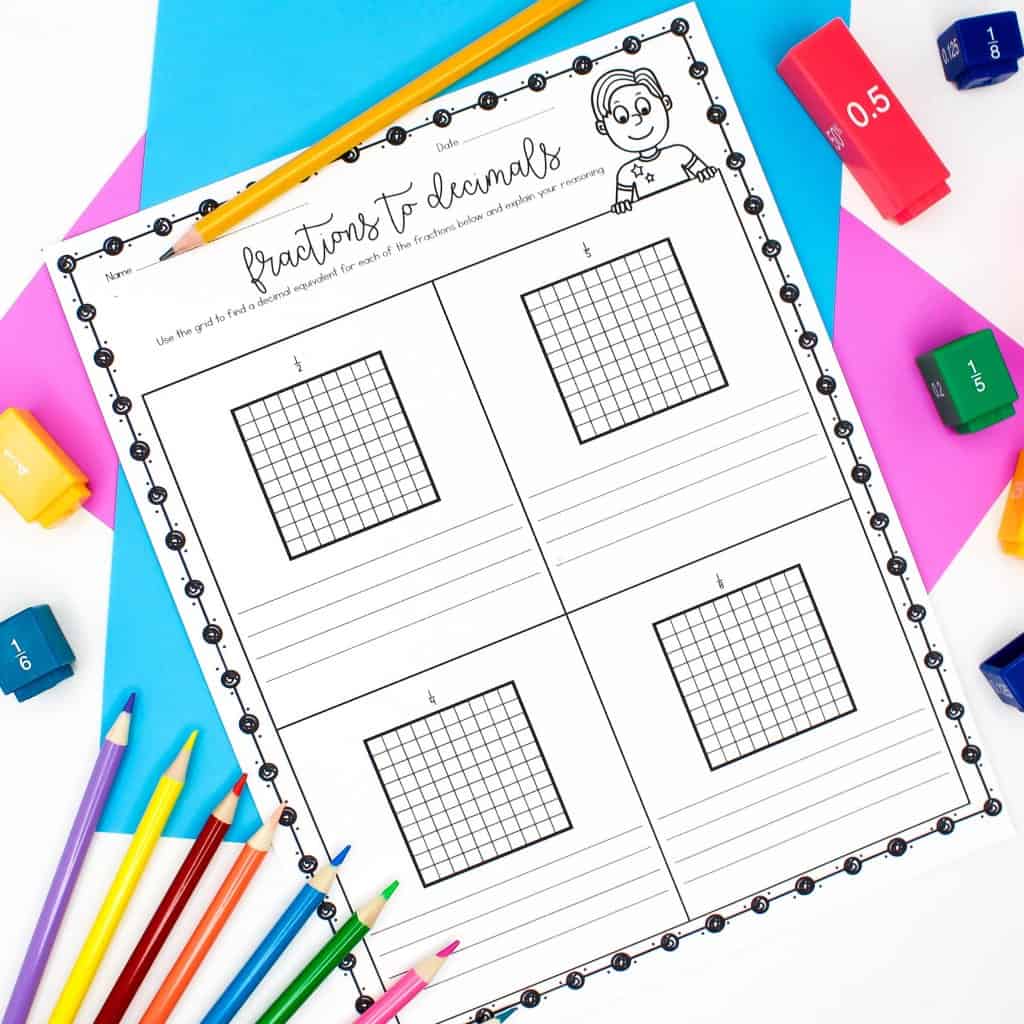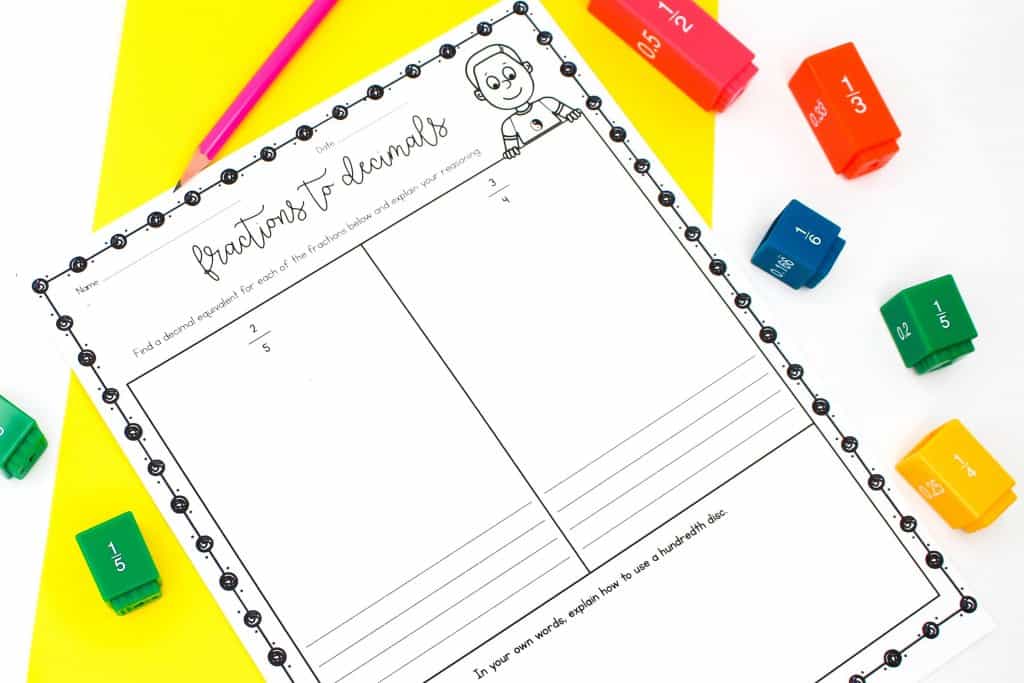 To deepen students' number sense, you can also have students estimate with decimals. One great way to do this is with a highly underused math manipulative-a hundredth disc. In this activity, students use the hundredths disc to build the fractions shown on the recording sheet. They should then use the hundredth disc to find the equivalent decimal. Since this is a rarely used resource, I may try to make a YouTube video showing how to use it-I'll share when it's ready!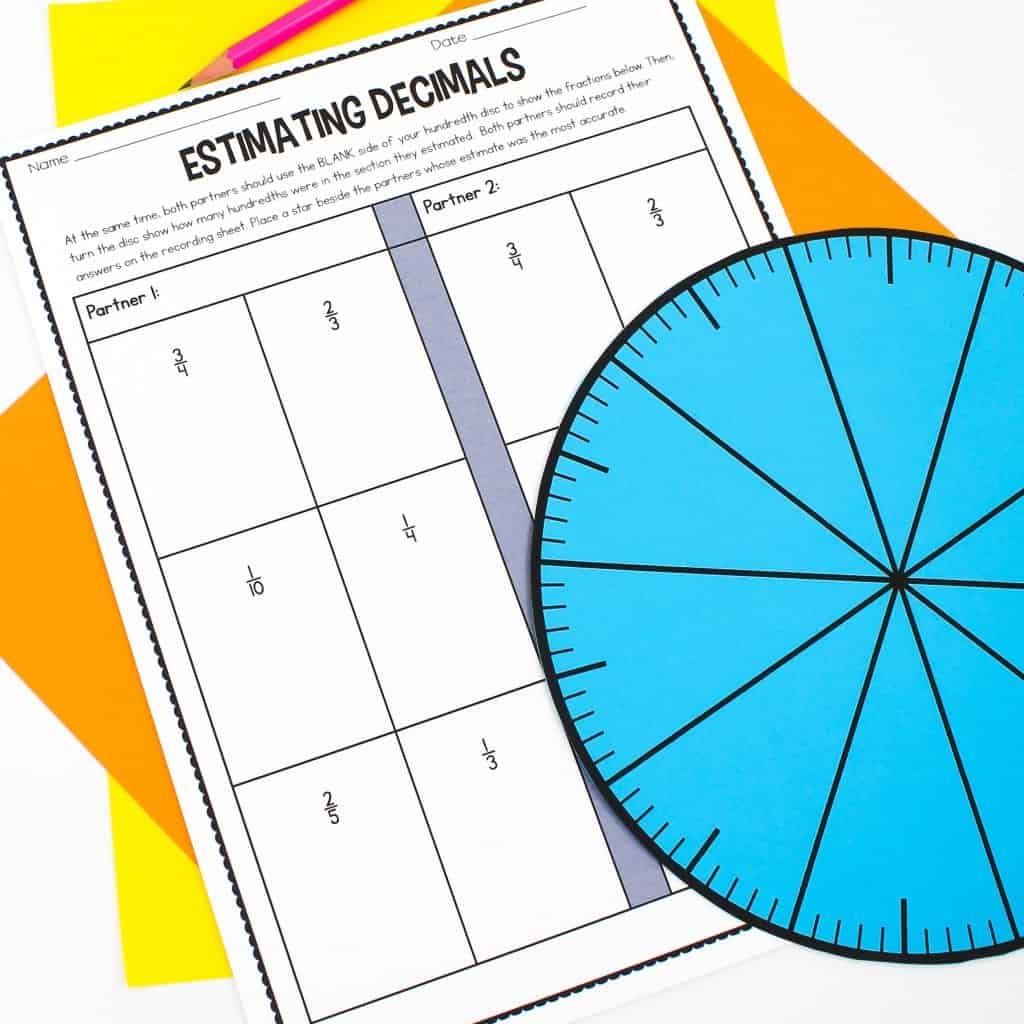 Students should also learn to mark and identify decimals on a number line. In the activity below, students cut out the squares to make two numbers lines and place the decimals in the correct location on the number line.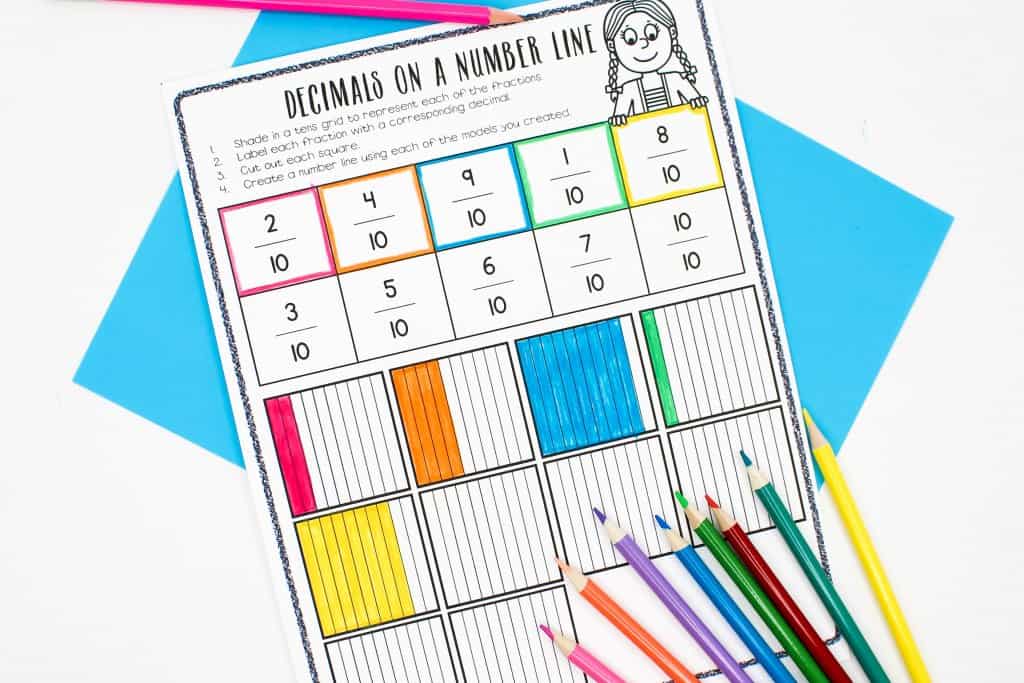 Once students have a firm understanding of decimals, you can introduce friendly numbers with this decimal activity. Students cut out a collection of decimal and fraction cards In these cards, there are no exact matches. There are only close matches. For example, students may explain what fraction 24.82 is closest to.
In this lesson, there is not necessarily a right or wrong answer for each problem. Instead, these open ended questions allow students to have high levels of math talk where they may disagree with each other and try to justify their reasoning.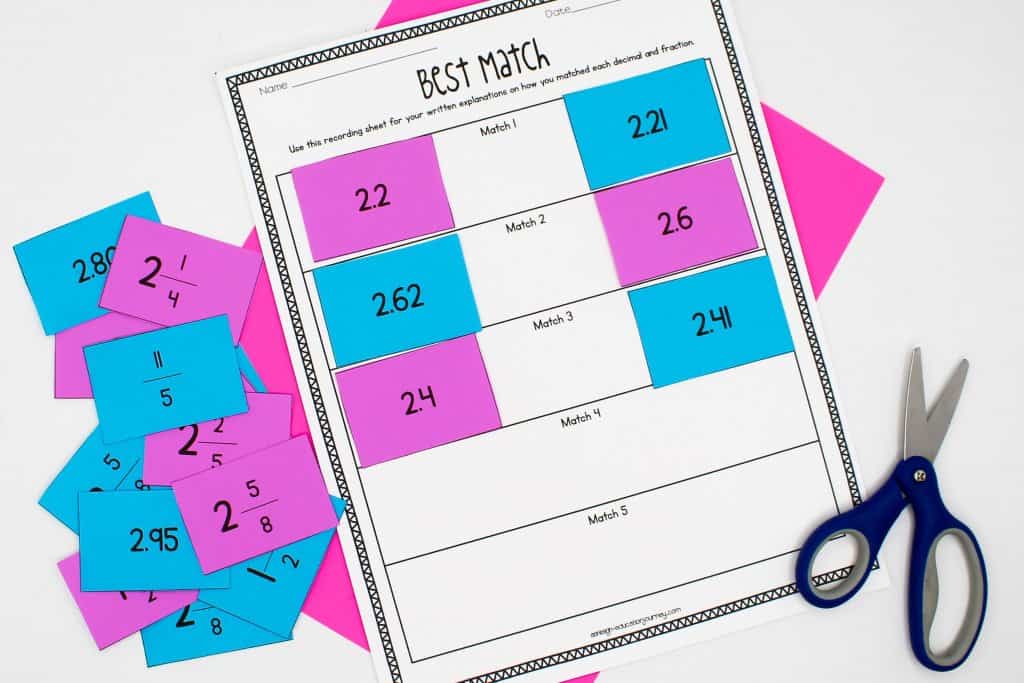 When students begin learning to compare decimals, they should first use models to compare decimals. You will eventually take the models away and have students compare decimals without models, but you don't want to remove the models too soon.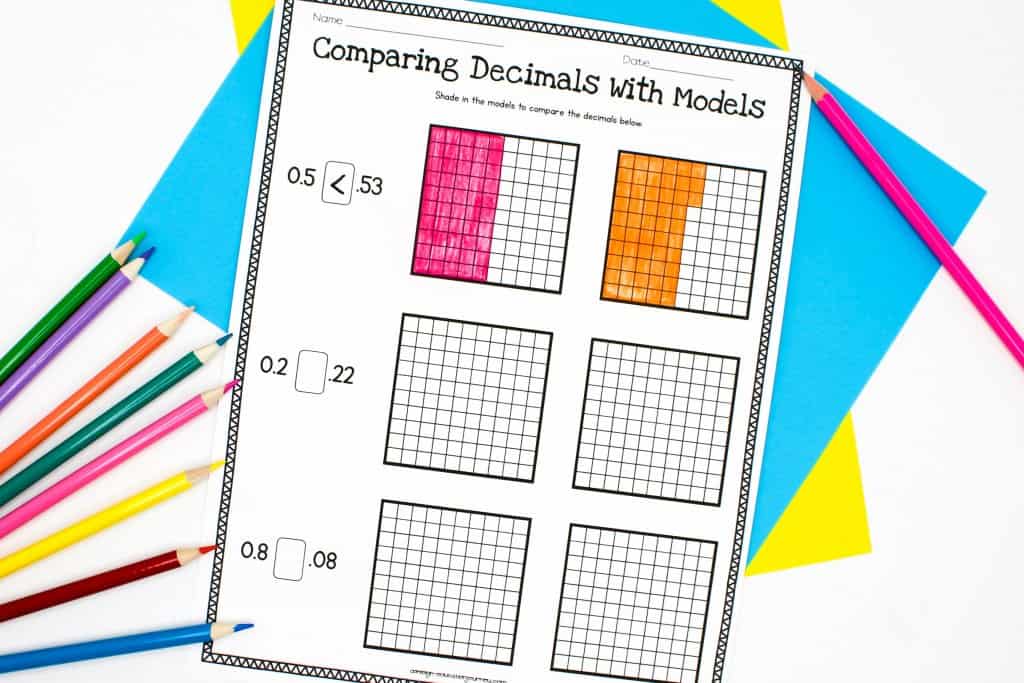 Another way students practice comparing decimals is through a card game. Students have cards with many different representations of decimals. They shuffle the cards and place them face down. Partners take turn drawing a card and whoever has the card with the greatest value gets to keep both cards.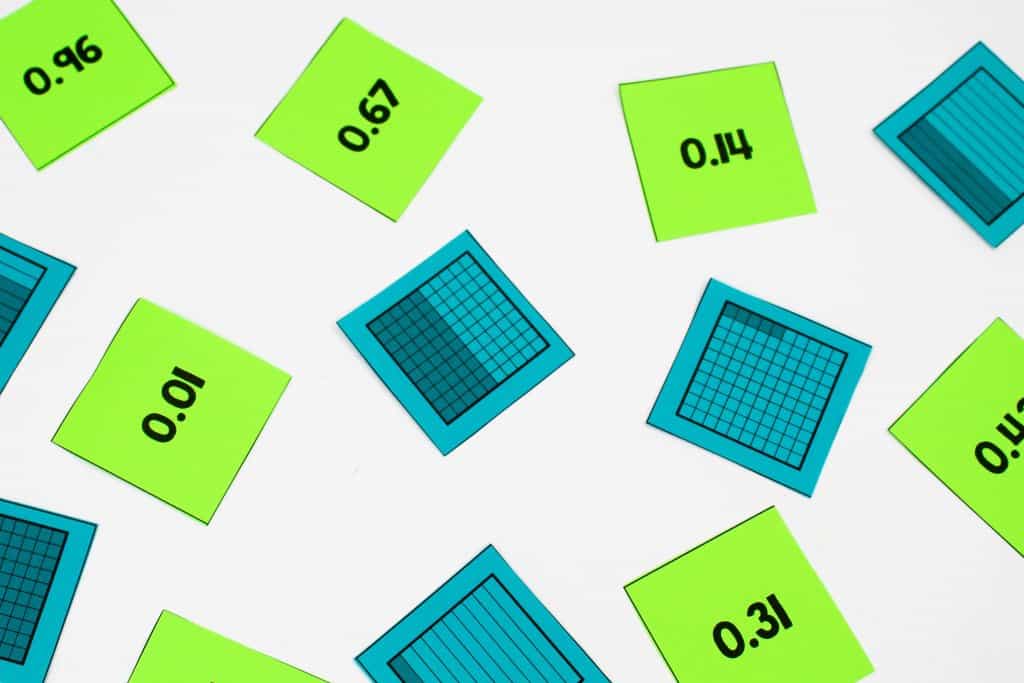 You can also teach Nice Numbers, which is essentially rounding decimals. That skill typically isn't in fourth grade math standards, but exposing students to this concept only deepens their understanding. You can give students two decimals, and they determine which whole number or which tenth the number is closest to.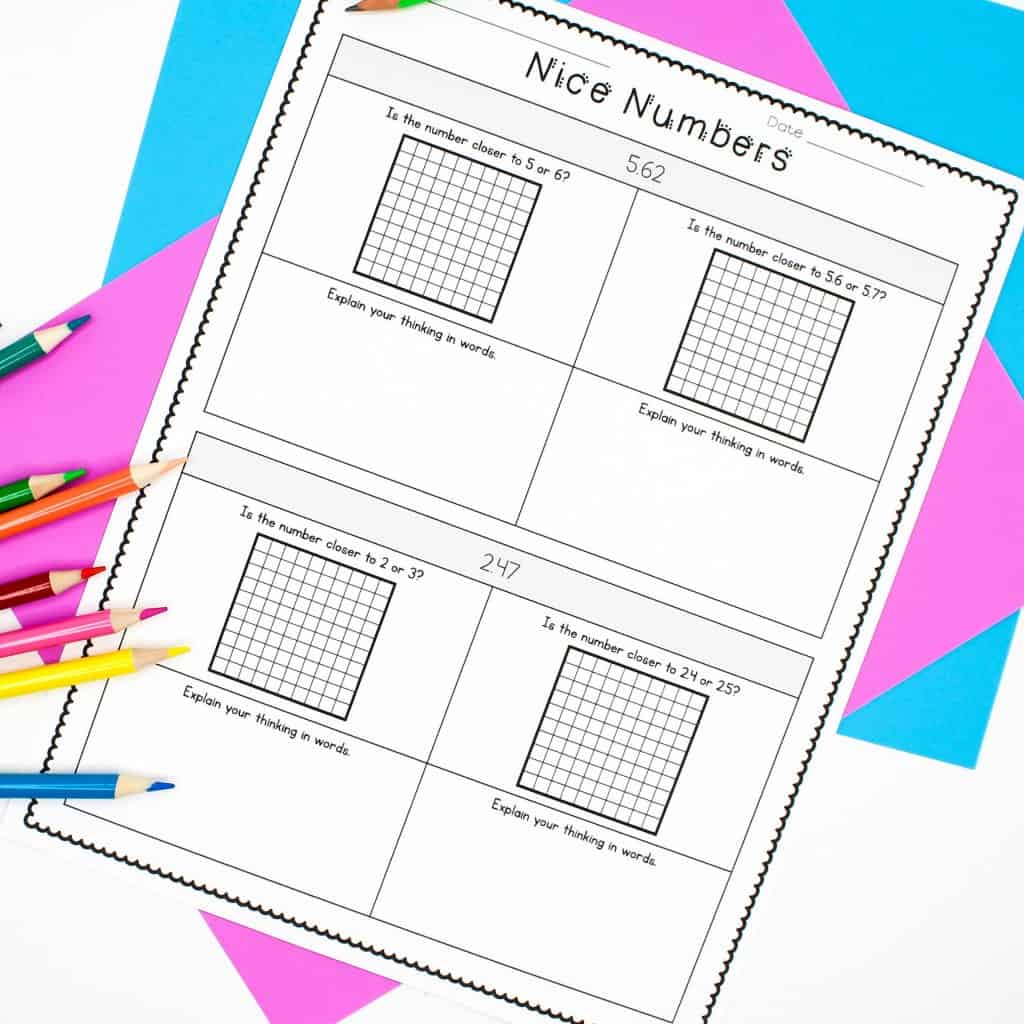 It's always fun to incorporate art and decimals, which is why I love this Decimal Pictures activity. To keep this activity challenging, it's important for students to NOT color the same number of squares each color. Although, it can be fun to see who realizes how that would make the task MUCH easier! You can have students cut out the square and mount both papers on black construction paper for a hallway or classroom display.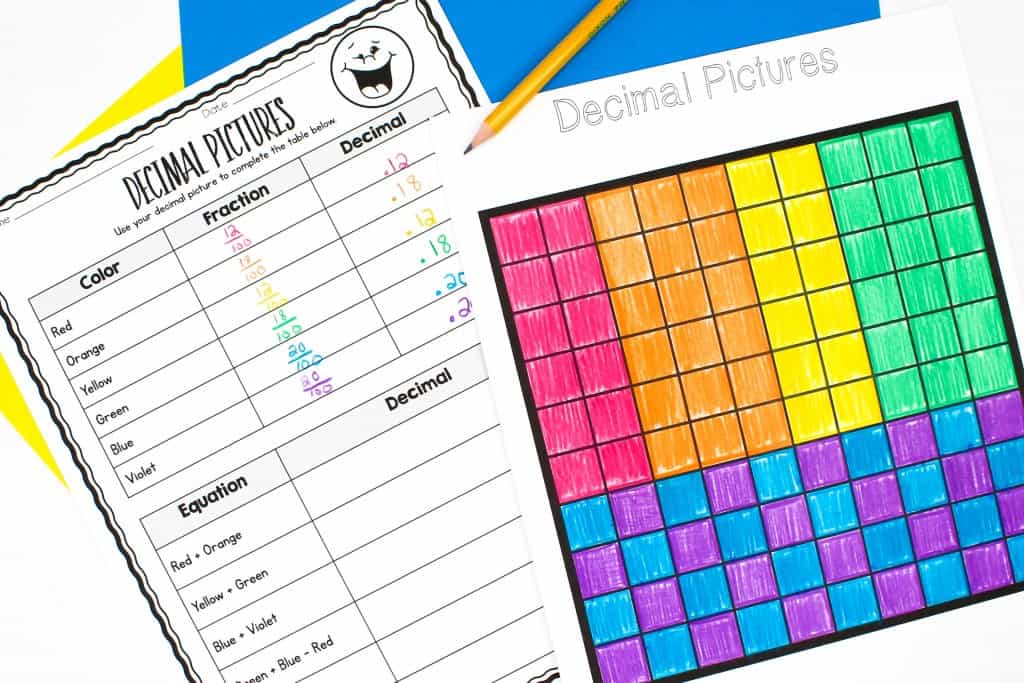 It's essential for students to apply what they've learned in real-world problem solving applications, so I try to incorporate problem solving as often as possible. It's also important to go beyond traditional word problems real problem solving situations.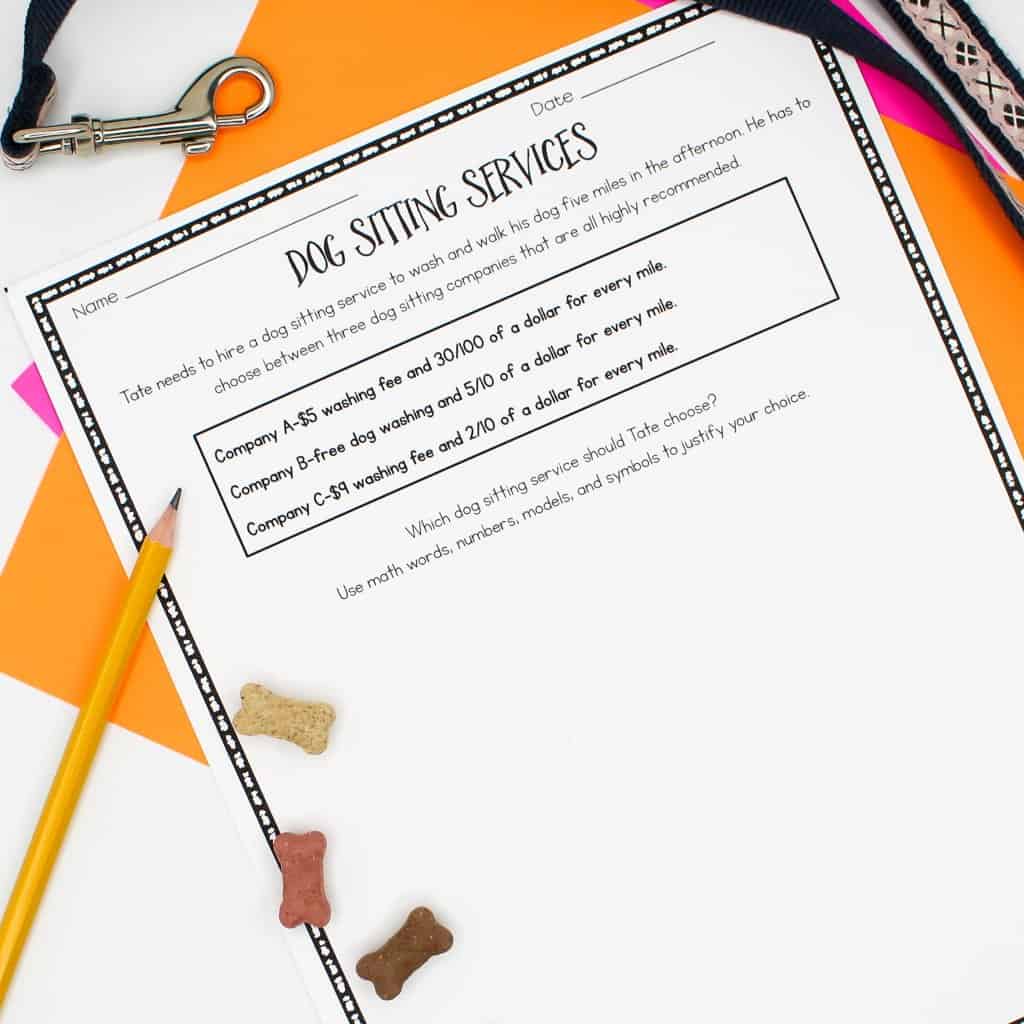 Toward the end of the decimal unit, I teach students to add and subtract decimals and fractions with denominators of ten and one hundred. This takes our lessons a bit further than needed, but our fifth grade teachers appreciate it!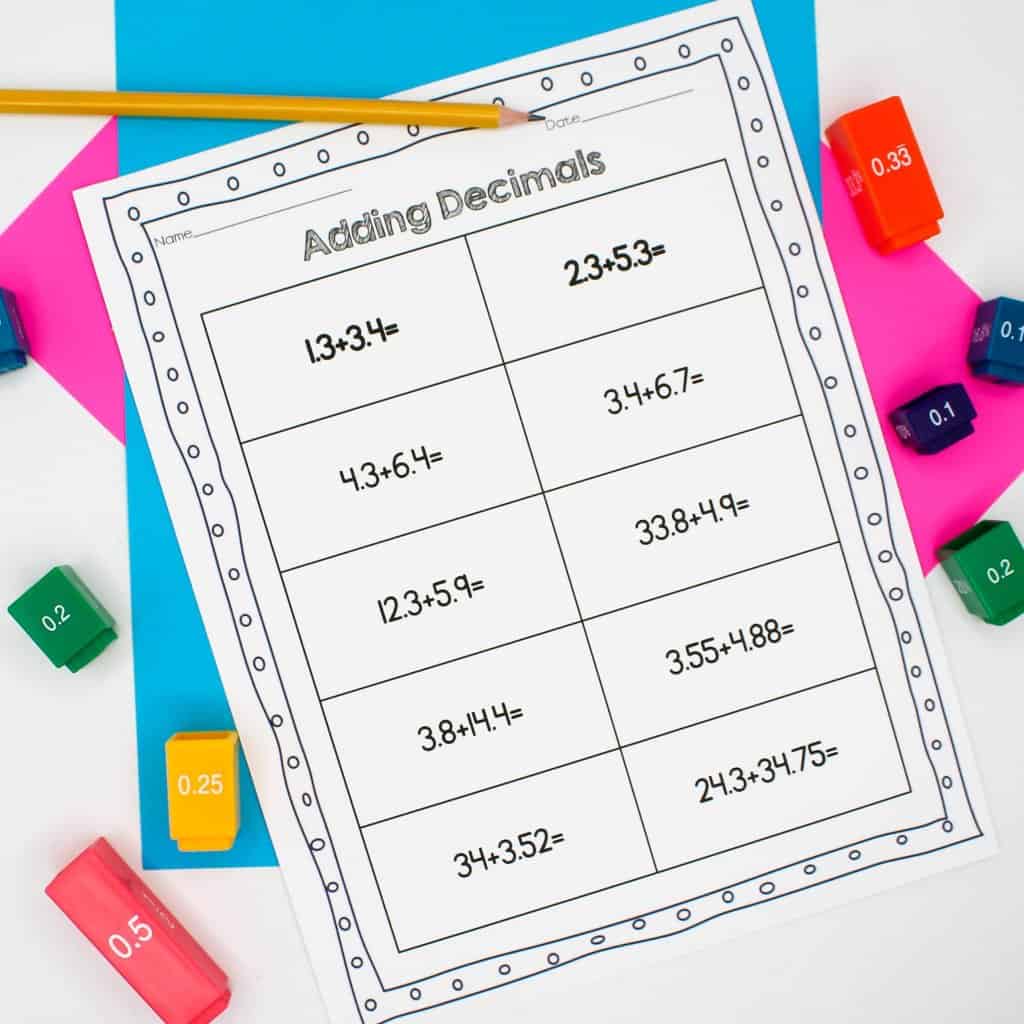 As always, it's beneficial to support student learning through games. I especially love games that require strategizing and that do not rely solely on luck. My students LOVED this decimal game called Decimal Row. The object of the game is to be the first person to place the decimals in order form least to greatest. Students play with a partner and place all the decimal cards face down. They take turns drawing a card. After they draw a card, students have to determine the best location to place the card. Once a card is placed in a box, it can't be moved. That's where the strategizing comes in to play! It takes students a few rounds to develop their own strategy, but it's such a fun game that they beg to keep playing. You can download it for free here!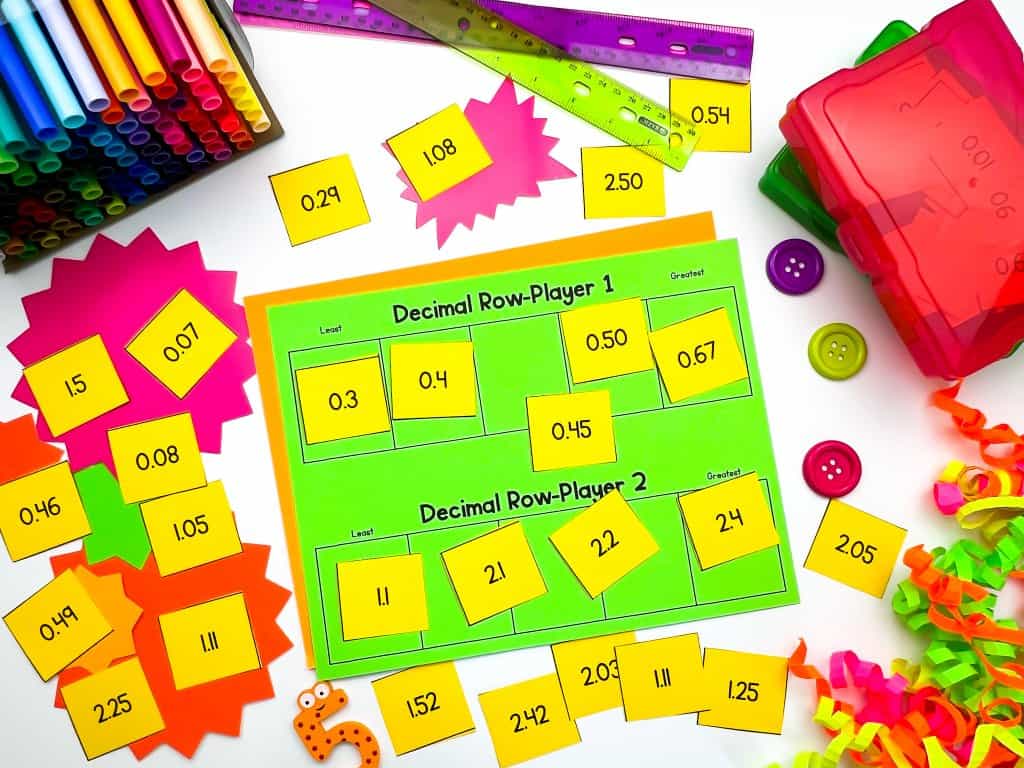 What is YOUR favorite way to introduce the concept of decimals? Don't forget, you can find the decimal lesson in this post here on TpT.