Now that I'm kind of, sort of finished with my fraction unit, I can finally start my favorite math unit of the year: linear measurement! Finally!! Not everyone is 100% ready to move on from fractions, but we really can't wait another week to get started on measurement. (I'll continue to have my students practice fractions through their morning work and in my small groups.)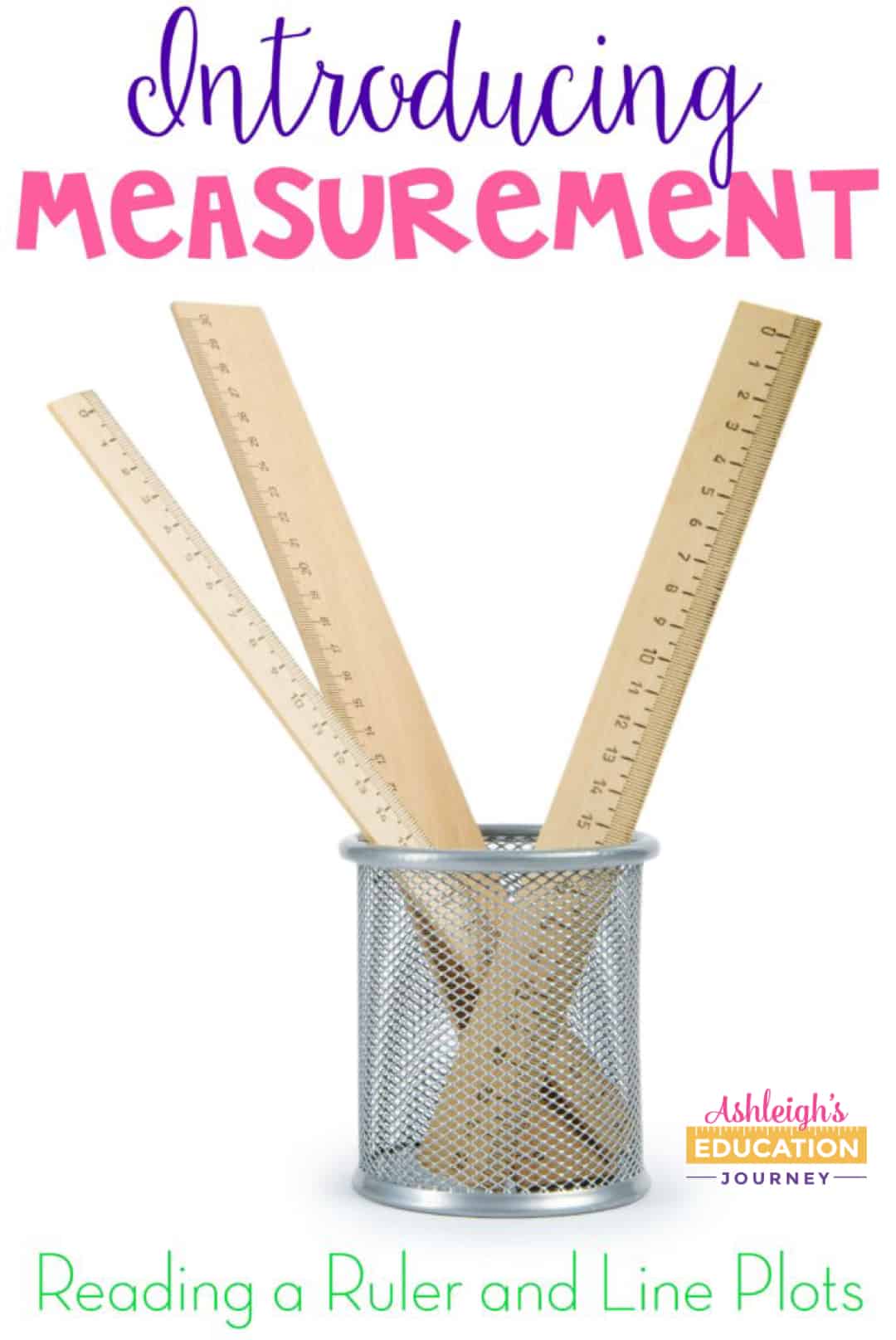 Measurement has to be one of my favorite topics to teach in math. This week we've been working on measuring to the nearest 1/4 inch, which can be challenging for students. I start my measurement unit with reading a ruler to the nearest one-fourth inch. My students typically come to me with a solid foundation of how to read a ruler to the nearest inch, so I'm able to hit the ground running.
I introduced reading a ruler with an interactive notebook activity from Blair Turner's math INB packet. In the entry, students label a large ruler with 1/4, 1/2, 3/4 increments of each inch. I like tying this lesson into reading and labeling fractions on a number line.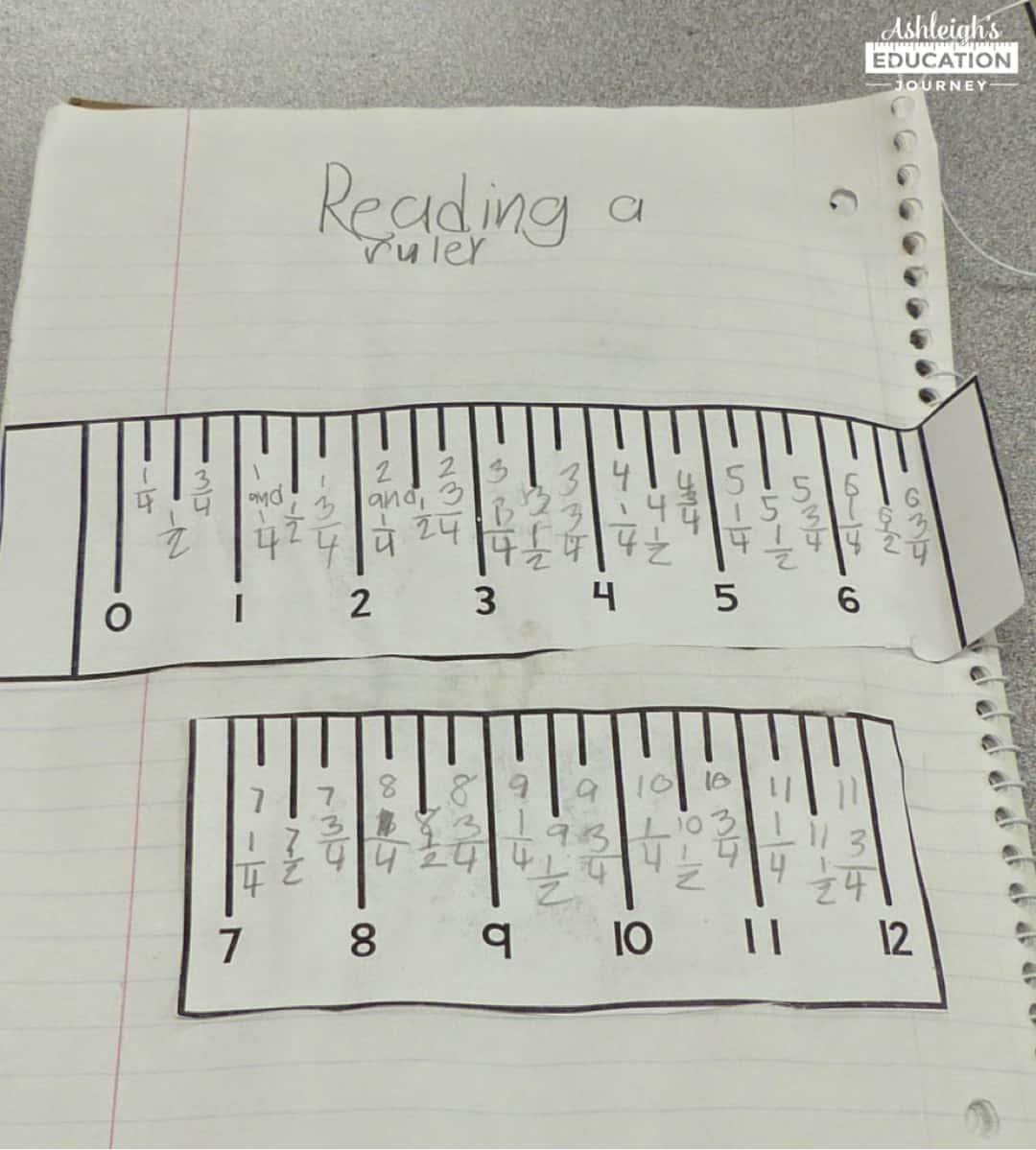 Then, I gave my students some very basic independent practice. This allowed me to see who needed a little extra work. One of the most common mistakes was confusing which whole number to write, so I've addressed that with those who need it. I made two of these worksheets, so I could use the additional copy to reassess as needed.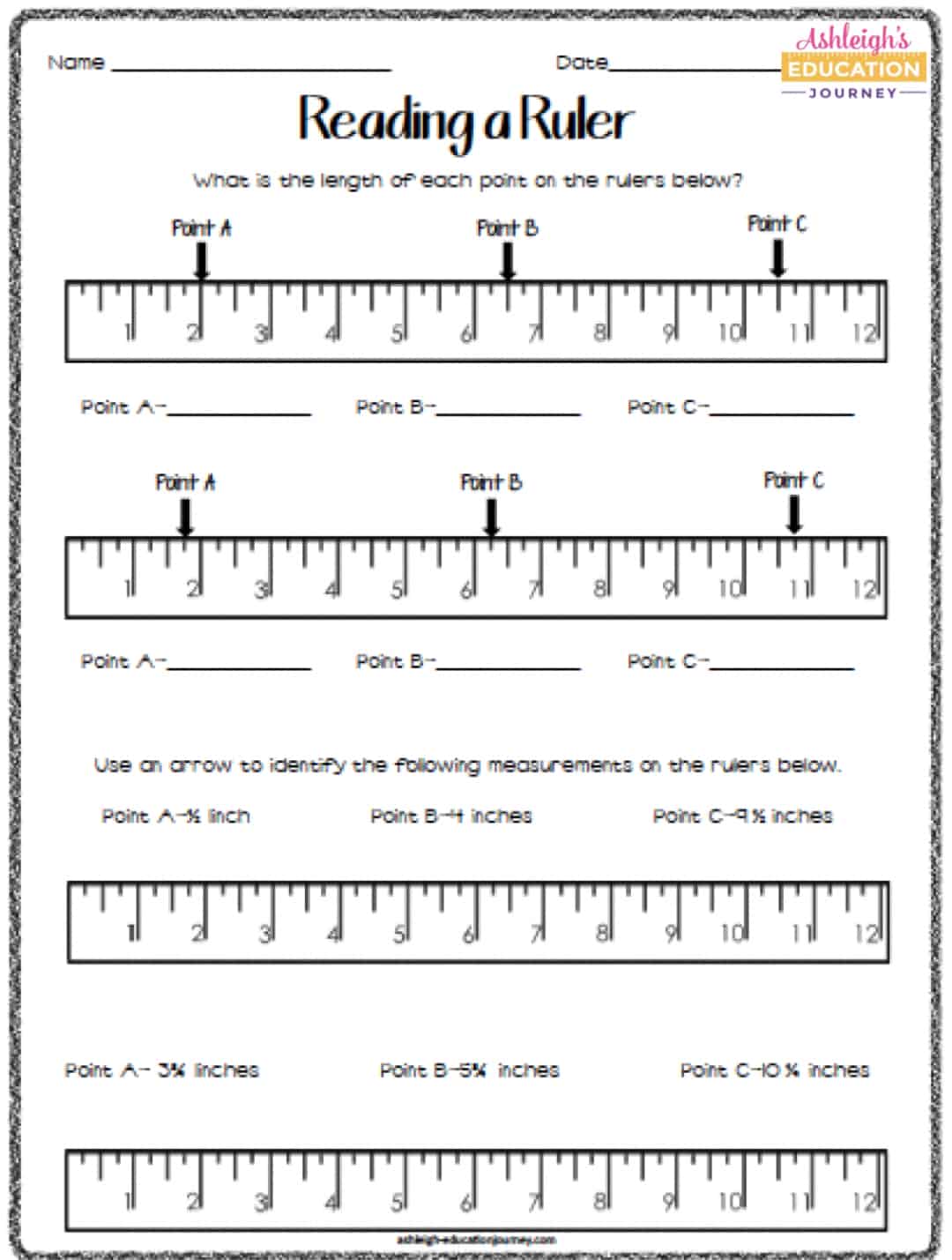 Once I felt like the majority of the class was ready to dive-in to some authentic linear measurement activities, we completed two simple activities that were fun for students. In one activity, students measured the lengths of different objects around the classroom. They found the length of a book, scissors, glue bottle, and glue stick. They also measured the length and width of a piece of notebook paper. I tried to choose common objects that would be easily accessible, as well as objects that would not be too difficult to measure. Some students tried to round all of their measurements to the nearest inch, rather than the nearest one-fourth inch, so we had to work on that a little. I also saw some students wanting to add one-fourth to all of their measurements, so I had to explain what it meant to measure to the nearest one-fourth inch.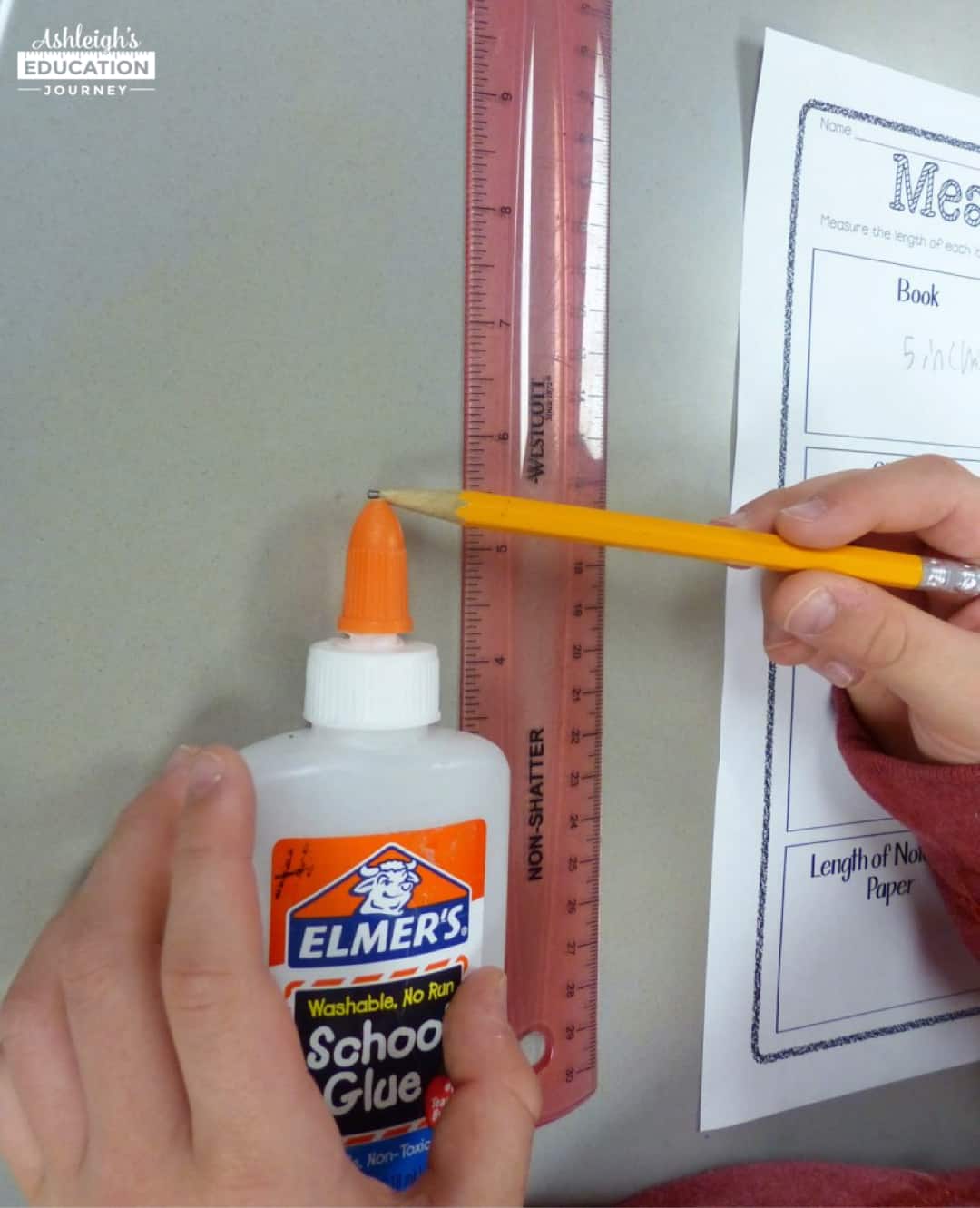 We also completed a measurement scavenger hunt by finding items with a given linear measurement. I've done something like this in the past, but this had a little twist, because of the measurements with 1/2, 1/4, and 3/4 inches. This was by far my students' favorite activity.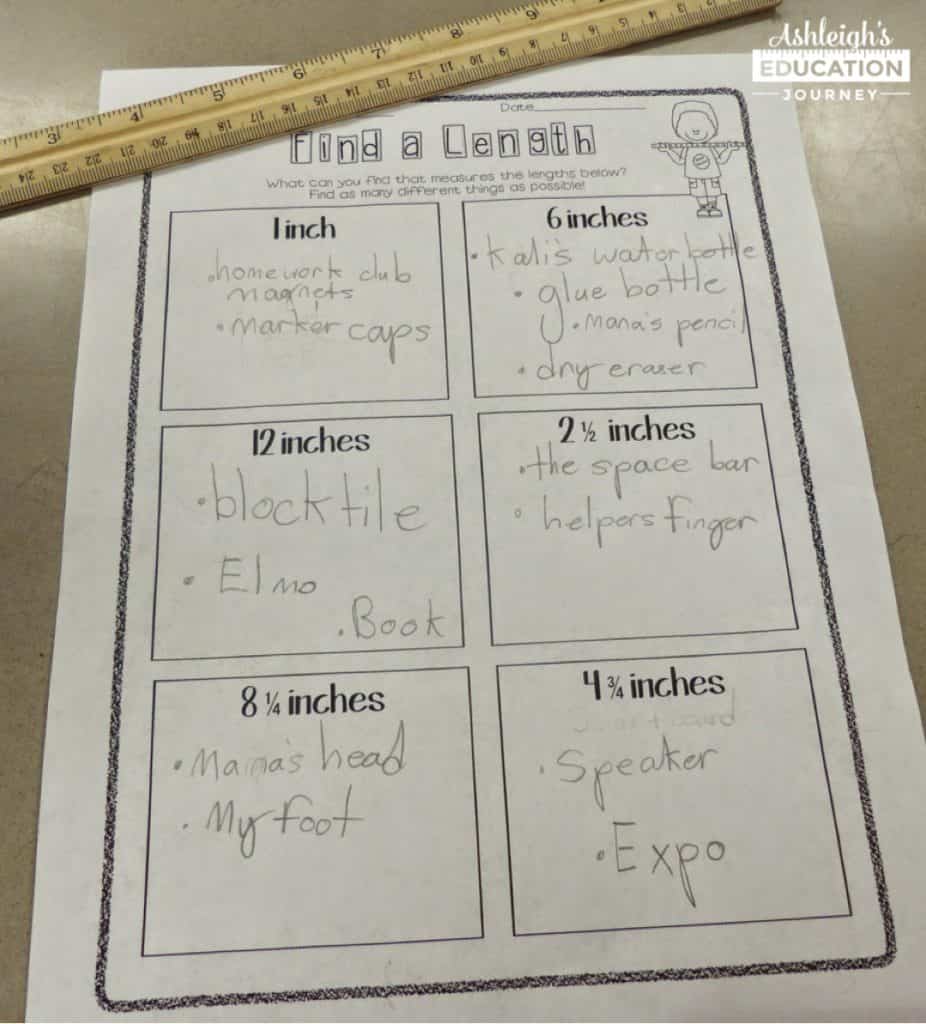 Today, students created a line plot by measuring ten pencils to the nearest 1/4 inch (I can't believe I forgot to take a picture). They recorded the length of each pencils in the table on the top of their page. Then, students used that information to create a line plot to show the lengths of the pencils. At the bottom of the page, students asked two questions that could be answered by using the line plot. Ex: How many pencils were longer than five inches?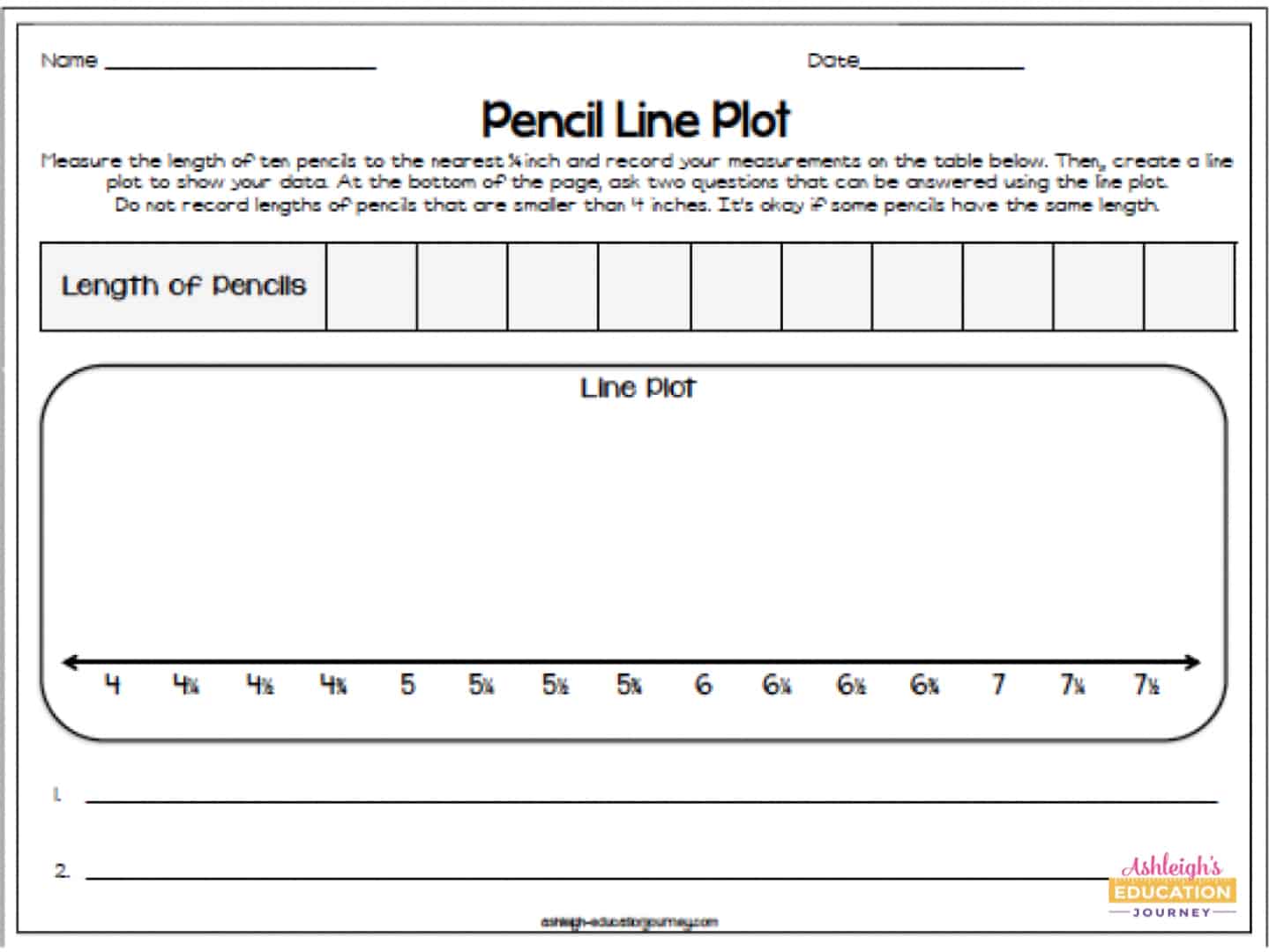 I've compiled everything together in this blog post for you to grab in one easy download. Just click HERE for a copy! Another one of my favorite measurement activities is Measurement Man-Woman.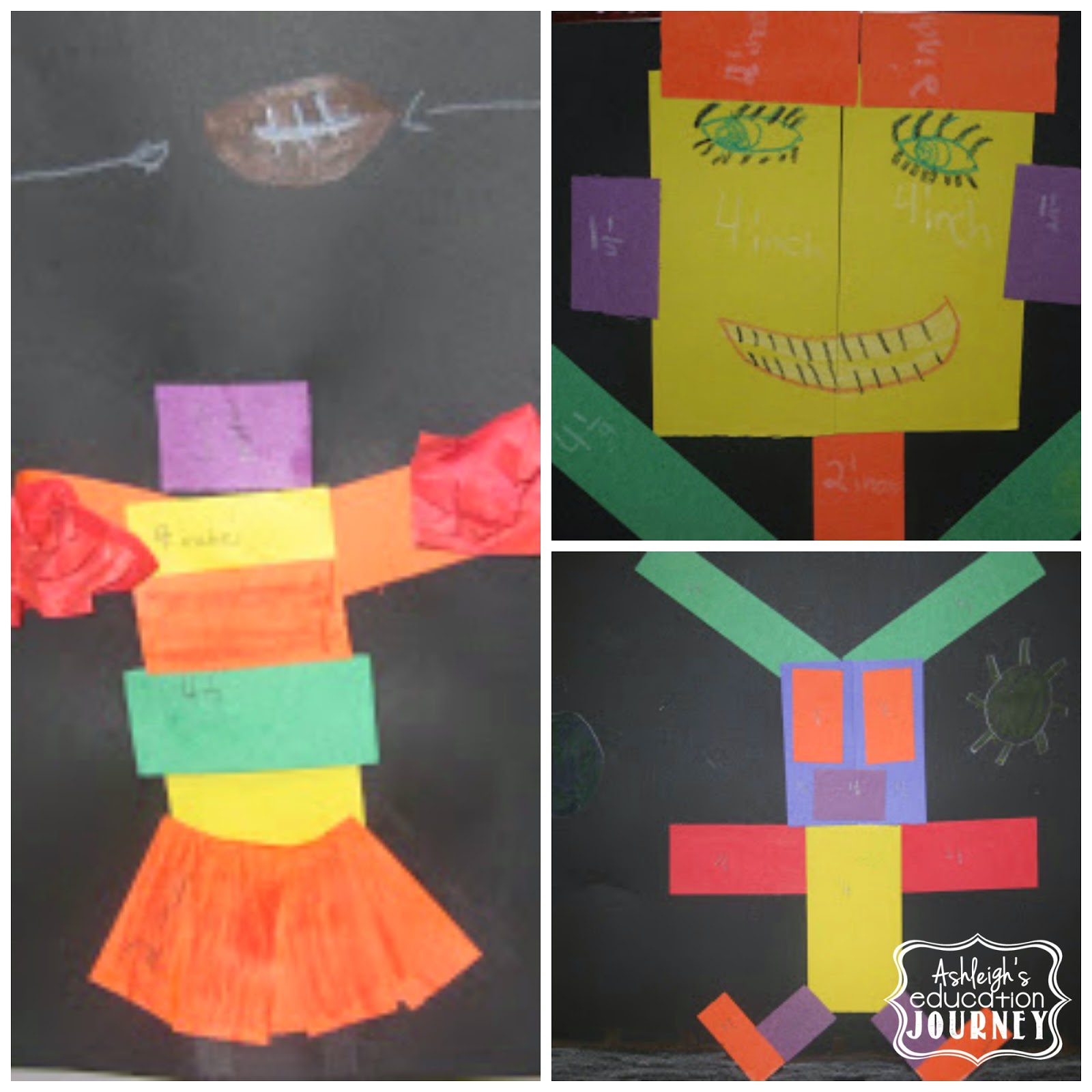 To prepare for this task I precut a large variety of rectangles in different sizes and colors.  (I've learned to make all rectangles of a particular color the same size-this makes grading so much easier!) I like to use about 8 or 9 different colors and try to have a good variety of sizes of rectangles.  Since it is important for my students to be able to measure to the nearest 1/4 inch, I cut several rectangles with 1/4, 1/2, and 3/4 in their lengths, but to modify this activity all of the rectangles could be a whole number in length.
Directions
In this task I have students create a person (sometimes animal) using various rectangles.  Students must design their person and then find the measurement of each rectangle they used for their Measurement Man.  Another modification to the task is to have students measure the length in two different units of measure to see the comparison. My students had so much fun with this lesson, and I wanted to share some of their creations.
Measurement Cheerleader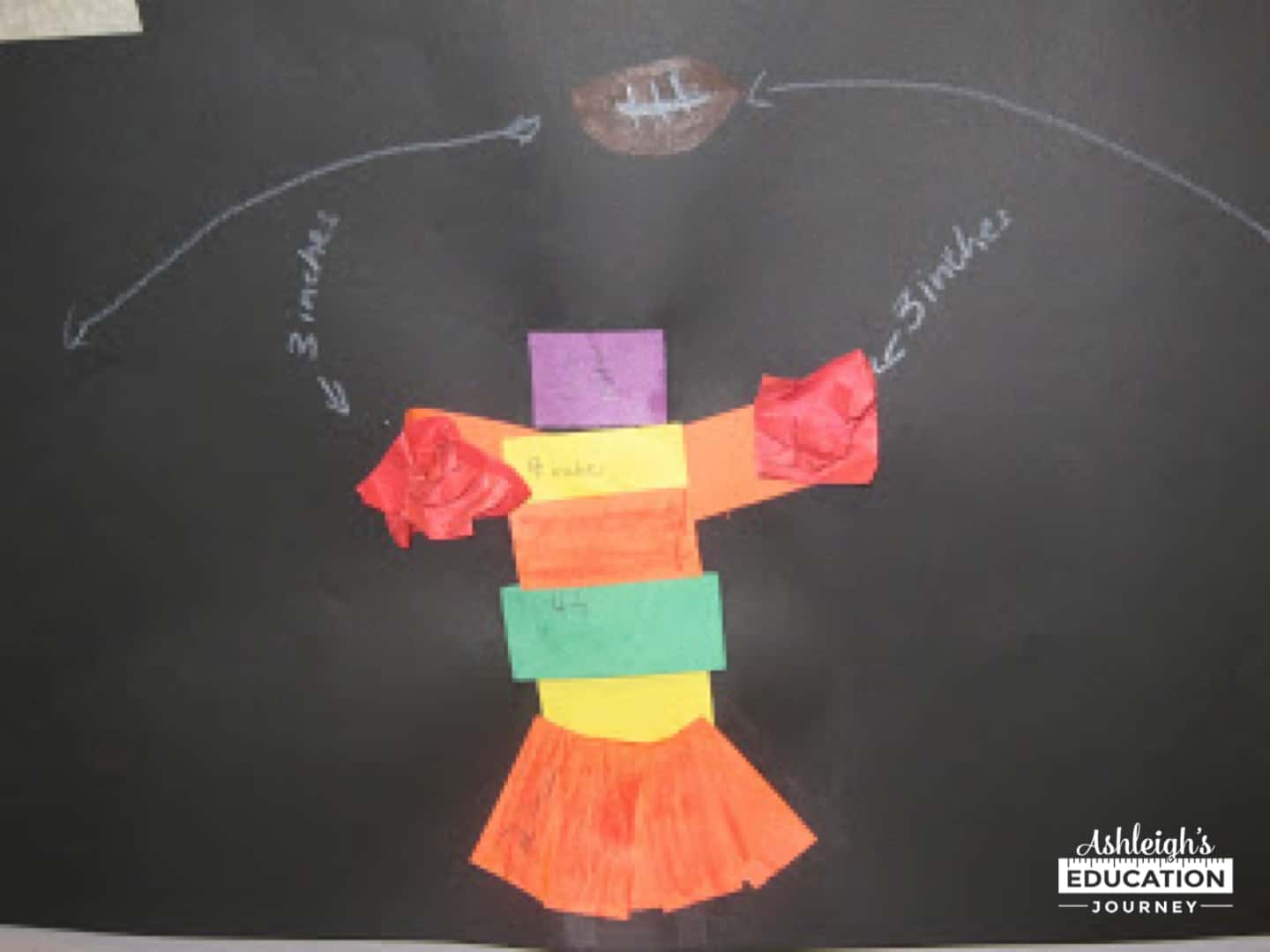 What a pretty face!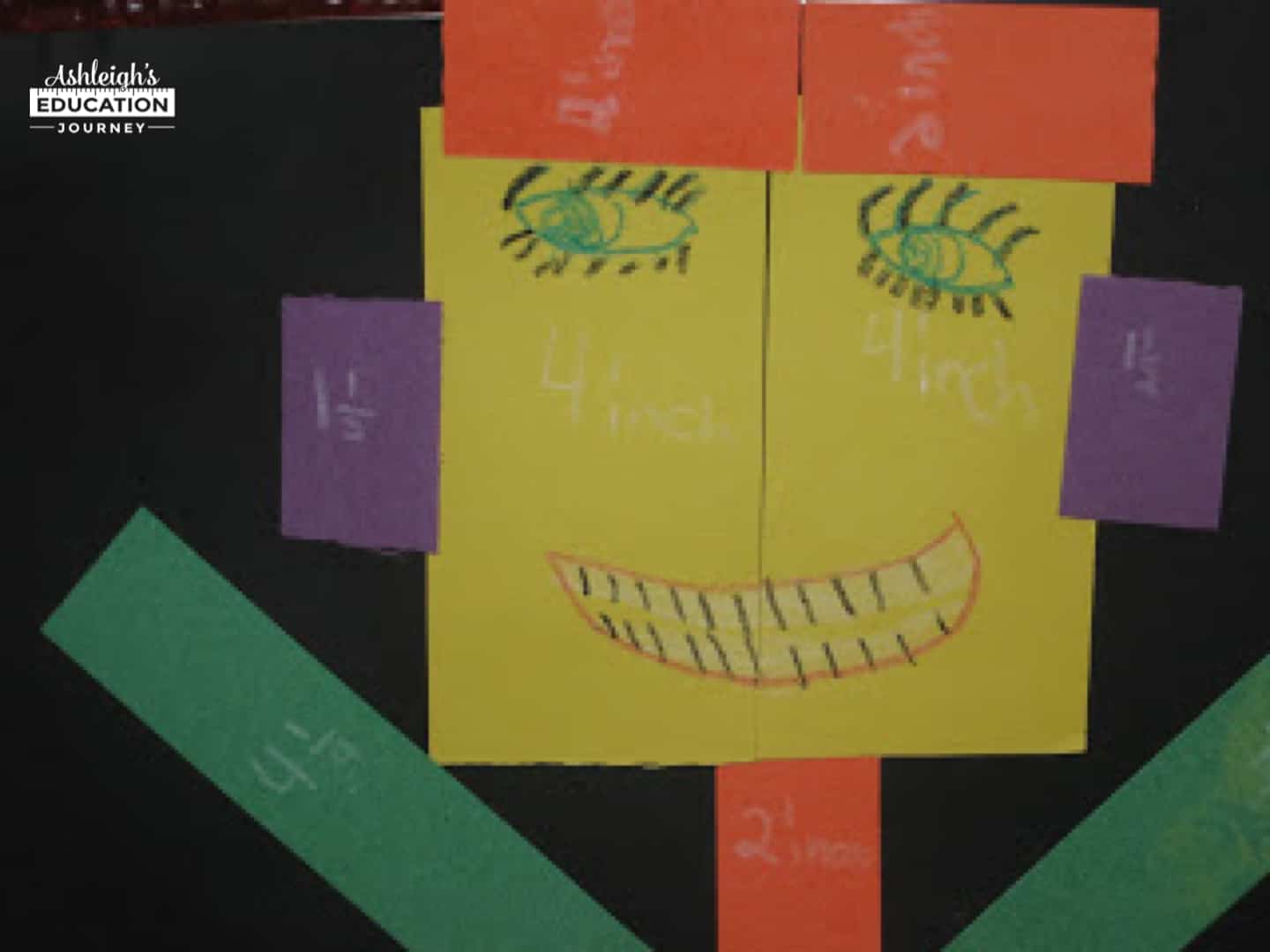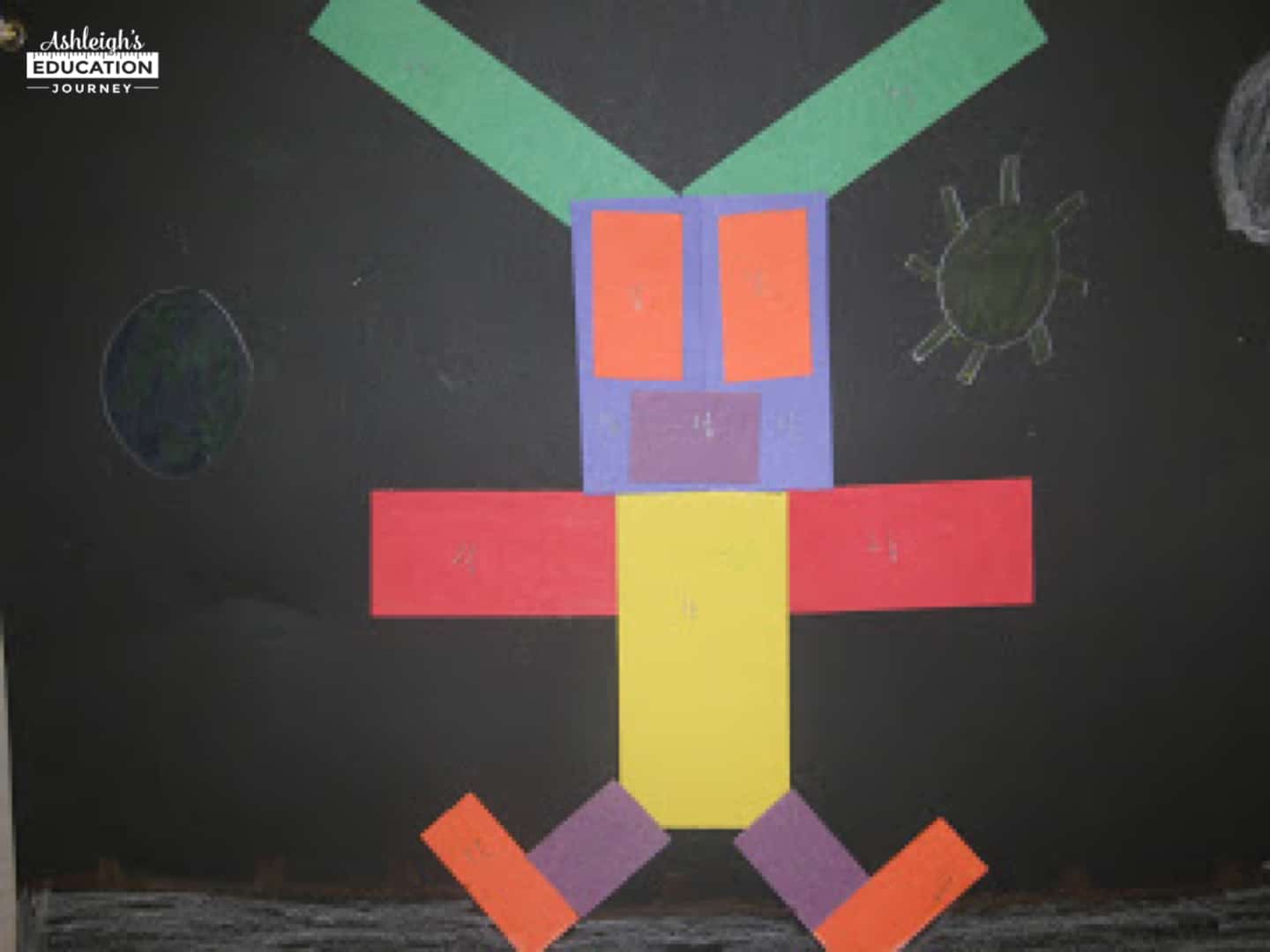 My students had so much fun with this task! I feel like their learning is so much more authentic when they're active and participating in meaningful tasks. My new
measurement unit
is full of that type of activity, so I'm more excited than ever about teaching measurement!