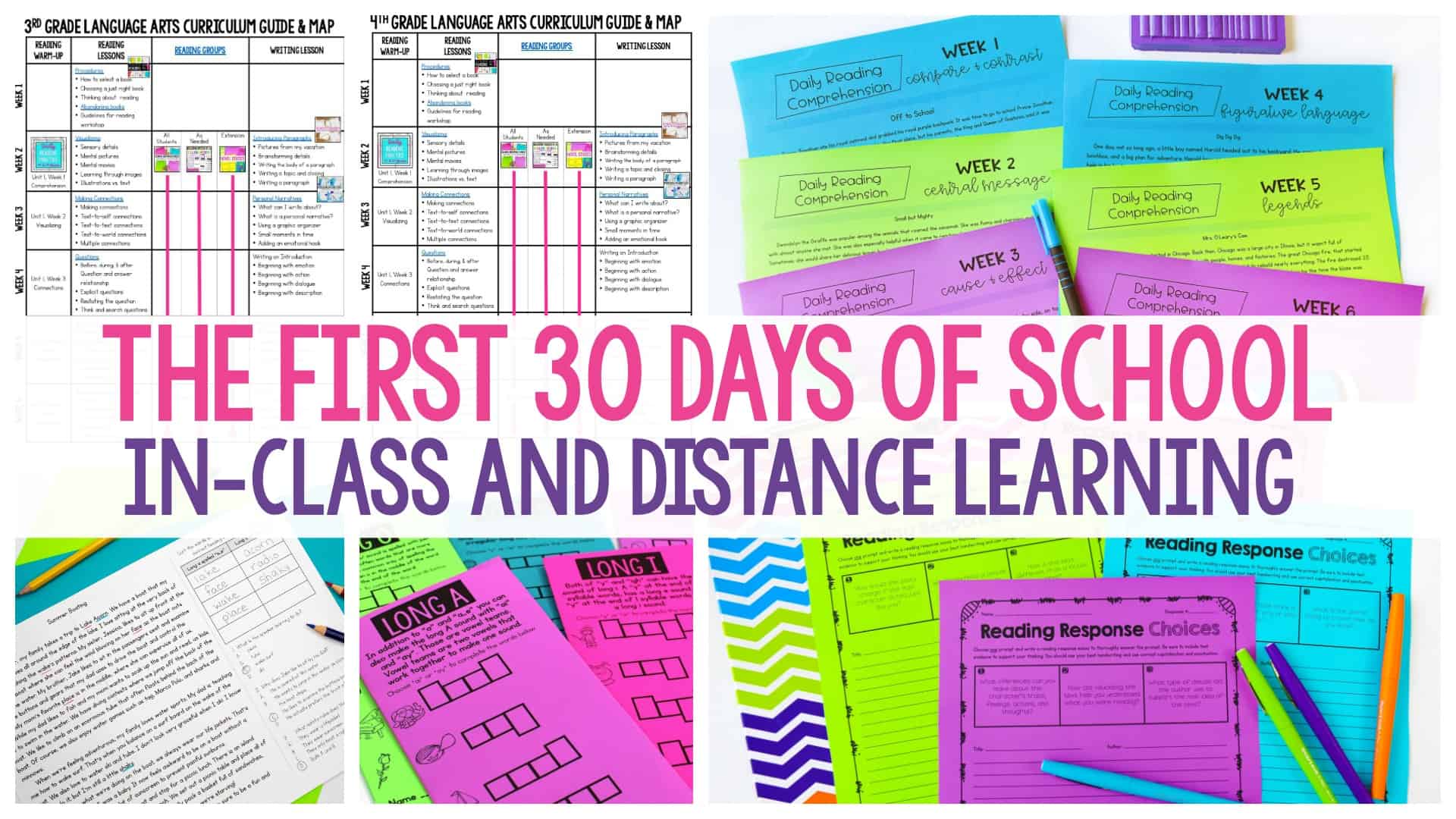 The first 30 days of school are never easy. In fact some might call those days exhausting and overwhelming. And that's when we know what to expect and what to plan for.
With talks about distance learning, alternative schedules, and hybrid models, this school year may be a whole other ballgame. Yikes!
To help you out, I've spent countless hours working on a plan for the first 30 days of third grade and fourth grade. You can download all of the documents here. In this post, you'll find an overview of how to use this plan, as well as a few other helpful tips.
Keep This In Mind
More than ever, we don't know what to expect from our students. We may need to move at a slower pace or even teach concepts that we don't typically teach. It's okay. You can use this guide as framework-a starting place. If you need to slow down and spend more time on a lesson, do it!
How to Use This Document
Inside you'll find a 30 day plan for third grade reading, writing, and math. You'll also find a 30 day plan for fourth grade reading, writing, and math. All of the pictures are linked to resources in my TpT Store. All of the linked words (written in blue) are linked to a blog post with additional information.
Language Arts
The language arts plan consists of a daily reading warm-up, reading mini lesson, reading groups, and writing lessons. You can see how to implement each component below.
Reading Warm-Up
The reading warm-up can be used to review the previous week's lessons. This review should take students about 10 minutes to complete, and we always go over the answers together. You can use the print version or the digital version on Google Forms. The data from this review is perfect for gathering data to form small groups.
Reading Lessons
All of the reading lessons come with a detailed lesson plan. Each lesson includes a mentor text suggestion and an explanation of that day's reading skill or strategy. The lessons in the first 30 days center around comprehension strategies which students will rely on for the remainder of the year.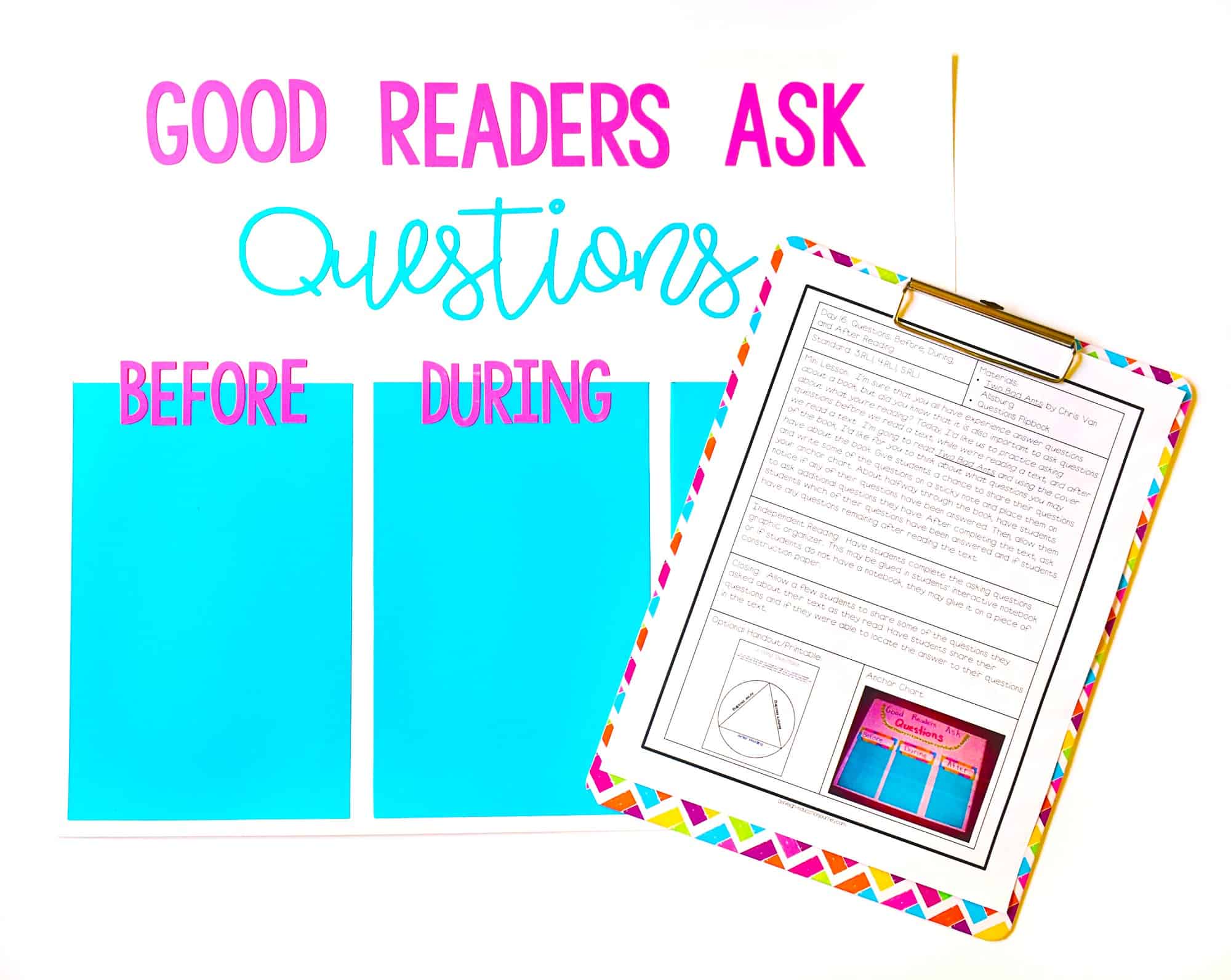 In the unit, there are also weekly fluency passages, weekly vocabulary activities, and weekly homework assignments. Since there's a chance we will be moving to more distance learning, I've recorded myself teaching the mini lesson for all 30 lessons. There is also a digital version of each of the recording sheets.
Reading Response Choices
During our independent reading time, students complete one reading response a week. You can print these or use the Google Slides version. The three prompt options can be used with ANY text.
Spelling Patterns
This will be used for students who need extra support with spelling patterns and decoding. I use this resource along with leveled readers for additional instruction. There is a digital version of this resource, but I prefer the paper copy of this resource.
Novel Studies
Students may participate in a novel study for enrichment in reading. Each novel study's lesson correlates directly with the lesson taught during the reading mini lesson. These can also be completed digitally or in a print version. There are five novel study choices included in each reading unit. I am currently in the process of updating each unit's novel studies and reading mentor text to ensure that I included books that represent all students.
Introducing Paragraphs
Before I jump all the way into writing, I like to teach students how to write a high quality paragraph. These lessons use amazing back-to-school mentor texts to teach students step-by-step how to write a paragraph.
Personal Narratives
Students begin the year with personal narratives. If you are short on time, you may omit the included mentor text and refer to the text read during your reading lesson.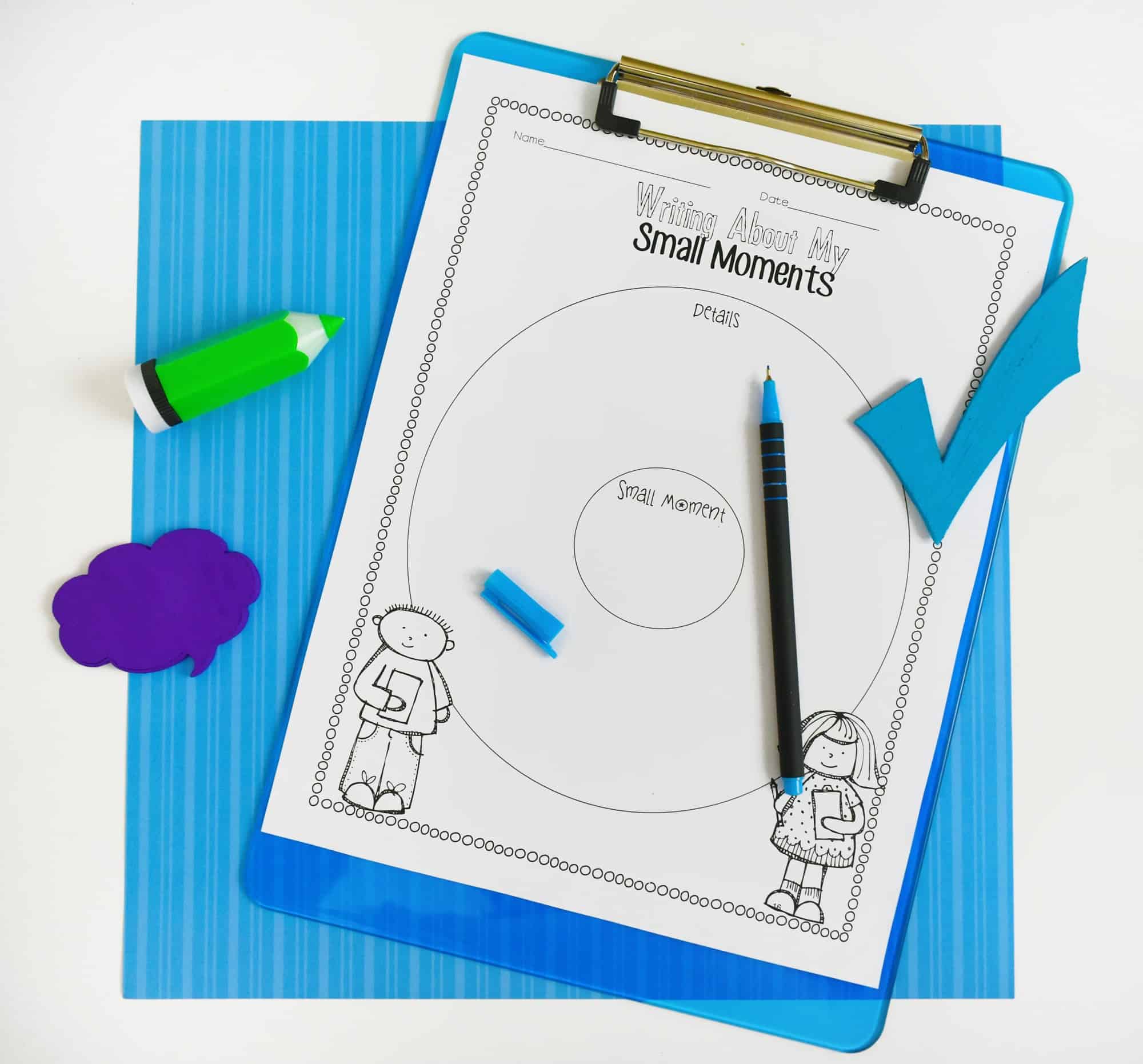 Math
The math plan consists of a daily math warm-up that focuses on number sense, conceptual math lesson, math centers, and a digital interactive notebook activity. You can see how to implement each component below.
Math Warm-Up
This is my favorite resource for giving students the opportunity to develop number sense. Each day there is a series of slides with a specific focus. For example, one day students may focus on subitizing or unitizing. Another day students count the room (which is such a valuable activity). Another day be be a series of number strings and number talks, while the following day students may complete a which number doesn't below activity. This is best completed as a whole group activity. I do not recommend using this resource for digital learning.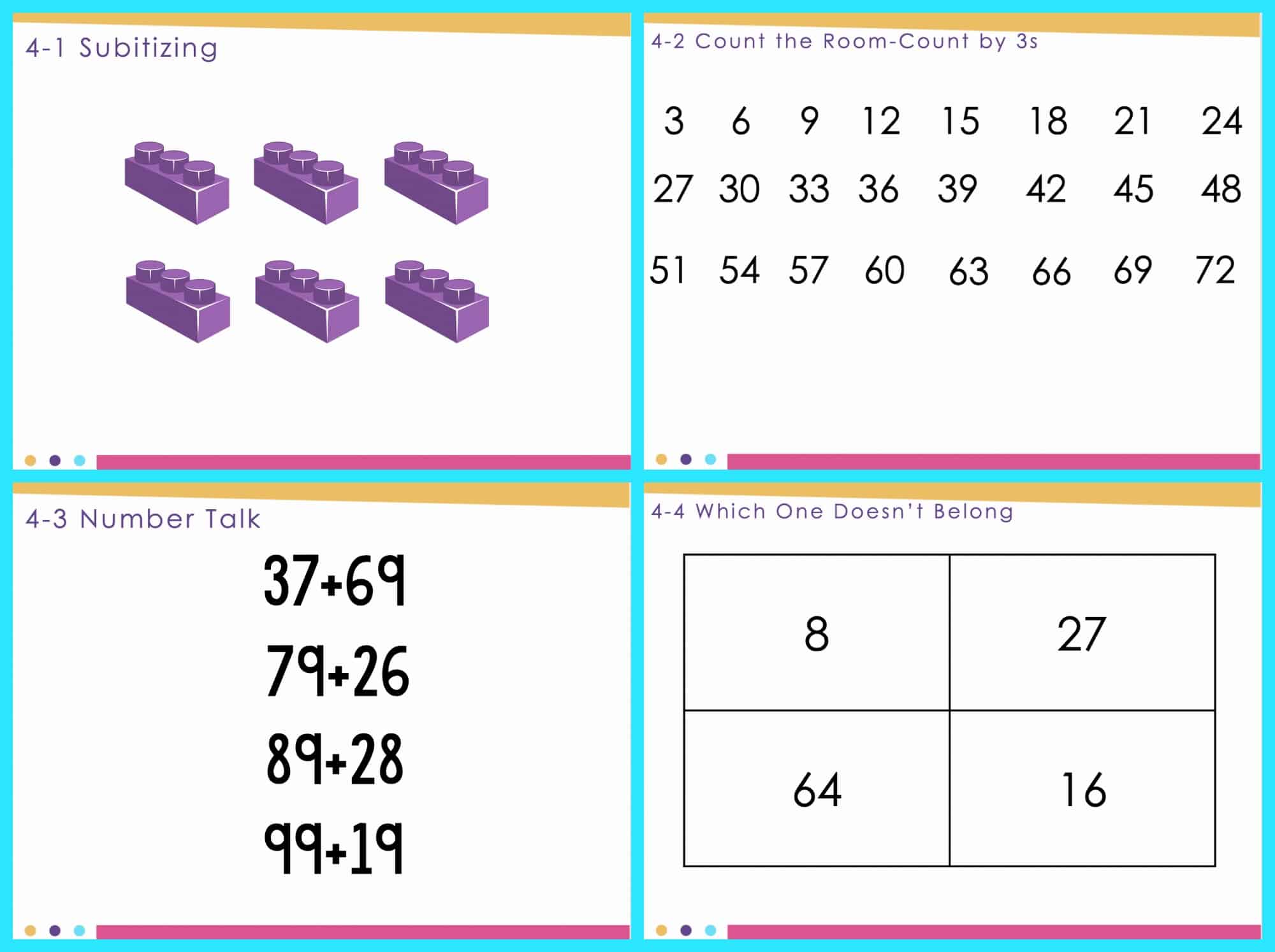 Weekly Word Problems
Students solve three-word problems every day of the year. The problems in this resource increase in difficult as the year progresses, so students can complete this independently. This can be completed on paper or digitally, so this is great for in class or distance learning.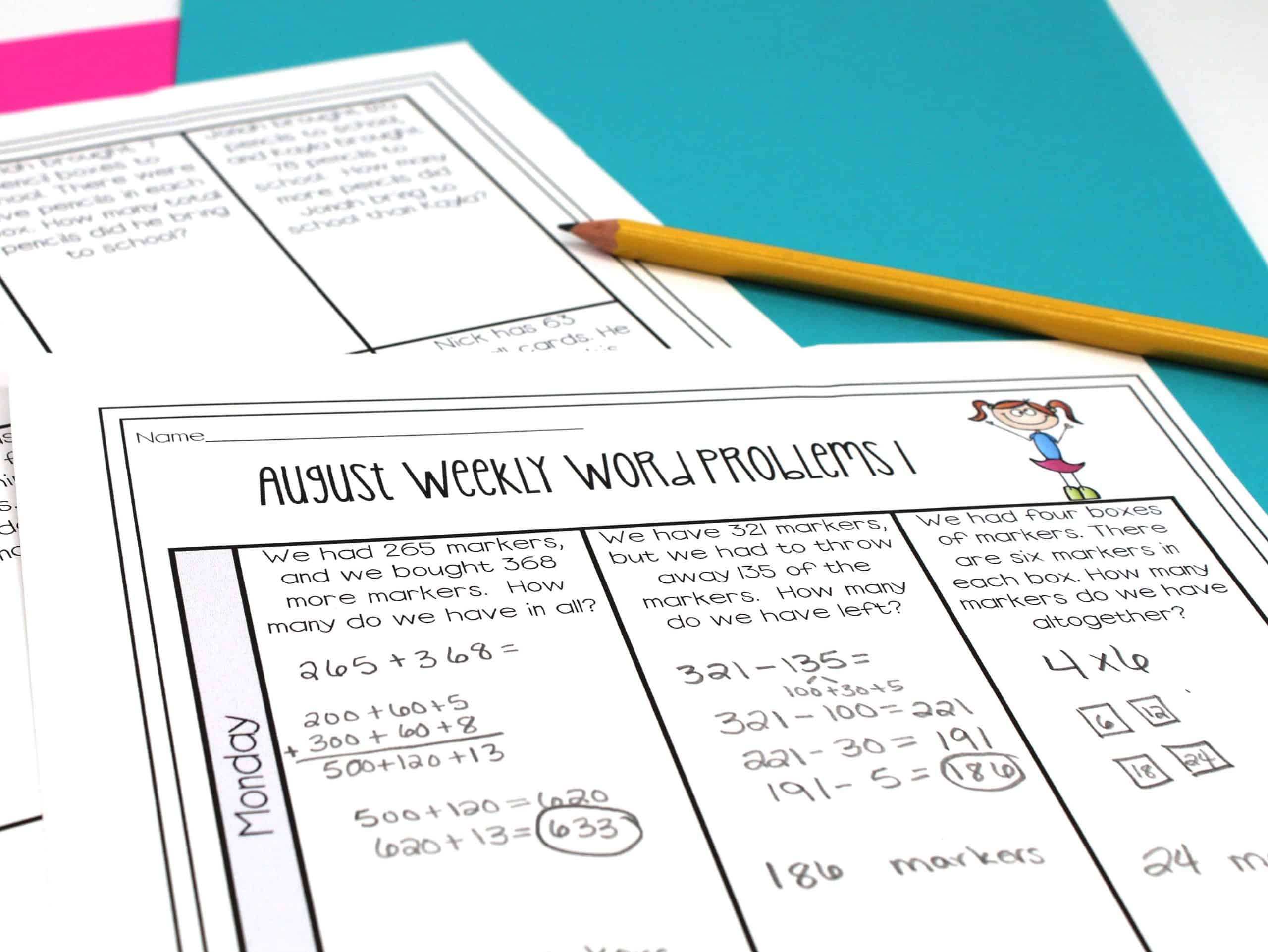 Number of the Day
If we use a hybrid model, this is what students will complete in lieu of the math warm-up. There are MANY versions of this activity to meet the needs of your students.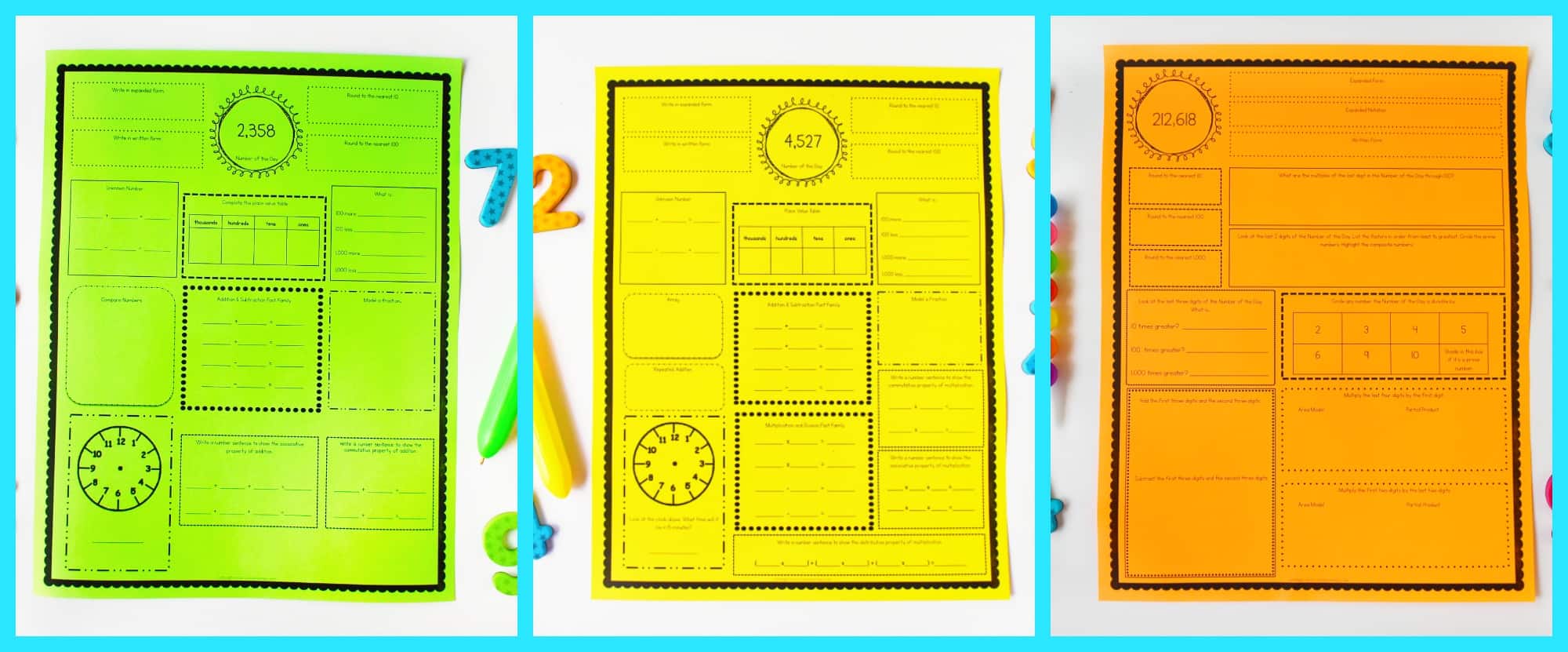 Place Value Lessons
If you take anything from this plan, use this! These place value lessons are highly conceptual and engaging. This takes students far beyond identifying the place value or value of numbers. Instead, students truly dig-in to the concept of place value and develop an authentic understanding. I don't know that it's possible to make every lesson suited for distance learning. However, I did include a digital option for each lesson. I also included a unit at a glance page that indicates which lessons are best suited for distance learning, and which lessons to avoid if possible.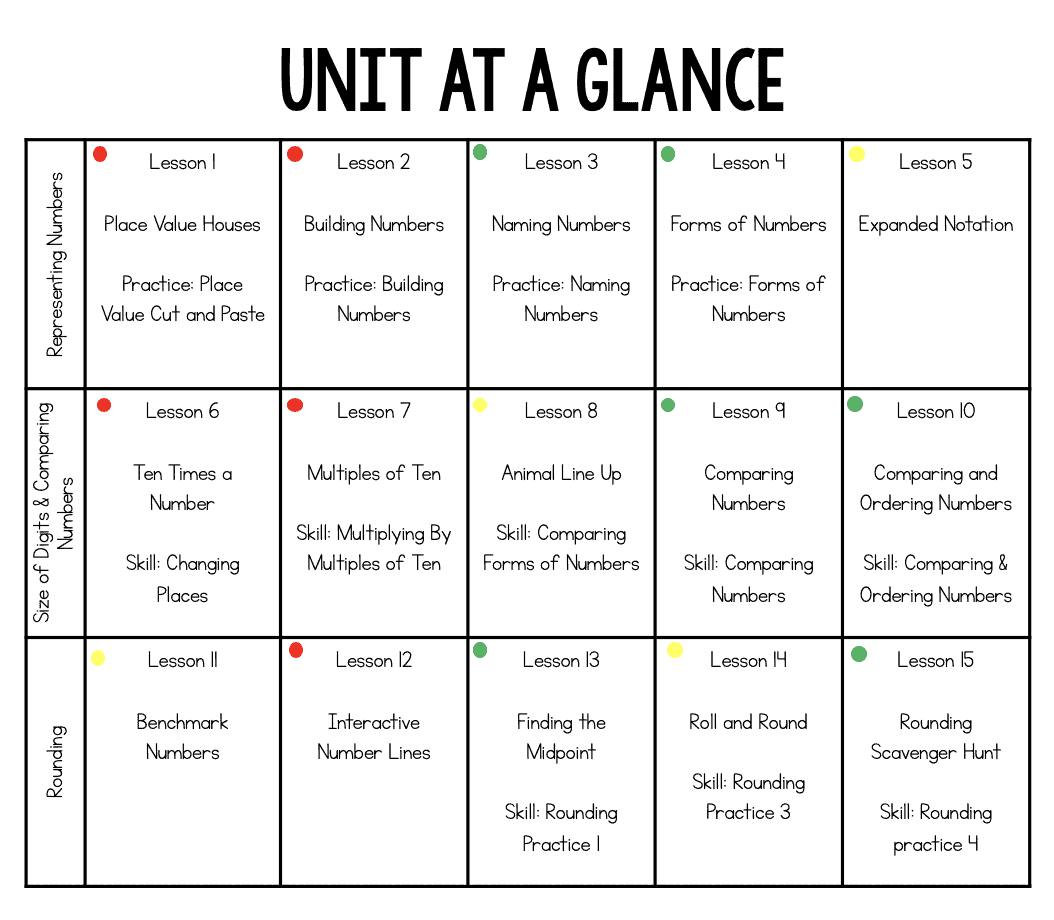 Interactive Notebook
This resource is to be used with distance learning. The Place Value Unit indicates when to use each of these lessons, but you can certainly use this however you like. Because of the amount of color ink, this is one resource that I wouldn't recommend using the print version.
Place Value Centers
You'll probably notice that I don't introduce centers the first few weeks of school. That's because during that time I'm teaching procedures and setting up my classroom expectations. It's tempting to jump right in, but you won't regret the time you spend establishing those routines, as it will save you so much headache later in the year.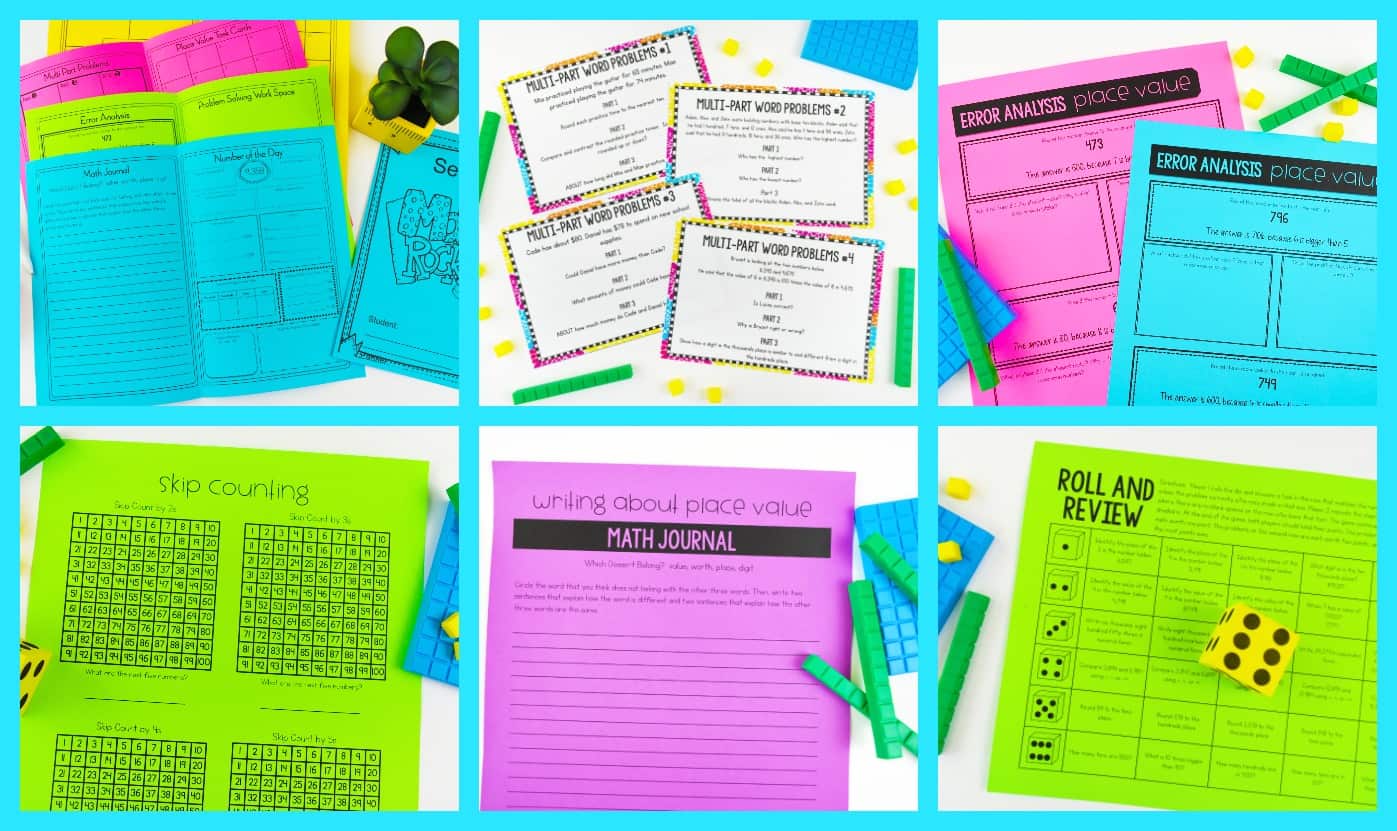 I use these centers instead of the place value unit on Tuesdays and Thursdays. For me, this means that all my lessons don't finish neatly week-by-week, which was originally so hard for me! Instead, my units run long, but that's okay with me! I'd rather go slow and let students develop a through understanding, than hurry with superficial instruction.
Monday-Lesson 11 Benchmark Numbers
Tuesday-Place Value Centers
Wednesday-Lesson 12 Interactive Number Lines
Thursday-Place Value Centers
Friday-Lesson 13 Finding the Midpoint
I also want to point out that in no way should these centers replace your math instruction. Yes, these are conceptual, rigorous, and engaging, but students also need laser focused inquiry based math instruction.
Place Value Extras
I add a "buffer week" at the end of each math unit. Whenever I finish a unit, including our unit assessment, I wait a week before starting my next math unit. That extra week is when I teach all of my extra lessons that aren't in my math units. During this week of instruction, I continue to work intensively with need based small groups of students.
Emoji Place Value
One of my absolute favorite place value activities is Emoji Place Value.  In the activity, each student receives a different cell phone with a text conversation on the screen. The conversation is full of different emojis. Each emoji is assigned a different value and students determine the total value of their text conversation.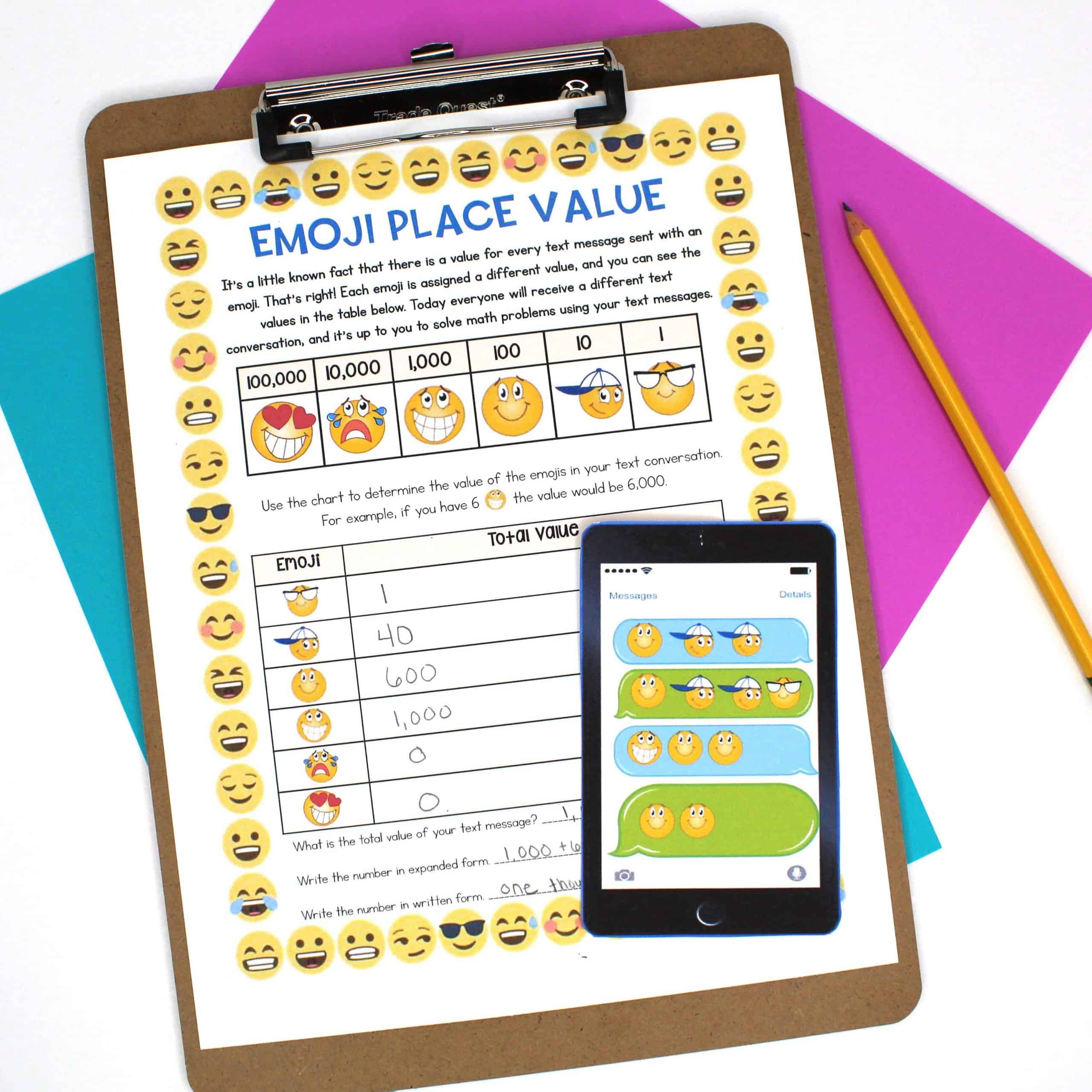 3 Act Task
At the minimum, I like to incorporate at least one 3 act task with each math concept I teach. Since place value is the first unit of the year, this is also students' first experience with a 3 act task. I got the idea for this task from Robert Kaplansky's website which is full of ideas and videos for teaching math.
Place Value Escape
You can think of breakout lessons or escape lessons as a type of academic scavenger hunt. Students solve problems to discover a clue or code that will take them to their next problem. You can use Escape From Place Value Island as a culminating task for your place value unit.
I know this is A LOT of information to digest. You may want to bookmark this post. Process. Then come back to it. Don't forget to download the planning forms for The First 30 Days here.