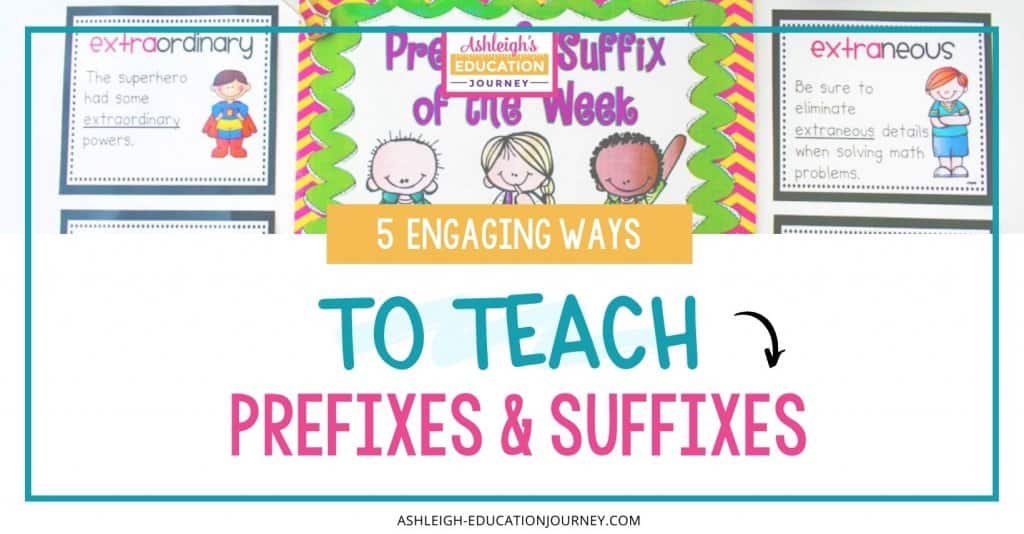 Lessons to teach prefixes and suffixes used to be one of those things I saved until the end of the year and would try to squeeze in right before testing.
I don't recommend that strategy. Mainly because it doesn't work, at least not well. I have no doubt that my students left my classroom and almost immediately forgot everything I crammed in during those few lessons.
It also does a disservice to students because they didn't have the opportunity to apply what they learned about affixes in their reading throughout the year. I shouldn't prefixes and suffixes for the sole purpose of a state test. I should teach them so that my students develop as readers.
That change in mindset changes things. We should begin teaching prefixes and suffixes much earlier in the school year, and we shouldn't teach them in isolation. Instead, we can incorporate prefixes and suffixes routinely into our instruction.
This blog post shares five ways you can teach prefixes and suffixes to your students, so that you can see evidence of their understanding in their reading and writing.
In this post:
Introduce Prefixes and Suffixes
I introduce prefixes and suffixes with picture books and an anchor chart. After my initial instruction, I don't expect students to master the concept, but I do want them to have a general understanding of prefixes and suffixes. I also like to show a brief Brain Pop movie for a little extra reinforcement. My students typicaly enjoy Pre- and Re-, Mis- and Dis-: What Is a Prefix? and -Ful and -Less, -Er and -Ness: What Is a Suffix?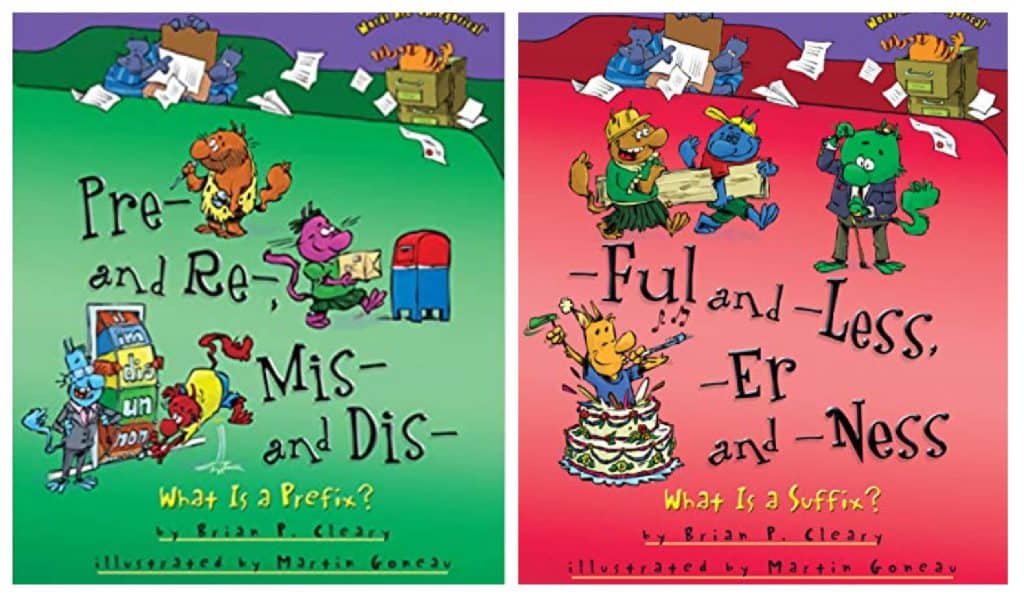 Prefix and Suffix of the Week
It's overwhelming and unrealistic for students to grasp a huge number of prefixes and suffixes in a short period of time. A great solution is to introduce one prefix or suffix a week to students. For just a minute or two each day, you can discuss the affix and practice using it in a sentence. You can display the Prefix and Suffix of the Week in many different ways, and it makes a great interactive bulletin board.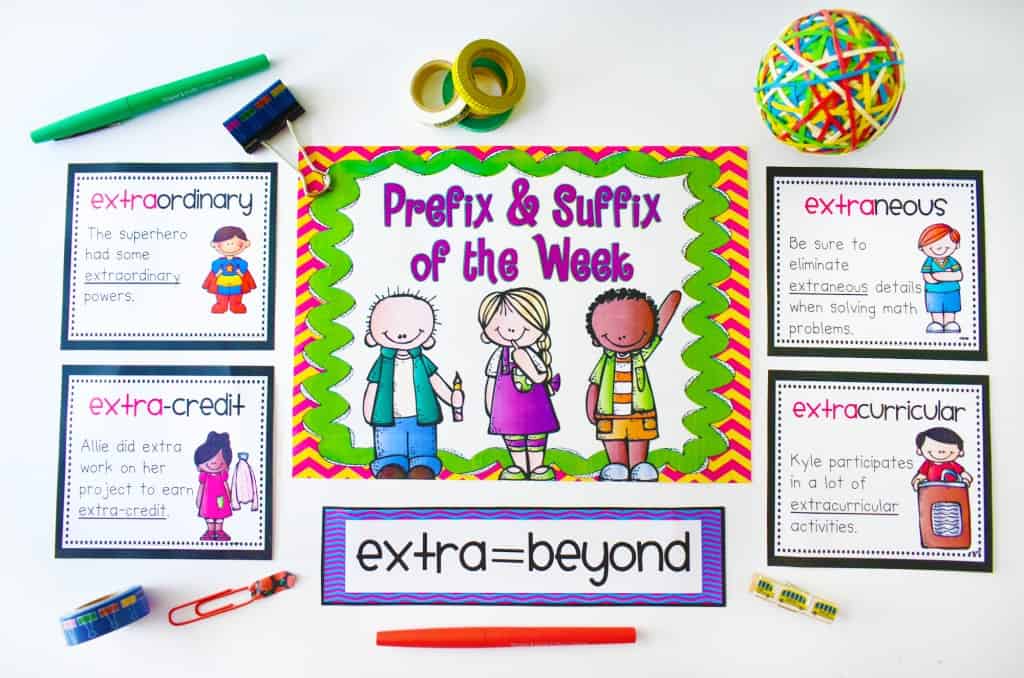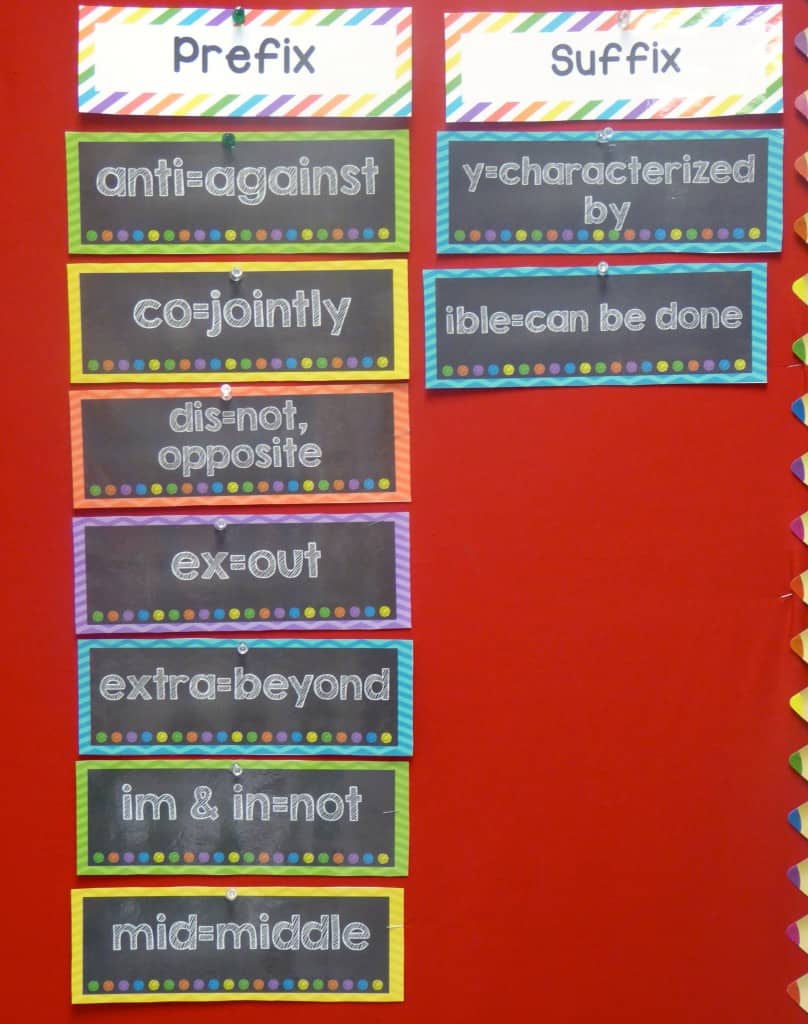 When I used a black background, I didn't like the chalkboard version, so I went back to the original. I'm always changing, which is why so many of my products include different options!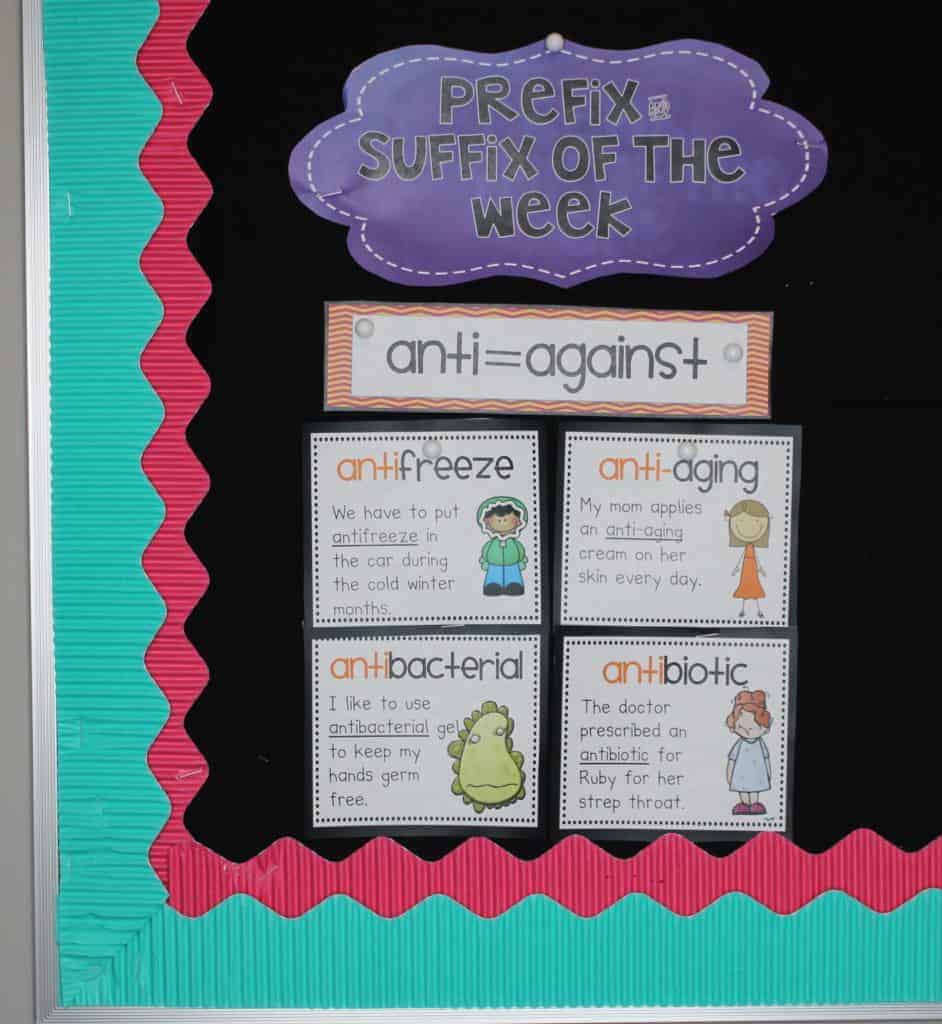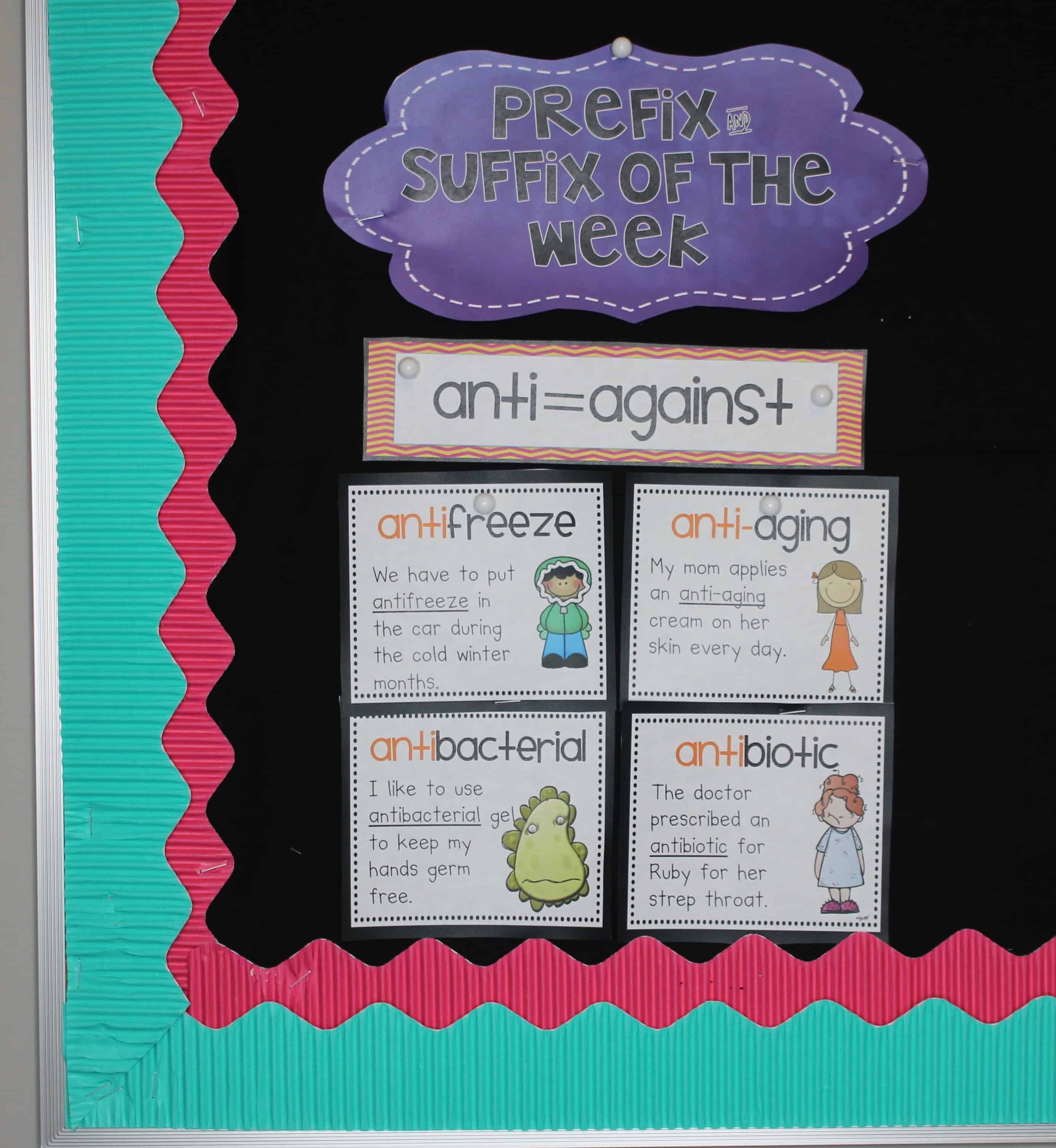 Prefix and Suffix Scribble Notes
Any student who has ever been in my classroom knows that I love notebooks and journals. If there's a way to turn a concept or lesson into a notebook, I'll find it! Prefix and Suffix Scribble Notes are a great way to introduce and review popular prefixes and suffixes in an engaging and student friendly format.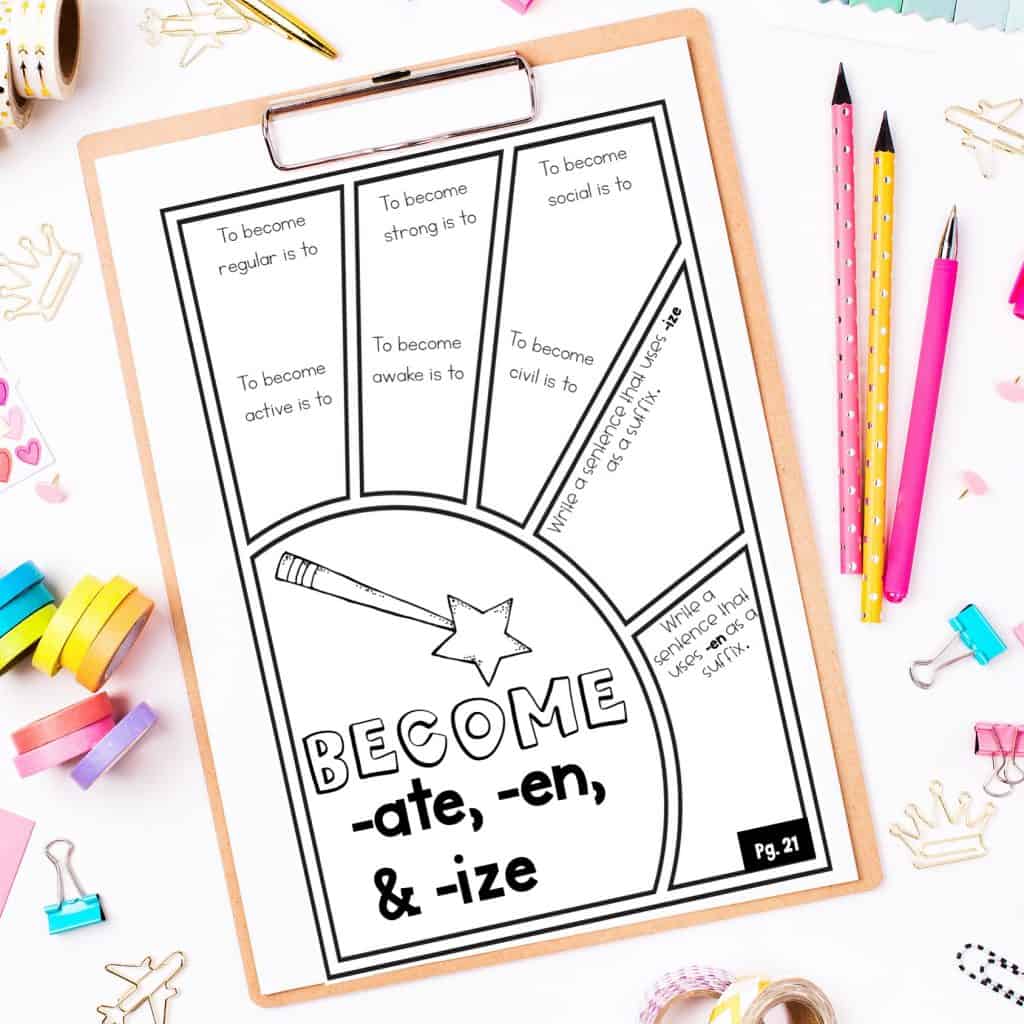 Each page includes pictures, examples, and interactive tasks for the particular prefix or suffix. The pages are organized by the meaning of the prefix or suffix, so there is frequently more than one prefix or suffix on a page. For example, the prefixes on Page 1 include dis-, de-, and anti- which all mean opposite or against.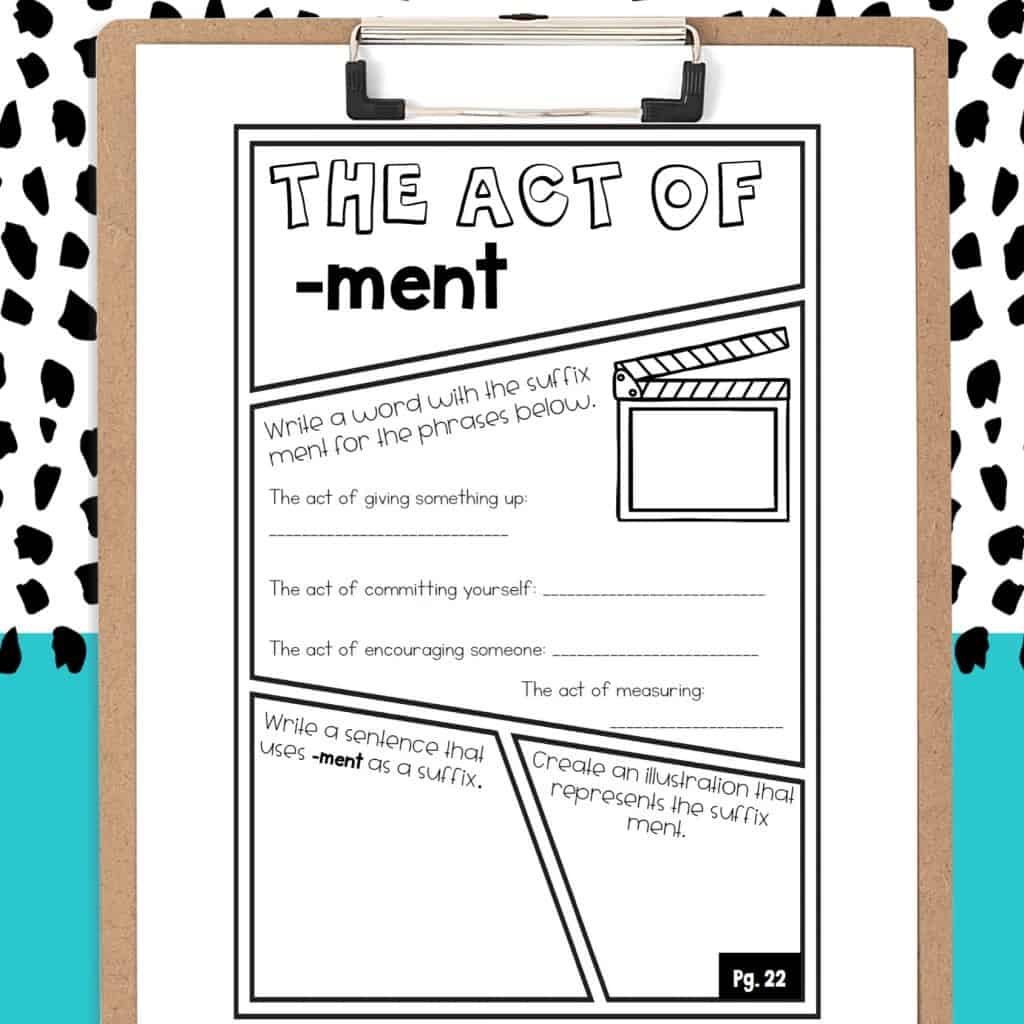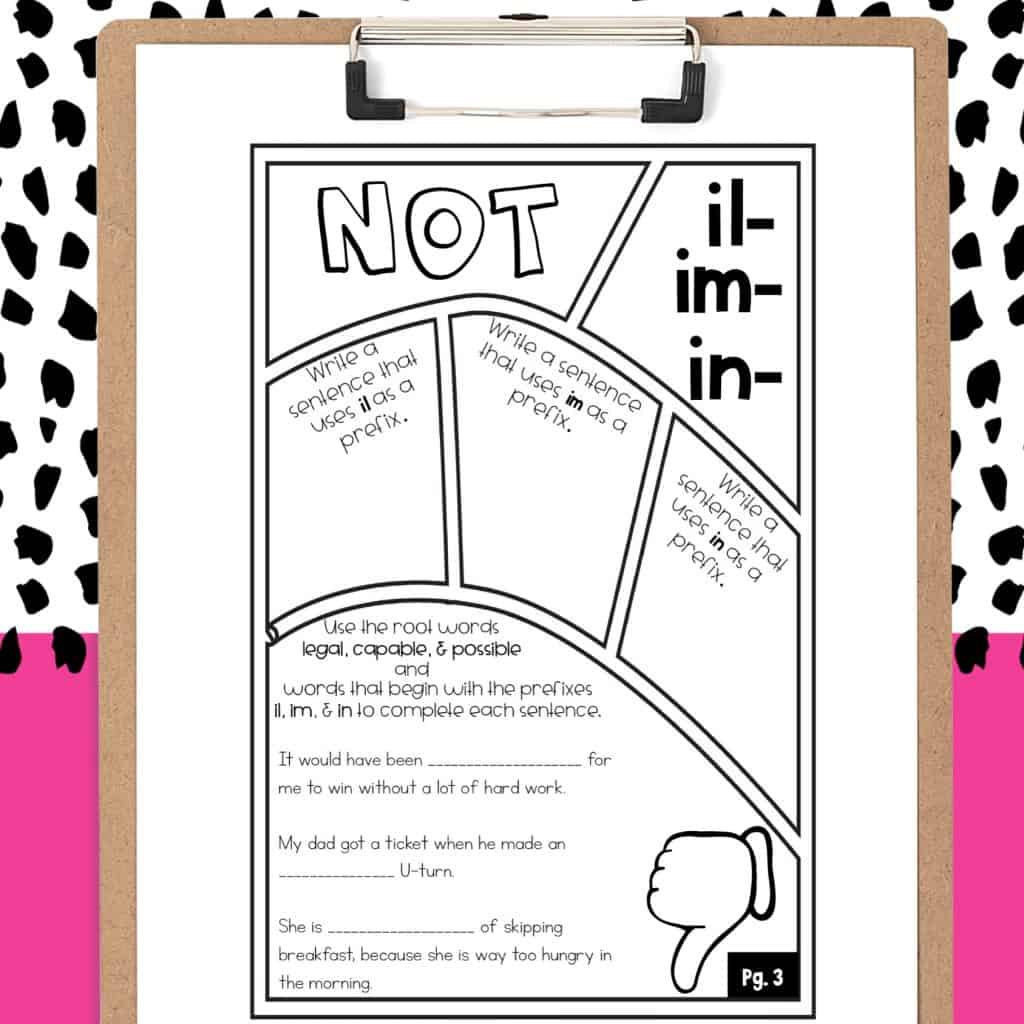 You may move through the booklet at your own pace or the pace best suited for your students, so there is no need to spend a specific amount of time on each page. You may skip around or follow the order of the booklet. Of course, to get the biggest benefit, you can introduce the words for your prefix or suffix of the week to go another with the booklet.
Online Games
There are also some fun online games, such as Fun English Games, that you can use to review prefixes and suffixes. The website indicates that the game is for second grade, but I've found that this is the most engaging game for students.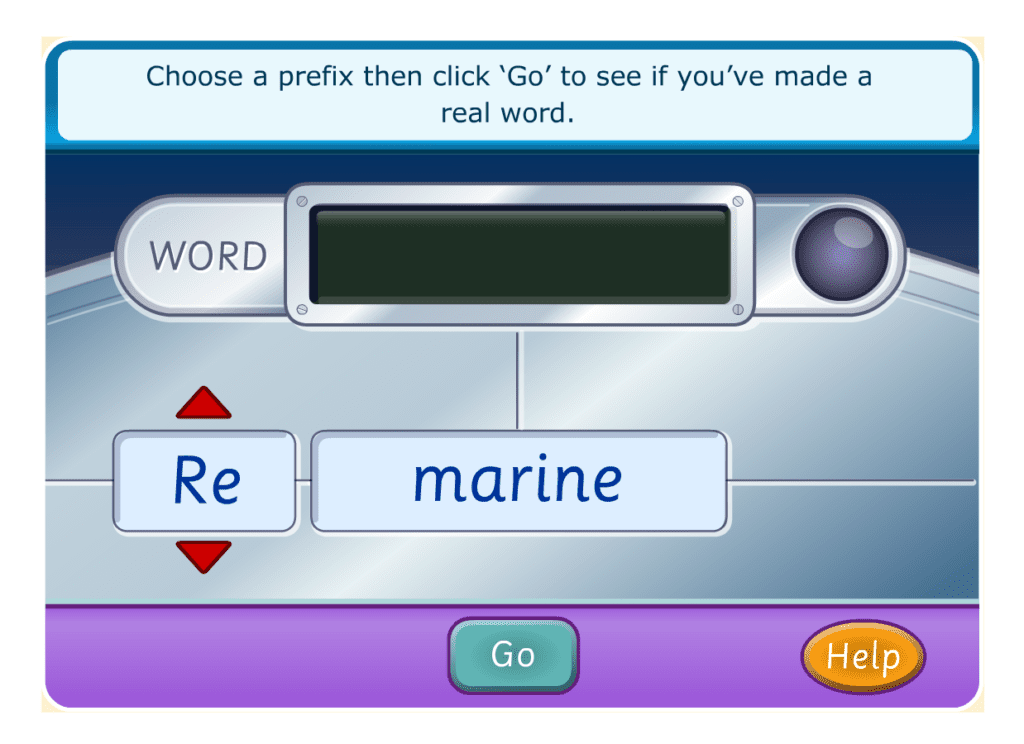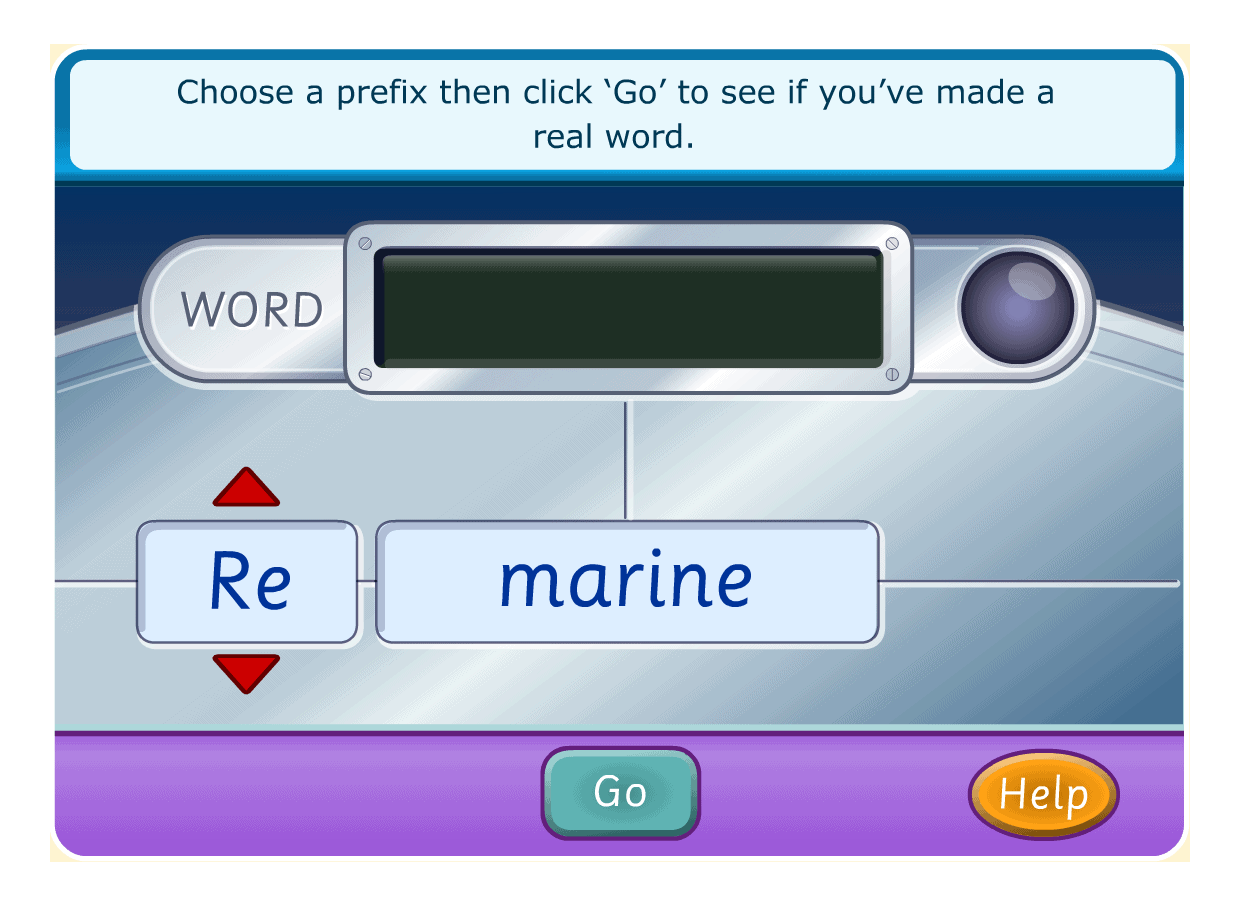 Reading Passages
These Prefix and Suffix Reading Passages take the rigor up a bit. This allows you to incorporate prefixes and suffixes into your reading instruction with student friendly reading passages. Each set of passages is organized by either two prefixes or two suffixes.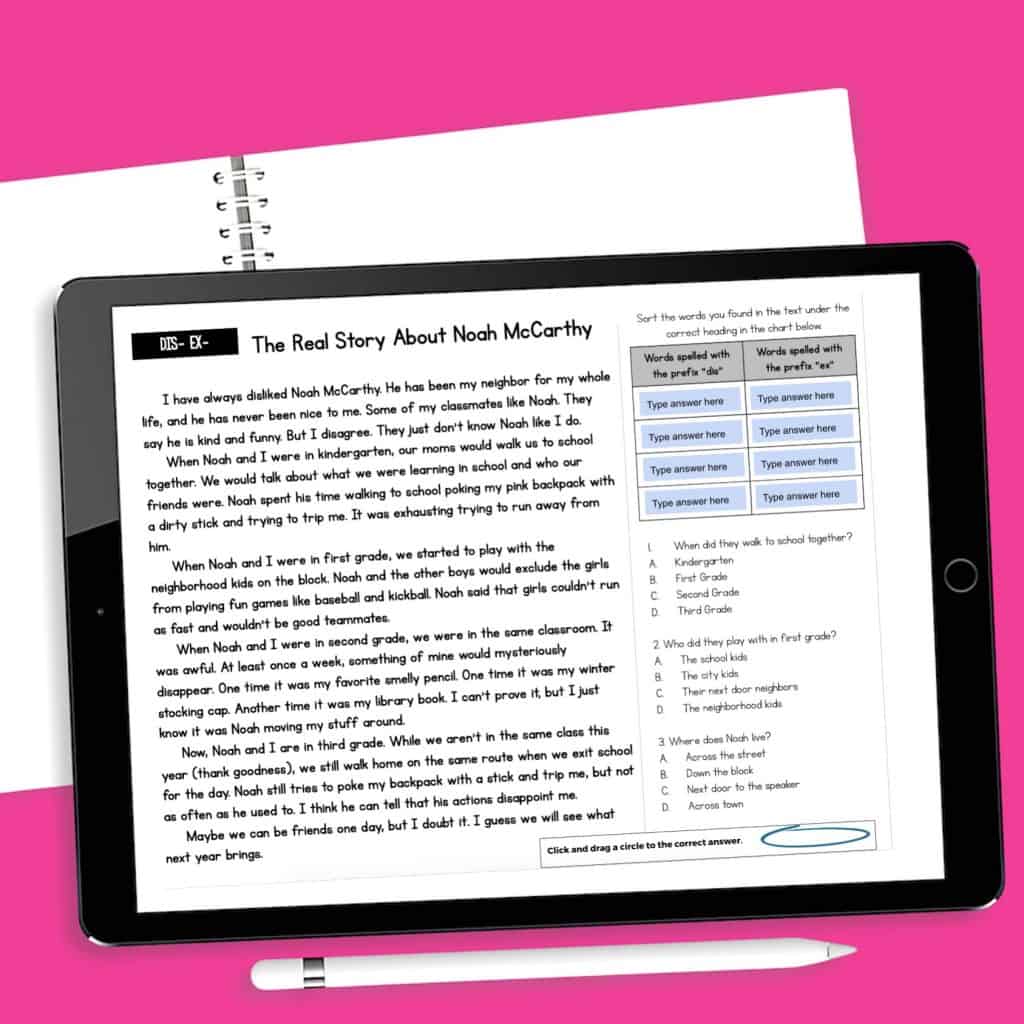 In each passage:
Students identify and sort examples of the focused prefix or suffix.
Solve three multiple choice comprehension questions.
Retell the story with the beginning, middle, and end.
Write examples of each prefix or suffix.
Use the prefixes or suffixes in a sentence.

Prefix and Suffix Freebies
I occasionally have students complete a prefix or suffix worksheet or graphic organizer. I don't try to do this with every word we study, but I do like to give some prefixes or suffixes extra reinforcement. In this graphic organizer, students write the prefix of suffix in the center of the oval and words that use the prefix or suffix in the surrounding spaces. If students can't think of enough examples, they can write a word in a sentence or give the definition of the prefix or suffix.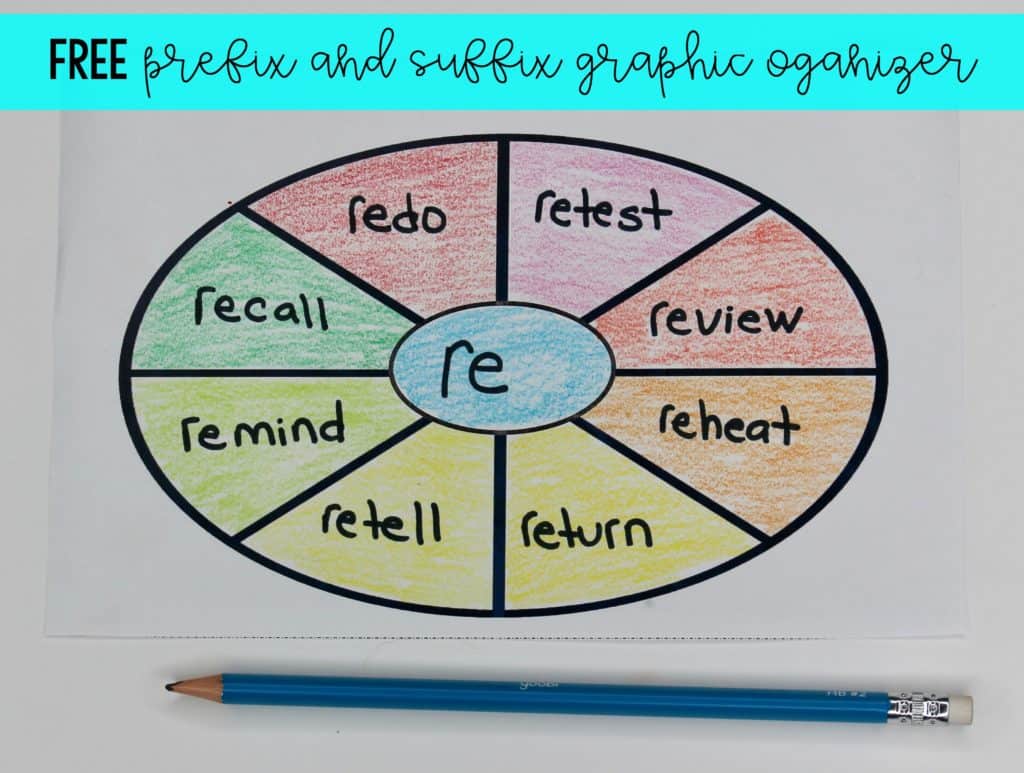 A fun review activity is to have students complete a scavenger hunt for prefixes and suffixes. I made separate forms for each, rather than combining prefixes and suffixes. You can download the graphic organizer and scavenger hunt for FREE here.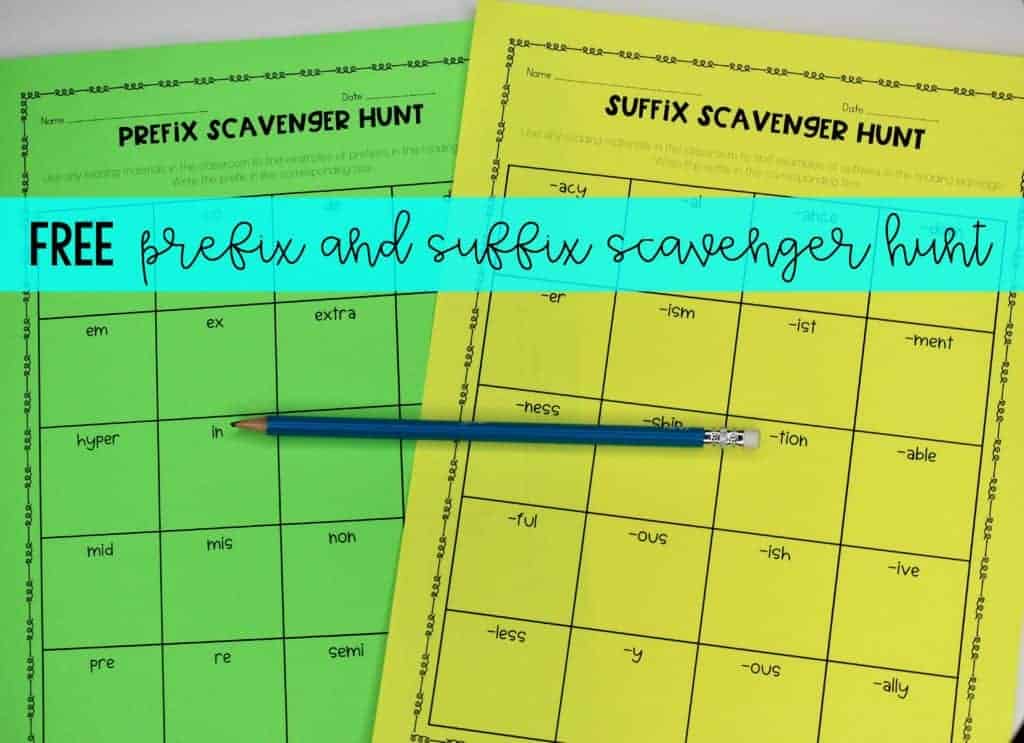 I hope you're able to use some of these ideas for teaching prefixes and suffixes!