Since my students had a lot of varied experiences working with fractions and understanding the size of fractions, comparing fractions was fairly natural for most students. Once I felt like students had a solid general fraction number sense, we started to dig deeper so that students could have a feel for the size of fractions. I like to start by teaching about benchmark fractions, primarily zero, one-half, and one whole. Students are able to use these reference points throughout the entirety of a fraction unit. In the activity below, students choose a fraction and write three numbers that are increasingly closer to one whole. Then, students repeat the process with fractions that are closer to zero and repeat it again for fractions closer to one-half.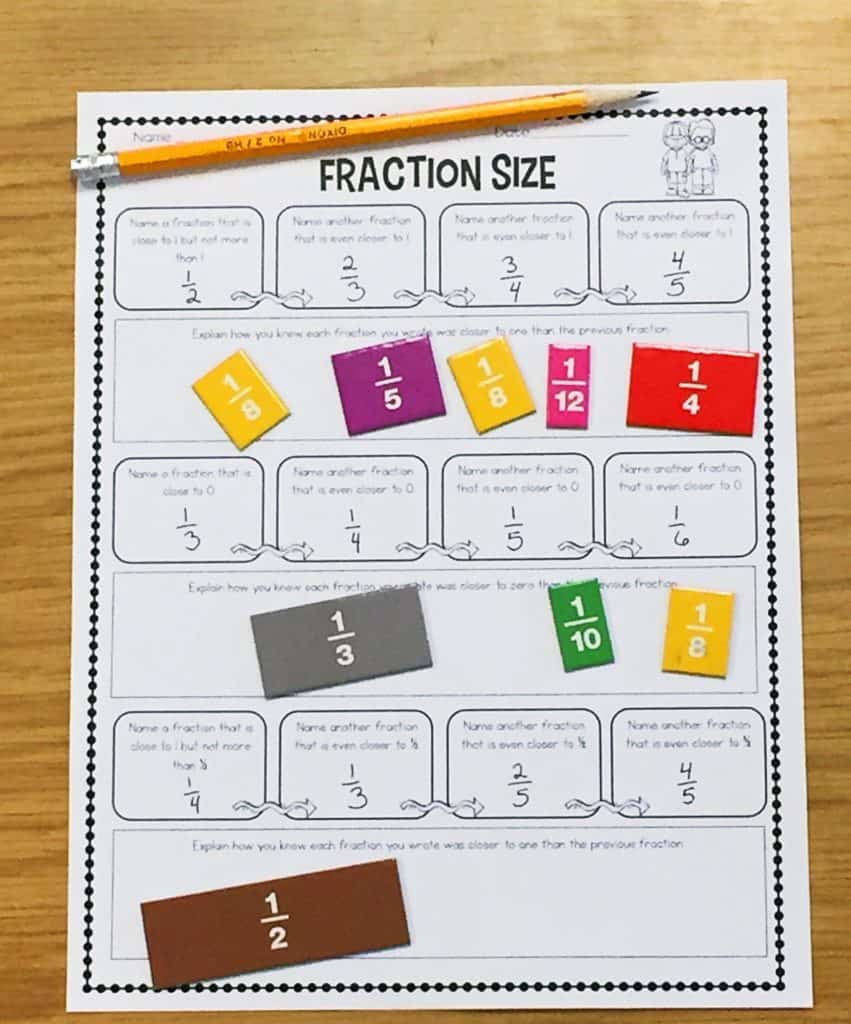 Students then began to compare fractions. I started by reviewing what my students learned in third grade, which was comparing fractions with common numerators or denominators. Then, students began comparing fractions with unlike numerators or denominators using fraction models. I tried to incorporate a variety of fraction models to continue to develop my students fraction number sense. My favorite model is definitely fraction tiles or fraction strips. Students then compared fractions without using fraction models. I did not teach my students to cross multiply in this portion of the unit. I know that it is a very easy way to compare fractions, but I first wanted my students to understand the concept of comparing fractions.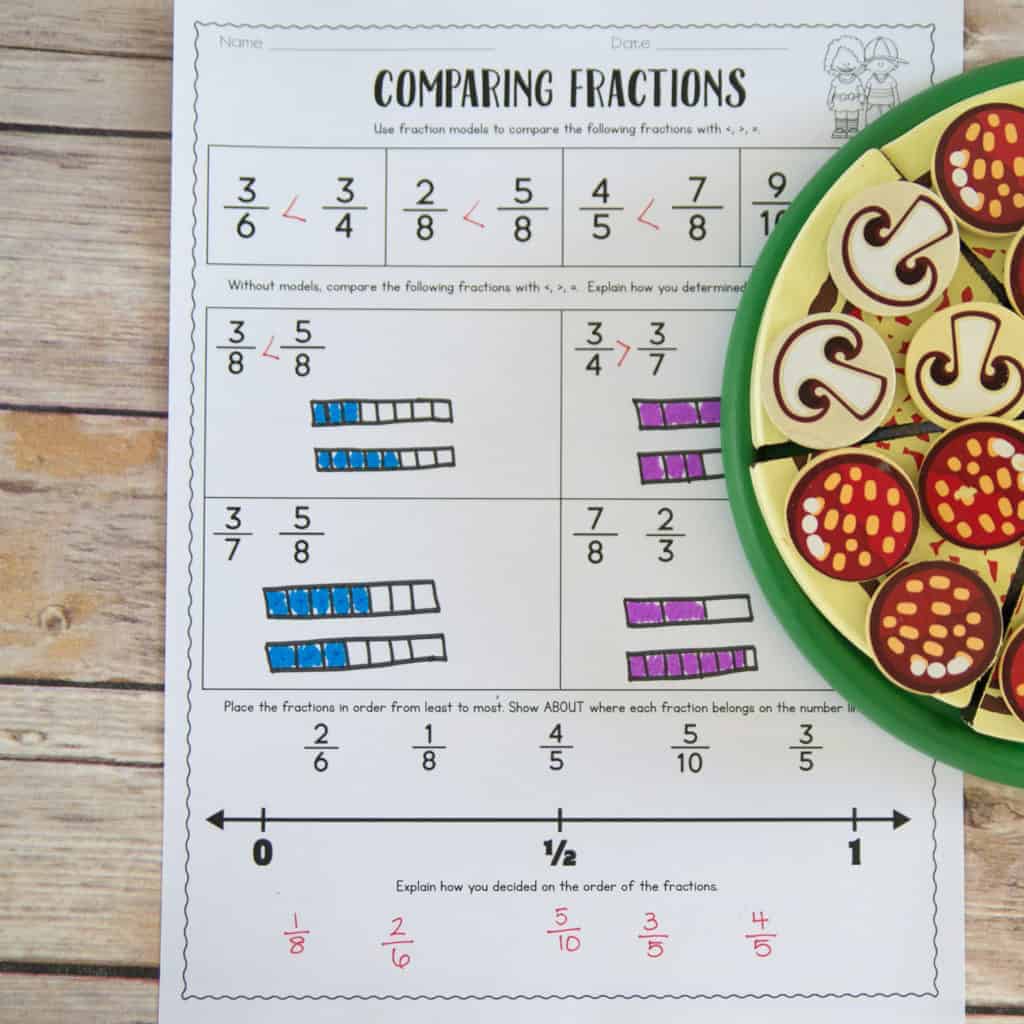 The comparison problems allowed students to apply different comparison strategies:
More of the same size parts, which compares fractions with common denominators;
Same number of parts but parts of different sizes, which is when the fractions have a common numerator;
More and less than one-half and one whole, which allows students to focus on benchmark numbers;
Distance from one-half or one whole, where students notice how far each fractional part is away from one whole.
I also had students complete real world problem solving activities that required them to order and compare fractions. In each of the activities, I had students explain their thinking and they had to support their answers with multiple representations.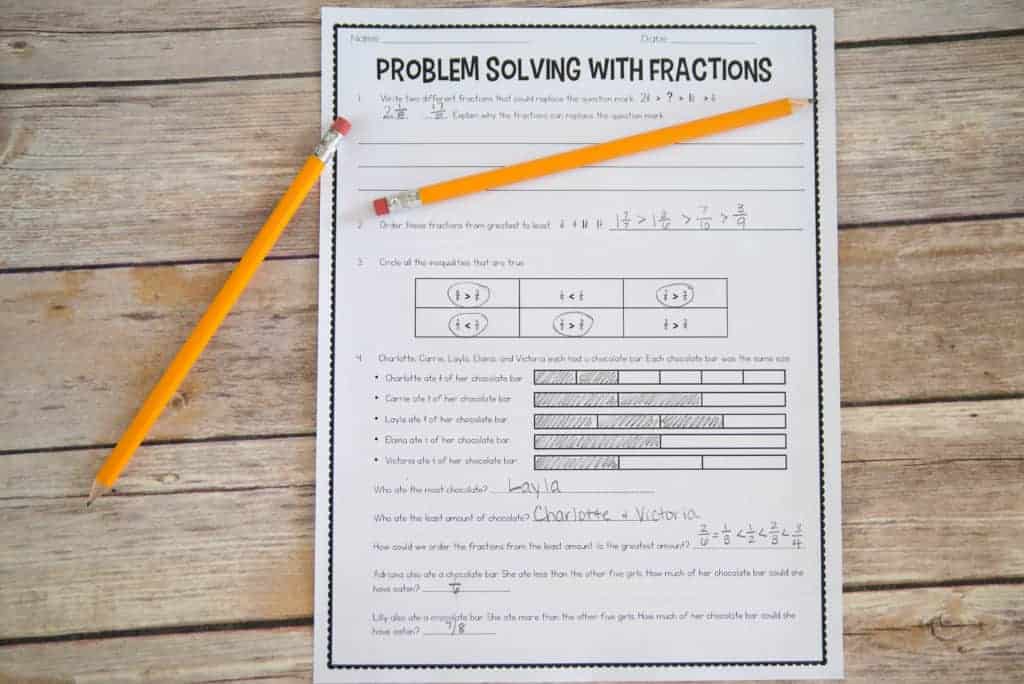 My favorite comparing fractions activity was, without a doubt, my Fraction Skittles lesson. Each student received a bag of Skittles and found the fractional part of each color of Skittles. Students then find a partner who has a different denominator and compares the fractional part of each color of fraction. Students repeat the process with a different partner. Finally, students determine which partner has the greatest fractional part of each color.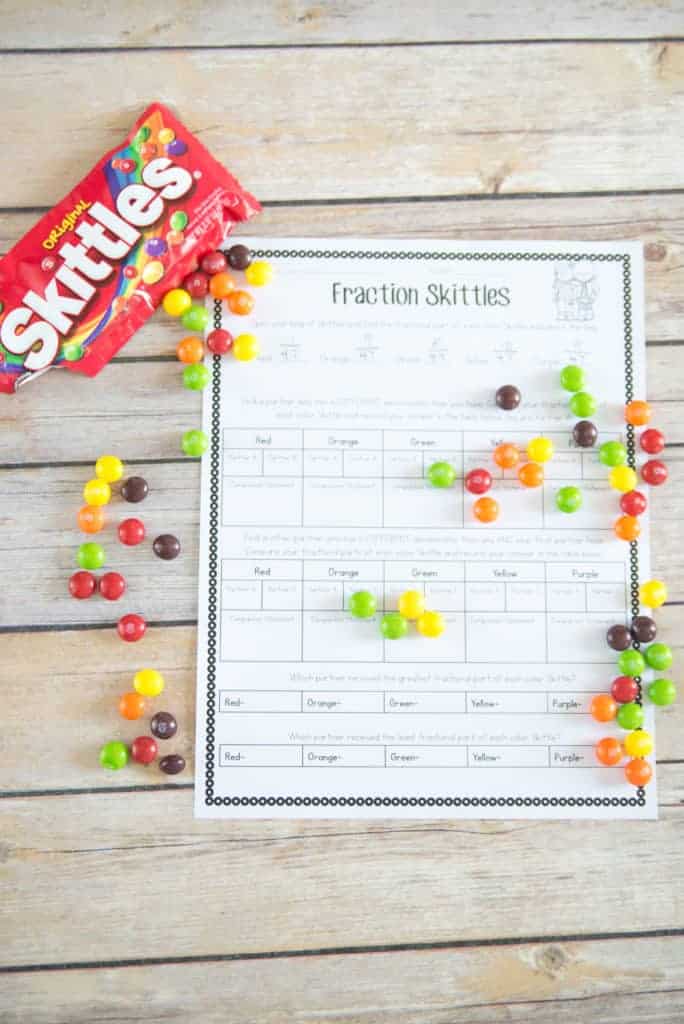 All of these lessons are included in my Fourth Grade Fraction Unit. However, even if you don't use the units, hopefully you'll have a few new ideas on how to teach comparing fractions!