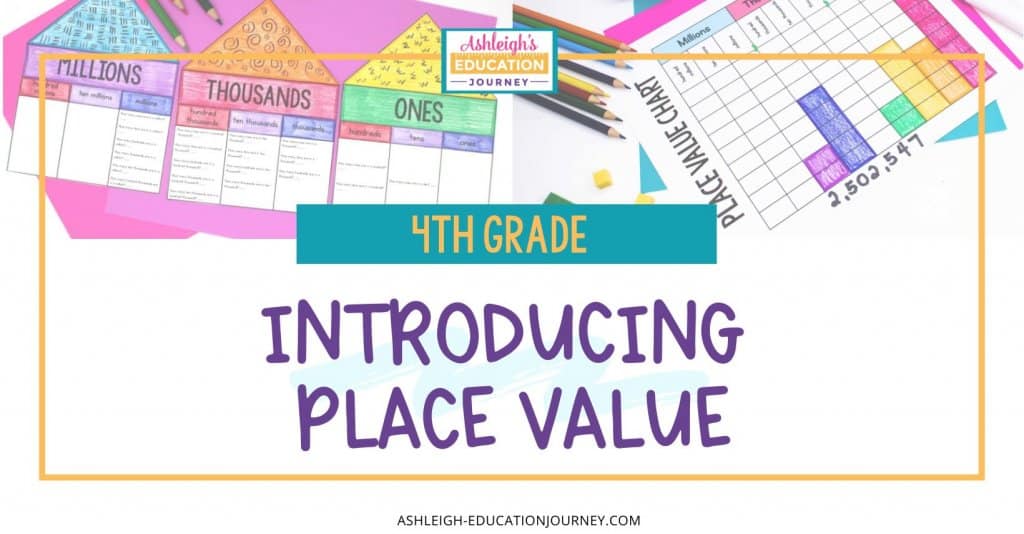 Most teachers say that the first topic they teach in math is place value. That isn't a coincidence. Many of us begin with place value because it lays the foundation of all additional math concepts. Unfortunately, place value can be tricky, and it's easy for students to fake understanding. That's why it's so important to slow down and teach for a deep understanding.
In this post, I've shared five lessons you can use to teach the general concept of place value and how to read write different forms of numbers. I tried to include lots of pictures for you too. Each of these lessons are from my Fourth Grade Place Value Unit.
In this post:
Place Value Houses
While I love teaching math through problem based learning and try to focus on lessons that require application, I can't jump in too fast. Before beginning more advanced lessons, students must first understand place value conventions and terminology.
That's why I love to use place value houses as a general introduction to place value.
To understand our base-ten system students must understand that ten in any position makes a single unit in the next position. I like to use base ten blocks to guide students into understanding that one unit represents one and that ten ones grouped together make a tens. We discuss how this continues with hundreds, thousands, ten thousands, and hundred thousands.
To move students from a concrete model to a pictorial representation, they construct houses to represent the ones, thousands, and millions periods. Students cut out the houses and glue them on a sheet of white construction paper. They can later add decorations and details. In each house, students record how many ones, tens, hundreds, etc. are in each place.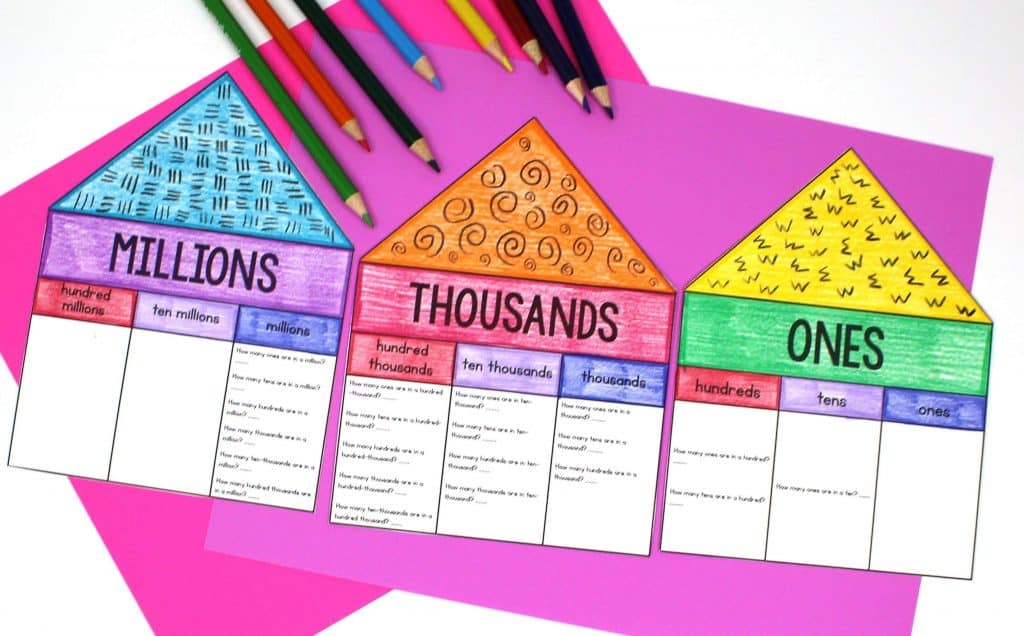 Place Value Chart
In this next lesson, students begin to develop a more conceptual understanding of our base-ten system as well as the relative size of each place. I place each place value table in a page protector and give students a number to model. The page protector allows students to write on their place value chart with dry erase markers so it can be used with multiple numbers.
After working with the place value chart, have students design a chart to represent the size or quantity of each place value position. It looks like it takes a lot of prep work, but it's really not too bad! Students cut out a ones block and glue the place value block in the ones place. Then students cut out and glue the tens rod to the tens and hundreds place.
Things get interesting when you get to the thousands place. Students should realize they can place 10 hundreds together to build a thousand. Have students cut out the ten 100s blocks and glue them together underneath the thousand place. You can repeat with the ten thousands place. Since that place value is so large, students will tape the blocks together to make a long chain.
Of course you can keep going to the hundred thousands place, or even millions place, but that will be pretty time consuming. I may use one portion of our hallway for that model.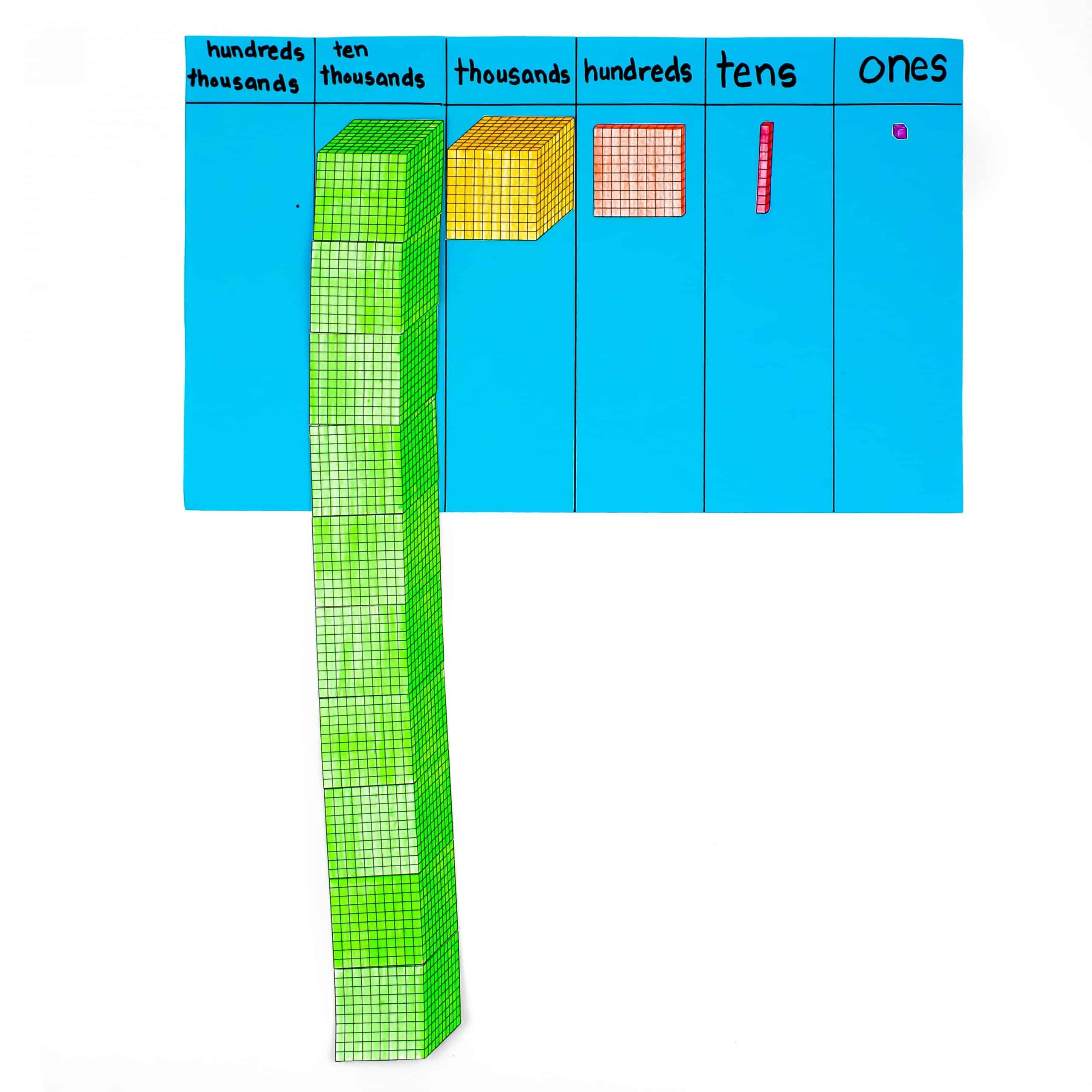 Naming Numbers
I love using place value chips to help my students deepen their understanding of place value. I use these rather than base-ten blocks, because it's next to impossible to build six digit numbers using base-ten blocks. These are much smaller, convenient to store, and they're quiet! Write numbers on your dry erase board and have students use their place value chips to build the number.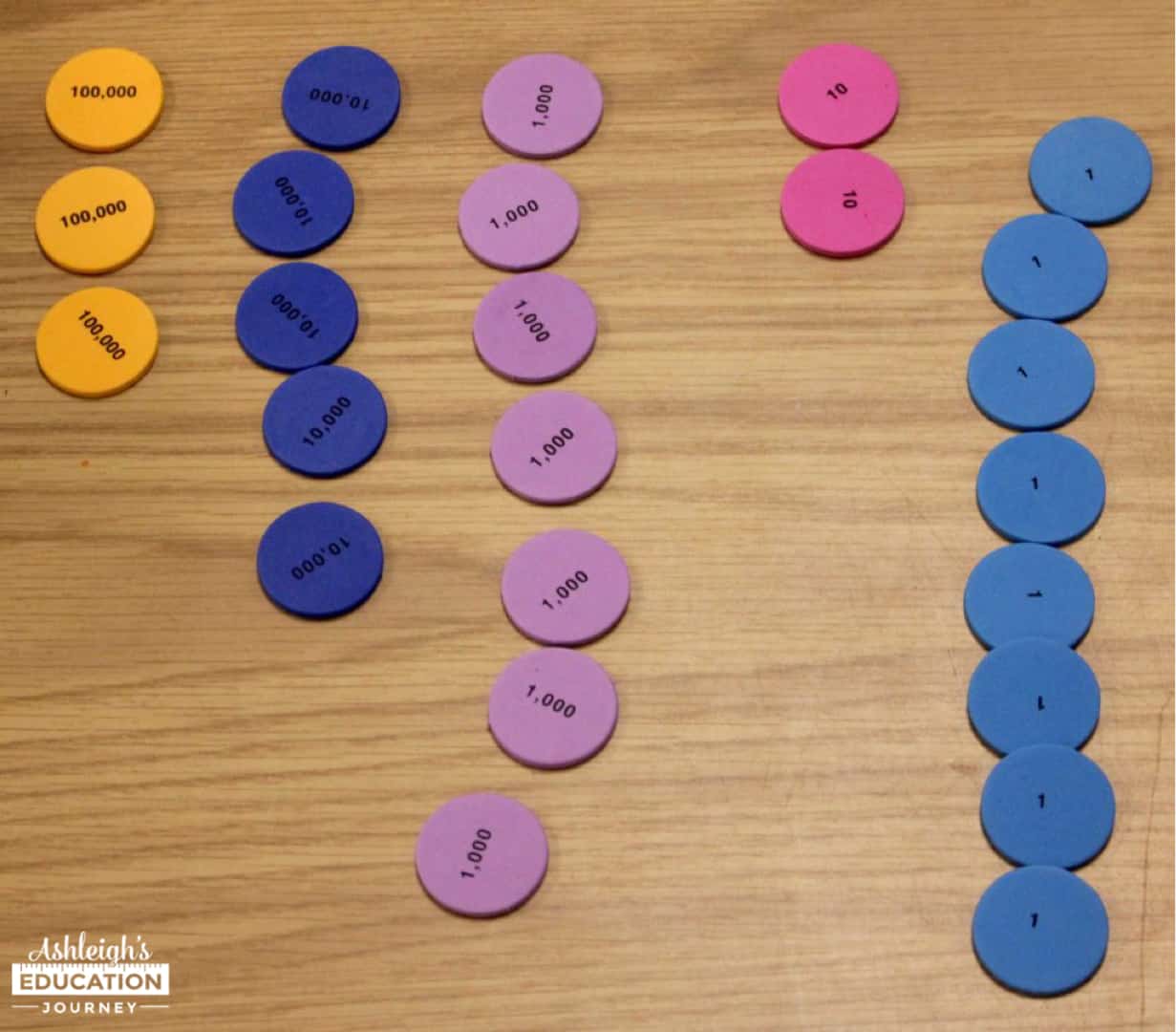 Once I felt like students understood the concrete version of this model, I wanted them to transfer that to a pictorial understanding by using the printable below. The first three problems have students shade in place value discs to represent different numbers. The next two problems have students identify numbers based on what is already shaded in. Some questions require students to think a little deeper and apply the regrouping principle to the different values of the numbers.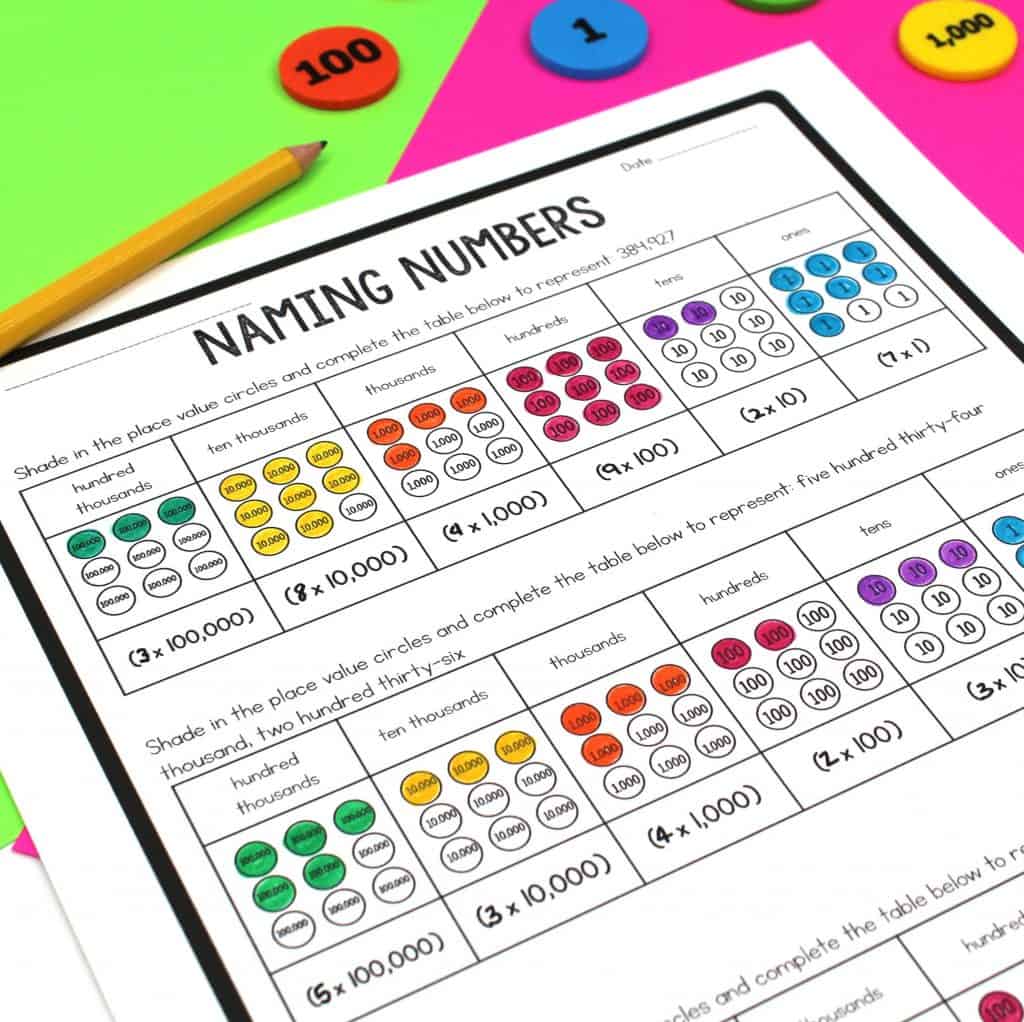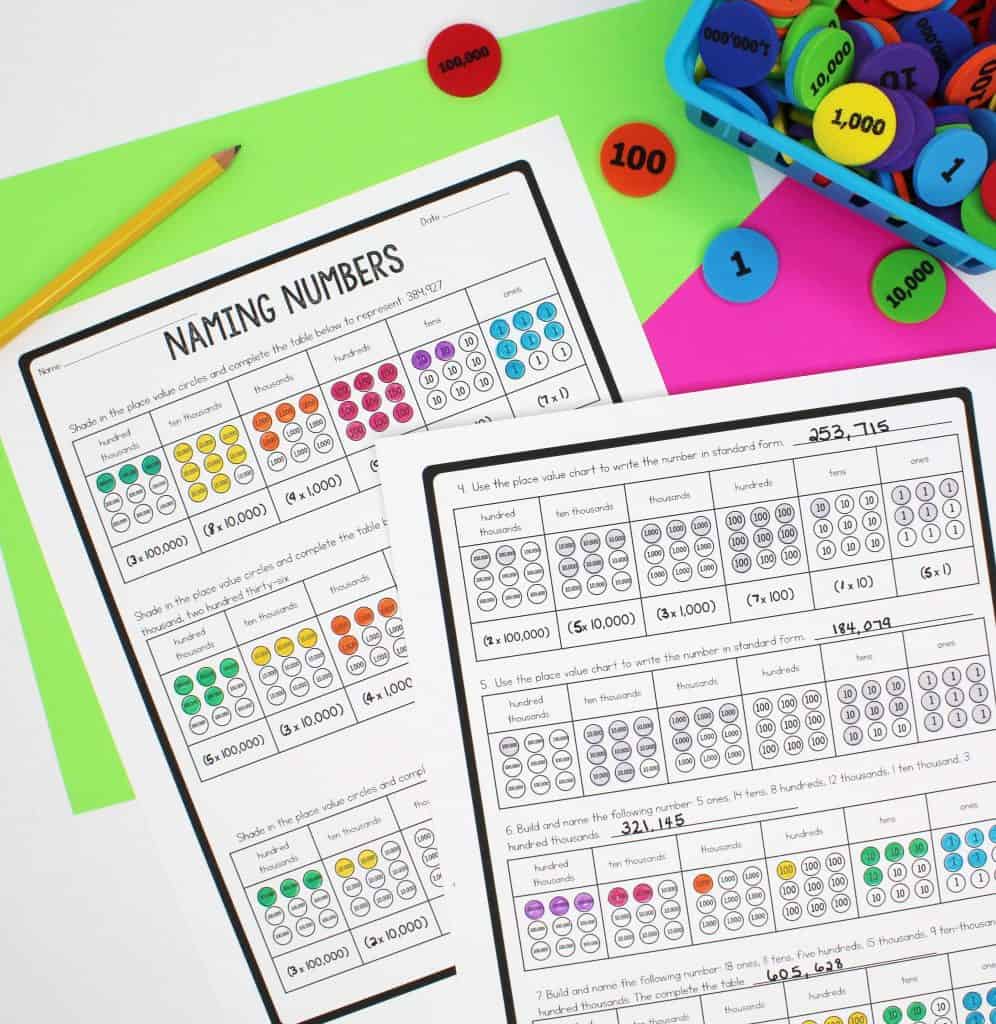 Forms of Numbers
At this point, students complete the place value page in their Math Notes. I use this as an introduction to how to write numbers in different forms.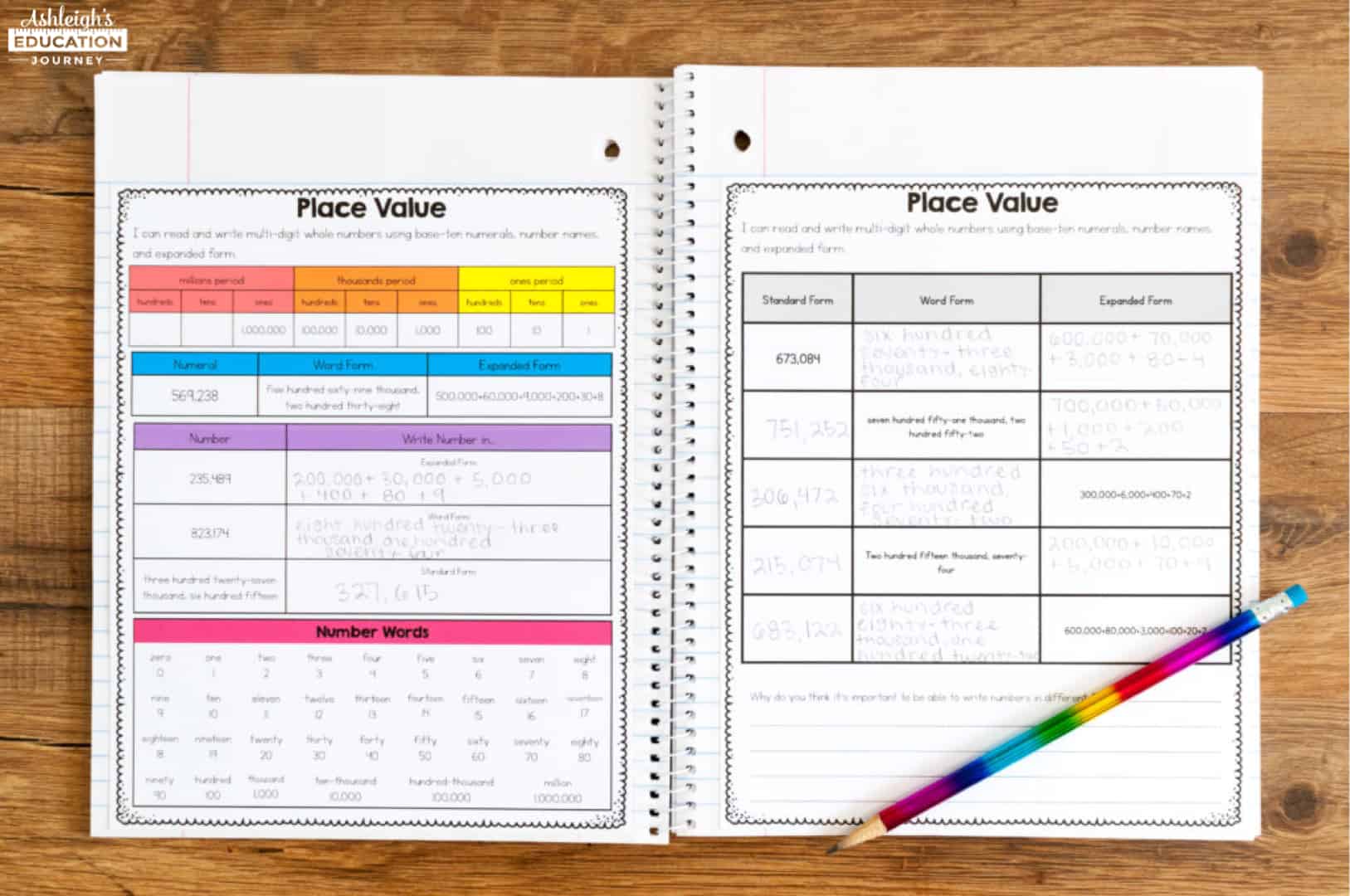 I've found that learning to read and say the numbers was a bit of a challenge for some students, so we start there and moved forward. Students use their dry erase boards and place value chips to practice writing different forms of numbers. Zeroes often confuse students when they're trying to follow a procedure with memorized steps, so always be on the lookout for that error.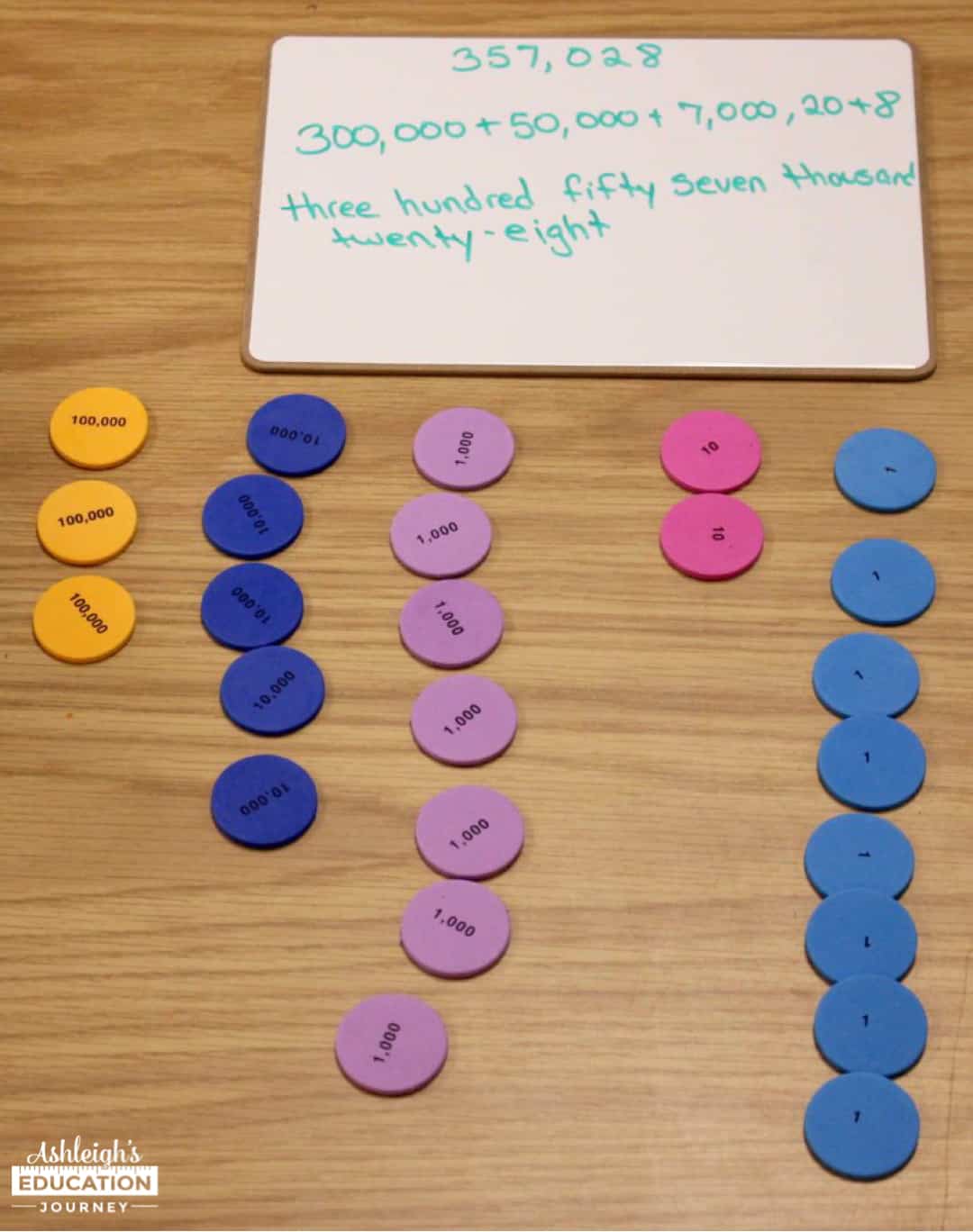 To follow that mini lesson, students complete the Place Value Puzzles. In the Place Value Puzzles, students match numbers written in standard, written, and expanded form to fit the puzzle pieces together.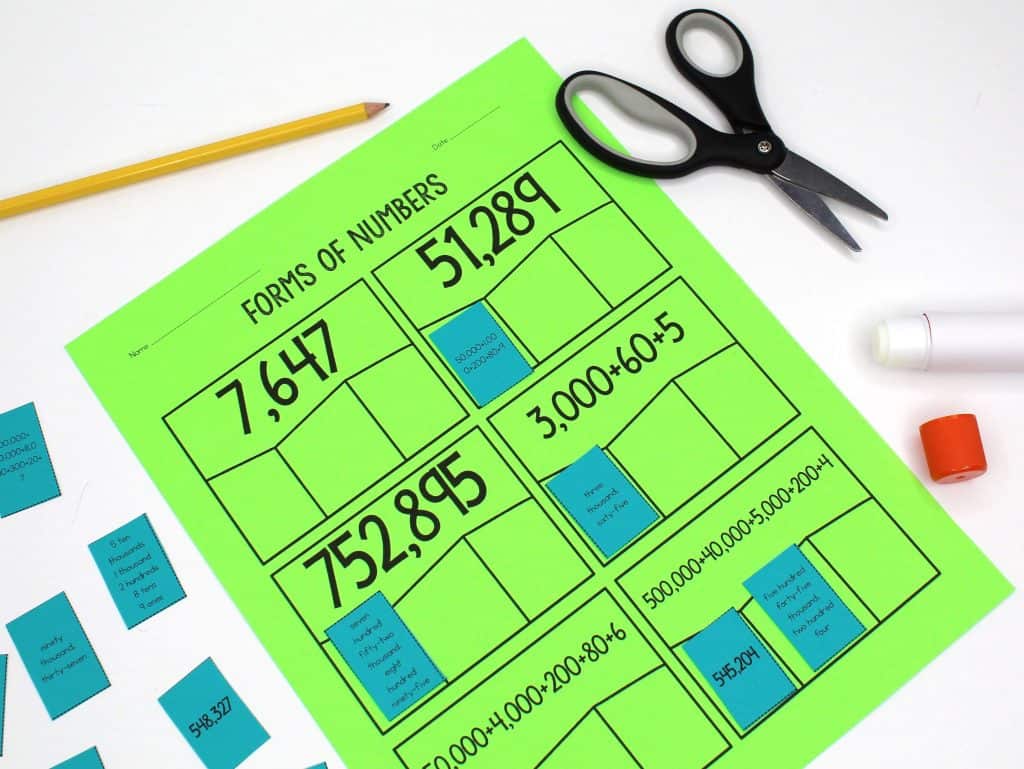 Expanded Notation
Expanded notation is not specifically mentioned in all state's fourth grade standards. Even though it's not included in my students' standards, I still like to introduce the concept to students. This is just another step to help students see place value and the value of digits within numbers.
I use the same process as above for the mini lesson, and I add expanded notation into the conversation. Then I give students this adorable follow-up activity.
Like most teachers, I'm not sure what the school year will look like. That's why I'm updating all of my math resources (more on that in a bit). Below is a digital example of the activity. Students use the values of each individual component to an ice cream cone to determine each cone's total value. I have students write that value using expanded notation AND numeral form.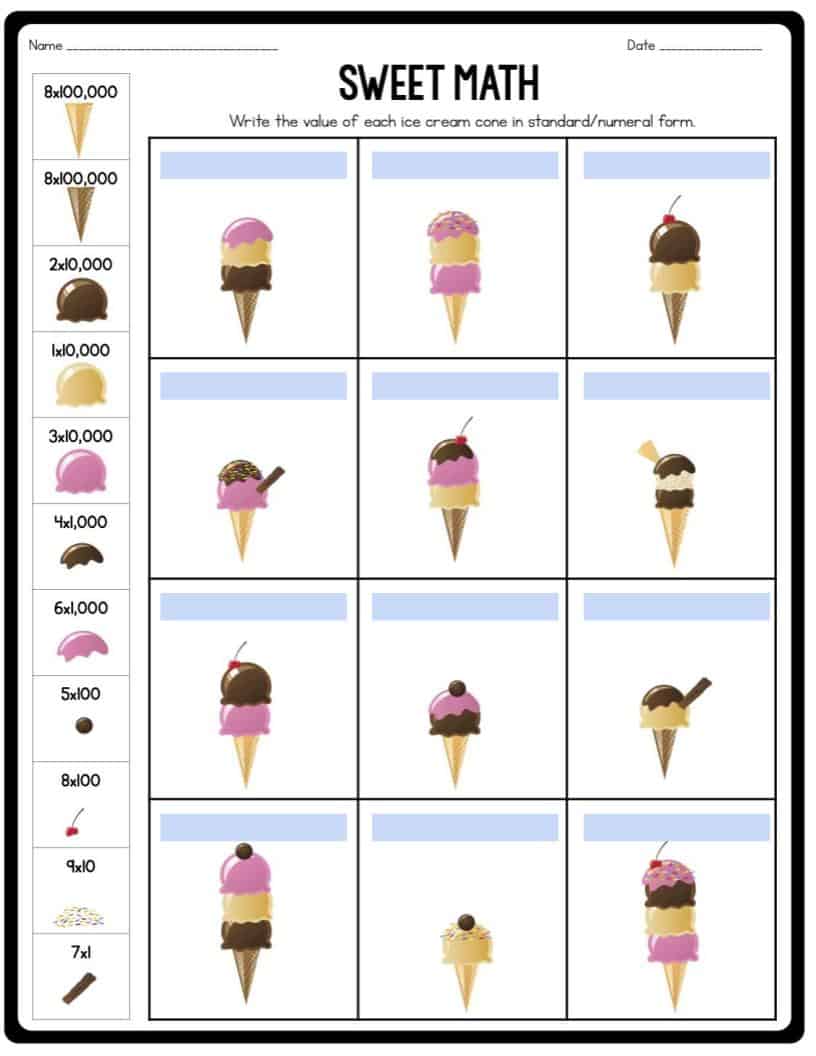 The second part of the activity is a bit more fun and a bit more challenging. Students are given a total and must drag and drop the ice cream pieces to build an ice cream cone with the given value. If you use the print version, students will be able to draw, rather than drag and drop.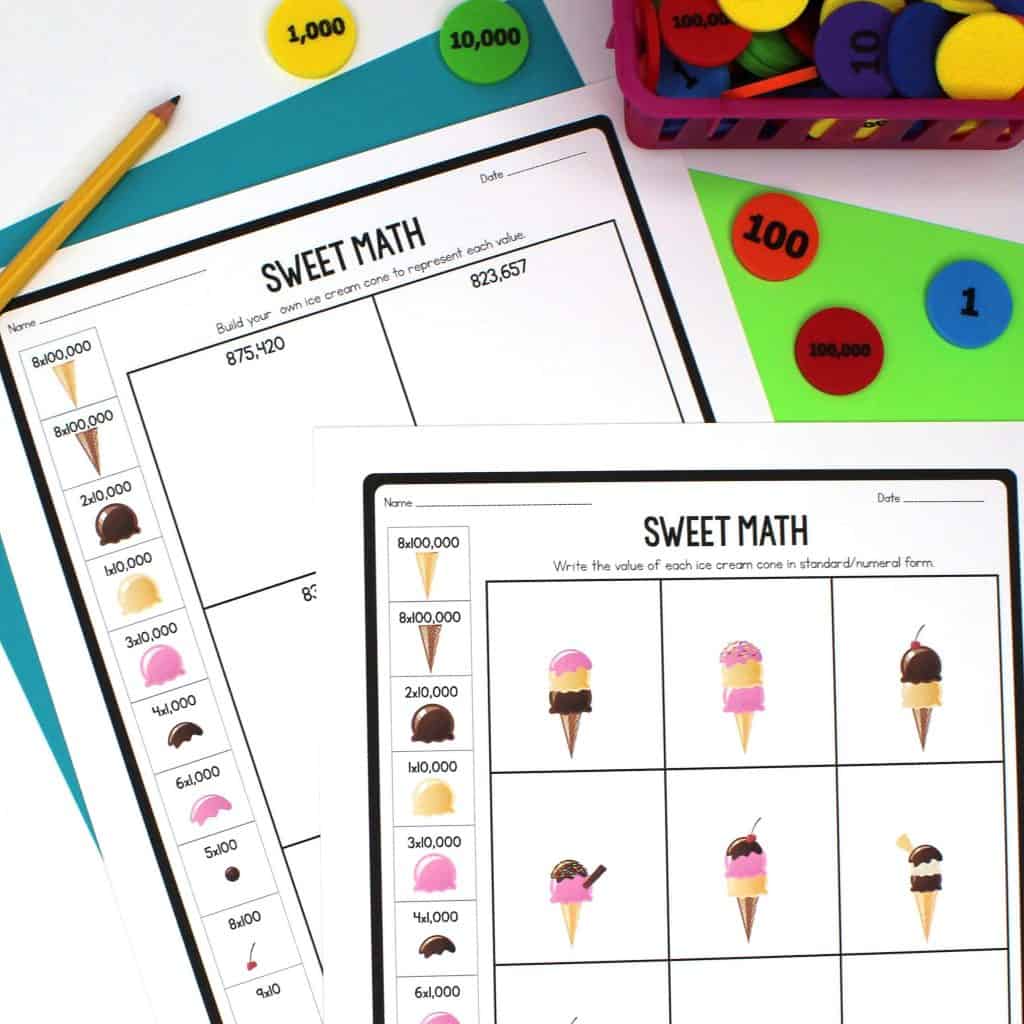 Extras
These five lessons create an amazing foundation for place value. I follow these lessons with even more place value lessons that move students toward understanding that each place value is time times larger than the place to the right. That is a critical concept, so I'll devote an entire blog post on that standard. You can find that post here.
Since most of us have no idea whether we will be teaching in the classroom, through distance learning, or a hybrid version of both, I've included a digital option for leach lesson in my Place Value Unit.
I also color coded each lesson so you can see which ones are best taught at school (red), easy to complete at home (green), and lessons that are best at school but can be completed at home (yellow).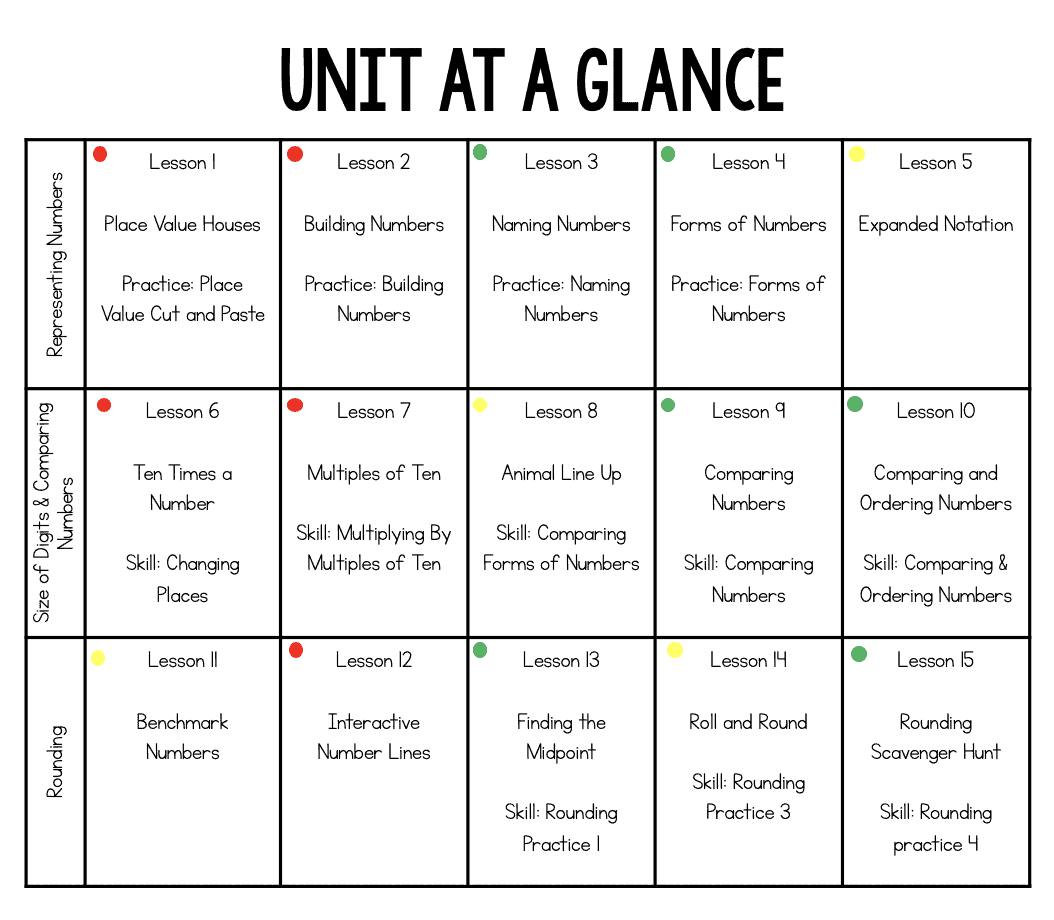 Just in case you need it, I included a skills practice printable the corresponds to each of the lessons. The pages range from representing numbers, place value, comparing numbers, size of numbers, and rounding.
I also made sure I included games that could be used in math work stations or math centers.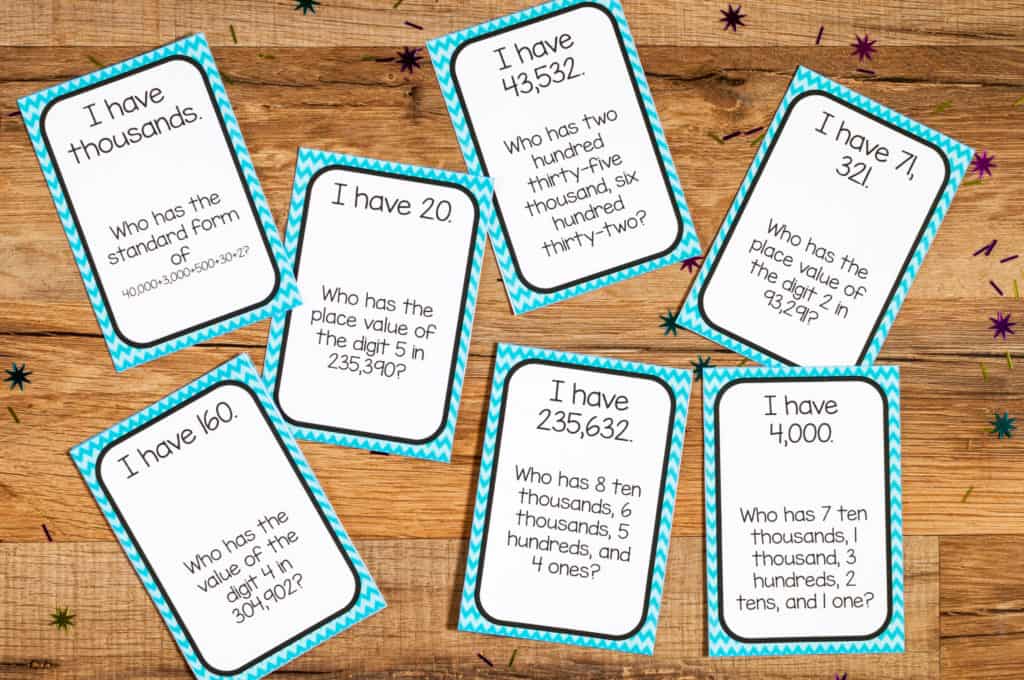 Anchor Chart
After finishing the unit, I hang up my Math Anchor Charts that are a bit smaller than my anchor charts. No matter how hard I try, trace, measure, outline…you name it….I cannot make a nice looking anchor chart, so I hang these up for my students to reference throughout the year. I also have a third grade version of the anchor charts.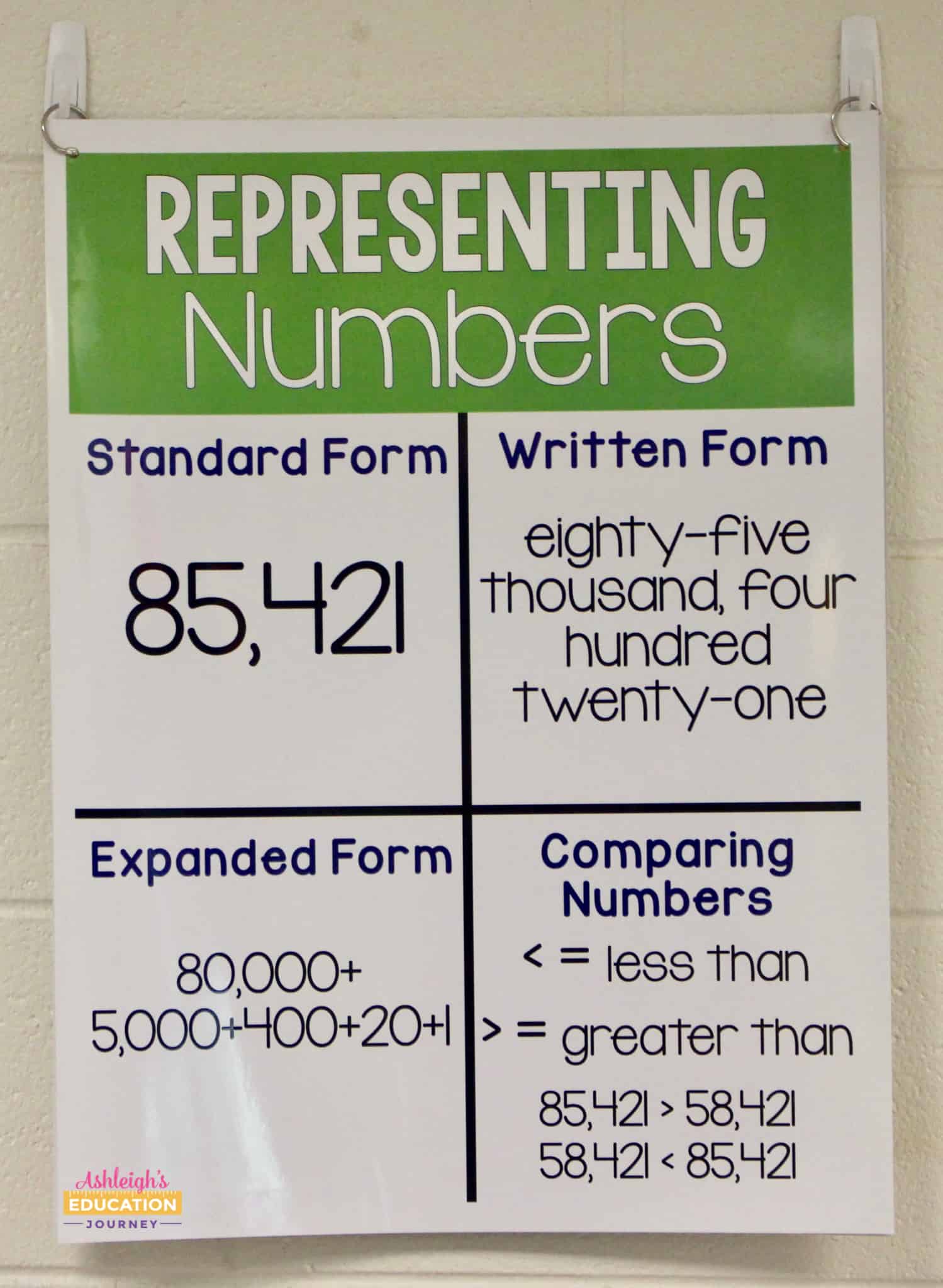 If you're looking for ideas on teaching the value of numbers and how the value of a digit increases 10 times as it moves one place to the left, don't skip this blog post!
If you need some creative ideas for teaching rounding, here's the post for you!