Whenever I talk to other upper elementary teachers I find that math centers are something teachers either love or hate. There is rarely ever any middle ground when it comes to math centers. When I first started teaching, I tried centers and failed miserably. I didn't use them at all for a few years, and then I slowly starting trying it again. I found that I had to adapt what I was doing to my teaching style and my students, because there is no one size fits all strategy with upper elementary math centers.
In this post:
Finding Time
I implement math centers during the framework of my already existing math workshop, so I didn't have to carve out extra time. Instead, I made it work with what I was already doing. I spend about 5-10 minutes on our warm-up, which is when we go over our morning work and/or number talk. Then, I spend 15-20 minutes on our mini lesson when I teach a new skill or strategy, and after that we move into our work time. I don't try to use centers every day in my math block, because I also incorporate a lot of performance tasks that need plenty of work time. However, it's certainly possible to use centers daily.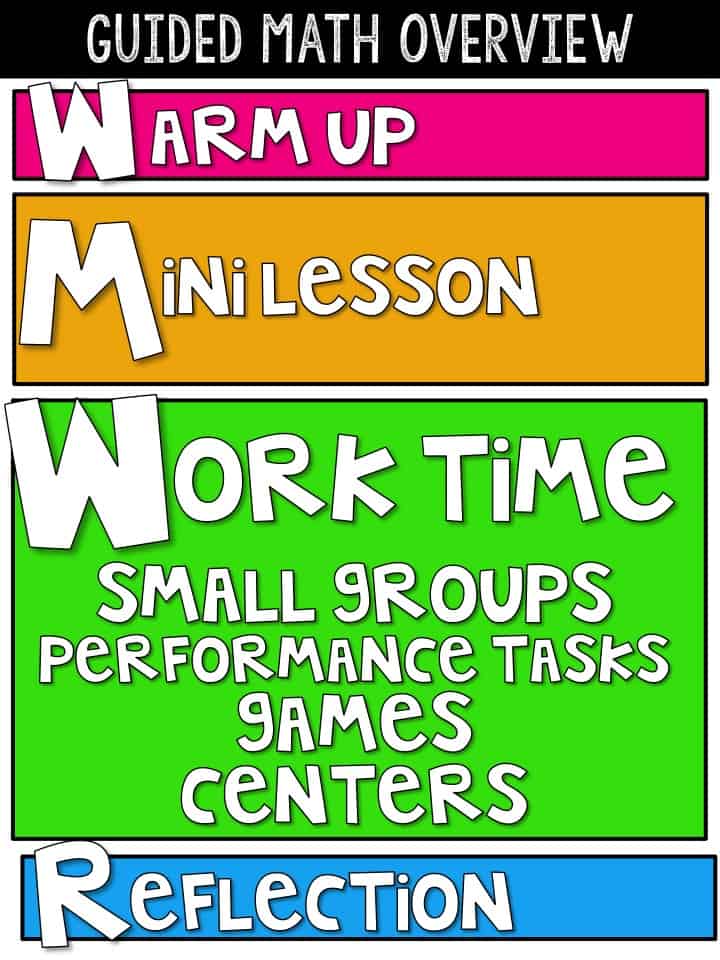 When I implement centers, I have two 20 minute rotations. This gives me an approximately one hour math block. I'd love to have more time, but I've learned to make it work.
Organizing Materials
Keeping your centers organized is important! Students must be able to quickly and easily access the materials that they need. I store each of my upper elementary math centers in a separate container. I like clear containers, so I can see what's inside at a glance. I place the center number on each container, so students know which materials go with which center.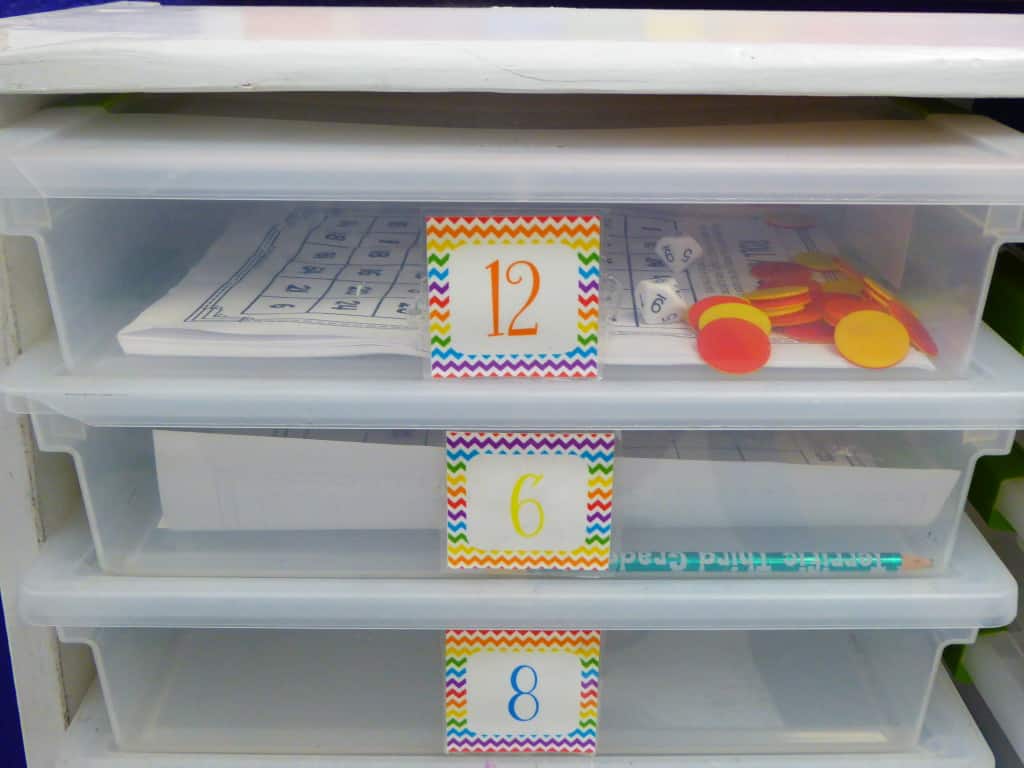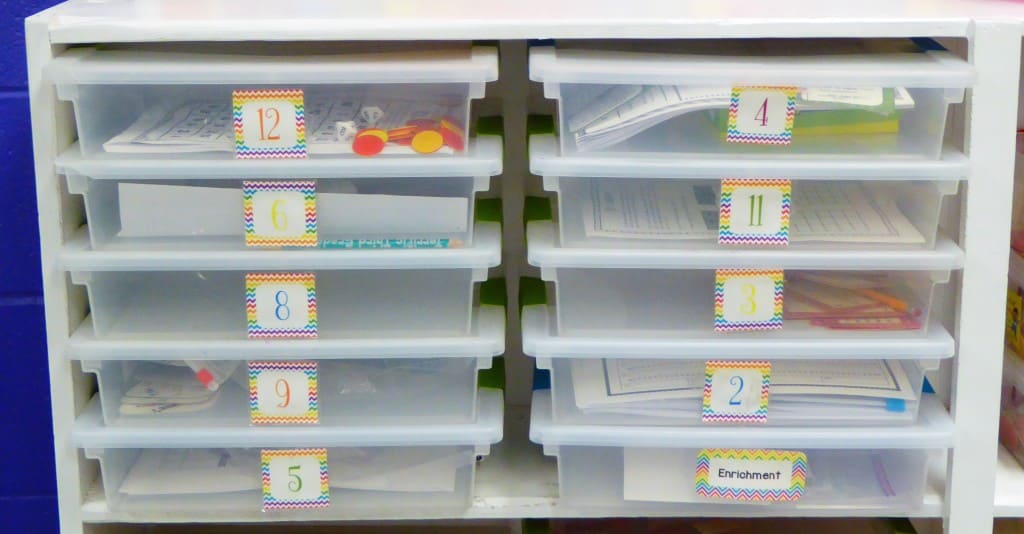 Math Center Activities
Choosing the right activities is key to running successful math centers. It is essential to avoid activities that are only fun with no meat or content. All of students' activities should be purposeful and meaningful. I also try to avoid centers that are time consuming and difficult to prepare, because if something's complicated, I probably won't stick with it. I do have a lot of activities, but I don't have to frequently switch them out and replace them with new activities. As a rule of thumb, I have one activity for every two students. About half of my center activities are a review of previously taught concepts and the other half focus on the concept we are currently learning.
Meet the Teacher
This is when I meet with students at their level and provide the differentiation that they need in order to be successful. What I do in my small group varies depending on the group's needs. I often provide extra support to students experiencing difficulty grasping a concept.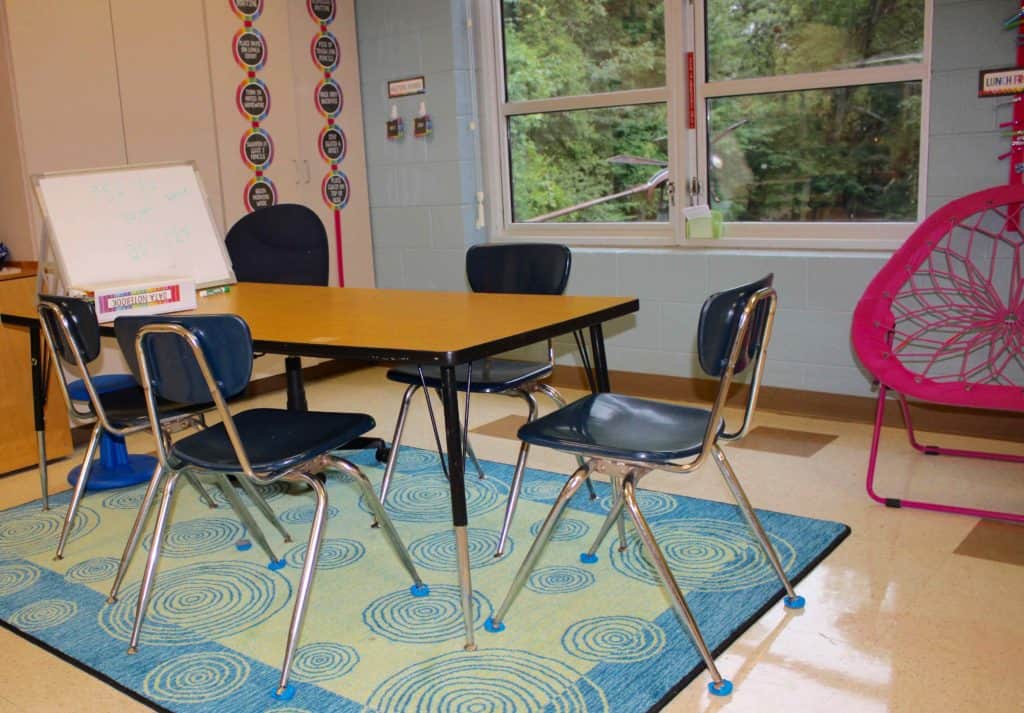 Technology
I love technology centers, because they don't require any prep! An added bonus is that students love technology centers too. I have learned that there are typically a few students who will take advantage of that time to play games, so I'm careful to position those students so I can see their computer monitor from my small group area. We use a combination of Study Island, Moby Max, and Xtra Math for our technology centers.


Activities & Games
This is always my students favorite part of math centers, because it is active and hands-on. My activities are a combination of review topics and the topic we are currently studying. I incorporate a huge range of activities and games in this rotation. I've found that it's essential to keep things fresh and interesting for students. Otherwise, you'll begin hearing groans about them later in the year.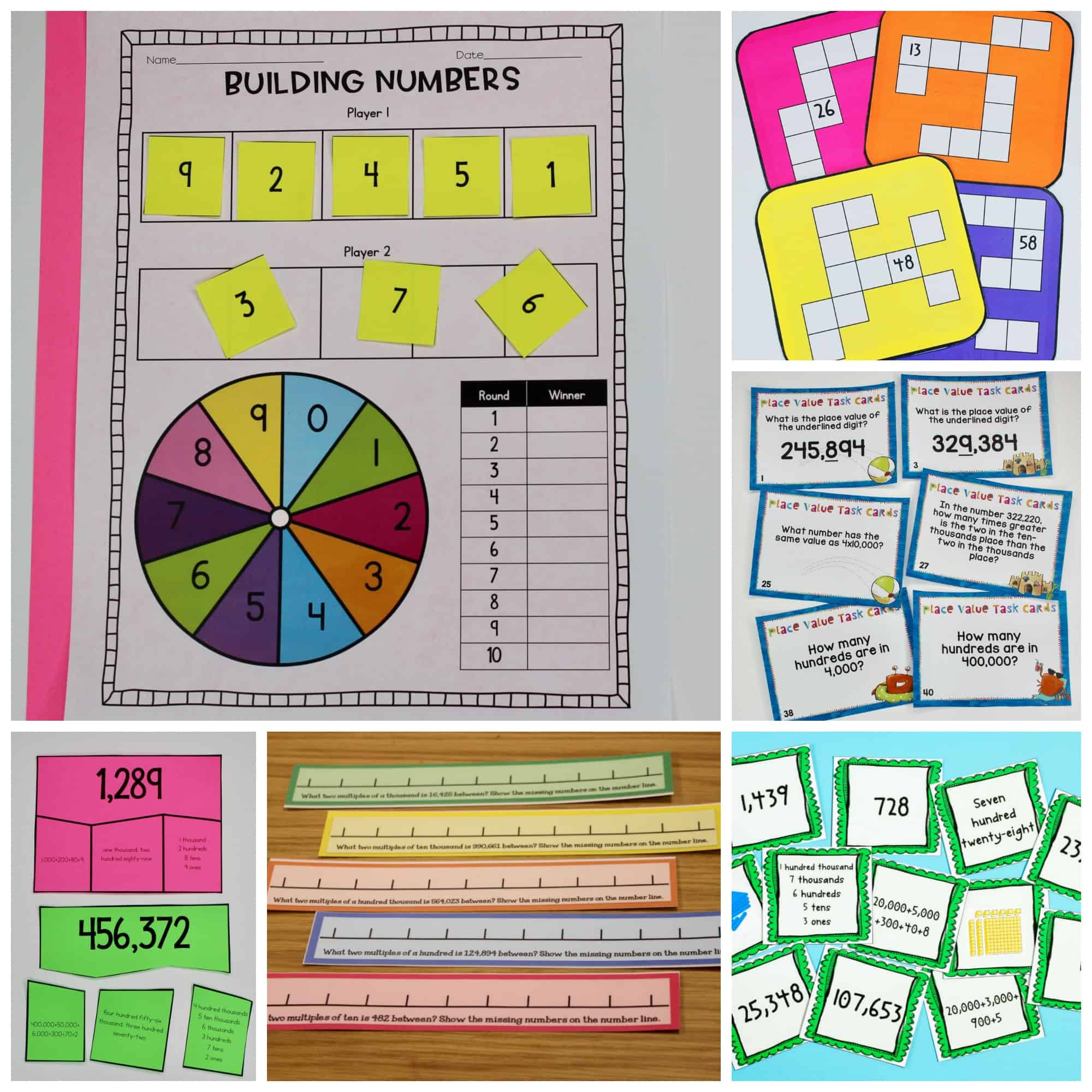 Students typically work on these activities with a partner. I've found that when there are large groups of students at a center, there is less participation and engagement. Below is a picture of my workstation board that shows which stations they should go to that day. Students go to the two stations beside their card. The group at the top left would go to Station 1 and then Station 2. The group at the top right would go to Station 2 and then Station 1. This means that each group is at a different station, and each station has a designated location in my room. The names are attached with velcro, and I move everyone's name down a spot at the end of the day. Using this system, it takes me three weeks to rotate everyone through each station.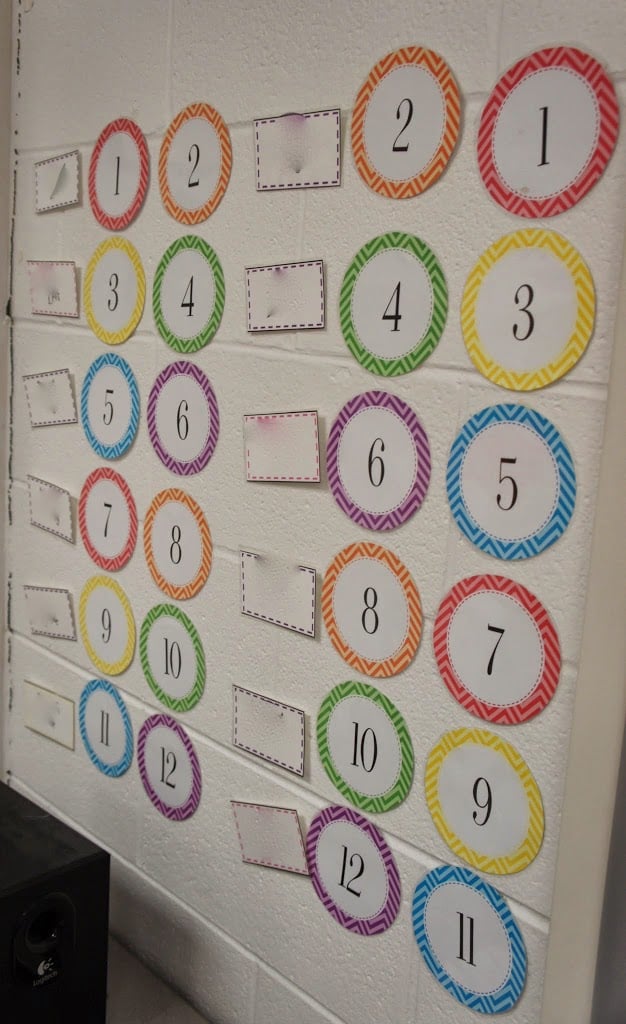 Math Facts for Math Centers
We also practice math facts during our center time. Since Xtra Math is short, I use that in a combination of various multiplication games. I use a combination of a few games I found at Lakeshore Learning, my Weekly Multiplication Games, and other multiplication math center activities.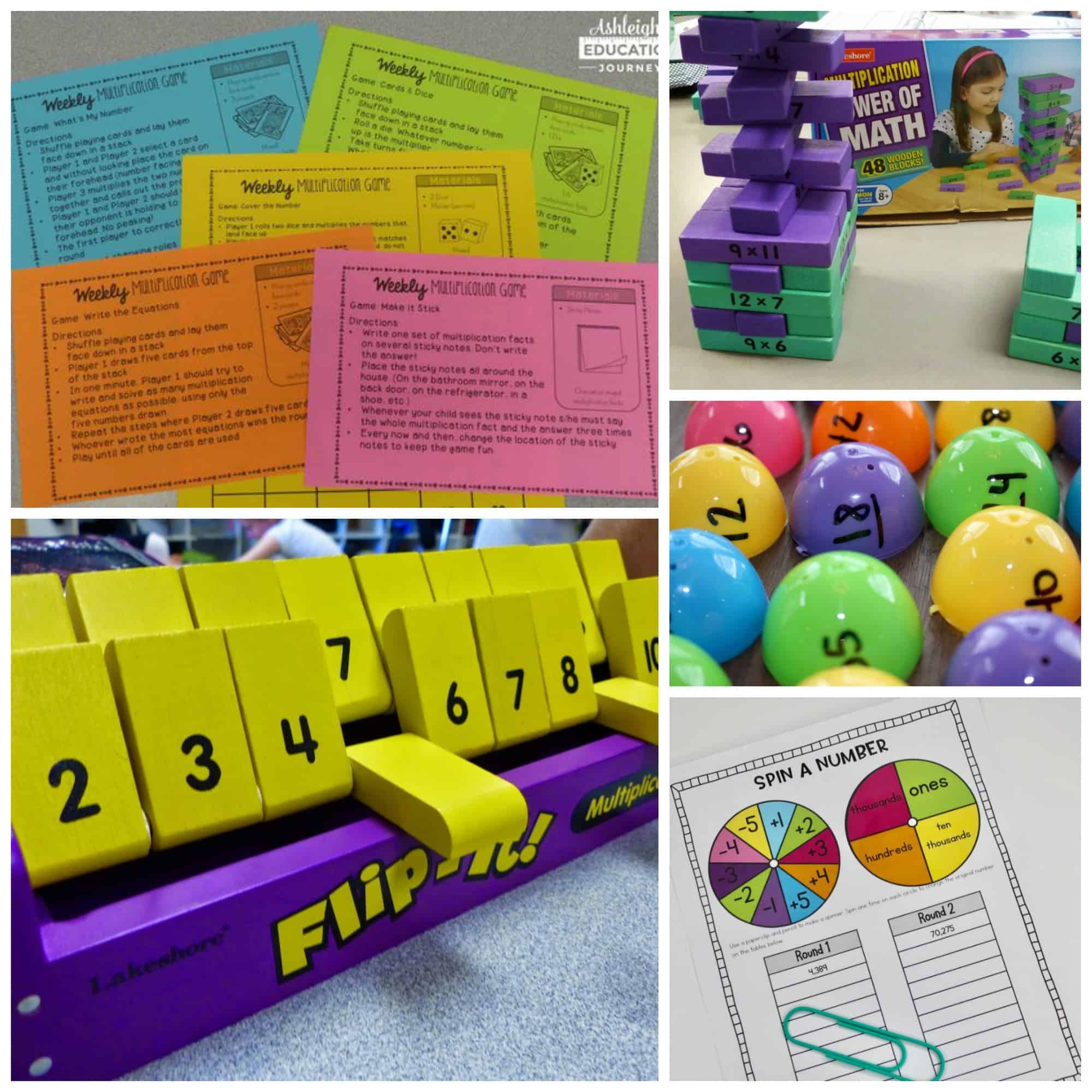 Math Centers Management
At the beginning of the school year, you must spend time teaching and modeling the expectations. I like to have students model the each procedure, as well as model what NOT to do. You'll find that it's essential to revisit these procedures throughout the year. I've found that misbehavior and off task behavior when students are not engaged with their activity. It's important to ensure that the activities are accessible to all students. I often include various versions of the same center activity to provide differentiation. If you find that students are not completing their math centers, it's  important to decide why the student is not completing the work to see if the activities are too challenging or if it's a result of students not using their time wisely.
I like to give my students time to reflect on their behavior, participation, and the content of the activities during their work station time. I've created five different versions of exit slips that I'll use for self-reflection forms at the end of our work station time. Students will use these forms to assess their involvement and to reflect on the math learned and reviewed in their work station activities. You can download them Download them here!!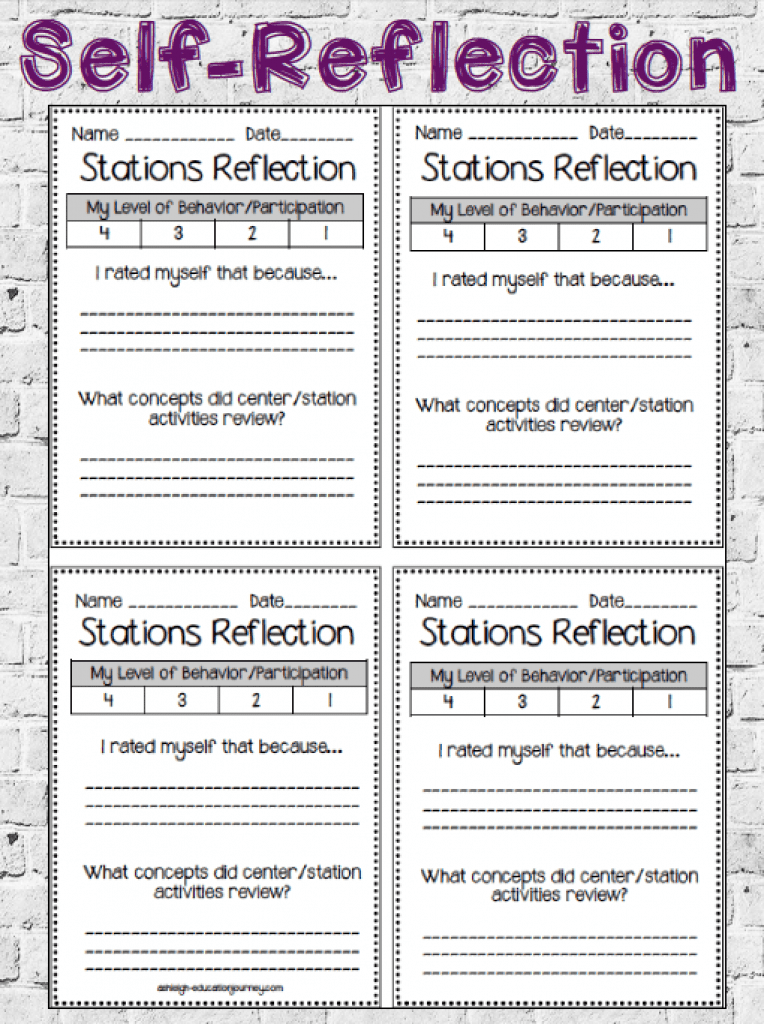 Another management concern is students putting away their center activities correctly. I've found myself all too frequently going behind students and picking things up for them. I realized that had to stop. Now, if there's a mess, I leave it, and we clean up during recess. I do try to make sure everything is accessible and easy for students to put away.
I hope you found this post about upper elementary math centers helpful. I look forward to sharing more center ideas with you this school year! You can read more about teaching upper elementary math here!