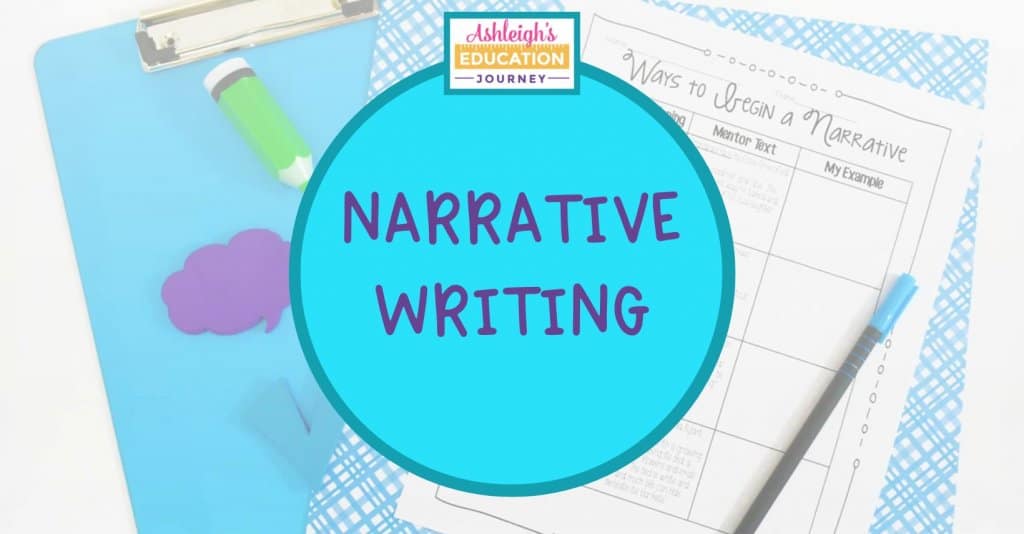 Narrative writing lessons are my favorite writing lessons! They are also a great way to get to know students on a deeper level. However, without highly structured narrative writing lessons personal narratives aren't always easy for students to writ. Children have a tendency to write a list of events, rather than a fully developed narrative. Through the use of these narrative writing lessons, students can be taught how to write quality personal narratives. This post shares a few of my favorite narrative writing lessons.
In this post:
Mentor Texts
Mentor texts are perfect introductions to narrative writing lessons. I like to begin each lesson with a mentor text that models good examples of personal narratives, and I use that mentor text to teach different writing strategies as well as develop a narrative writing anchor chart. Third, fourth, and fifth graders are not too old to be read picture books. I know that our read alouds are my students favorite part of the day!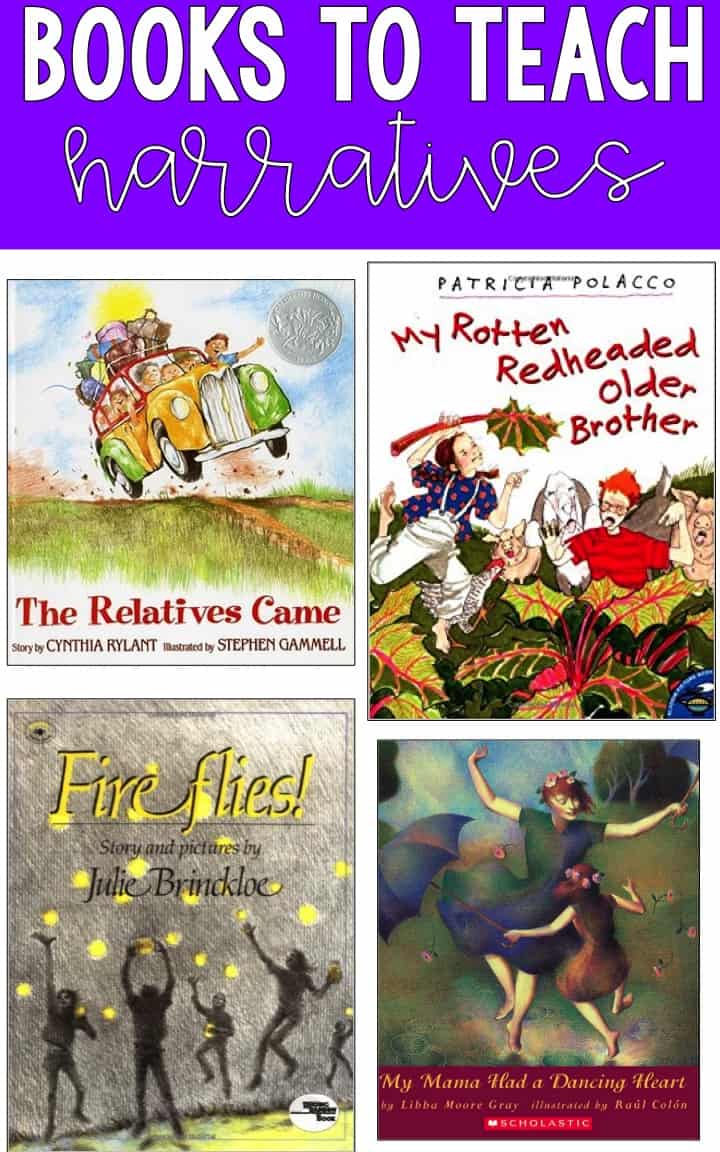 Planning Narrative Writing Lessons
When my students begin our narrative unit, they typically don't have a lot of writing stamina, so the independent writing time is fairly short during the first week of my narrative lessons. I primarily focus on how to plan a personal narrative. We begin by creating a heart map where students draw a picture of something they love or that's important to them in sections of a heart. Students keep the heart map in their writing folder and can refer to it when they can't think of something to write about. This is a great alternative to narrative writing prompts.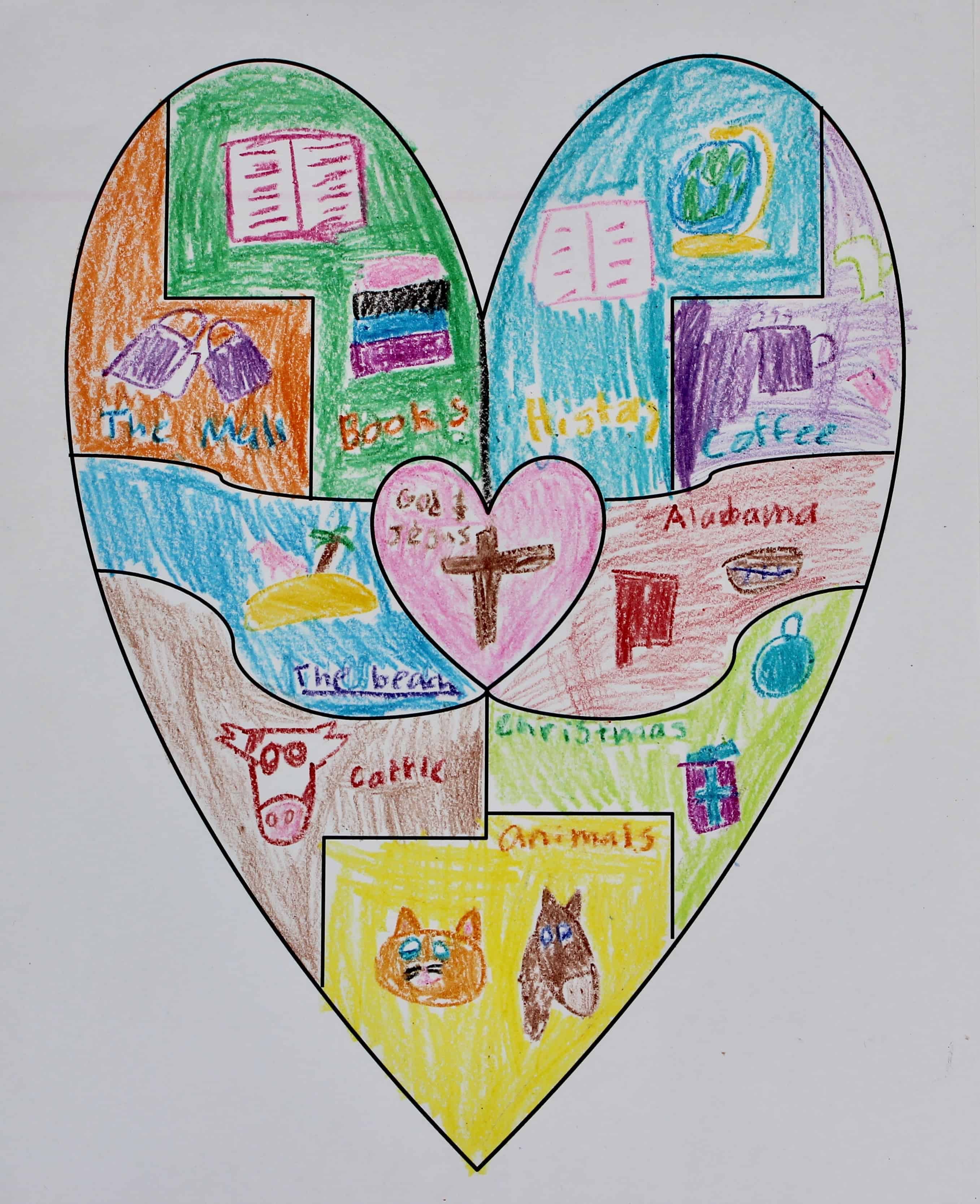 I then use a reverse graphic organizer strategy that helps students understand the format of a narrative. I read a personal narrative to students, and then we complete the graphic organizer together using the narrative I read. This helps students understand the parts and the flow of a narrative. Students can then use this graphic organizer as they plan their own personal narrative writing format.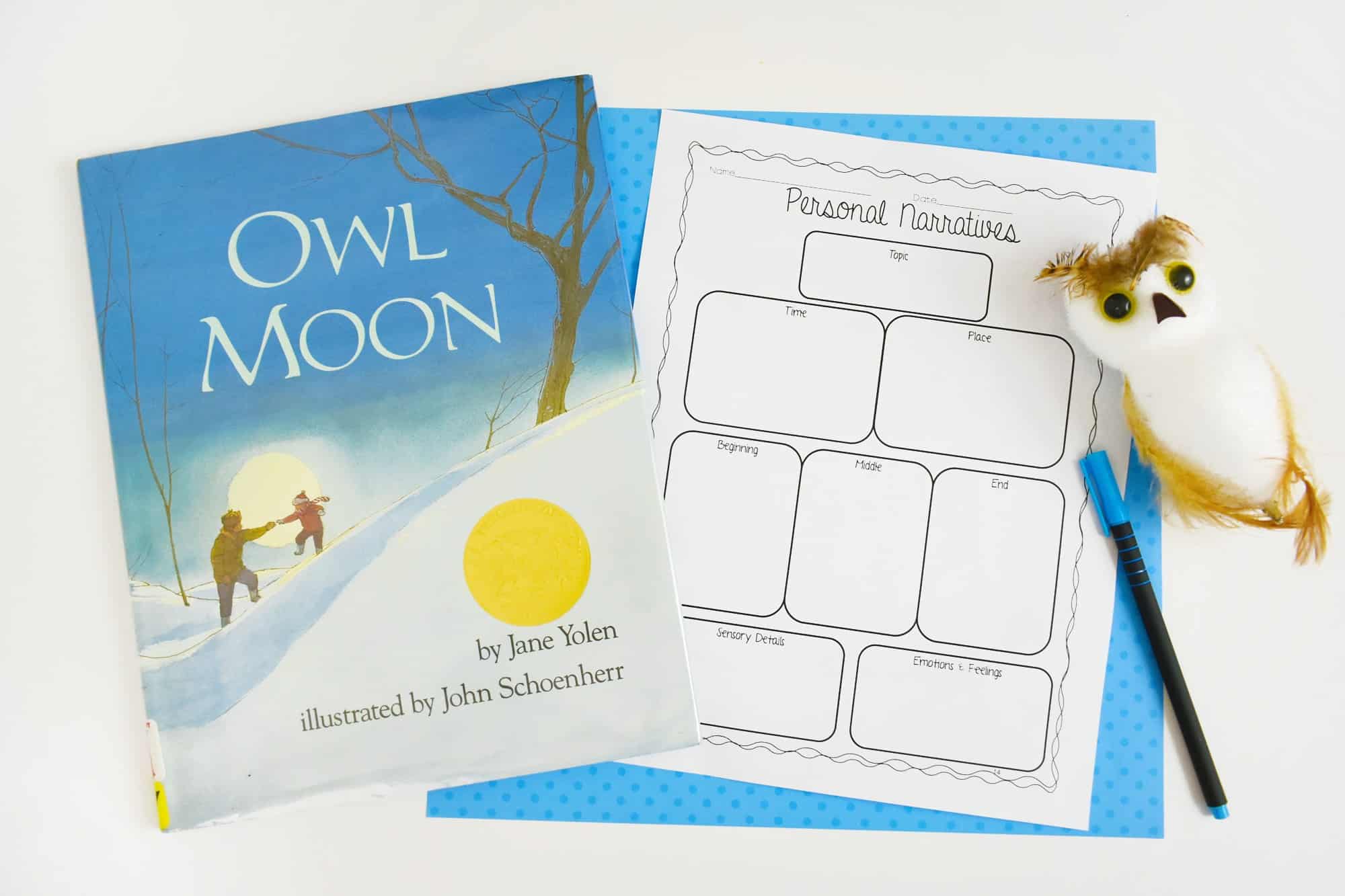 In the next narrative writing lesson, I then teach students how to focus on small moments. Anyone who has ever taught personal narratives knows how students have a tendency to write about every single moment of a day or event. Students have to be taught how to select a small moment, rather than a huge event that is too much for students to write about. Once students learn to narrow their focus, personal narratives are much easier to write.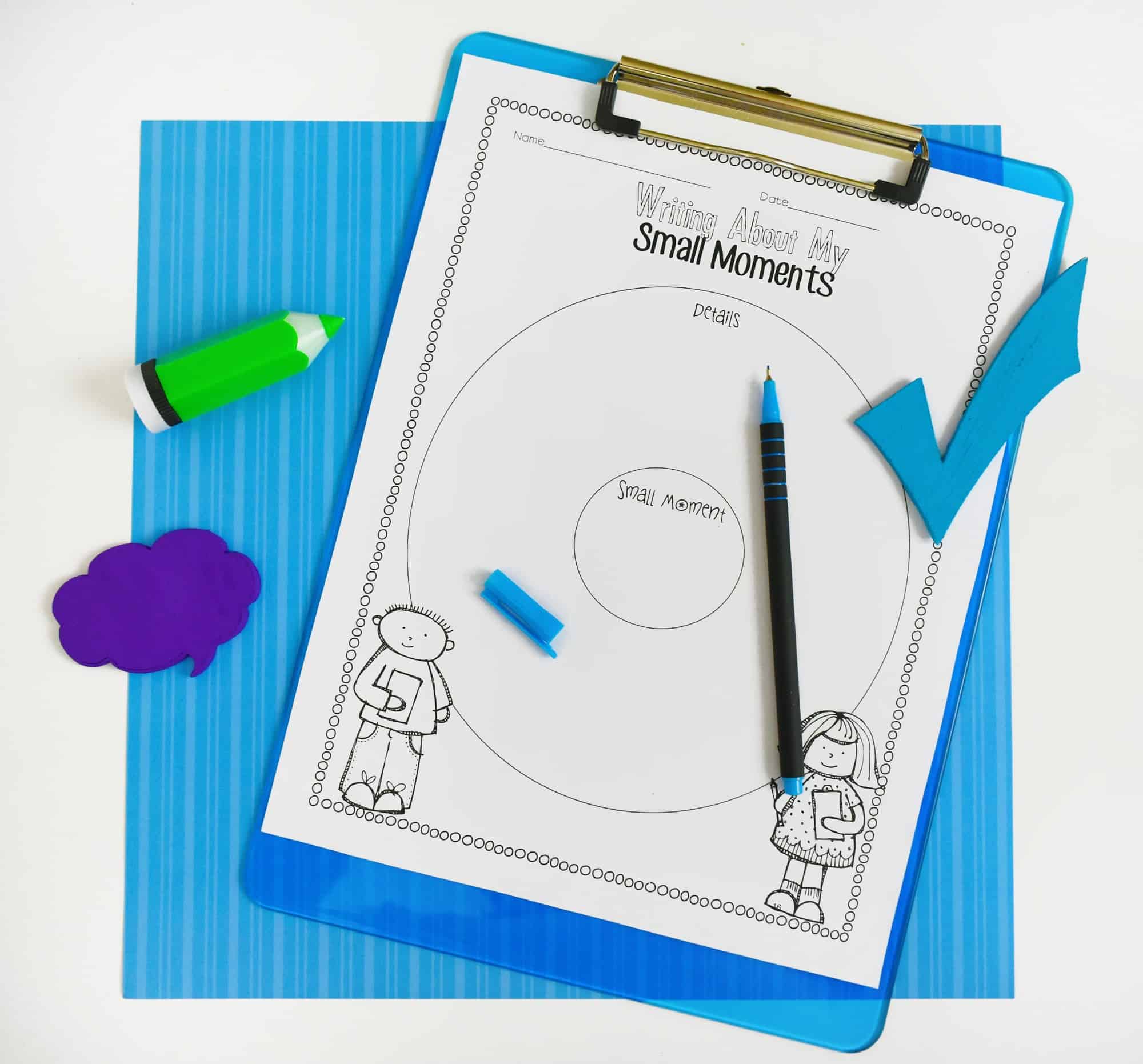 Narrative Writing Lessons
After a week of teaching students about the general structure and format of personal narratives, I teach students how to begin a personal narrative. Students can learn to write emotional beginnings, beginnings with action, beginnings with dialogue, and beginnings with a description. I teach one type of beginning a day and my mentor text reflects that type of beginning. After reading the mentor text, I have students practice writing that type of beginning on their graphic organizer that students keep in their writing notebook. The practice element of these lessons is so important to narrative writing lessons. I've found that needs need the opportunity for practice before being expected to independently implement these strategies in their own writing. Too often students are expected to transition immediately from the modeling in the mini lesson to application.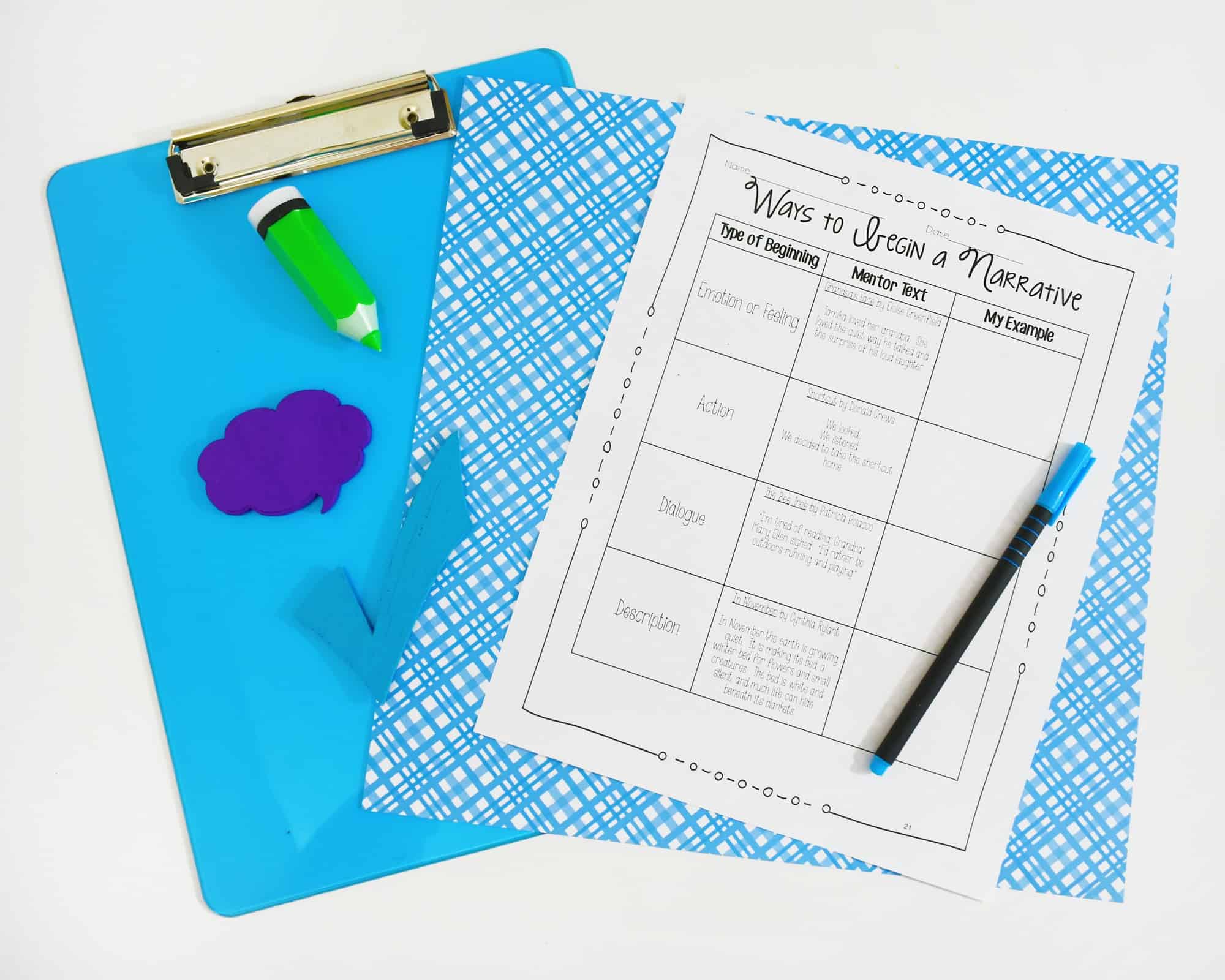 I also teach students how not to begin a narrative. These are beginnings that I want my students to avoid, so I like to explicitly teach what not to do.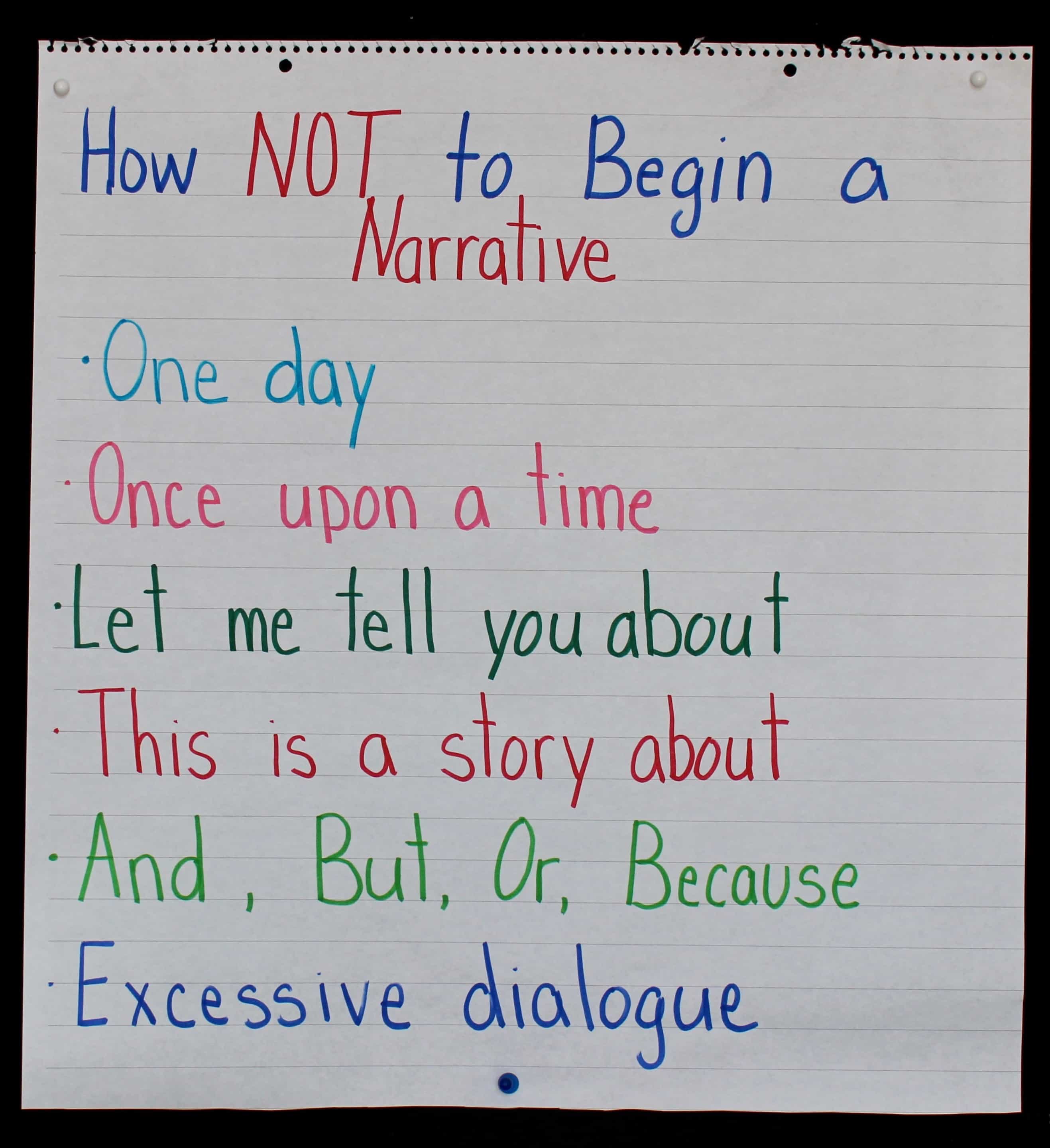 I also spend a week teaching students how to end a personal narrative. I teach reflective or circular endings, ending with a hope or wish, ending with a moral or lesson learned, and ending with a decision. Once again, my mentor text reflects that type of ending, and I have students practice writing each type of ending. Students will also keep this form in students' writing notebook. Once again, we practice each type of ending before having students add endings to their own personal narrative.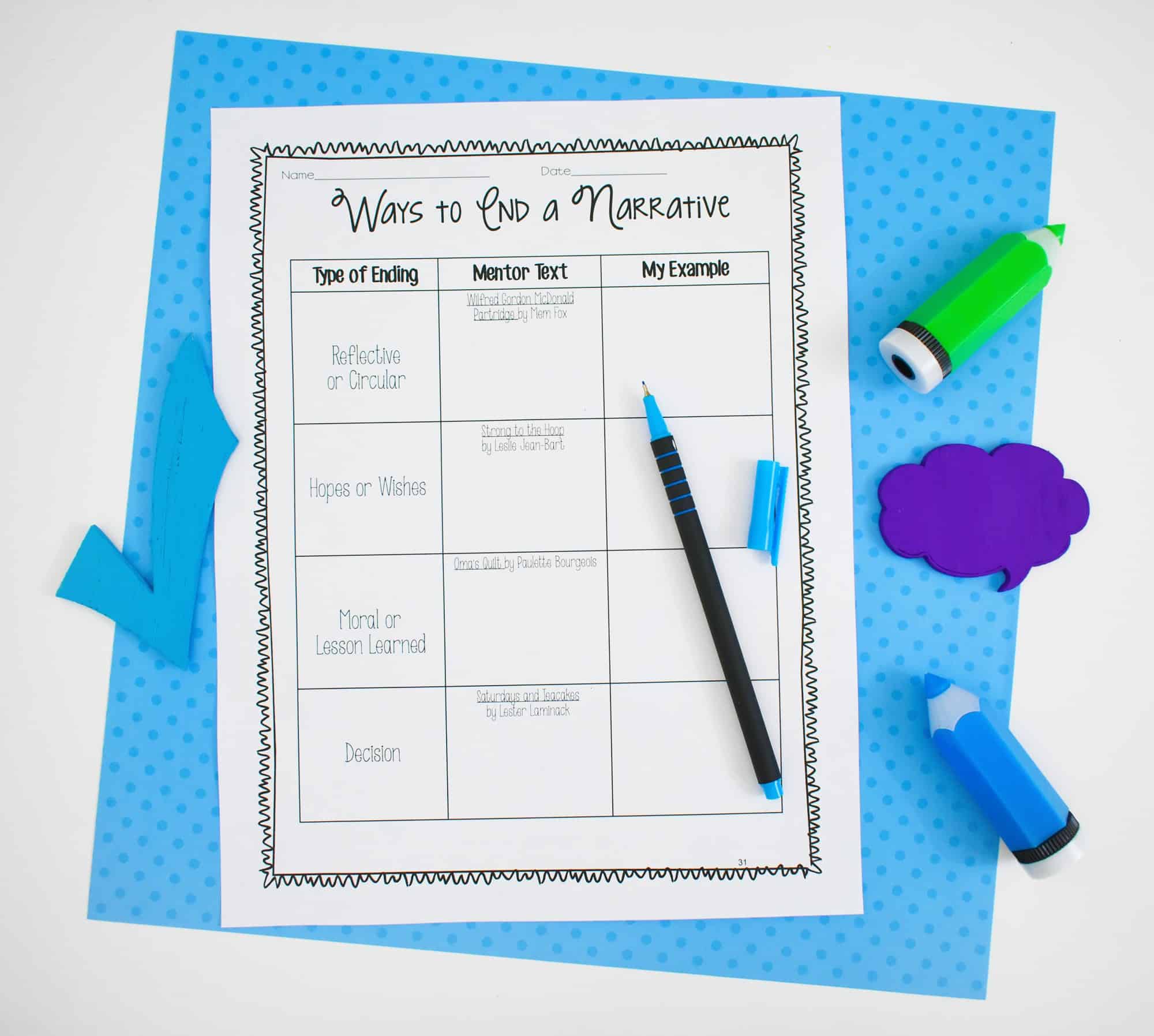 I also teach craft lessons such as adding narrative writing transition words, adding sensory details, and show don't tell. I teach students about different types of transition words, such as time, place, idea, and summarizing transitions.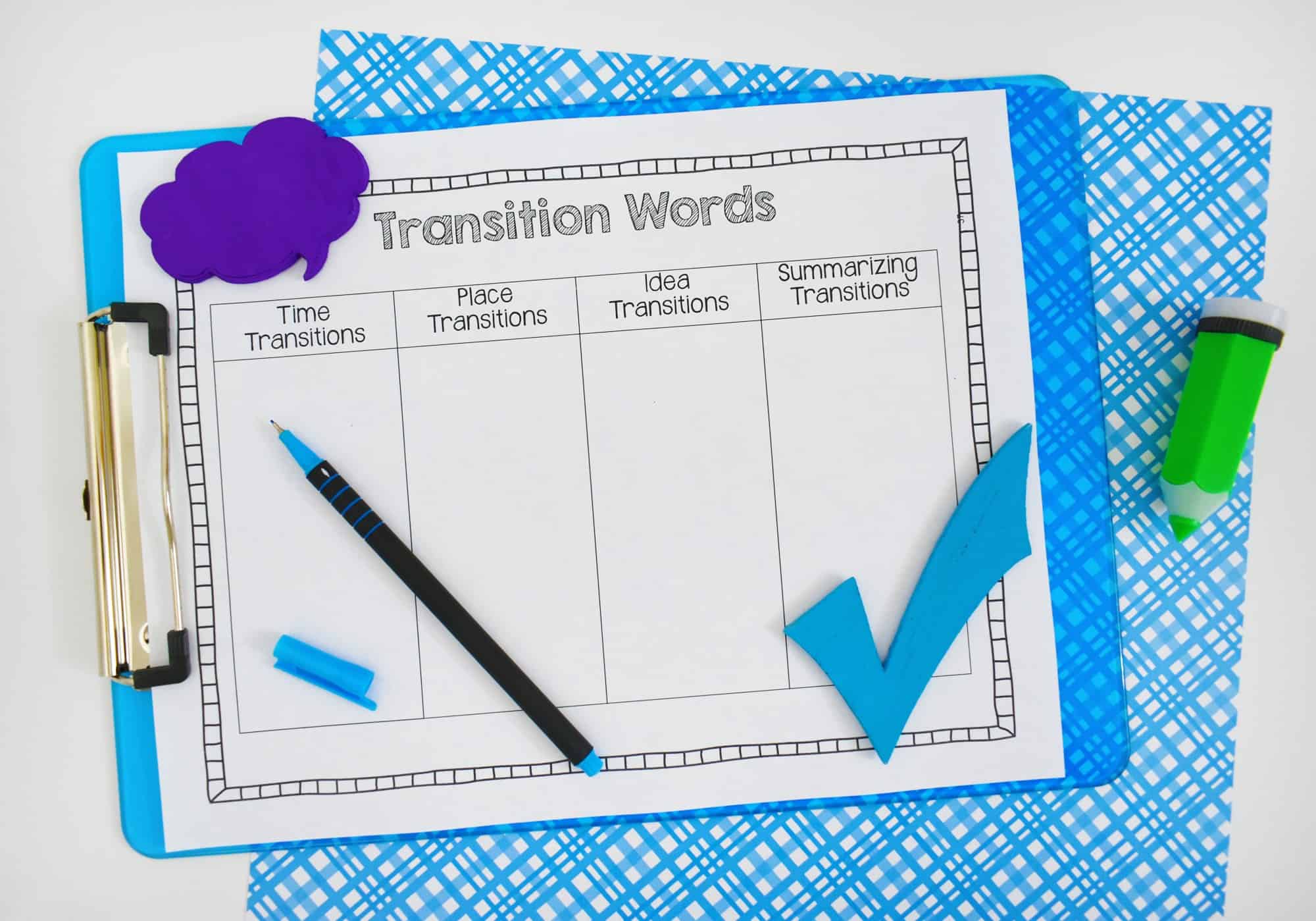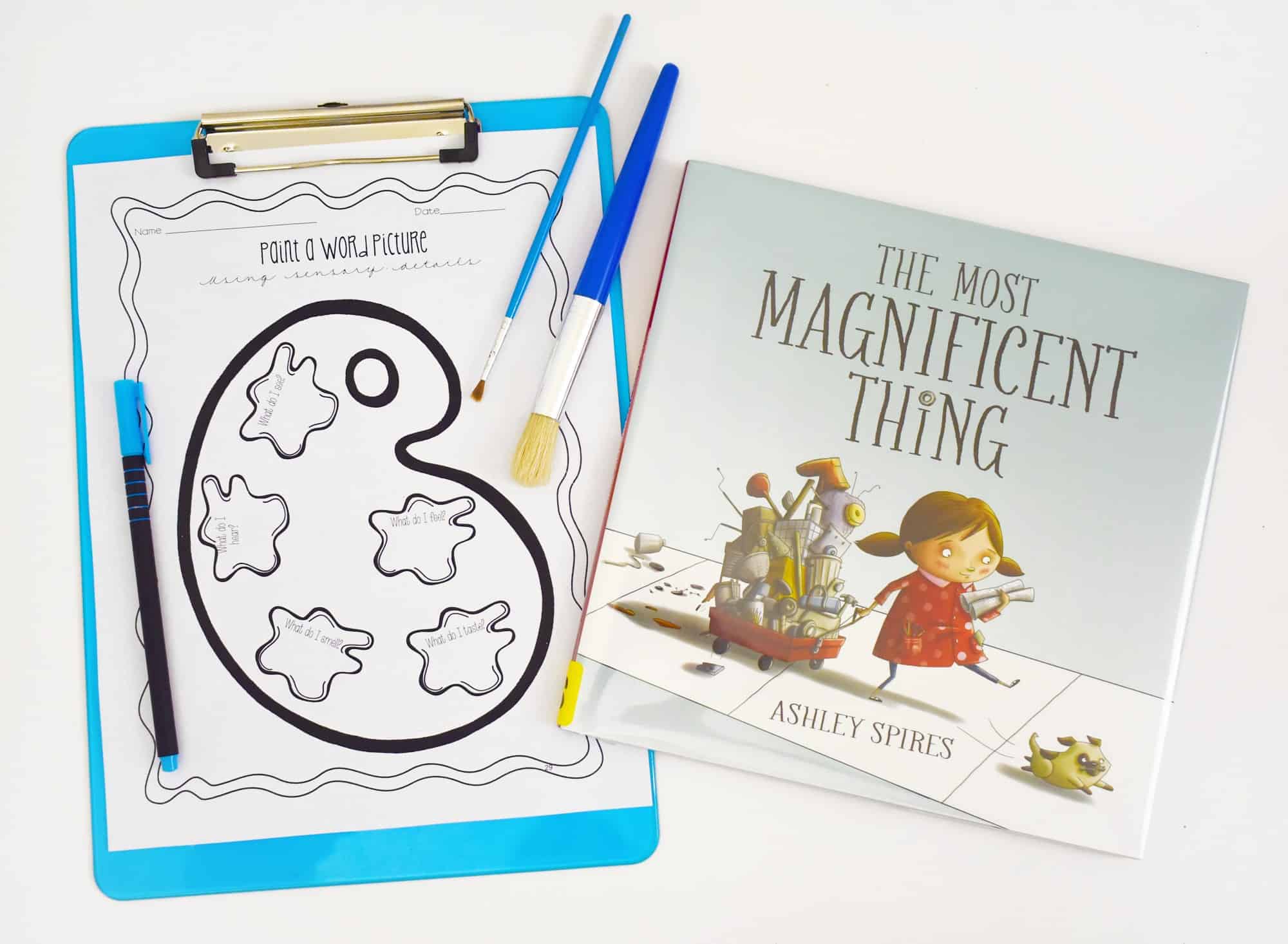 Narrative Writing Lessons – Revision
Once my students are going writing their narratives, I begin teaching students how to revise their narratives. I teach lessons such as "Avoiding the IT Monster" when I notice students overusing words such as 'it' or "I".
There are narrative writing lessons on using strong verbs and specific nouns, because students need to focus on their word choice as they write and revise. You can use narrative writing to teach students how to write with dialogue, which is an important addition to narrative writing. I also teach students how to stretch their sentences, because once students are in upper elementary, they need to expand their sentences and move beyond simple sentences. This is a great time to teach simple, compound, and complex sentences. We also spend a little time "performing surgery" on examples of narrative writing that includes extra information. I do include a couple of days for students to have the opportunity to publish their favorite narrative. When students publish, they illustrate and produce a final copy of the writing.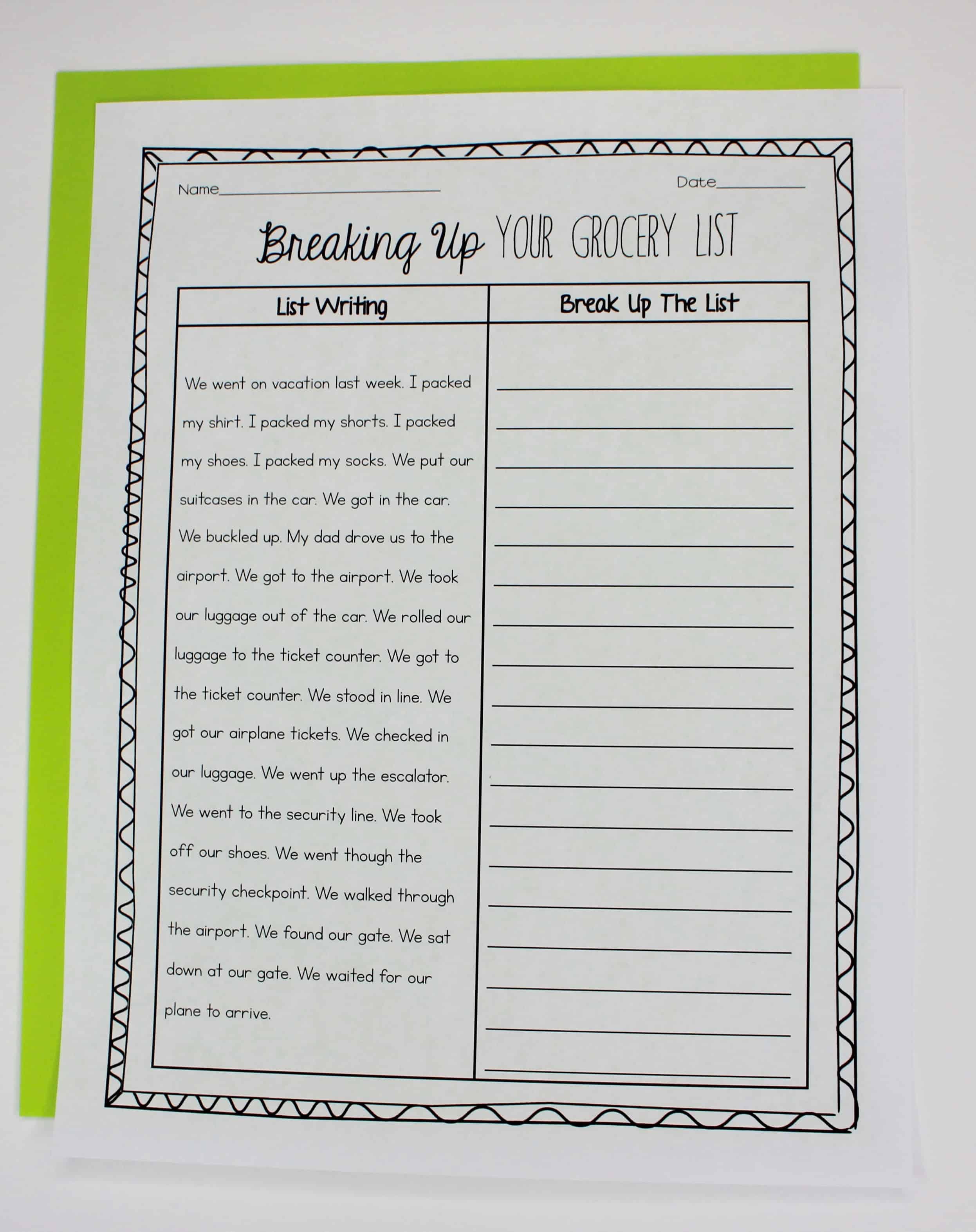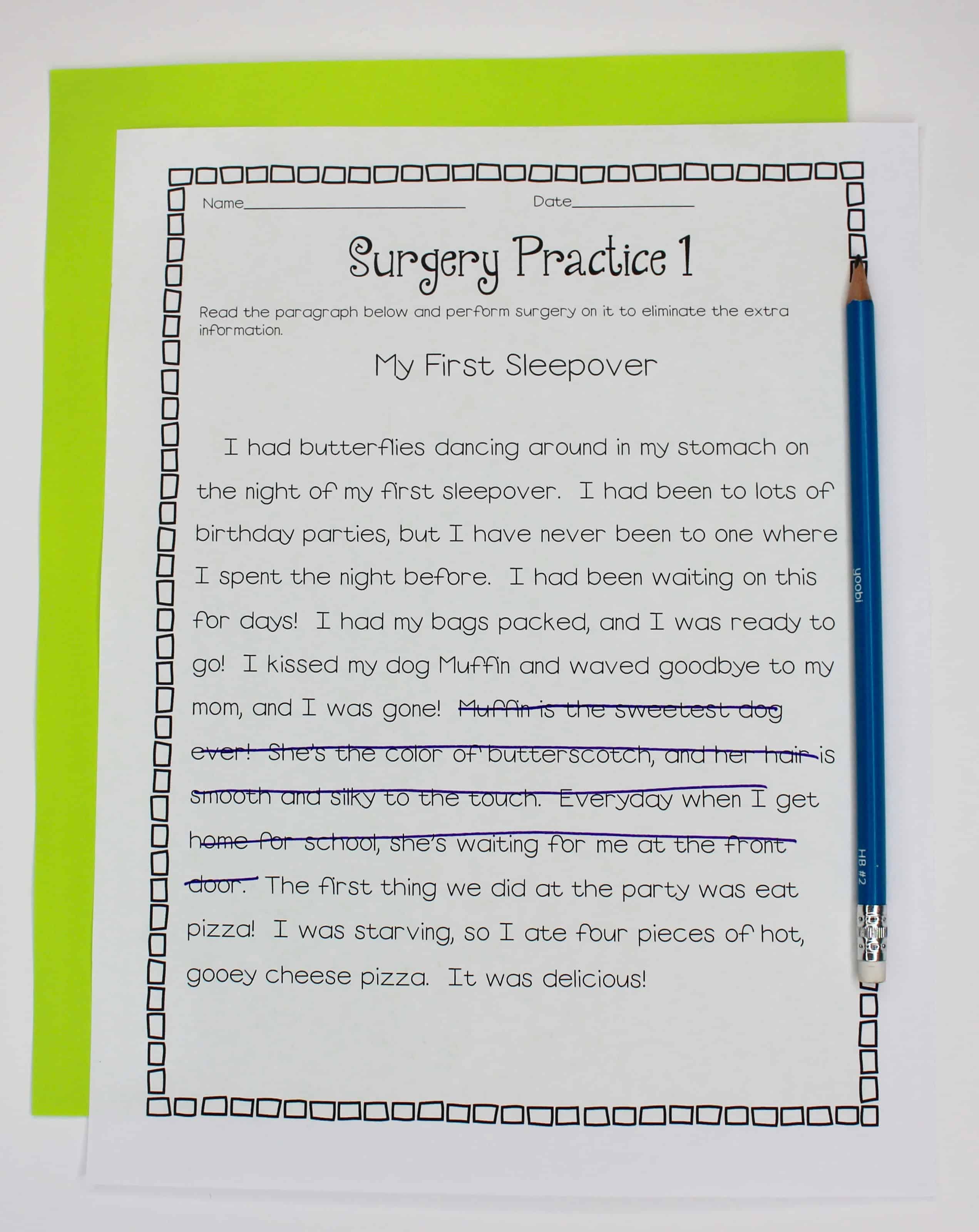 I assess my students with a rubric. I do not try to assess every piece of writing my students write, because that would be overwhelming for my students and me! The bulk of students writing is used as a formative assessment and I discuss the writing in student conferences. When I conference with students, I try not to overwhelm them and focus on one or two things at a time. I have to remember to take baby steps.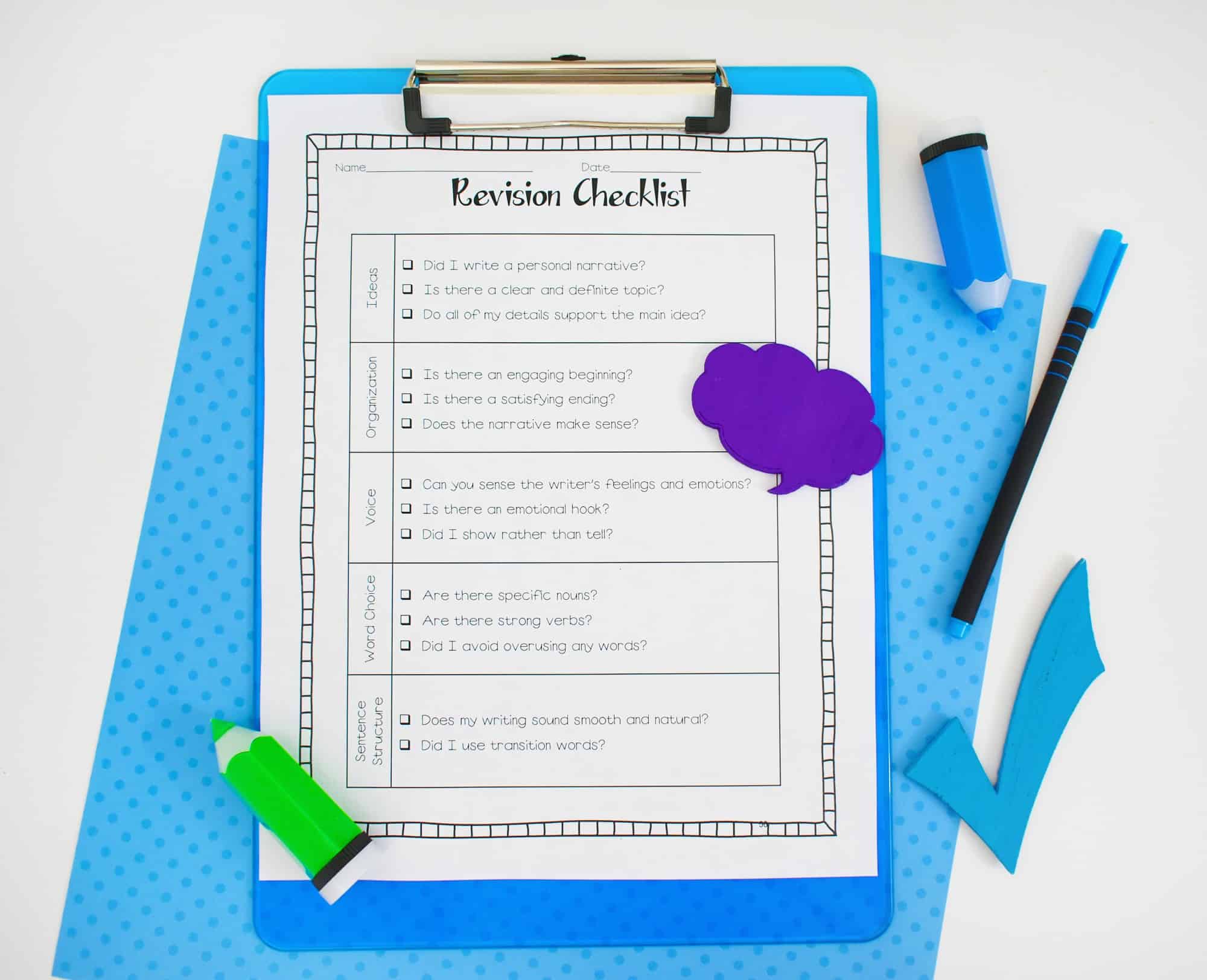 Narrative Writing Lessons – Grammar
Each week, I've also focused on one grammar skill from the Common Core Standards, and I've included those skills at the bottom of the lesson plan. These skills should be taught during writing workshop. I like to briefly go over the skill before the mini lesson and following our closing. I teach these skills through mentor sentences that are also included in the file.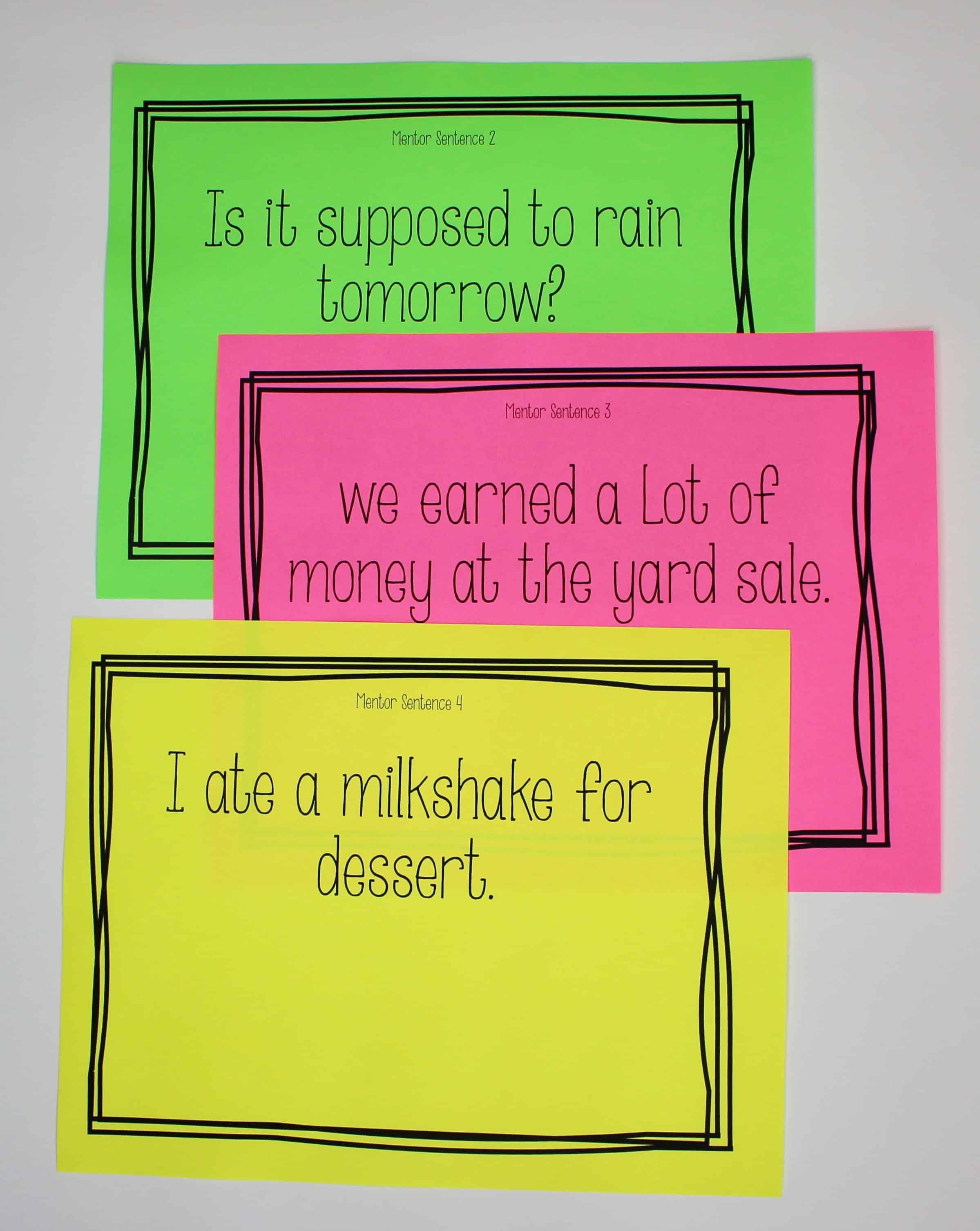 All of the forms and narrative writing lessons are in my Personal Narrative Unit on my TpT shop. In the unit, you'll also find a list of suggested mentor texts, revision checklists, editing checklists, and a rubric for assessing. If you check out the preview you'll get a few FREE days of lessons!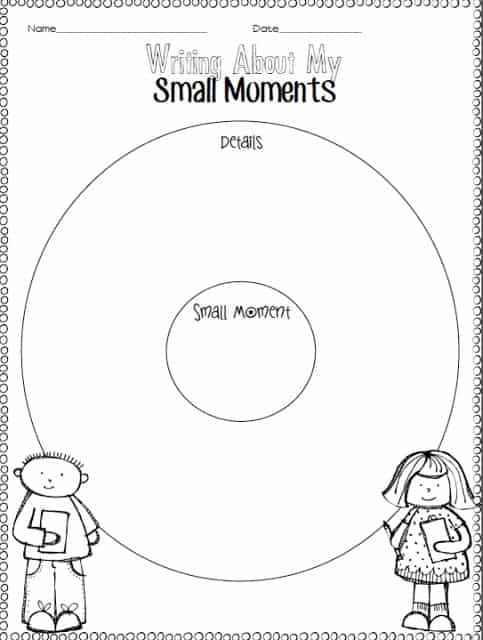 Hopefully, you've enjoyed these narrative writing lessons. You can download a FREE copy of the two graphic organizers pictured above! If you'd like to learn more about teaching writing to upper elementary students, be sure to check out this Writing Workshop Guide post.