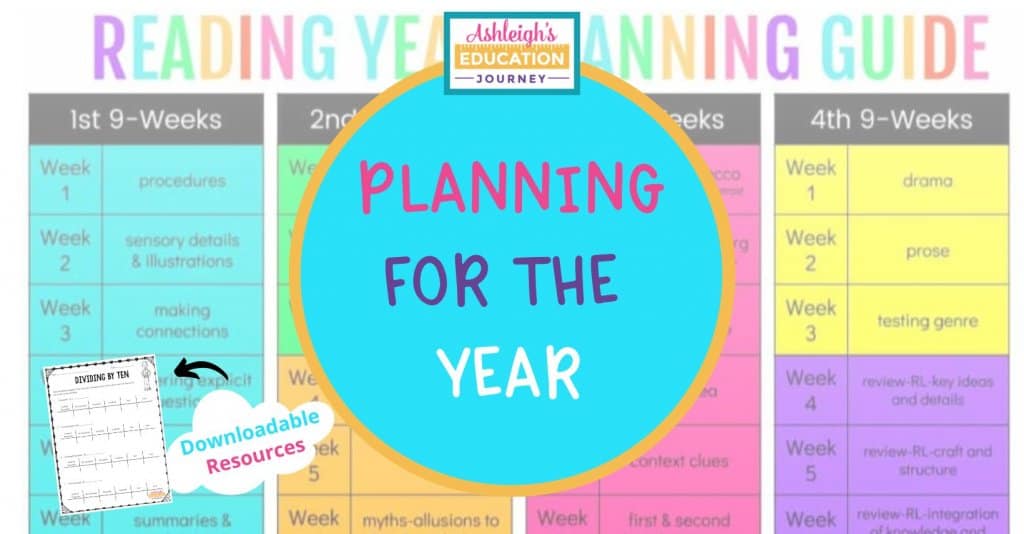 At the end of the school year, I always reflect on the year as a whole-what worked, what didn't work, what could I do differently. During the school year, I reflect and revise my daily lessons and make changes as needed. But as the school year winds down, I reflect on my pacing and the cohesiveness of my units and curriculum. I've had several people ask if my district or school provides any curriculum, text books, or scope and sequence, and the short answer is-no. It can be a challenge when you move to a new grade level, but I LOVE having the freedom and flexibility to teach they way I think will most benefit my students. We are only required to follow our state's curriculum map and to teach using the workshop model.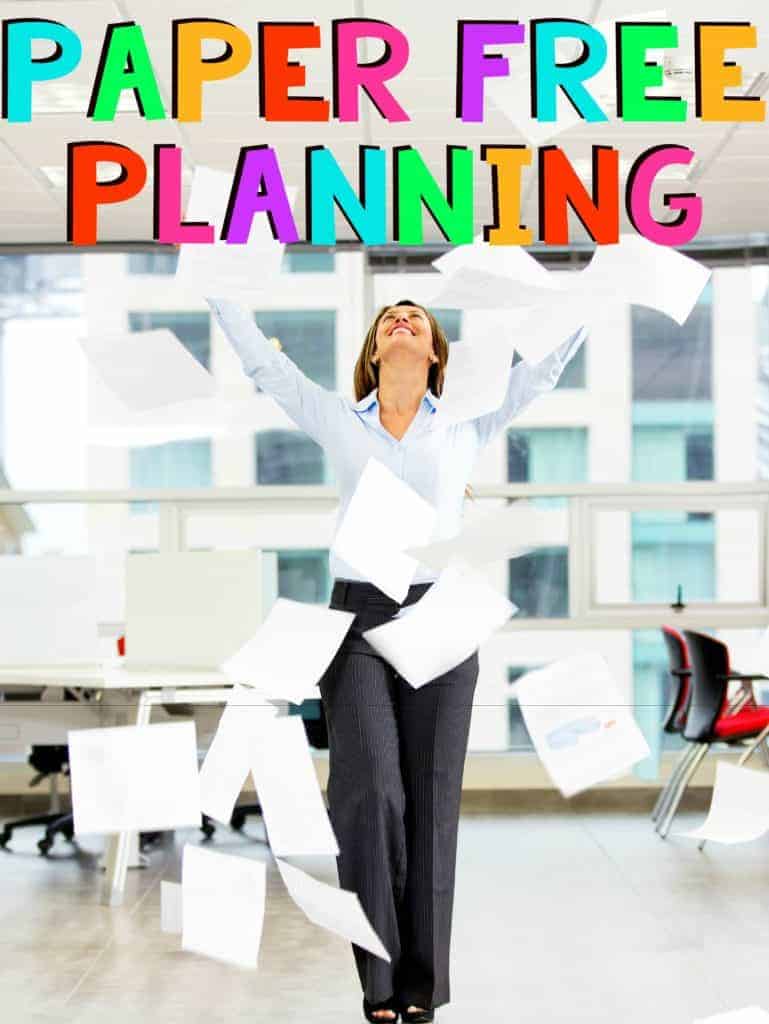 This year I'm creating all of my long term plans and year pacing guide DIGITALLY! I no longer have to send myself countless emails or leave papers at home that I need at school, or vice versa. I also think this will be a great way to share my plans with our inclusion teachers and activity teachers. When I develop my long term plans and pacing guide for the school year, I always start with the big picture and work my way down to manageable units. I like to look at my goals for students at the END of the school year, and then I work my way backwards. I first print out all of my standards and decide how to organize the standards into logical units and all of the concepts and skills within each unit. I create a table for each unit and write every skill that I will need to teach underneath the unit.
I create a table for each subject that lays out the entire school year. I organize my table into 9-week sections, because our grading terms are organized into 9-week sections. I used to try to finish all of my units within the same 9-week period, but I've found that it's not feasible to rush through a unit for the sake of finishing in a particular 9-week period. I've filled in units with different colors to allow me to have a quick visual reference for the year. The planning guides below are for my 3rd Grade Math, 4th Grade Math, and 3rd-5th Grade Reading units. As I begin pacing my units, I have to keep in mind that my students will take their state test during the middle of the fourth 9-weeks, so I always leave myself a little wiggle room.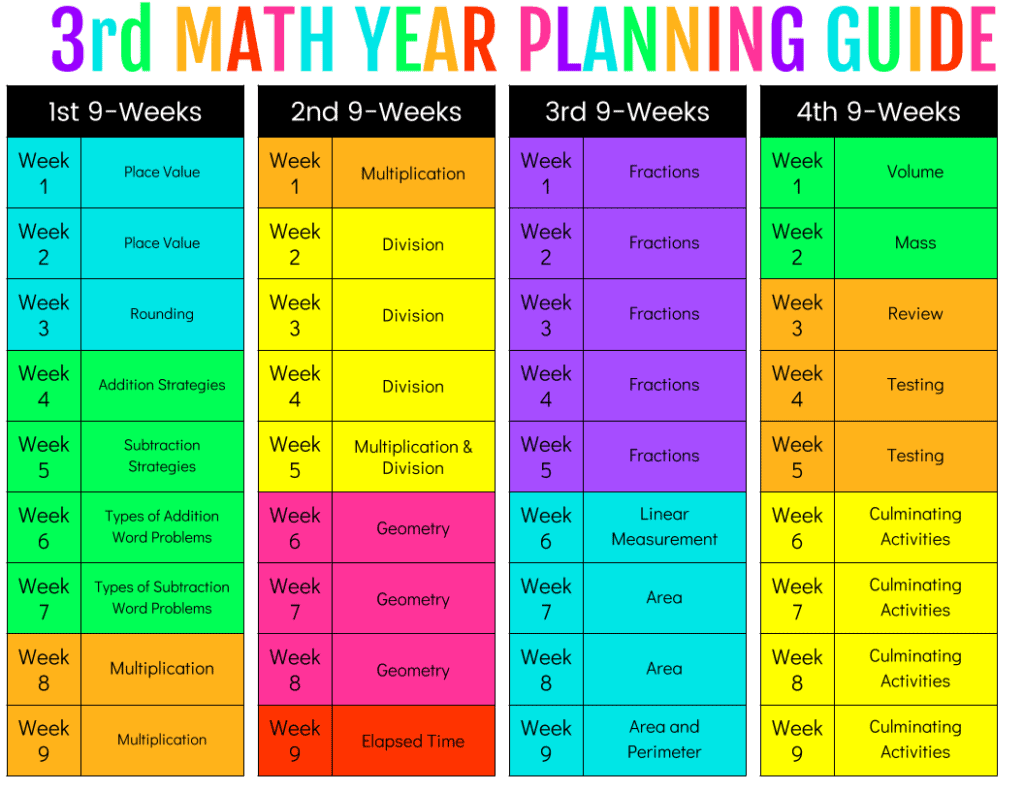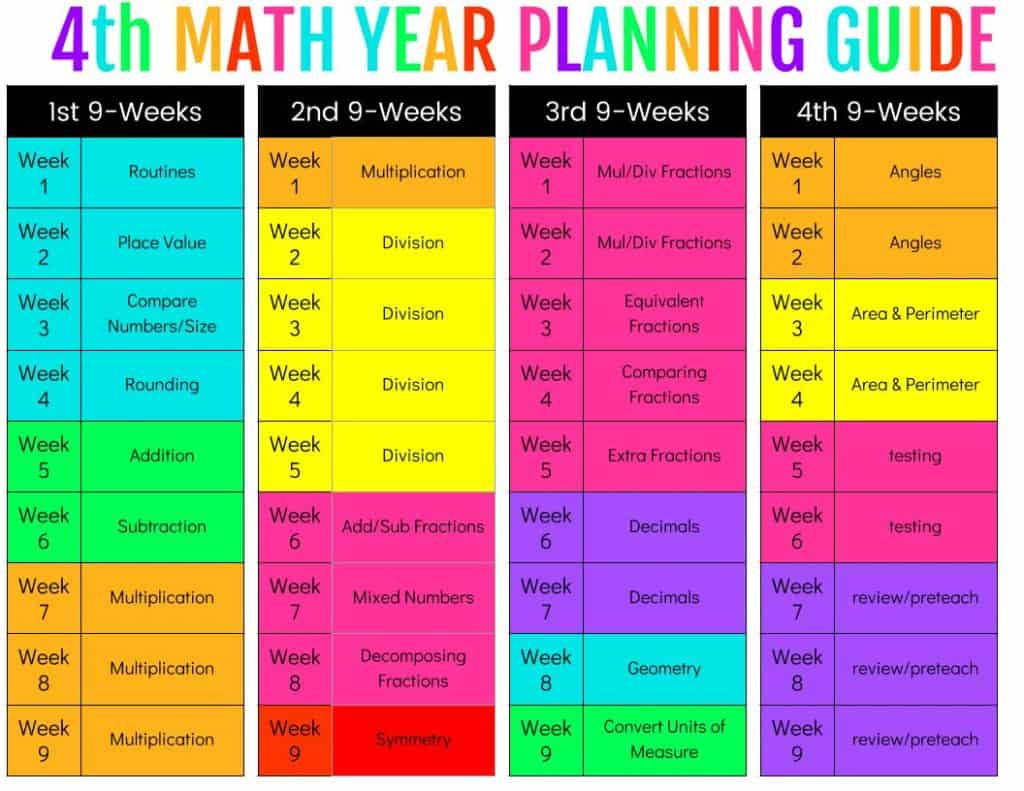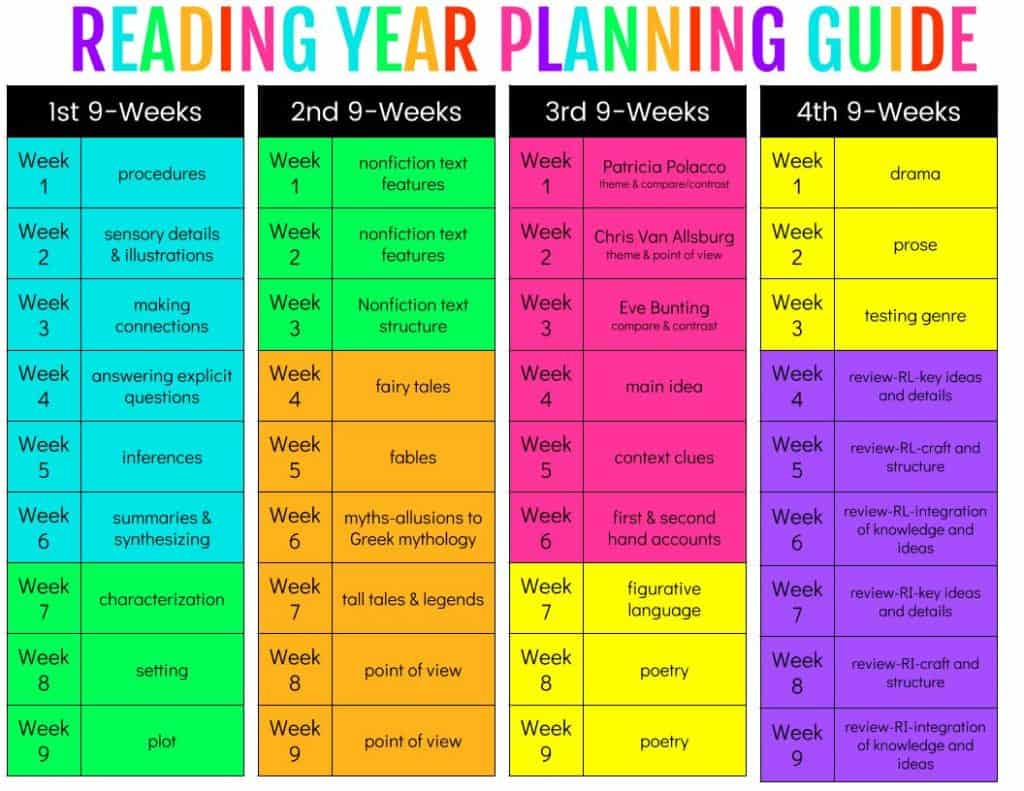 Once I finish my year at a glance, I begin to plan my actual units. I decide on the order I want to teach each topic within the unit, and then I determine my pacing of the topics within the unit. The last thing I do is create the actual lessons, which is the fun part. Since my math and reading units already have a detailed pacing guide, I don't recreate this for those subjects-the work is already finished for me! However, science is a whole other story! I felt like my science units were far too hit or miss and didn't have the focus and cohesiveness that I want to see within my units of instruction. My goal for the summer is to focus on my science units, so I've already started working on modifying my science plans for next year. I won't be creating science units similar to my math and reading units, because I already use several products from The Science Penguin and Bowtie Guy that I love. I want to integrate those lessons with some new things that I create.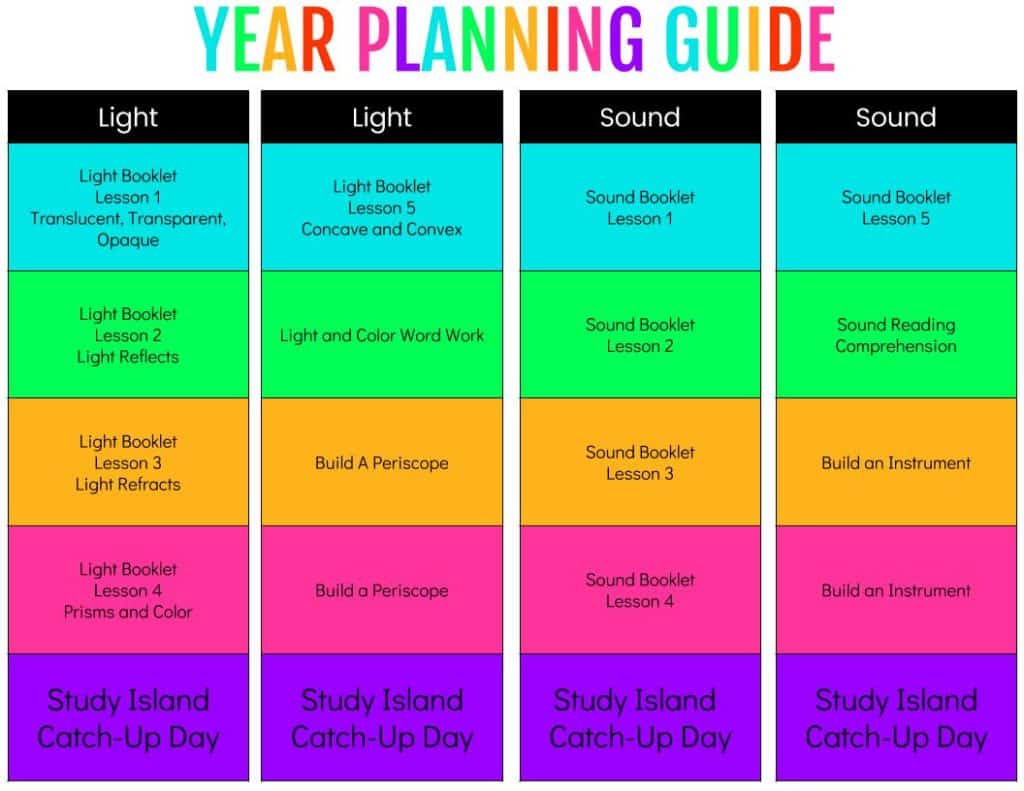 Of course nothing can be set in stone, because I never know how my students will respond to certain concepts and lessons. This is just an outline to make day-to-day planning easier. You can download all of the forms above here on Google Drive, and they are all completely editable!
I'm excited to utilize digital planning and organization much more next school year. I think it will make planning and sharing information much more streamlined and organized. Not to mention, this will greatly reduce overwhelming paper clutter! I've posted the forms below on TpT as a Digital Teacher Binder that you can check out here on TpT!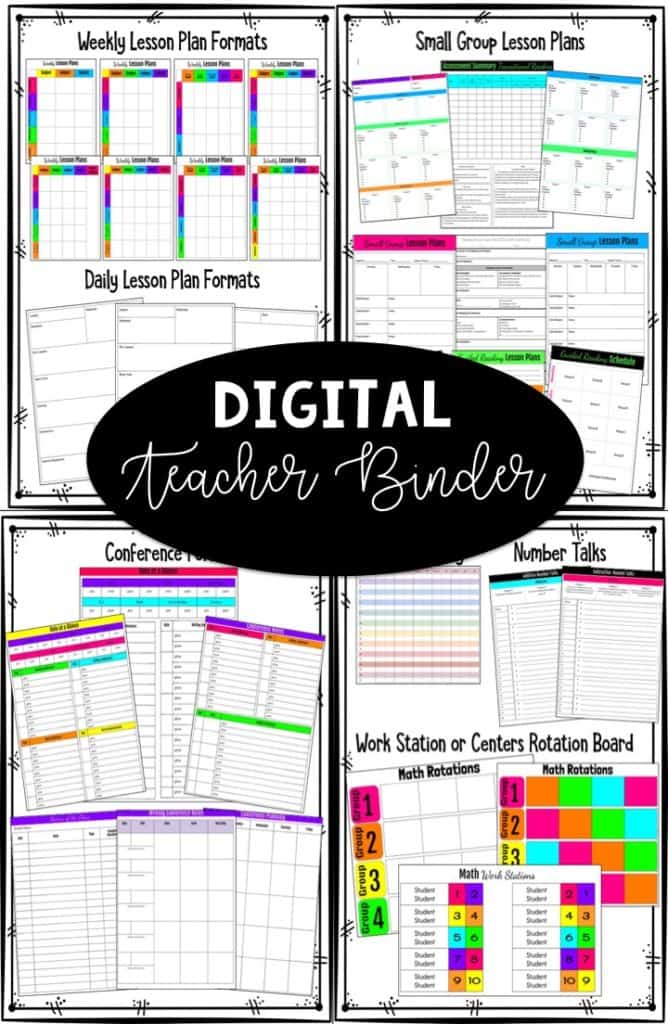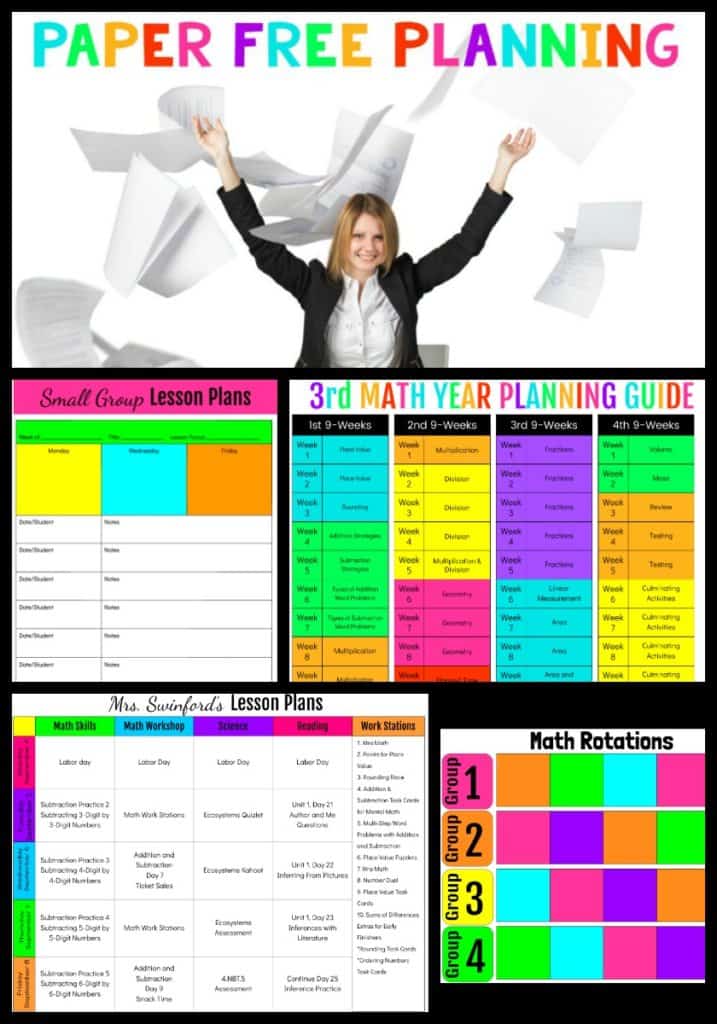 There are 10 different lesson plan options. I have NOT included dated lesson plans, because it saves so much time to leave content that stays the same each week (morning work, schedules, stations, etc.) and duplicate the pages as you go. To duplicate the pages, simply select 'EDIT' and then 'DUPLICATE'. This will give you an exact copy of the previous page. You can add and take away rows and columns, change colors, highlight, and type directly in the boxes on these editable lesson plan templates. I've included three daily lesson plan formats I use for my detailed lesson plans. I only use these for the lessons that I have to turn in, because they are definitely not fast to write. You can easily increase or decrease the size of each section by dragging the borders of the table to whichever position you prefer. You may also change the names of any section of the lesson plan. I've used digital weekly overviews and daily lesson plans for years, and it is a huge time saver!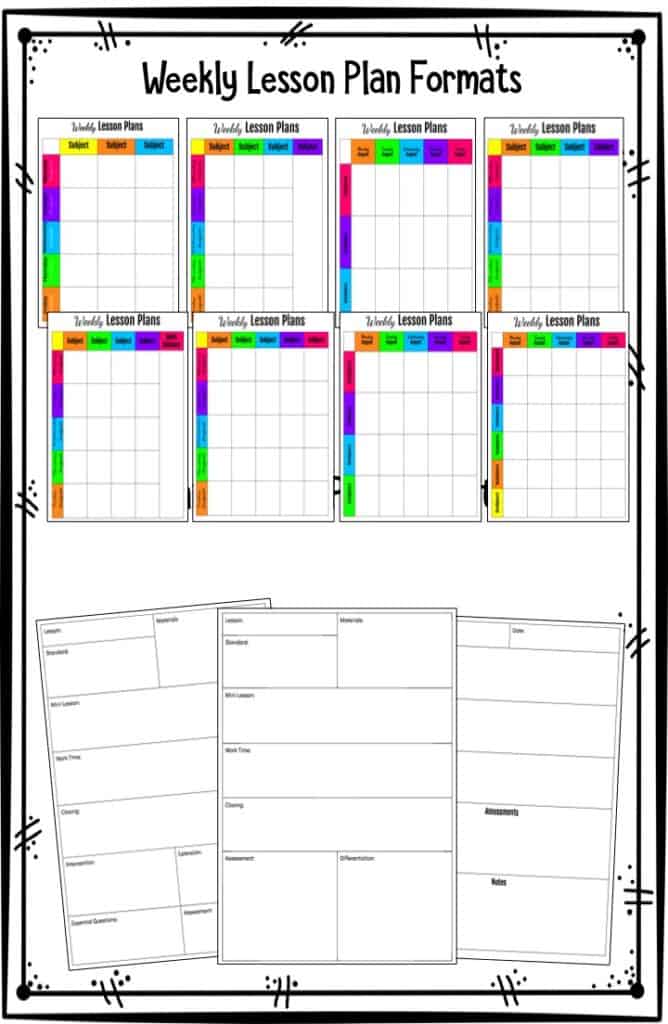 I also included all of my favorite small group lesson plan forms and templates. I've found that there simply isn't enough space in daily or weekly lesson plans for small group lessons and schedules, so I use a separate planning sheet for my small groups. There are reading group lesson plans and that include forms for groups that meet two, three, four, and five days a week. I also have forms to help with scheduling and forms math groups, and writing groups. This allows me to quickly see all of my small groups at a glance.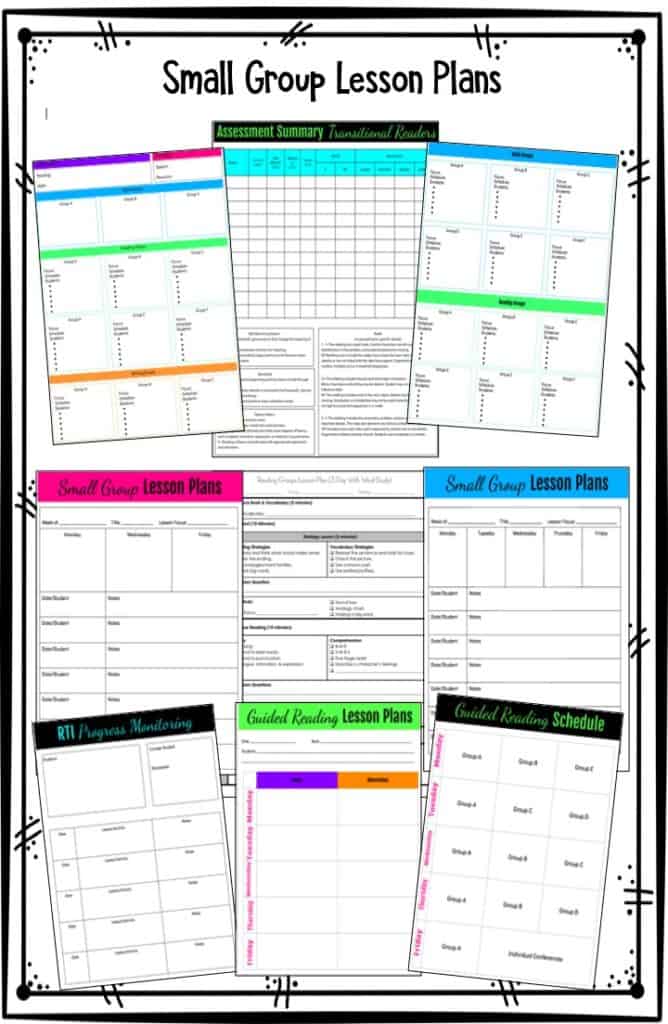 I have included ten different templates that can be used for individual student conferences in reading, writing, or math workshop. There are forms for recording notes for one, two, or even three subjects. Some forms also include areas for you to include important student data. The forms below are just a sample of what is included.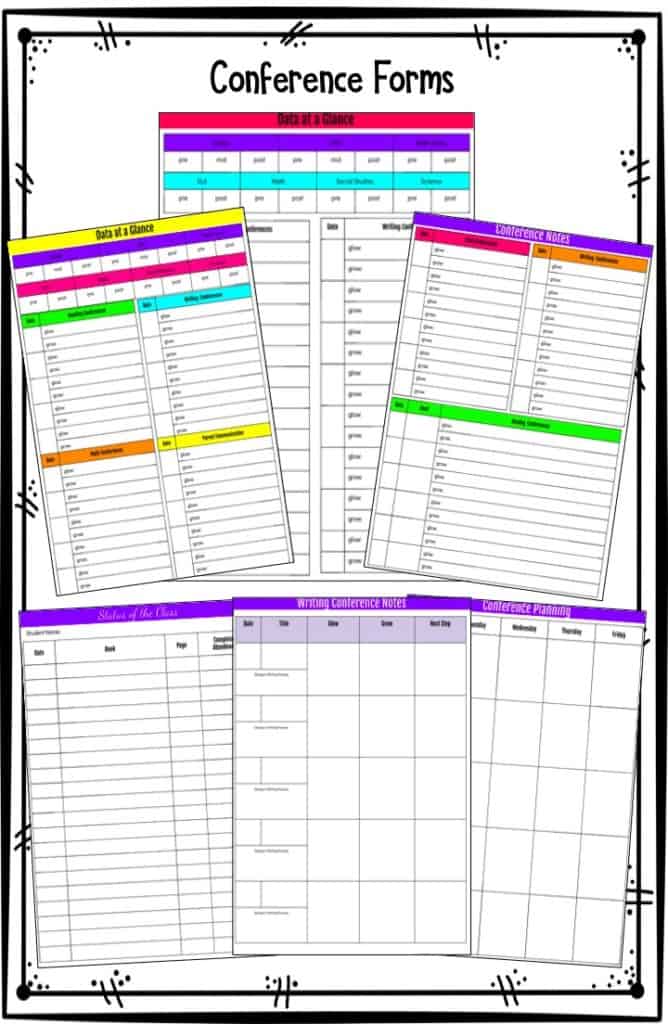 I included a class roster to use as a checklist to keep up with who has turned in forms, permission slips, field trip money, etc. There are also forms for parent contact information, parent contact log, as well as log-in and password information for class websites, and more.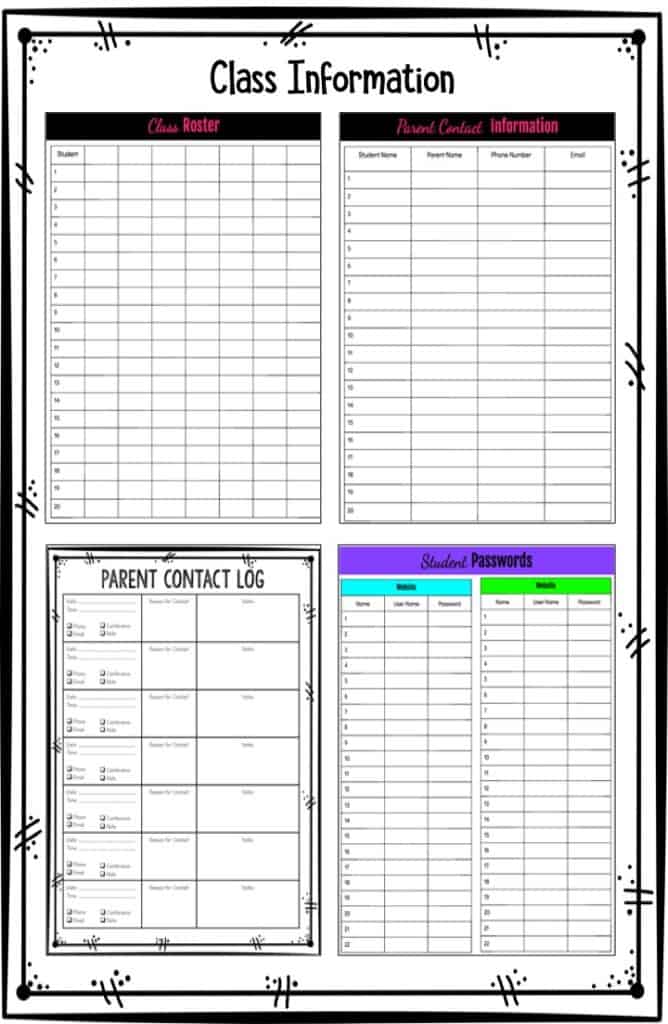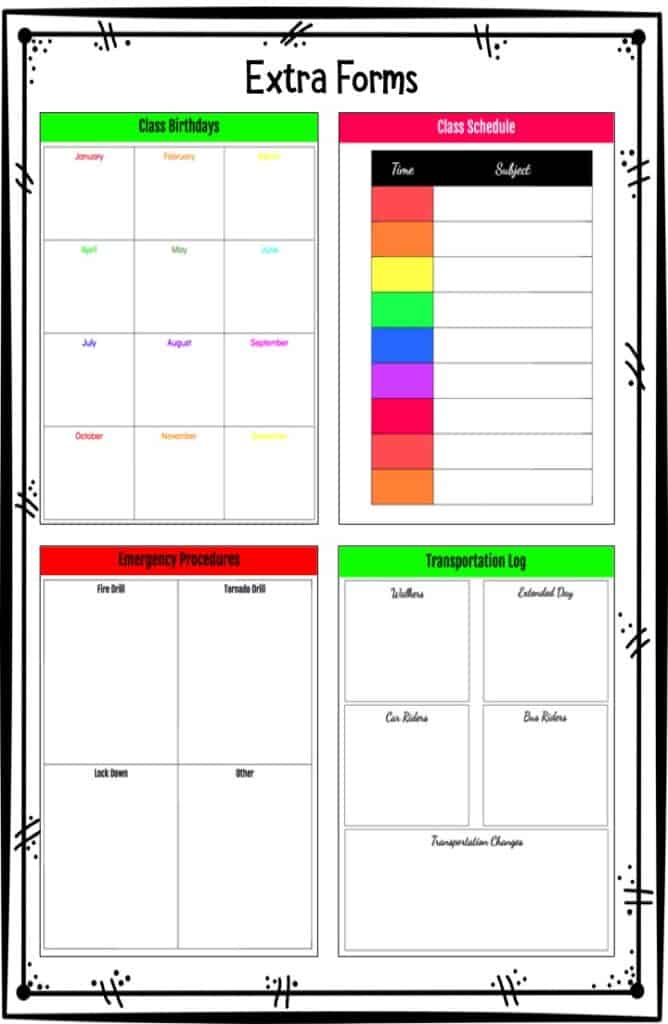 Each week I keep a behavior chart, so I can document student behavior. While this is not an essential teaching tool, it is an excellent resource to refer to during parent conferences or when finding patterns of student behavior. I have a couple different versions that you can adapt to your own classroom needs. I've created a number talk check list for every category of addition, subtraction, multiplication, and division number talks. There is space for a list of students, so that I can check off students once they show proficiency on a particular skill. There is also space to take notes and record the problems my students solved each day. I've also included math rubrics for 1st through fifth grades. You can view this blog post to learn more about how I use these math rubrics. The rubrics made planning my math groups so much easier! This works in a standards based grading and traditional grading setting. I've also created slides so you can digitally display your math work stations, or you can keep your wall display and use this digital form for arranging and rearranging groups. The display could also be used for reading stations such as Daily Five.