Most elementary students love learning about poetry. It's new, different, and often a genre where students can find a style of poetry that they particularly enjoy. This year, I'm incorporating chapter books written in prose to our novel studies. When I begin my poetry lessons unit, I like to explicitly teach the different parts of a poem. I teach lines, stanza, rhythm, rhyme, and repetition as the basics of poetry structure.
I also teach students how to read a poem, because they should read poetry differently than a traditional text. Students should first read the poem slowly. Reading a poem slowly is the best way to ensure that the poem will be read clearly and understood. It is also important for students to read in a normal, relaxed tone of voice. Students know that poems are written in lines, but pausing at the end of every line will create a choppy effect and interrupt the flow of the poem's sense. Students should pause only where there is punctuation, just as you would when reading prose, only more slowly.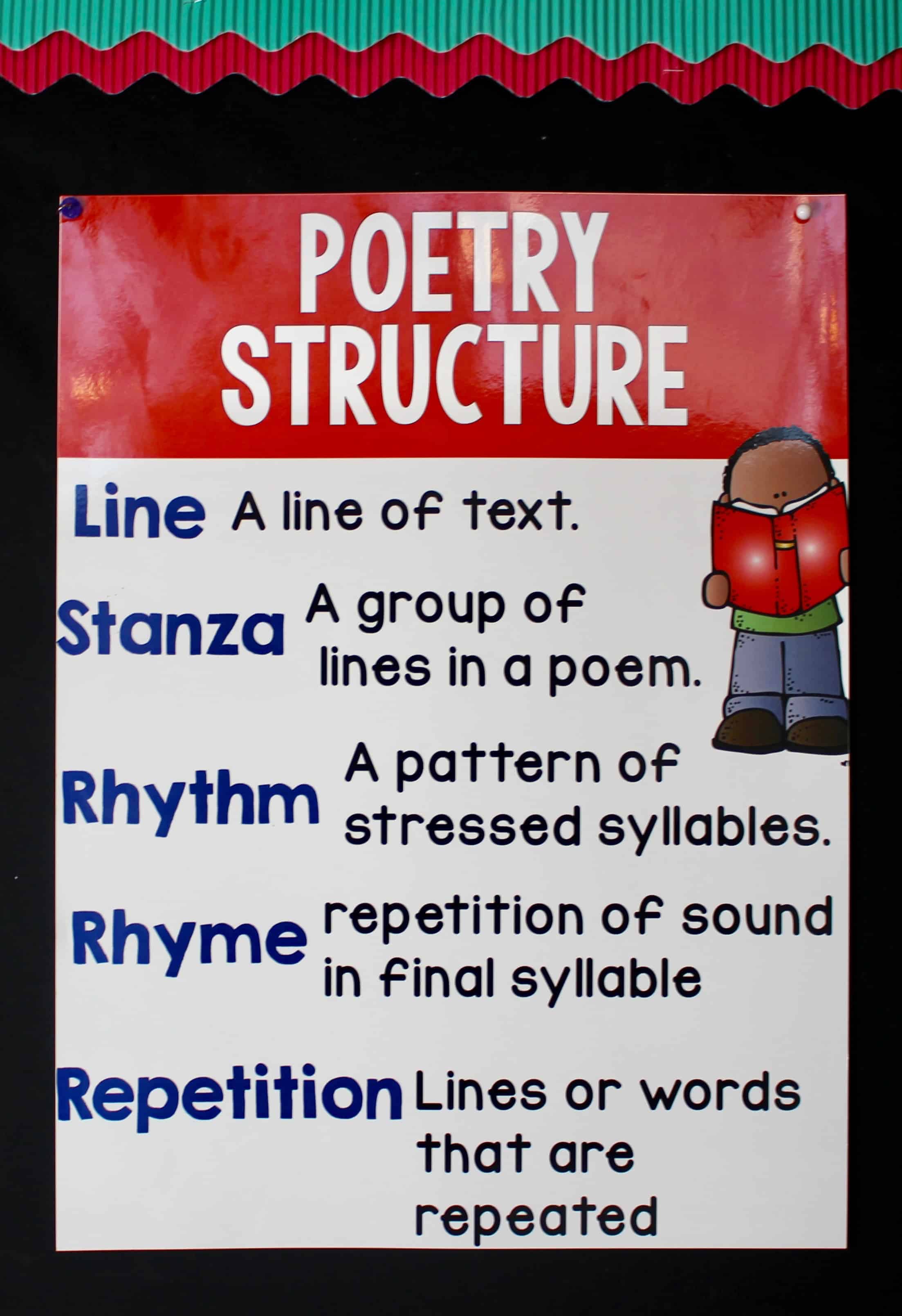 I teach whole group poetry mini lessons with the lessons in my Reading Unit 5. Within my poetry lessons, I teach figurative language. I spend about a week focusing on figurative language. The emphasis of the week is similes, metaphors, and idioms. I do introduce other styles of figurative language, but those are what I teach for mastery. I also like to have students apply figurative language during their writing workshop.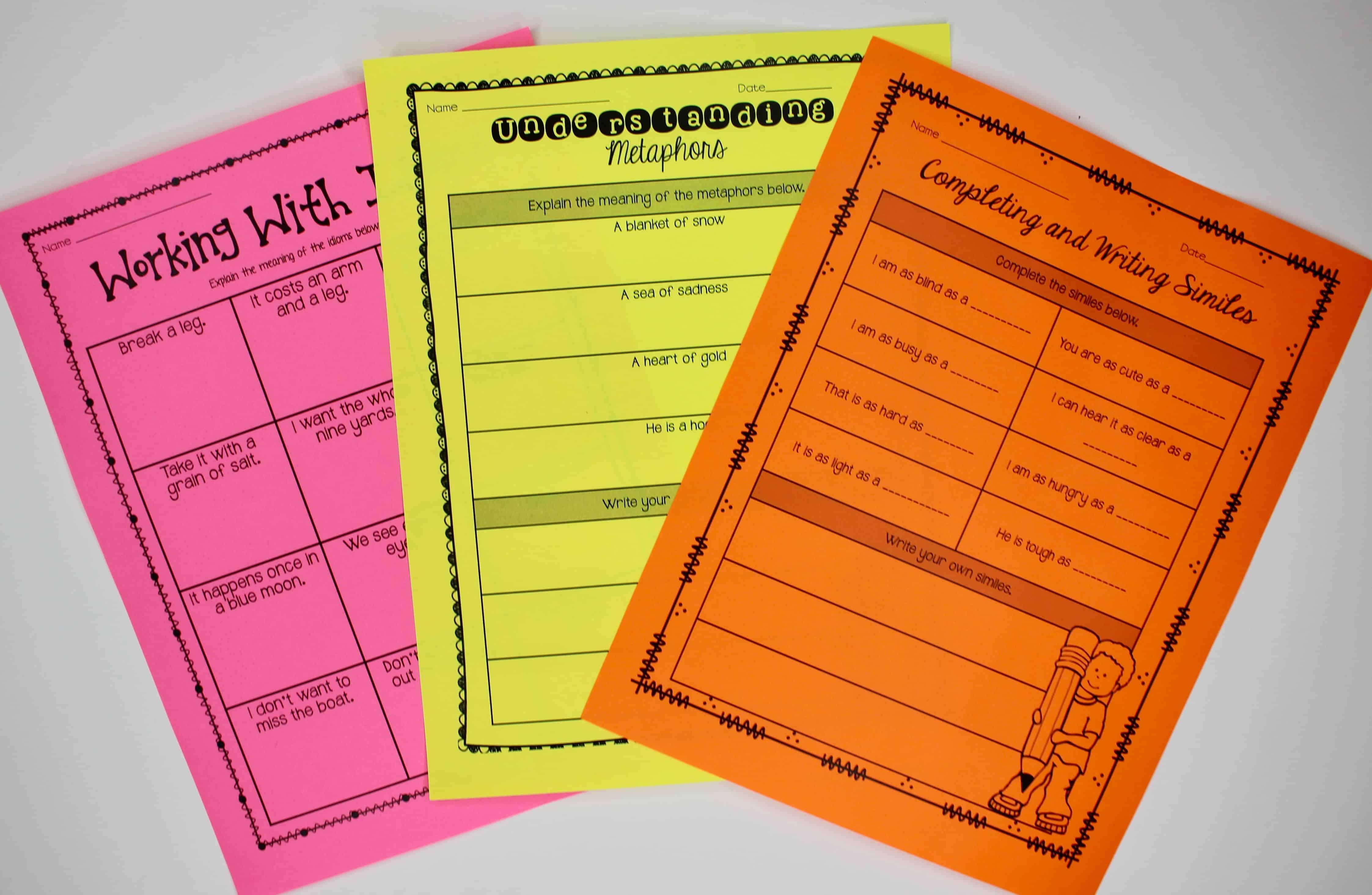 In addition, I also spend time teaching students to comprehend poetry. We focus first on explicit questions where students can find the answers to questions directly in the poem. Once students are comfortable with explicit questions, I move into comprehension with implicit questions. I spend a bit of time working with students on different styles of poetry, meter, and rhyme schemes.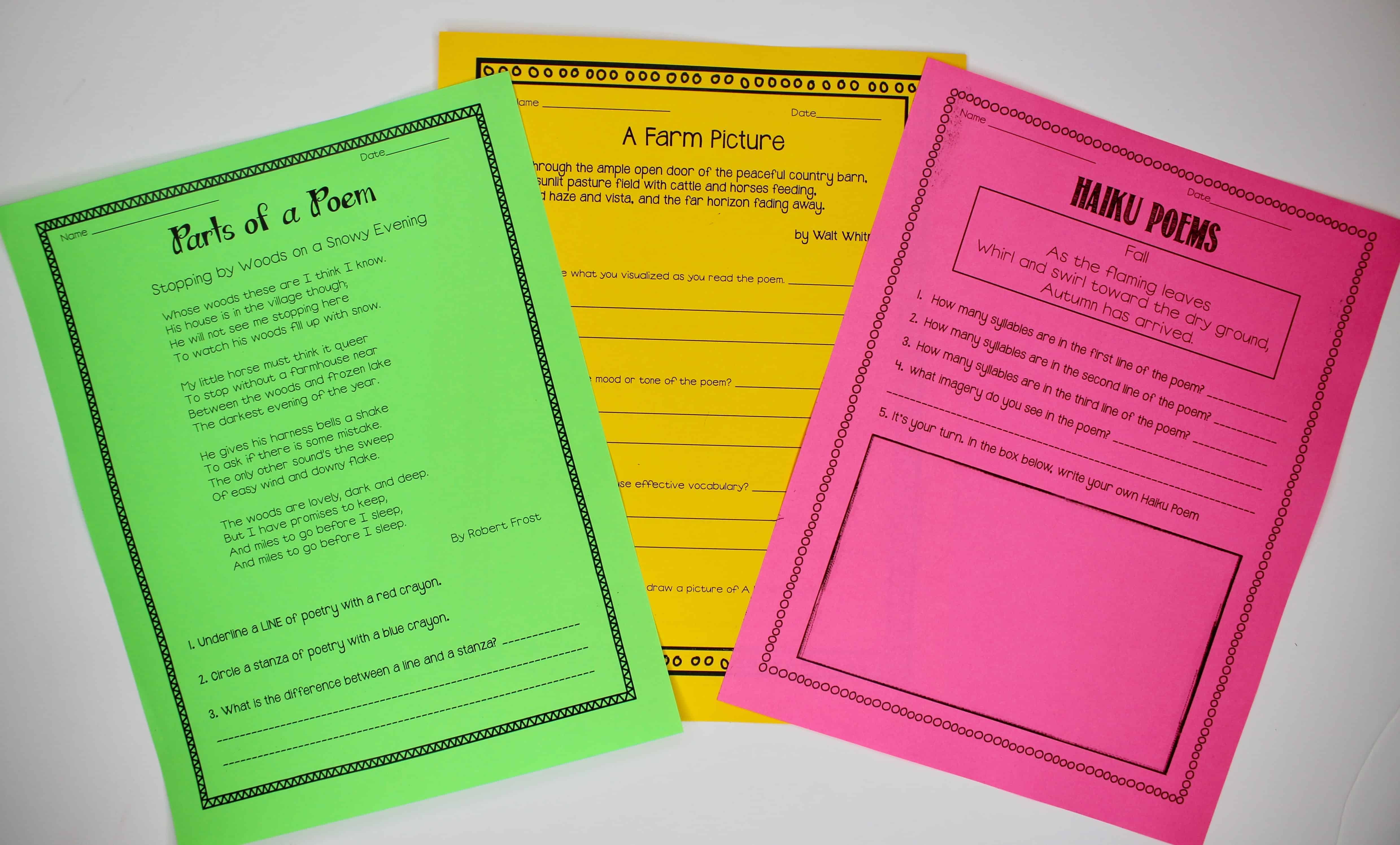 In my mini poetry lessons, I'll include a variety of poems. I like to use a collection silly and serious poems. Once of my recent favorite anthologies is Poems to Learn by Heart, because it has such a large range of excellent poems for children.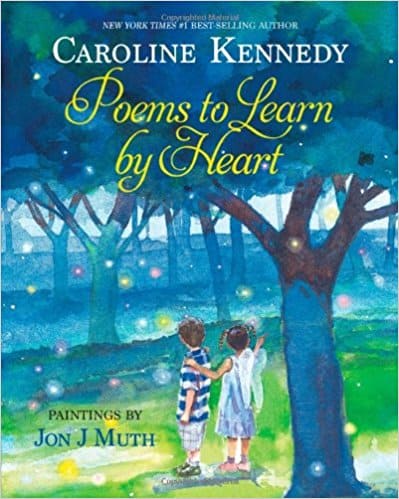 Poetry Lessons and Novel Studies
This year I am extremely excited to use poetry in my novel studies. I've divided my students into four groups for four different novel studies. I have added each of the novel studies to my Free Resource Library! To access the resources, simply sign-up for my newsletter. You can sign-up here or on the sidebar of the blog! You will NOT be bombarded with a plethora of emails either!
Love That Dog
One group is reading Love That Dog, which is the easiest of the four books. The book is a collection of journal entries written as poems. The journal belongs to Jack, a young boy in Miss Stretchberry's class. Jack doesn't like poetry-writing it or reading it. With the help of Miss Stretchberry, he begins to write poems of his own. Slowly, he realizes that his brain isn't "empty" and that he can write poems. After meeting one of his favorite writers, Walter Dean Meyers, Jack writes a special poem about a painful experience in his life.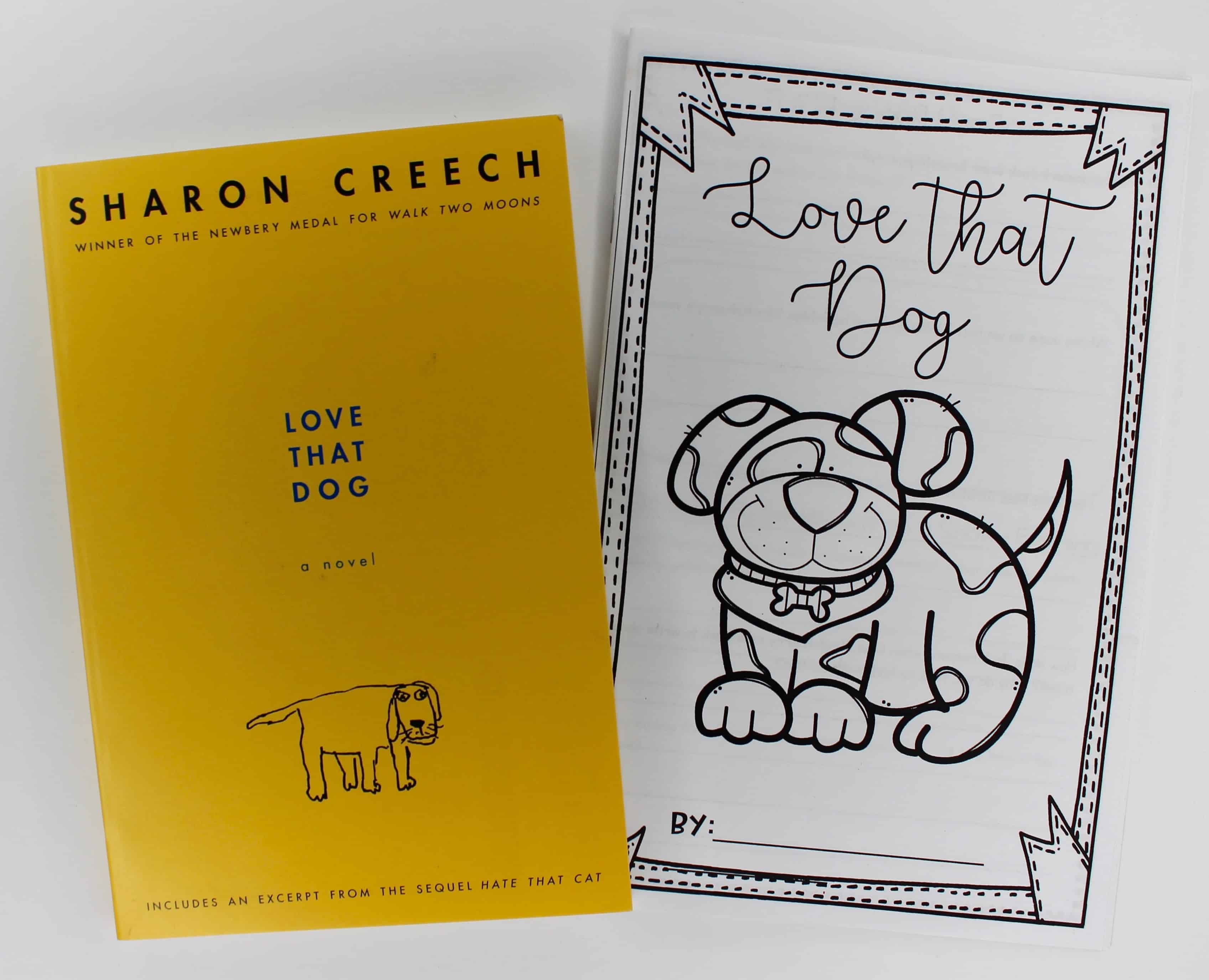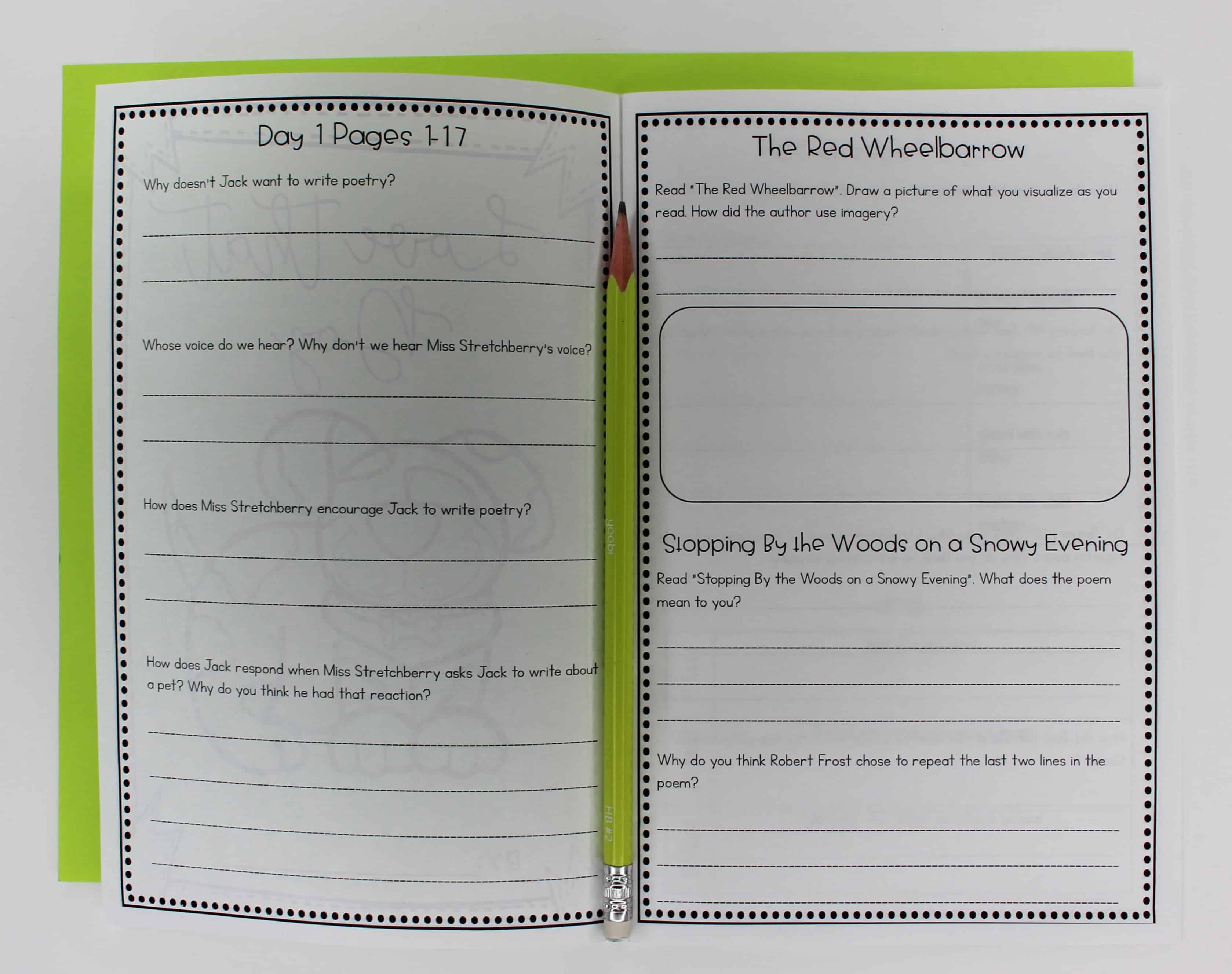 May B.
Another one of our novels is May B. which is a historical fiction novel written in prose. I like to think of this book as Little House on the Prairie meets Hatchet. The setting of the book is the late 1800s on the east Kansas prairie. May B's parents need money, and their plan is to send their daughter to work at a homestead 15 miles away. May isn't happy about going and she doesn't like the family she's working for. Mrs. Oblinger is cold and distant toward May, even though she isn't much older than May. Mrs. Oblinger confesses to May B that she hates her life here on the prairie, and eventually Mrs. Oblinger runs away. Mr. Oblinger leaves, following her. May has no idea of when or if they plan on coming back.
May is lonely when she begins her job with the Oblingers, but she becomes truly lonely when she's abandoned at their home. She knows she has to fend for herself and figure out how to live in alone. To top her problem off, winter is coming, and she's running out of food. Before snow falls, May tries to make a run for it back home, knowing that while 15 miles is a long way, it'd be worth it. She doesn't make it and goes back to the Oblinger's home and lets winter take over. A side plot of the novel is that May has a learning disability and struggles greatly with reading.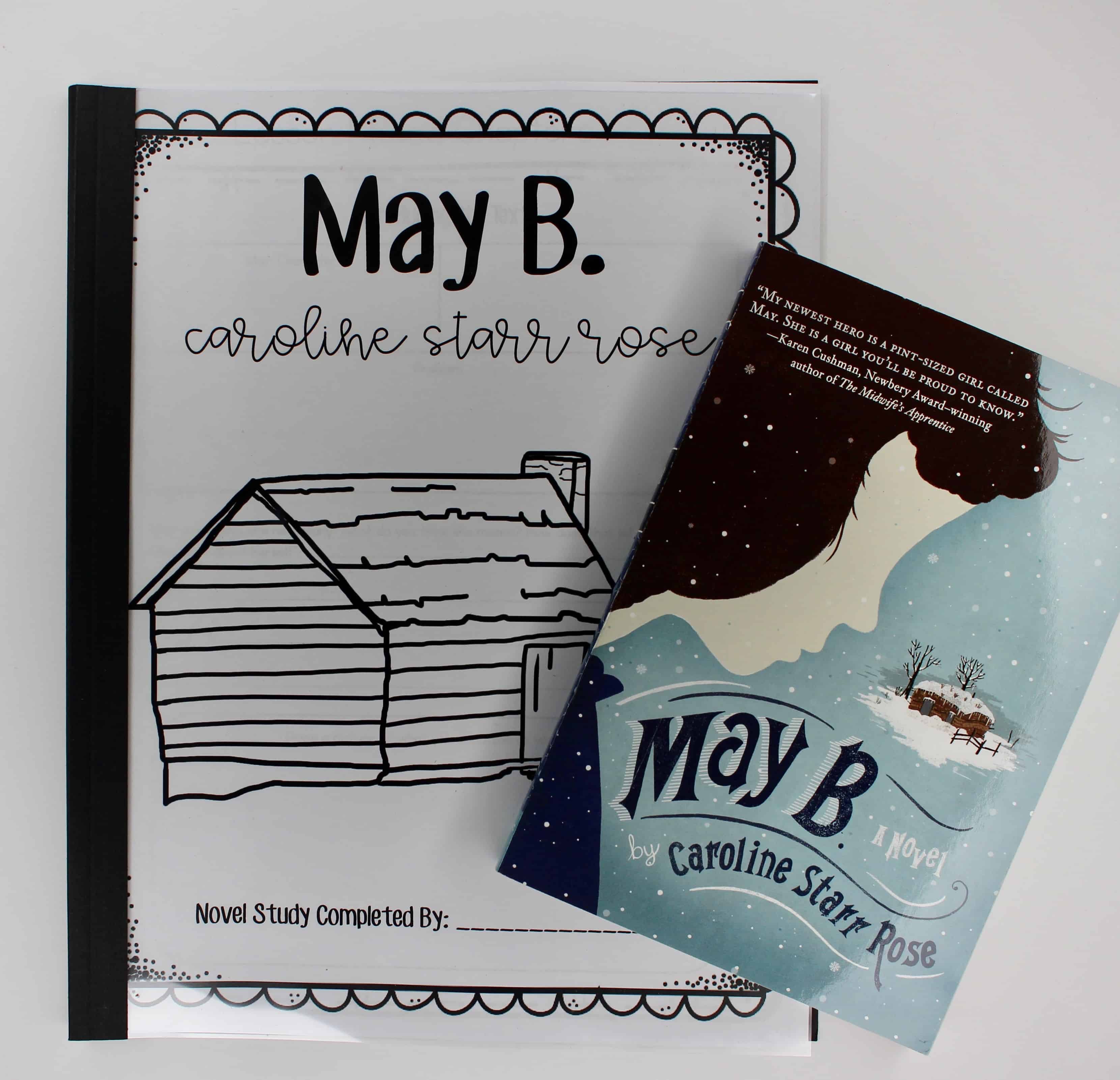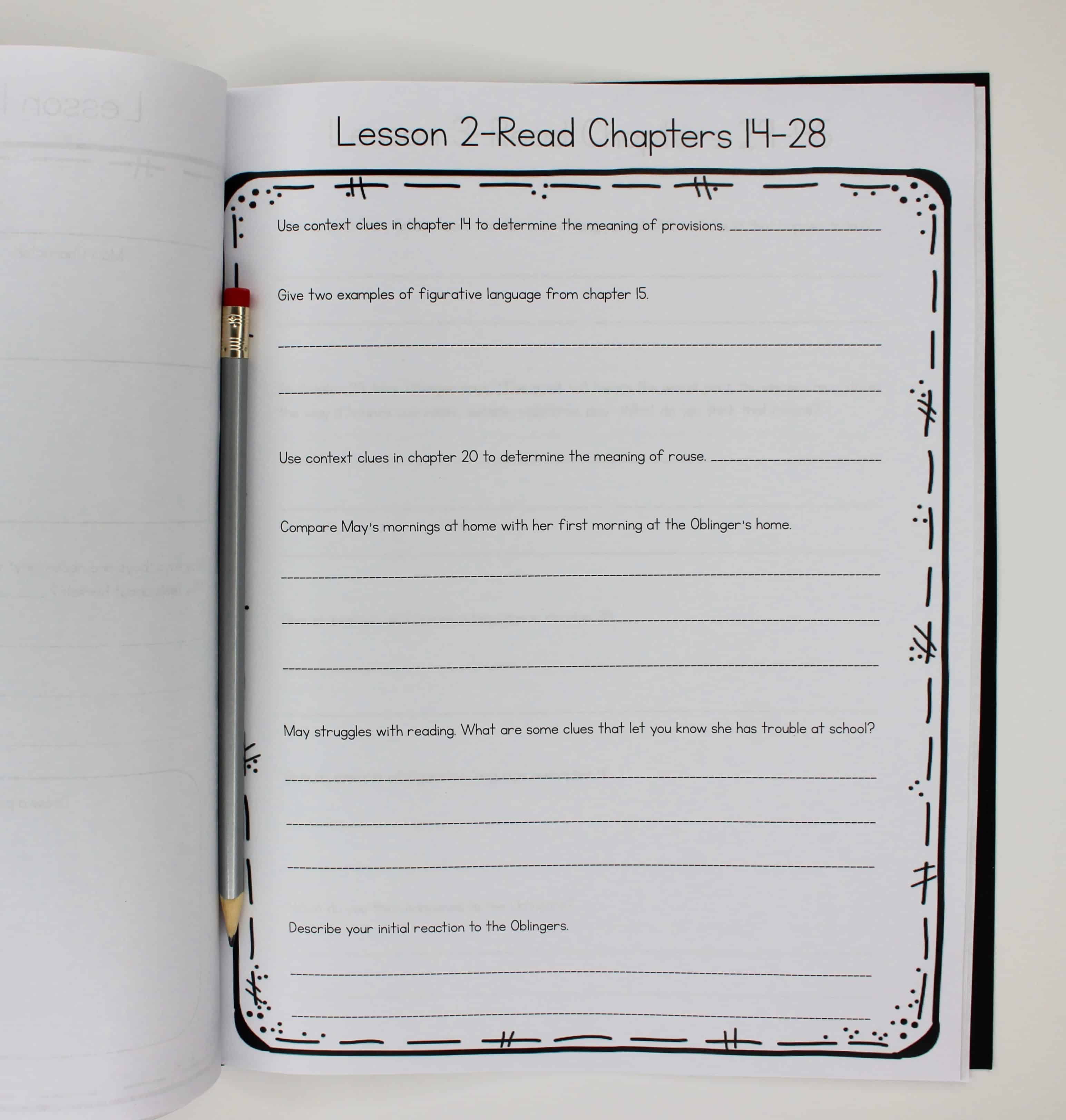 Hidden
The fan favorite novel is Hidden, which is another novel written in prose. The author actually created a special type of poetry for one of the characters in the book. I'm surprised that this book is not more popular than it is, because I've had more than one voracious reader tell me that this was the best book they have ever read. When Wren Abbott and Darra Monson are eight years old, Darra's father steals a minivan. He doesn't know that Wren is hiding in the back.
The hours and days that follow change the lives of both girls. Wren finally manages to escape from the Monson's garage where she is hiding. Years later, in a chance encounter at a summer camp, the girls face each other for the first time. They can finally learn the truth of the event and the activities following the kidnapping. The book is told from alternating viewpoints from Wren and Darra. The book does include diverse main characters, but that diversity is not the focus of the book.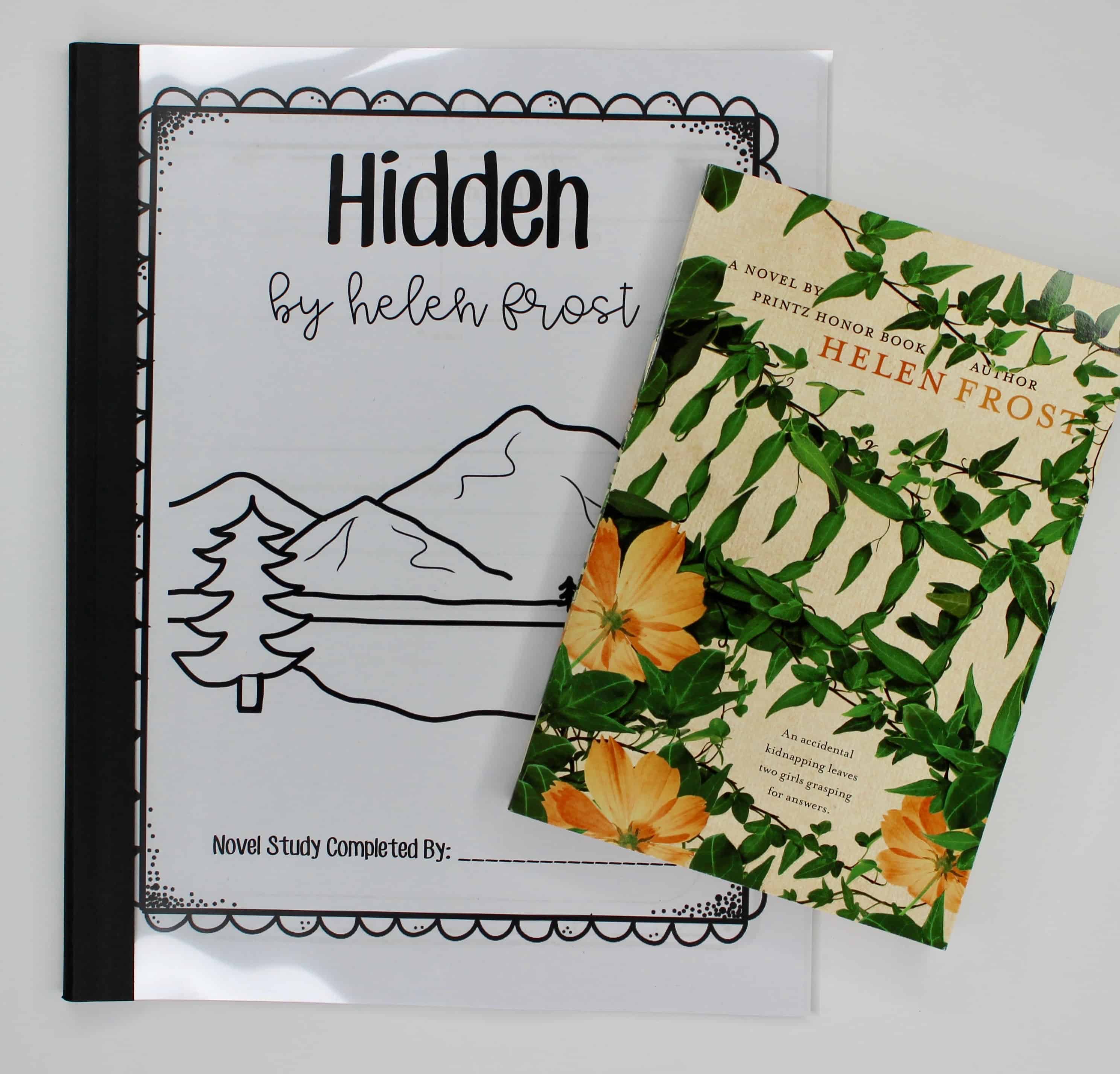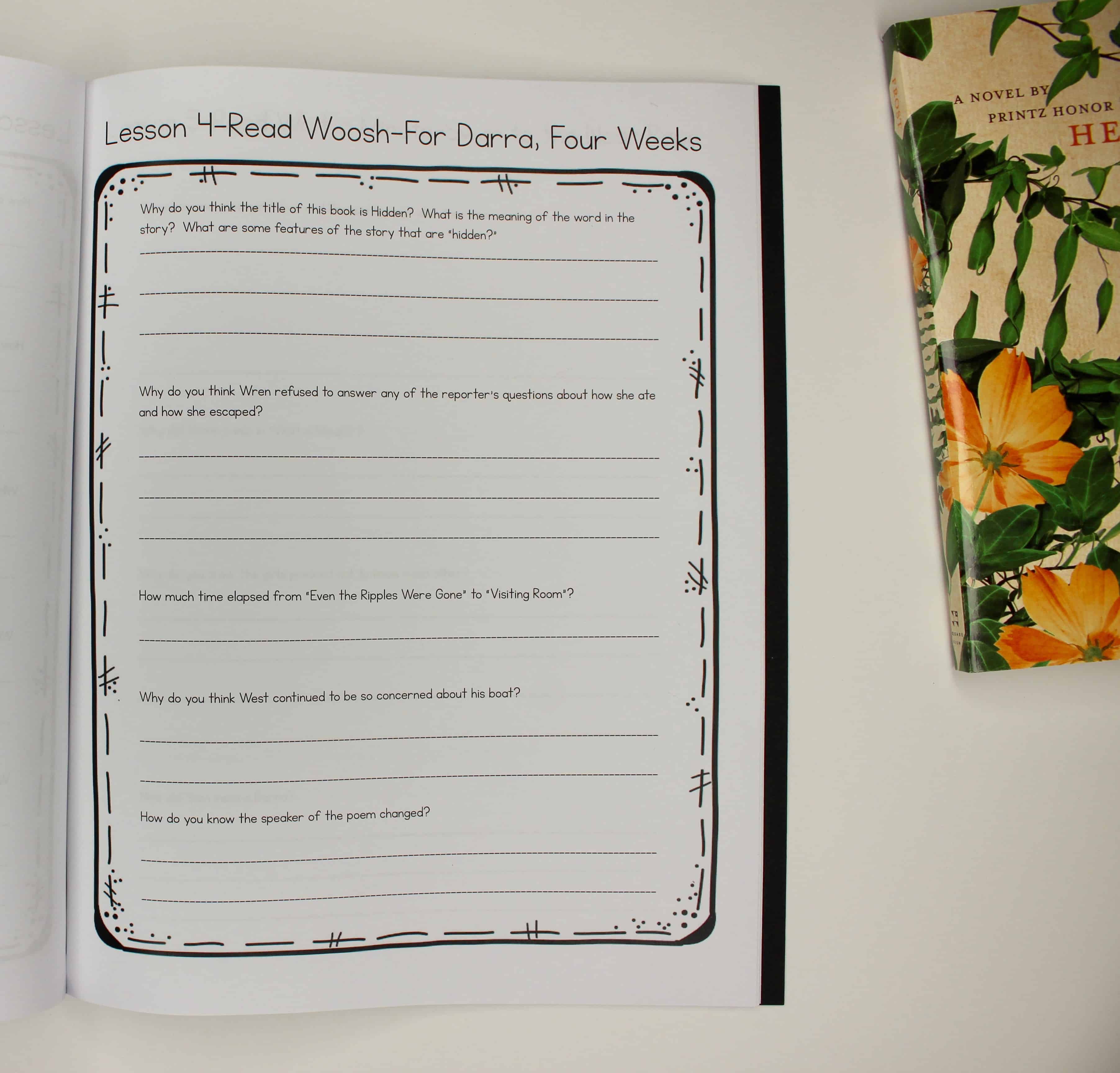 Inside Out and Back Again
The final, and most challenging, text is Inside Out and Back Again. I love this book, because it address so many social studies standards, while telling a great story in beautiful prose. Inside Out & Back Again recounts the fleeing of Vietnam by Ha and her family and their immigration to the United States of America. In 1975, ten year-old Ha lives in Saigon, South Vietnam, with her mother and three older brothers, Vu, Khoi, and Quang. They are a close-knit, traditional family, though their father was captured by the Communists on a naval mission nine years before. Ha's family is divided on whether to leave or stay, but in the end, Ha's mother convinces everyone to leave.
Ha and her family are on board the ship for weeks, sailing toward Thailand. Food and water are scarce, but the people on board are cautiously hopeful about what could happen next. Ha and her family decide to travel to the United States. They are sponsored by a Southern farmer named Mr. Johnston, who helps the family to settle in Alabama. In Alabama, Ha and her family receive mixed reactions from their new neighbors. While many are friendly and welcoming, others are not. At school. Ha is bulled by a pink-colored boy who takes every chance he can to make fun of Ha. Slowly, all of the neighbors come around and warm up to Ha and her family, and the family begins to feel welcome at last.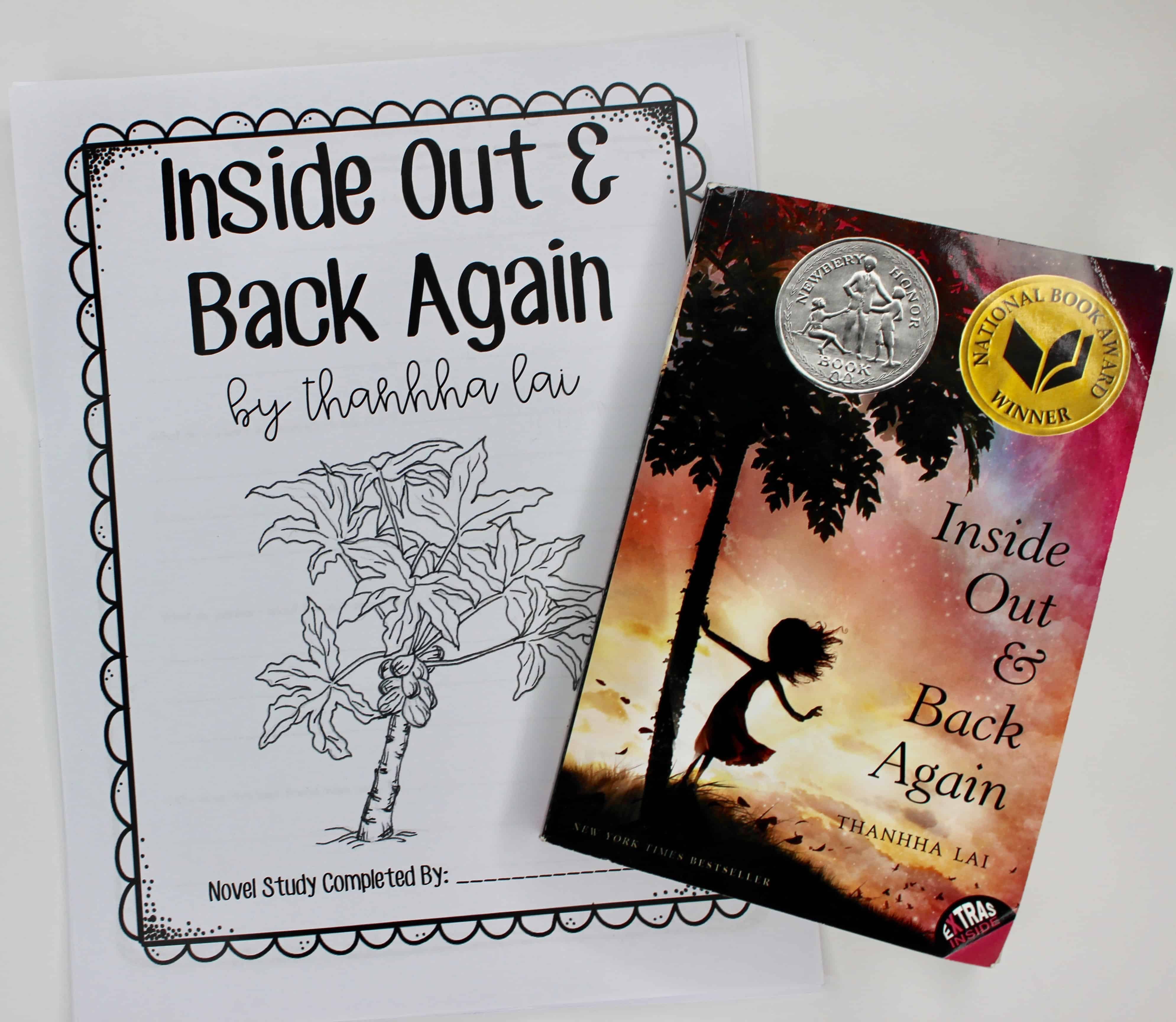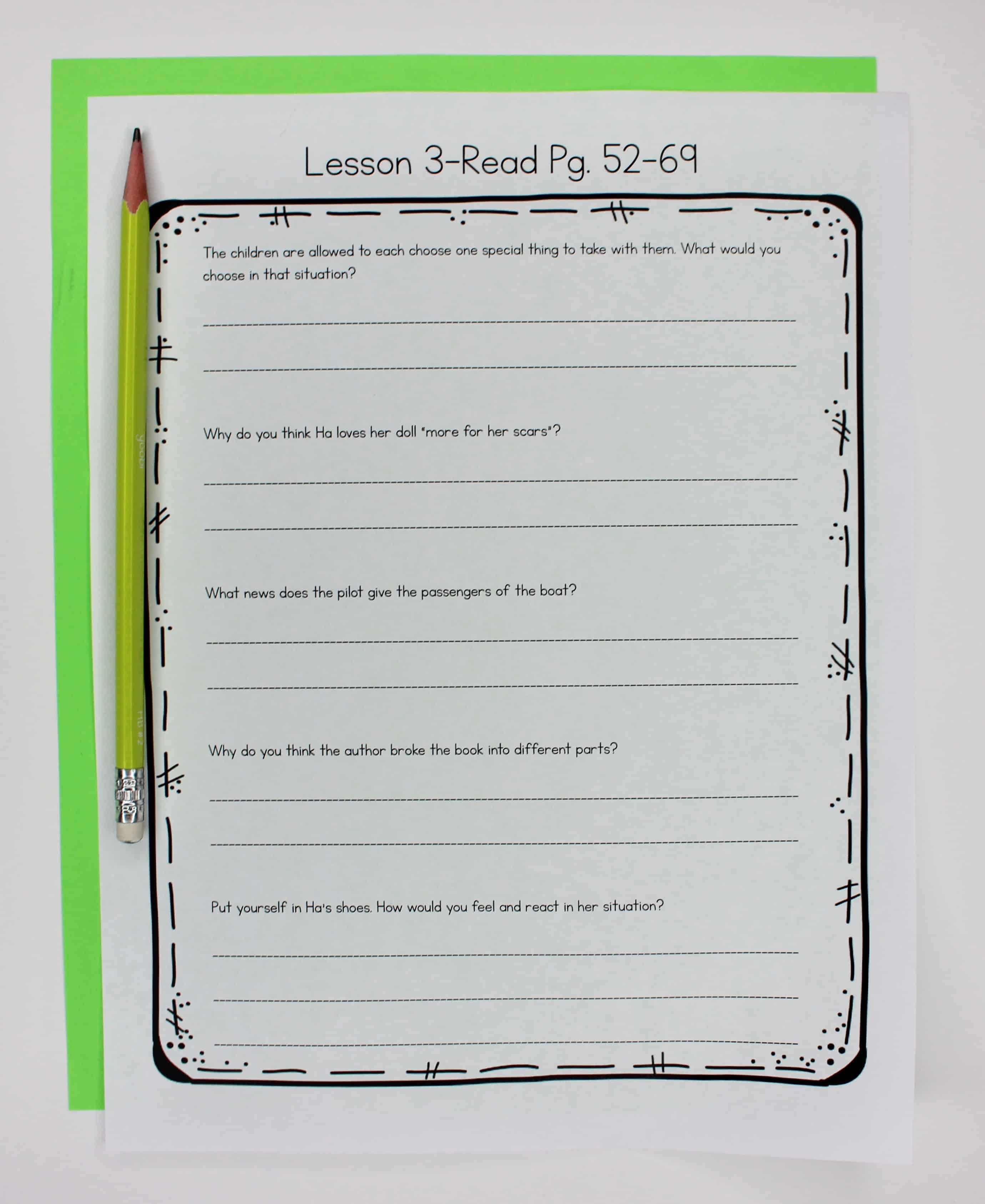 Don't forget to grab your free copy of these poetry lessons & novel studies and many other resources from the Free Resource Library!