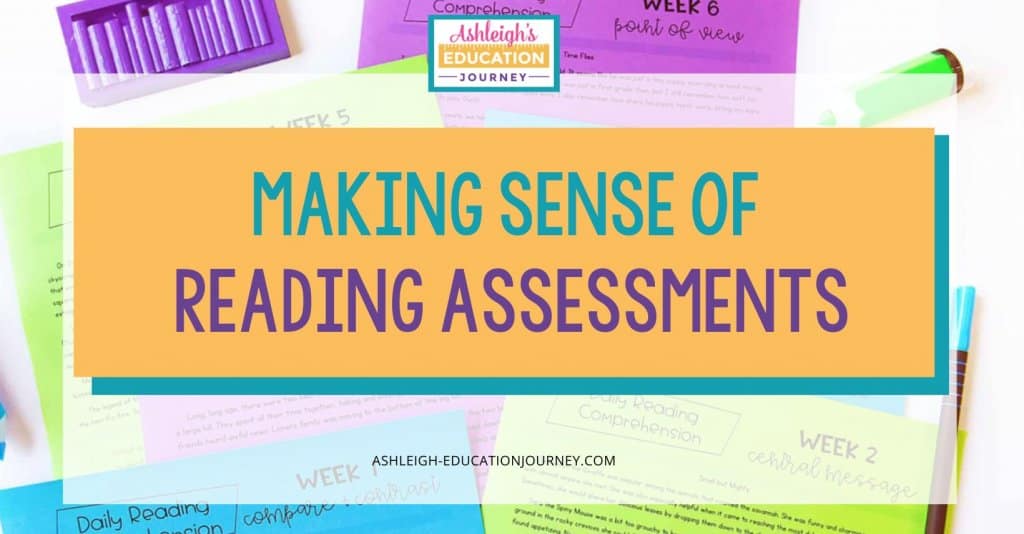 Reading assessments can have a tremendous impact on the upper elementary classroom. However, it's imperative to understand what assessments we're giving and the purpose of those assessments. Otherwise, we fall into the trap of over-assessing, which is when we assess for the sake of assessing. This post shares some of the most common forms of reading assessments and how to use those assessments to support your students.
In this post:
Reading Assessments – Screening
Screening assessments are given to all students at the start of the school year to determine which students are at risk. These reading assessments are not used to diagnose specific skill gaps. Instead, they help to identify students who need diagnostic assessments. These assessments should be relatively fast to administer and not use up a great deal of instructional time. Examples of screening assessments are DIBELS or Aimsweb. Once students reach fourth and fifth grades, many schools use a students' previous years state test score as a screener, rather than administering a universal screening. When giving a screening assessment, it is important to remember that we should not tailor our instruction to these screening assessments in hopes of raising our students reading ability. Instead, we must work to raise our students' reading ability, which will reflect in subsequent screenings.
Diagnostic Reading Assessments
Diagnostic reading assessments are used to assess specific components of reading such as phonemic awareness, phonics skills, and fluency. The results of diagnostic assessments help shape reading instruction and intervention plans. Not all students need this kind of in-depth reading assessment, as this most important for struggling readers. However, a diagnostic assessment is critical for our at-risk readers, because we must find the root of their struggle, so we can pinpoint our instruction to what the student needs. I typically use my students' screening scores to determine where to begin with diagnostic assessments.
Phonemic awareness is the very foundation of reading. It is a subset of phonological awareness in which students are able to hear, identify and manipulate phonemes. I love using Literary Resources screener for a phonemic awareness diagnostic assessment for upper elementary students. You can download the assessment here.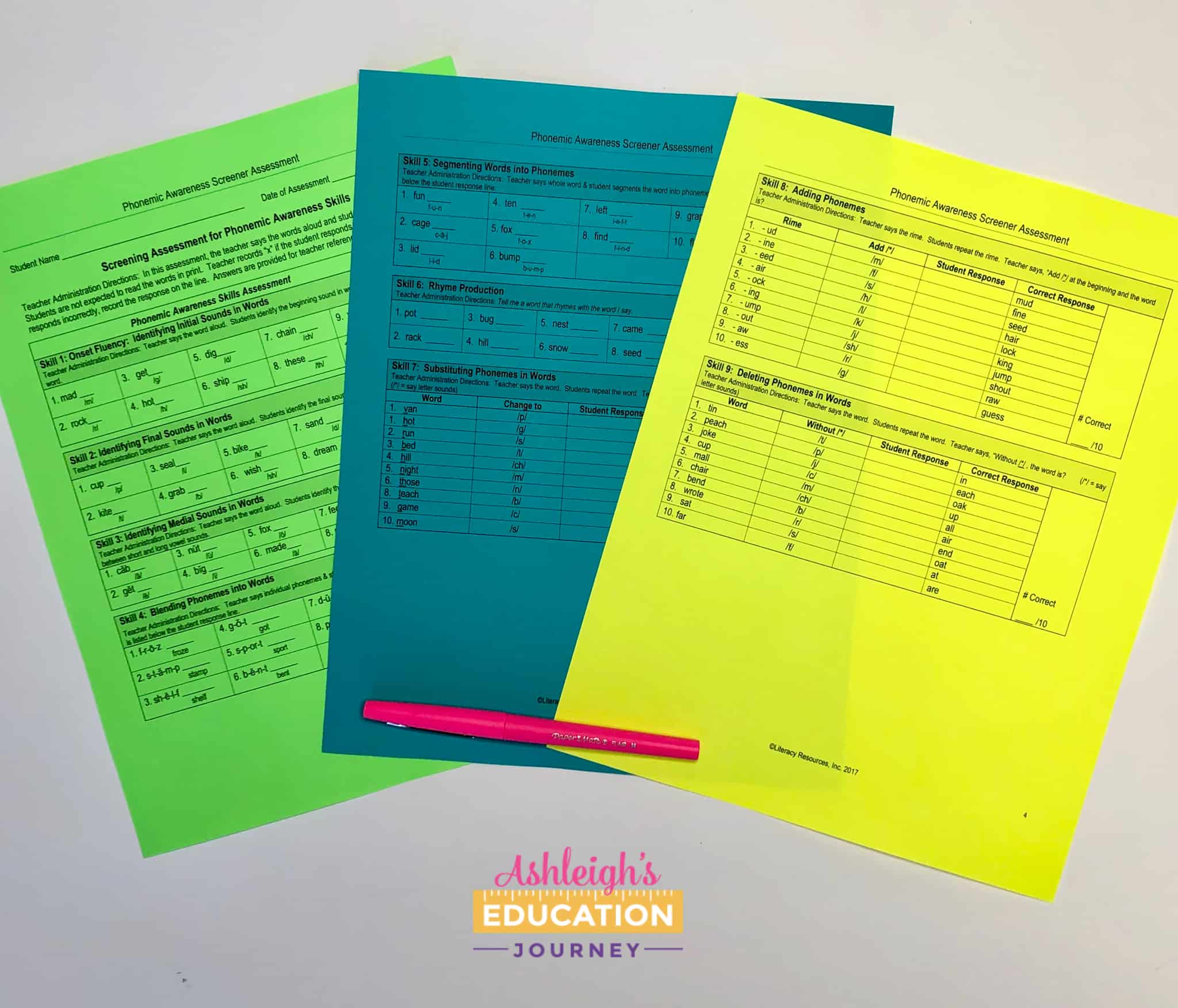 Phonics involves the relationship between sounds and their spellings. The goal of phonics instruction is to teach students the most common sound-spelling relationships so that they can decode words. This decoding ability is a crucial element in reading success. I like using Scholastic's Core Phonics Survey for my phonics diagnostic assessment, and you can download that here.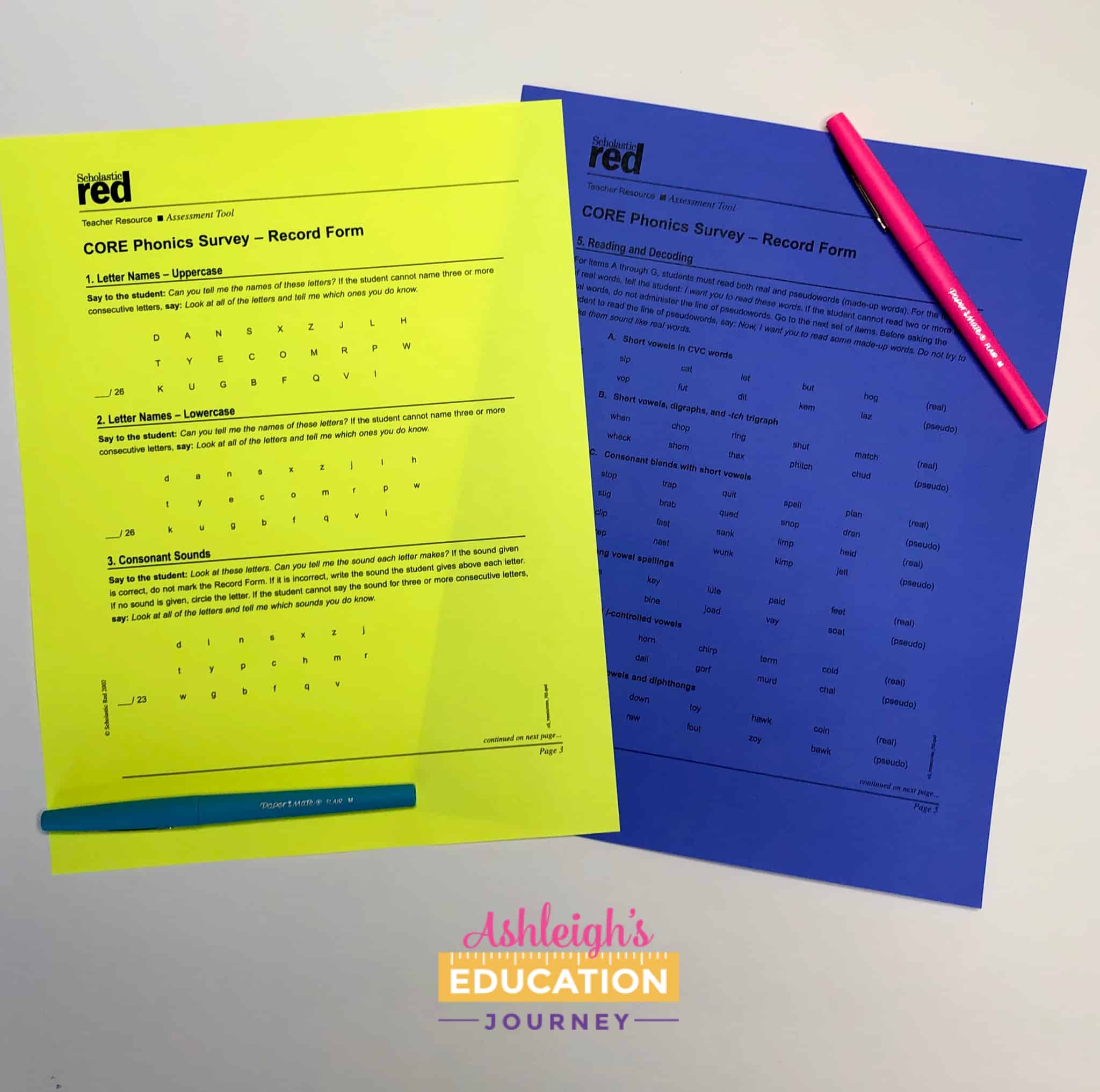 Sight words are also called also called high frequency sight words, are commonly used words that young children are encouraged to memorize as a whole by sight, so that they can automatically recognize these words in print within three seconds without having to use any strategies to decode. You can download a free sight word screener here.
Fluency is the ability to read a text accurately, quickly, and with expression. Reading fluency is important because it provides a bridge between word recognition and comprehension. If a student does not show any areas of weakness in phonemic awareness, phonics, or sight words then I target fluency for their intervention. However, I do not make fluency my primary goal if the other elements of reading are an area of weakness. However, through targeted instruction, students' fluency will grow and can later become an area of focus. You can read more about my fluency interventions and assessments here.
It is easy to find phonetic and fluency assessments, but it is more challenging to find vocabulary and comprehension assessments that can serve as a diagnostic assessment. Vocabulary and comprehension are multidimensional and context dependent, so they do not lend themselves to simplistic, singular assessment. I've always used DRA (Developmental Reading Assessment) for a comprehension diagnostic assessment, which is a long test to administer, but I appreciate the information gained from the assessment. To learn more about what I DO with that data, check out this post.
Progress Monitoring Reading Assessments
Progress monitoring reading assessments measure a student's overall progress toward acquiring specific reading skills that have been taught. These tests are typically administered frequently or on a weekly basis. These assessments are given to monitor students' progress on a particular skill or concept a student is currently focusing on. For instance, if I have a student focusing on improving reading fluency, I give that student a brief fluency check each week to ensure the students' fluency growth. Teachers may also use progress monitoring assessments to observe their students' progress on the standards that are currently being taught. For example if I am teaching point of view, I may give a brief point of view assessment a few days that week to be certain my students are learning the content. If I see that students are struggling with the concept, I will reteach and meet with students in reading groups as necessary. I often use a Daily Reading Comprehension check is a comprehension progress monitoring tool.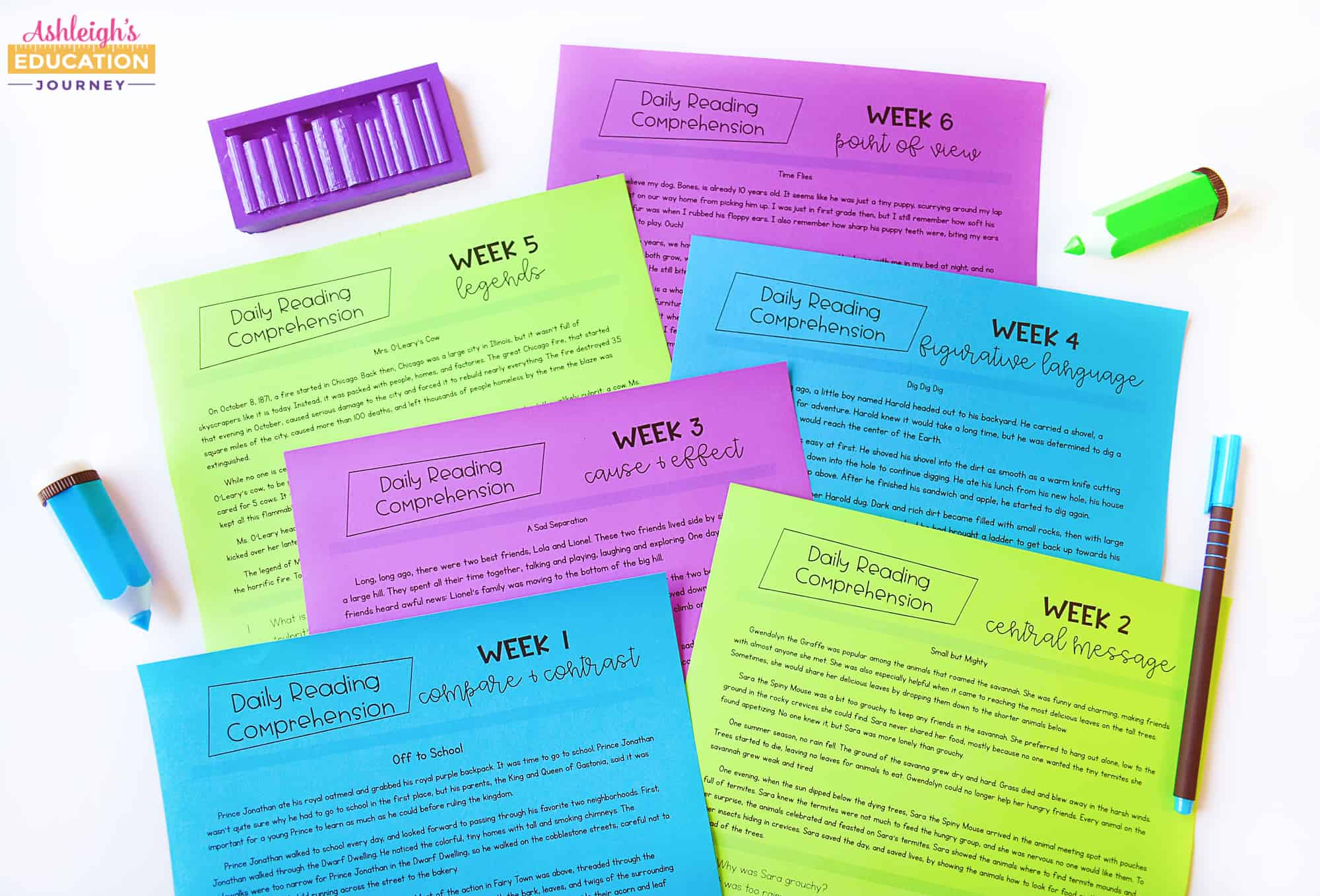 I do not record grades for progress monitoring assessments, as I want students to have the opportunity to practice working on a particular standard with useful feedback before they are formally assessed on that standard.
Summative Reading Assessments
After I teach a reading standard and give students multiple opportunities to practice that particular skill or strategy, I give students a standards mastery assessment. This type of assessment may be called a variety of different names, but ultimately this is the assessment students complete to show their understanding or mastery of a particular reading  topic or skill. I do assign grades for these assessments. I like to give students an assessment for each standard, and I know that other teachers assign assessments for each unit of a reading series, or a weekly assessment that covers multiple standards. What type of standards mastery assessment you give, will depend on your needs and your district's requirements.
Since I assess each reading standard, I've created my own standards based reading assessments. One version of the assessments is an open-ended assessment that can be used with any text. There is also a brief one-page assessment with a short reading passage and questions. I've also included a more thorough assessment, where the text is a bit lengthier, two pages, and then there is a page of questions. In that assessment, there are two multiple choice questions, two short answer questions, and one essay question. The essay question is perfect constructed response practice.
There are two different types of reading foundational skills assessments. One of the assessments is a more traditional assessment. However, some of the foundation standards are better assessed through a rubric, so those standards are assessed through a rubric. I've also created a rubric for the listening and speaking standards.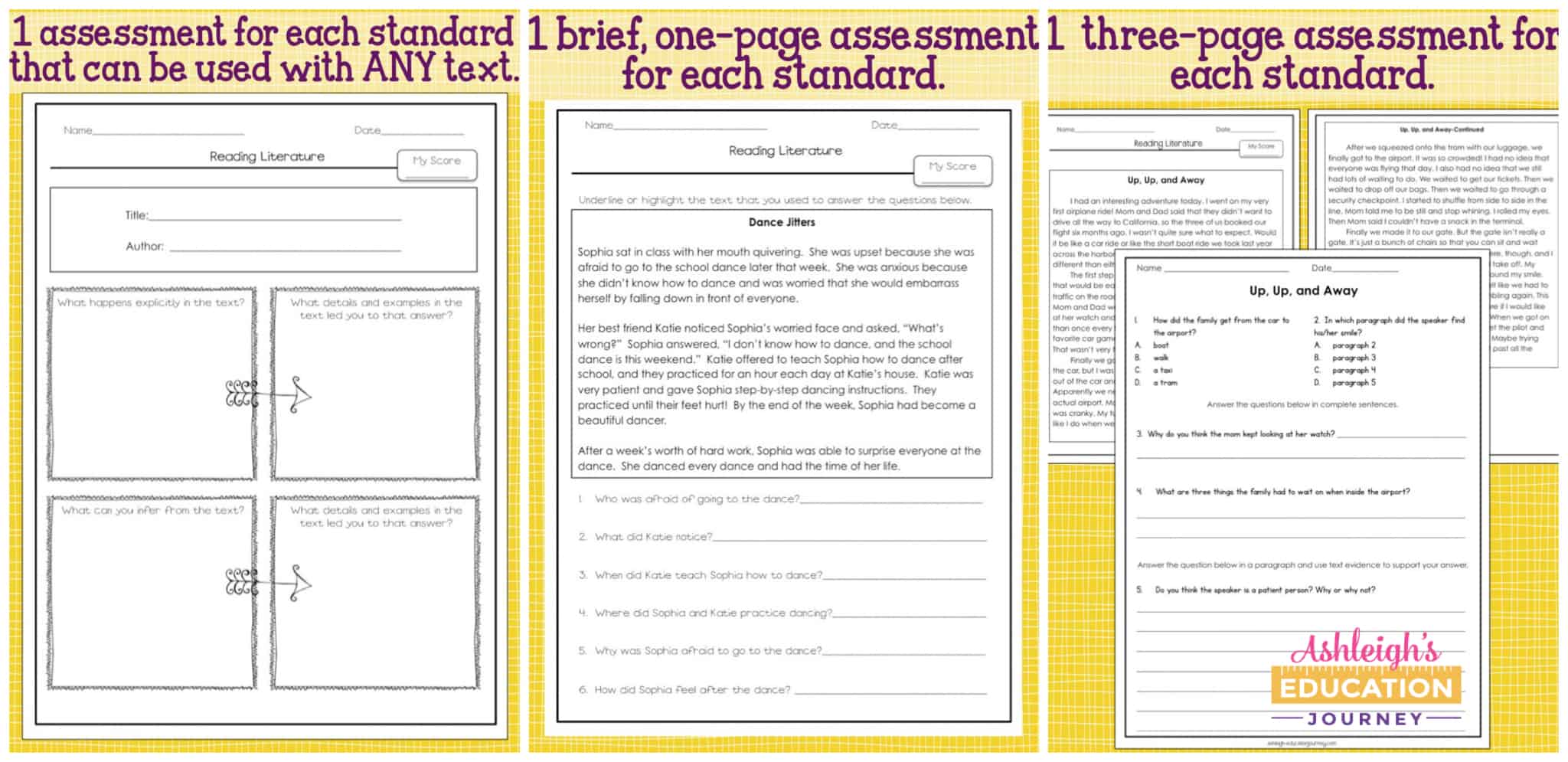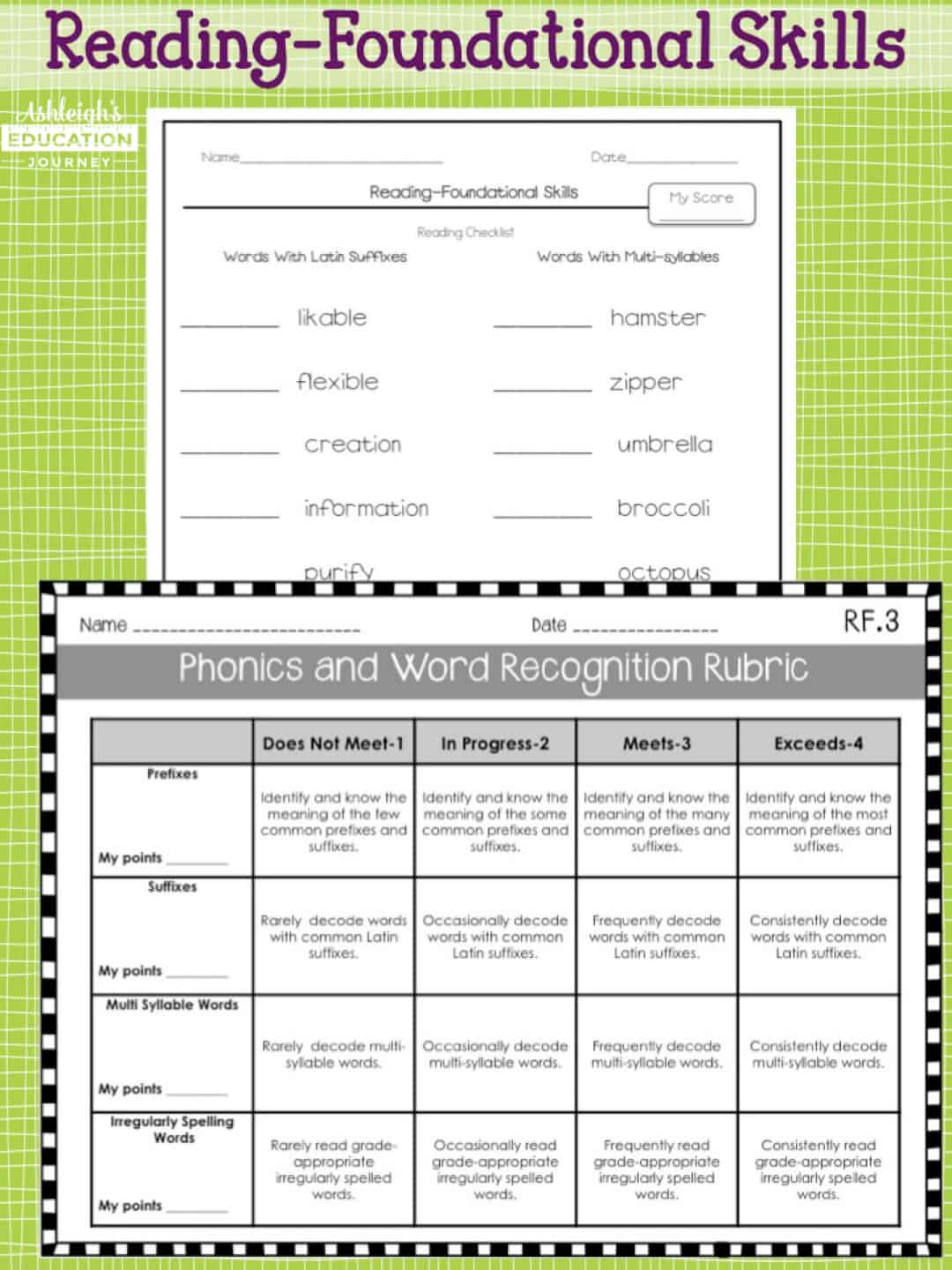 Outcome Assessments
These are the dreaded high stakes reading assessments given to all students. These reading assessments measure students' skills against grade-level expectations. There are two main types of outcome assessments: norm referenced and criterion referenced. Norm-referenced tests report whether students performed better or worse than an average student, which is determined by comparing scores against the performance results of a statistically selected group of students the same age or grade level, who have already taken the exam.Criterion-referenced assessments are designed to measure student performance against a predetermined criteria.
I typically do not receive my students' outcome assessment results until the very end of the school year, so I am limited in what I use that data for. I do use it as part of my professional reflection, but I do keep in mind that these assessments are just a small snapshot of my students' progress.