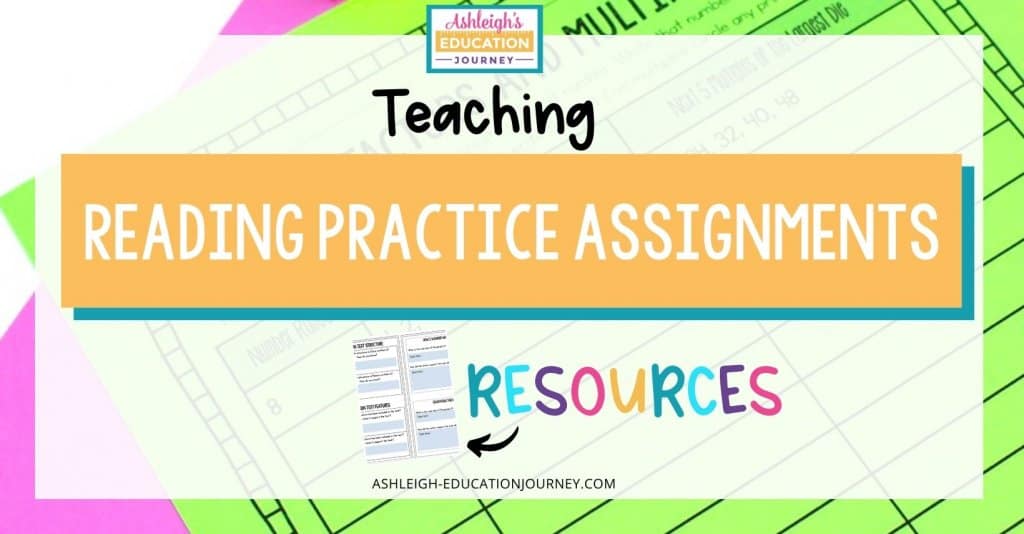 Over the years reading worksheets have gotten a bad rap, and that doesn't have to been the case. My favorite way to teach reading is through authentic and high-quality children's literature. Students participate in read alouds, book clubs, novel studies, literature circles, guided reading groups, and book talks.
However, there is a need for reading practice through reading worksheets-which don't have to be low level or boring. I never want to make that the bulk of my instruction, but there are skills that need to be taught and practiced through this type of resource.
In this post, I've shared five of my favorite reading worksheets and practice assignments. I wouldn't recommend using all of the resources at the same time, but they've all found a place in my classroom instruction.
In this post:
Prefix and Suffix Reading Practice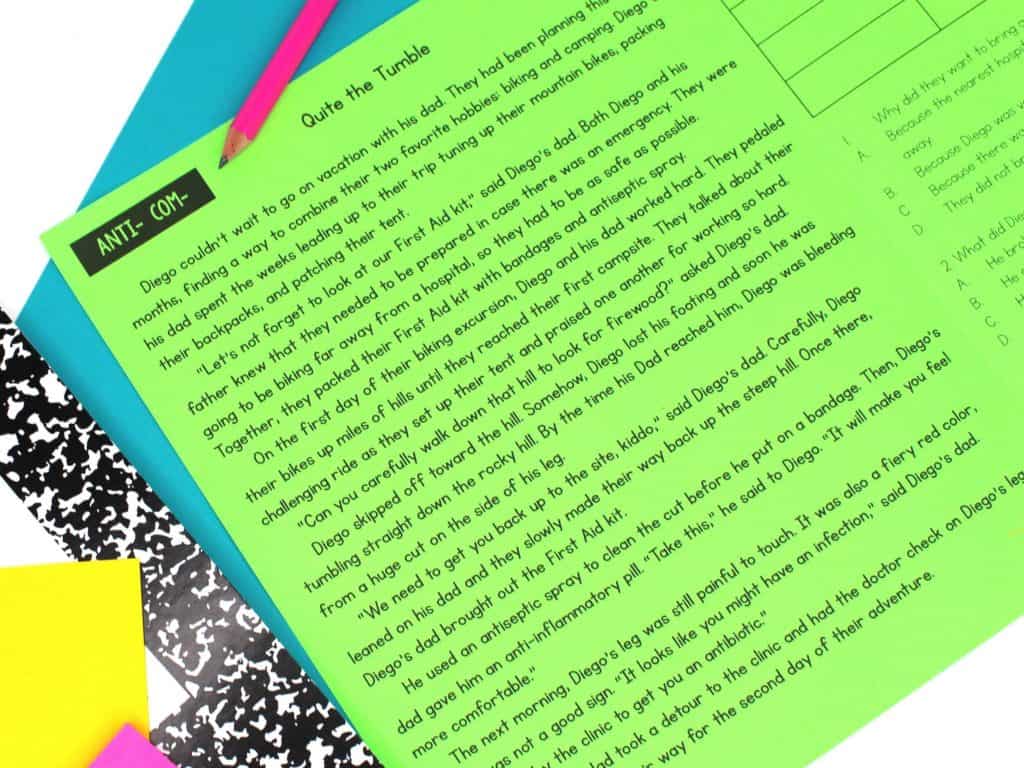 This reading practice activity gives students practice with prefixes and suffixes. Students receive a passage with a focus on either two prefixes or two suffixes. Then, they sort the words with begin with the prefix (or end with the suffix). Students also answer three general comprehension questions.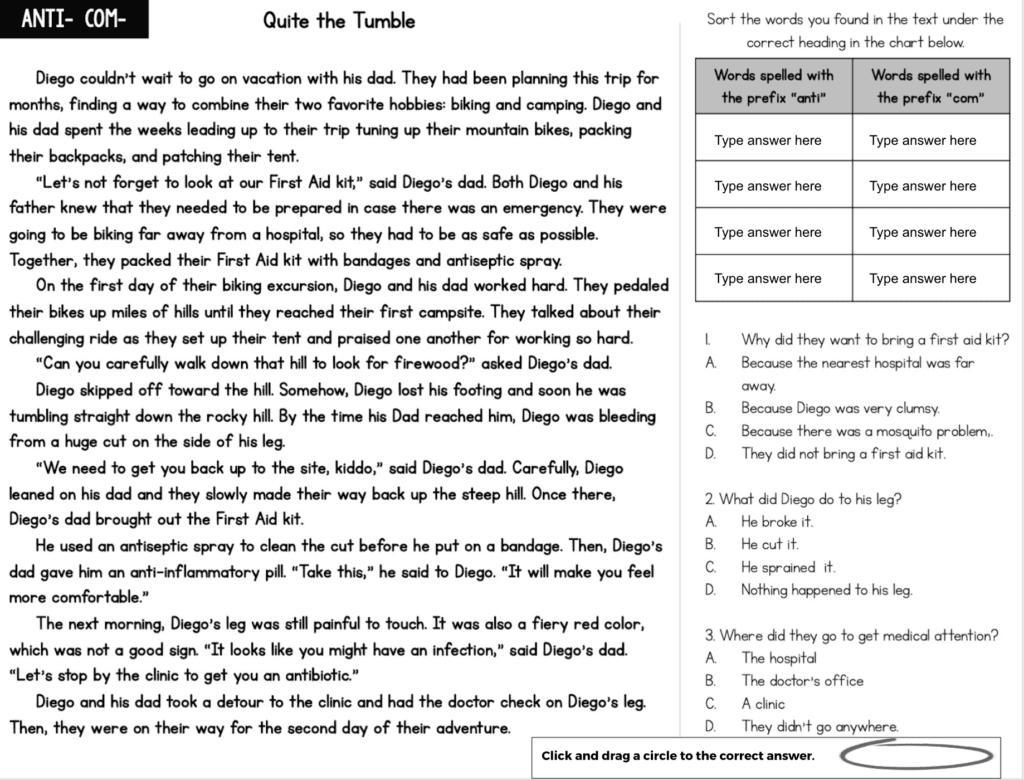 On the second page of the reading worksheet, students retell the story in their own words for additional comprehension practice. Students also write examples of words that begin with the focused prefix or suffix and then write a sentence using two of those words. My personal favorite section of the review includes root words and antonyms. In the root word section, students write the root words from words with the focused prefix or suffix. In the antonym and synonym section, students are given a pair of words. Then, they determine if the word pair is an example of an antonym or synonym.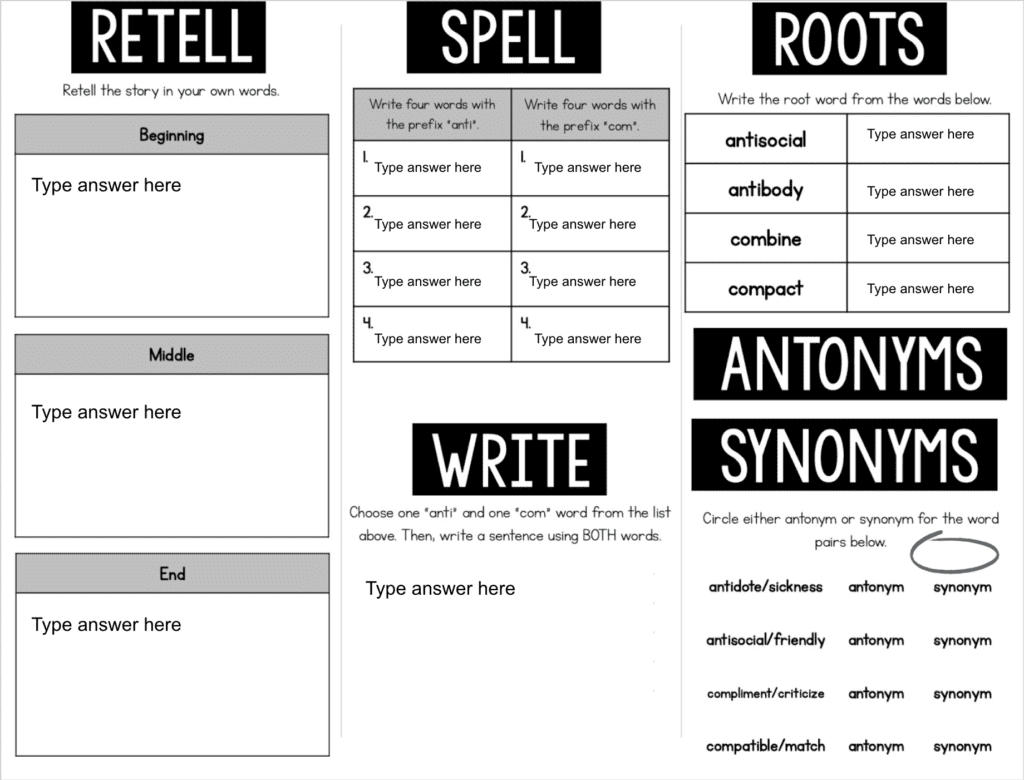 You can find the Prefix and Suffix Reading Passages here. You will get the print and digital version of the resource.
Reading Worksheets – Spelling Patterns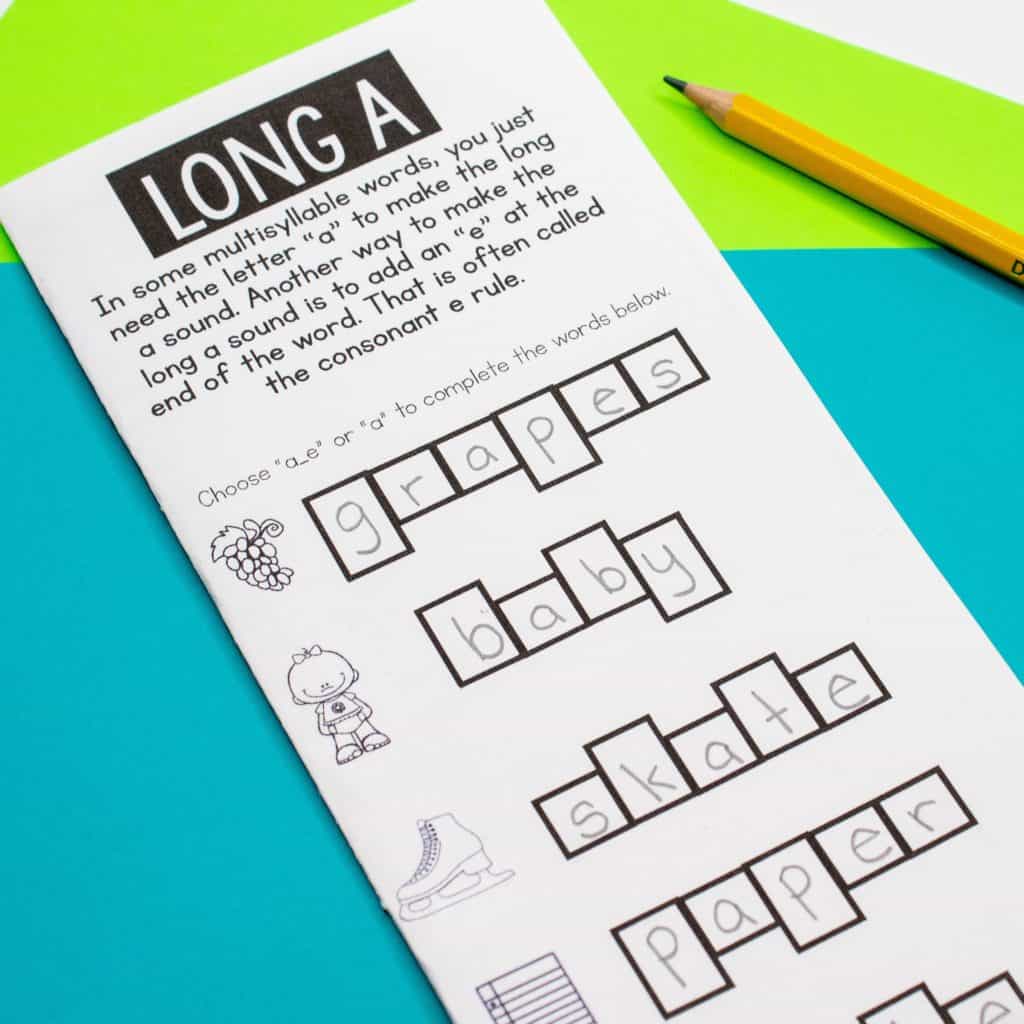 The Spelling Patterns resource is something I use with students who need extra phonics instruction. This reading resource focuses on long vowel spelling patterns. I've found that this is the area I most frequently need to target with my students who need extra support. The format is similar to the prefix and suffix resource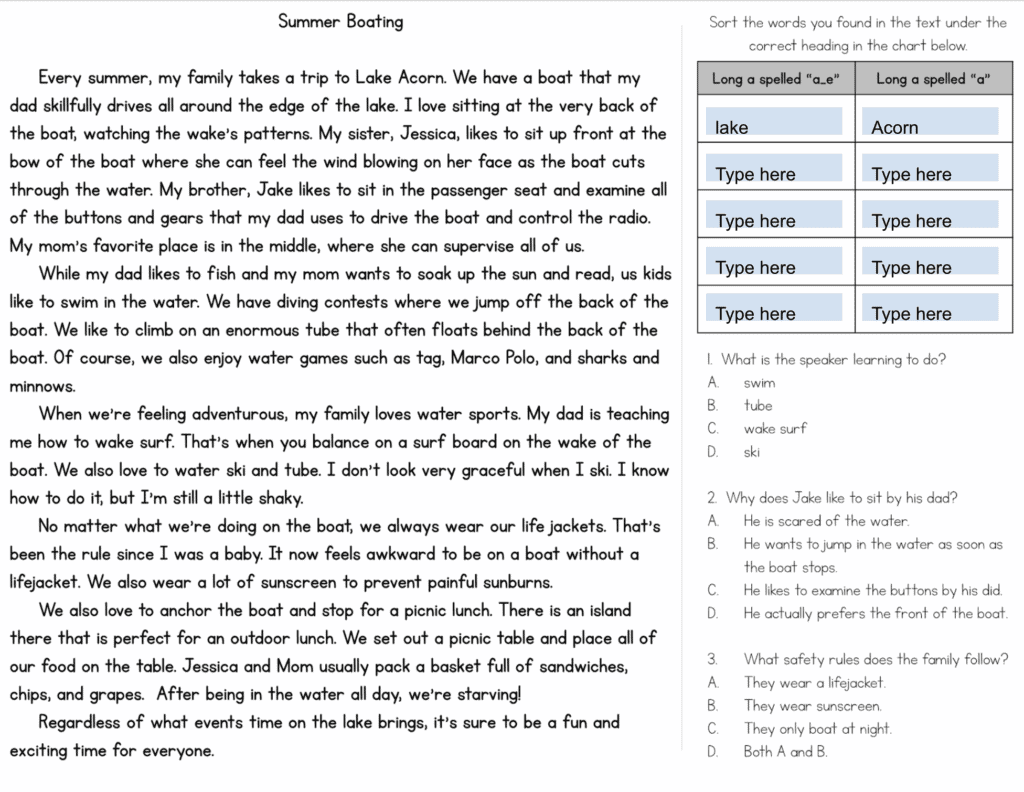 The primary difference is that students spell and write words with a focused spelling pattern. This reading worksheet has been great practice for some of my students.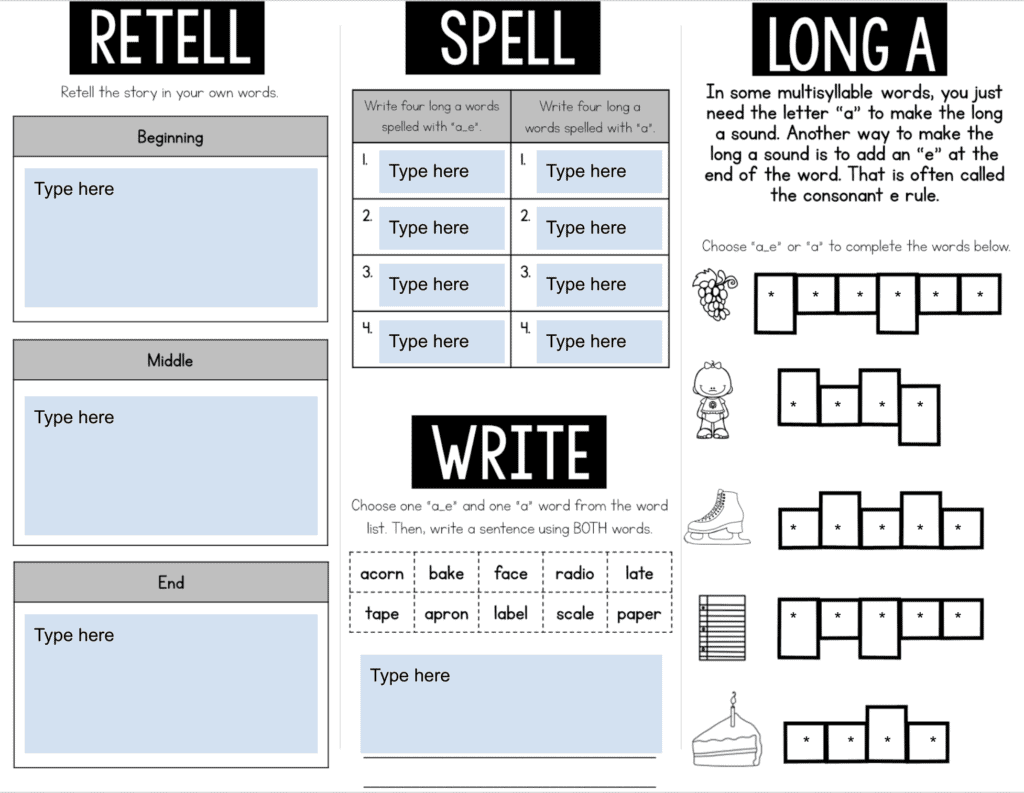 You can find the Spelling Patterns Reading Practice here.
Science & Social Studies Paired Passages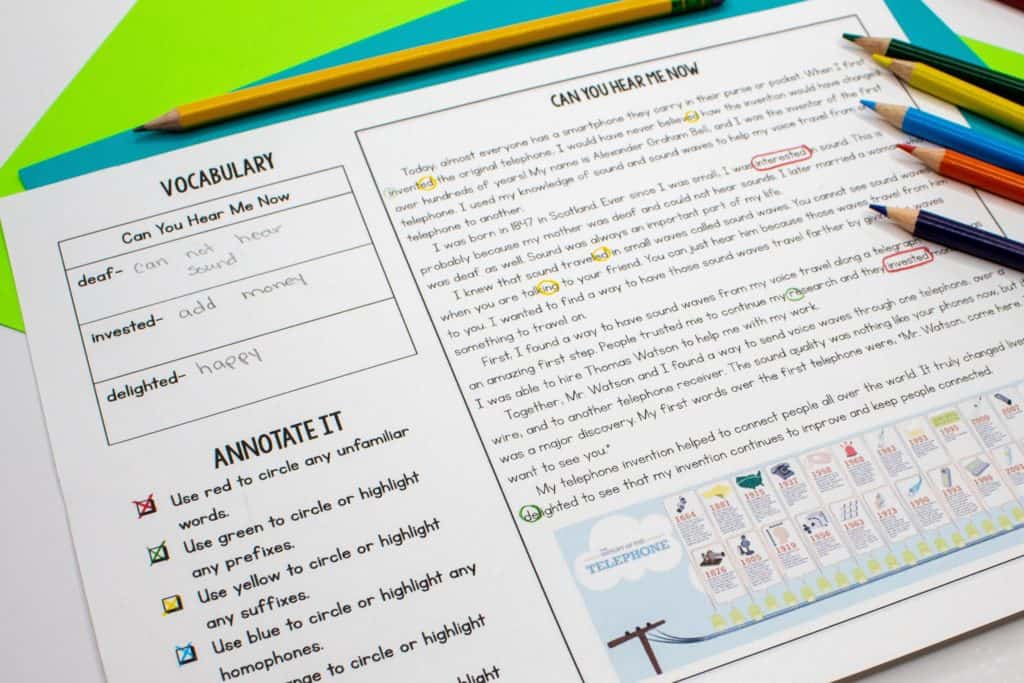 I love integrating science and social studies with reading instruction, which is where these paired passages come in. Student receive two passages based on related science or social studies topics. On the first page of the reading worksheet, they use context clues to write the definitions of three vocabulary words for each passage. They also annotate the text by color coding.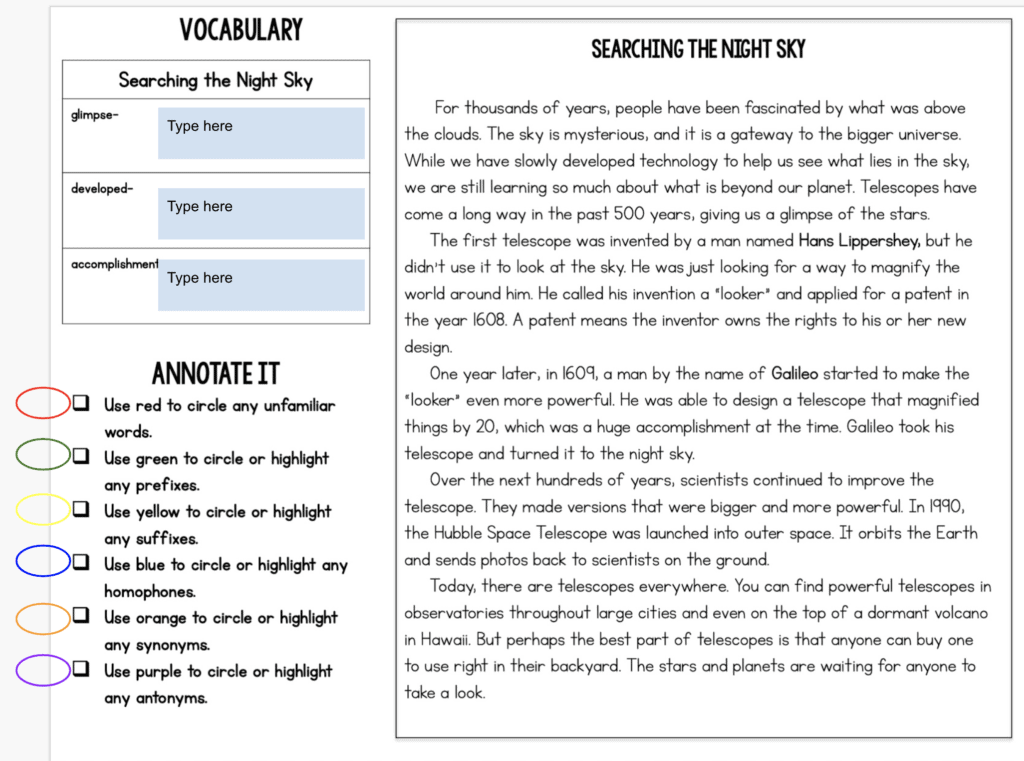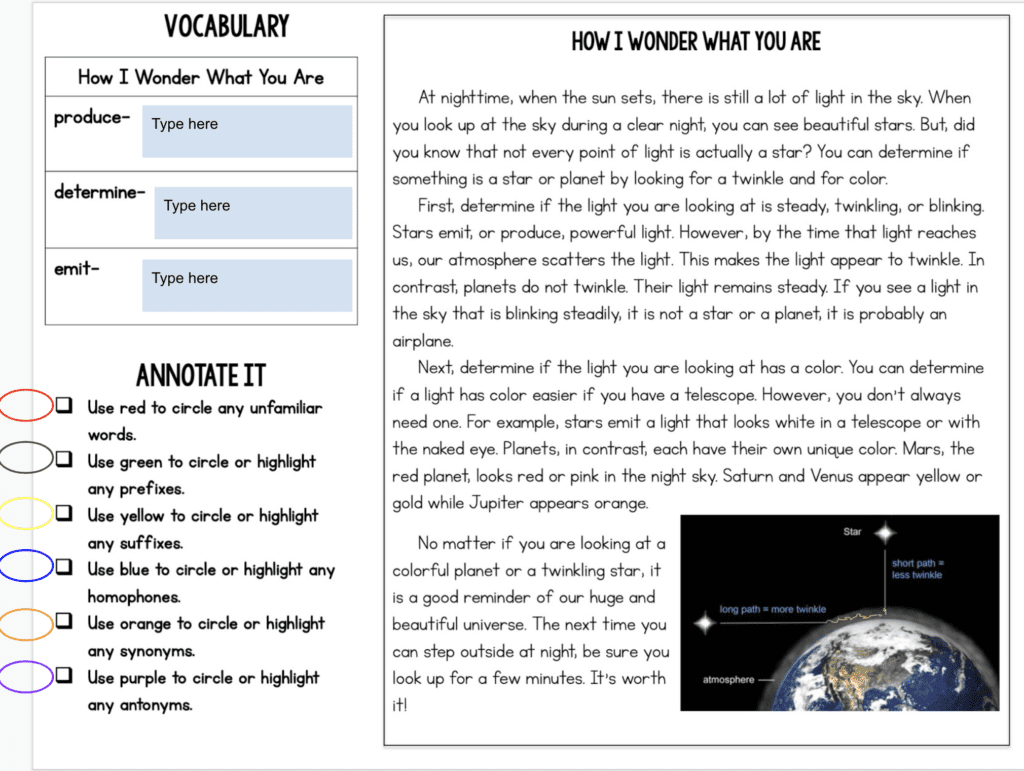 On the second page, students answer three text dependent questions for each of the passages. This is in a multiple choice format.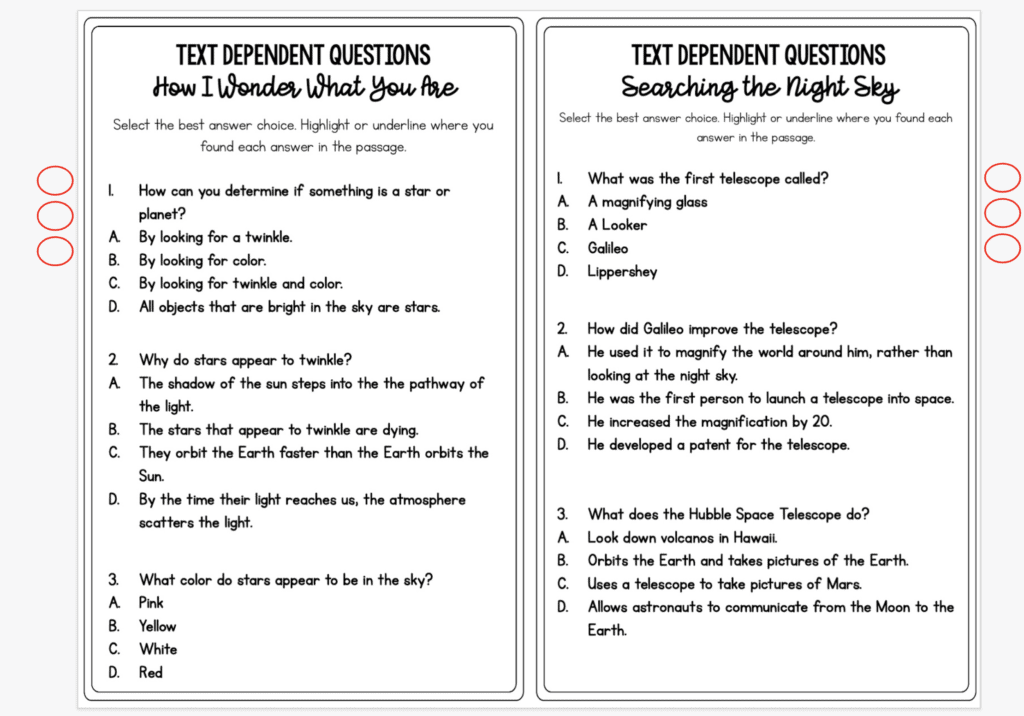 In the next section of the reading worksheet, students focus on nonfiction text features and nonfiction text structures, as well as main idea and supporting detail. Those are some of the most challenging concepts we teach all year, so the extra practice is incredibly valuable.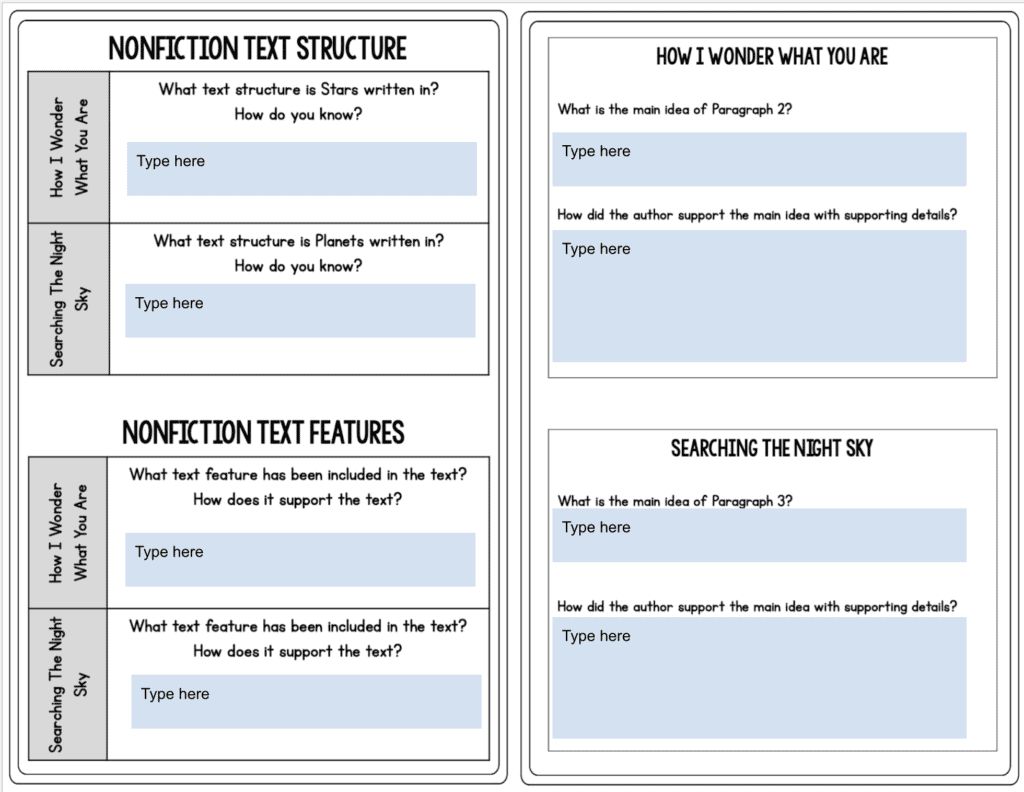 In the final section, students have the opportunity to extend their thinking through integrating the two texts and answer extended comprehension questions. This incorporates all of the informational reading standards.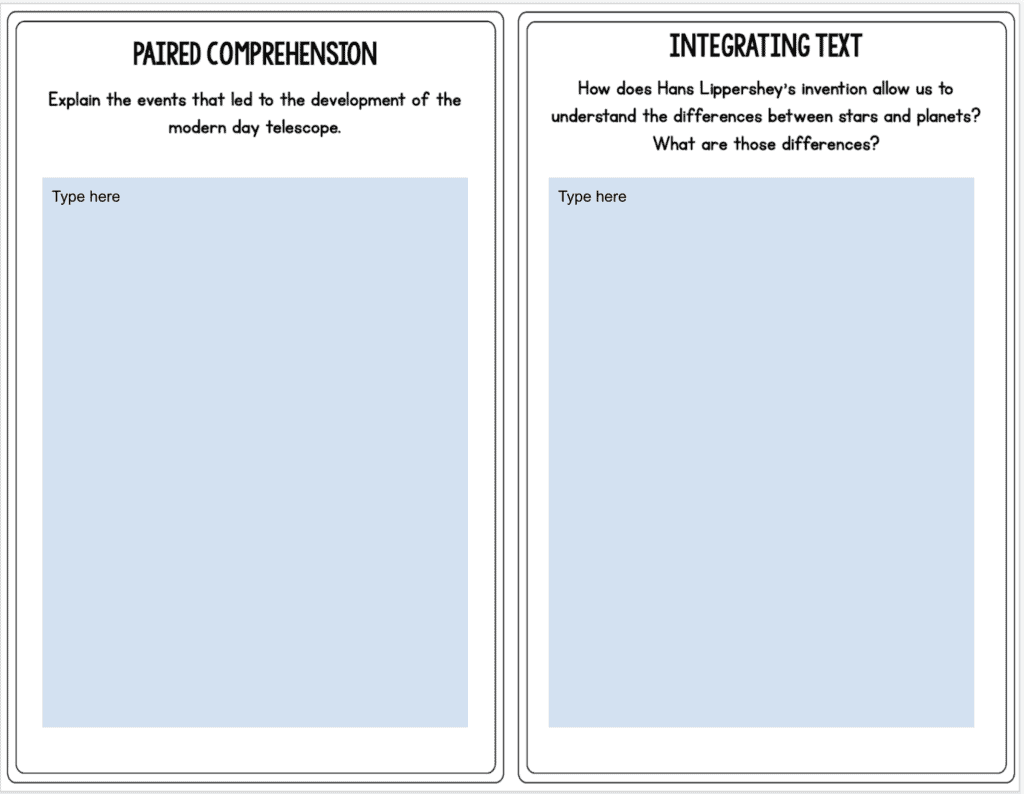 I don't try to implement all of the sections of this resource at the very beginning of the school year, as my students aren't ready for this level of comprehension. However, I do gradually introduce them on an as-needed basis. You can find the science passages here and the social studies passages here.
Reading Worksheets – Poetry
The poetry paired passages are in a similar format to the science and social studies paired passages. Obviously, the major difference is that the focus is on poetry.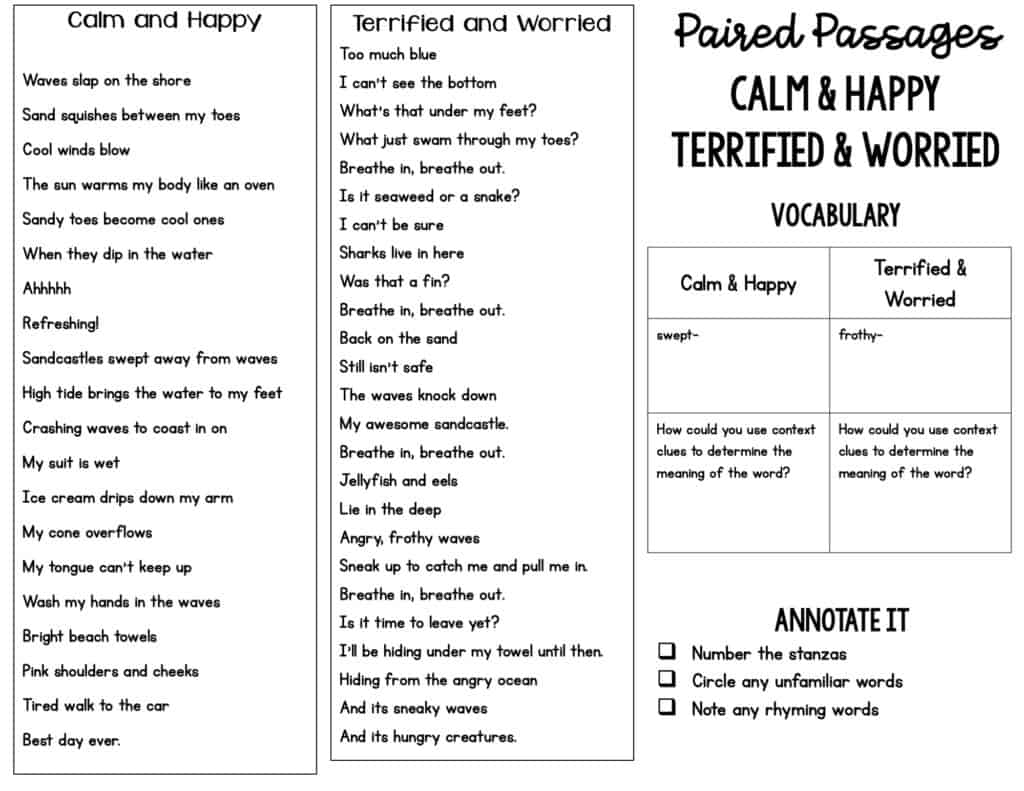 There are text dependent questions for both poems.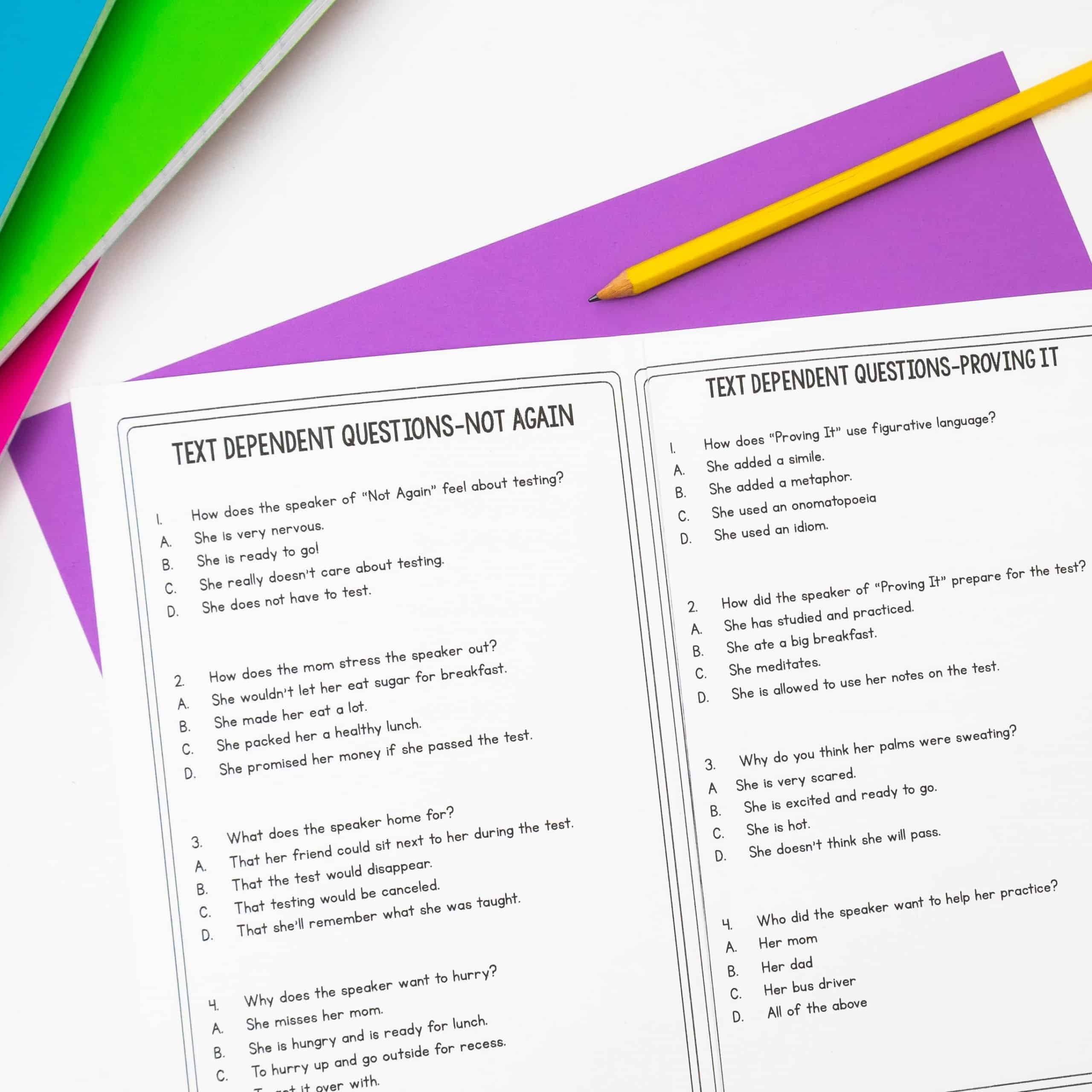 In the next section of the reading worksheet, students work with figurative language and making inferences.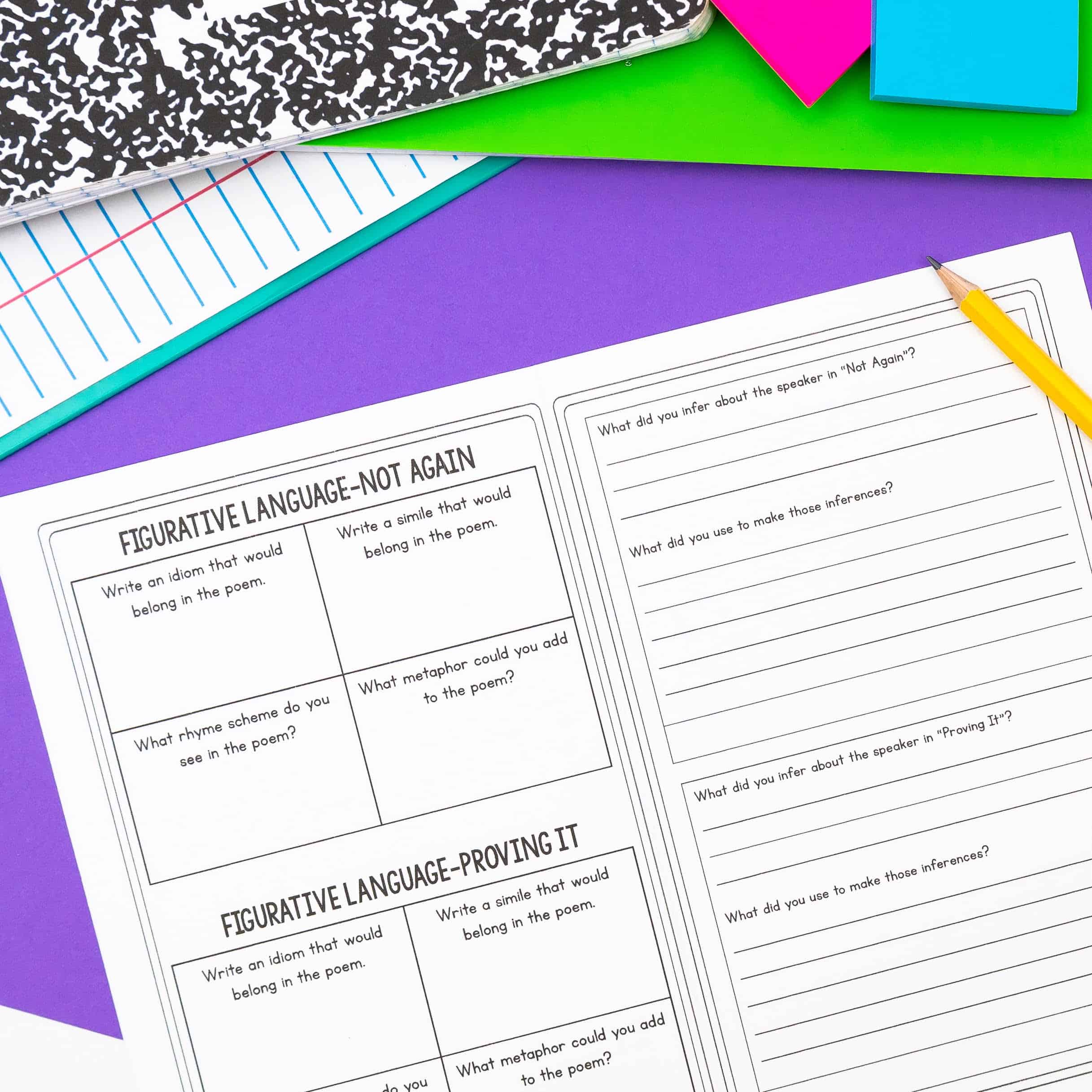 Then in the final section, students extend their thinking by work with higher level questions that require students to apply what they've learned throughout the year.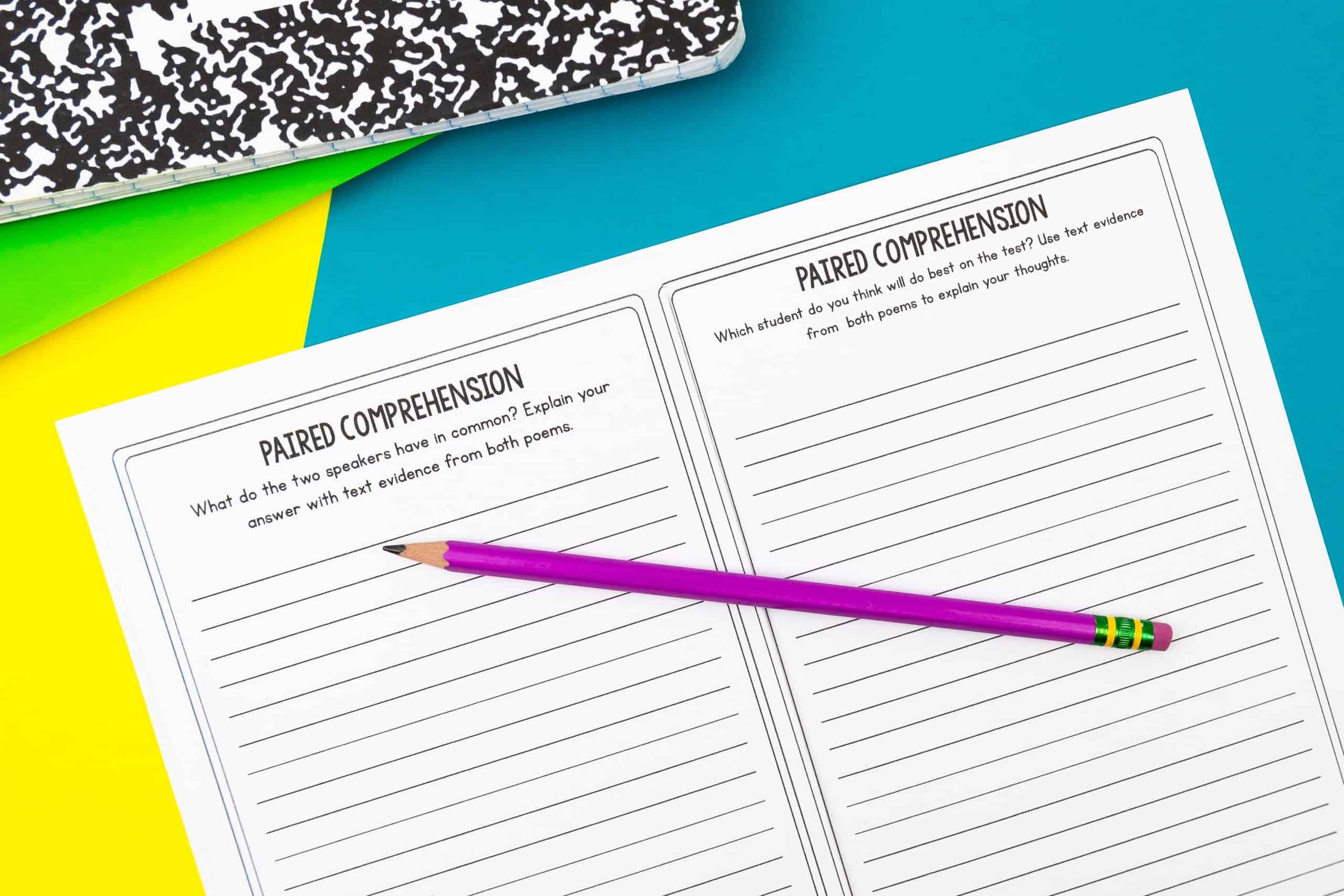 I typically don't try using this resource until after my poetry unit. I like to give authentic instruction, before I have students practice. You can find the Poetry Paired Passages here.
Reading Worksheets & Paragraph Editing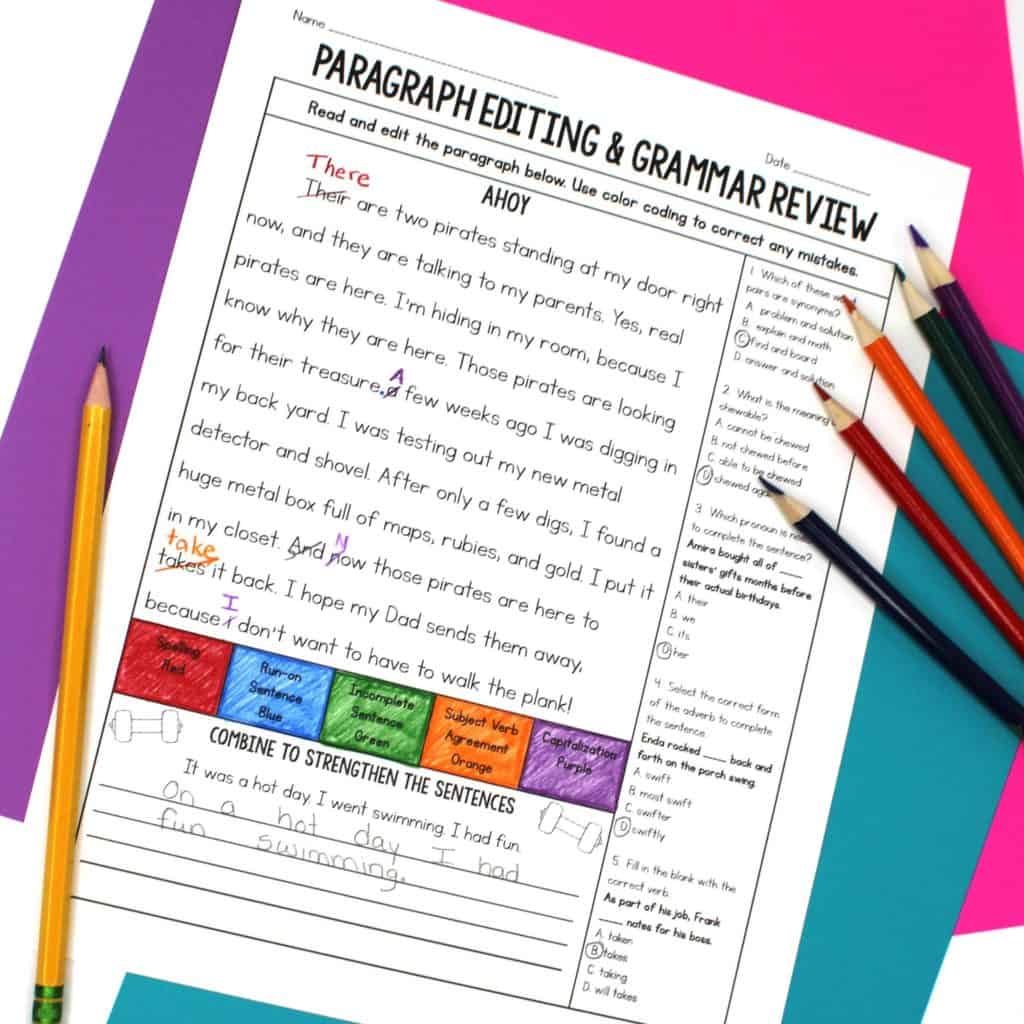 This reading worksheet focuses a bit more on language arts skills, but it's been incredibly useful. In the review, students edit a paragraph with five specific errors. The mistakes include one of the following: spelling, run-on sentence, incomplete sentence, subject-verb agreement, and capitalization. Students find and correct the error using color coding. There are also five multiple choice questions to support the vocabulary within the paragraph.
The digital version of this resource is in Google Forms, rather than Google Slides like the previous resources.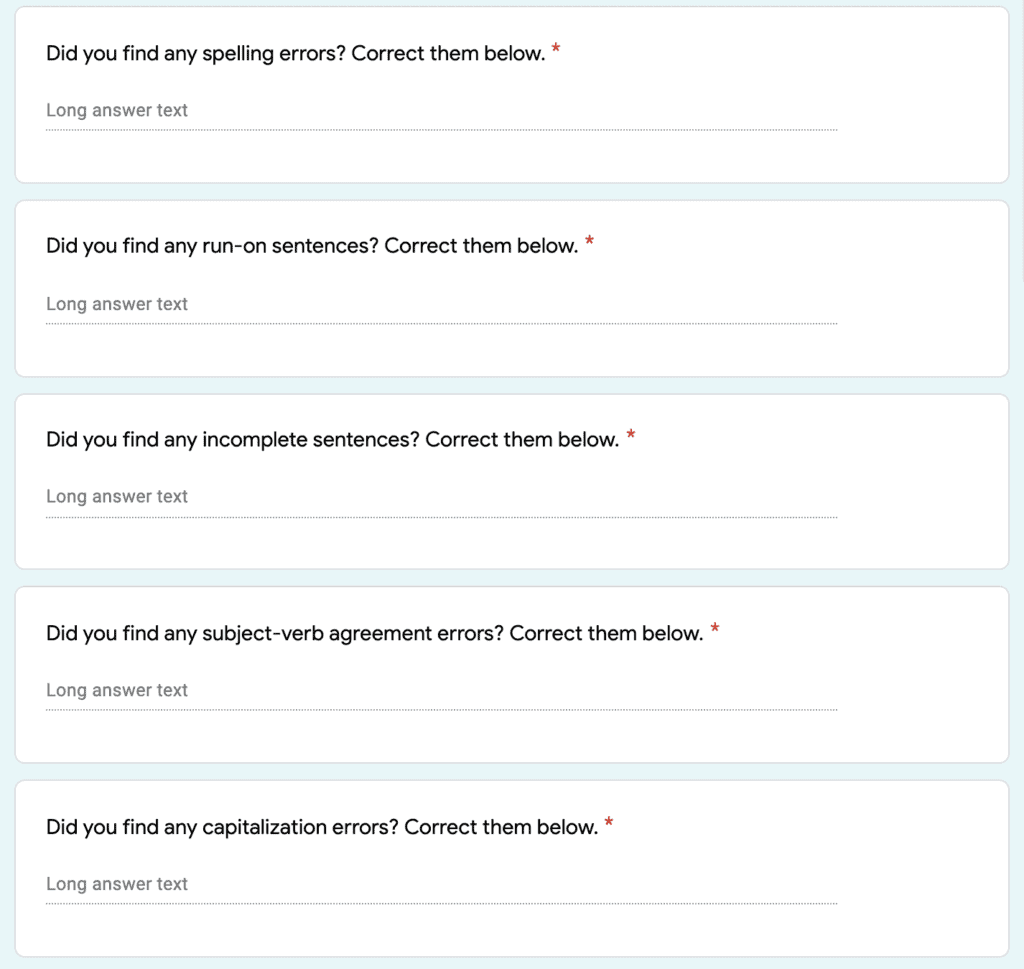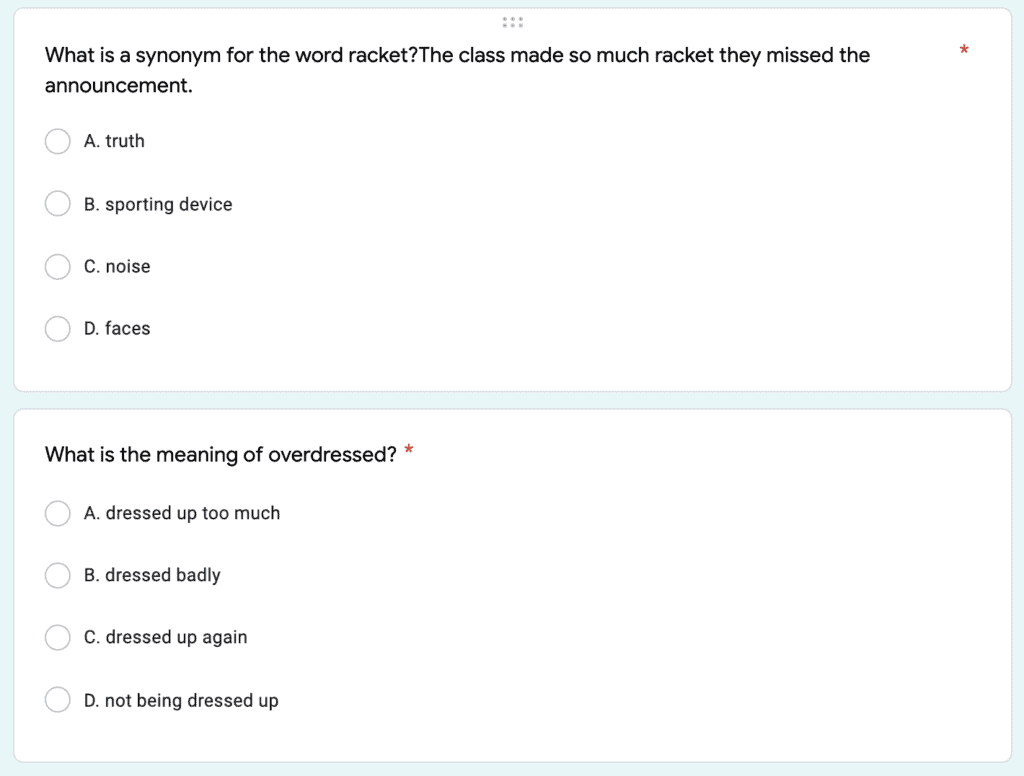 You can find the Paragraph Editing resource here.
Hopefully, these reading worksheets and practice assignments can help you out! For more ideas on reading assessments, be sure to check out this post!