These are some of my favorite St. Patrick's Day activities for upper elementary students, because we all know they want to have fun too. St. Patrick's Day was always a holiday that wasn't too exciting for me, so when I first started teaching it never occurred to me that it might be fun for students. Not to mention that March Madness had begun for me. I'm usually able to deal with the pressures of state testing fairly well….until March. That's when all my doubts and insecurities creep in, and I start really feeling the extra stress and pressure of our state test.
During the month of March, I'm always racing to teach as much as I can in as short of amount of time as possible, despite the fact that I know it's not best teaching practices. My first several years teaching, I never dreamed of taking time to do something extra for St. Patrick's Day activities, but I couldn't help but notice all the excitement in our K-2 students. I didn't want to be the teacher where the fun ended, so I tried to think of ways to incorporate our standards into meaningful St. Patrick's activities.
I've always loved the idea of leprechaun traps, because that's a seriously fun project, but I had a hard time finding  a way to tie it into my standards. I realized that leprechaun homes would suit my standards better. This allowed me to tie in our heat unit with insulators and conductors.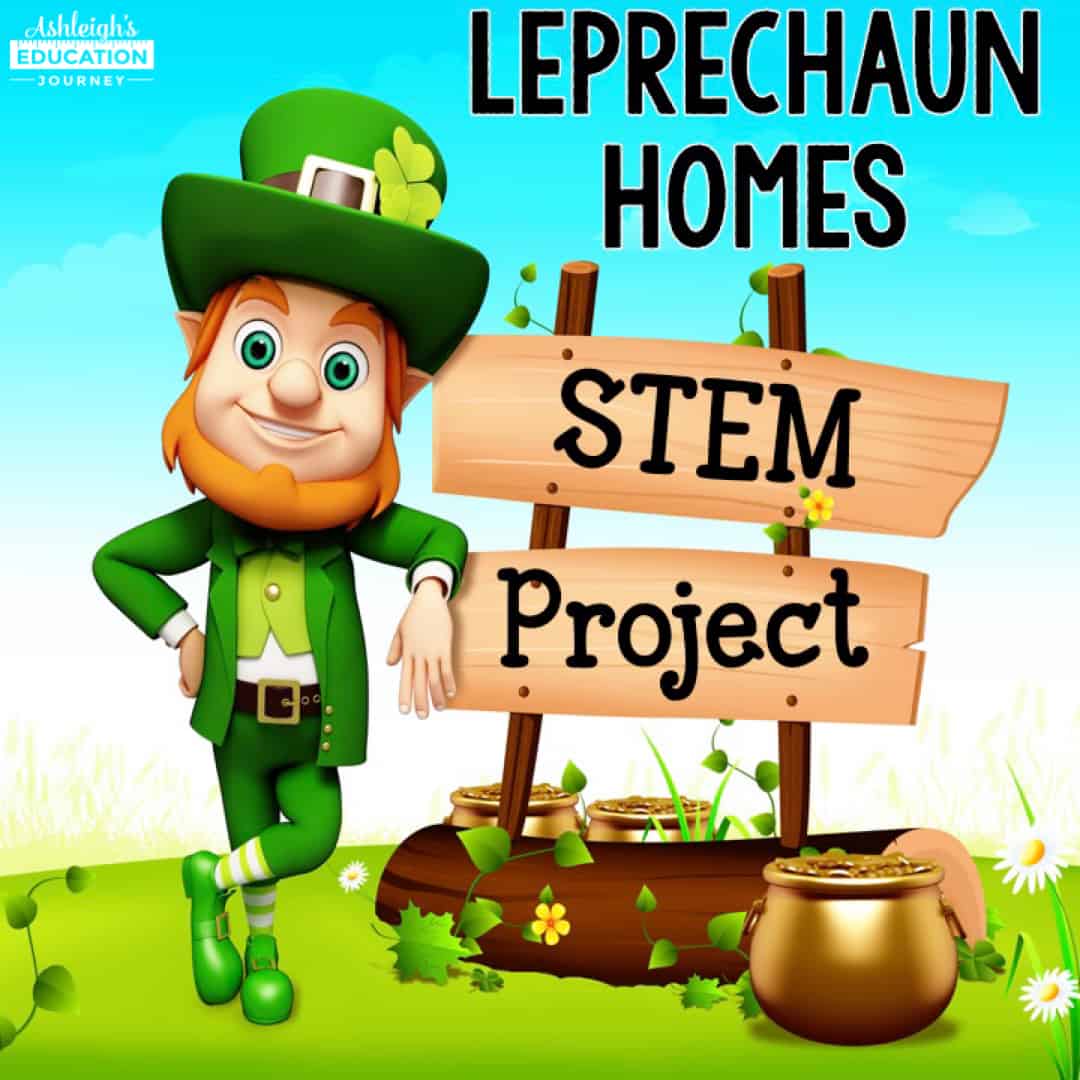 St. Patrick's Day Activities: Leprechaun Homes
In this project (which you can download for free here), students design a leprechaun home that must protect leprechauns from the elements, as well as provide insulation from the heat and cold. This can be completed as a St. Patrick's Day STEM project and the homes can be constructed at school or at home. I've included teacher and student directions, as well as a few graphic organizers to guide students through the process.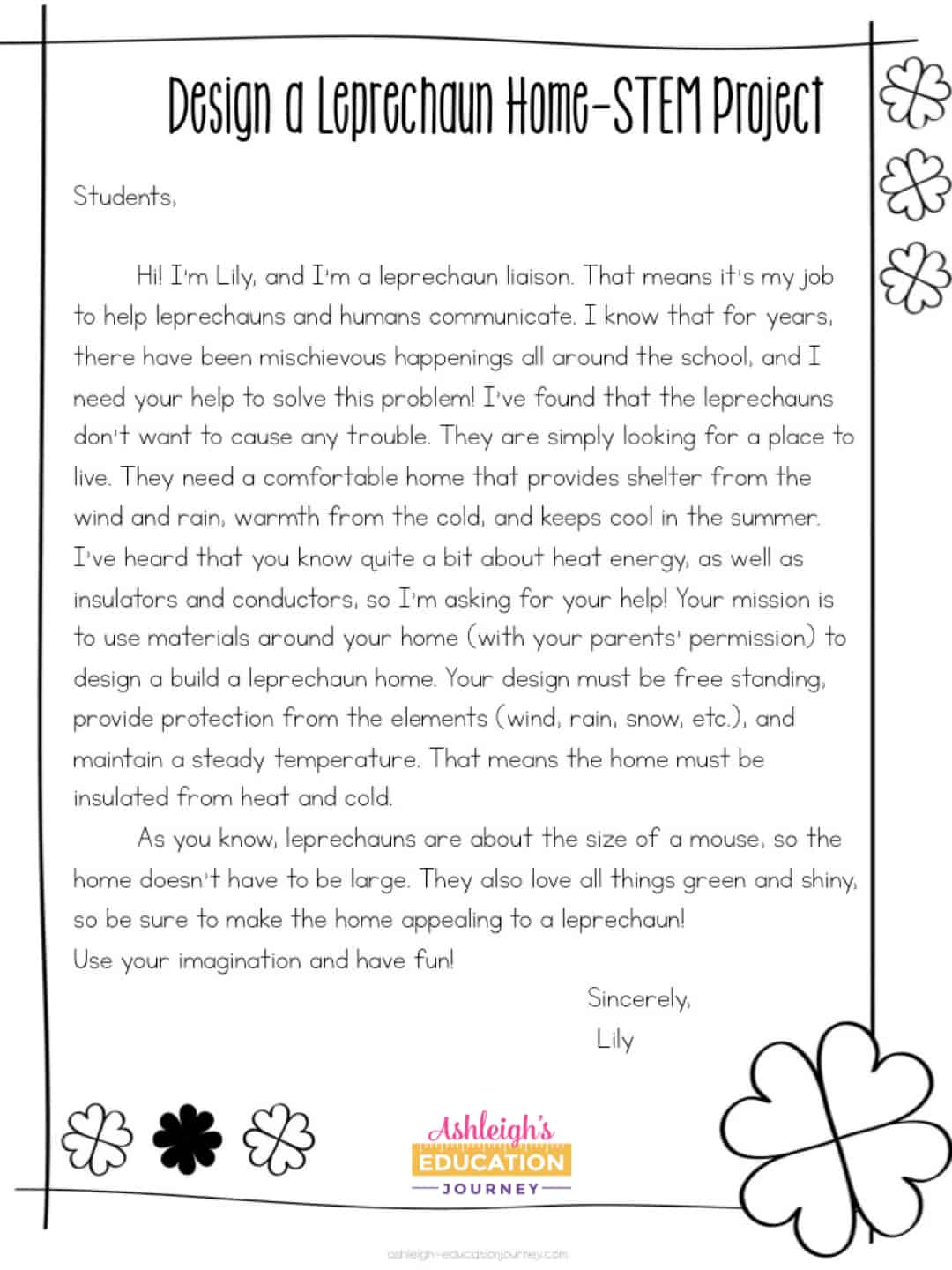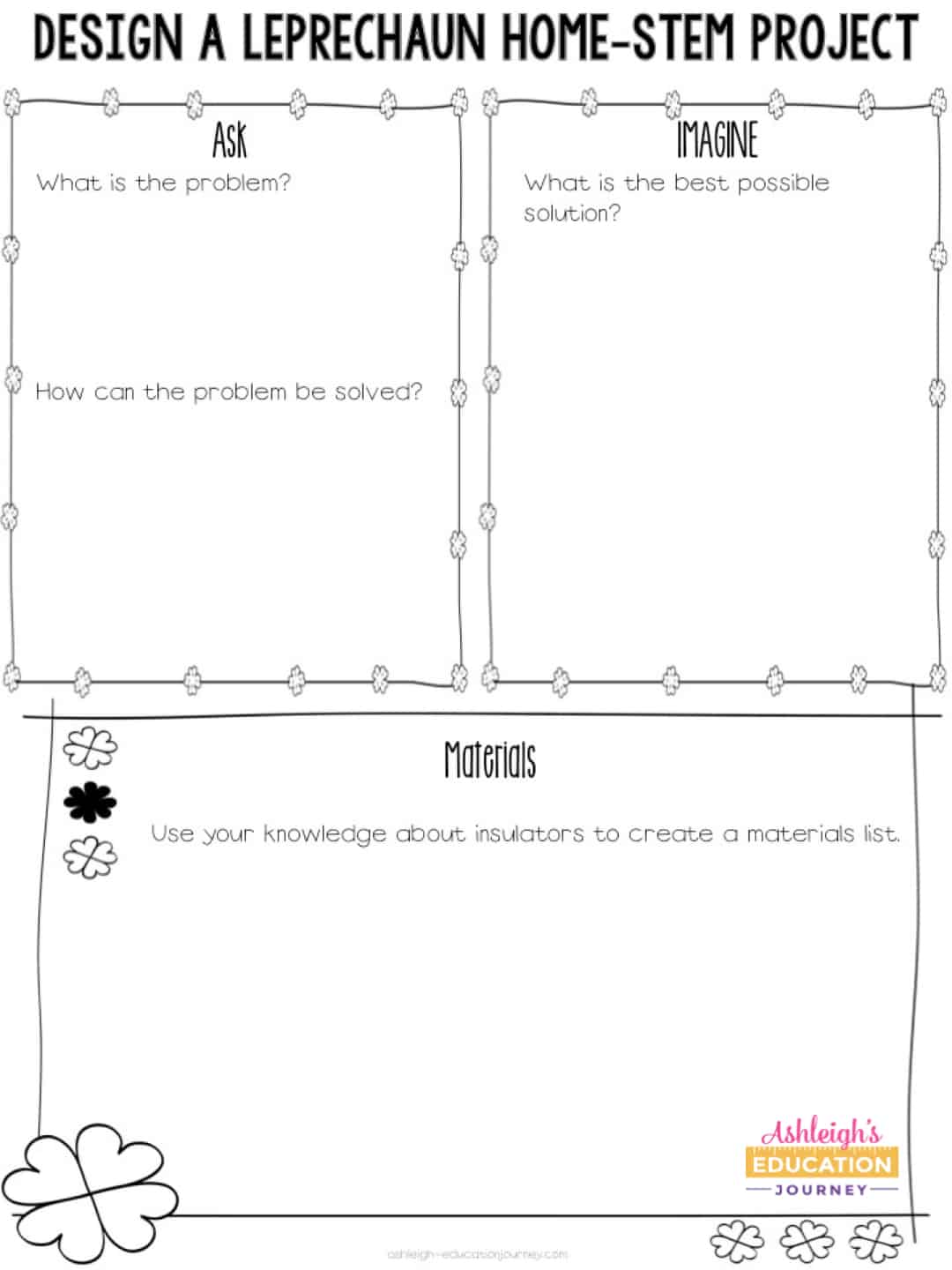 I explained this activity to my students and told them that we would not have time to build the homes at school, so their construction would be at home. I asked who was interested, and EVERY student raised their hand! They were bubbling over with excitement and could not wait to get started! I have listened to my students plan their projects all week! I had three students bring in their leprechaun homes the day after I sent home directions, and I'll add more pictures as they get turned in.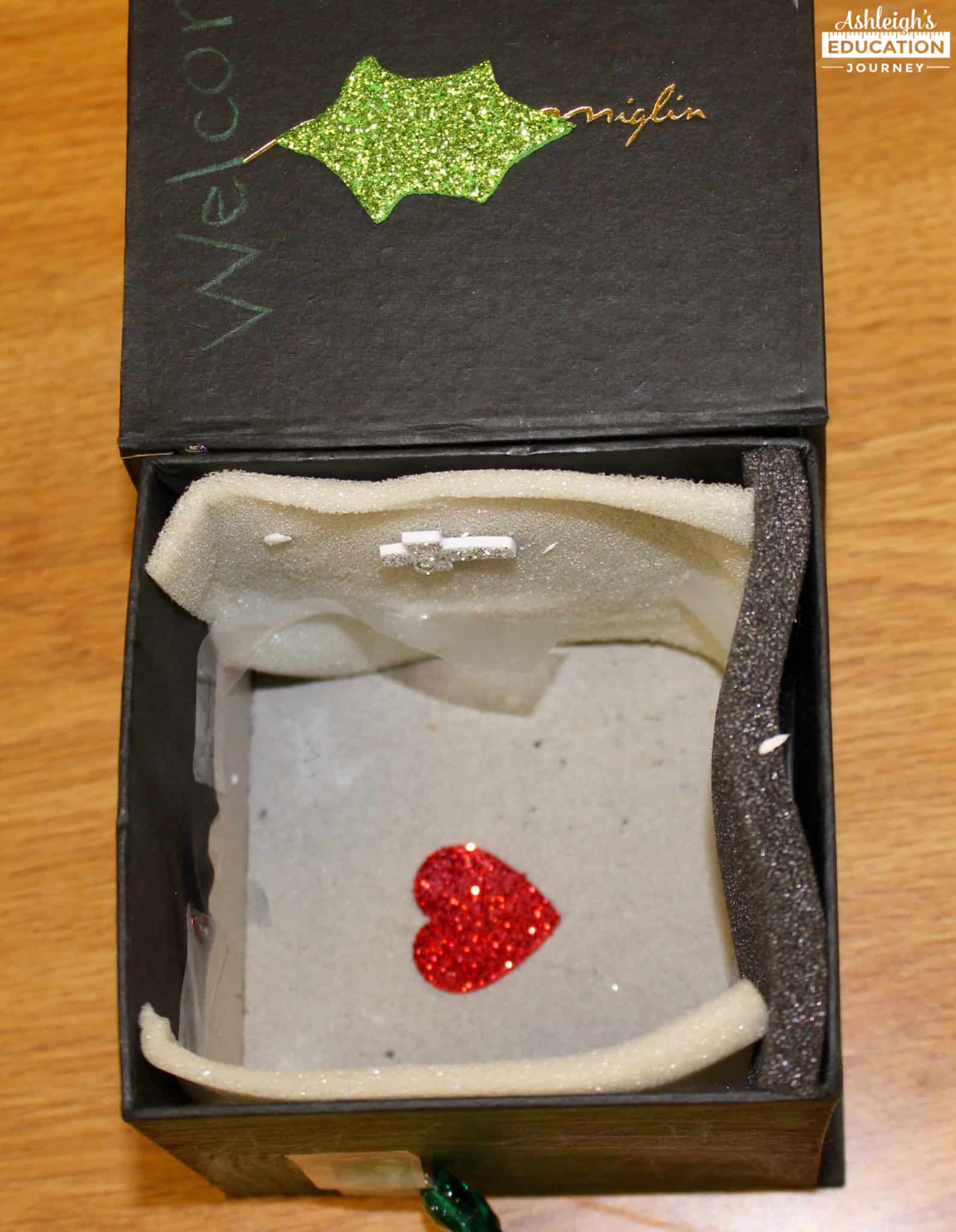 St. Patrick's Day Activities – Science
This is also a great time to squeeze in a little liquid volume lessons through a density experiment. Anything that involves bright colors and liquids is sure to excited students! You'll need four different types of liquids. I used corn syrup, rubbing alcohol, water, and vegetable oil.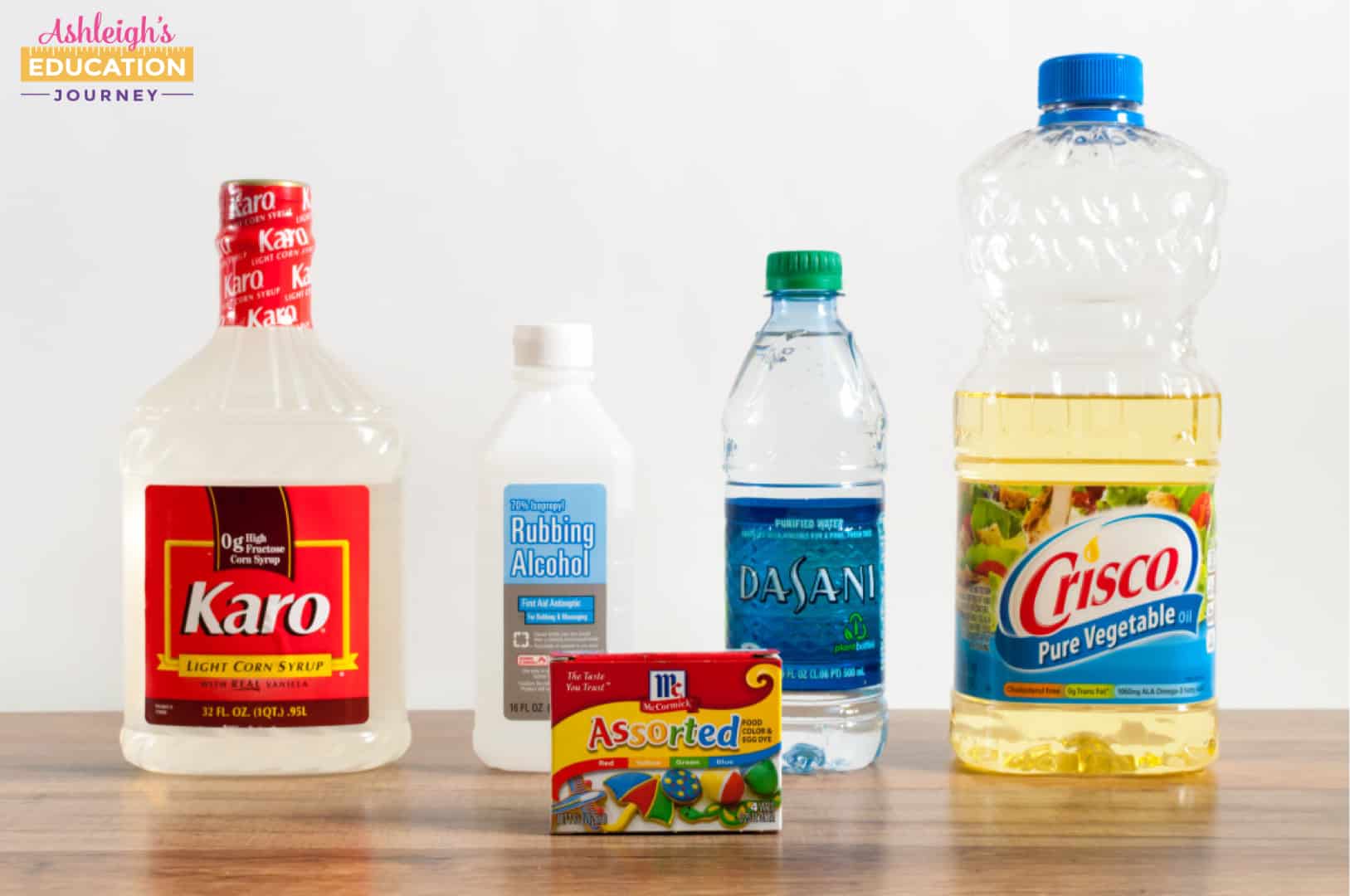 Have students pour the liquids into small cups. Add food coloring to the liquids, so that the colors stand out. Students should pour about an inch of corn syrup into a clear cylinder. Then, they should use a dropper to add about an inch of water. After the water, students should repeat the same step with the vegetable oil and then alcohol. To tie in liquid volume, rather than having students add an inch at a time, use a graduated cylinder and give students the exact milliliter to pour to.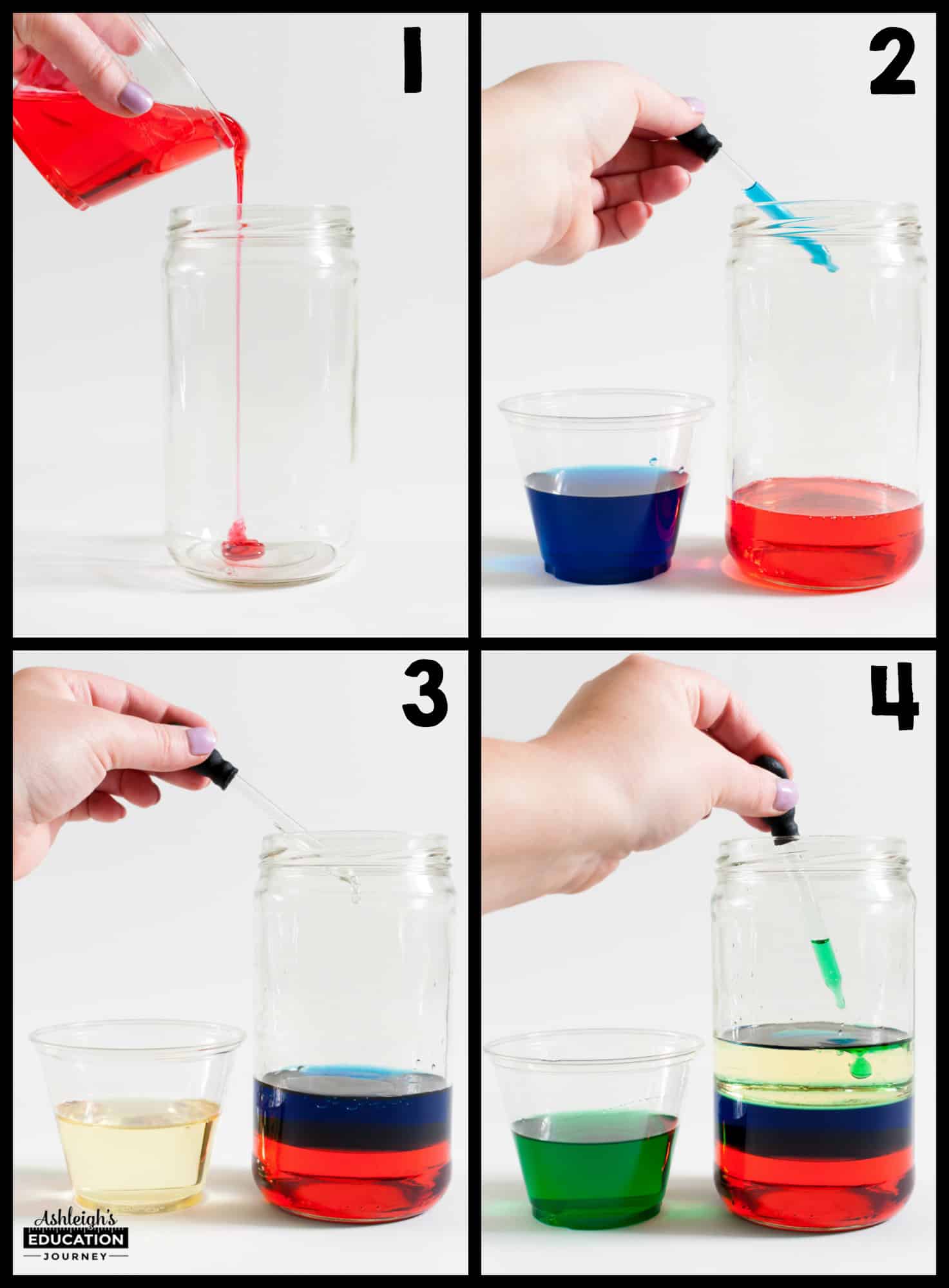 The final outcome looks pretty cool, and it's a great way to explain density!
If you're looking for more traditional printables, I do have a short St. Patrick's Day Activities for Big Kids pack. It contains a recording sheet for the science experiment (although it's not a necessity).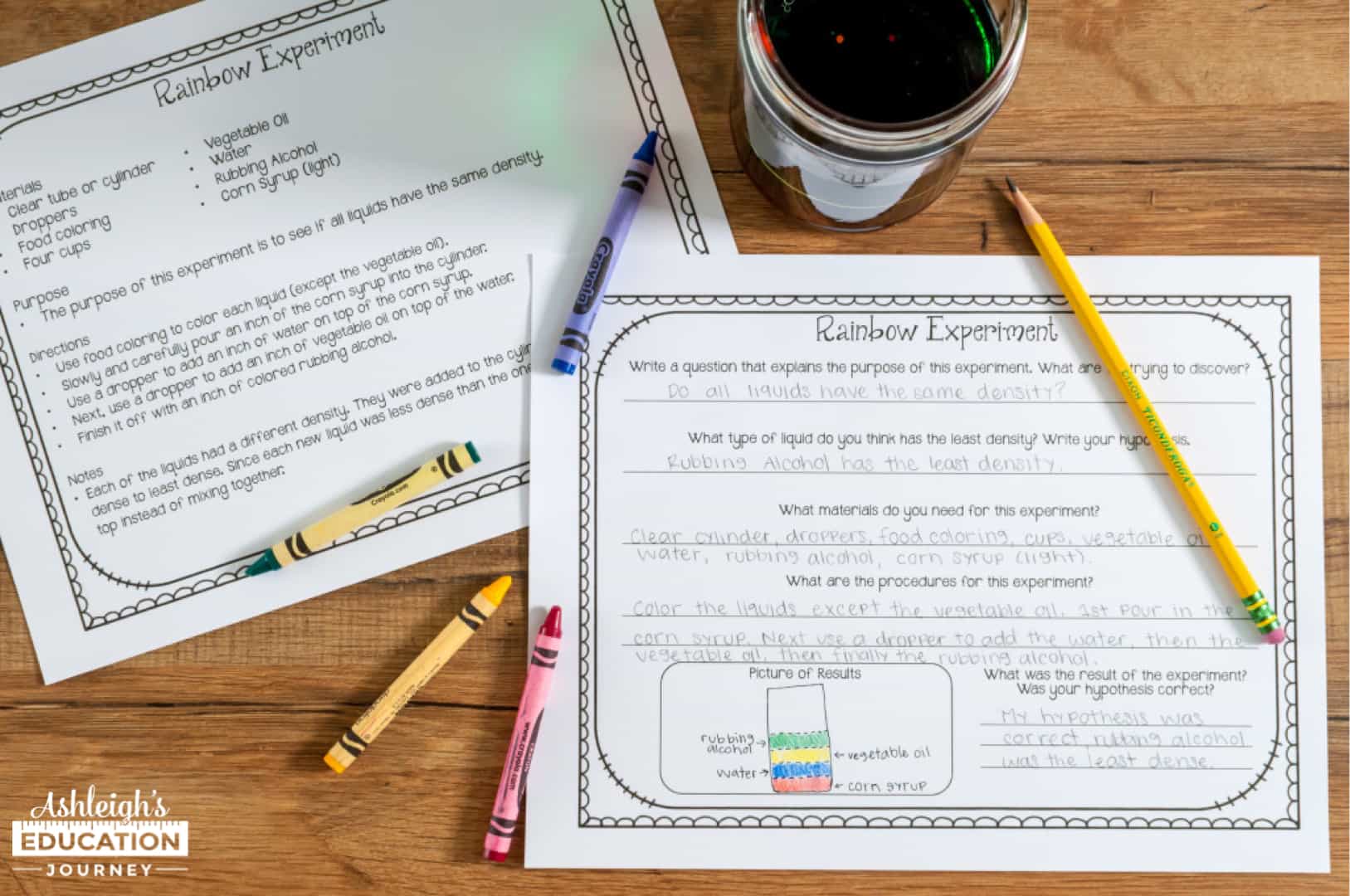 There is a reading comprehension worksheet with a St. Patrick's Day themed reading passage, as well as a cardinal directions worksheet.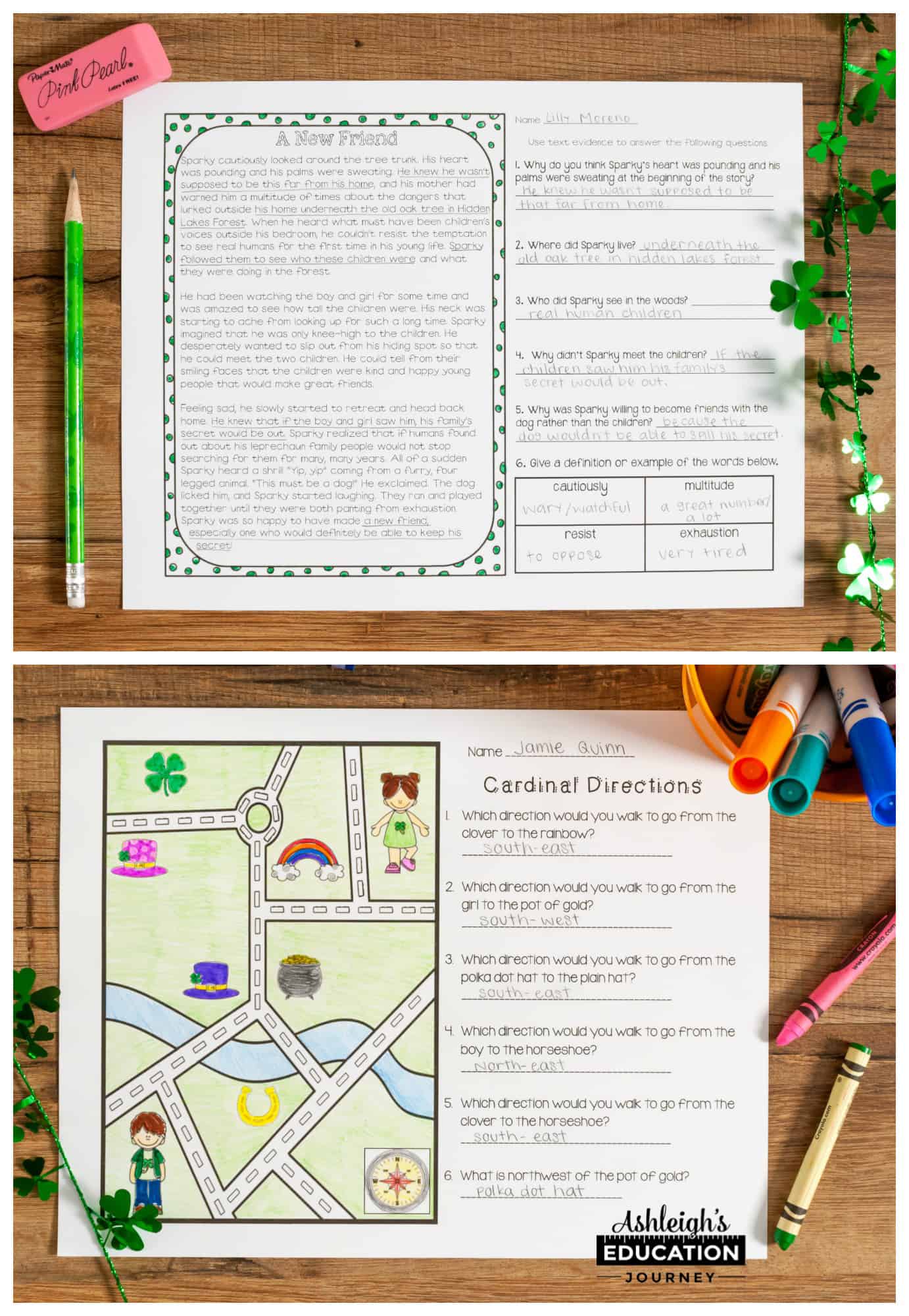 Math
I absolutely LOVE Leprechaun Village, because it ties in perfectly to my area and perimeter unit! We're just finishing up, so this offers the just right level of rigor and engagement. Plus, it's pretty fun too! In the activity, students build Leprechaun Village using perimeter and area requirements.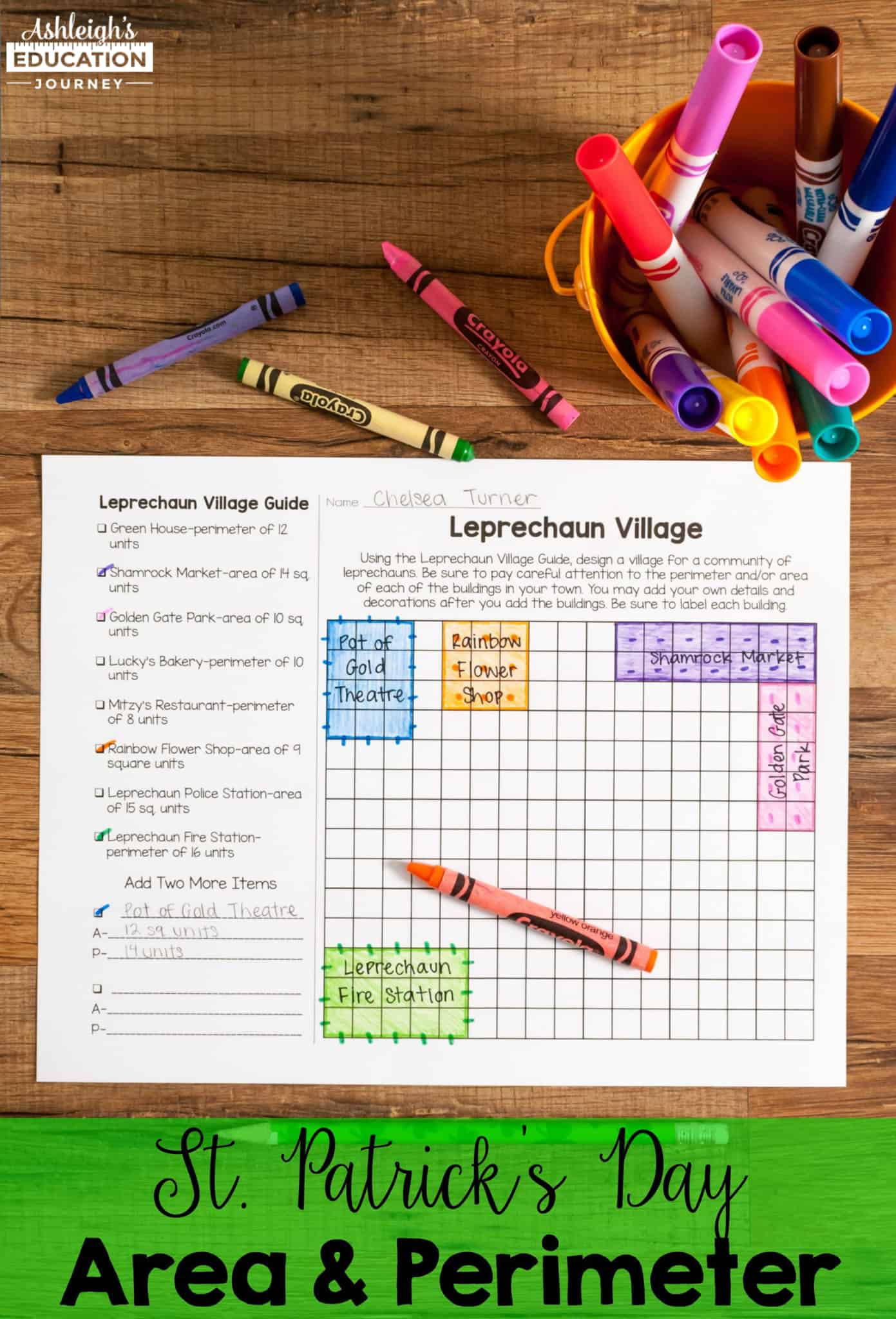 Two additional activities, are Spin a Story and Spin a Story Problem. In Spin a Story, students write a story with Lucky the leprechaun as the main character. They use the included spinner to spin a character trait of Lucky and spin for the setting of the story. In spin a word problem, students spin an operation, number, and setting and write a word problem using those three elements.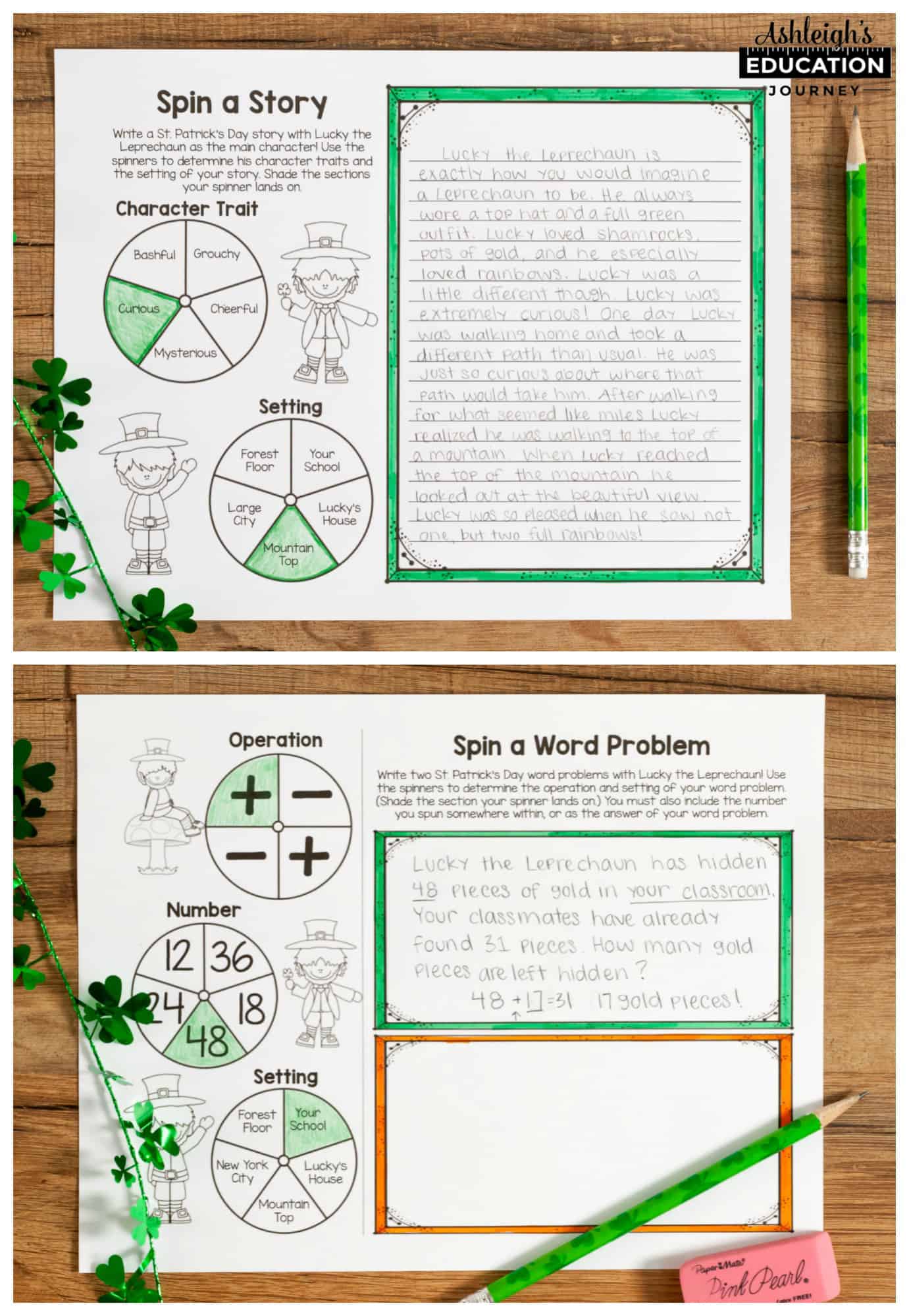 There are several other fun St. Patrick's Day activities in the resource, you can make the week of St. Patrick's Day fun while still moving forward with our standards and learning!