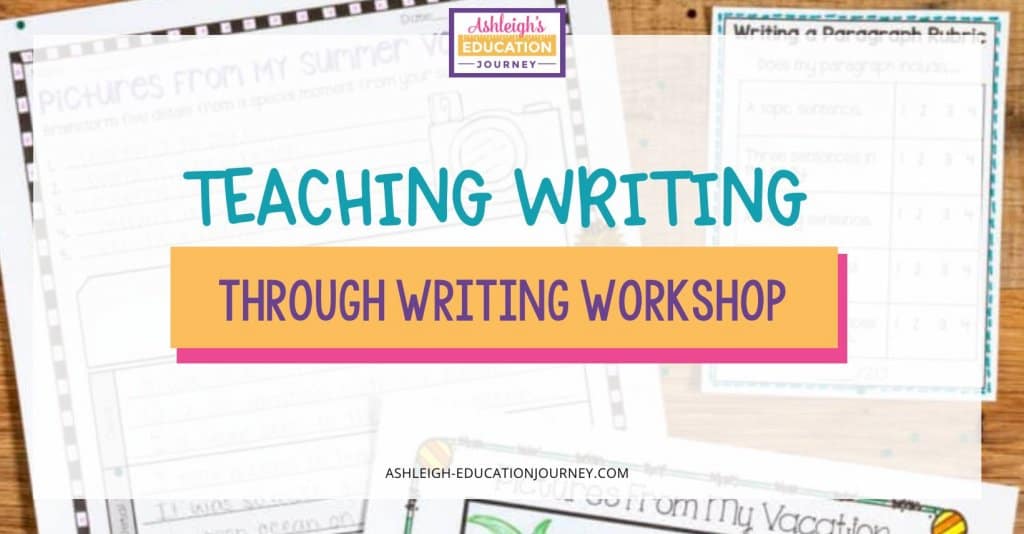 Writing isn't always the most natural or easy subject to teach. There is SO MUCH involved with writing-from organization, to ideas, to word choice, to conventions, to just getting students to put their pencil to their paper. Over the years, I'm implemented many different writing workshop methods and strategies, and I've finally found a system and routine that works for me when teaching writing. If you're interesting in learning more about the research and implementation of writing workshop, I highly recommend the books below. I always go to Fountas and Pinnell and Ralph Fletcher when I need more information about teaching writing. It's definitely a topic that I've had to refine my instructional strategies with over time.
In this post:
Writing Workshop Professional Development
I teach my writing by units of study: genre by genre, rather than mixing all genres together. Each writing genre requires a specific skill set that is often unique to that particular genre. A student won't use the same writing strategies that they use in a fictional narrative in an informational essay. Of course all writing needs certain elements, such as organization, but the way it's implemented or structured will vary from genre to genre. Just like when teaching new math concepts, students need time to practice writing in a particular genre, before introducing a new style of writing. When teaching writing, I like to organize my lessons in the following order:
Writing Workshop Units of Study
Informational
Personal Narrative
Opinion
Fictional Narrative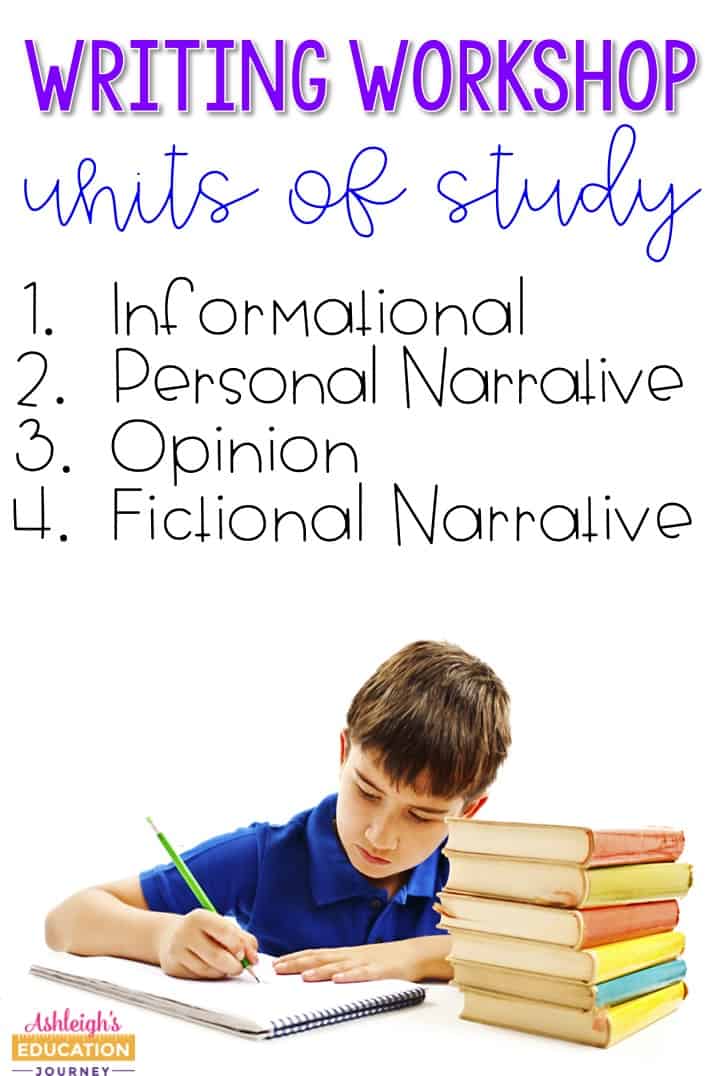 My first several years teaching writing, I started with personal narratives, but I found that personal narratives-while appearing easy to write-were often extremely difficult for my students. I felt like my students were more comfortable with the structure of informational writing, so I began teaching informational writing before personal narratives, and I felt like that was my most successful approach.
One additional benefit was that I was almost immediately able to integrate informational writing into my science and social studies instruction, because my students knew how to write an informational paragraph and essay. I begin the year with procedural lessons, which you can read more about in my Writing Workshop Guide post. Even though I'm an upper elementary teacher, I also spend a good week teaching students how to write a quality paragraph. You can read more about that in my Introducing Paragraphs and Writing Instruction post.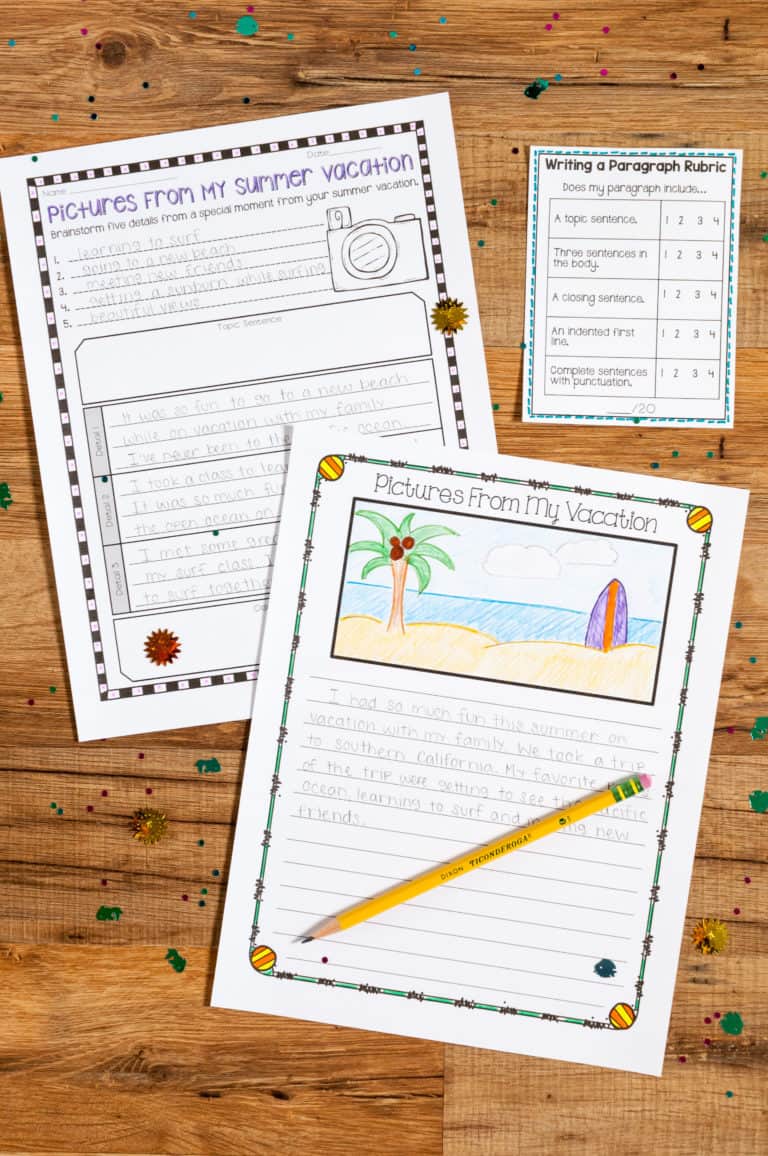 The well-defined structure of the paragraphs lead those introductory lessons perfectly to informational writing. After I teach informational writing, I like to move into personal narratives. I think it's nice to have a break in styles or genres of writing, and I love how I can get to know my students better through personal narratives. I then move in to opinion writing, which is a great way to review informational writing. It also ties in perfectly with social studies and science, and I like to make sure I've finished my opinion unit before our state test. I always end the year with fictional narratives. Students typically love writing fictional narratives, but they can often be challenging for students to write.
Teaching Writing Strategies: Anchor Chart/Mentor Text
I begin most of my writing lessons with an anchor chart and/or mentor text. I'm starting to find more and more videos that are useful to writing workshop, and I do like to incorporate a variety of resources to prevent my students from become bored-not that anyone is ever bored listening to good literature! I select my mentor text based on the skill or strategy I'm teaching. I LOVE the time spent together sharing a mentor text with students. When it comes to the reading level of my mentor text, I don't worry a bit about it. Instead, I focus on the quality of the text and the text's incorporation of a specific writing strategy.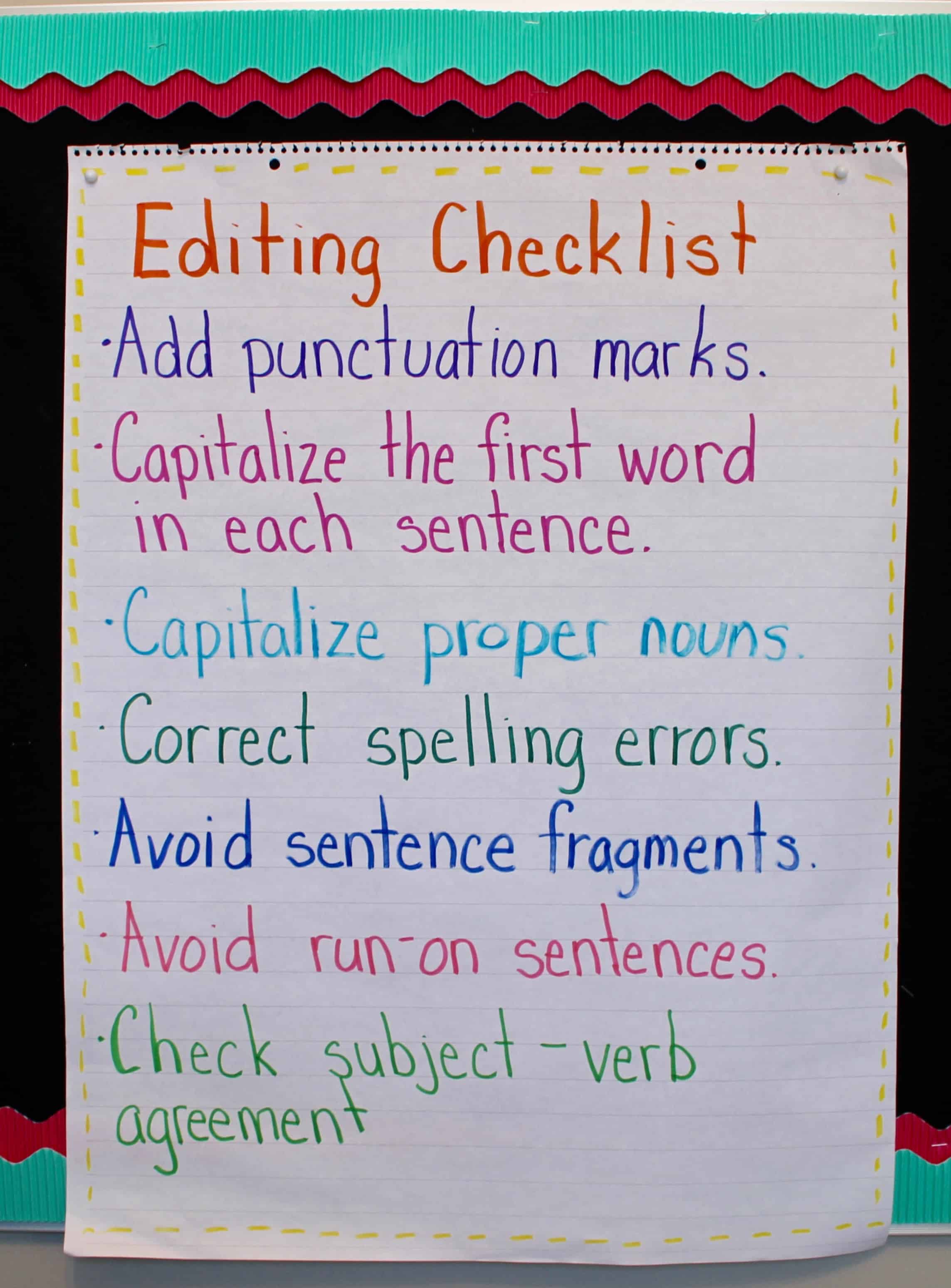 Student Choice
When it's time for my students to write, at least 80% of the time, I let students chose what to write about. Just like in reading workshop, choice is a huge motivator for students. This choice gives students ownership and and a feeling of control over what they are learning. Plus, it makes writing a lot more fun and engaging for students.  Yes, I do a little test prep to prompt writing, but that is certainly not my main source of instruction. Students should select topics that work well the the genre the class is studying, but that's rarely ever an issue for students.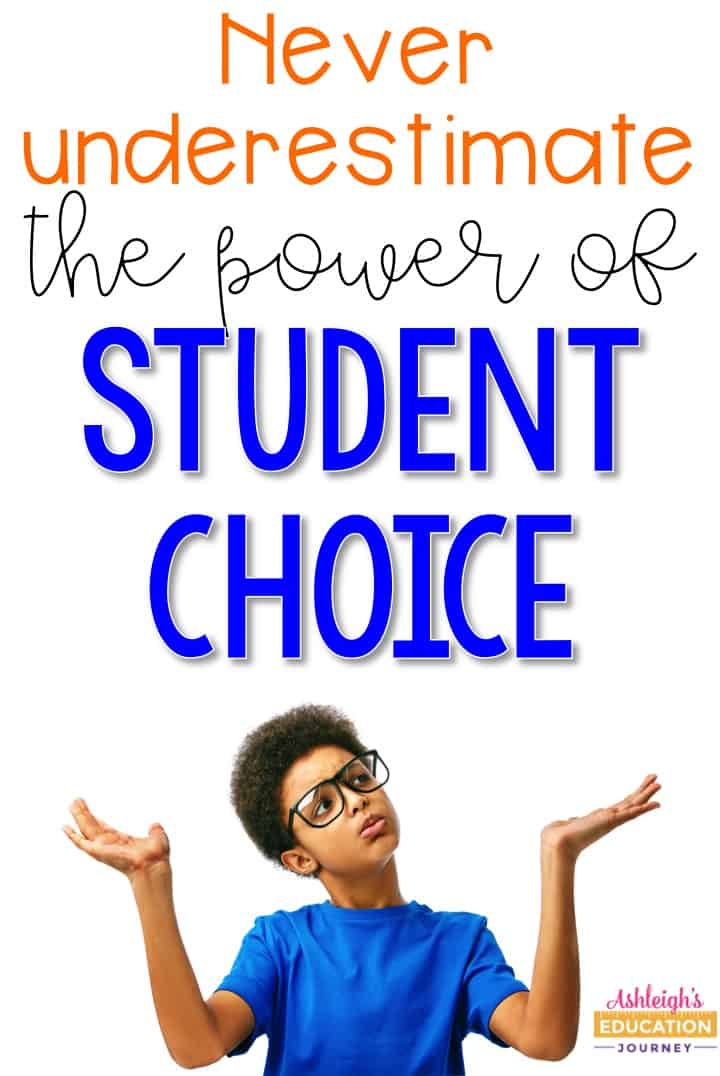 I also like to provide plenty of modeling, guided practice, and independent practice. One of my biggest concerns with traditional writing workshop was the lack of practice. I felt like my students were expected to jump straight from my modeling to applying the strategy in their writing. I believe that expectation is unrealistic for most students. Instead, after I model a specific strategy, I often like to have students work together for a little guided practice, and I occasionally also include a bit of independent practice before students try to apply a strategy to their writing.
For example, in the lesson below, I had students work with a partner to write a specific type of beginning. Then, they worked independently to write that same style of beginning to a different narrative independently. With all of the mentor texts, modeling, and guided practice, I don't move particularly fast in writing, and I'm fine with that! It frequently takes me two days to work through one lesson, and if that's what my students need, there is no harm in that.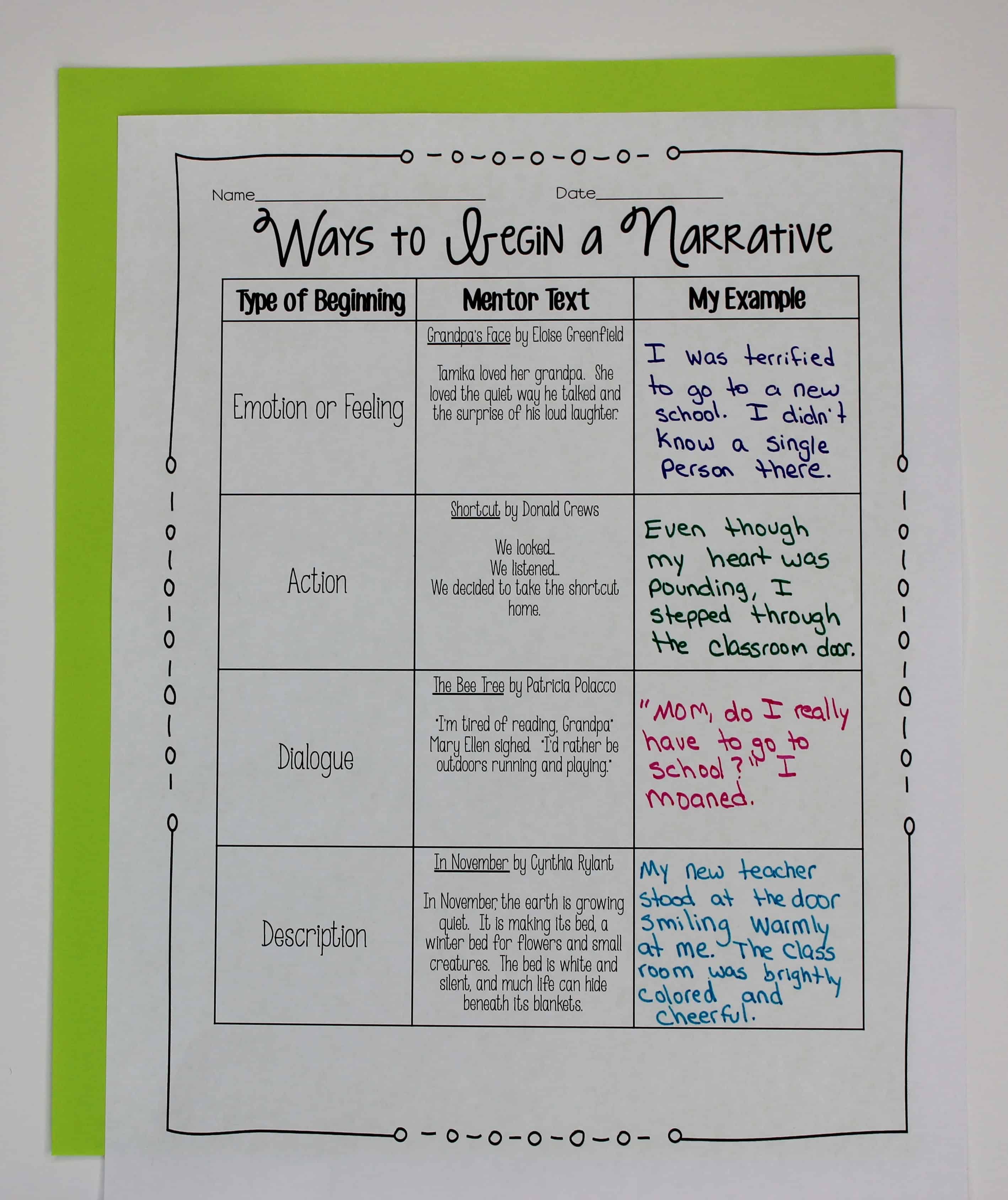 Teaching Writing: Conference
When my students are writing, I like to conference with my students. I've yet to completely master the guided writing group, but I'm working on it. The only time I'm particularly effective with writing groups is when the entire group has the same focus. For instance, I may work with a group of students who are not adding periods and capital letters to their writing, so we'll work together to add punctuation. The vast majority of the time, I meet with students individually for writing conferences.
In our conferences, I record what the student is currently working on in writing. After reading the writing-have students read it to you-I find something to praise. I try to find something that relates to what we've been studying. I also give students suggestions with what to work on for their next step. Even though it's REALLY hard for me, I try to only focus on skills and concepts that have been taught in writing workshop. If it's the beginning of the year, even though there may be glaring mistakes, I limit my conferences to only what I expect from students. Of course, if a student needs enrichment, that is a completely different situation. You can download my writing conference for free here.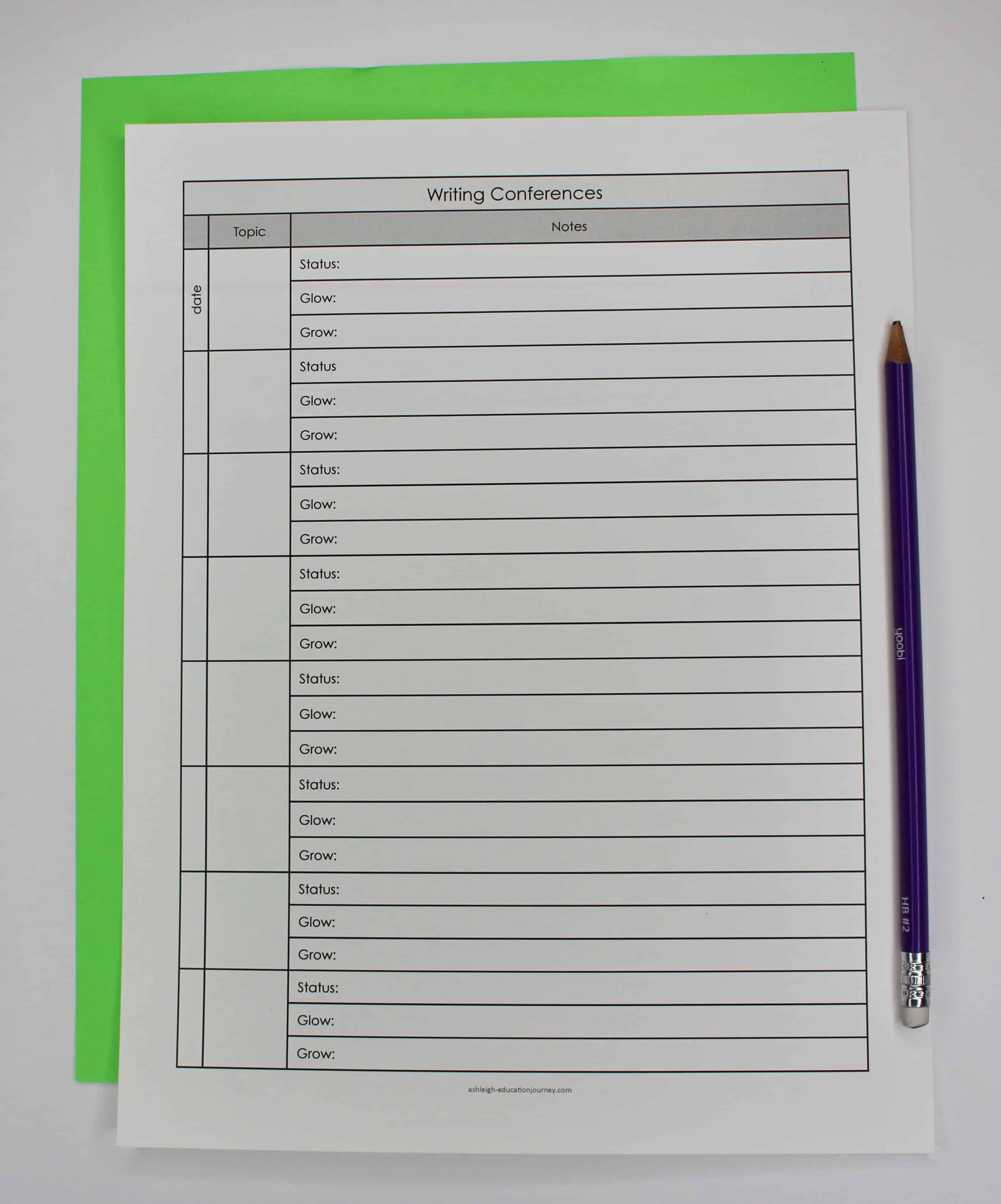 Sharing Work
Students should regularly share their work, which can be done in a variety of ways. You can have a formal author's chair where students share their writing. I like to use this sparingly, but I do incorporate it into writing workshop. I also like to have students share PART of their writing. For example, if I'm teaching ways to begin a narrative and I see a student with an excellent lead, I'll ask that student to share their lead. It's beneficial to share the part of the story that your lesson is focusing on, and it's not always necessary to share the entire story. You may even want to have everyone share with a partner, so everyone has an opportunity to share. I've found that it's good to mix things up to keep everyone engaged and interested.
At the end of a unit, we also share with people outside our classroom. I like to have students share with former teachers, younger students, and our administrators (not all at one time, of course). It's also fun to have an author's celebration where you have an author's tea or a coffee shop read. When we do this, I invite parents and families to attend, and we try to make it a special day for students.
My ideal writing block is 60 minutes, but I rarely ever have 60 minutes to devote to writing. I usually spend about 15-20 minutes on my mini lesson, 30-40 minutes for independent writing, and about five minutes for sharing. However, since I usually run out of time, especially on days that require a lot of guided practice,  I often look at a lesson as a two day plan. I'll teach my mini lesson and begin my guided practice. Then the following day, we'll briefly review the mini lesson and move into independent writing with time for sharing. Significant flexibility is one of the things I love about writing workshop.
Related Posts
I have a blog post on how I teach personal narratives, titled Narrative Writing.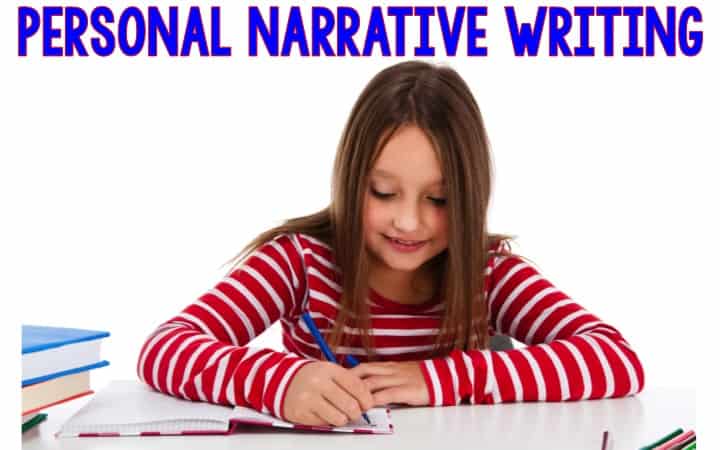 I have a blog post on how I teach opinion writing, titled Opinion Writing Lessons.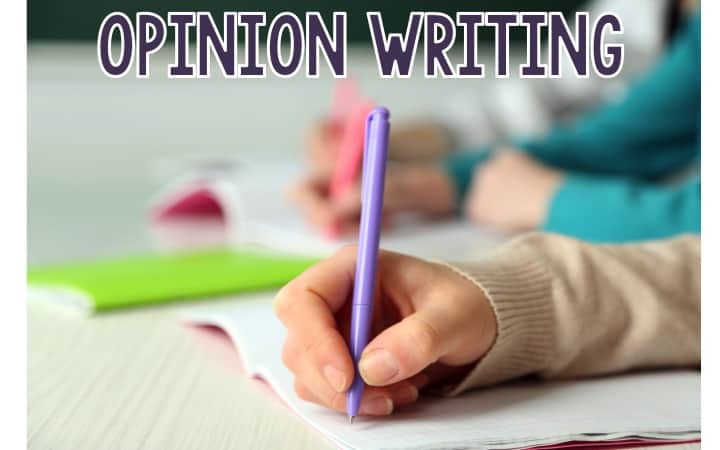 You can read how I teach informational writing in my post, Informational Writing – Getting Started.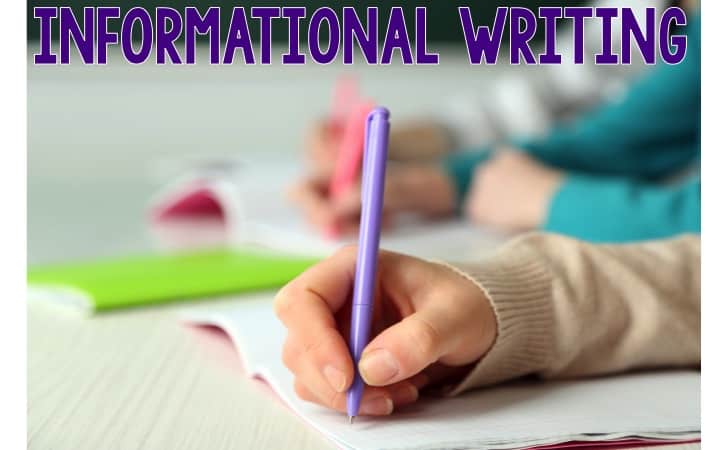 Lesson Info
Each of the writing units include lesson plans, student printables, mentor text ideas, rubrics, and celebration ideas. I recently finished a new writing unit for fictional narratives, and I'm so excited to finally have it published. Like my other units, it includes a pacing guide, which lays out the lessons in a logical order.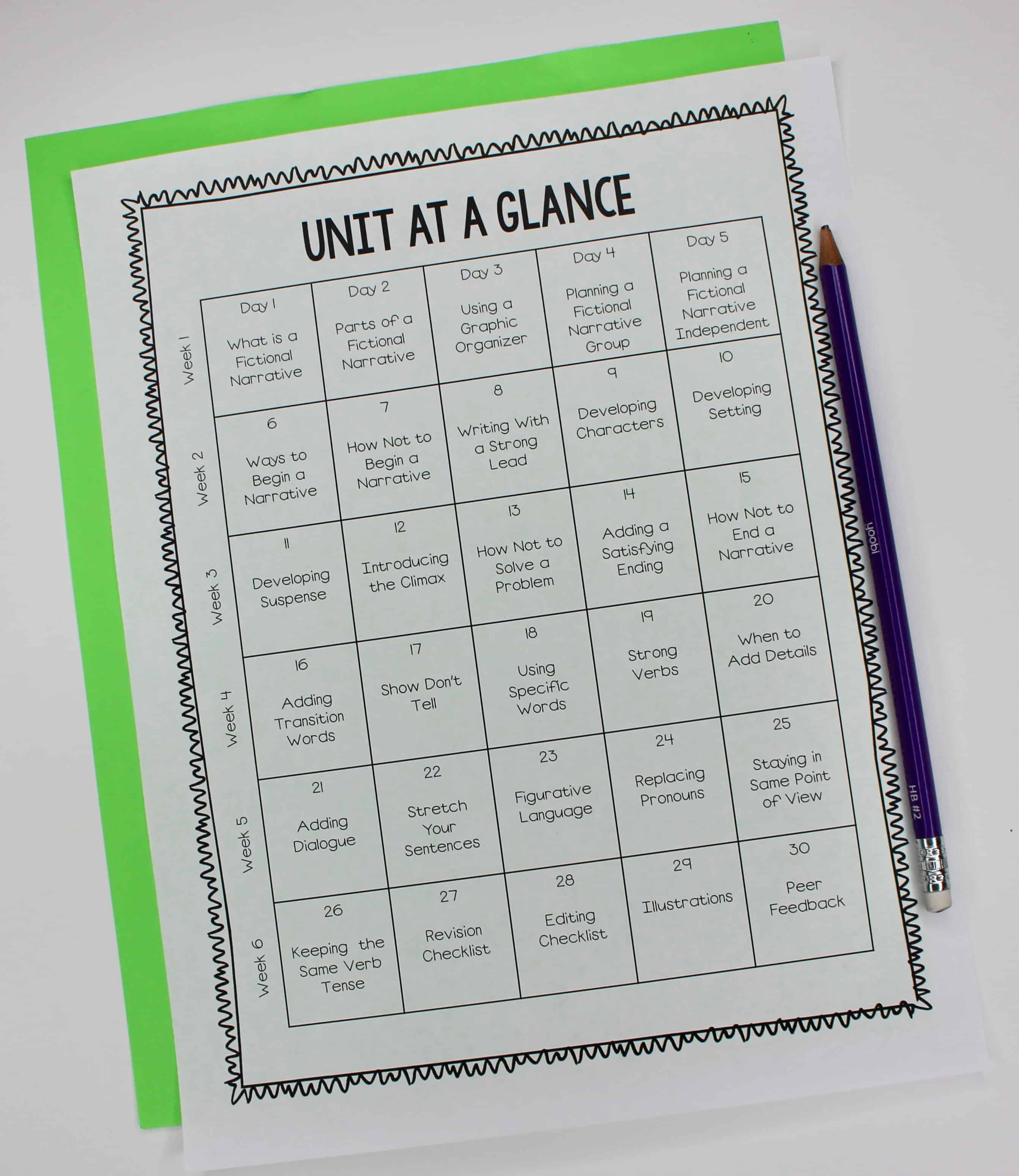 My lessons begin by teaching about the elements of fictional narratives. For students to write a fictional narrative, they must know what a fictional narrative is. I like to show students various pictures, and have them think of writing prompts that can be used with the pictures. We refer to those prompts throughout the unit.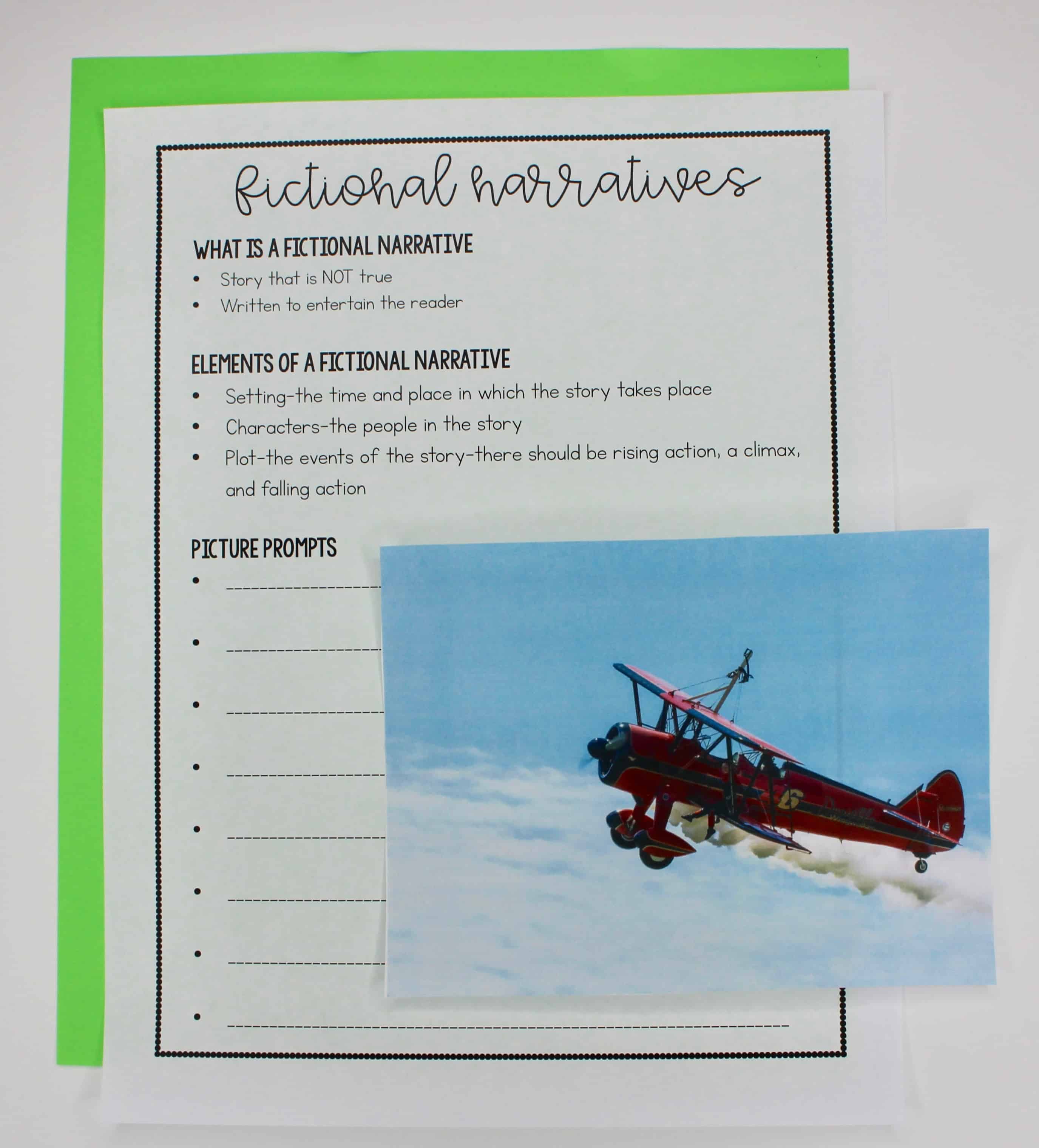 I dread hearing, "I don't have anything to write about." so I've made story starter spinners. If a student ever gets stuck, they can use the spinner to determine a new writing topic. I use these spinners in one of my introductory lessons. I have students work with a partner and spin a character, setting, and problem. Students work together to write a summary for a potential story. This is a bit of a backwards way to teach fictional narratives, but it's oh so effective. Having students write the summary first helps them to organize their thoughts. This activity also requires students to apply what they know about the parts of a narrative.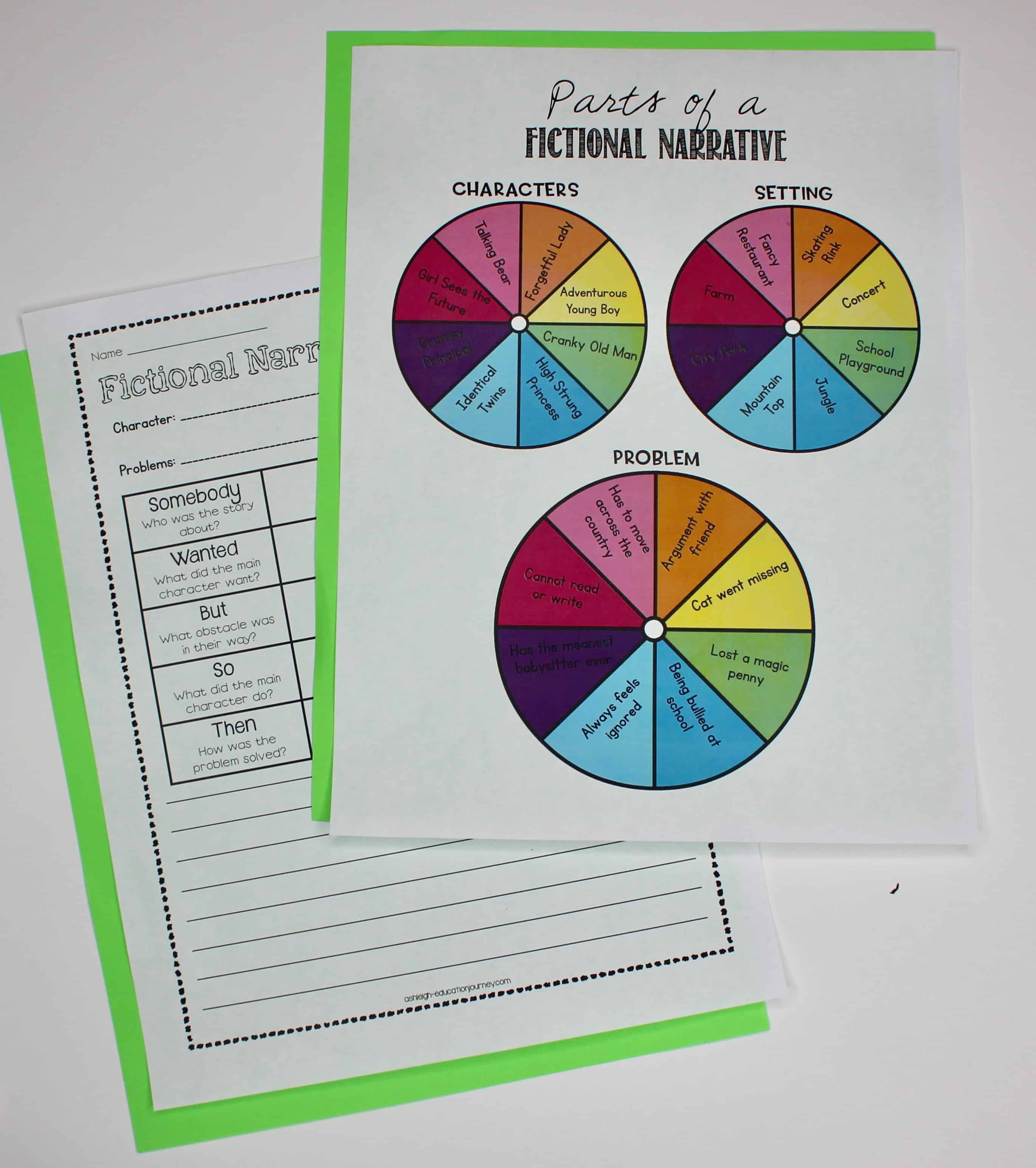 When I'm teaching organization, I also like to have complete a reverse graphic organizer activity. In this lesson, students receive a completed fictional narrative and transfer parts of the narrative into the graphic organizer they will be using throughout unit.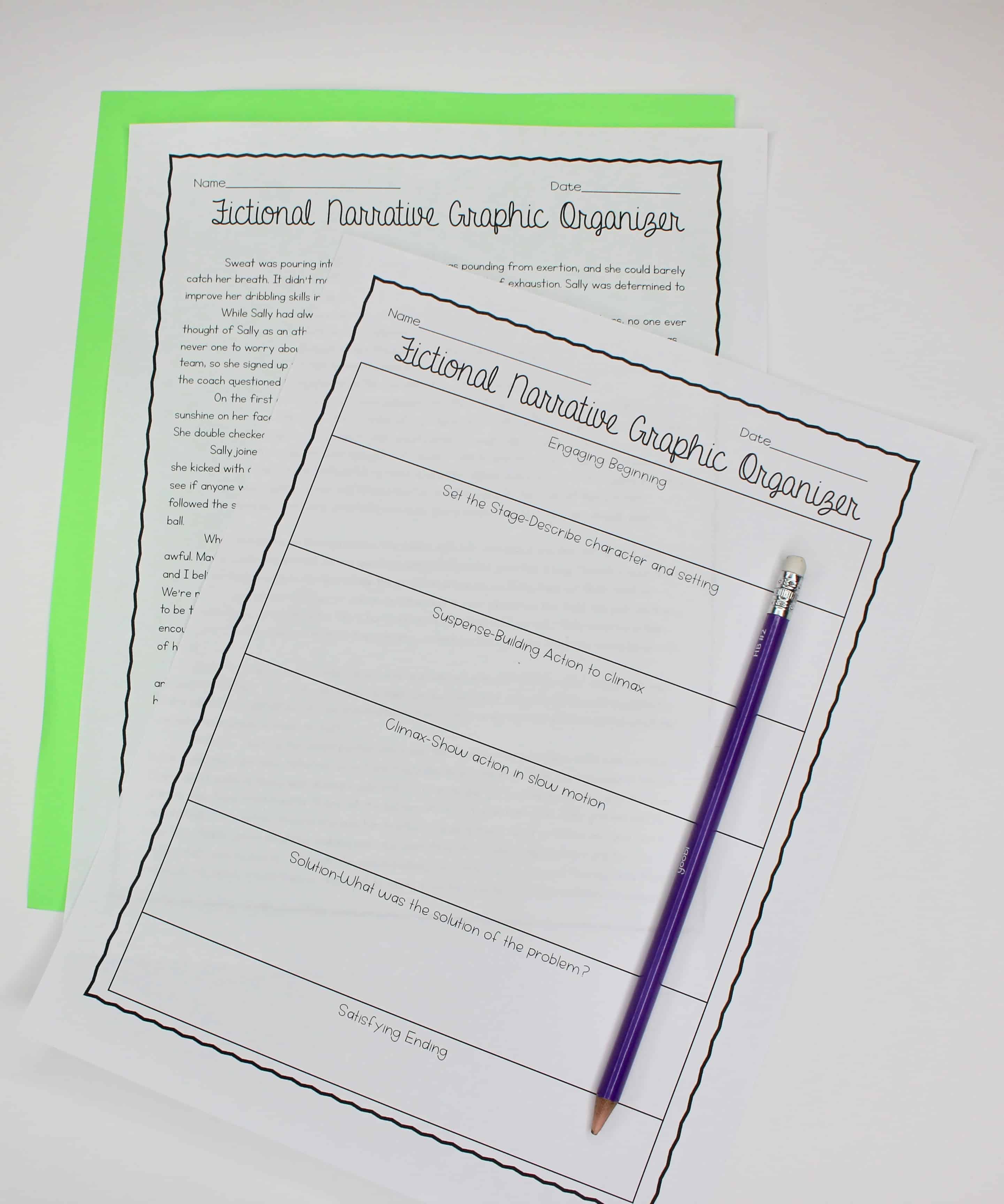 Like in my personal narrative unit, I teach students how to begin and end a personal narrative. I did include new lessons for this, so you won't be teaching the same lessons twice.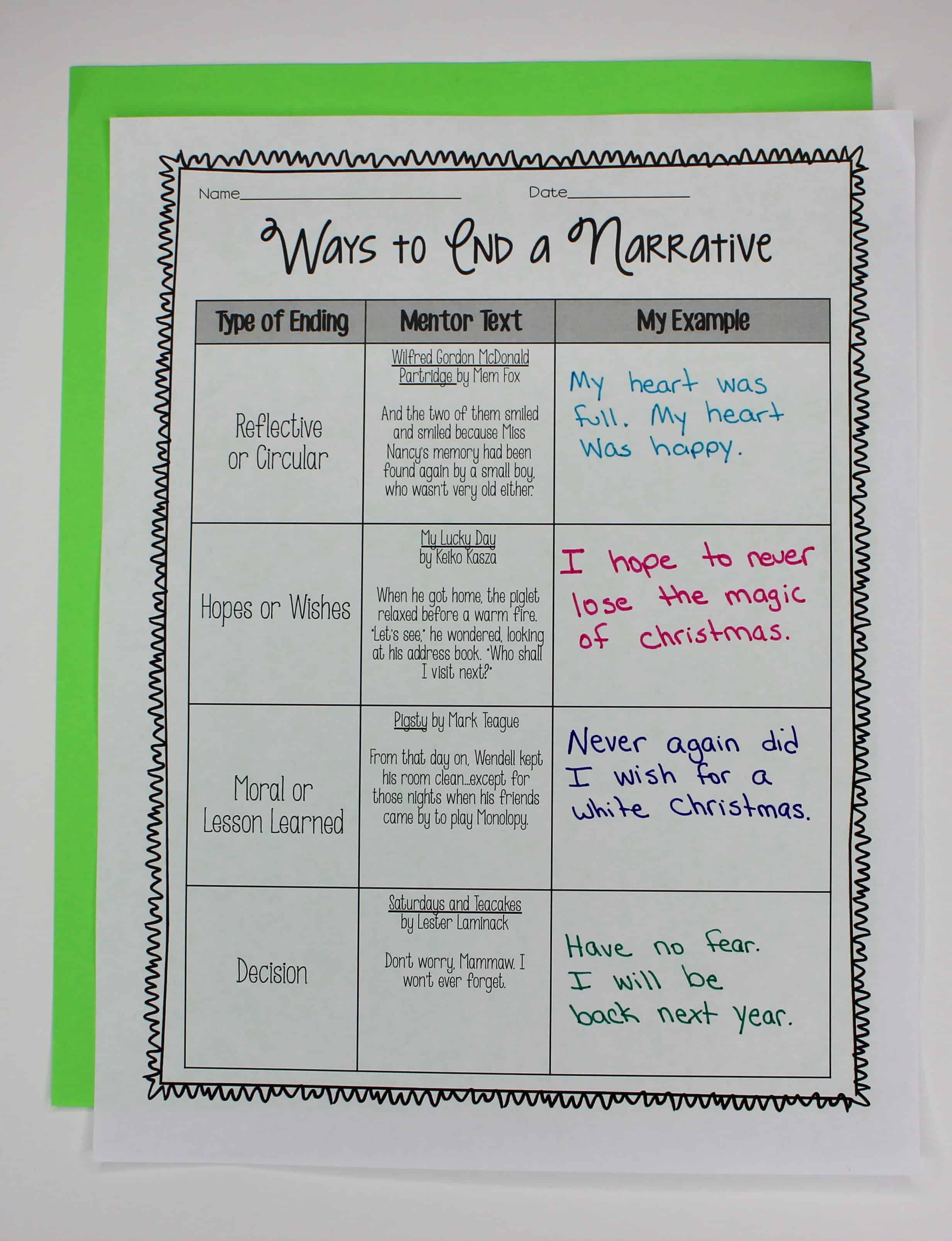 I include plenty of craft lessons to help students move their writing from good to great. Students learn to develop characters, build suspense, slow down the climax, and more!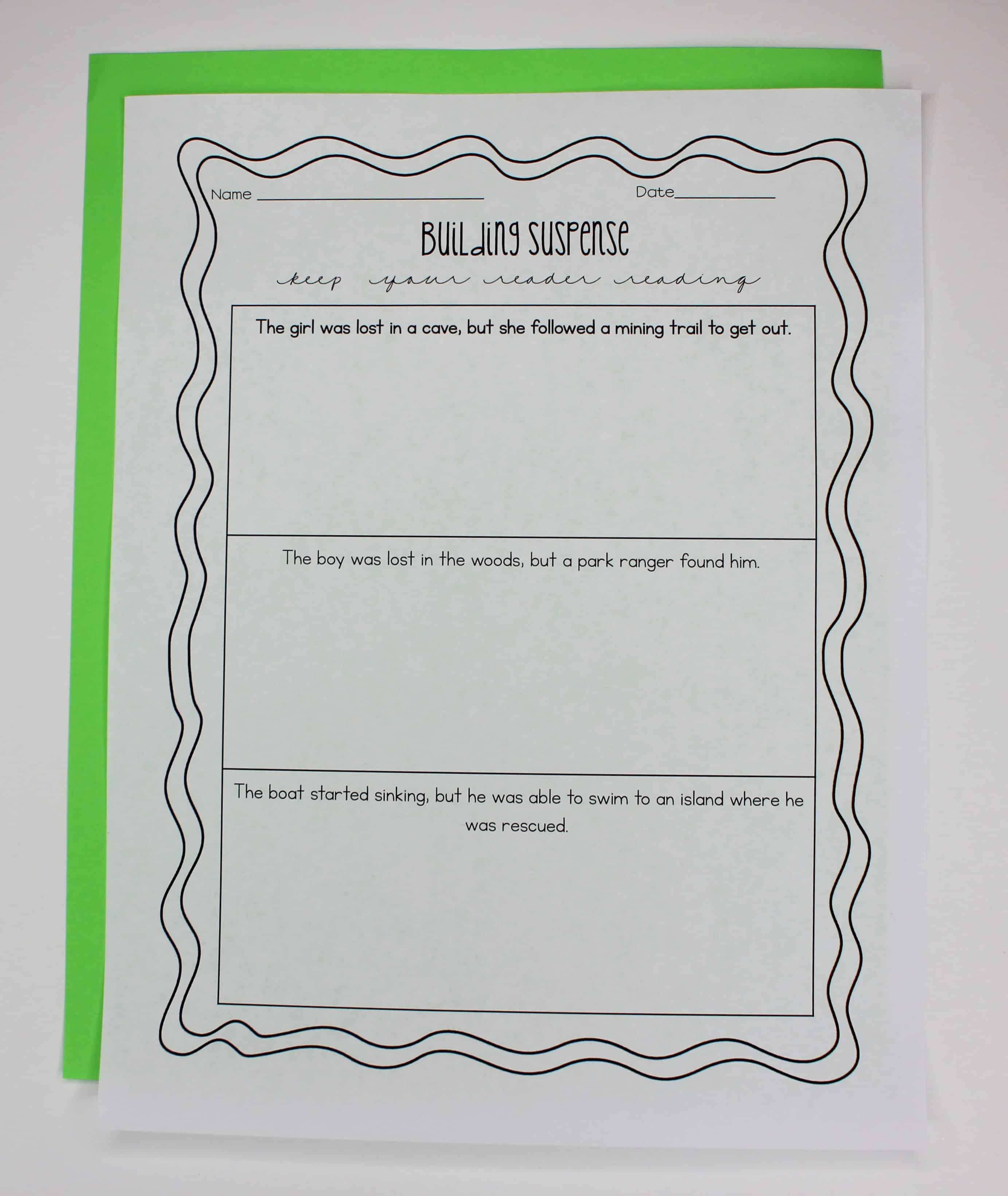 Toward the end of the unit, I begin teaching students more revision and editing lessons. Students learn to create better sentence fluency, stretch sentences, focus on word choice, and much more!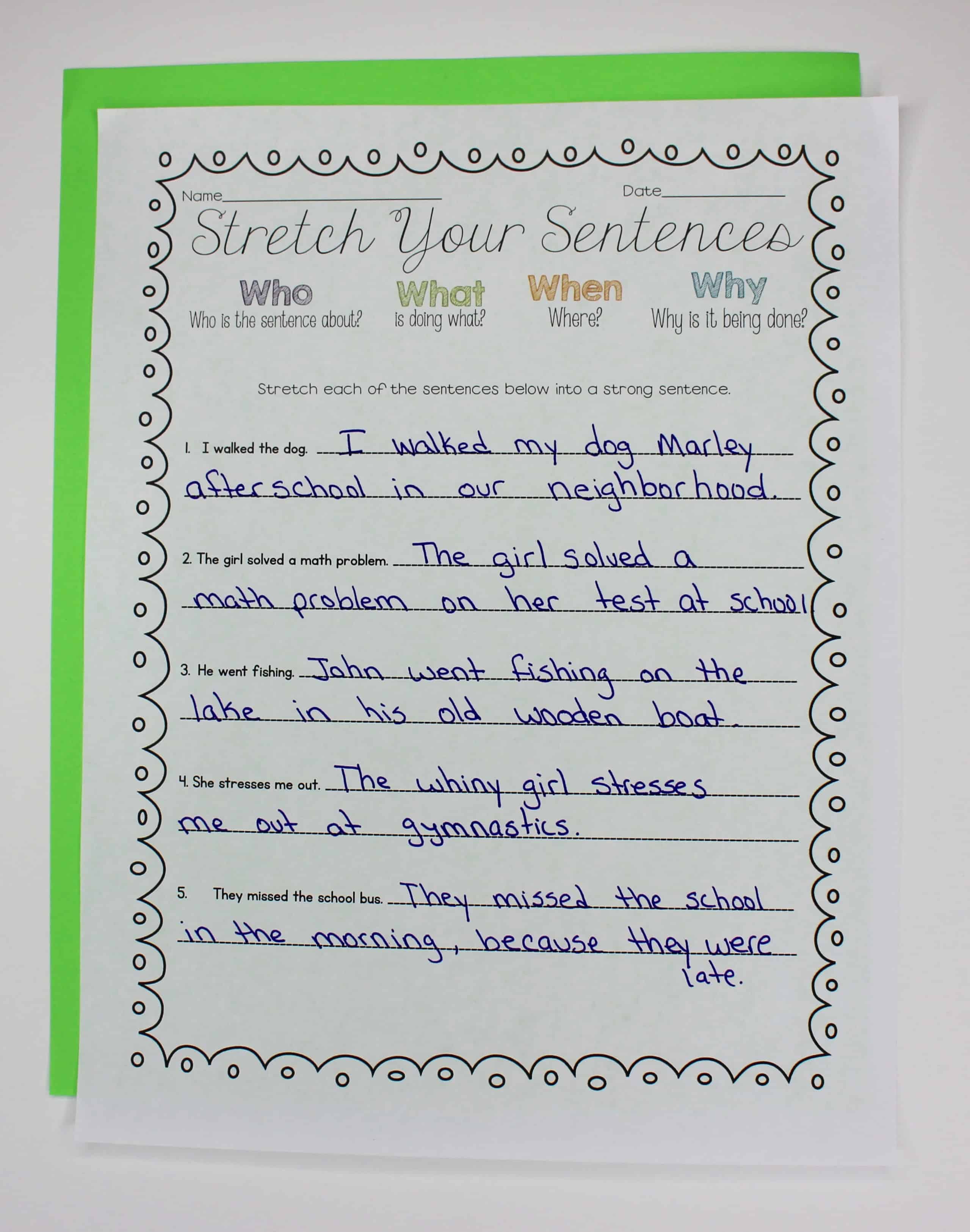 I've created forms for peer feedback, personal revision checklists, editing checklists, and a rubric for an end of unit assessment.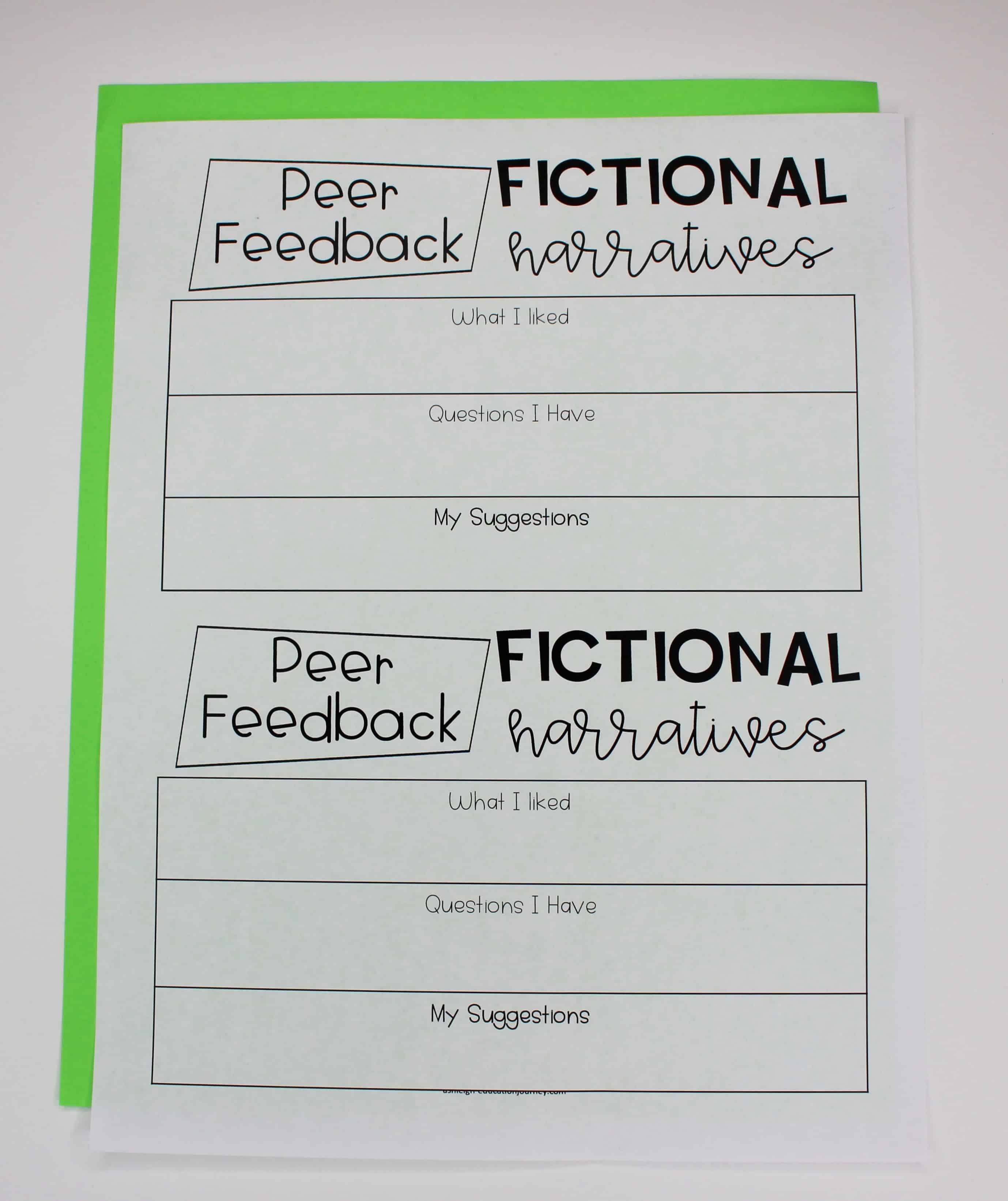 This unit, like the others, includes mentor sentences for teaching grammar within your writing workshop.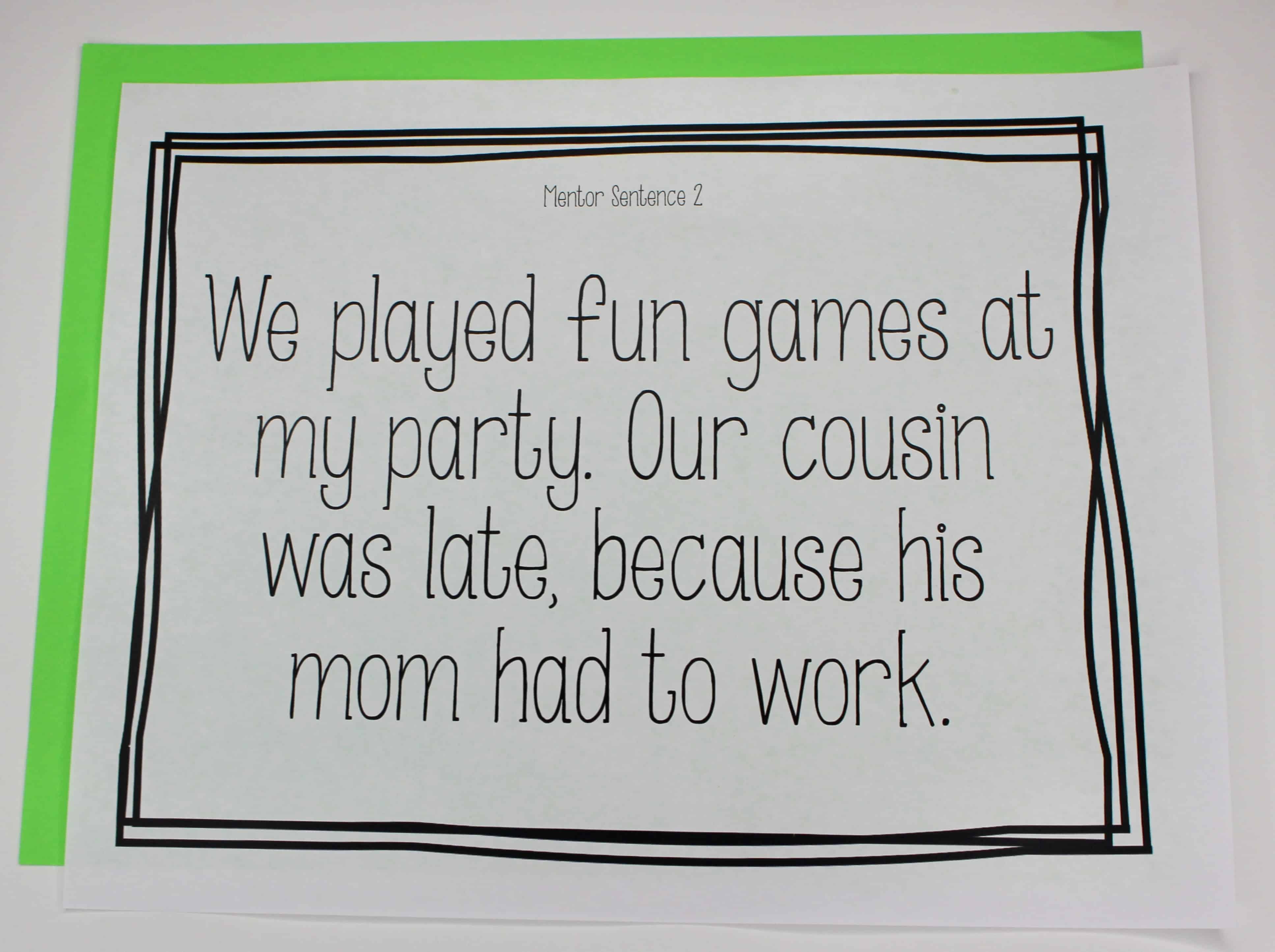 You can find the new fictional narrative Writing Workshop in my TPT shop. If you already have the writing bundle, you can download the file again and receive this new addition at NO extra cost! Please let me know if you have any questions!