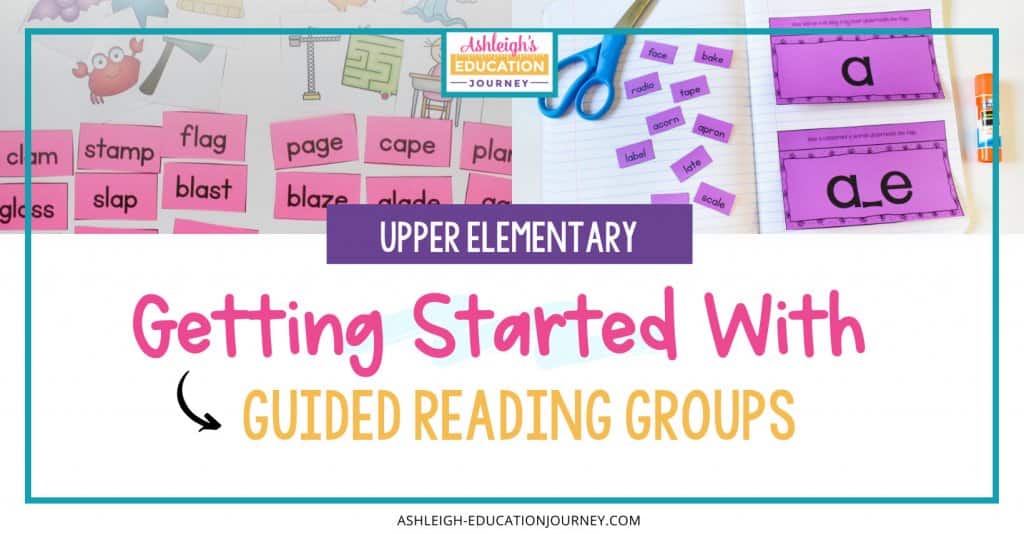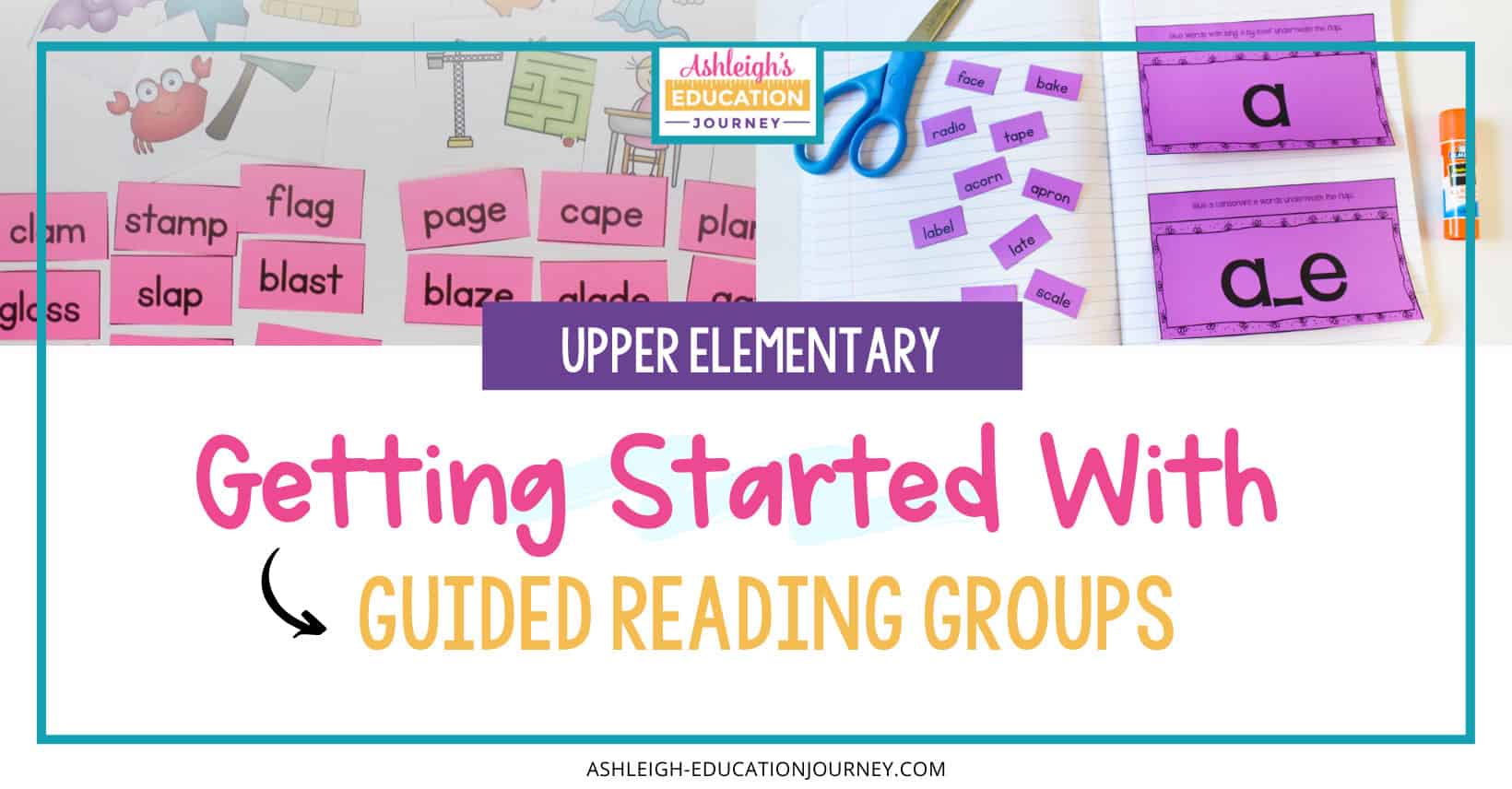 When it comes to teaching upper elementary, guided reading groups are one of the most complex areas of planning and instruction. I still remember when I first started teaching thinking, "Okay, I have my groups. Now what do I do?" Hopefully, this blog post will be helpful to anyone who has experienced that same thought or feeling. Since it's such a complex topic, I've narrowed the focus to just guided reading groups. You can read this blog post for a larger focus on reading workshop. It shares how I manage and organize reading workshop, and gives ideas for whole group mini lessons and assessments.
I'll be the first to acknowledge that there is no easy fix or simple solution for implementing guided reading groups. I am constantly learning and adapting my instruction to meet my students' needs. Jan Richardson, Irene Fountas, Gay Pinnell, and Jinnifer Seravallo are the absolute experts on guided reading, and I highly recommend the books below for professional development. I've pulled ideas and strategies from each book, and I'll share an overview of what I do in my reading groups.
In this post: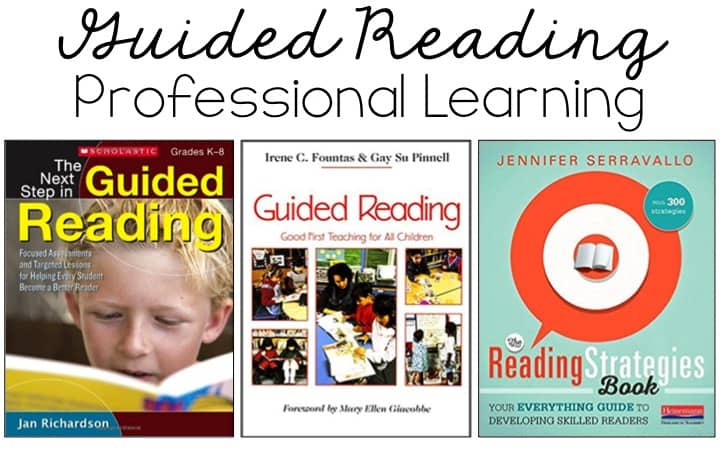 Guided Reading Professional Learning
I've shown below two different guided reading group schedules that I use in my classroom. The schedule on the left is an option for shorter reading blocks-1 hour or less. I prefer the schedule to the right, because I can meet with three groups a day. However, many of us don't work with our ideal schedule, so we have to adapt.  I typically have at least one reading group with students who read significantly below grade level and at least one group reading significantly above grade level. I'll address what I do with those groups first, and then I'll move to the students who fall in the middle. You can download the editable schedules here or the Google Drive version here. You can see that some schedules are way more detailed than others. Every year I have to do what works best for that group of kids.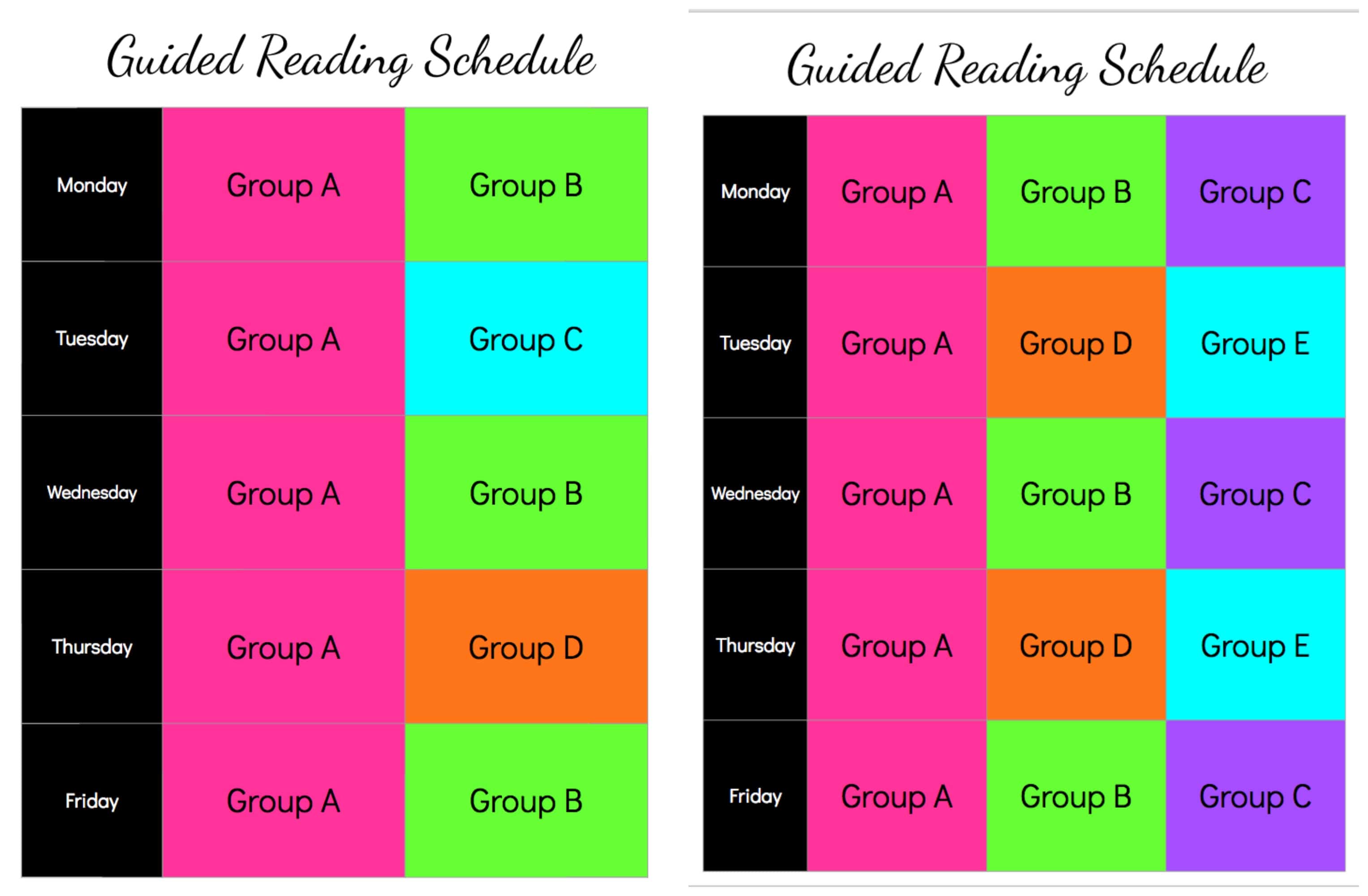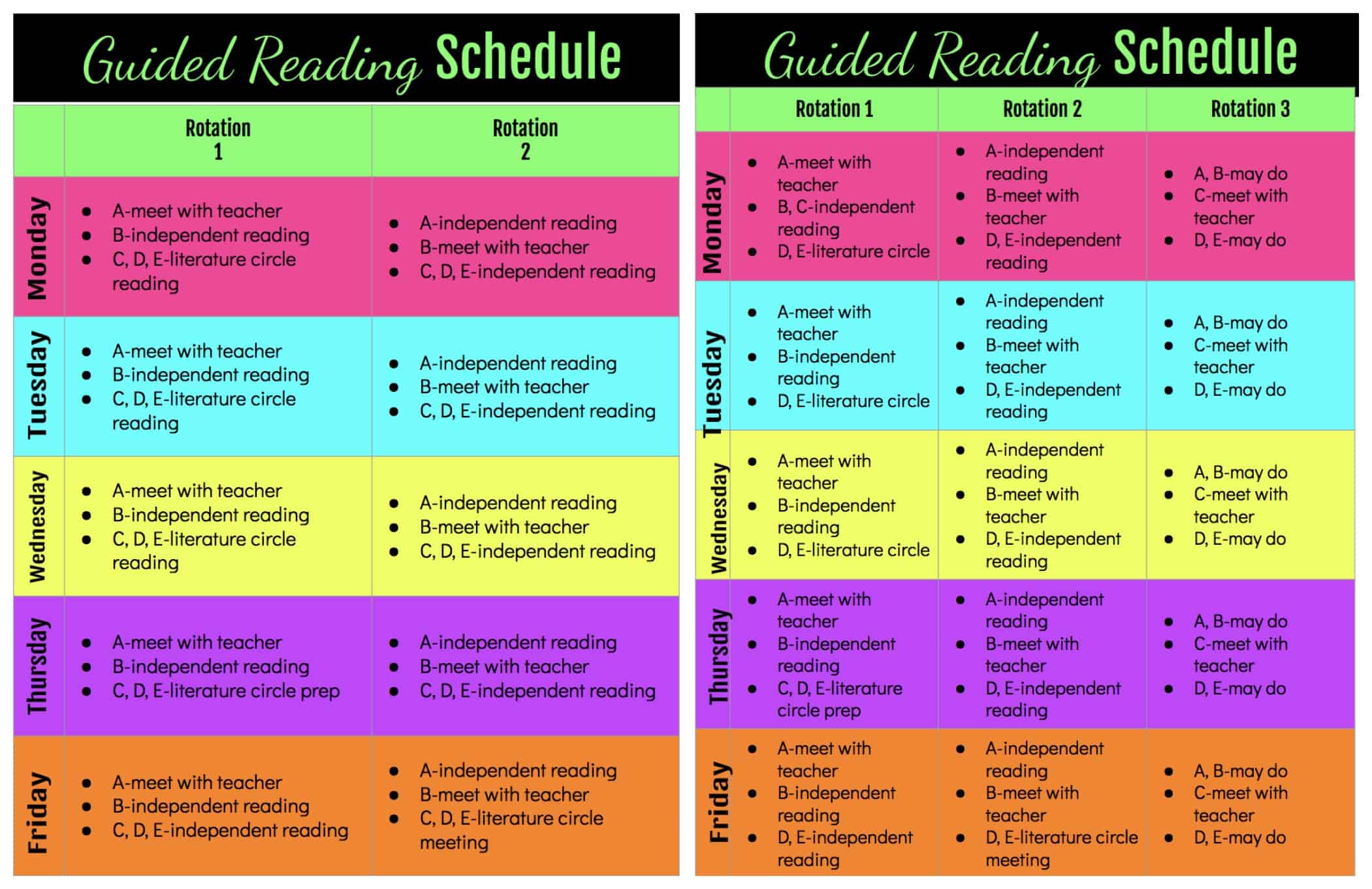 Significantly Below Grade Level
When you have students reading multiple years below grade level, it is essential to diagnose what is creating the difficulty with these students. I almost always start with a phonics screener to discover any phonetic gaps. The majority of the time, I'll find that these students do have a need for phonics instruction. I like using this screener for that assessment. In addition, I check each student's mastery of sight words to see if that could be contributing to their difficulty in reading. I use the sight word screener to assign each student five sight words a week.
Since these students are reading below grade level, fluency will also be an issue for the group. However, I don't make fluency my primary focus, because it's essential that students know to decode effortlessly to become fluent readers. Limiting instruction to only fluency practice will not give students the tools they need to become fluent readers.
I try to tailor my instruction to that group's specific needs. Below is my example lesson plan for teaching long a with a silent e. It's nothing fancy, but it works for me! You can download an editable version here. I left it in an editable format, so you can adjust and copy/paste as needed.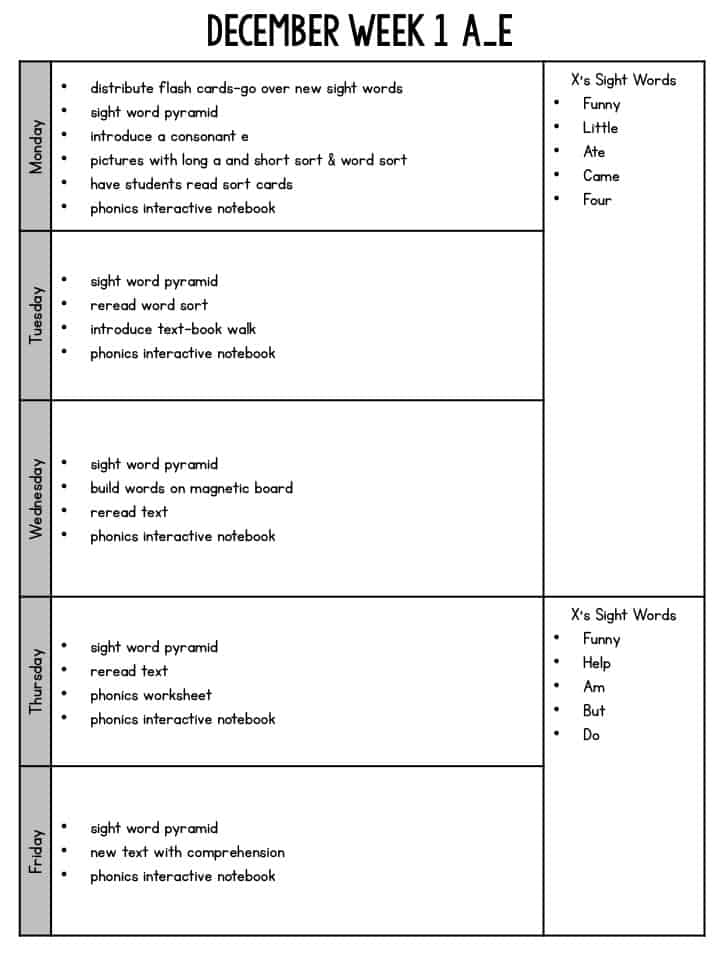 Monday
On Monday, students make flash cards for their new site words that they can take home to practice. To build in a little fluency and sight word practice, I have students read the sight word fluency pyramid cards. We do this each day with their individual sight words. I've found that it's good to have students practice sight words in context. I bought these cards from The Moffatt Girls here.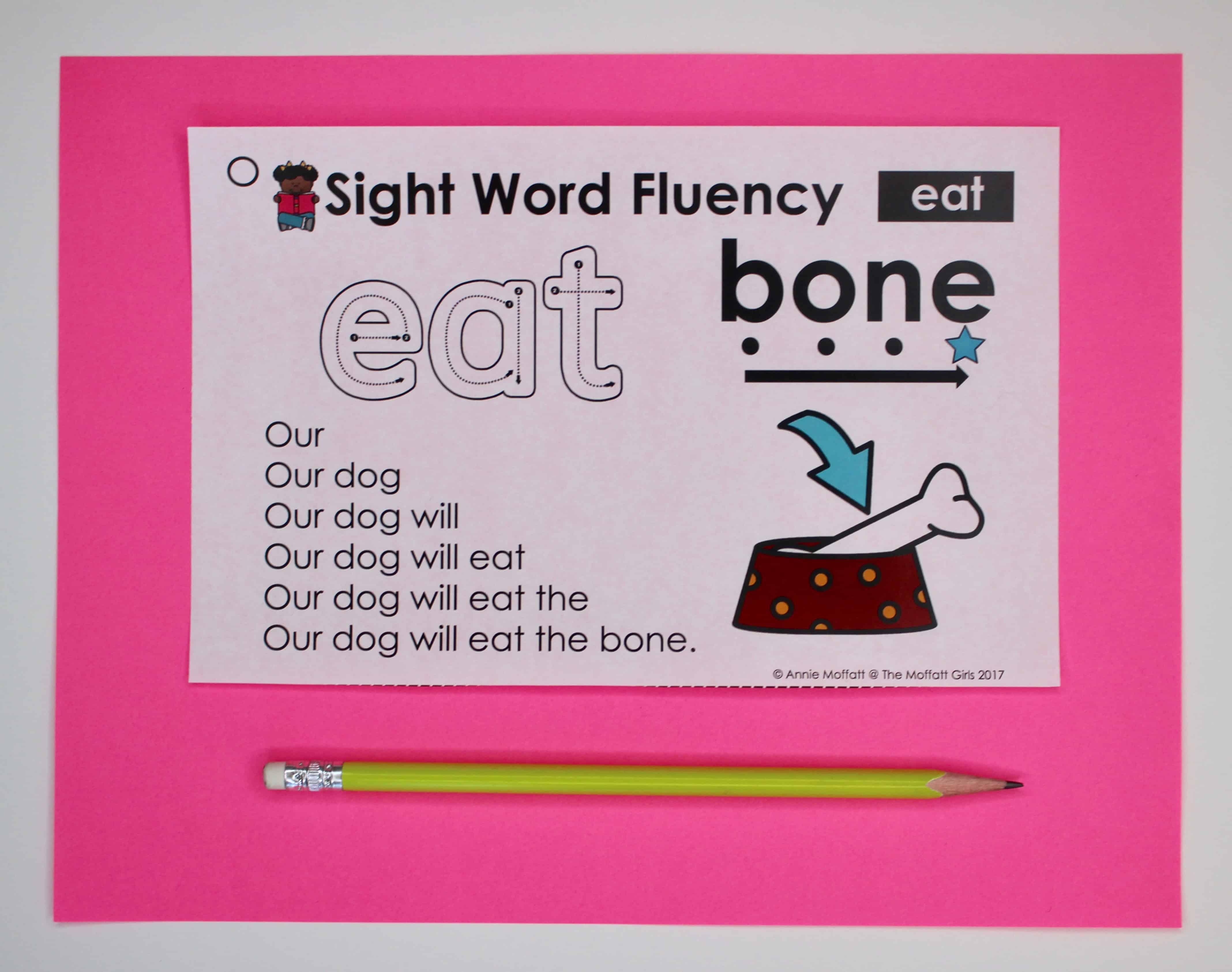 I then introduce the focus for the week, so in the week shown below, I taught how the silent e changes the  sound the a makes. We start with a picture sort with short a and long a sounds, because I first want to make sure students can hear the difference between short a and long a. I bought this picture sort from Deanna Jump and Deedee Wills here. After students sort the pictures, I have them complete a word sort. Since these particular students also needed instruction with beginning blends, I incorporated blends with this word sort. I have students read each word out loud as they sort the words into either long a or short a. Some students may pick up on the pattern very quickly, but this may also be very challenging for some students.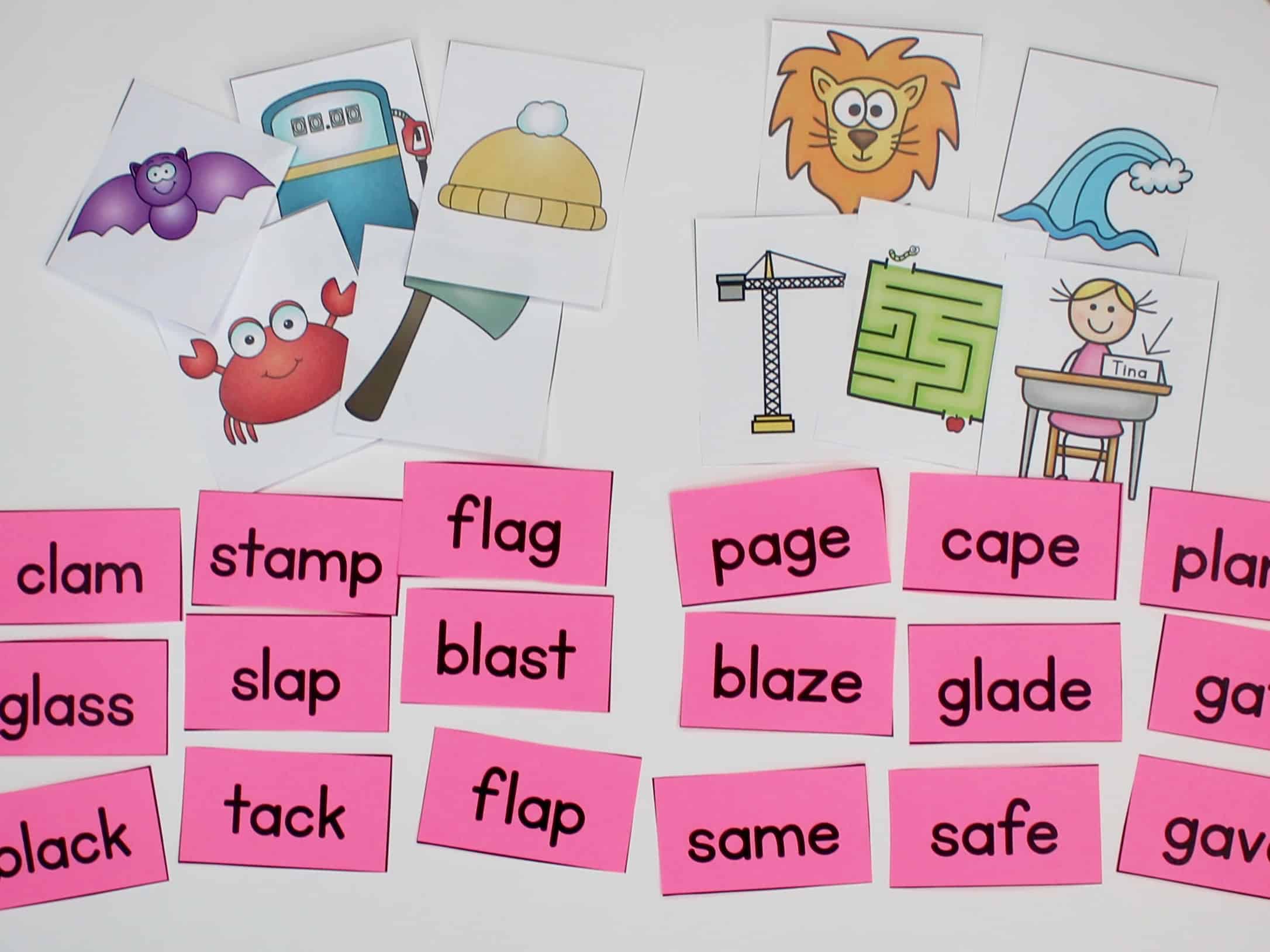 Each day I typically end the lesson by having students complete an activity for their phonics interactive notebook. If I'm running short on time, I can have students finish this independently while I meet with my next group. This is what I do for the group's word work, which is different from my other groups. My other reading groups focus more on spelling during their writing block, rather than their reading block.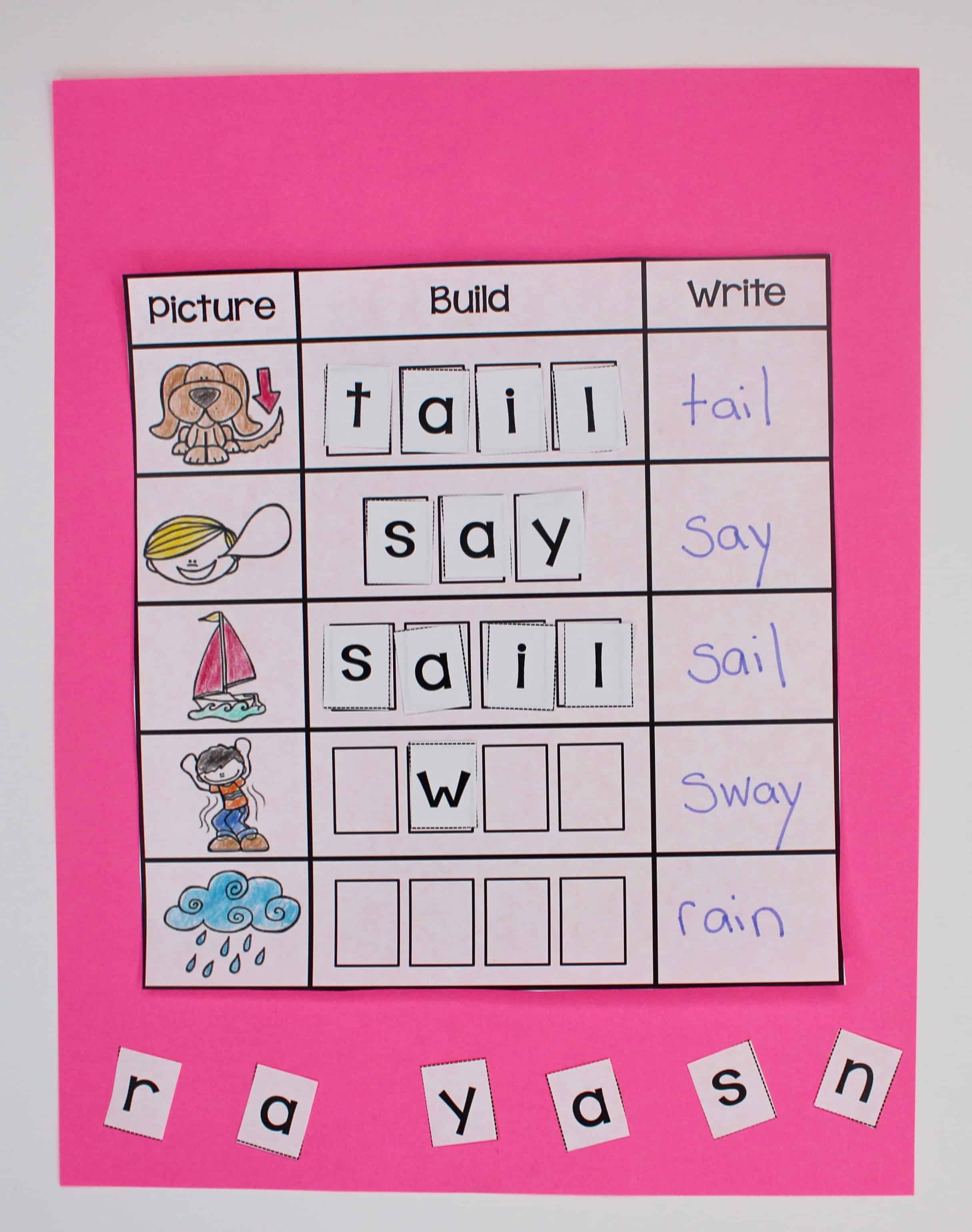 Tuesday
When we meet on Tuesday, we quickly run through the sight word pyramid and review the words on the word sort (if needed). I then introduce our text for the week. If possible, I like using decodable books with a focus on the phonetic pattern we are studying. I love using the decodable books from Reading A-Z, but I'm sure there are many other options. We take a book walk through the book, and I point out key vocabulary. How we read the book depends on the students in the group. If it's necessary, we may echo read. I'll read a page, and then the students reread the page after me. If students are stronger with the text, I may have them read it independently at their group and then reread it out loud to me. I may have students go through the book and highlight all of the long a words or circle words they don't know. It primarily depends on what I'm focusing on with the group.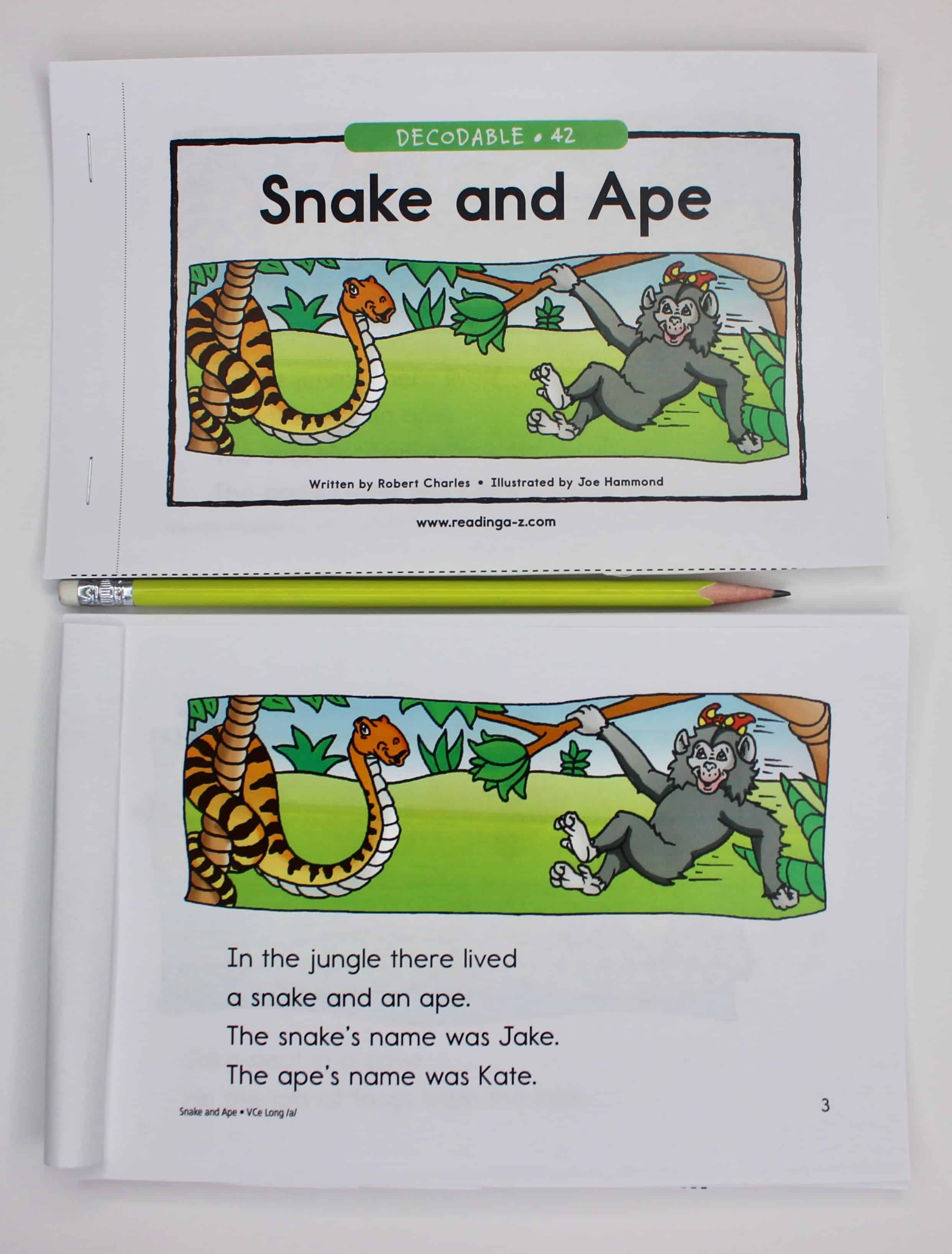 During students work time, they complete another page of their phonics interactive notebook.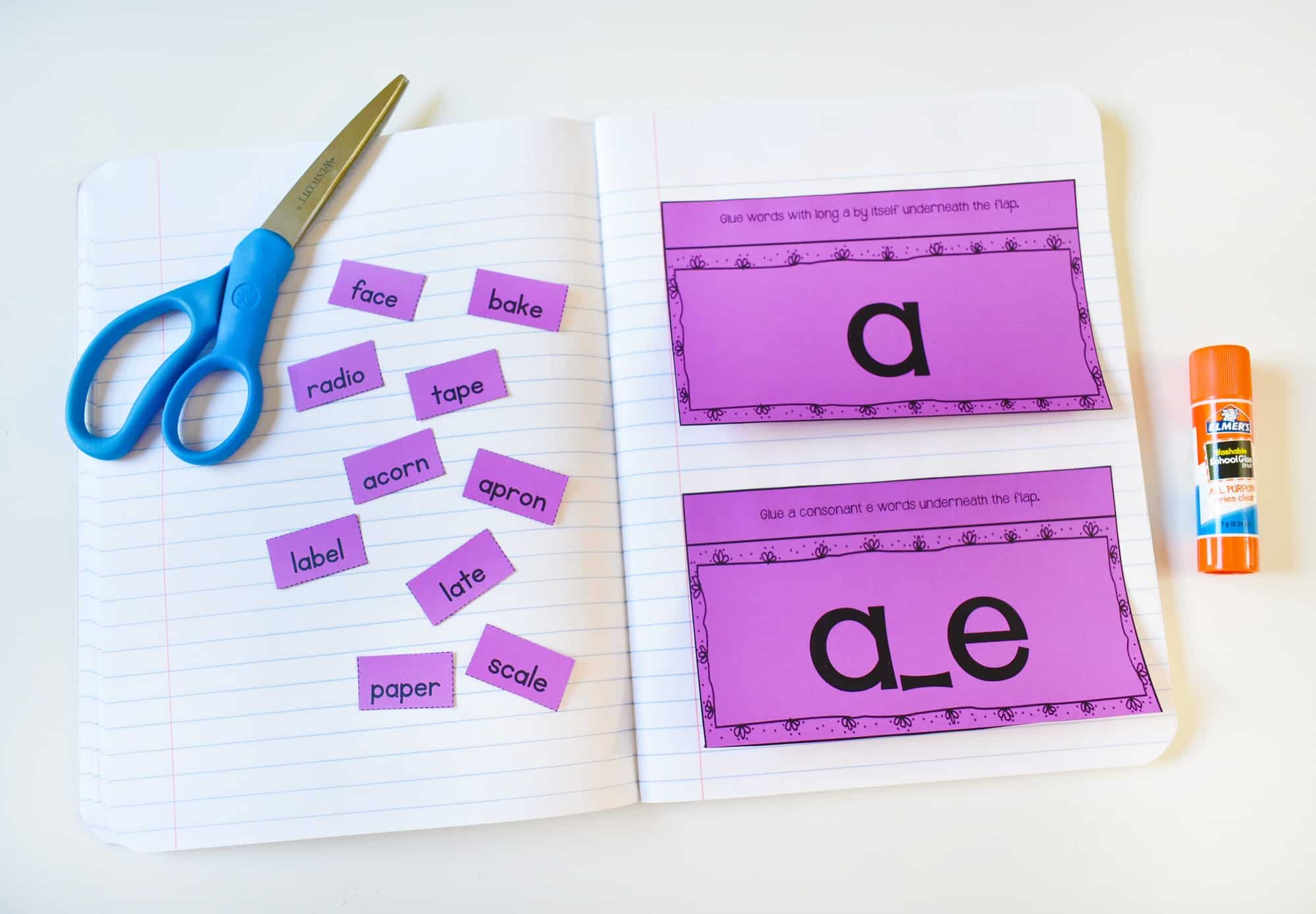 Wednesday
By Wednesday, we can quickly go through the sight word pyramid and then we reread the text. My students thoroughly enjoy partner reading the text and this repeated reading is great for building fluency. I use my extra time for word work on our white board, which is the same thing I do on Thursday. I LOVE having students build words on the white board. On the board, I have magnets for all consonants, vowels, vowel patterns, digraphs, and some consonant teams. I only use sounds that I have taught, and we work together to physically manipulate words to build different words. This is an excellent tactile lesson for students and is particularly useful for students with specific learning disabilities. You can make your own magnets, but to save on time I purchased mine here.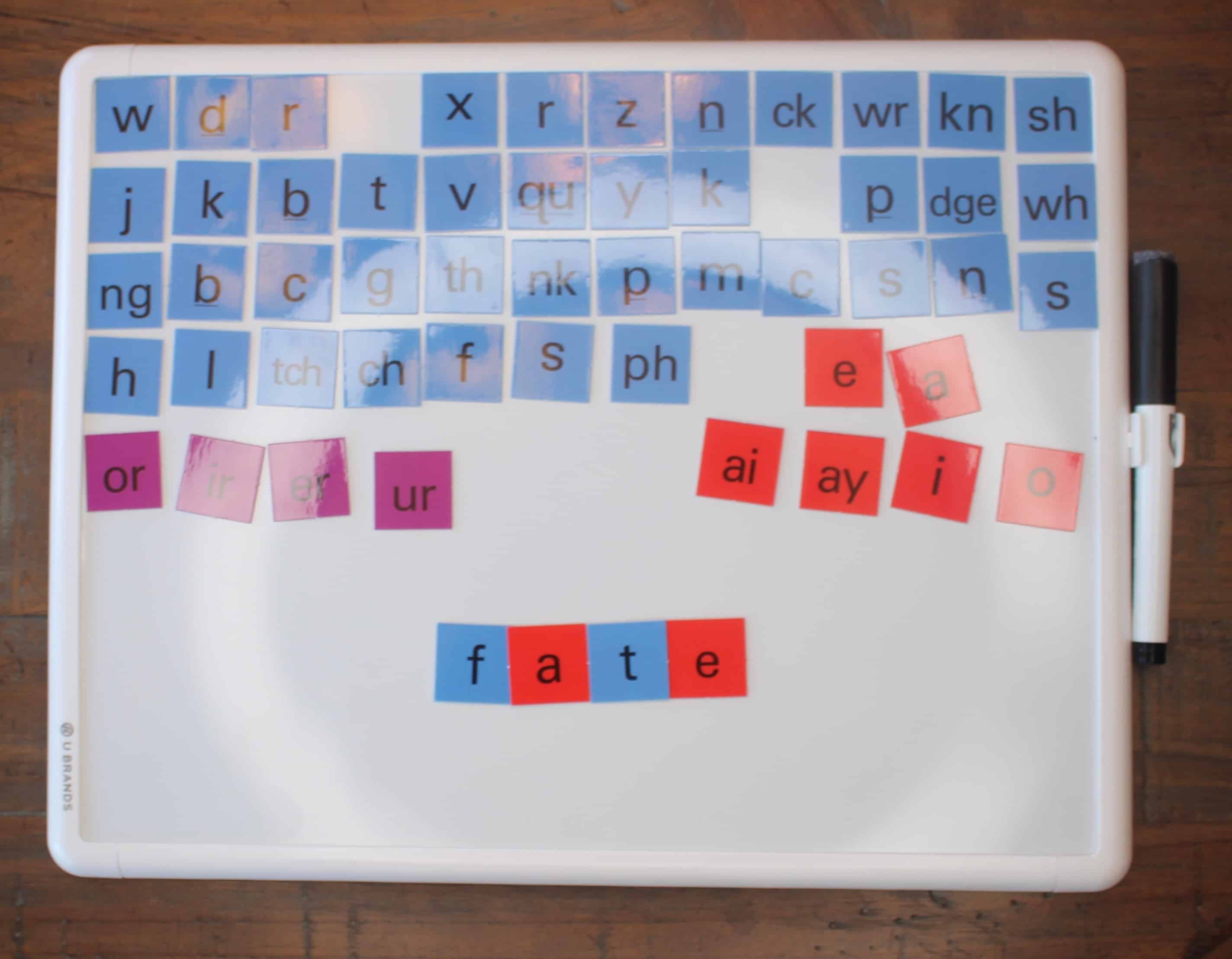 Then, students work again in their phonics notebook.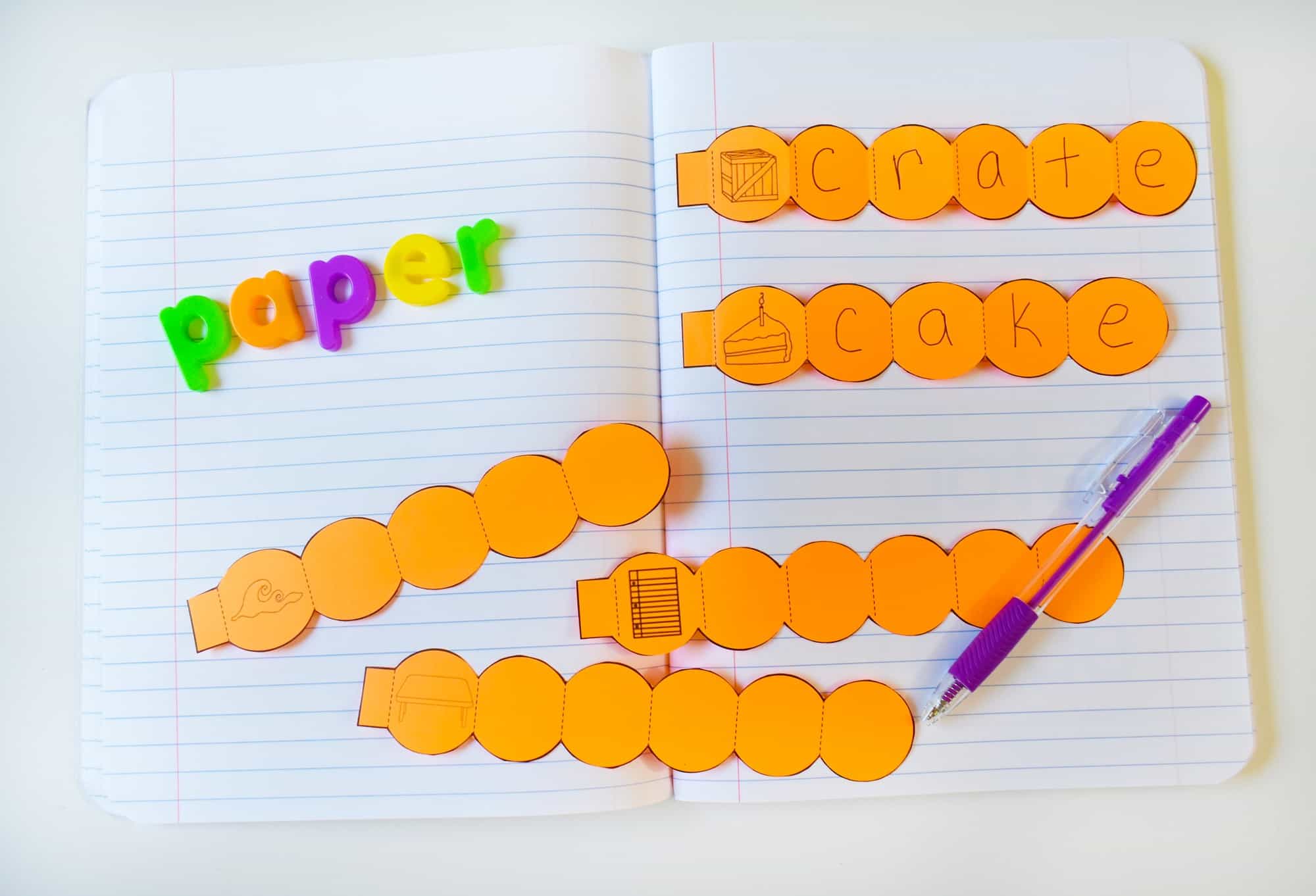 Thursday
On Thursday, I reteach as needed. If I feel like students are ready, they complete a more formal assessment. This is from my Spelling Patterns resource, and it's a great assessment and practice tool.
Friday
I use my students' progress as my guide on when to move on to a new skill or strategy. Some students may breeze through certain things quickly, while other students may need more than one week on the same skill. I use Fridays for data gathering and progress monitoring.
Fluency Practice
I do assign these students fluency practice for homework. However, I don't assign this group the same passages as my other students, because they're often not quite ready for the passages. Instead, I love the passages from Miss Giraffe that have a focus on the phonetic pattern that we study for the week. This gives students even more practice in context. I completely agree that it is important to expose students to grade level text. But I don't do that during these students' guided reading instruction.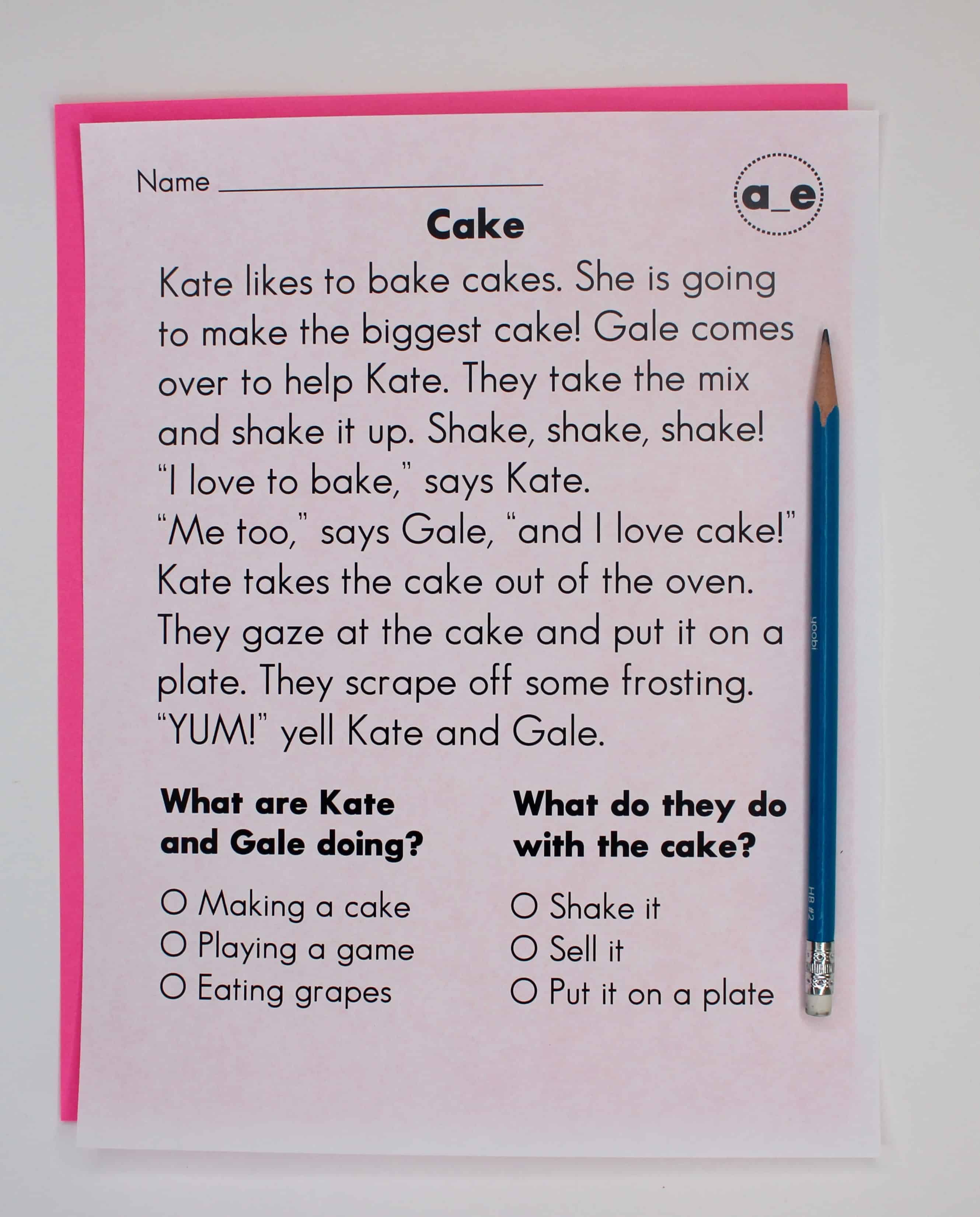 This is A LOT of things to keep organized! I have a 3-ring binder for all of my materials. I store all of the printables in pocket tabs, and I keep my sort cards in little sandwich bags. Finally, I store my lesson plans and notes in the binder.

Significantly Above Grade Level
Most of us will also teach students on the opposite end of the spectrum, and these students are reading and comprehending texts that are years above grade level. I have lost a considerable amount to sleep worrying about these students, because I don't meet with them as frequently as I would like. I felt guilty that I was neglecting my highest readers.
I've had to come to realize that while these students still need me, but they need me in a different way. These students don't need instruction in how to read. They don't need to work on raising their reading level or extra instruction or practice on a particular strategy or skill. Instead, it's my role to facilitate their love of reading and to challenge them to explore new authors and genres. I also want to help my students collaborate with their peers for authentic discussion and critique of quality literature. With these students I like to implement literature circles and/or self directed novel studies.
I choose five book options for my literature circles, and I let students choose their top 3 books and one book they absolutely do not want to read. I select the book choices based on my instinct on what my students will enjoy, and I try to include a large variety of books and genres. To help with selections, I look at each student's response to this questionnaire to assign each student a book for literature circles or a novel study. I prefer having groups of four, so I try to avoid particularly large groups.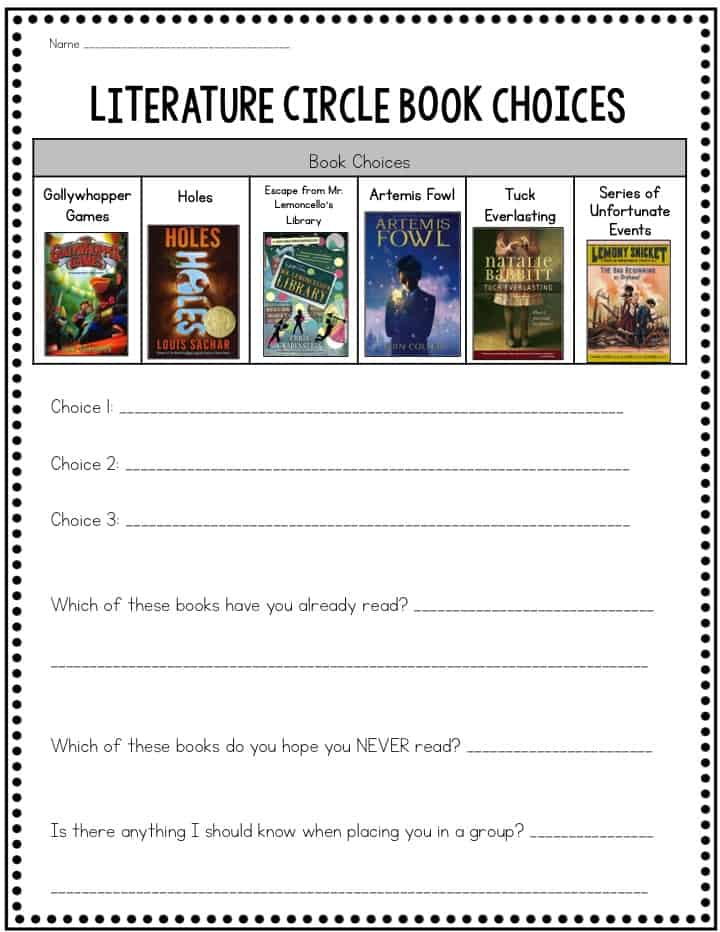 Each day, students' literature circle lesson compliments the whole group mini lesson. I like to keep students on track, so I make a booklet for each student who is completing a novel study. The booklet tells students which chapters to read and includes a graphic organizer or short task for each lesson.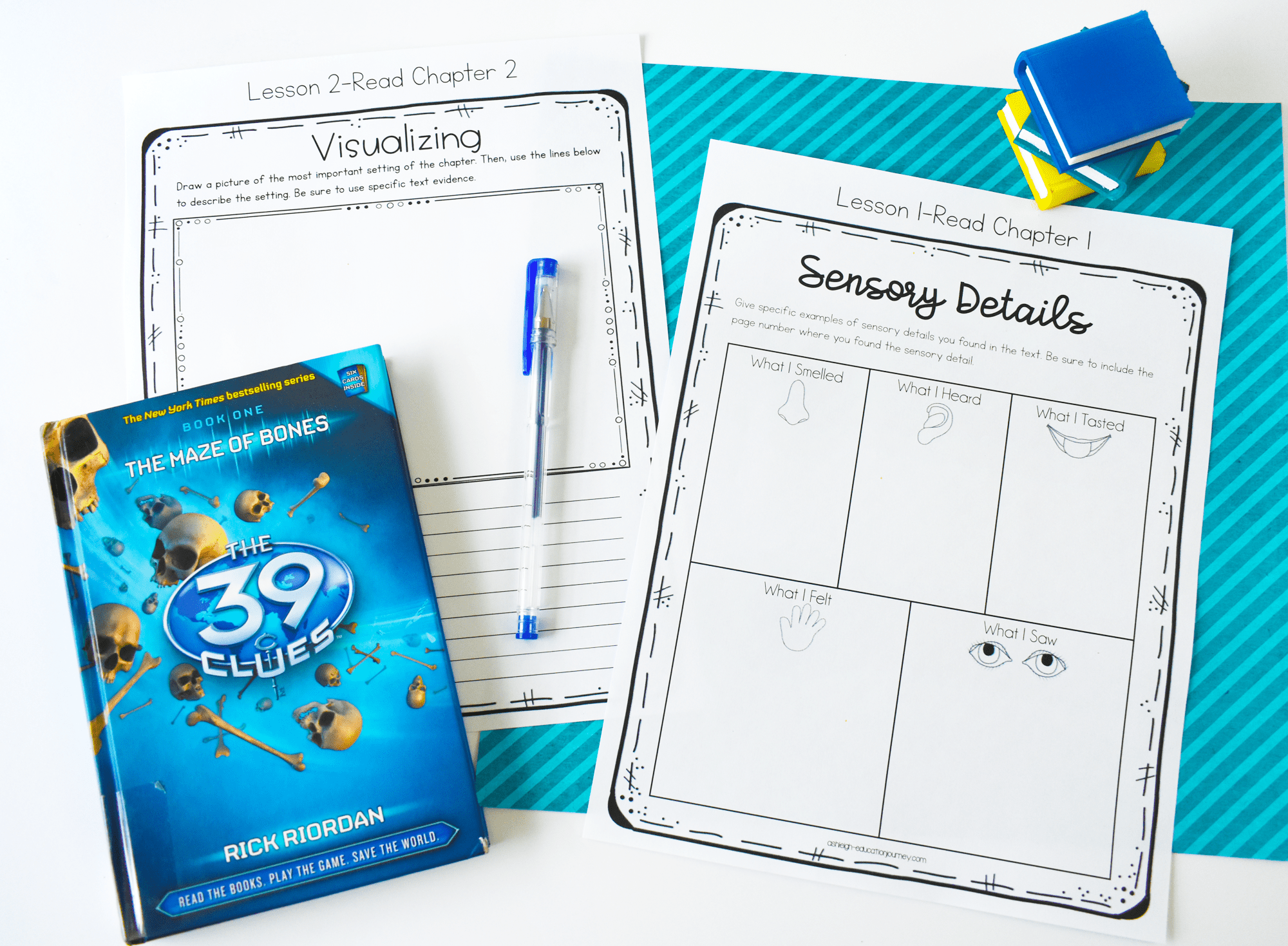 It's important to not allow literature studies to not replace students choice and ability to choose their own books for independent reading time. This should be a supplement, not a replacement. I've created five novel study booklets for each of my six reading units. You can see the first unit here.

Leveled Readers and Strategy Groups
Once I take care of my plans for students who significantly above and below grade level, I can focus on my students who are in the general grade level range-—some may be a bit above or below. This is when I work with students in guided reading groups AND strategy groups. As with any group, it's important to keep groups flexible and fluid.
In my guided reading groups, I try to teach in students' learning zone, so I use leveled books that are not familiar to students and books that are on students' instructional reading level. Every student in the guided reading group should read the same text. At my previous school, we had a HUGE leveled library, so I could access all kinds of sets of books for my guided reading groups. However, I no longer have access to a leveled library, so I print leveled readers from Reading A-Z. If I had a reading series, this is when I'd use my leveled readers. Since I use Reading A-Z, I try to keep it simple and print a complete lesson plan to go along with the text.
This has truly saved my sanity. I don't use every single part of the lesson, because I don't focus on grammar during my reading block. There are always before reading questions to build students' background understanding. Then, students preview the book by looking at the cover and illustrations. I then introduce difficult vocabulary and set the purpose for reading with either a reading strategy or skill to focus on. The lesson plan includes various stopping points in the text, so I have students read to a certain page, and then I model a strategy and we discuss different elements of the text. It usually takes me one 20 minute reading group to introduce a book and have students read the book the first time.
The second time the group meets, we revisit the comprehension skill and students partner read the text to build fluency. On the third day we meet, I love using the discussion cards for deeper conversations about the text. In those conversations, I require students to support their thoughts with text evidence.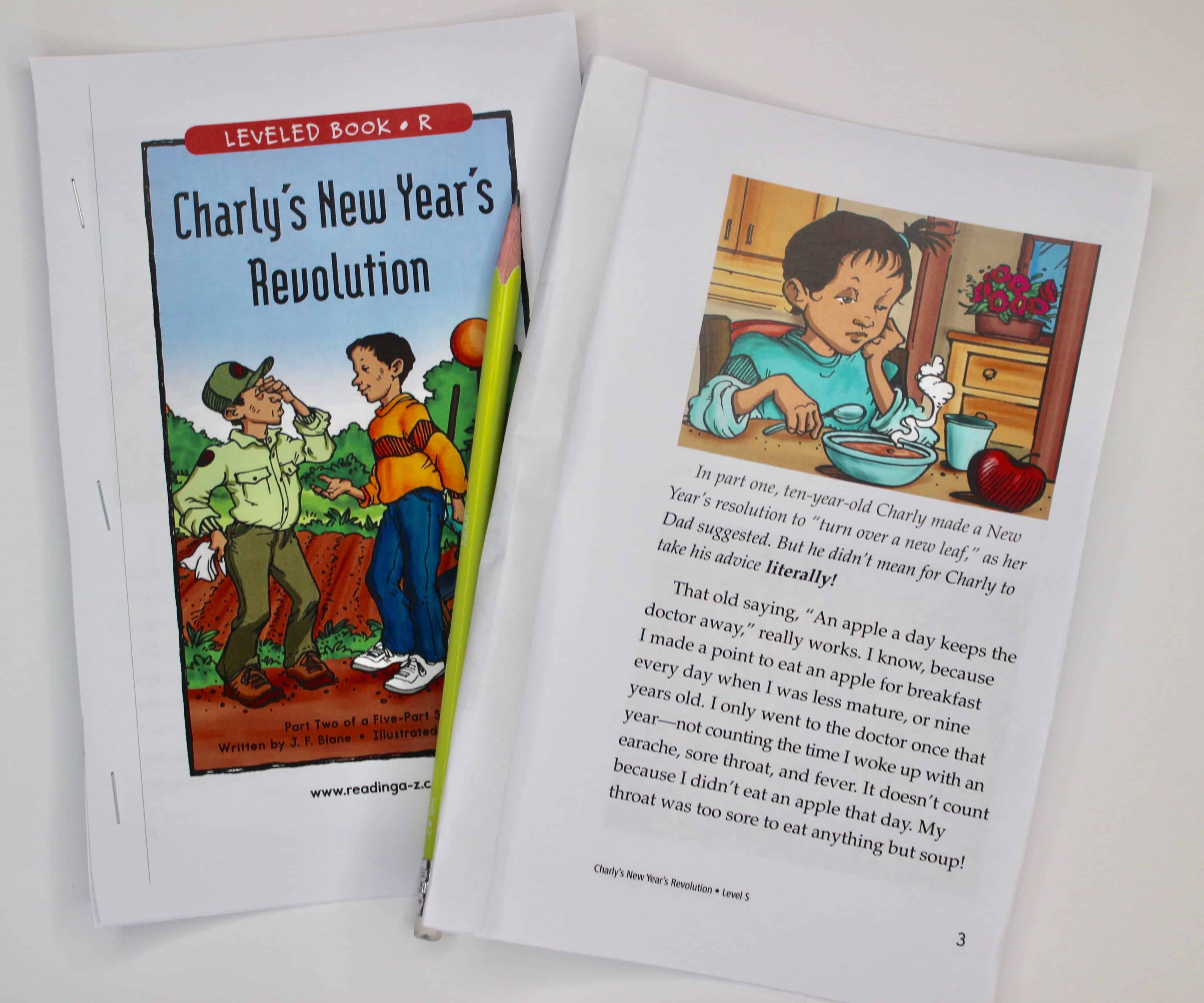 It is definitely possible to complete novel studies during guided reading groups. However, it's important to be intentional about the books you select for each group, and the type of novel study you complete with students. I like to have students who are transitioning from a more traditional guided reading group to literature circles complete at least one novel study with me. This is a great way to bridge the two styles of reading groups. I typically don't do novel students with my reading groups that are still a bit below grade level, because I feel that they benefit more from a traditional guided reading group.
When I complete a novel study, I select a novel study that aligns with what I am teaching in my reading mini lessons, because I want to do a little more than questions at the end of the chapter. I want to focus on comprehension strategies and reading for meaning. I'm ever so slowly creating novel studies that align with my reading units. I ran into trouble with nonfiction texts, so I alternate between a novel study and nonfiction in my reading groups. When I use novel studies, I'm careful to select a novel that all students in the group can read successfully. I don't get super caught up in levels, but I know that my students will not greatly benefit from reading a text that they cannot access or comprehend. I like to have students independently reading the days assigned reading, so that while students are in their reading group, we can focus on comprehension strategies.
The novel studies that I have created can be used with either whole group or reading groups. I've had teachers use them both ways!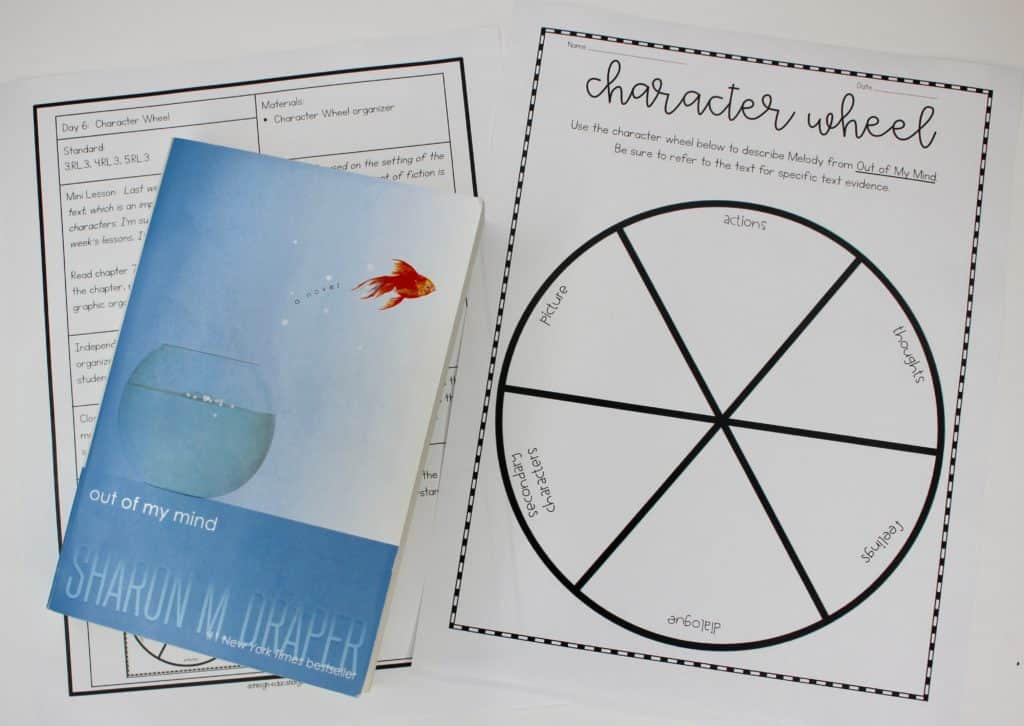 My strategy groups are small groups focused on practicing one comprehension skill. These are short-term groups based on student need with a particular reading skill. Unlike traditional guided reading groups, students may use a different text or they may use the same text. While I love strategy groups, I often had difficulty determining who should be in my strategy groups. I knew who my struggling readers were, but I needed a concrete way to determine which students needed additional instruction in which skill. After years of experimenting with different methods, I finally found something that I love! I've created a Daily Reading Practice worksheet that I use as a reading exit slip. Each day at the end of my reading block, I give students a one page reading worksheet. The worksheet includes a brief reading passage, two multiple choice questions, and two short answer questions. It is a very brief assessment, because I want my students to be able to complete it quickly.
At the end of our reading workshop time, or any part of the reading lesson, I give my students this check-up. I can grade them in just a couple minutes. Then, I use that information to determine who will work with me in a strategy group on that skill. I do not use these for grades as much as I do a formative assessment, because it's a tool to monitor my students' comprehension growth. When I work with a strategy group, I may use a printable from my reading workshop mini lesson. When I designed the printables, I created them so they could be used with any text. This allows me to transfer the content from my mini lesson to a small group. This also means that not every student will complete every printable, which is perfectly fine.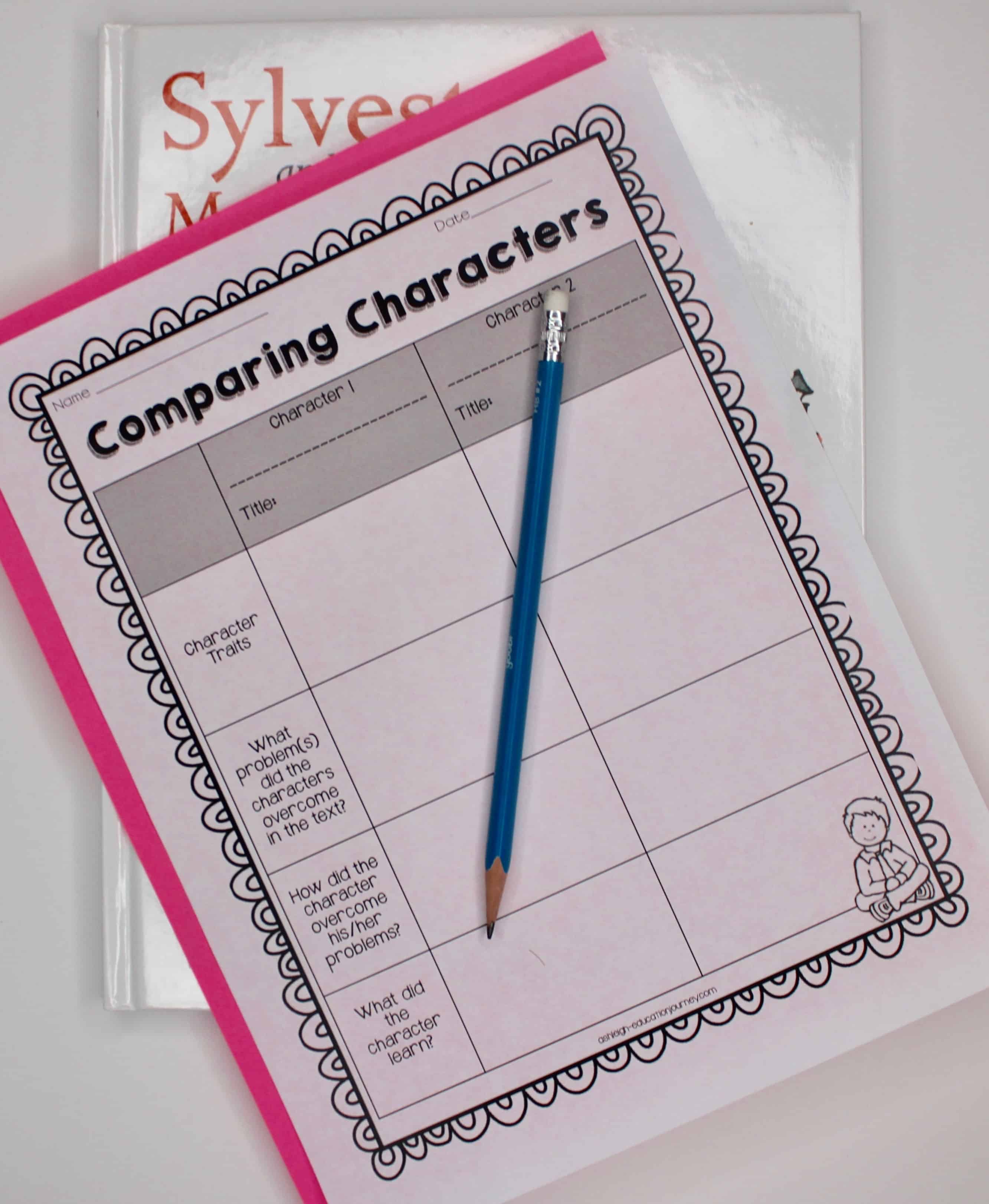 I'm I've left plenty of questions unanswered. You can click on either blog post below for more information on guided reading and reading workshop.