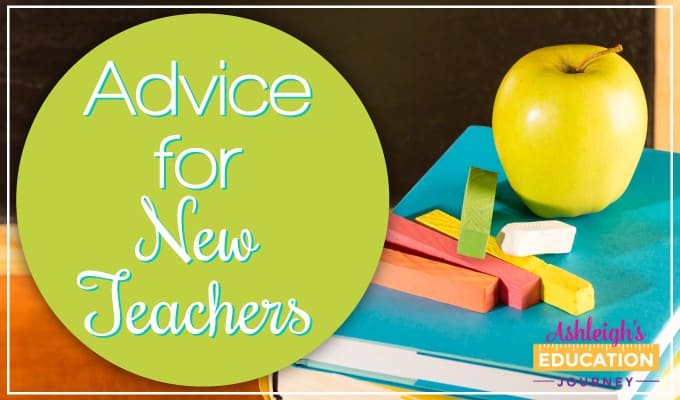 I believe that teaching has to be one of the most rewarding yet challenging professions, but I couldn't imagine doing anything else. Here is my best advice for new teachers (and experienced) teachers.
Advice For New Teachers-Organization
Don't get too caught up in decorating and making everything look perfect.  Yes, it's certainly important and fun, but I believe really diving into the curriculum and planning for awesome instruction is just as important.
Less is more. Your time is better spent purging than decorating. Many teacher who move into a new classroom inherit a lot of….things. Don't try to keep it all. Spend time organizing to have a clutter free classroom.
Don't wait until the year gets started to think about your overall plans. There are few things as exhausting as the start of the school year, and planning ahead will alleviate some of that stress. You can read about how I plan for the new school year here.
Management
Procedures, procedures, procedures!  I can't emphasize it enough. Never assume students will know how to do anything. We spend days going over every little aspect of how I want our day to run, and it pays off during the year. I always feel silly teaching things like 'how to use our pencil sharpener' or 'how to sit on the rug', but it is so worth it.
When it comes to behavior, consistency is key. Students should know exactly what is expected of them. If you tell your students you're going to do something-do it.
Be flexible and ready for anything. When you work with children (and unpredictable administration), you can almost guarantee that things will not go exactly as planned.  Be ready to roll with the punches:  fire alarms, surprise assemblies, sick children, picture day, an insect found in your classroom, parents who show up unexpectedly, etc.  I once had a parent surprise me by bringing a goat to my classroom during the middle of the day.
It's also important to be flexible with your students. While I just said that consistency is key, you do have to keep in mind that students are dealing with their own issues. I try to develop relationships with my students so I can know them and to be someone they can talk to as needed.
Advice For New Teachers-Attitude
One of the most important pieces of advice for new teachers is to surround yourself with positive coworkers.  There are almost always pockets of negativity in schools and stay far, far away.  It will suck you in and drown your enthusiasm and enjoyment of your job faster than you would ever imagine.
Don't be too hard on yourself.  It's so easy for me to get down and feel like I've failed my students when I have students not meet DIBELS benchmarks, DRA benchmarks, RTI goals, and our big state test, and on and on.  It's so important to remember to look at your students' growth and think about the progress they made during the year.
Don't lose sight of the big picture.  It's easy to get caught up in the details and forget that you have the most incredible job.  Of course I want my students to be successful academically, but it is even more important for me to know that I've made my students feel loved, respected, and appreciated.
Go home!  I truly believe I could get to school an hour early every day, stay until 6, take work home every night, work on the weekends and still never feel caught up.  A teacher's work is never done!  Two years ago I gave myself a new rule-I could only stay late one day a week.  Every other day I made myself leave at a reasonable hour and only take important things home with me.  I had tendency to become a school hermit, but I feel that I'm a better teacher when I give myself a break each day and enjoy spending time with my family.