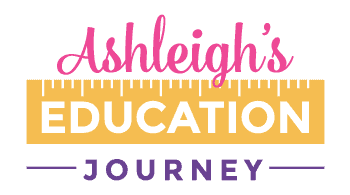 Hello and welcome to my blog! My name is Ashleigh Swinford. Education is certainly a journey.
Eight years ago today, I began my own journey as an educator. In those years, I have seen and experienced more changes in education than I ever imagined. Each year I feel like a brand-new teacher-full of enthusiasm and new ideas, yet apprehensive about what new trends and students might be heading my way.
I am thankful to teach in a school that encourages authentic learning and engaging and meaningful instruction. I am excited to share some of my experiences of my own journey as a 3rd grade teacher.
If this is your first time here, I hope you enjoy browsing the hundreds of posts you'll find on Ashleigh's Education Journey. All of my blog posts are categorized into topics such as:
I'd also recommend you browse my Teachers Pay Teachers shop, as I have hundreds of resources available for my fellow teachers. You'll find many creative ways I use these resources in my own teaching across the site, so dig in! I also have a Free Resources Library available to anyone who signs up for my newsletter.
Learn more about me on the About page.