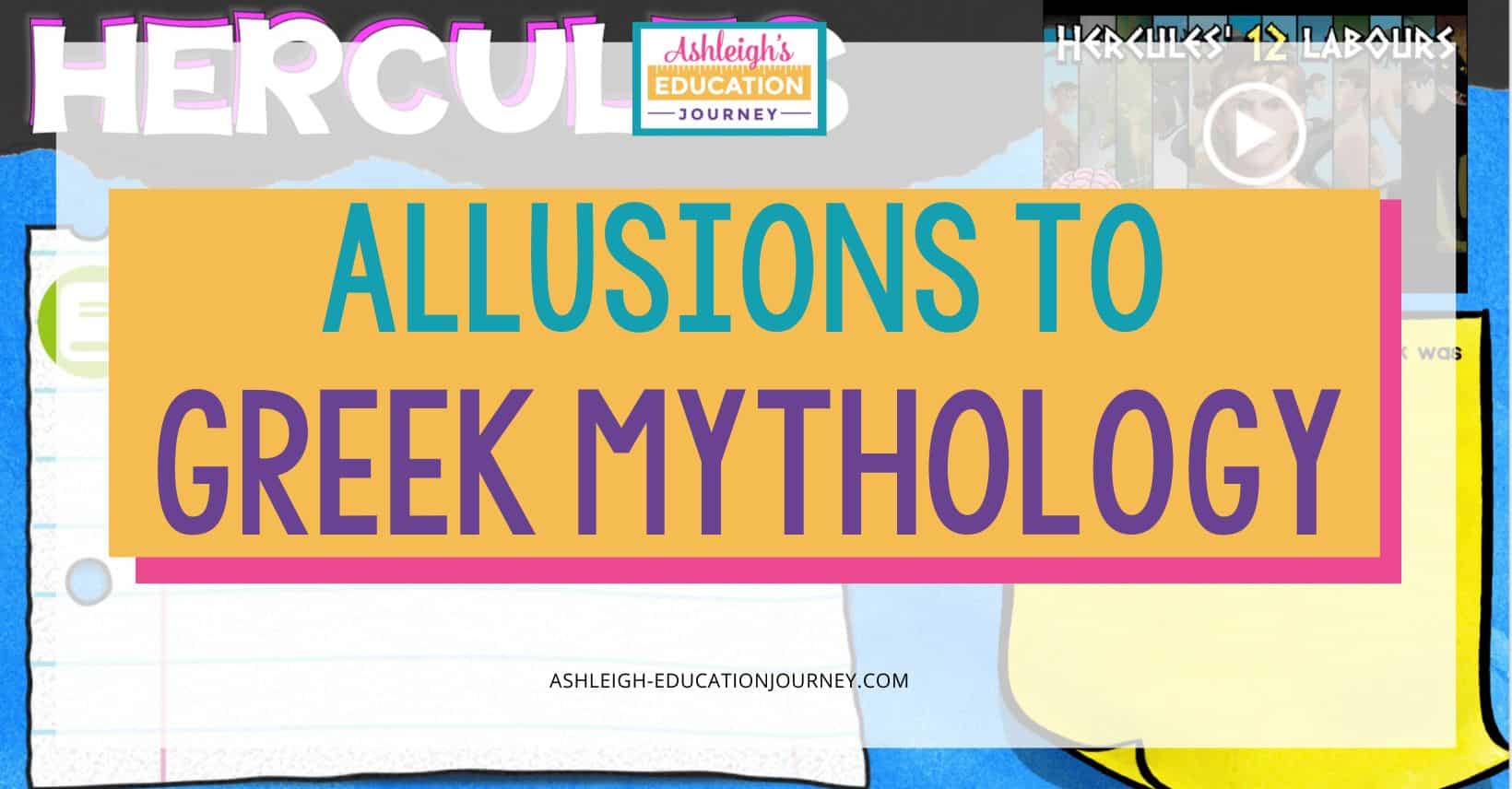 Students almost always love learning about allusions to Greek Mythology. To capitalize on that interest I created a new Allusions to Greek Mythology resource that is so much fun AND no prep. For your convenience, I included a PDF version of the slides and reading passages. However, this resource is intended to be used digitally. All the videos, songs, and passages have already been added and linked for you. You can assign one slide a day, multiple sides a day, or the entire resource at one time. It is completely flexible and designed to go with whatever works best for you!
On each page there is a brief, student-friendly video with information about the god or goddess. The video is embedded into the file, so students will simply click the arrow to play the video. It will not redirect students to a new page.
On each page there is a passage with information about the god or goddess, as well as popular allusions. The passage is hosted in Google Drive, so students will click the book icon to access the passage. You can see an example of the Hercules passage below.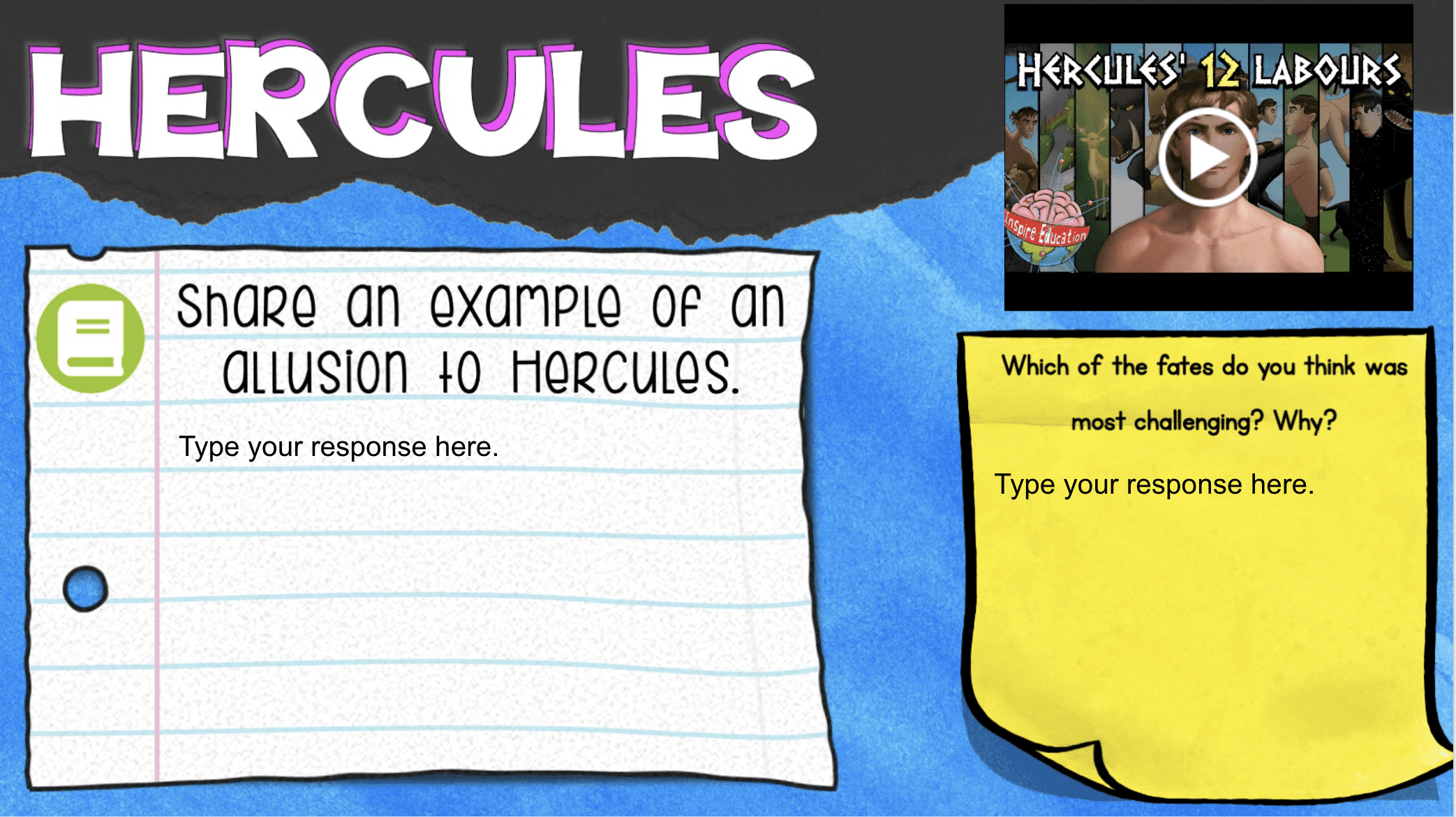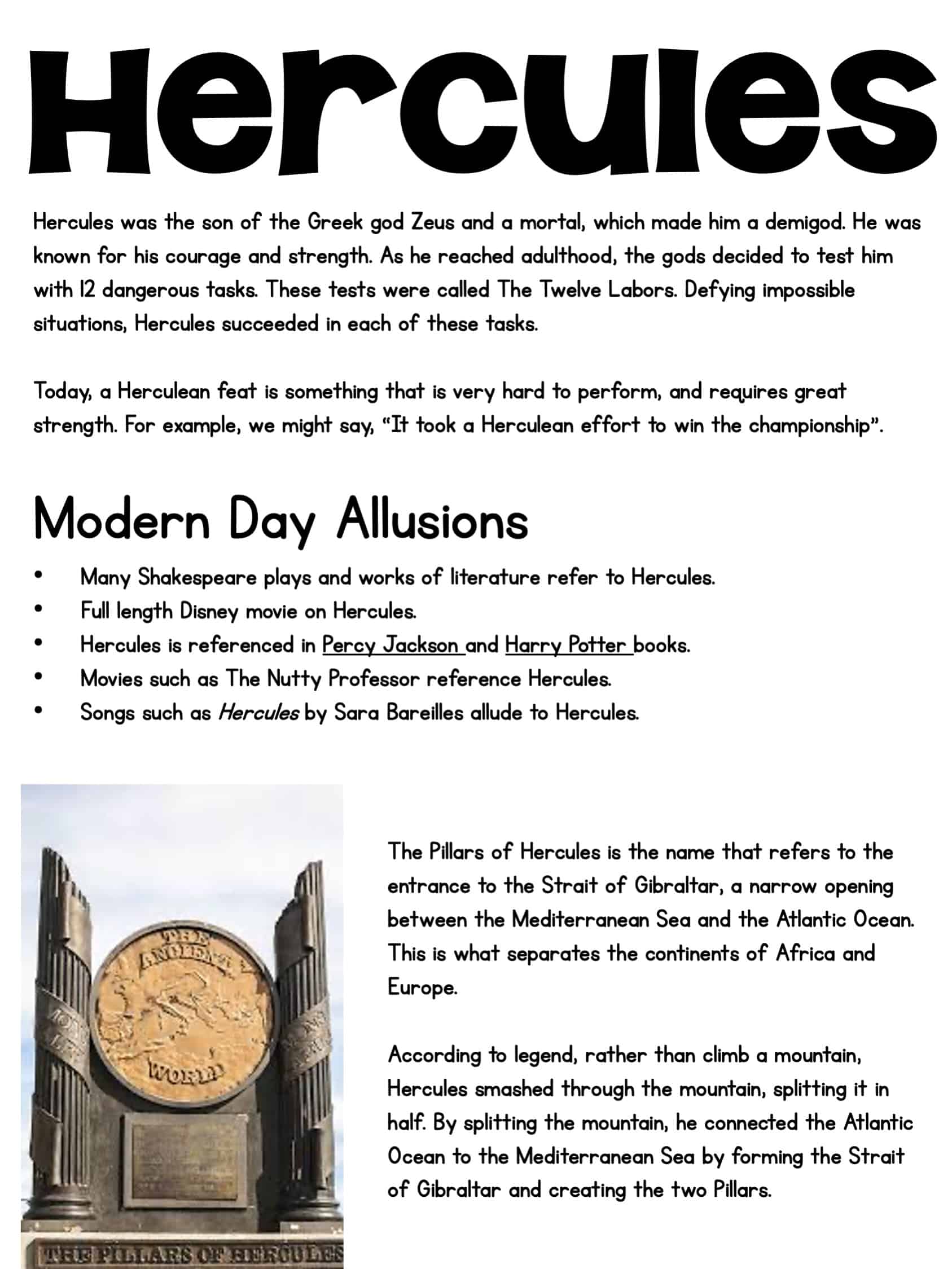 On four of the pages, there is also a book on EPIC linked for students to access. To read the book, students may click anywhere in the green rectangle. Of course, this portion of the assignment is completely optional. You can delete the link if you want to skip the EPIC books.
Formatted textboxes are included for students to write in as needed. There is also a variety of questions to keep students thinking critically. I didn't want students to begin going through the motions. Instead, I want them to think about their responses.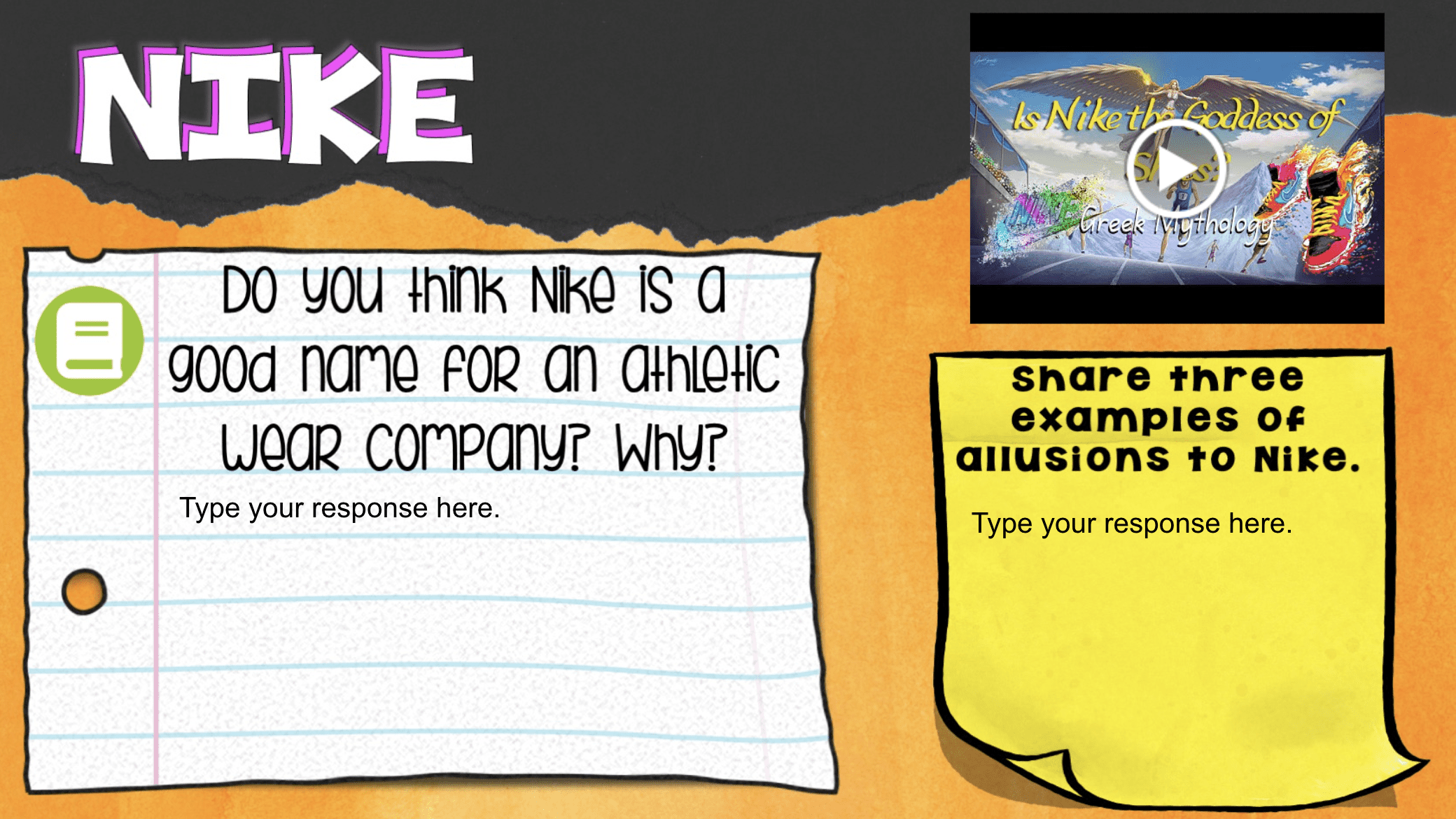 When possible, students can hear clips of songs that reference the different gods and goddesses. The songs are indicated with the music icon. I found a lot of music that I didn't include. Even when only sharing clips of songs, I don't want to share explicit songs.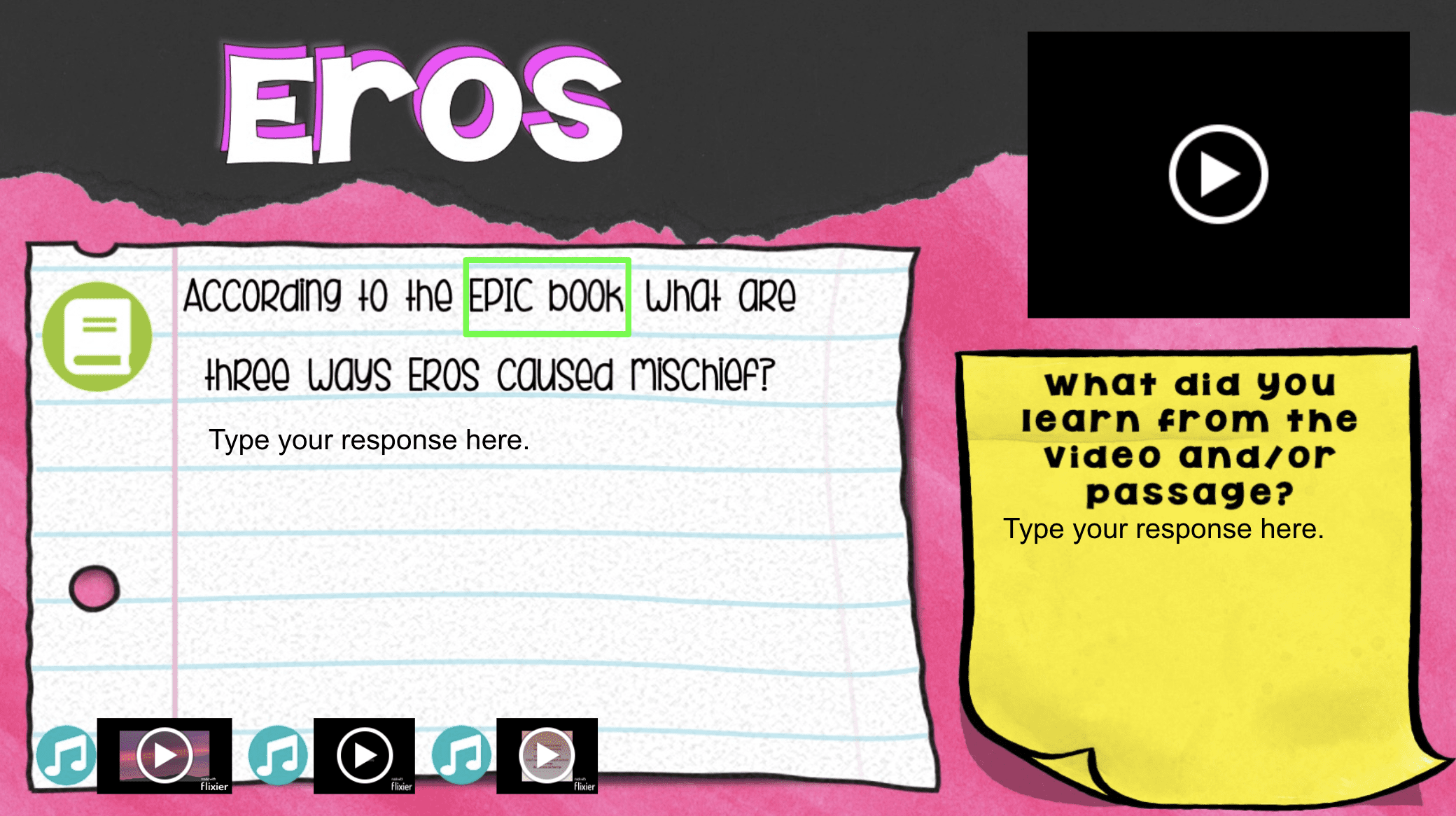 I plan to break these slides up into a one week reading unit. The gods referenced are: Titans, Hercules, Nike, Midas, Pandora, Aphrodite, Hermes, Eros, Medusa, Achilles, and Atlas. There is a bonus slide for Ajax and Apollo. If you'd like to have a copy of the resource, here's the link!