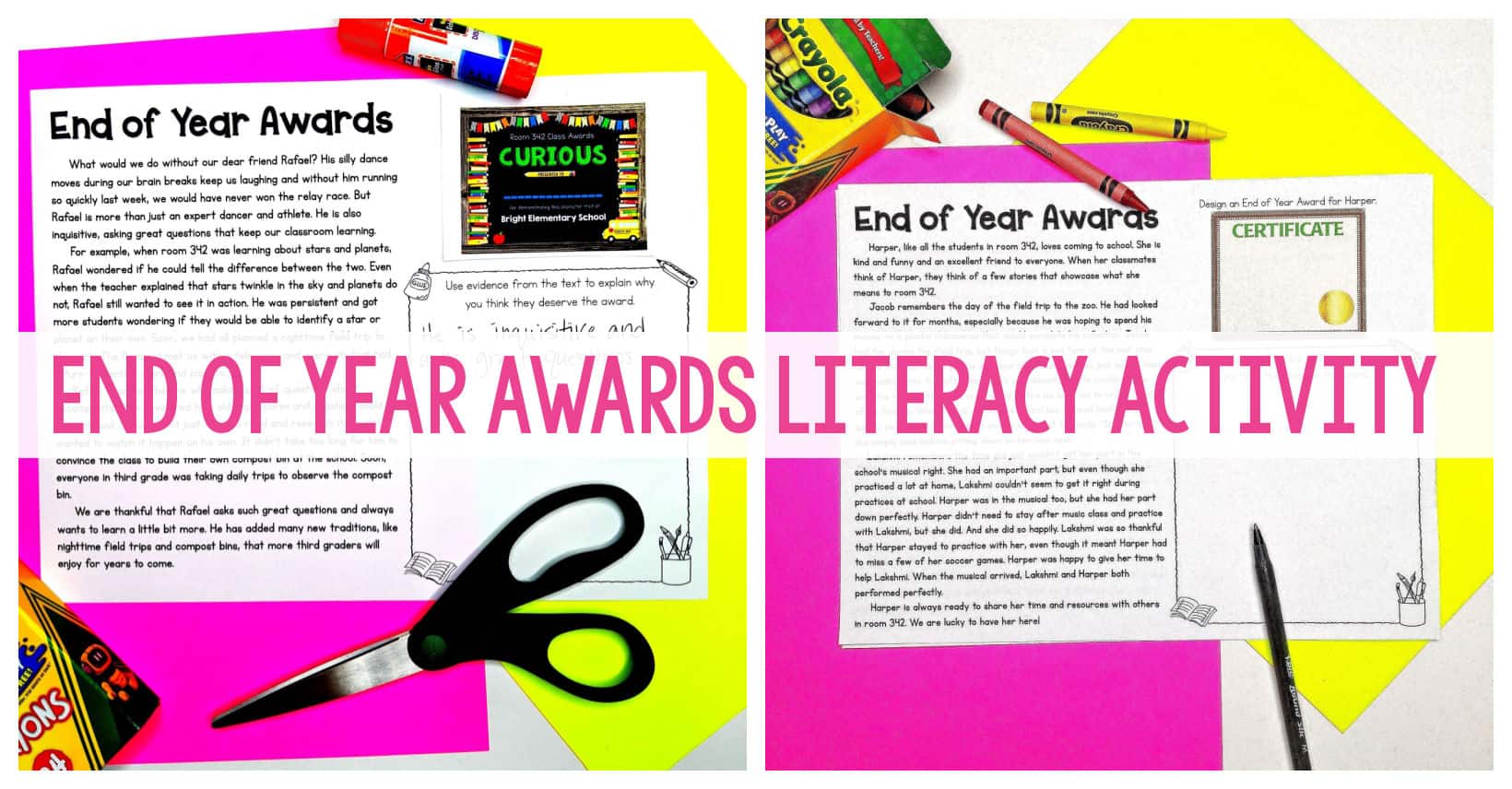 It's hard to believe it's already time to begin thinking about end of the year activities. In early spring of 2020, I made several new resources for the end of the year and then……COVID, quarantine, digital learning, etc. All the new resources were unused and forgotten. This year getting to finish the school year in-person feels like a treat, and I think you'll love some of the new end of year activities! To keep it short, I'll break the activities into separate posts, and in this I'll focus on the End of Year Awards Literacy Activity.
This end of year activity is a great way for students to practice making inferences and supporting their thoughts with evidence from the text. Students must give an end of the year award to ten different students. To determine which award each child gets, students must use the text evidence from each of the reading passages.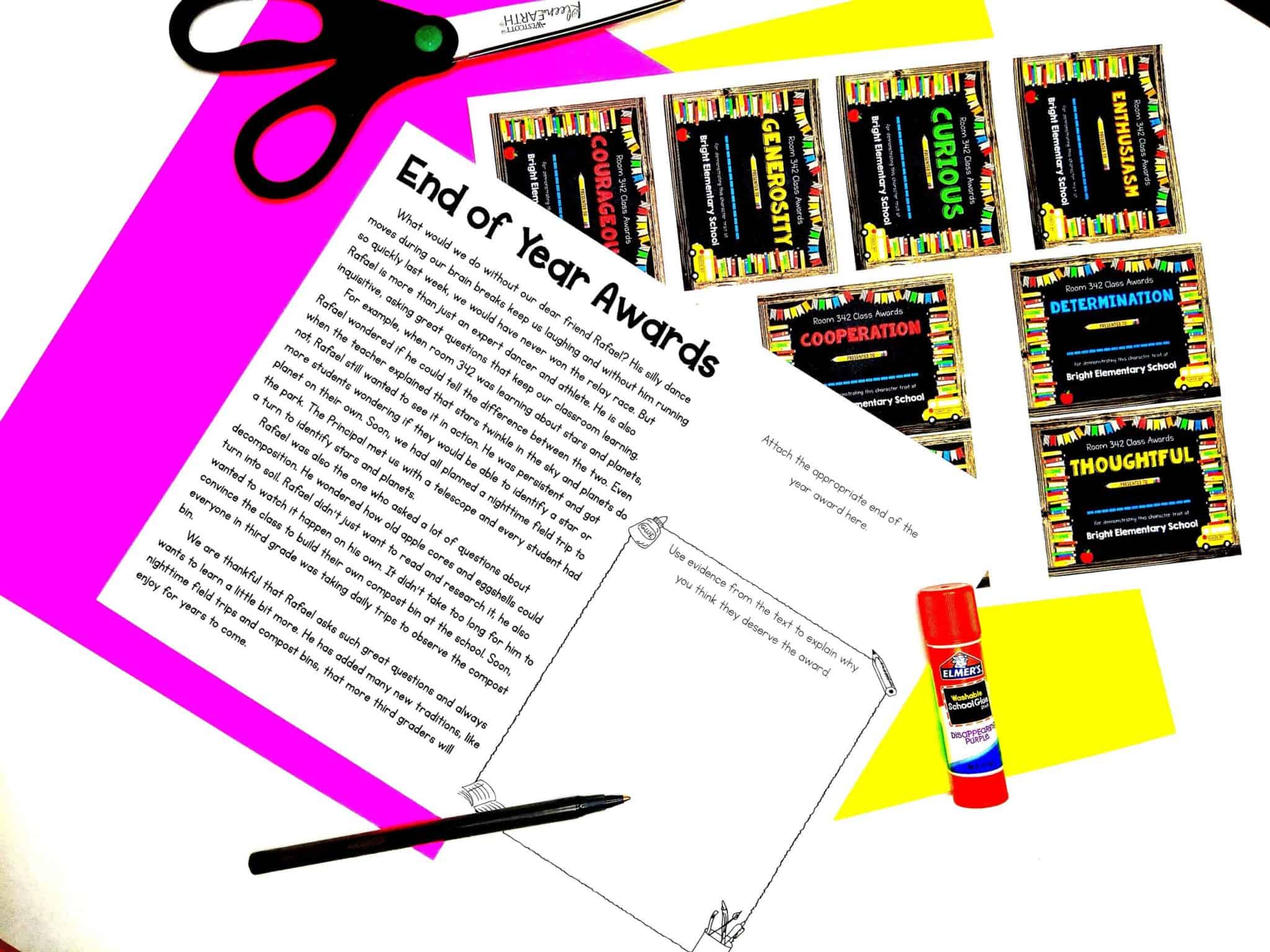 End of  Year Awards – Option 1
There are two versions to this resource. On one version students cut-out and glue the certificates on the indicated space. The small certificates are adorable, but if you want to save ink, just print the certificate on colored paper and select the grayscale print option.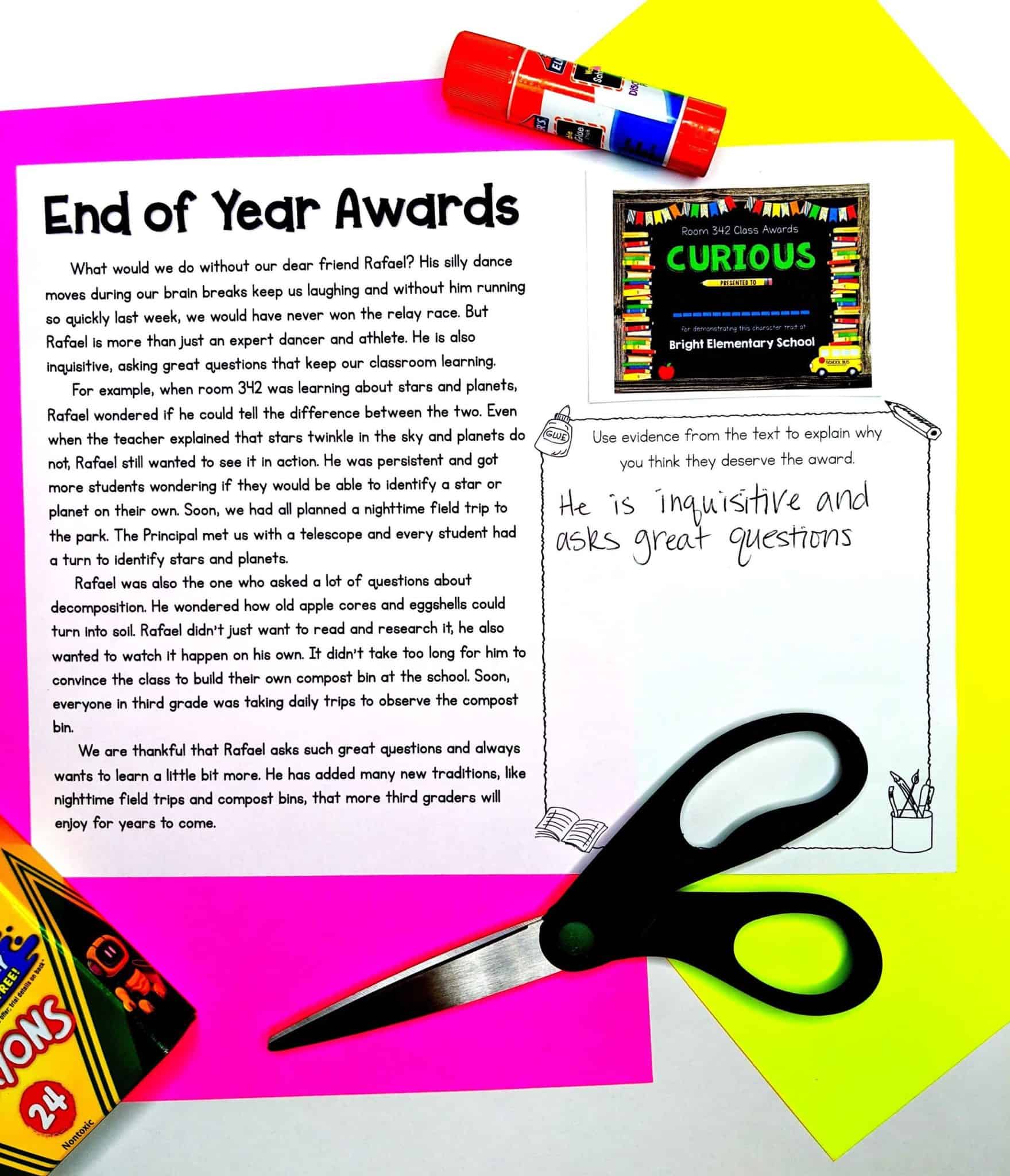 Option 2
In the second option students design their own end of the year award for each student. This makes the activity a bit more challenging since students aren't choosing from a set of given awards. You may want to brainstorm possible awards before having students determine the awards used. Plus, you may also want to discuss awards you don't want to see. Students who are in a hurry to finish choose the easiest and fastest option, without putting any real thought into the task.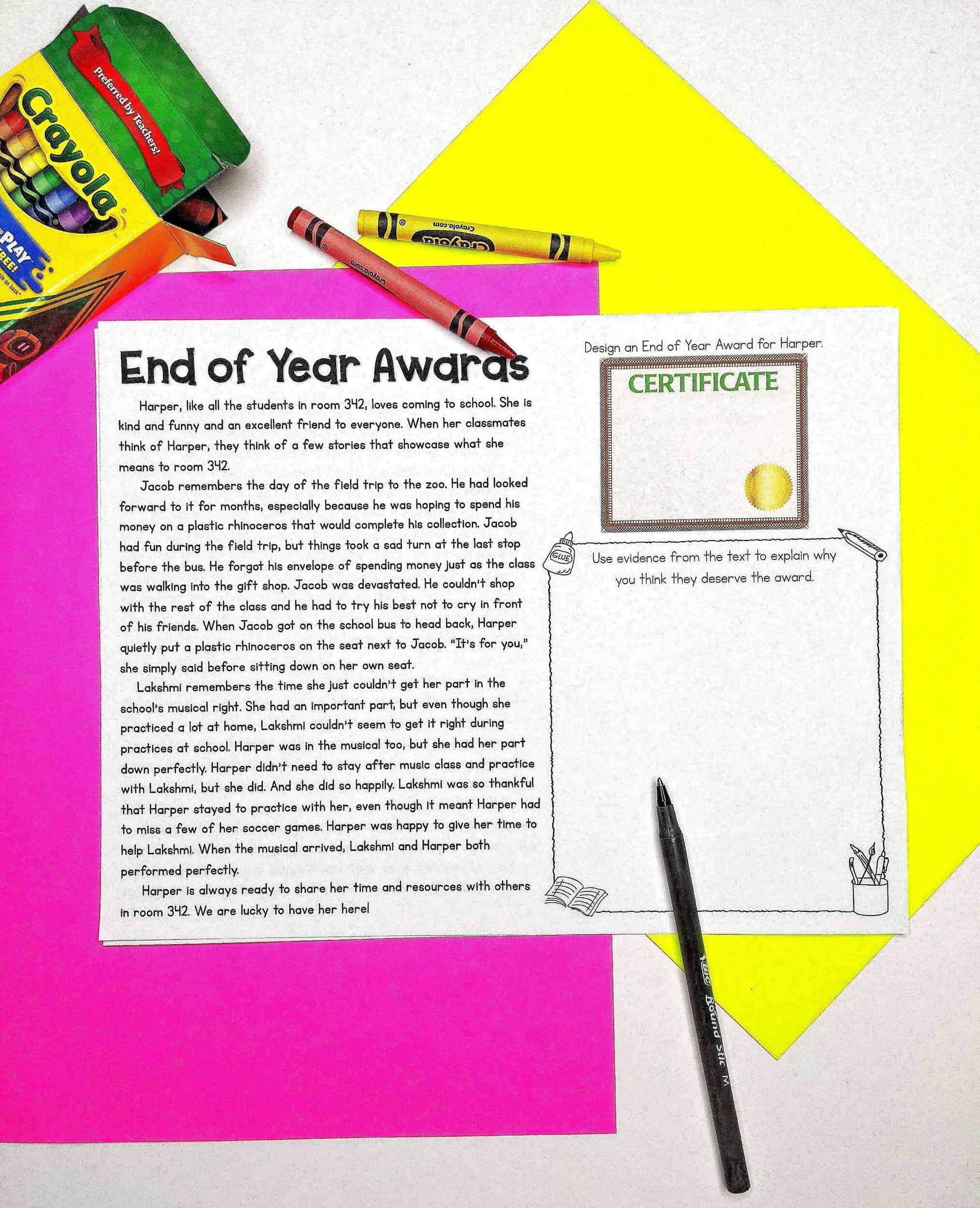 In either version, students must use text evidence to justify the award give to each student. You can set the expectation for how much students must write for each of the awards. As an extension, you can assign awards and have students write the passages for the award.
There is a digital version of this end of year awards activity. Students drag and drop the certificate to the correct location and type their response. The link to the digital version is in the PDF, which you can find here.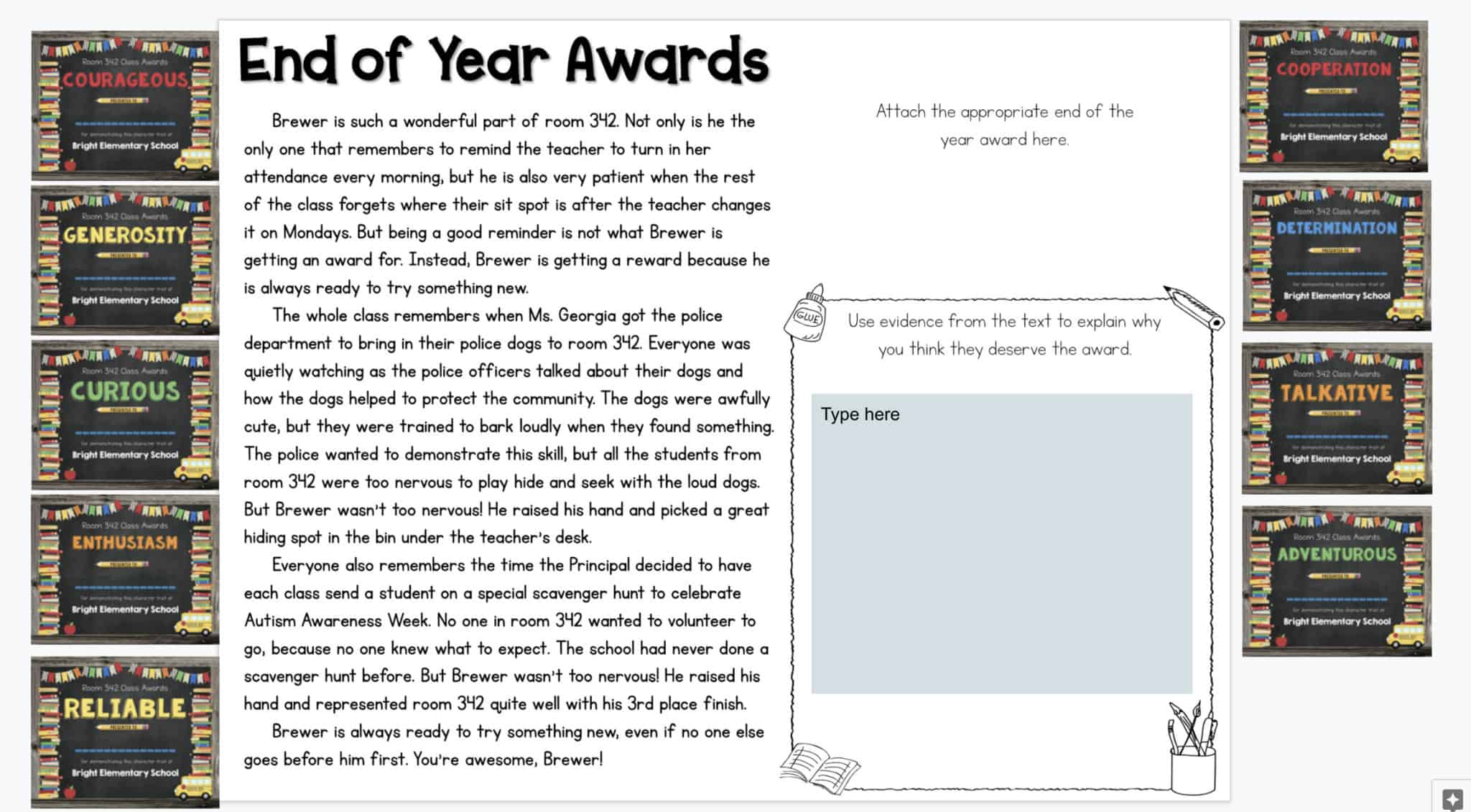 This is such a fun addition to any end of year lesson plans! I hope you enjoy! Be sure to check out this post for a huge collection of end of year activities!