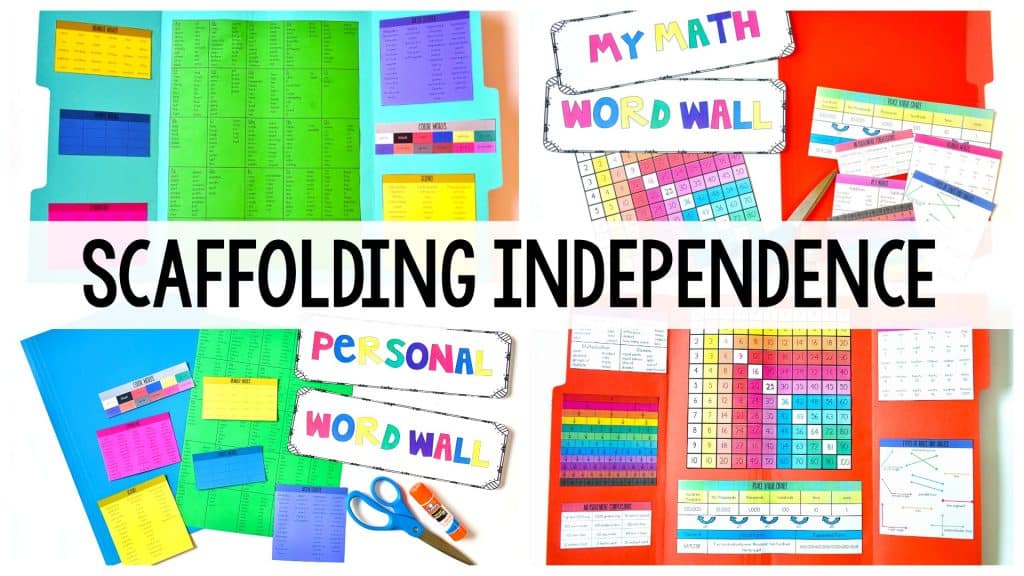 As an upper elementary teacher, student independence is extremely important to me. When my students are "stuck" or struggle, I don't want to be the first option for my students. Instead, I try to give my students strategies and tools to problem solve and foster essential independence. This has nothing to do with me not wanting to help my students; that is actually my first instinct and tendency. However, I've learned that stepping in and rescuing my students too quickly is a disadvantage for them. It takes away learning opportunities and the personal satisfaction of overcoming adversity. This newfound independence also helps improve students' self-esteem and gently prepares students to handle stress and failure.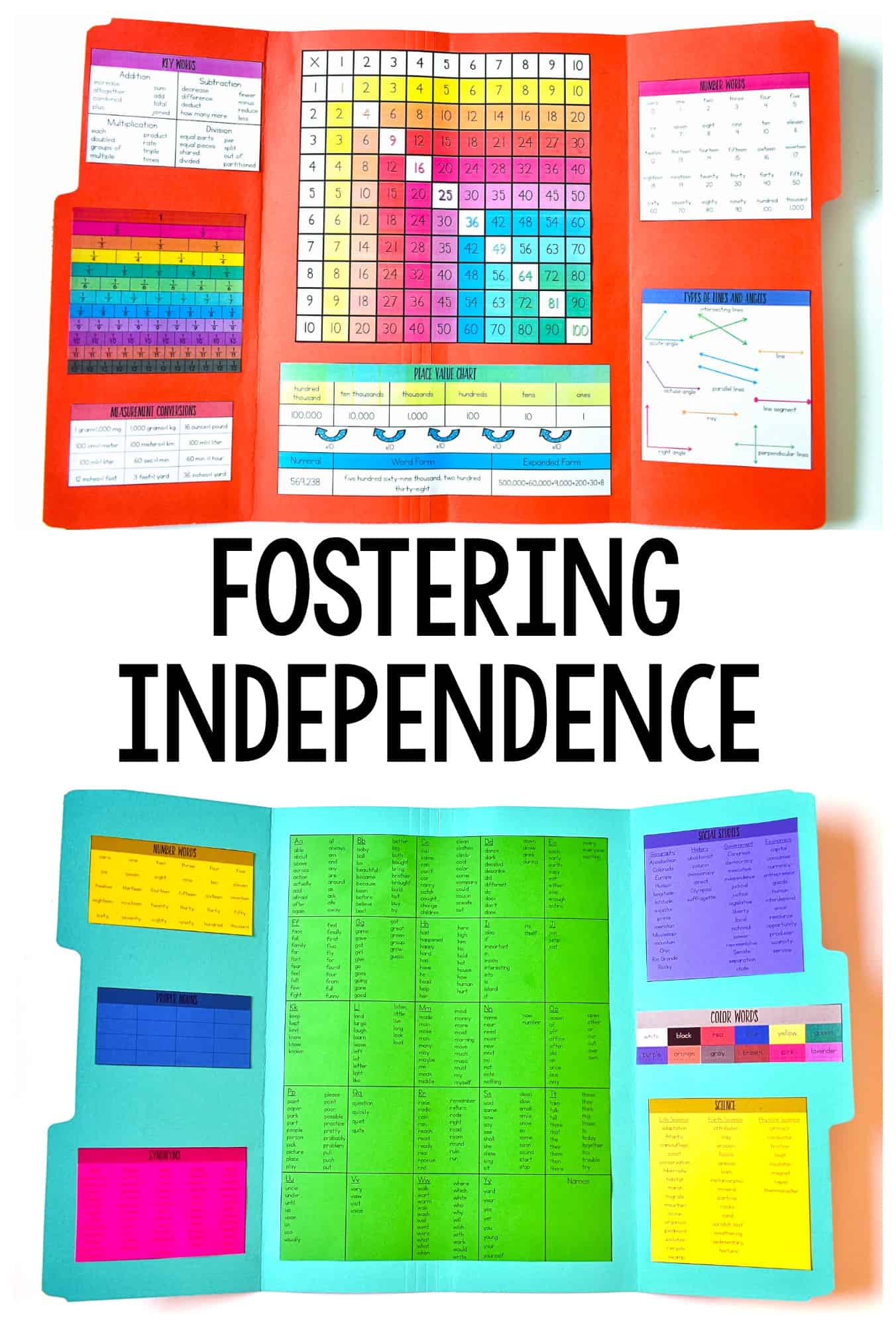 Fostering Student Independence
Student independence comes naturally for some, but I have others who need extra support and instruction.  I can't just stand in front of my classroom and announce that starting today everyone will become independent learners. That would be a recipe for disaster for all involved. Instead, I have to teach students how to become independent. You can read about some of my strategy lessons here. Each lesson allows students to develop a growth mindset where they learn that failure is part of the learning process.
I've also found that it's essential for me to provide students with scaffolding resources that will support students in areas of weakness or need. I find that eventually students will quit using these resources on their own time when they feel confident in themselves. I don't view these resources as a "crutch", because students are using tools to assist in learning, not to replace learning.
Personal Word Wall
I always have a few students who need a little extra support with spelling, so I've created a personal word wall for these students. The word wall contains high frequency words (mostly Dolch sight words), number words, color words, synonyms, proper nouns, social studies words, and science words.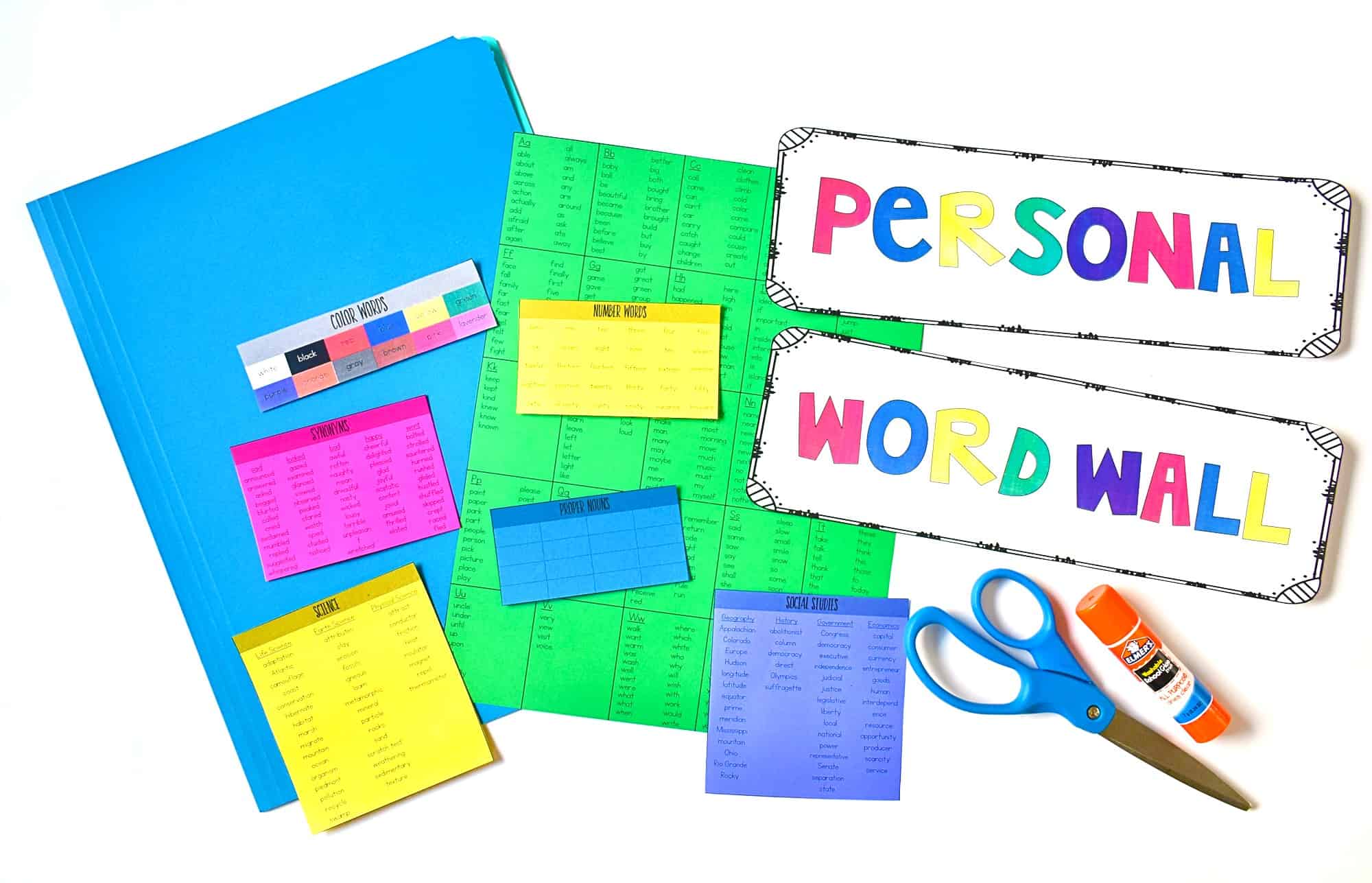 To make the folder, I opened a file folder and folded the edge of the folder in to the center and created a crease.  I glued Personal Word Wall to the outside flaps.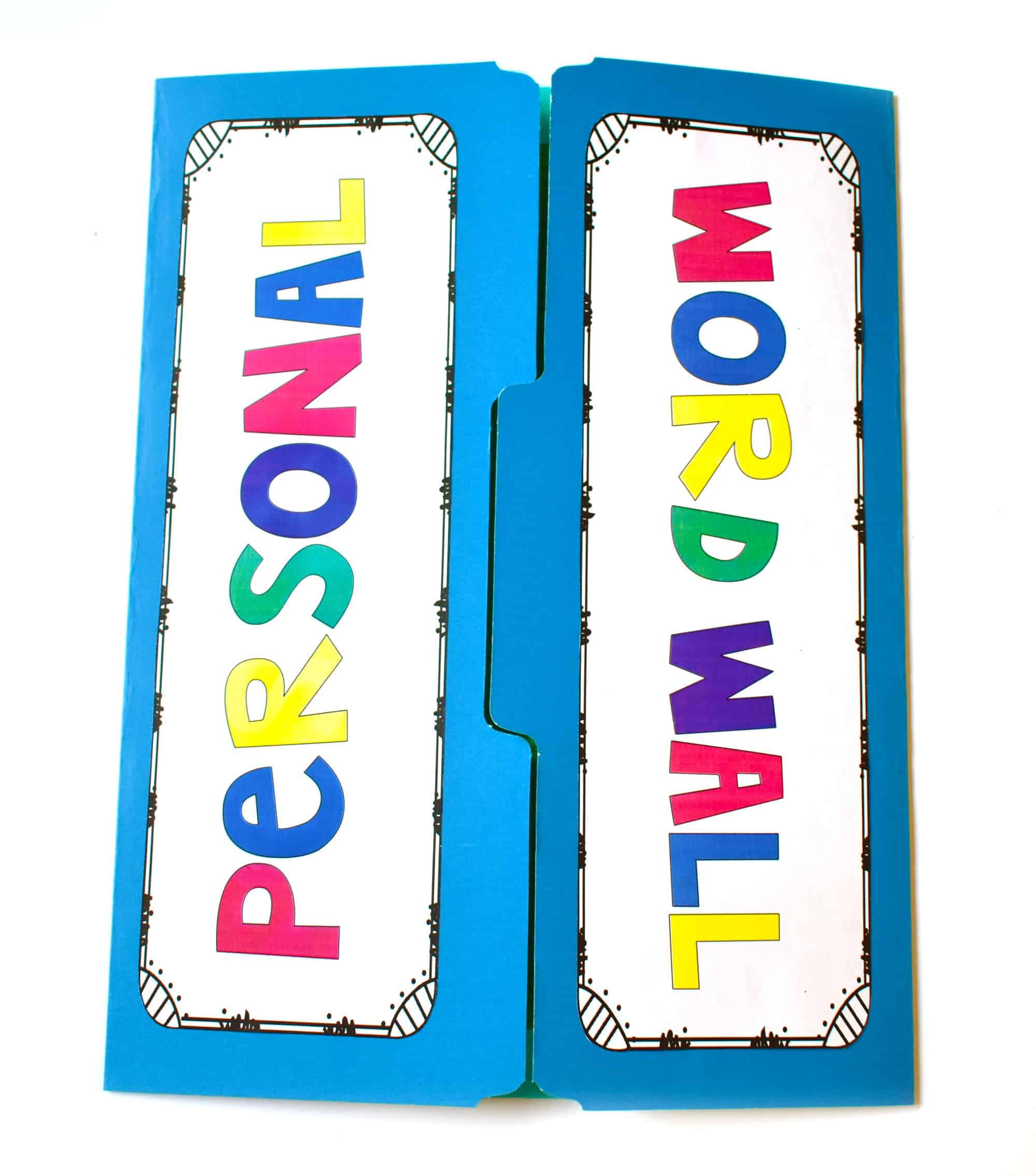 Next, I glued the high frequency words in the middle and the other words on the edges. I used several different color combinations. For some, I printed the words on bright paper and attached the paper to a plain file folder. For other word walls, I printed everything on white paper and used brightly colored file folders.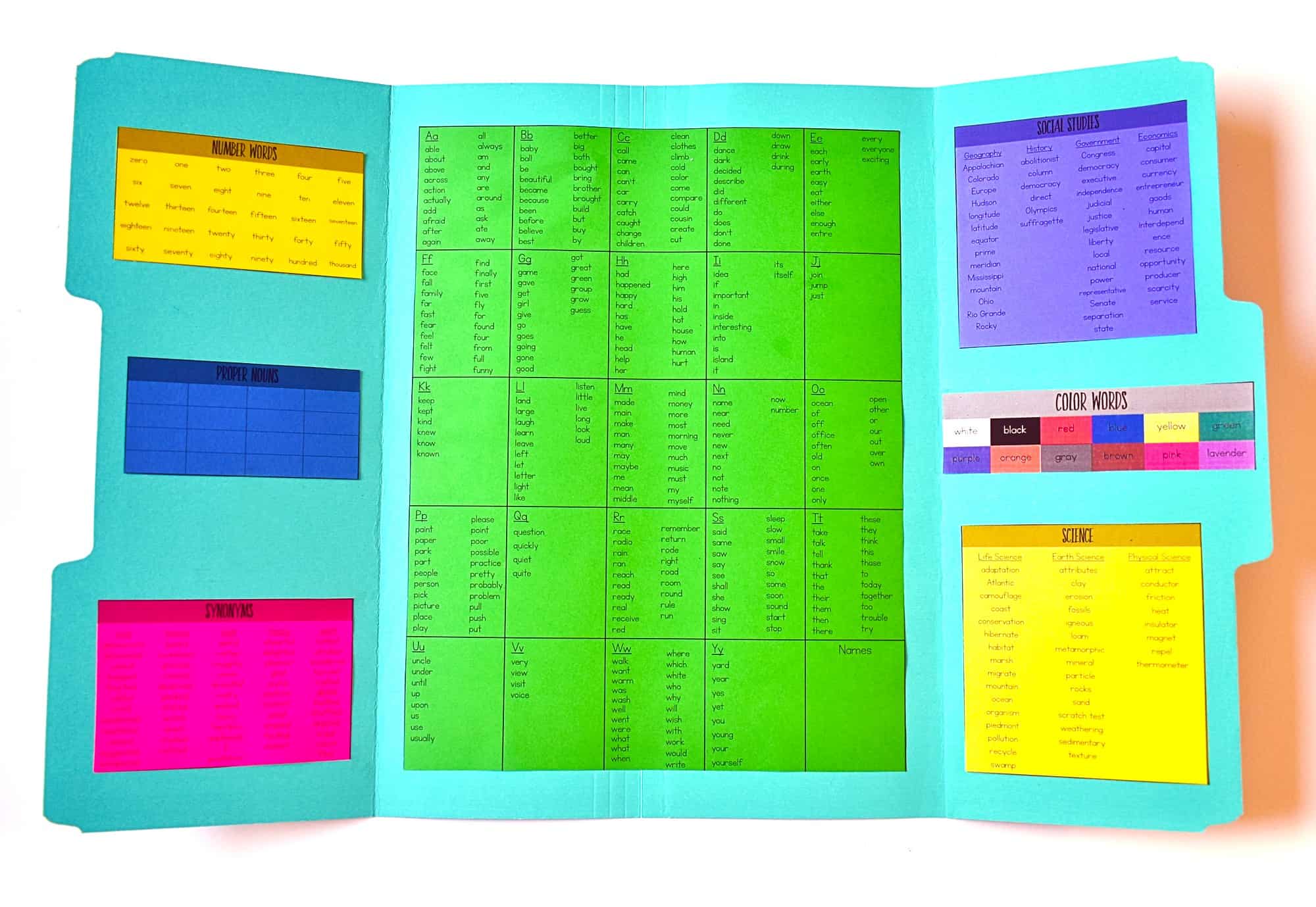 I aligned the social studies and science words to our state standards, because students will write those words repeatedly over the course of the year. The proper noun section was requested by my students. There are many names and places that students frequently use in their writing, and they thought it would be helpful to have a visual reference for those words.  As a whole group, I let students pick what words to include in that section. I helped guide their choices so that we only included words that applied to majority of the class. I included an editable file for social studies, science, and proper nouns, because those words will be specific to your grade level, standards, and students.  You can check it out in my TpT store here.
Math Word Wall
After seeing the usefulness of the personal word wall for spelling, I realized that I could make something similar for math. While I hang up anchor charts, there's something about having resources right in front of students that makes it a little easier to use for students. The math word walls are assembled the same way I assembled the spelling folders.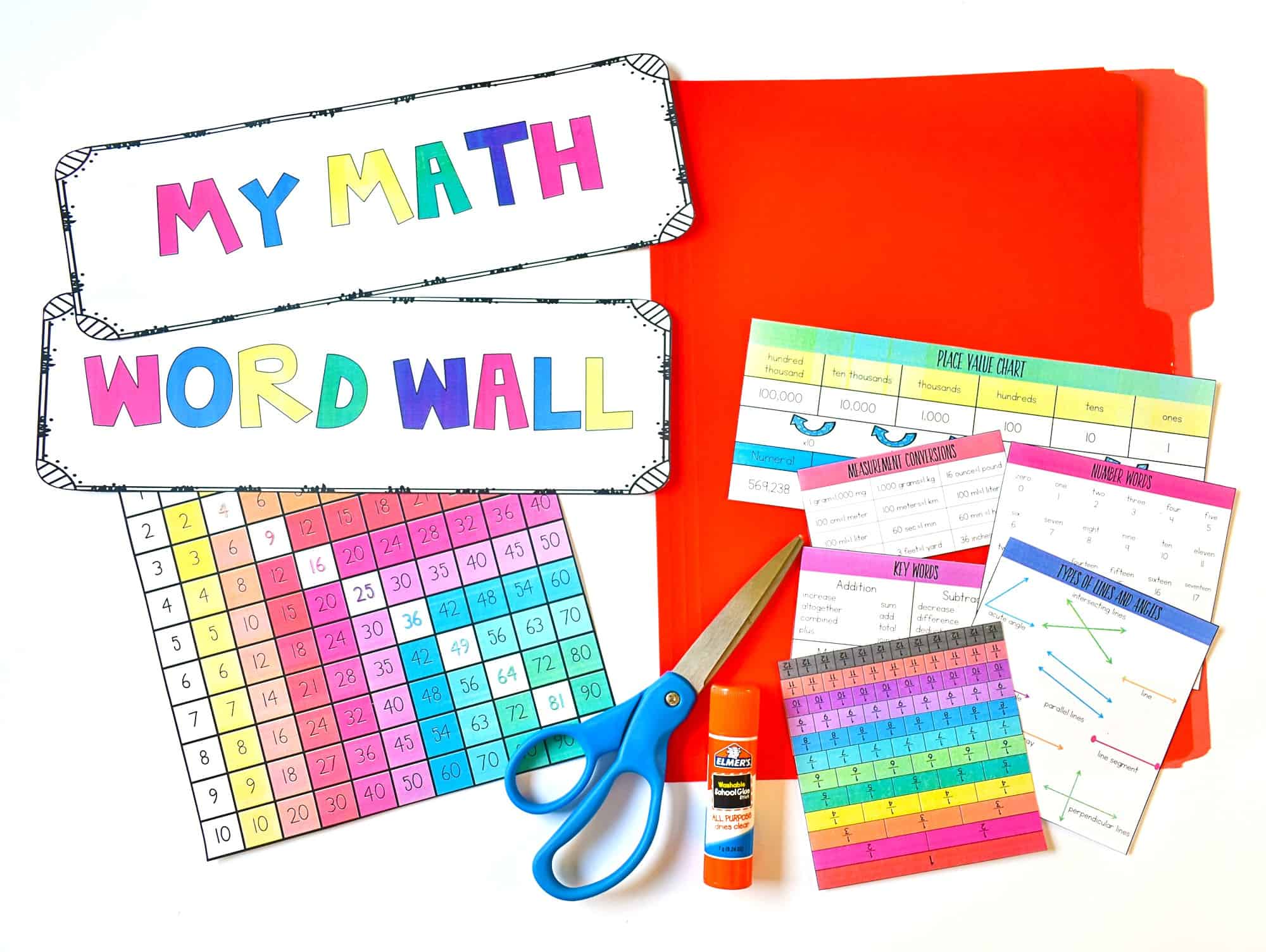 I made labels for the outside of the folder. I find that glue sticks work better than liquid glue, because I laminate the folders after everything is assembled.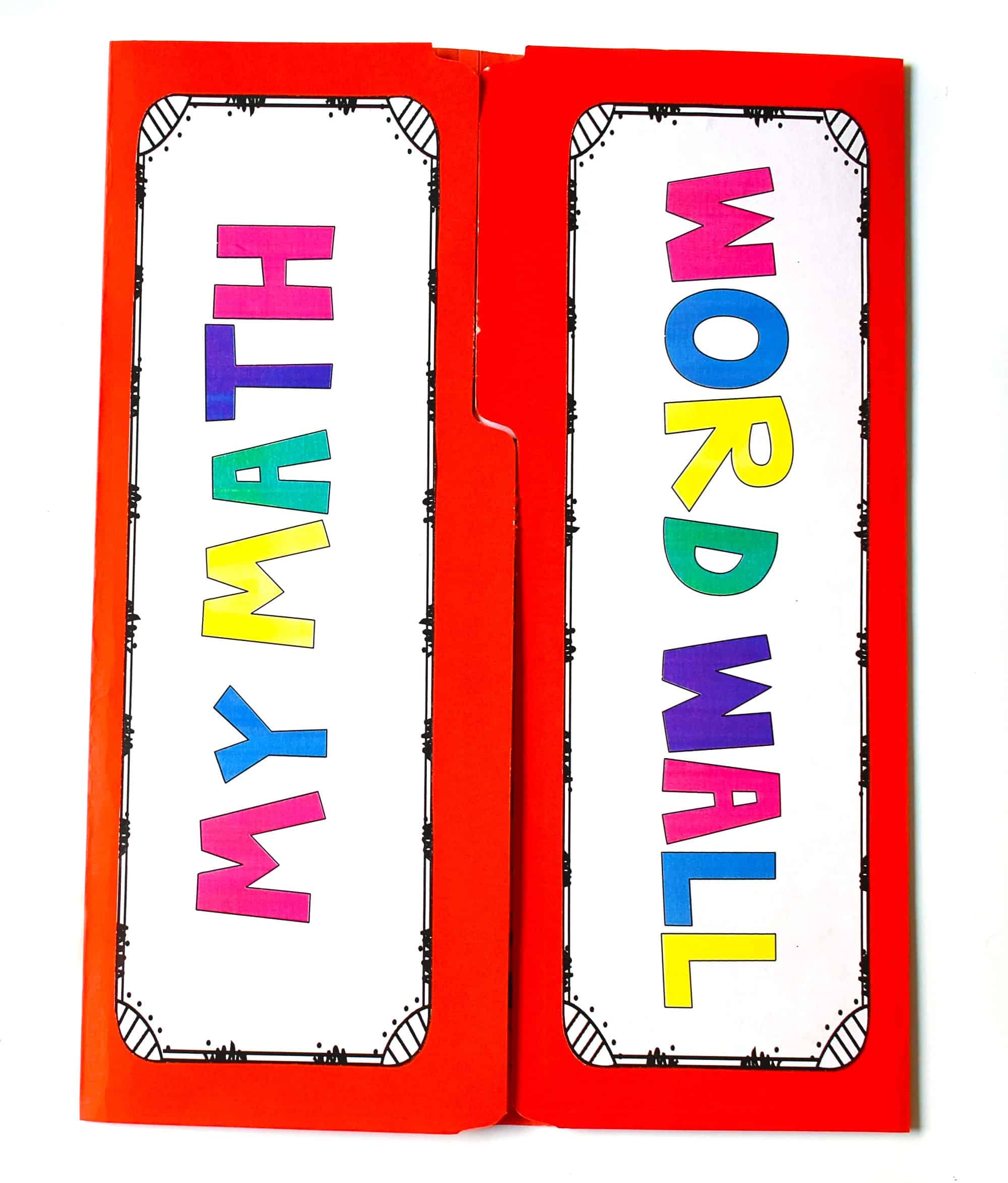 The inside of the the folder contains key words for addition, subtraction, multiplication, and division. I try not to rely too heavily on key word, but I don't think they're a bad thing. I've also included a fraction table, which is a huge help for our fraction unit, especially equivalent fractions and comparing fractions. There is a measurement conversion table and a types of lines chart. My students love the number words chart, especially at the beginning of the year when I teach students to write numbers in written form. There is a big multiplication table, which is easy for students to read and a place value chart. You can find the folders here.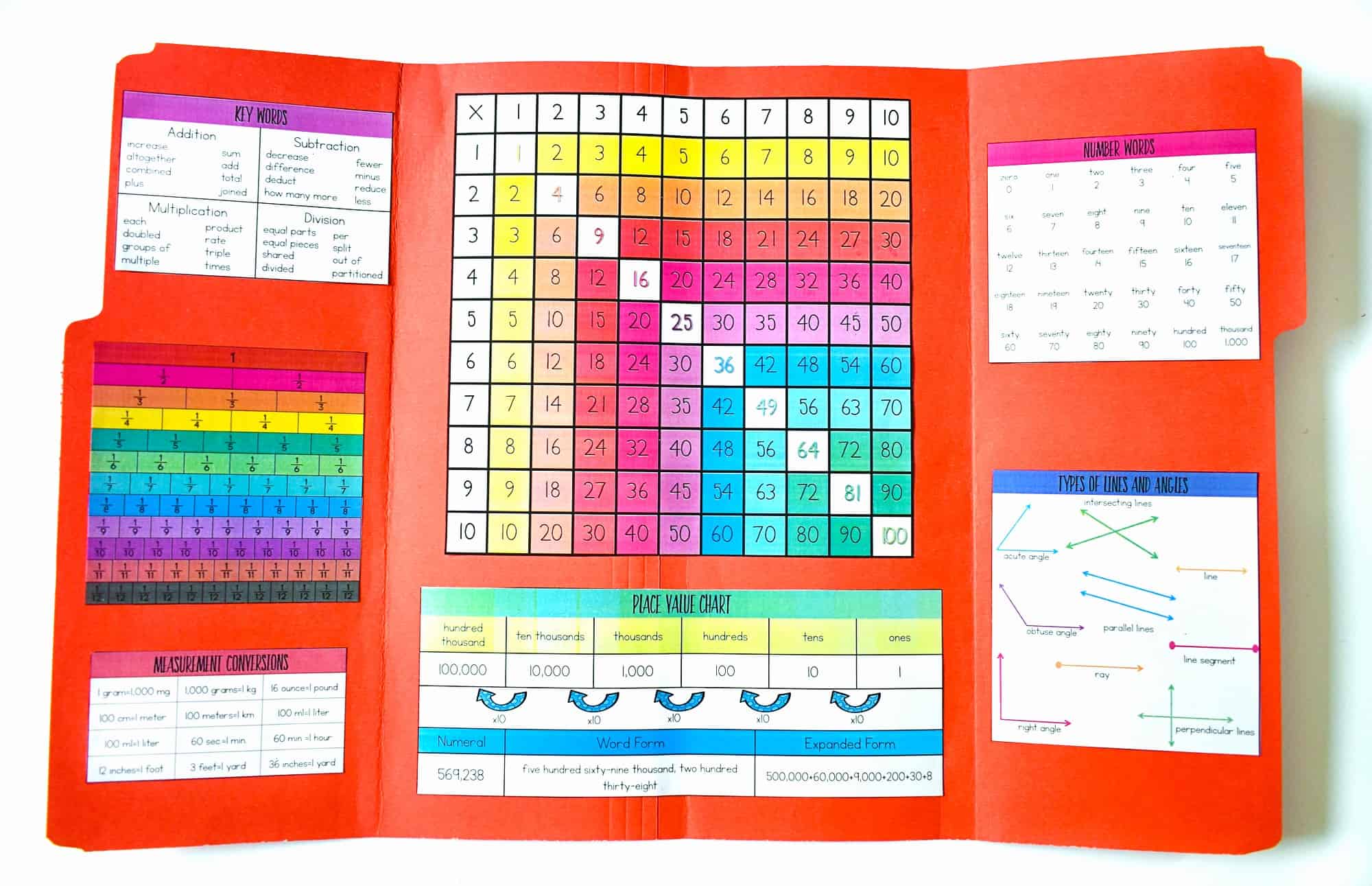 Desktop Helpers for Fostering Student Independence
Another resource that I love is my Desktop Helpers: math and language arts. We move around the classroom all of the time, so while students do have a desk, they don't sit at it all day. Plus, everyone knows where everyone's desk is, so I don't particularly need names on the tags. I like to use that extra space on the desktop helper for different topics. These cards are interchangeable, because I do not use the same set of cards all year. I find that adding a year's worth of content to a set of cards is overwhelming to students, so I like to focus on one unit at a time. I place self-adhesive pockets on students' desks, and I can easily swap out one card for another. The vinyl pocket is something I found on Amazon. The pockets lasted a year, but by the end of the year the didn't look good.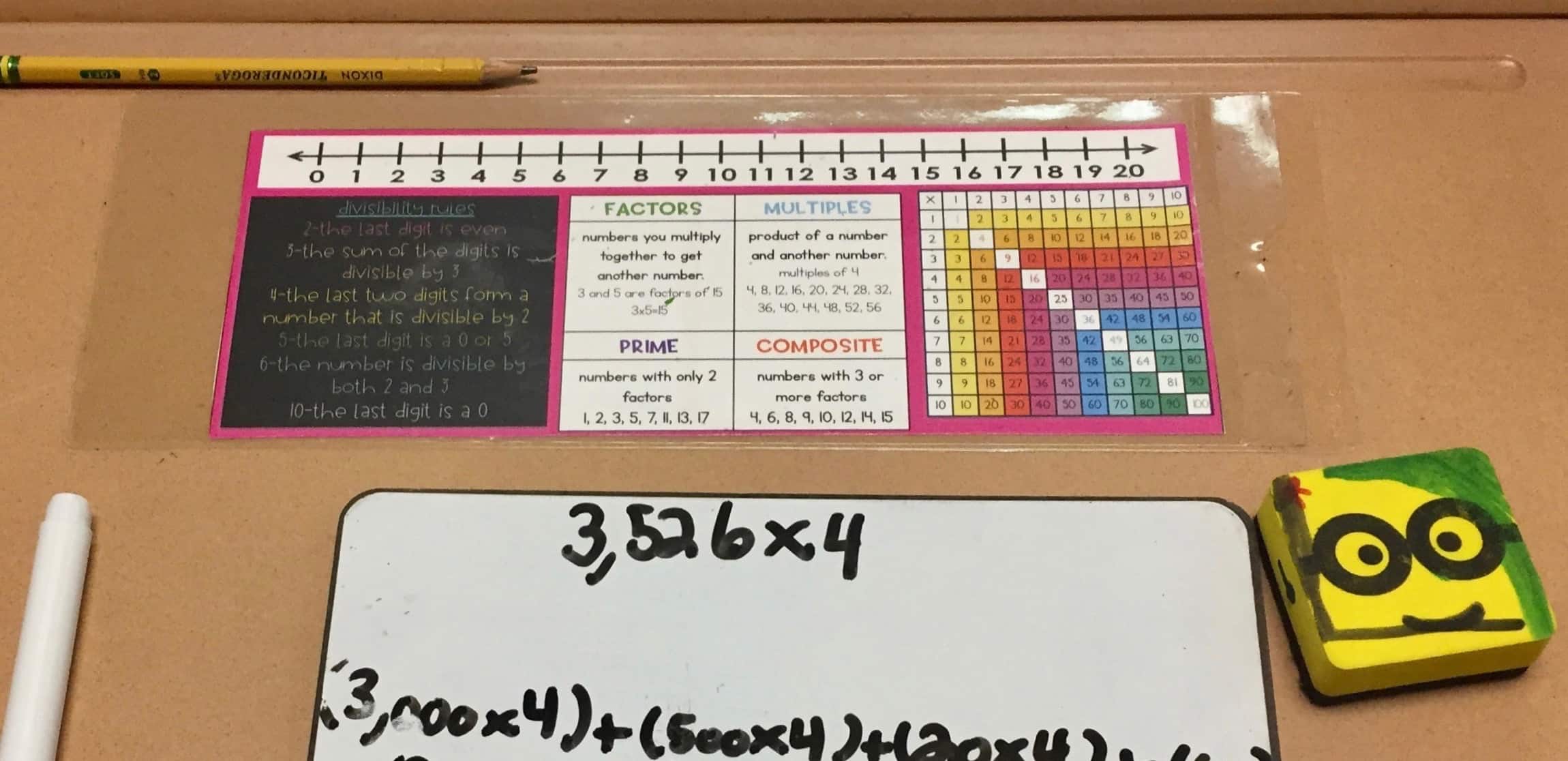 I also have a language arts version that includes text evidence sentence stems and comprehension strategies. There is also a version for figurative language, poetry, and traditional literature. Two of my favorites include types of questions for Question, Answer, Response and a collection of writing graphic organizers to serve as a visual reminder.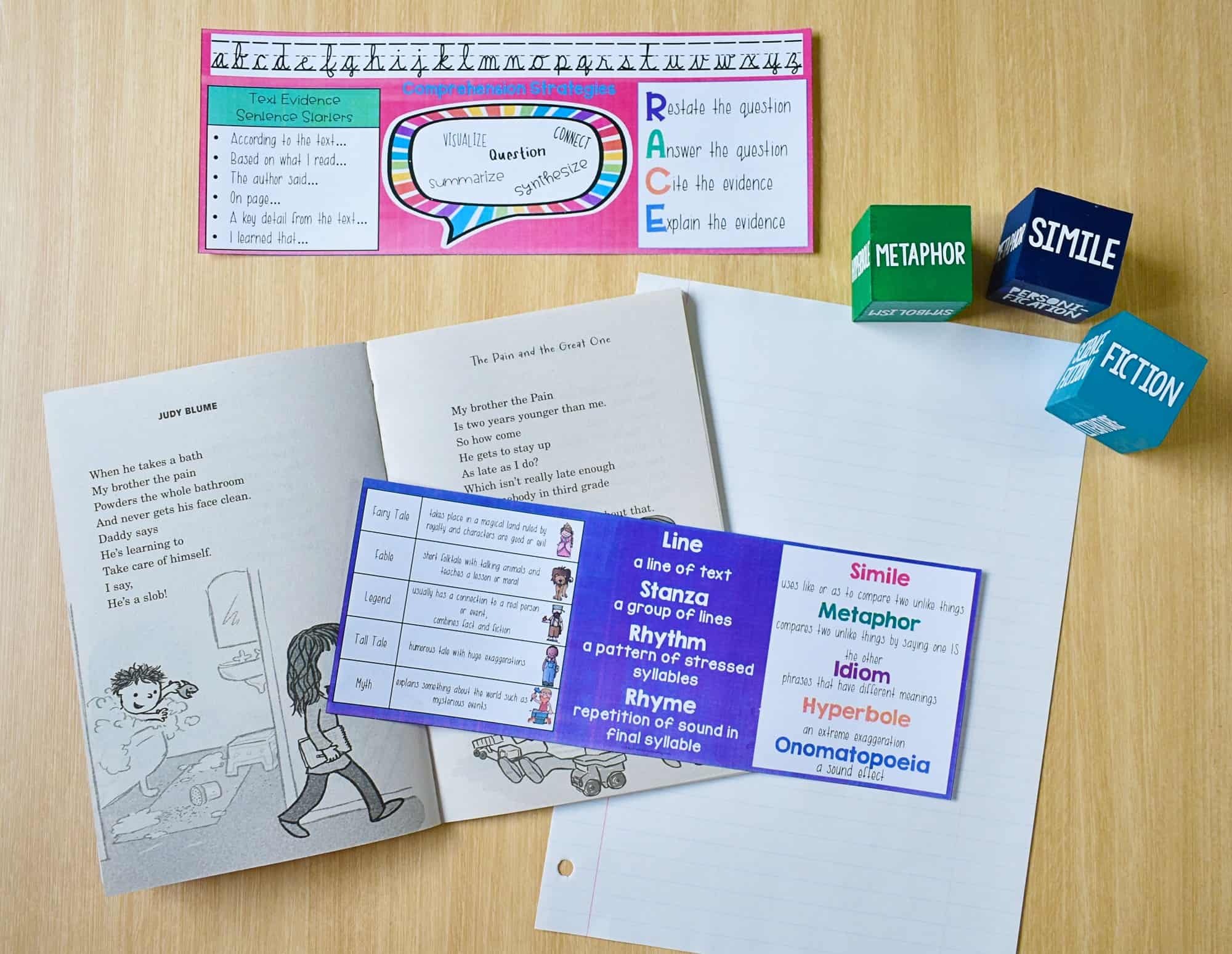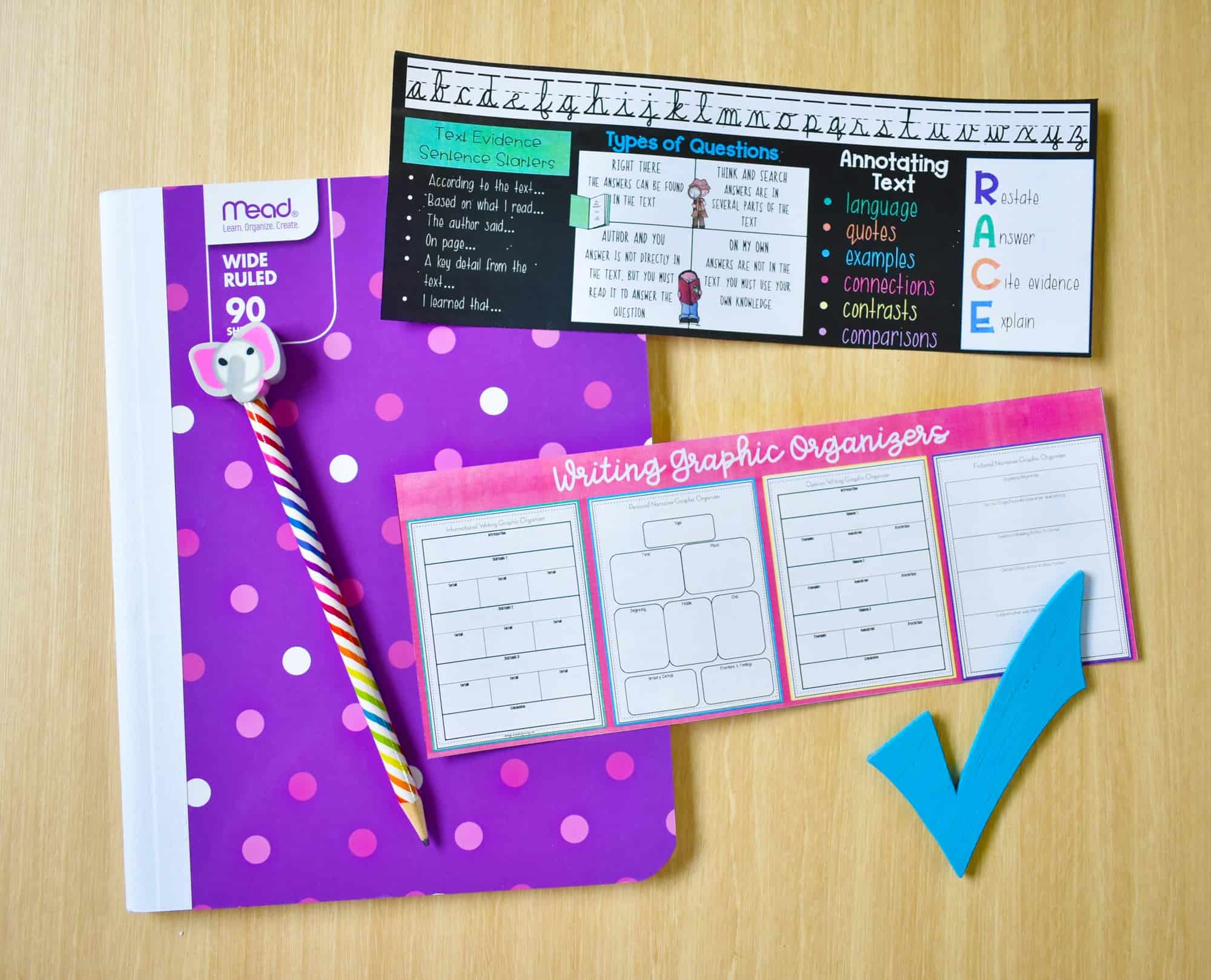 The rainbow editing version is a huge help for writing workshop, since it guides student focus and it helps with documentation of the editing process. There is also a language version for parts of speech, capitalization, and punctuation.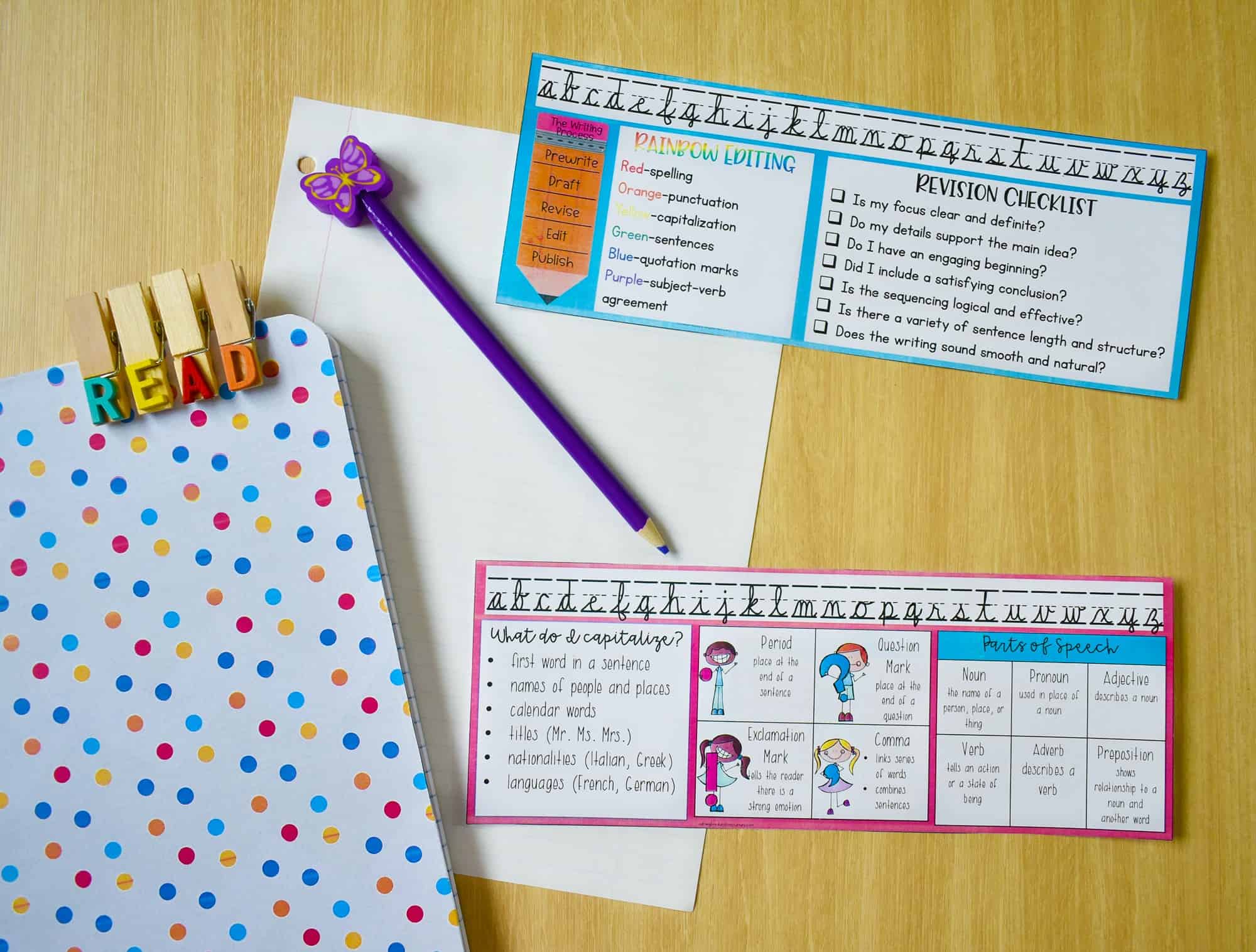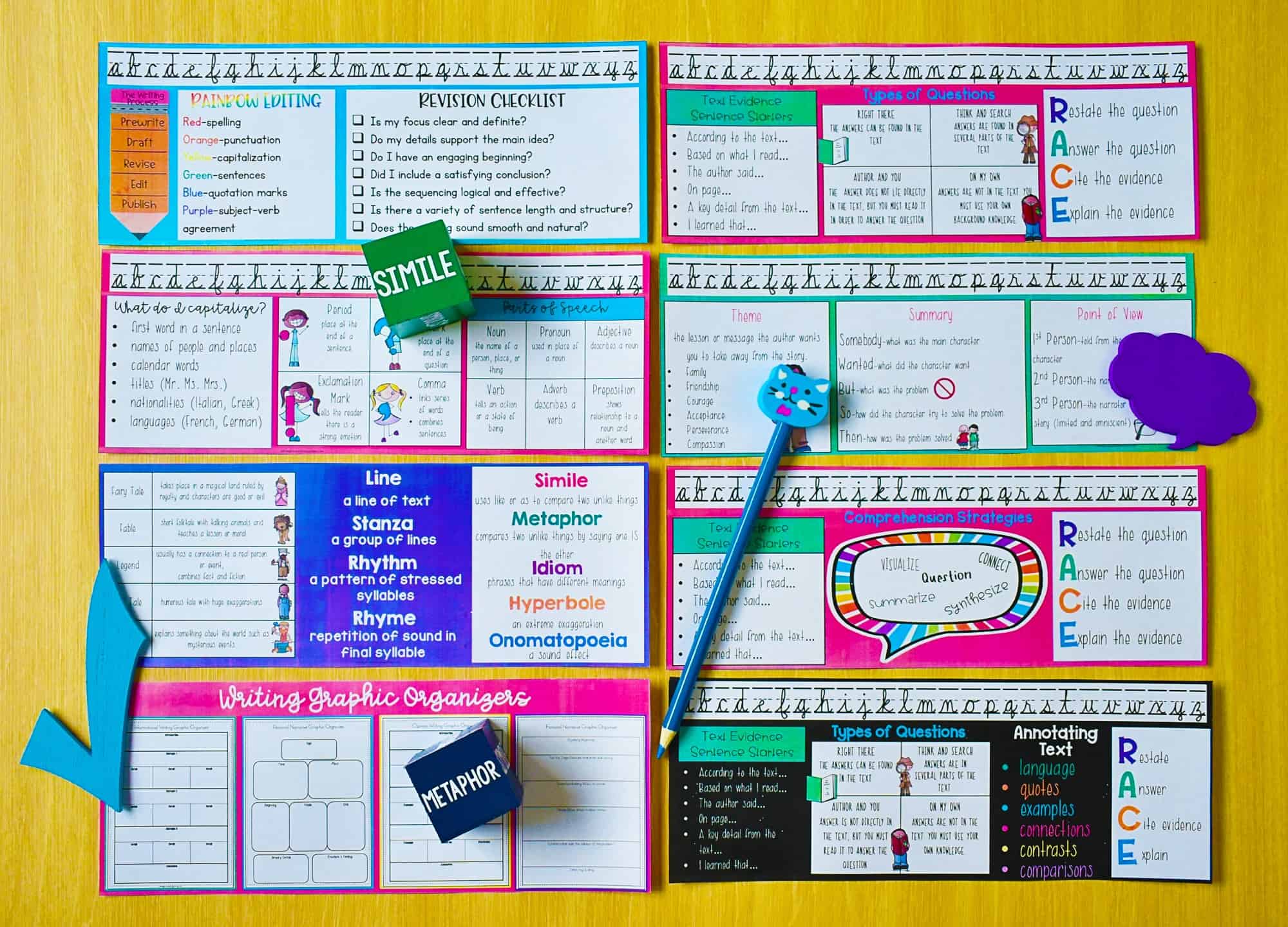 The math version of desktop helpers also includes several different options for representing multiplication and division to working with fractions.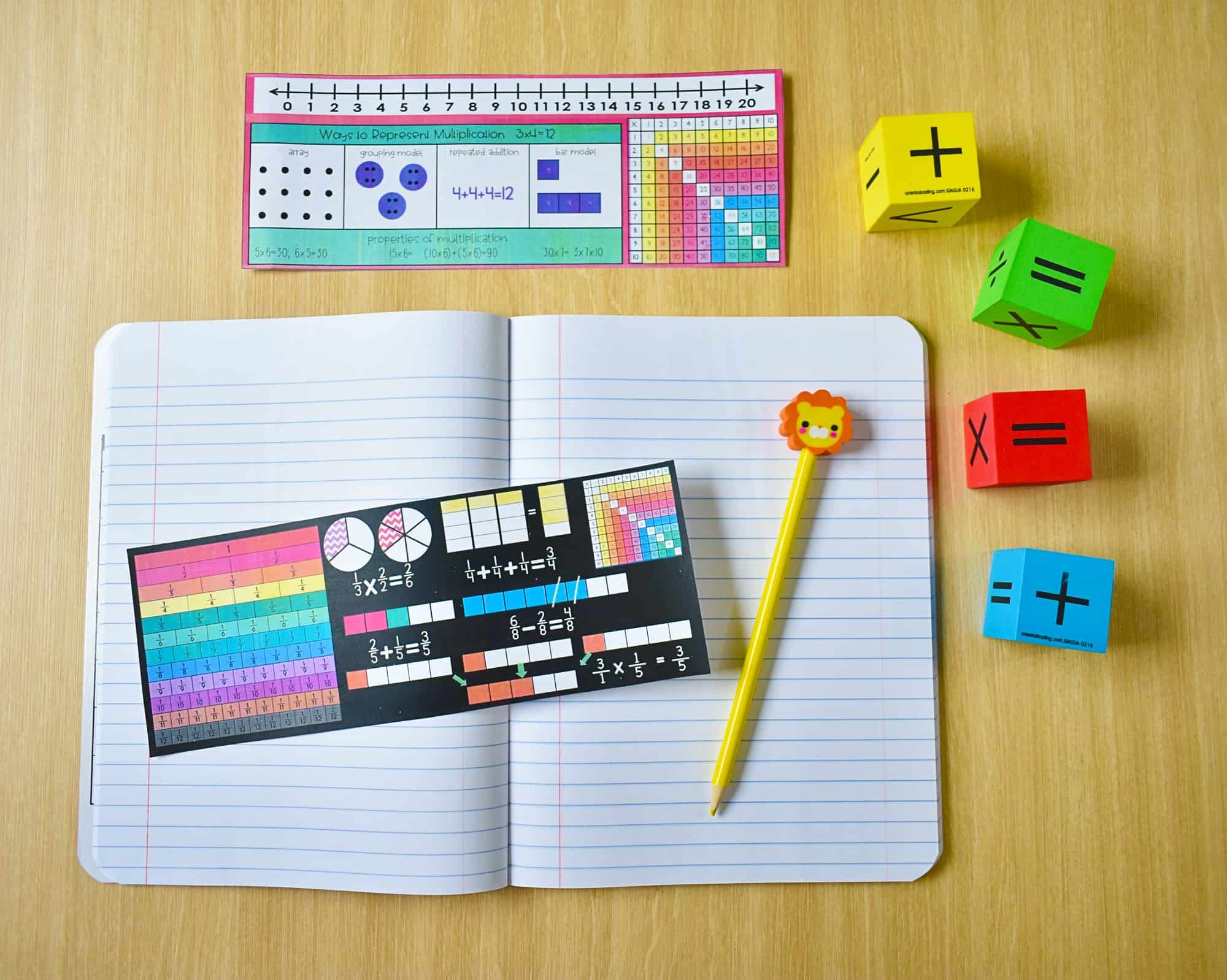 The measurement conversion help is a huge help for my fourth graders when we're in our measurement unit. I don't use all of these, but I wanted to be sure to have a large variety for a range of classrooms and needs.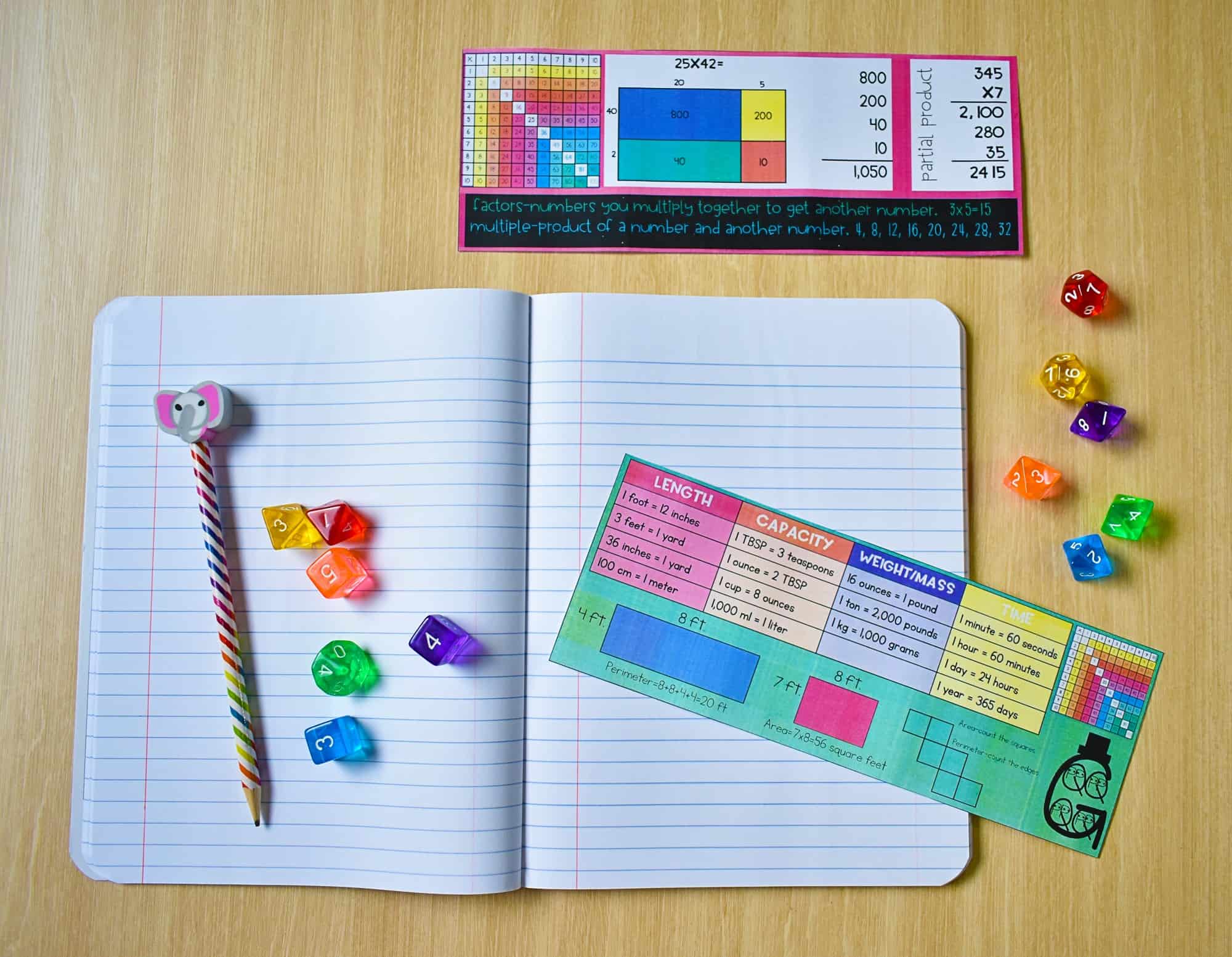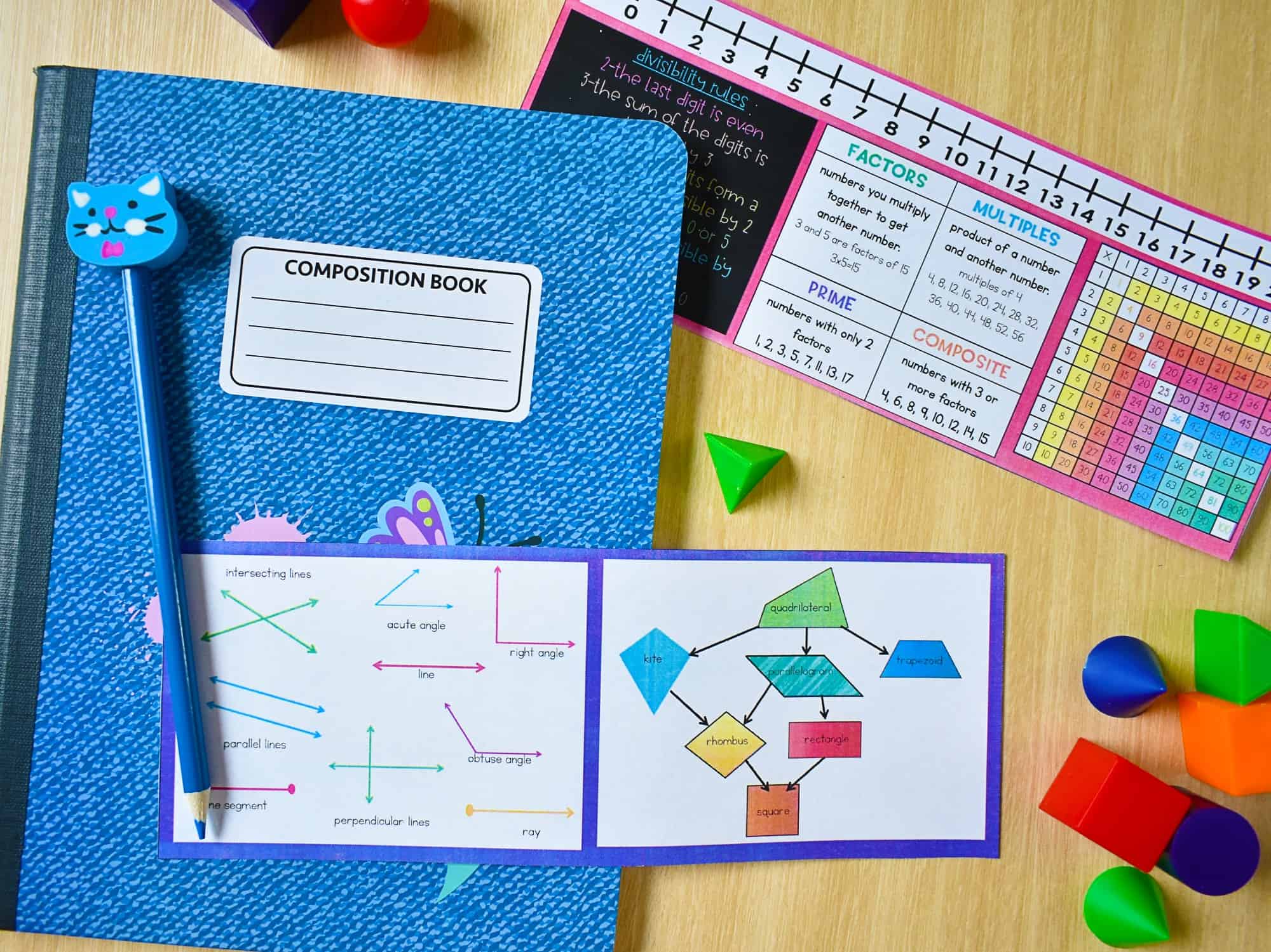 Reference Notes
I love using my 4th Grade Math Reference Notes or 3rd Grade Math Reference Notes during my mini lessons. The left side of the page has student friendly examples, while the right side is for guided practice. I also frequently have my students use manipulatives and their dry erase boards during our mini lesson. Dry erase boards are a great way to keep students engaged during the mini lesson.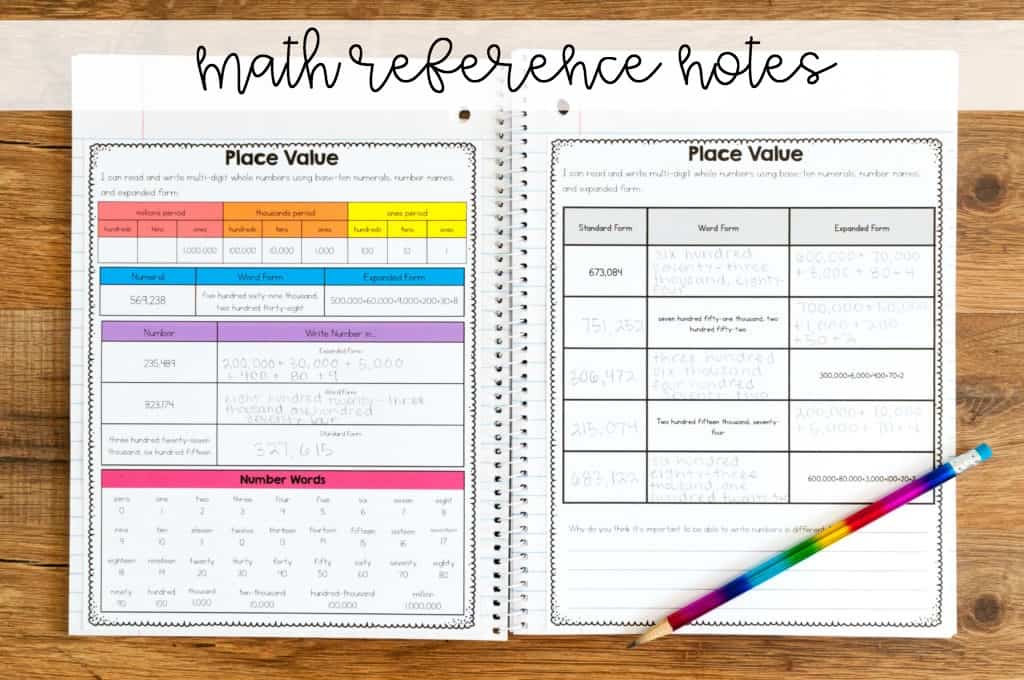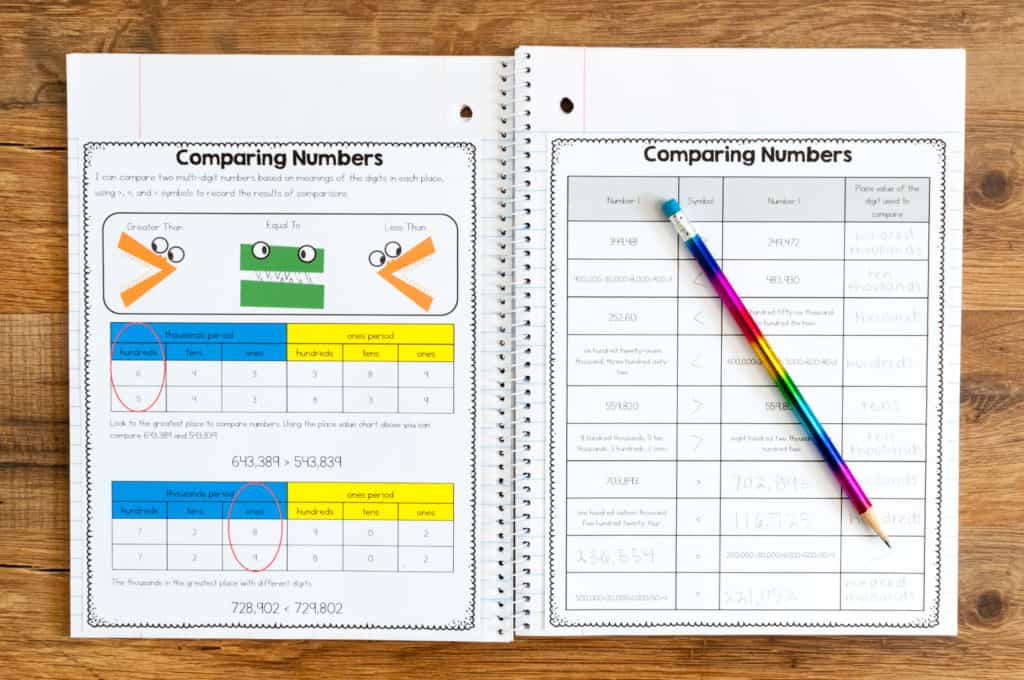 These resources are all such a huge in in fostering student independence and confidence. What strategies do you use?