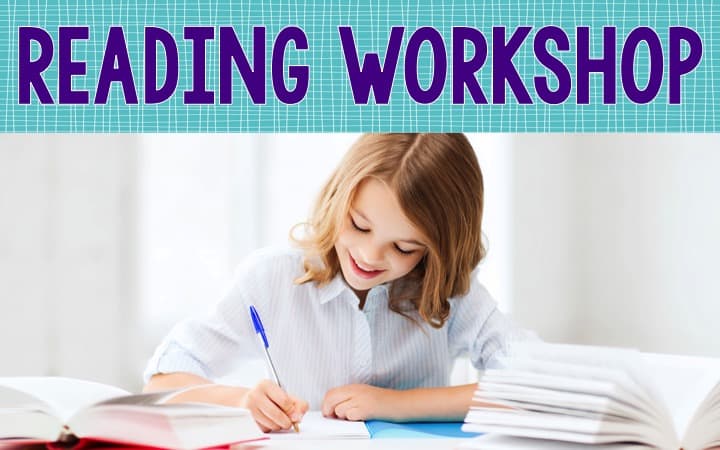 Recently I wrote a post on how I plan to use literacy stations in my classroom. Each day my reading workshop lesson will be 80 minutes long. The first 20 minutes will be my mini lesson, and I'll use the lessons from my Reading Workshop Units. After my mini lesson, I will have three 20 minute literacy stations. Every single day, students MUST choose independent reading for one of their literacy stations. Students' guided reading groups will also be counted as a literacy station. This means that the students who meet with me every day will only have one choice a day for their additional literacy station. That's okay with me, because reading groups and independent reading are my two priority activities. The other activities consist of reading response letters, word study activities, fiction task cards, nonfiction task cards, and word of the week activities.
One of my new concerns (can you tell I think about this a lot) was that I would have too many students using task cards during our third literacy station. Normally, this wouldn't be a big deal to me, but as a reader, I like a calm quiet room. I can't imagine myself focusing and comprehending if there was a considerable amount of activity around me, and I imagine that many of my students are the same way. I was also worried that I would run out of task cards for different literacy blocks, and I wanted to avoid that problem too. My solution was surprisingly easy!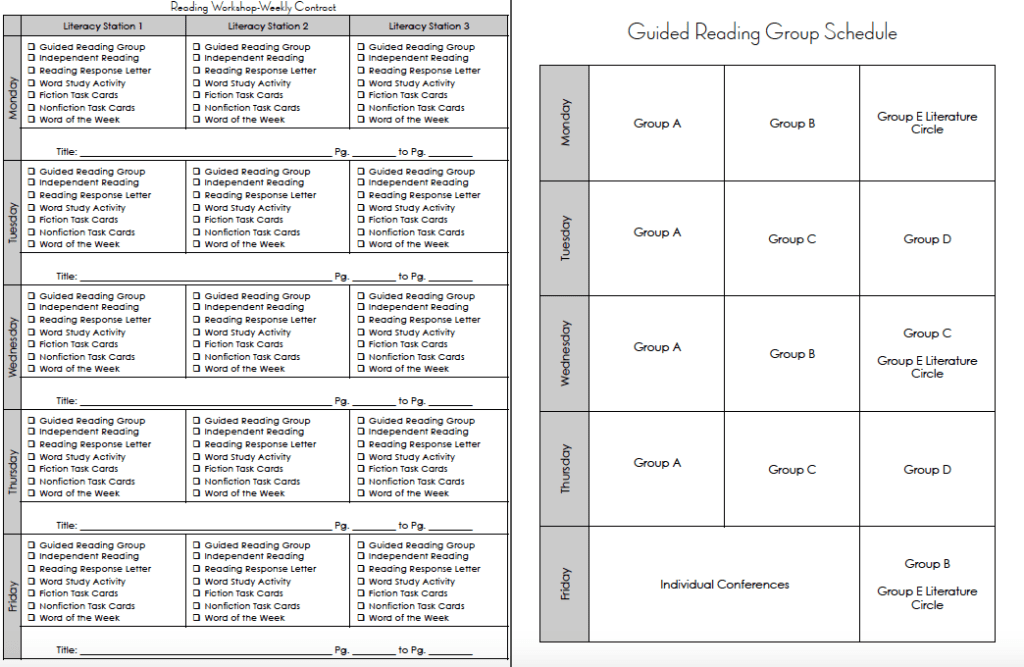 I made five blank copies of my Reading Workshop Contract and used my guided reading group schedule to select particular literacy activities for each group. For example, in Group B I checked when students would be in a guided reading group and when students should complete their independent reading. There are a couple other spaces where I selected the choice activity for the student (days the group would NOT meet in a reading group). I realize that this does take away from some of the student choice and ownership of this plan, but I'm also trying to be proactive in reducing potential management issues.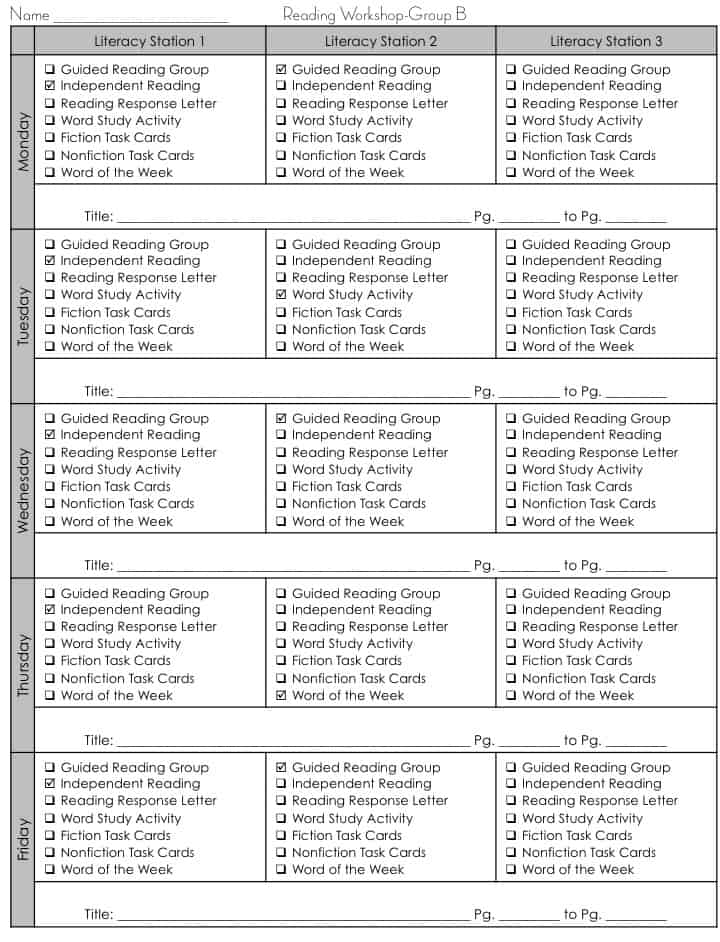 I absolutely believe in flexible reading groups, so students will constantly move in and out of groups, but I rarely make changes in the middle of the week. This means I'll be able to use the form each week with minimal changes to the form itself. Students will just receive the reading contract that correlates with their reading group. Of course, this is my theoretical plan. Once I assess my students, I'll have a more solid reading group schedule. I think the biggest obstacle for me will be the possible need for six reading groups. That's when I really struggle finding the right balance.
I also wanted to spend a bit of time going over each of the activities on the reading contract (it's not quite a reading choice board or reading menu). I think the guided reading group and independent reading time could be a whole other blog post, so I'll jump down into the other five items.
Reading Response-Several years ago, I was a strict follower of the Fountas and Pinnell's reading response letter. I did it by the book-exactly. I loved the idea of it, but I will admit that I spent countless hours worrying about the format of the letter and responding to my students' letters. I still love the idea, but I've got to save my sanity and simplify. This year, I've created a pack of Reading Response Writing Prompts and Choices to help make reading response a little more manageable for me.  In this pack, students will choose one of three reading response choices. I've written the prompts, so that there is at least one prompt that can be used with an information text. I've also made sure that the writing prompts encourage critical thinking and require the students to support their responses with text evidence. I will use one page a week for the duration of the school year (we won't start until I've taught routines).
Word Study-Spelling, now that is a loaded word! What do I use for spelling? Should I even teach spelling? Do I give spelling homework? What's the best way to teach spelling? Should I give spelling tests? If you surveyed 100 teachers, I think you may get 100 different answers! Spelling is hard! I've tried traditional whole group spelling, differentiated spelling groups, and even individualized spelling lists. To be honest, I haven't loved anything I've tried, because I felt like it was either ineffective or beyond difficult to manage. Once again, I want to simplify without losing instructional integrity. That's why I absolutely fell in love with Sunny Days in Second Grade's Word Study and Spelling Solution. It has everything I want, and it's something I can easily manage.  Each week's spelling words are based on different spelling patterns, which happen to be the spelling patterns that my students typically need to study.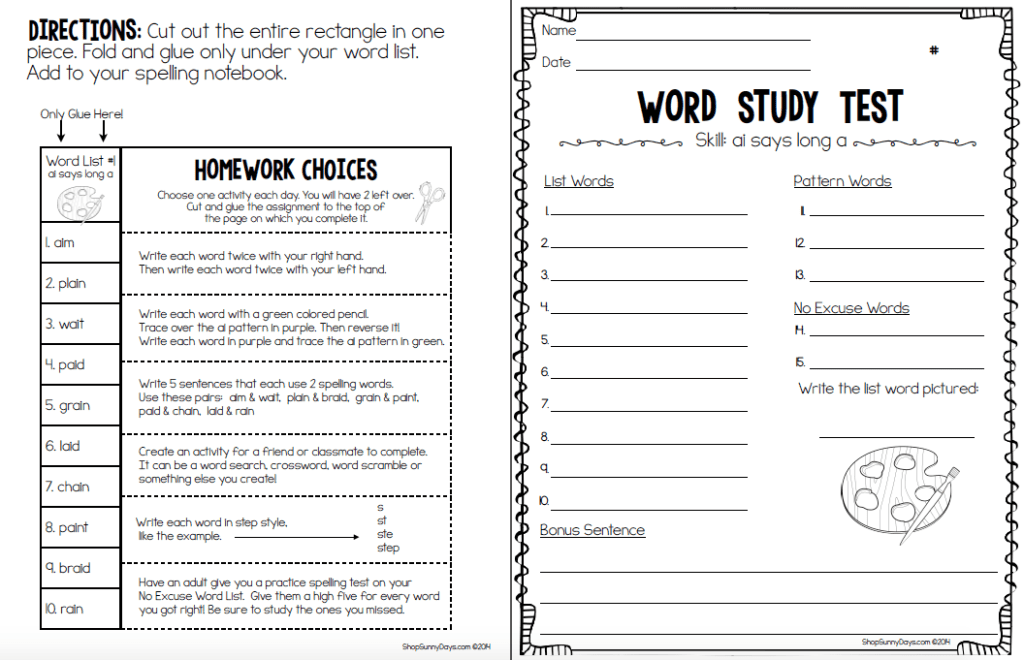 My favorite part of of the program is the homework choices and the actual spelling test. I am not going to require my students to complete and turn in spelling homework. However, they will have a spelling notebook and will glue their spelling words in their spelling notebook each week. Students will take the notebook home each night and will have a list of fun and creative homework choices in the notebook. I will emphasize that the homework is optional, and I may do some type of small incentive for each activity they complete. The spelling test includes the ten words from the word list, as well as three additional words that use the same spelling pattern. There are also two 'no excuse words' on each spelling test and a bonus dictation sentences that uses words from the week's spelling pattern. Students will also use these activities for their word study activity as a literacy station.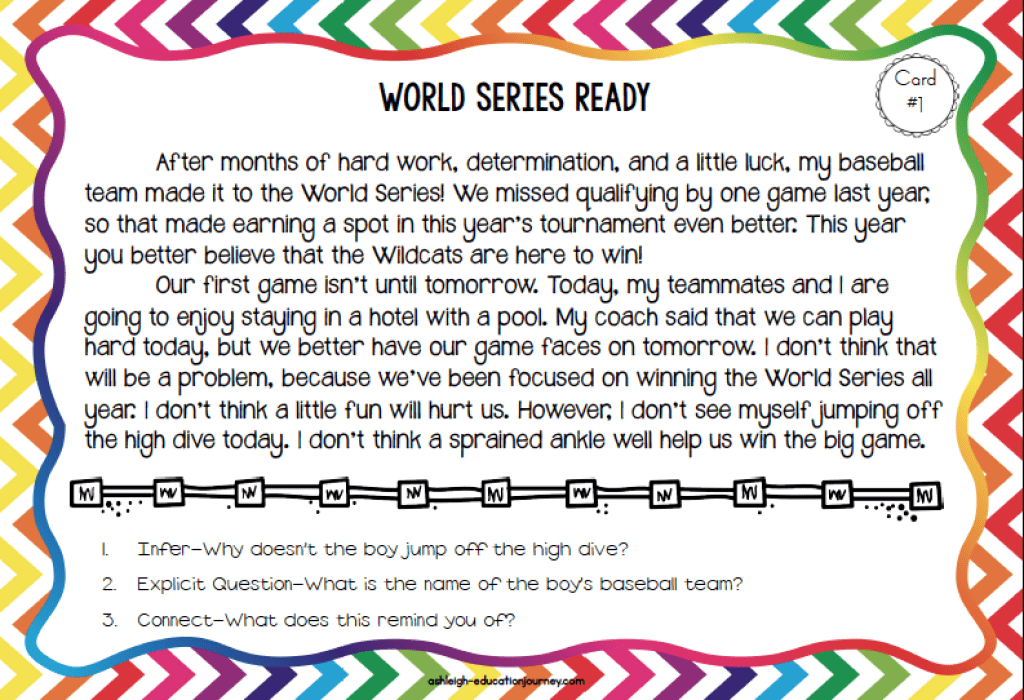 Task Cards-At any given time I will have two sets of fiction task cards and two sets of nonfiction task cards into my rotation. I've yet to determine how long I will keep each set of task cards out, but I'll share as soon as I know! I want to give students ample time to complete all of the task cards, and I'm not yet sure how long that will take. For both fiction and nonfiction, I will use one set of task cards that I've created to go along with my Reading Workshop Units. These task cards will be designed to tie into the literacy strategies and skills taught within the units. I hope to have my first set posted soon! I will also use a different set of task cards that I purchase from TpT that address areas of concern or areas that I feel like would benefit my students. For example, I want to begin the year with Teaching With a Mountain View's Understanding Key Ideas and Details task cards, because they're perfect for helping students answer explicit questions. I'm going to store the task cards in Ziploc freezer bags (these don't tear as easily) and will keep them in baskets. I will probably have two copies of each set, so I'll have enough for students to work independently. You can see from the picture below, I'm truly starting from scratch!

Word of the Week-I'm so excited about this! This year, I'm combining my Prefix and Suffix of the Week and my Homophone of the Week. I've already got my bulletin board ready to go!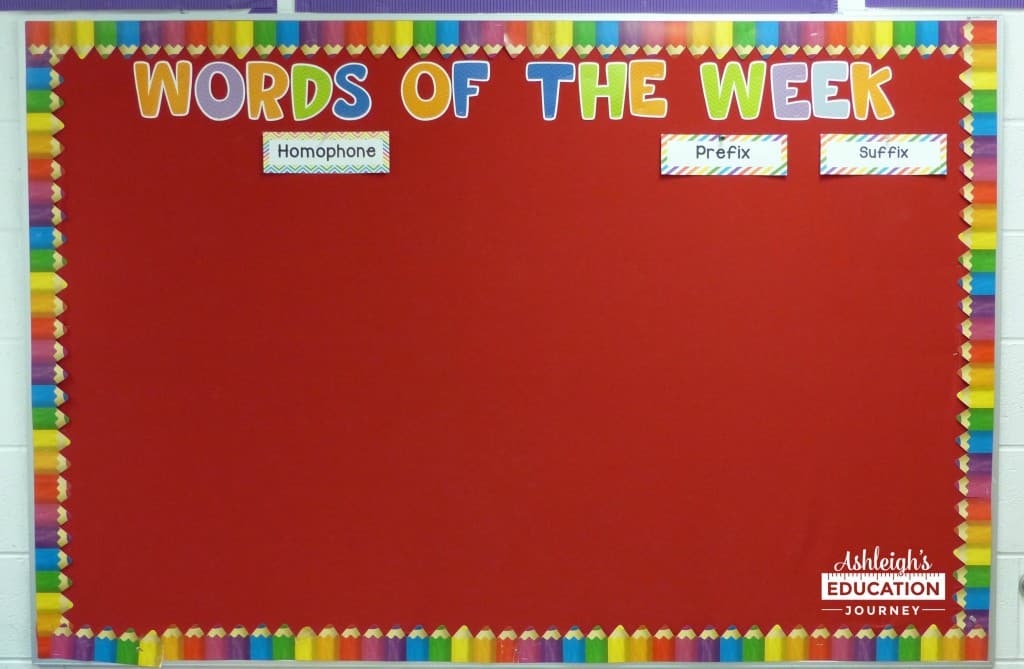 Right now it only has the labels, because I will add our homophones and prefixes or suffixes as I introduce them. I will introduce one homophone and either a prefix or suffix each week. Those words will then be displayed at the top of the bulletin board. The following week, I'll move those words to the bottom for students to use as a reference and add new words. What I'm especially excited about is the Word of the Week books I recently made.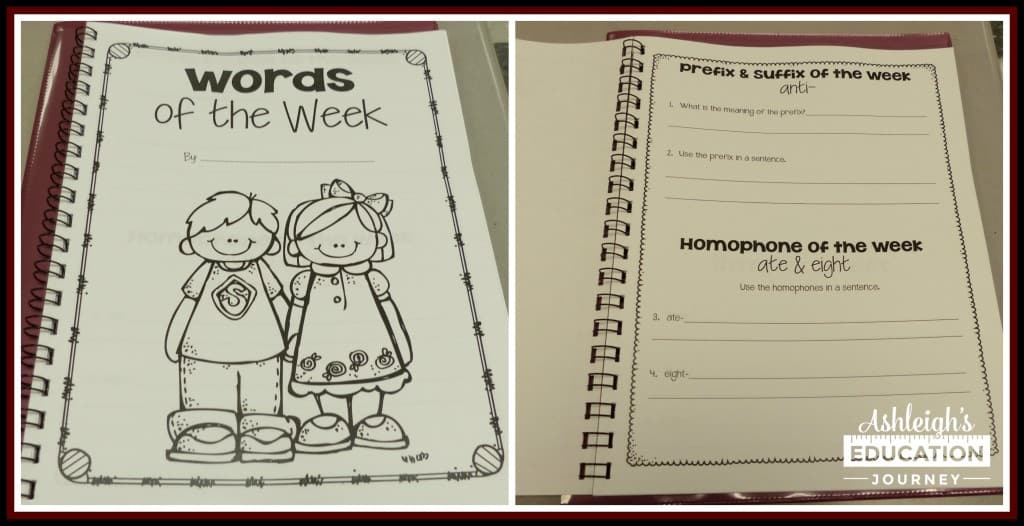 This new file will allow my students to complete their Prefix and Suffix and Homophone of the Week writing on the same sheet of paper. Now my students won't have to flip back and forth! I've added this new addition to both packs, so be sure to download the newest version! In case you missed it, I've also updated both packs, so there is now a bright chalkboard version of the words (the original is still there)!
I've also focused on how I want to organize these activities. I'm going to allow students to keep their Words of the Week notebook in their desk, and they will take their spelling notebook home each night. I bought a three tier tray for my reading response papers and my task card recording sheets. Students will be able to select their material as needed.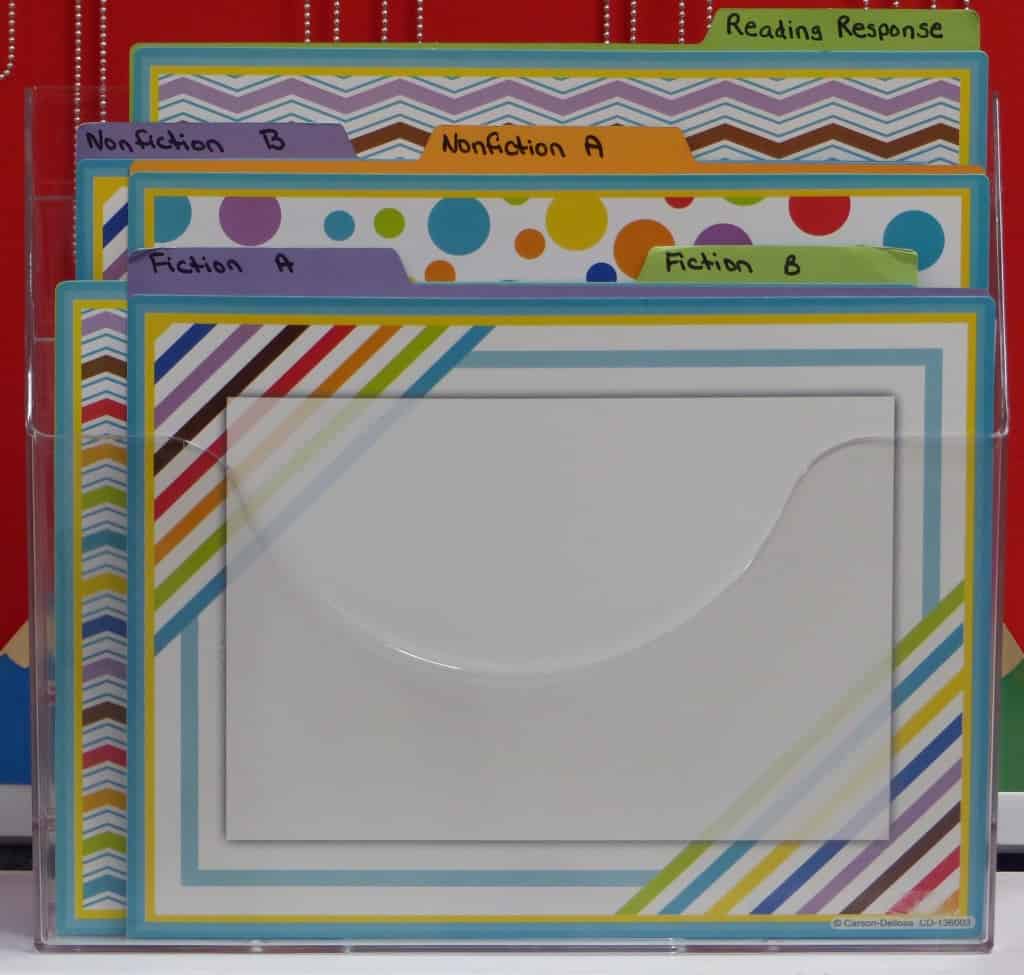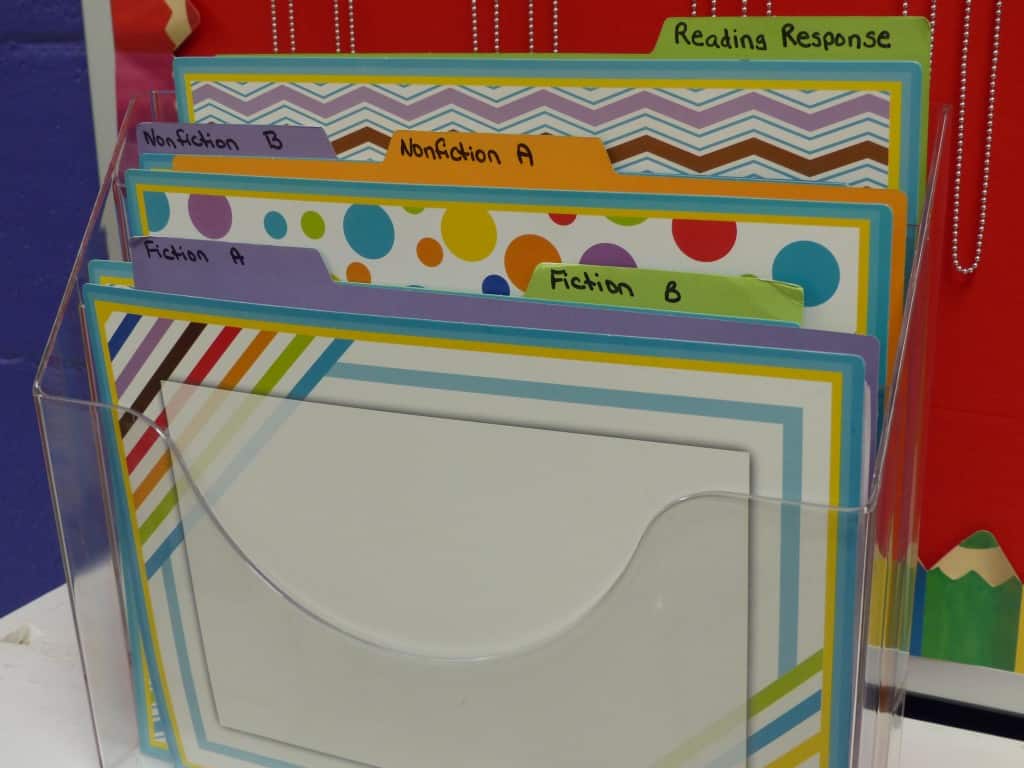 Now I better start working on those task cards!