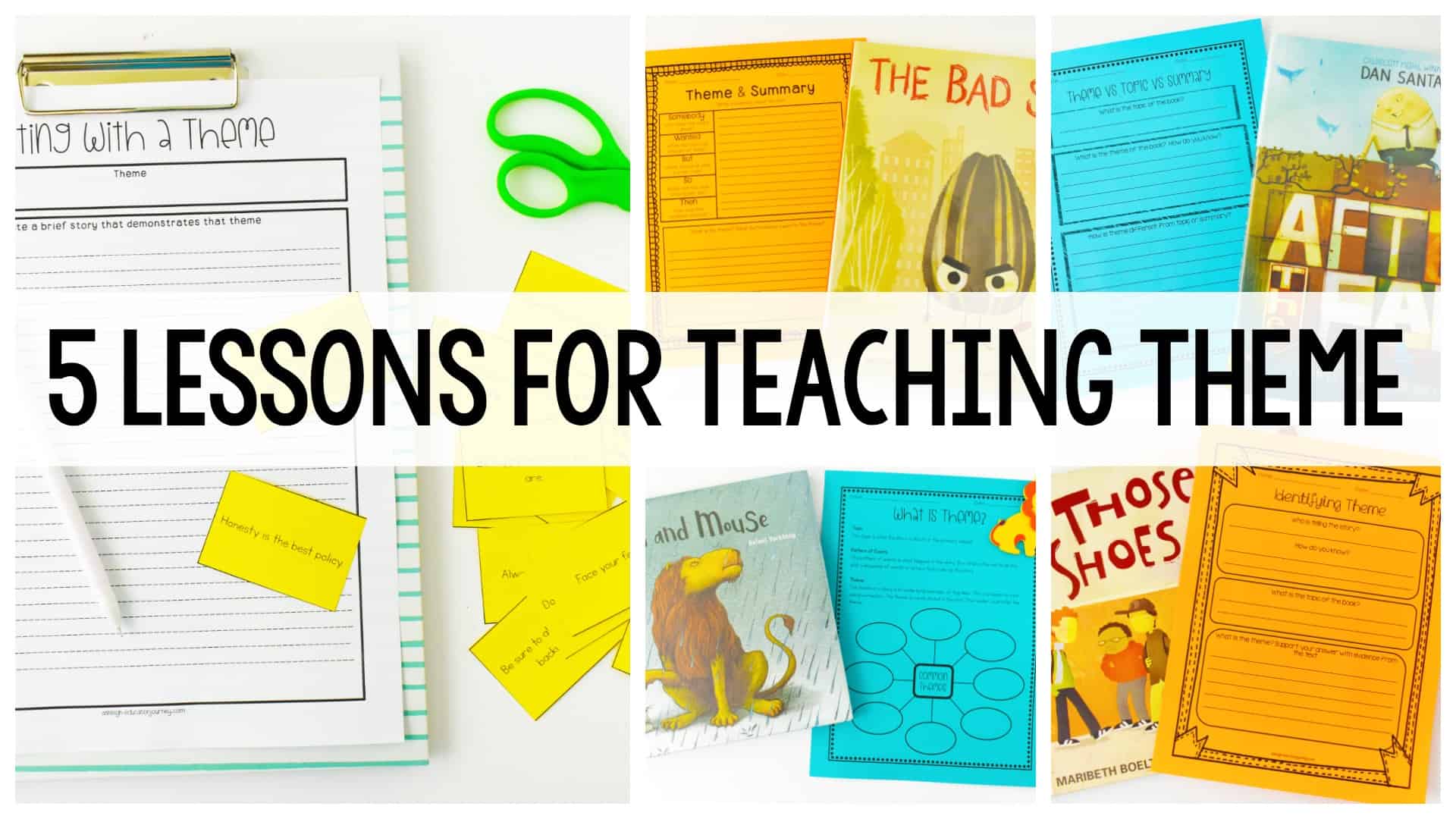 Theme has to be one of my favorite reading standards to teach. It's probably become of the amazing collection of mentor texts that can be used for teaching theme, as well as how these lessons require students to dig a little deeper. This post shares some of my favorite mentor texts and activities for teaching theme. You can find all of the lessons here!
Teaching Theme – Lesson 1
A lot of times students mix up theme and topic or main idea, so it's important to help students differentiate between the two. Theme is the central idea of message to the story. It's not what the story is about. It's what lesson you should learn or idea you should take away from the text. I explain to students that they probably won't see the actual words written down. Instead, they have to infer the theme.
In the first lesson, I read The Lion and the Mouse which is a very popular fable. After reading, we discuss the theme of the text. Students should give ideas such as, "you never know when you will need help" or "you can be helpful, no matter how small you are." I follow the mentor text by having students complete the What is Theme graphic organizer. In this activity, students write common themes they see in the books they read.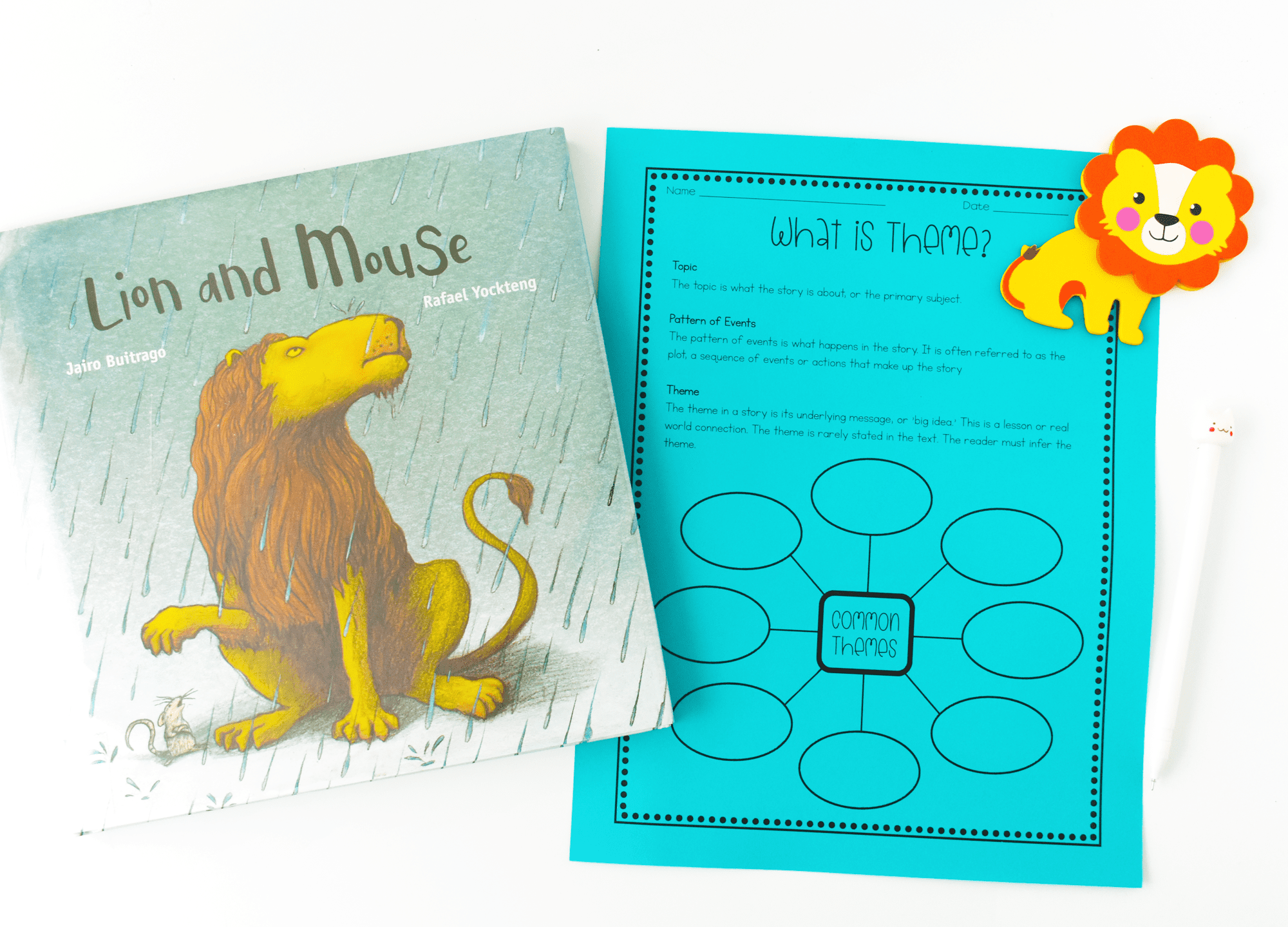 Teaching Theme Lesson 2
I begin the next lesson by reviewing common themes we read in literature, and as we talk I'm careful to clarity any confusion between theme and topic. I read Those Shoes and discuss the theme of the text. If you don't use this book in your classroom, I highly recommend incorporating it somehow. It is SO powerful and can be used for almost anything.
All Jeremy wants is a pair of those shoes, the ones everyone at school seems to be wearing. Though Jeremy's grandma says they don't have room for "want," just "need," when his old shoes fall apart at school, he is more determined than ever to have those shoes, even a thrift-shop pair that are much too small. But sore feet aren't much fun, and Jeremy soon sees that the things he has — warm boots, a loving grandma, and the chance to help a friend — are worth more than the things he wants.
After reading the text, have students explain how they determined the theme and what text evidence supported the theme. I show students the graphic organizer they will complete for the book and spend plenty of time discussing how to support answers with text evidence.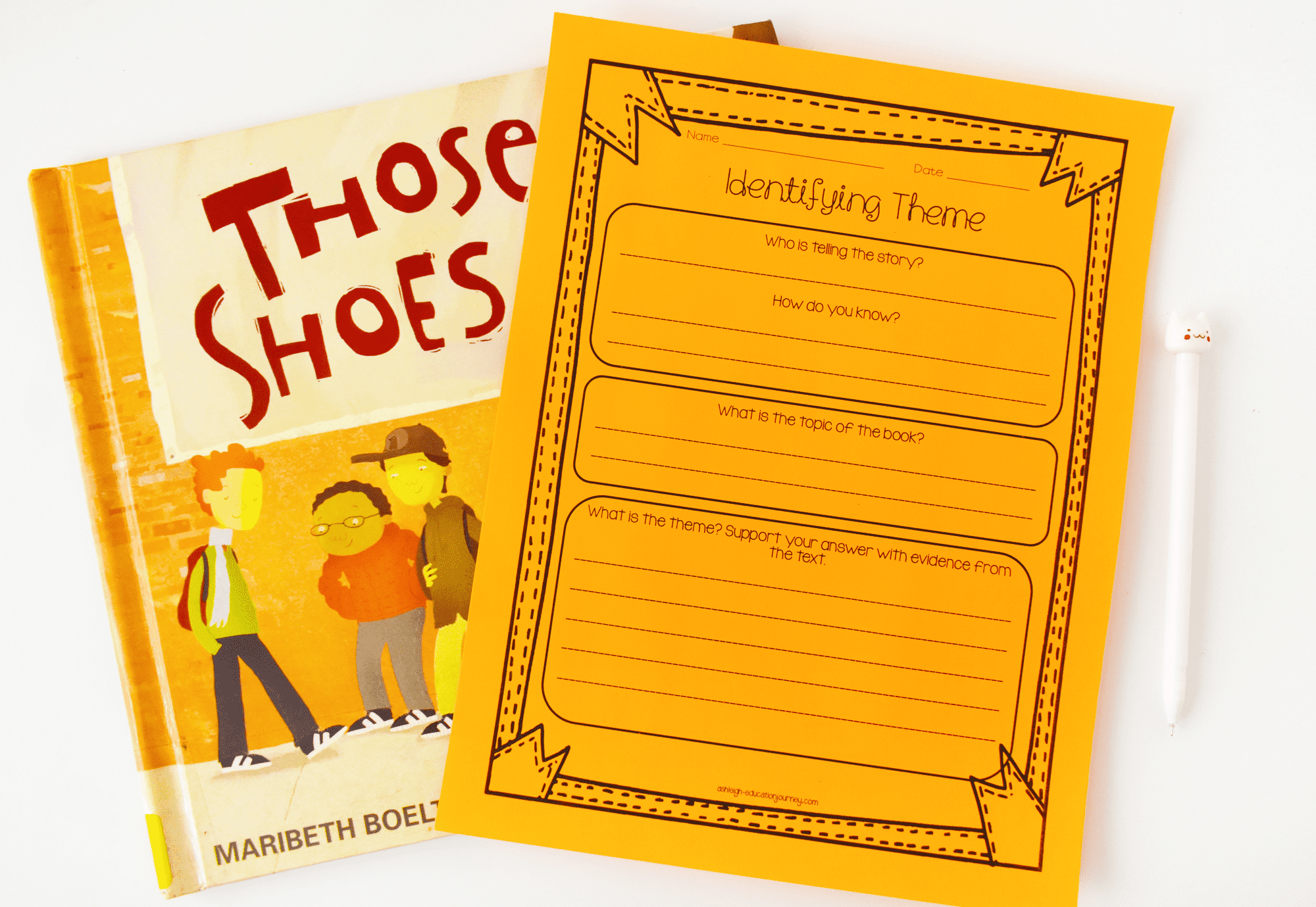 Theme Lesson 3
In the next teaching theme lesson, I teach the difference between theme and a summary, as well as review the difference between theme and topic. After the Fall is another amazing mentor text for teaching theme. I love that it teaches critical life lessons, in addition to it's role as a catalyst for teaching theme.
After the Fall follows Humpty Dumpty, an avid bird watcher who loves to be high up on the city wall. But after his fall, Humpty is terrified of heights and can no longer do his favorite things. He finally pulls together the courage to climb back up the wall. Based on the beloved nursery rhyme, this inspiring and unforgettable picture book will encourage even the most afraid to overcome their fears, learn to get back up—and reach new heights.
After reading, have students explain how they knew the theme of the book. I like to go a little further and discuss how this relates to our own lives. Model how to complete the theme graphic organizer. In this activity, students identify the topic and theme of the book. They also explain the difference between theme, summary, and topic.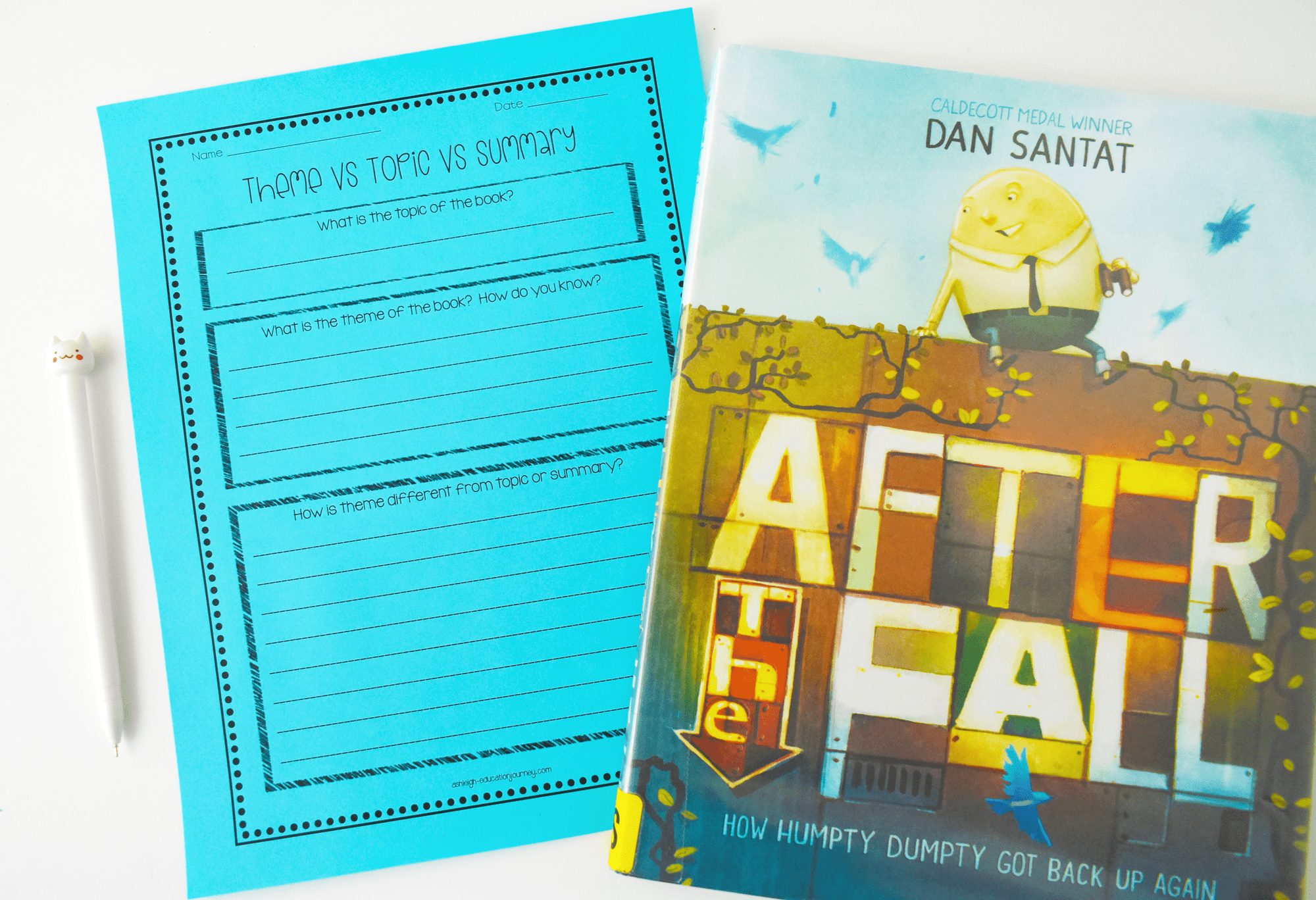 Theme Lesson 4
In the next teaching theme lesson, students show the difference between theme and summary. In this lesson, I read The Bad Seed as a mentor text. If time is an issue, you may skip the mentor text and have students write on After the Fall. However, this is another incredibly powerful book, so I would definitely try to incorporate it into my classroom at some point.
This is a book about a bad seed. A baaaaaaaaaad seed. How bad? Do you really want to know? He has a bad temper, bad manners, and a bad attitude. He's been bad since he can remember! This seed cuts in line every time, stares at everybody and never listens. But what happens when one mischievous little seed changes his mind about himself, and decides that he wants to be—happy?
After reading the book, spend a few minutes reviewing the theme of the story. If needed, briefly review how to write a summary. Have students complete the graphic organizer where they write a summary and an explanation of the theme.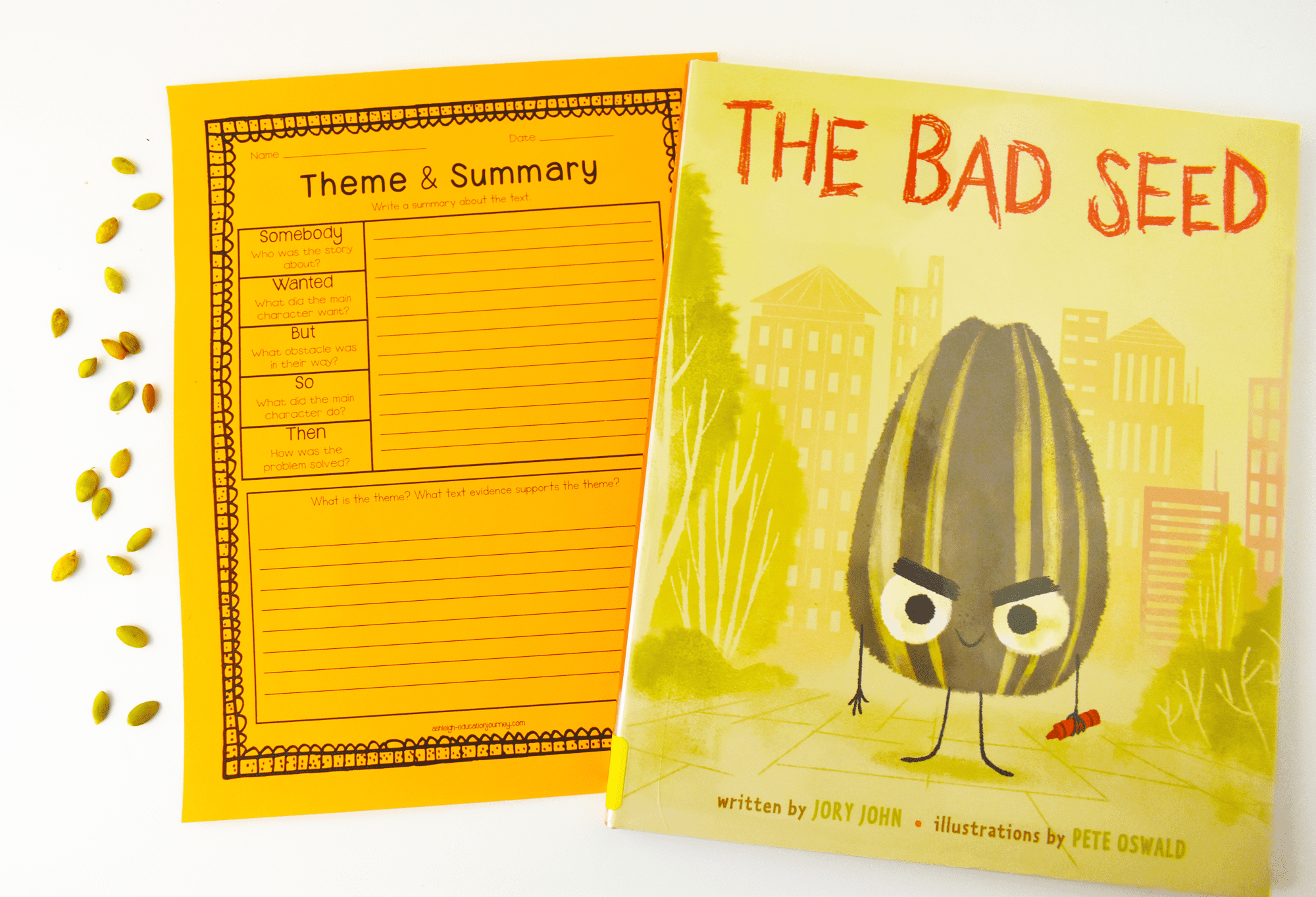 Theme Lesson 5
My following lesson for teaching theme is a bit longer, so I do not read a new mentor text. This activity allows students to think about theme in a different light. Rather than identifying the theme of a text, students will be given a theme and write a paragraph that demonstrates that theme. I give each student a theme card. Students write the theme they selected at the top of their graphic organizer. Then, students write a brief story that reflects the theme they chose. This is MUCH more challenging for students, but it's an incredibly powerful lesson.
In fact, this could make an attractive hallway display. You could mount the graphic organizers on colored construction paper or even have students type their stories and label the top of the construction paper with their theme.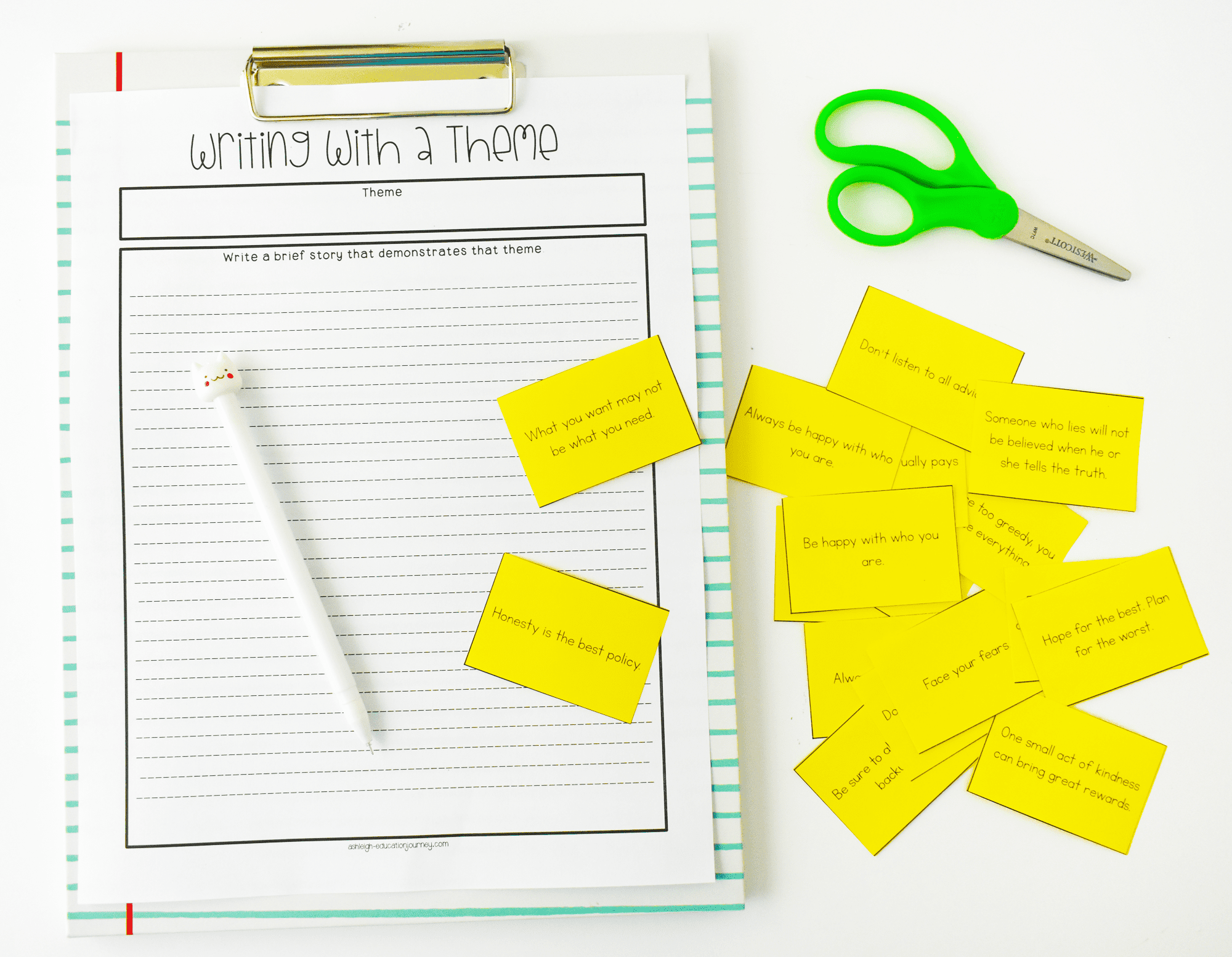 You can find all of these graphic organizers and detailed lesson plans in my Reading Unit 3. If you want to skip or replace any of the mentor texts, that will be perfectly fine. As you can see, all of the graphic organizers can be used with any text. You can check out this post for my ideas for teaching upper elementary reading.
I hope that you've found some new and exciting mentor texts and strategies for teaching theme! What are your favorite theme lessons?