I know that many teachers, myself included, are required to post standards or daily objectives. I like to post my standards, as well as essential questions, and vocabulary together to create a focus wall of classroom instruction. I've recently added all of my focus wall materials to my TpT store as a 3rd Grade Focus Wall Bundle or a 4th Grade Focus Wall for 50% savings!

One option for a focus wall is to keep all of your standards together. In the example below, I've included my focus standard for reading, math, and science. I didn't include social studies and writing, because those are the subjects my teaching partner teaches. I added a heading for each subject and then an illustrated I Can Statement underneath the heading. Below the standard I added my essential questions for the unit I'm teaching. Finally, I added essential vocabulary for the standard.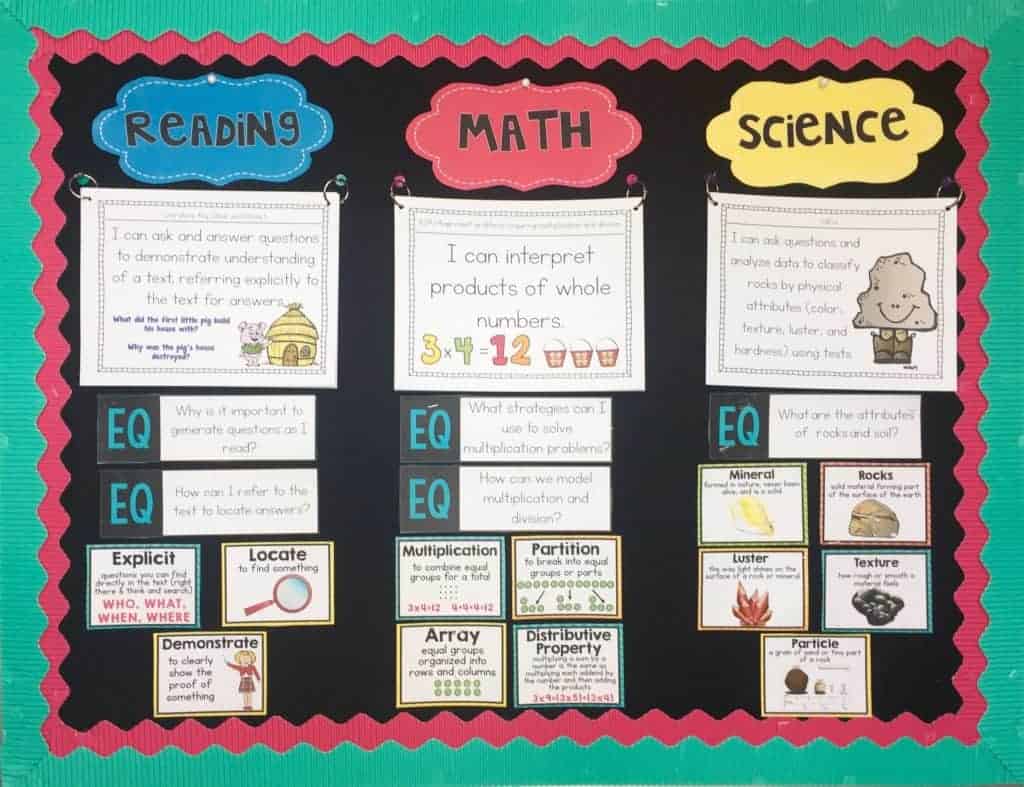 The whole standard is written at the top of each poster and there is an illustration or example for each standard.I punch holes in the top of the standard, grouping them by unit, and hook them together with a metal ring. Then, I use pushpin hooks in my bulletin board to hand them on. Switching them out is so easy!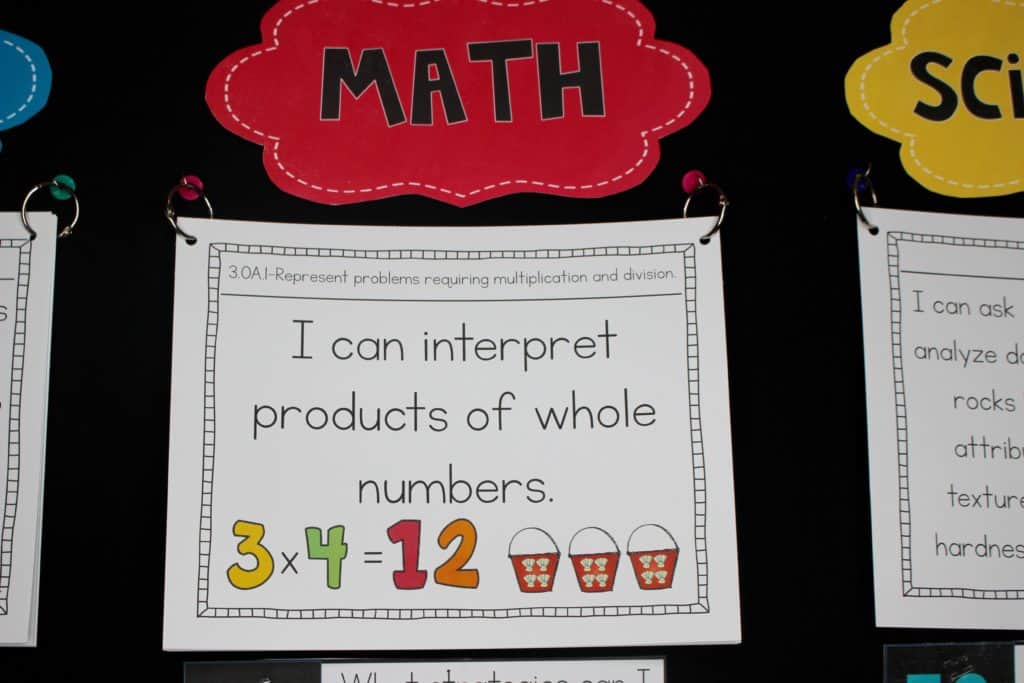 I just stapled my essential questions, but I may end up hanging those on rings too, because I think that's easier than staples. I know that I'm MUCH more likely to keep up with something if it's easy to manage and organize. If I have to deal with storage issues and clutter, I won't keep up with it through October!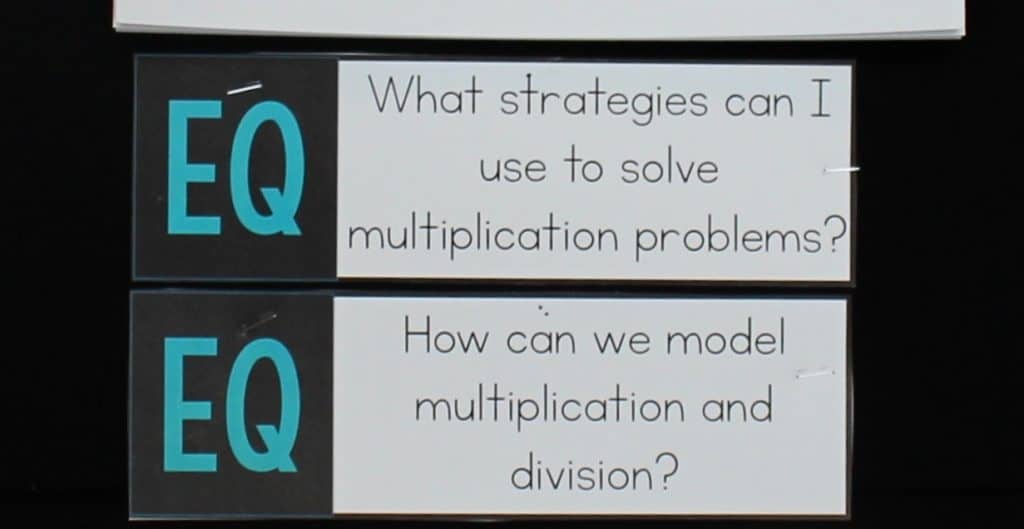 After I take my vocabulary words down, I place them on our word wall. I cut out big circle letters and hand brightly colored ribbons underneath each letter. I attach the words with Velcro dots, and I don't have trouble with them falling down.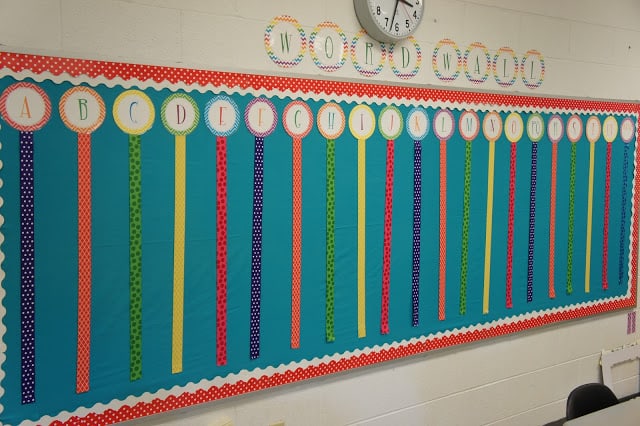 My favorite option is to organize my focus wall by subject. However, by doing this I only have enough room for math and reading, but I think there's always going to be some give and take with classroom set-up. When I organize my focus wall by subject, I leave enough room for an anchor chart. I use the anchor charts from my TpT store, but chart paper would be great too! Once I'm finished with the anchor chart I group it with my other anchor charts and hand them in the classroom for students to reference as needed.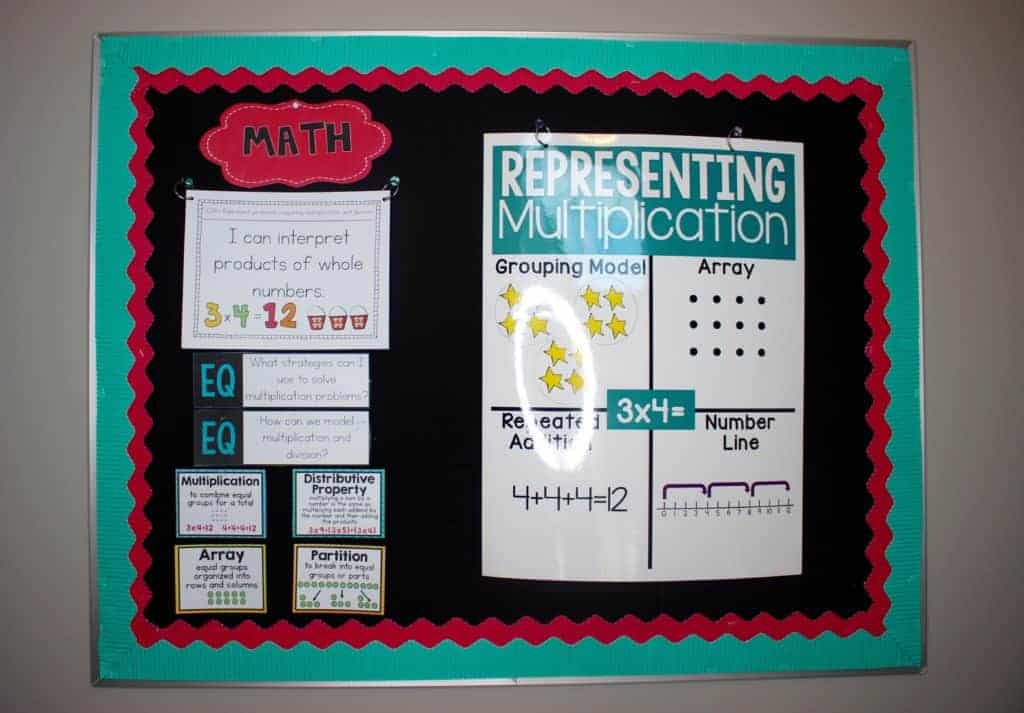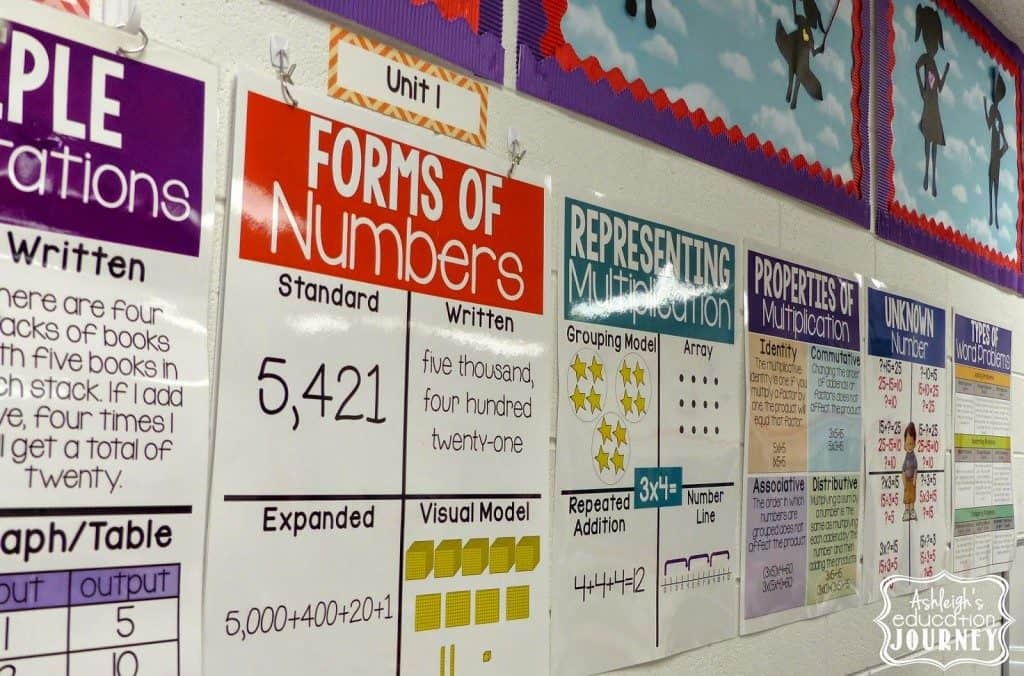 I realize that everyone's space and display options are going to be different, so I've created a half page option of standards. When using a half page, I attach my heading papers on a long piece of ribbon. Then I add Velcro to the heading paper and the standard strips. This allows me to quickly change out my standards for each subject area. I can hang these anywhere, not just on a bulletin board, which is great when I have limited bulletin board space! In my 3rd Grade Common Core Standards Posters I've included math, reading, writing, language, and listening and speaking standards. I also included the Next Generation Science Standards, as well as the Georgia Standards of Excellence for Social Studies and Science.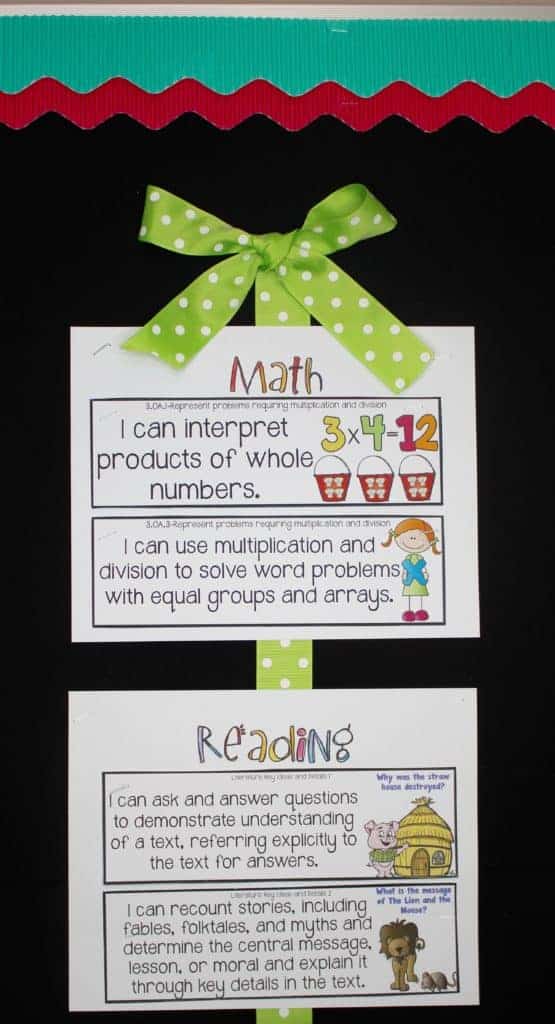 I've also included a whole page version of the I Can Statements. You can punch holes on the top of the posters and group them together on metal rings. Then attach the rings to 3M hooks or pushpin hooks.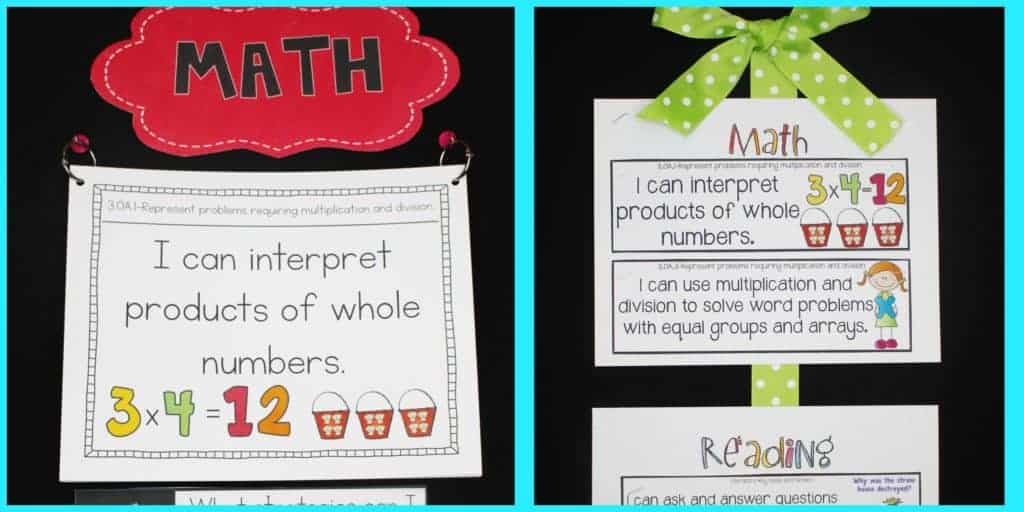 In my 3rd Grade Essential Questions pack, I included a full page option just in case someone needed it! I thought it might be fun to tape these to a sheet of chart paper and have students write responses on sticky notes. Then, students could attach the sticky notes to the chart paper.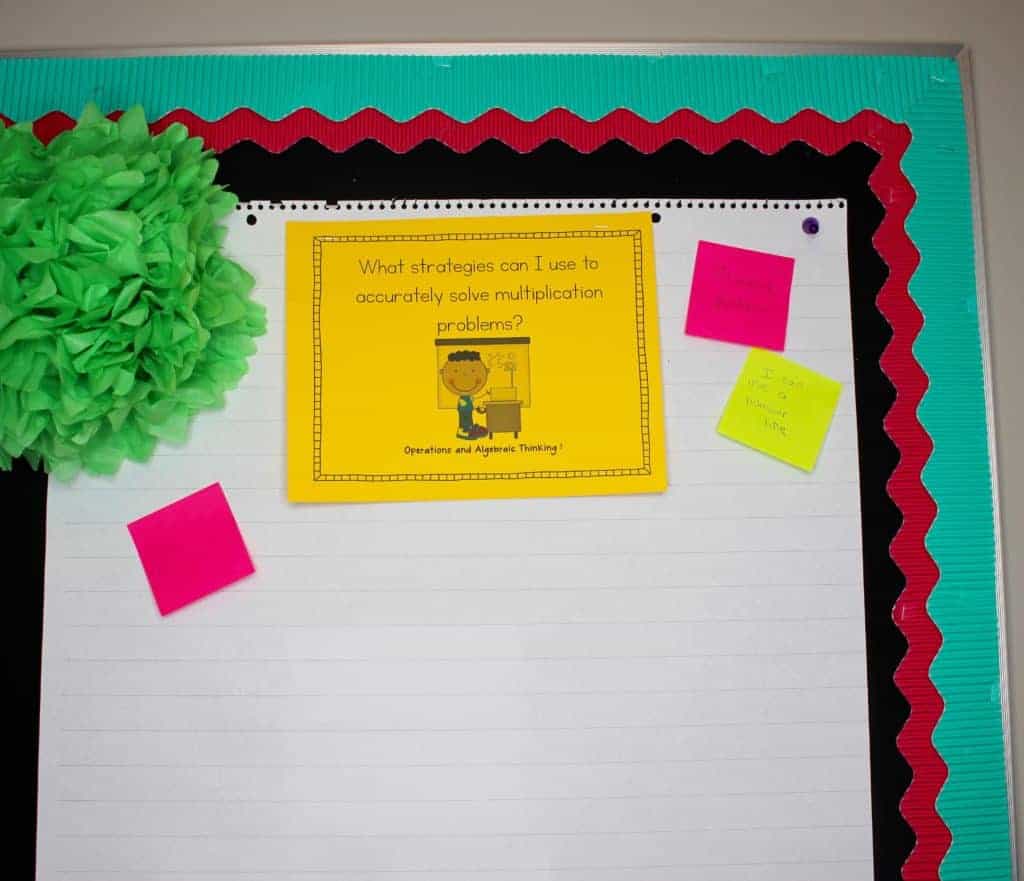 The word wall cards come in four different versions! There are two different sizes, fourth page and half page. Each size comes with a white background and a chalkboard background. I've organized the cards by subject area: math, reading, science, and social studies.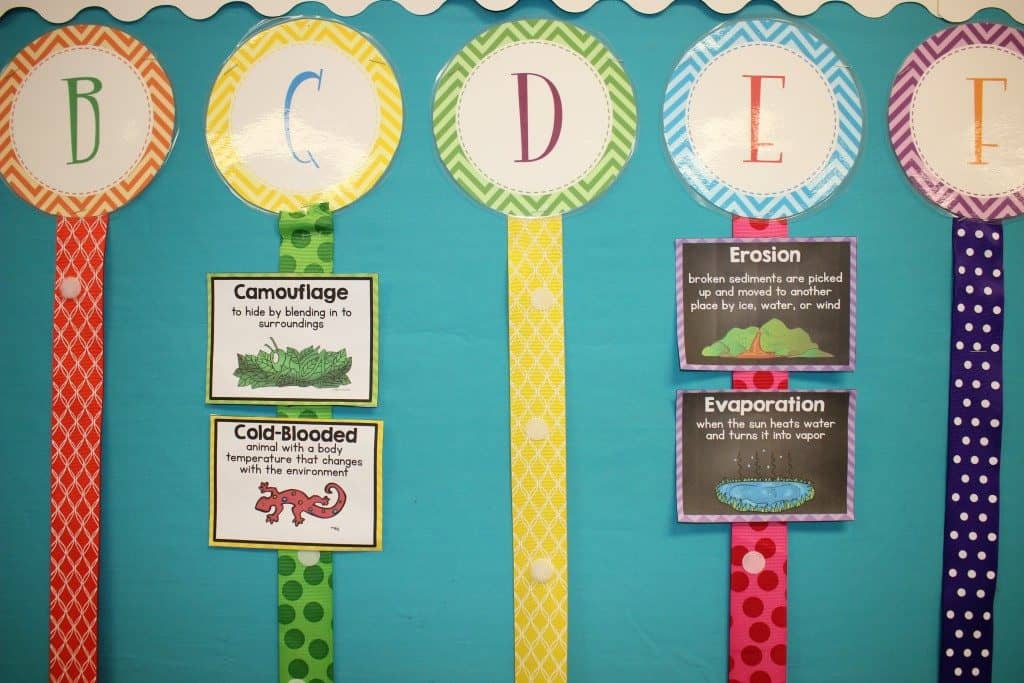 All of these elements together creates an excellent interactive, standards based bulletin board. You can check out a preview by clicking the link.