Back to school time is one of my favorite times of year. Yes, it's hectic, exhausting, and more than a bit overwhelming, but it's so fun and exciting! I love being able to start fresh every year with new students, new ideas, and new goals. This year I am departmentalizing, and I'm teaching math, science, and reading (we teach reading to our homeroom). I was self-contained last year, but I've team taught in the past and had several wonderful experiences with it. One of the few challenges I experienced was how to collaboratively write a class newsletter.
Getting Started with a Newsletter
Some years we wrote our own newsletters, and I wrote about what was going on in my classroom, and my partner wrote one about her classroom. Other years we tried to combine information, and we would take turns writing the newsletter and emailing it to each other. Sometimes we would write it together, which was difficult because it can be hard to find time when we could write together. Even though I know some newsletters will never be read, I definitely think they are worth the effort. As a parent of a child who never tells me about her day, I crave the information found in her newsletters.
We're using a new approach this year, and it has immensely simplified the process for us. I added my newsletter template to Google Slides. This allows me to add information for the subjects I teach and my partner to add his information to the same newsletter. This is the template we're using this year.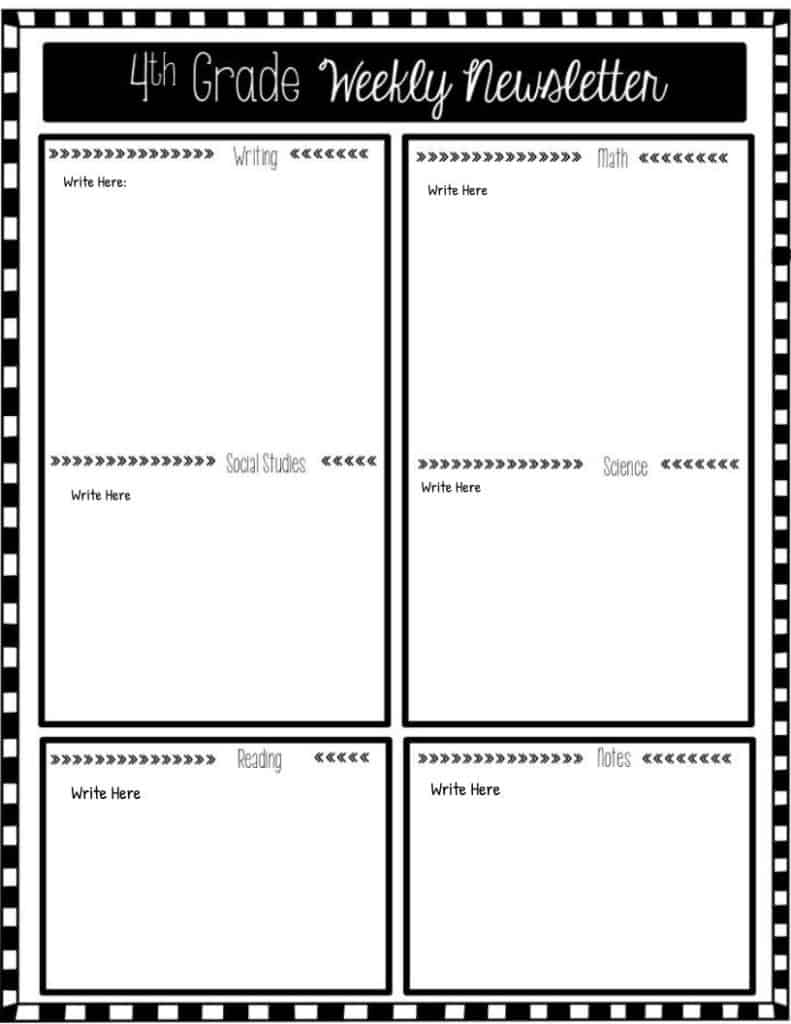 Adding the newsletter template to Google Slides means that we don't have to save copies, attach files, load files, or email anything. We just go to our Google page, and we're ready to go! We can each write when it's convenient for us, and we have access to it at all times and on all devices.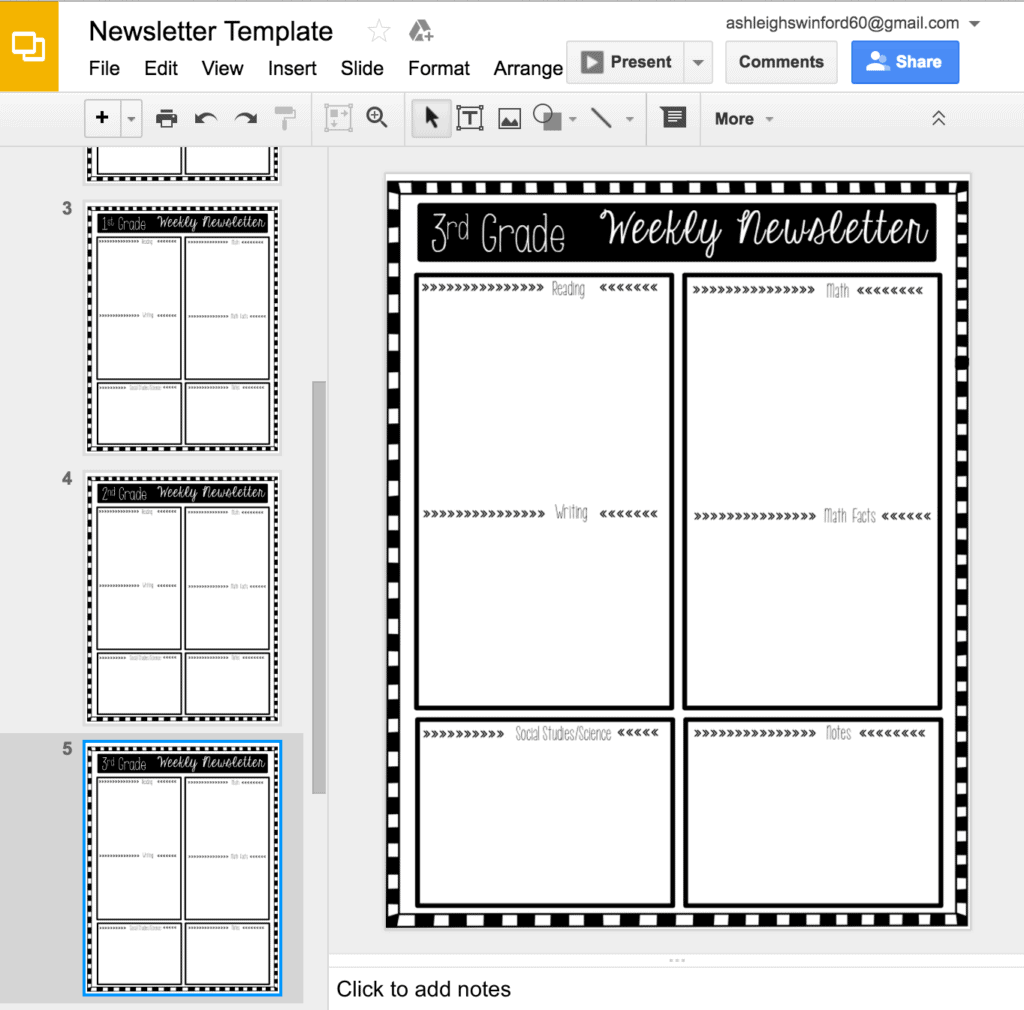 When you're ready to save your file, click on 'download as' and then select PDF Document. I typically save things to my desktop, so it's easy to find. I can then easily save the newsletter to my newsletter folder. We all know that newsletters have a way of disappearing from students' backpacks between the time they leave the classroom and get home, so I email the newsletter to everyone that I have an email address for.  I attach the PDF version of the newsletter and send one group email.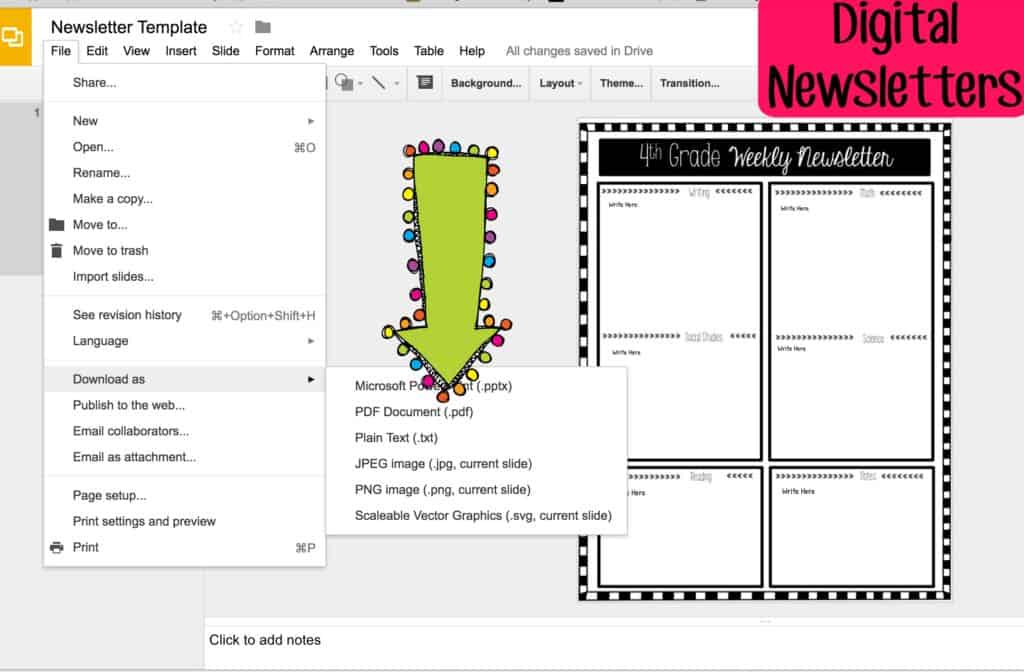 In addition, I also send home a paper version of the newsletter. I print the newsletters directly from Google Slides, which is another quick and easy option.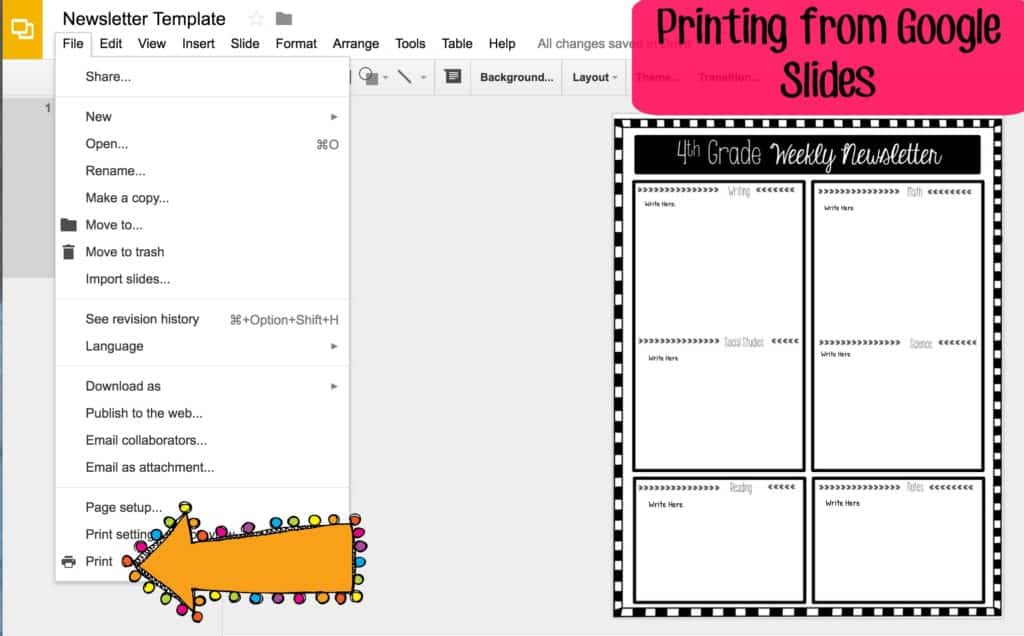 Templates & Fonts
I've made two different versions of my newsletter template for kindergarten, first, second, third, fourth, and fifth grades. You can download an editable version of the newsletter template here. You will have to download the fonts linked below for this version to look correct. If you need help downloading the fonts, Erica Bohrer has a great tutorial on her blog! If you'd rather not deal with downloading fonts, you can download the PDF versions here.
KG Somebody I Used to Know, KG Eyes Wide Open, KG Arrows, KG Call Me Maybe
If you'd like to download the digital Google Slide templates, you can download those here. You can delete the grade levels you don't need and add and share as needed.